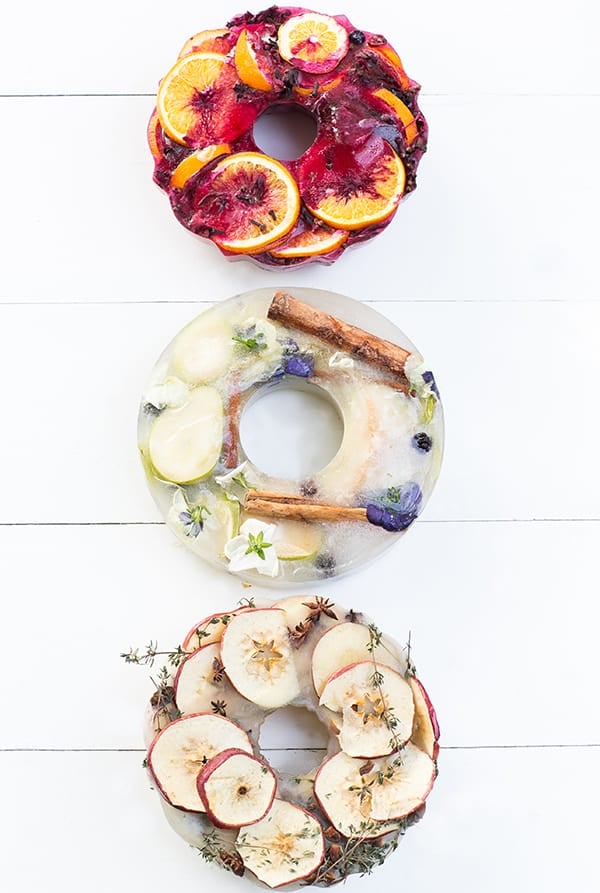 Anytime I make a punch for a party, it always has an ice ring! These DIY ice rings you can make for party punch add such a charming, vibrant touch to the punch bowl, all while keeping the punch cold. They're also incredibly easy to make! You just need to freeze them the night before.
You can choose the ingredients for the ice ring based on the punch recipe you're making. There are so many options for DIY ice rings and really anything edible works. We've added flowers, cinnamon sticks, citrus slices, spices, herbs, etc. The other great thing is when you're freezing the ice ring, you can add 3/4 water and the other 1/4, whatever juice, tea or liquor you're using in the punch. Sometimes I make a delicious spiked tea punch and I use both water and the tea to create my ice ring.
To make these charming Ice Rings, all you need is a bundt pan (size it to your punch bowl), water and ingredients! Fill the pan with water, then add whatever you want. Don't go light on the ingredients either, pack them down in the bundt pan and let them stick out of the water. The more ingredients you have, the better it looks when it's frozen!
When the ice ring is frozen, run some warm water over the bundt pan and then it should come out very easily.
Here are some of the combinations we did for the 3 rings you see here.
1. Dried Hibiscus flower (they turned the ice ring pink!), oranges and cloves.
2. Pears, edible flowers, cinnamon sticks and black berries.
3. Apples, rosemary and star anise.