Here's a round up of 10 awesome Thanksgiving punch recipes! When it comes to serving a crowd and having fun, you can't go wrong with lovely big bowl of spiked punch. Make thanksgiving drinks easy this holiday!
With all of the prepping, cooking and baking that goes into hosting a beautiful Thanksgiving, the last thing you want to do is mix individual cocktails!
Thanksgiving is the perfect day to make a big bowl of spiked punch, along with some good wine, to satisfy guests before the feast begins! People can help themselves and that leaves more time for the hosts to enjoy their day!
We rounded up 10 delicious Thanksgiving punch recipes that would be perfect to serve on the day! We also love to dress up our punch with an easy ice ring! You can find our DIY party punch ice rings here!
Punch! The Perfect Thanksgiving Drink
Punch is not only an easy way to make and serve a batch cocktail, but it's also brings a lovely communal sense to thanksgiving proceedings.
If you are having a lot of people over, they don't have to wait long to be served their first drink, it's a great way to instantly greet your guests!
Punch can also evolve over the course of the evening, starting out stronger, then when the guests have had a few glasses, it will dilute from the ice somewhat. It's a great way to have fun and keep alcohol levels on an even keel!
Apple cider bourbon punch by Heather Crisco
The bourbon is not overwhelming and that subtle hint of cinnamon and lemon is just the perfect compliment. I also served my drinks with cinnamon sticks because it was festive- and pretty and I like stuff like that. Please try these soon- it is like the perfect fall drink, and would be very fun for a party! It makes a great thanksgiving punch!
Sparkling Citrus Lillet & Procesco Punch by the Bojon Gourmet
Fresh citrus juice, Lillet Rosé and prosecco make a pretty punch for winter months with notes of floral, sweet, and bitter to please all palates.
A Pear Champagne Cocktail by The Sweetest Occasion
It's made with pear juice, prosecco and vanilla vodka so it tastes a bit like fall, if fall were melted into a glass and served over ice. The pear flavor? Completely irresistible in my book. Yum!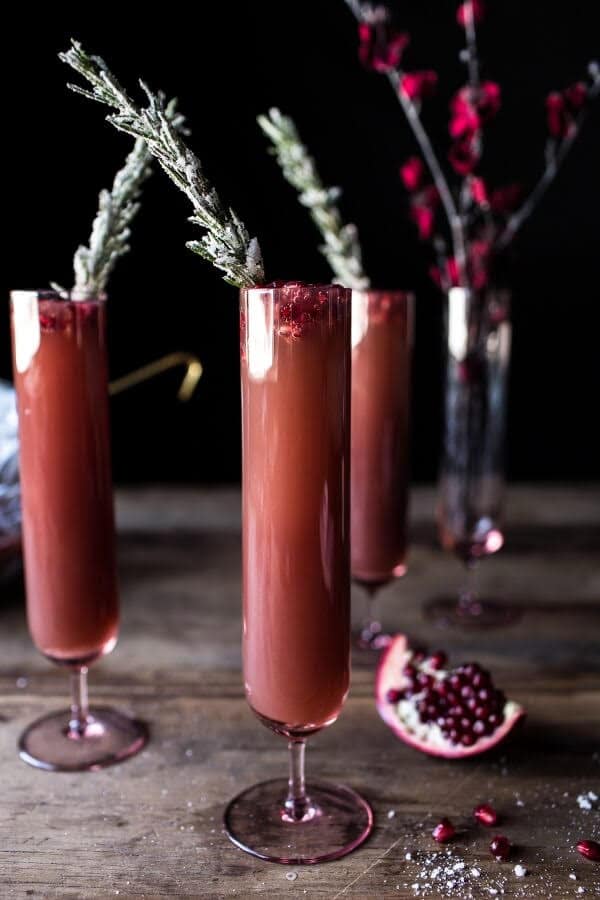 Sparkling Pomegranate Punch by Half Baked Harvest
Sparkling pomegranate juice flavored with a little citrus, a little cider and then topped off with champagne. It couldn't be simpler! If you wanted to also make this drink for kids, just swap the champagne for sparkling water or club soda.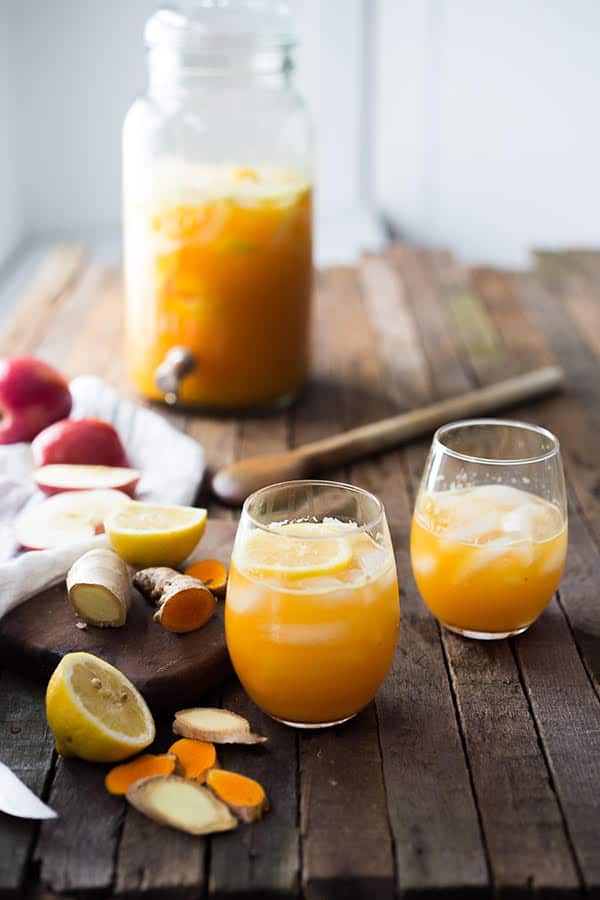 Turmeric Gingerade by Feasting at Home
Turmeric Gingerade! Think sugar-free lemonade meets fresh turmeric and ginger. A marriage made in heaven!
Pear Ginger Fizz using Kombucha by Tending the Table
This cocktail has delicious notes of pear and is delightfully fizzy!
Spiked Apple Cider Punch by Sugar and Charm
This easy spiked apple cider punch recipe is the perfect alcoholic cocktail for when you are entertaining a crowd. Spiked with white wine and bourbon, this party punch is for adults only! Perfect for Halloween and Thanksgiving!
Naturally Sweetened Roasted Persimmon Punch by With Food and Love
These Persimmon Punch martinis, are sweet but not too sweet, and perfect with any spirit or sparkling wine of your choice.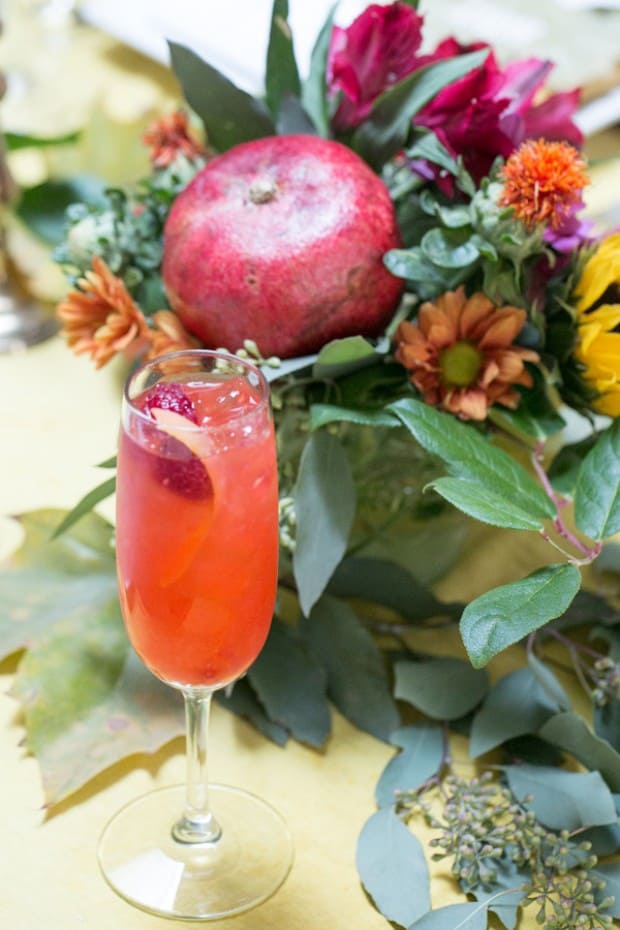 Algonquin Bar Punch Recipe by Sugar and Charm
It's not weak, as there are three types of liquor in it, but the taste is perfect and not overbearing at all. The lemon peel and raspberries make it fruity and refreshing.
Kentucky Cardinal Punch Imbibe Magazine
This is a perfect thanksgiving punch from bartender Kyle Higgins gets a strong fruity backbone from Southern Belle shiraz, a robust Australian wine aged in used Pappy Van Winkle whiskey barrels.
Using A Ladle For Your Thanksgiving Punch
An attractive and ergonomic ladle is just as important as your punch bowl! Some of ingredients in your thanksgiving punch will settle after a while, so it's good practice to gentle stir the punch with the ladle from time to time.
Also, take the punch from the bottom of the bowl once in a while and pour it back over the ice ring/block.
Check Out These Other Great Thanksgiving Ideas
DIY Thanksgiving Dessert Table
Thanksgiving Kitchen Essentials
A Rustic Modern Thanksgiving Table Setting
The Henry Cranberry Orange Mocktail by Modern Honey
If you have tried any of these thanksgiving punch recipes, or any other recipe on my blog, then please rate it and let me know how it turned out in the comments below!
You can also FOLLOW US on FACEBOOK, INSTAGRAM and PINTEREST to see more delicious cocktails, recipes and entertaining ideas!