Ideas for setting your own rustic, modern Thanksgiving table setting with a charming touch of modern elements.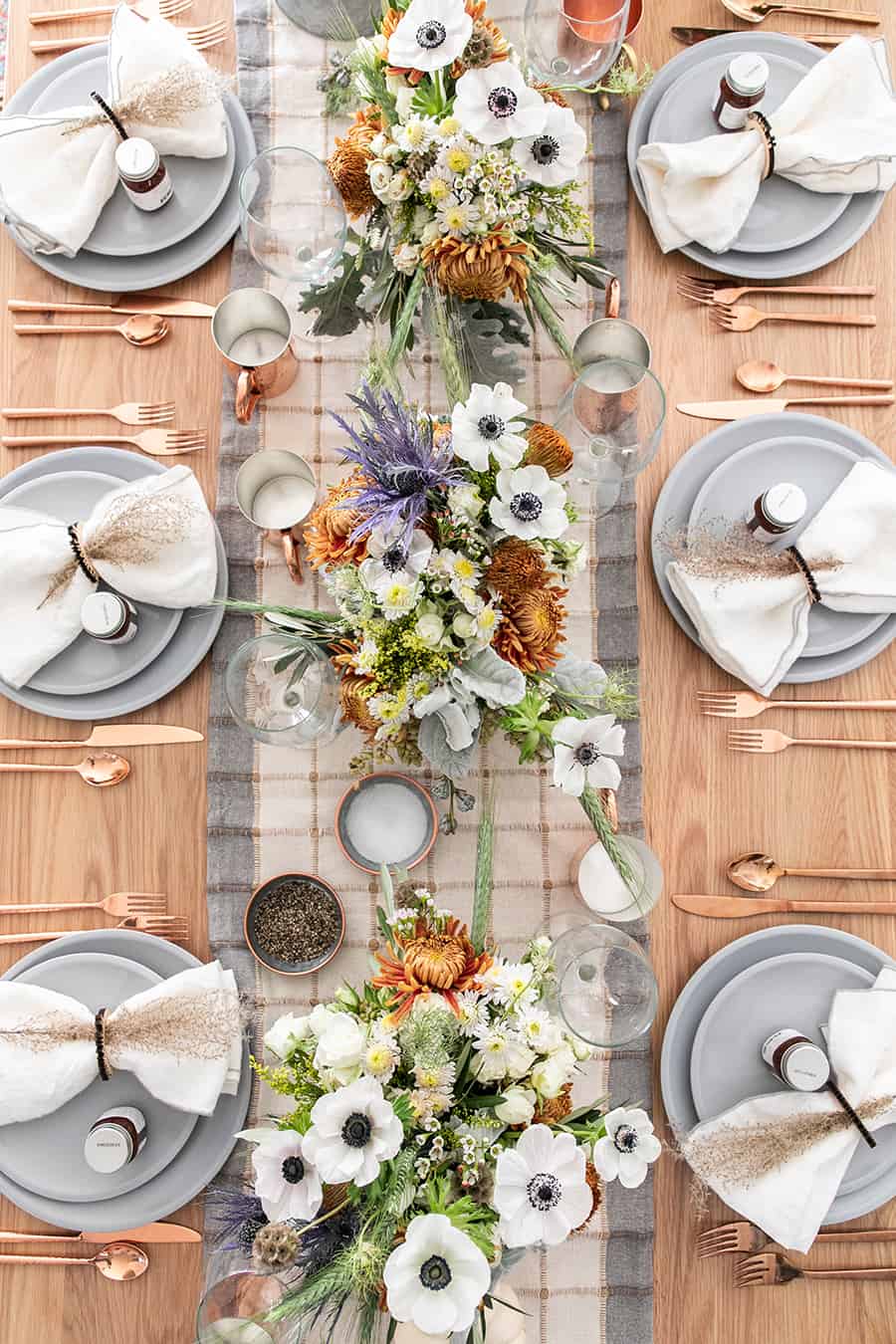 Thanksgiving is upon us! If there is one holiday to set a beautiful table for, it's Thanksgiving!
One of my favorite things to do is to set a stunning table for the holidays. It makes it feel special and festive and creates the best memories for your loved ones.
This year we've added in galvanized metal touches and mixed in some copper.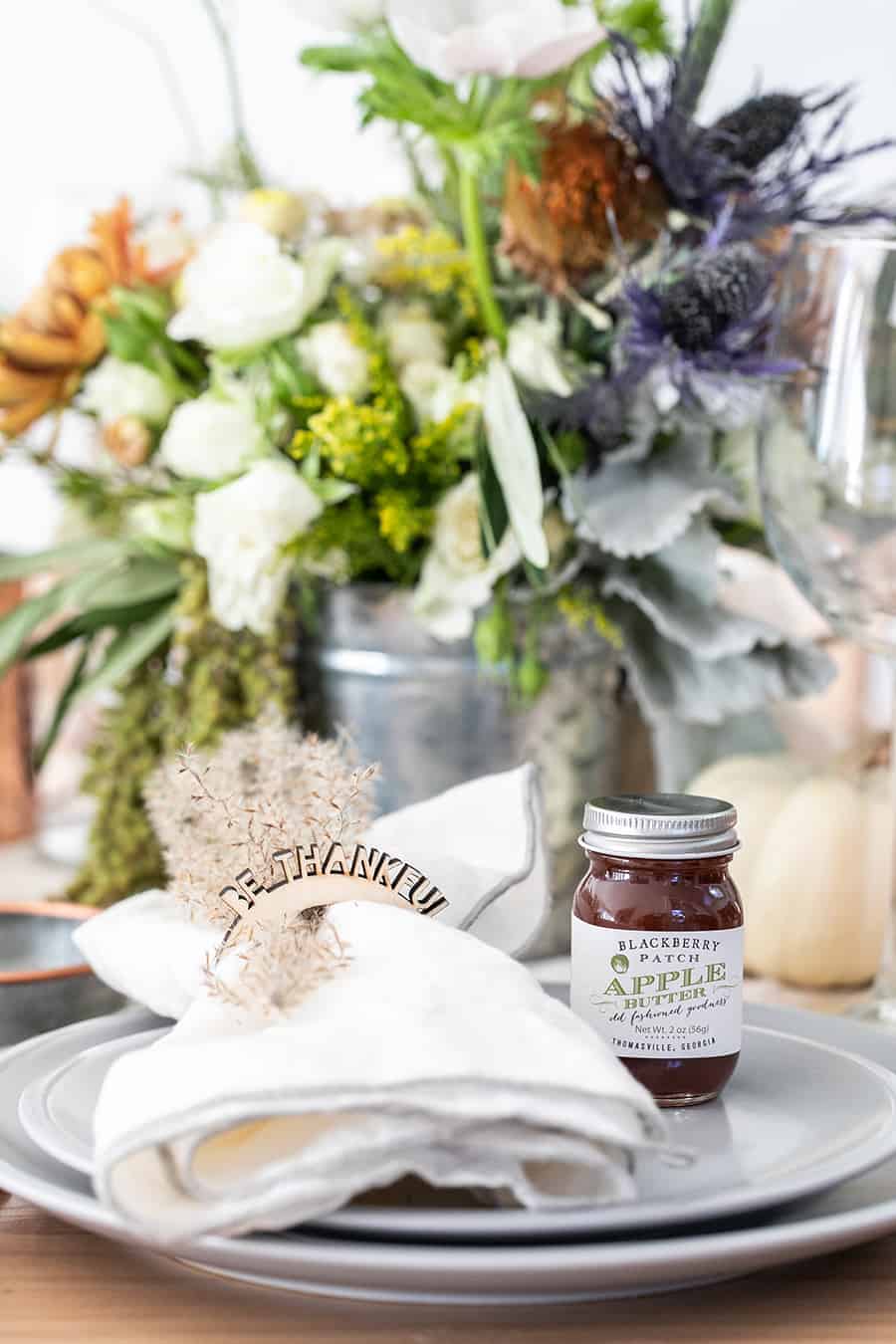 I was inspired by a decor piece I saw that used both metals and thought it would look stunning on a fall table setting!
I also wanted to use my beautiful Le Creuset Matte dinnerware in Heather Grey, so I went with a blue, gray, and copper color design. Below you'll find our Sugar and Charm shopping guide for the items for this table setting.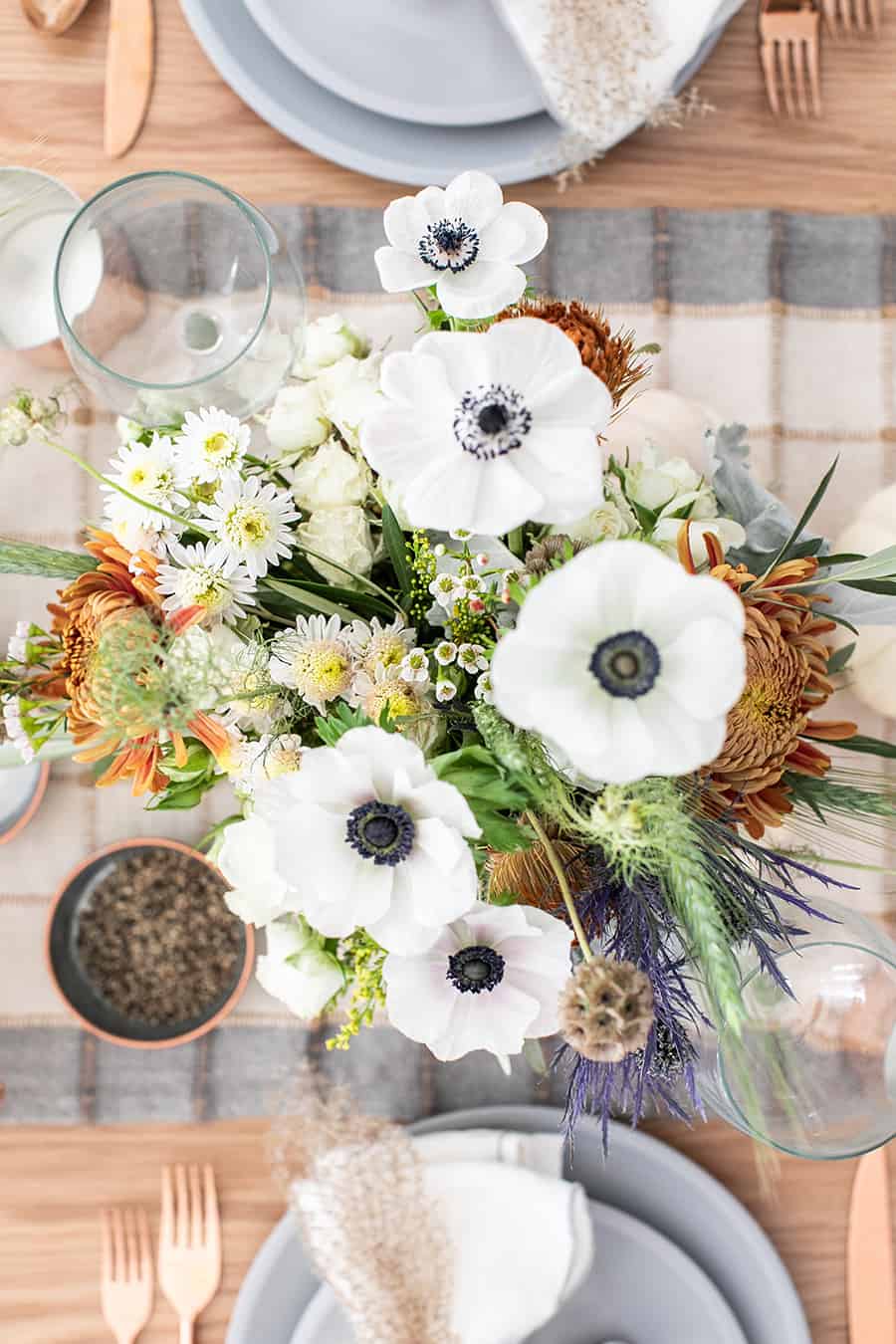 How do you set the table for Thanksgiving?
Before you start decorating your table, you need need to know how to set a proper Thanksgiving table. Check our How to Set a Table Guide for everything you need to know! Furthermore, see last year's Thanksgiving table here, still one of my favorites.
Also, check out our stunning Thanksgiving table setting for even more ideas.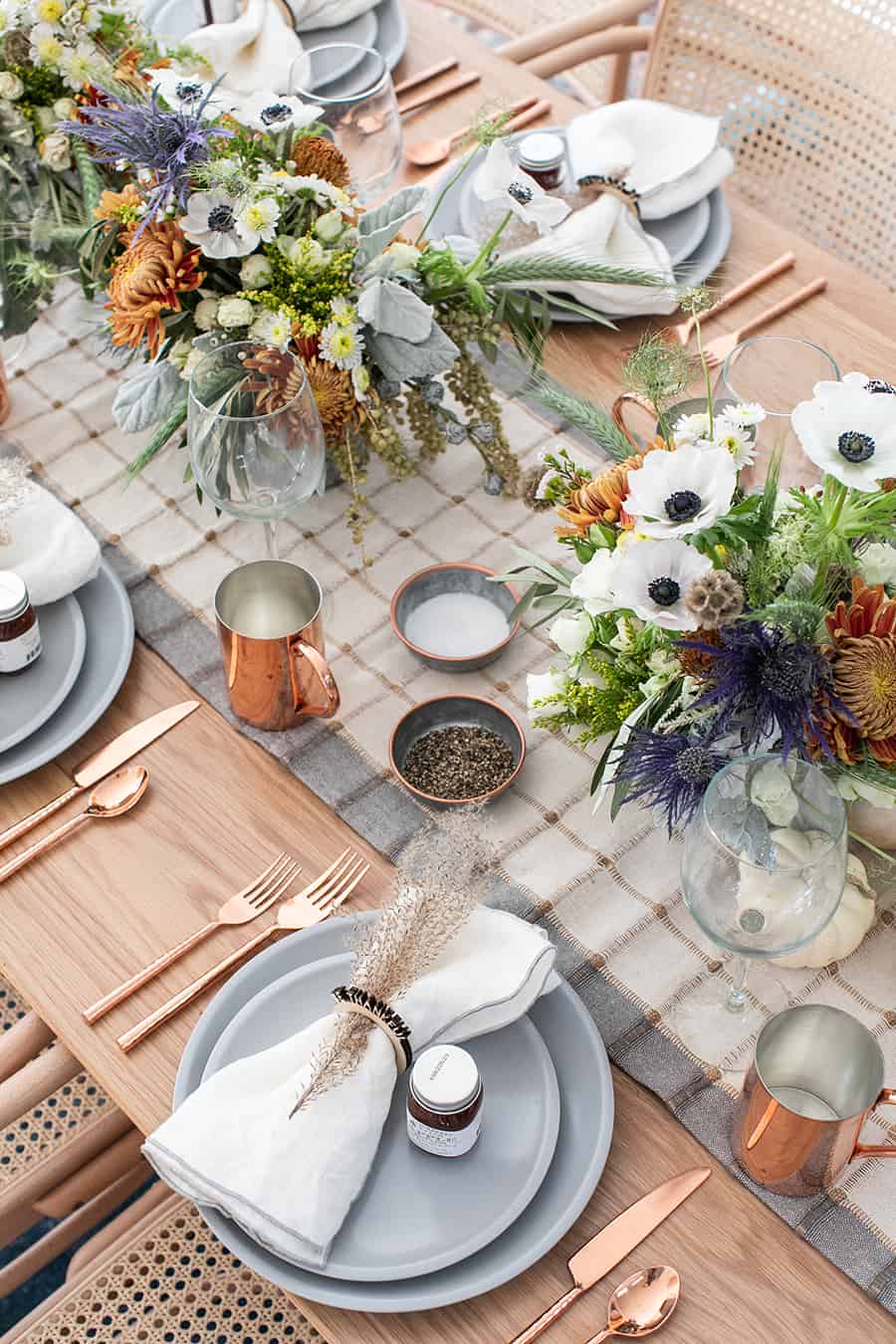 Thanksgiving Flower Arrangements
The flower arrangements were made in galvanized buckets, which added rustic charm to the table. They're also really affordable and can be used for so many different things!
Here are some tips from our florist on creating flower arrangements at home.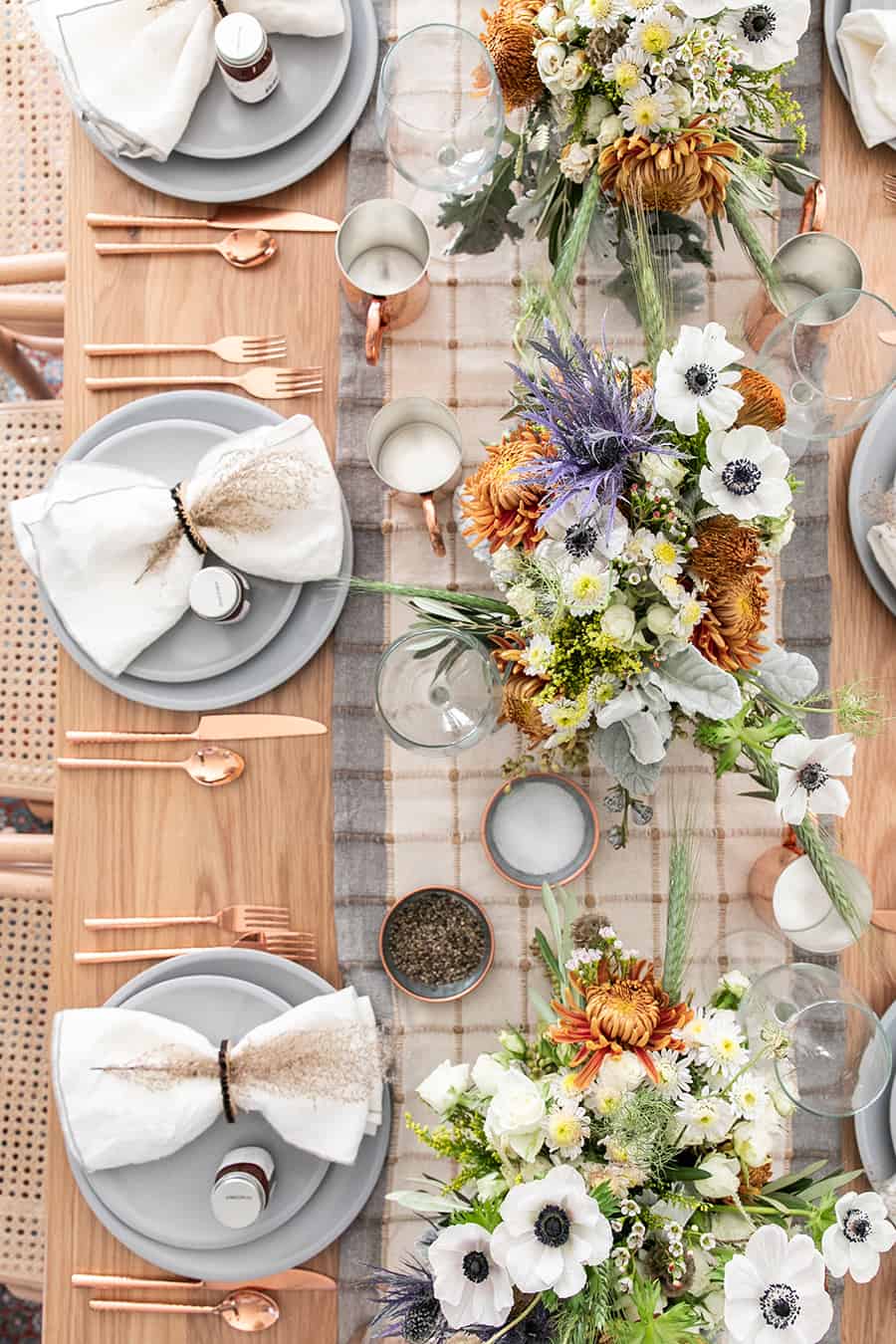 Flowers bring the table together. For a cost-efficient way of adding flowers, take a walk in your neighborhood and gran fall leaves and sticks to create your own table decor.
Do this a few days prior to Thanksgiving so you don't have to worry about it the day of!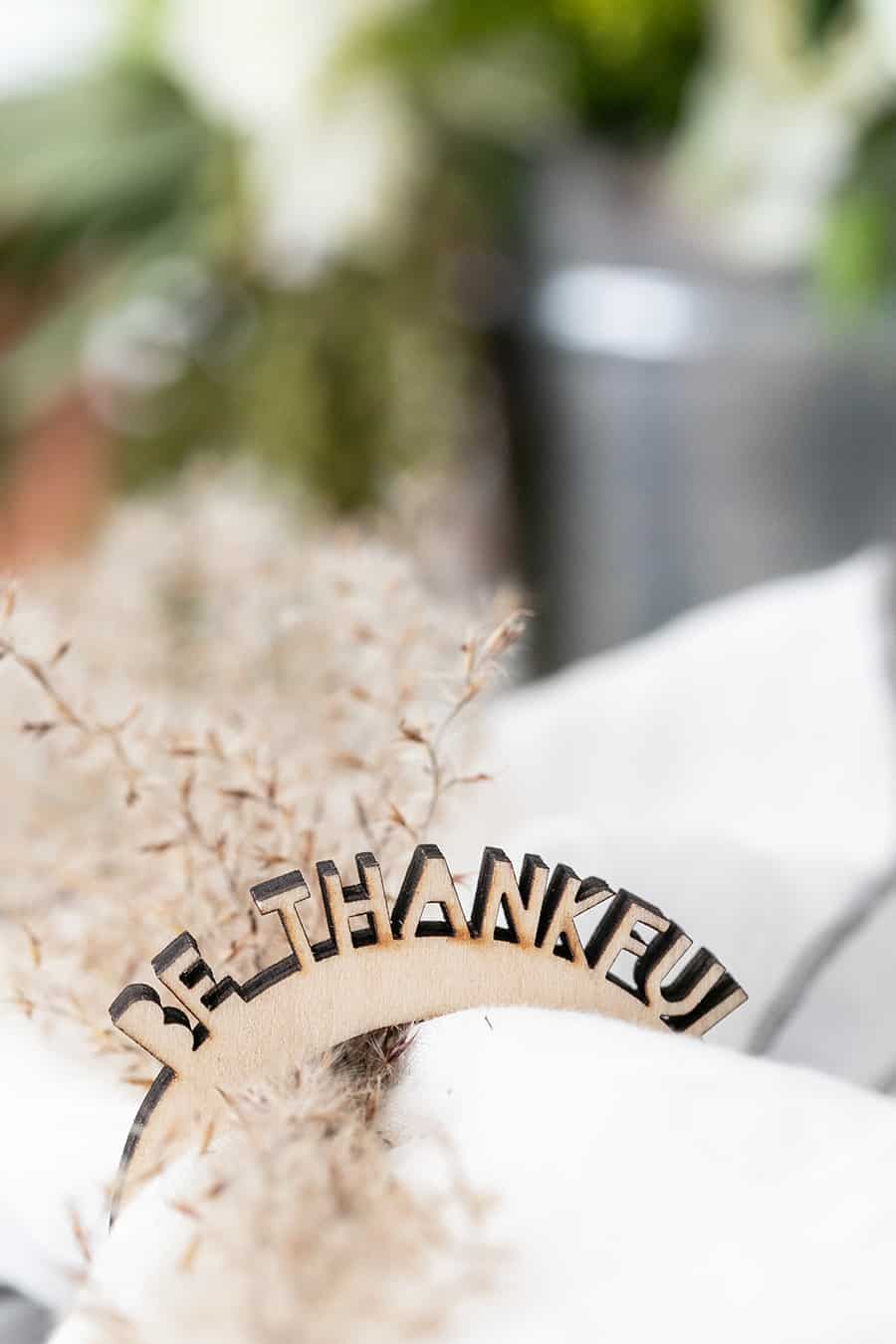 It's all in the details…
The Be Thankful napkin rings were perfect for this Thanksgiving table setting. It's the small details that make the table feel complete and cohesive.
I placed mini apple butter on each table setting. They can be used on biscuits, cornbread, or even on the turkey!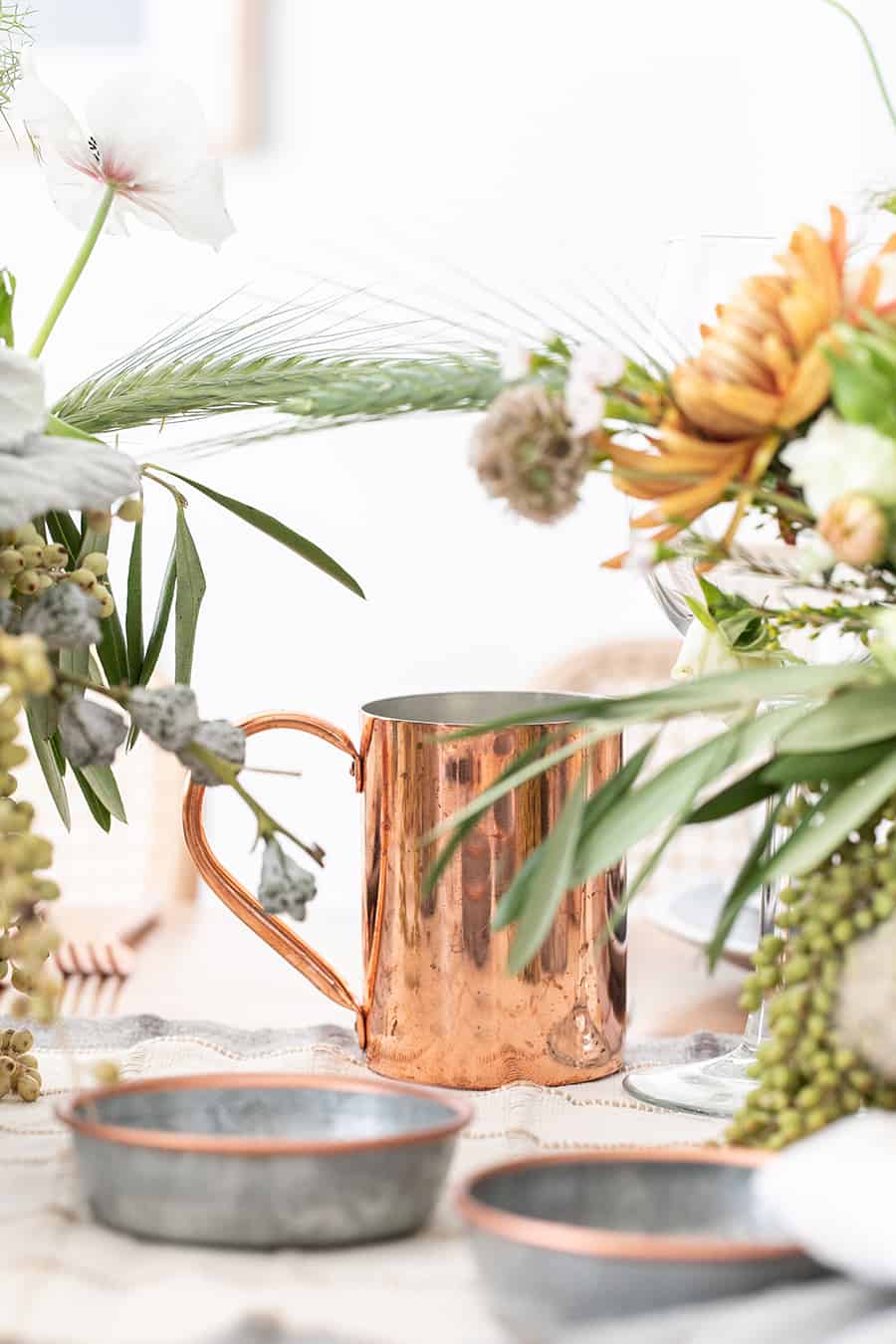 I love the look of the copper mugs on the table. They're also perfect for serving apple cider Moscow mules or cranberry mules!
Keep the champagne chilled on a bucket of ice. Also, keep it on the table for quick refills! Turkey and champagne are pretty good together!
Thanksgiving Tablescape
What is a tablescape?
A tablescape is a beautifully arranged tabletop with flowers and decor. Tablescapes are created for holidays, events, and parties. They usually have centerpieces and special touches to make the table setting memorable.
I love the look of white pumpkins lining the table. You can find them at your local grocery store this time of year. Get ones with cool stems if you see any! It adds more character and texture to the table and it's an inexpensive Thanksgiving table decoration.
All About Serving Wine
In addition to Champagne, we like to serve a lot of wine at Thanksgiving! To become a wine enthusiast, read our easy and helpful tips for serving wine! Also, see our types of wine chart and how many ounces of wine are in a bottle guide.
Thanksgiving Drinks
Here are some of our favorite cocktails to serve for Thanksgiving:
The Best Thanksgiving Punch Recipes
Hard Apple Cider Kombucha Punch
Thanksgiving Recipes to Serve
Thanksgiving is all about food, friends, and family! Here are some of our favorite Thanksgiving recipes to feed the ones you love:
Also, check out our guide to preparing Thanksgiving dinner. This has helpful tips for a successful dinner.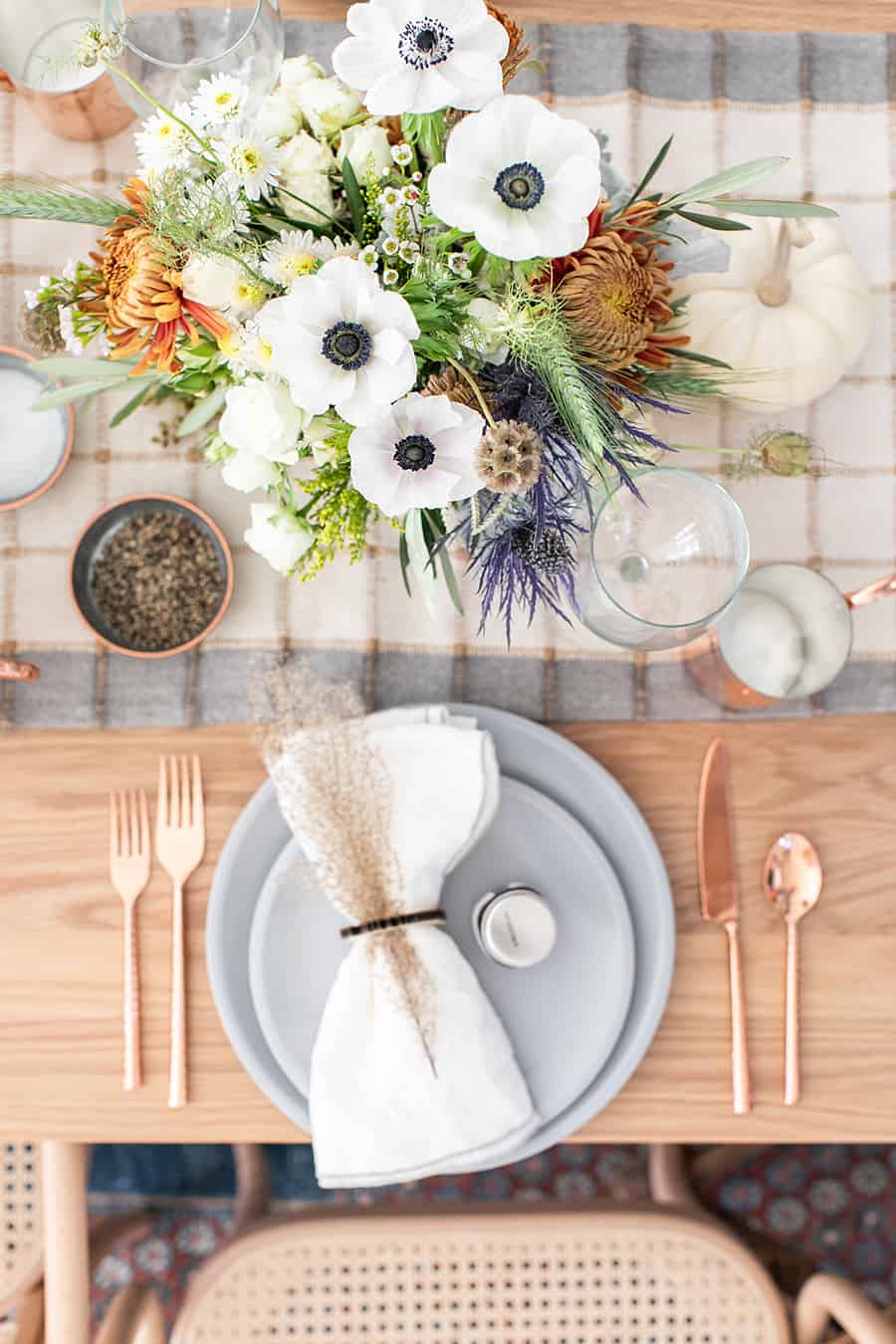 Frequently Asked Questions
How do you set a table for Thanksgiving?
Here are three tips for setting up a Thanksgiving Table:
Follow our table setting guide to learn how to properly set a table.
Next, pick a color theme and choose plates, napkins, and flowers that go with the color theme.
Plan your menu so you know exactly what glasses to place out and what flatware you'll need.
What is the traditional Thanksgiving centerpiece?
The cornucopia filled with fruits of harvest is the traditional Thanksgiving centerpiece. It's iconic of autumn. Derived from the Latin for "horn of plenty," this festive basket is the most traditional of Thanksgiving centerpieces. Fill it with fruits, vegetables, gourds, and Indian corn.
What do you put in the middle of the table for Thanksgiving?
Here are 5 things to place in the middle of a Thanksgiving table:
Table Runner – This is a long piece of fabric that will add color and texture to the table setting.
Flowers – Add low flower arrangements down the center. Lower arrangements are better so guests can have conversations with each other.
Candles – Add tealight candles down the middle of the table.
Decorative Items – Place smaller items like pinecones and mini pumpkins down the middle of the table to add decorations.
Platters – If you're serving food at the table, leave room down the center for platters and a large turkey!
We hope this helped you plan a beautiful Thanksgiving for your family and friends! Let us know if you have any questions! Also, tag @sugarandcharm on social so we can see your Thanksgiving tablescapes!
You can also FOLLOW US on FACEBOOK, INSTAGRAM, and PINTEREST to see more delicious recipes, cocktails, desserts, and parties!