Easy, homemade cranberry sauce recipe that anyone can make! It's flavored with orange juice and fall spices and foolproof! Follow our How to Make Cranberry Sauce: A Guide With Everything to Know.
When it comes to the Thanksgiving holiday, nothing says tradition quite like the sweet yet tangy taste of cranberry sauce.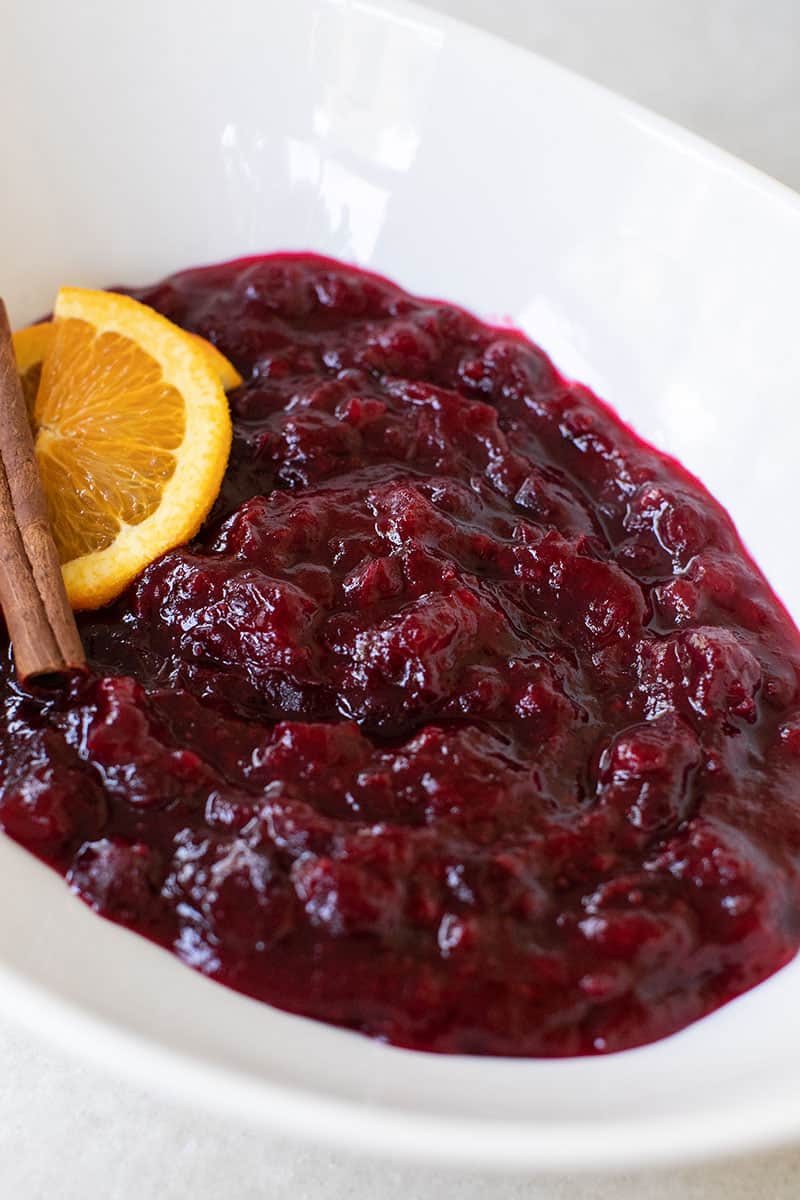 This delicious side dish has a storied history, and it's a popular favorite to drizzle on top of your turkey.
If you're wondering more about this mysterious yet delicious holiday dish, read on to discover a few fun facts as well as how to make cranberry sauce at home.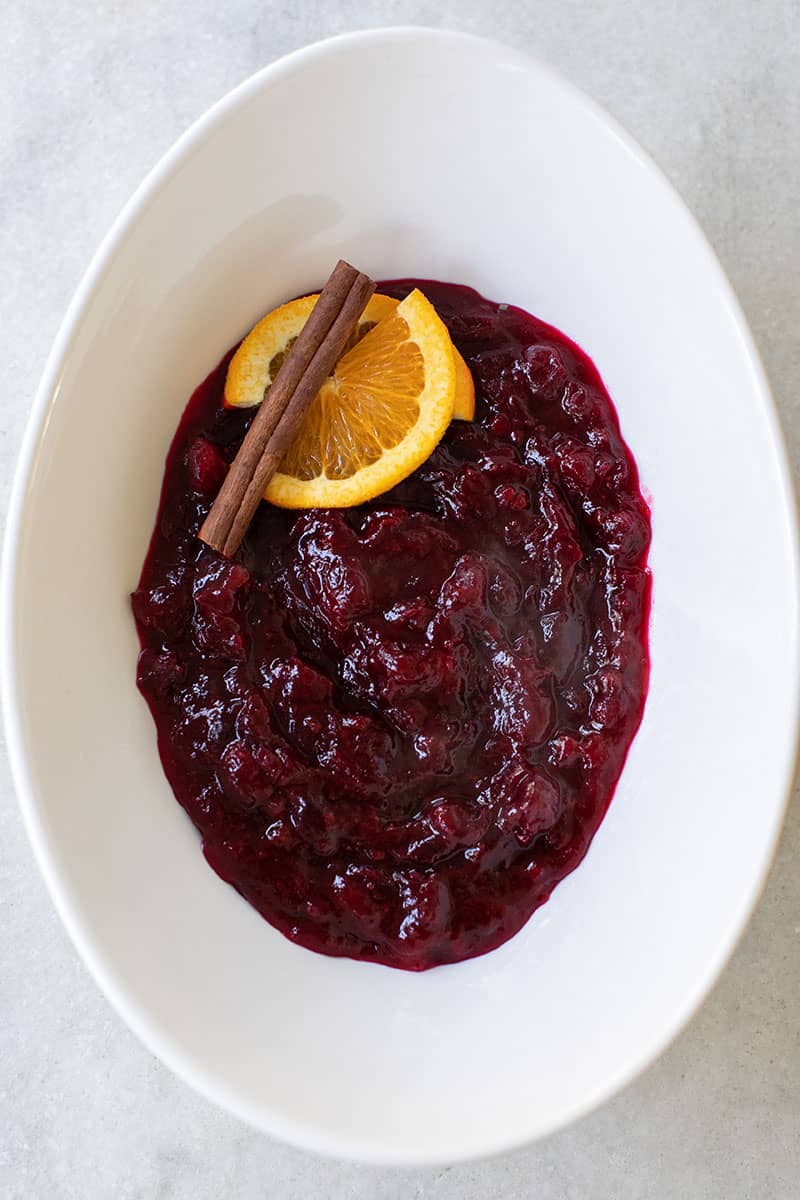 How to Make Cranberry Sauce for Thanksgiving?
If you want to know how to make homemade cranberry sauce from scratch, it's a fun and easy process.
Ingredients
16-ounce bag of fresh cranberries
Fresh orange juice
Sugar
Water
Orange zest
Cinnamon stick
Star anise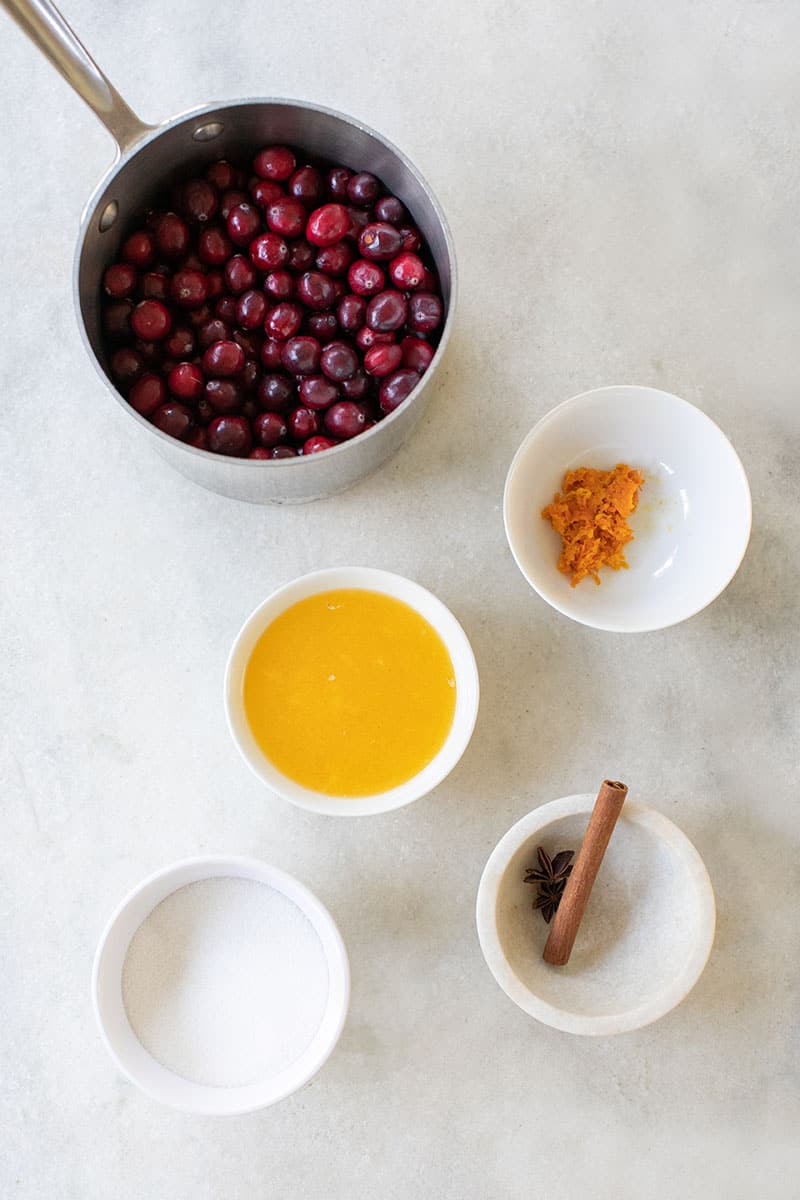 Directions
Take all of the ingredients and bring them to a boil, reducing them until they turn a rich deep purple hue. Let the mixture simmer on the stove.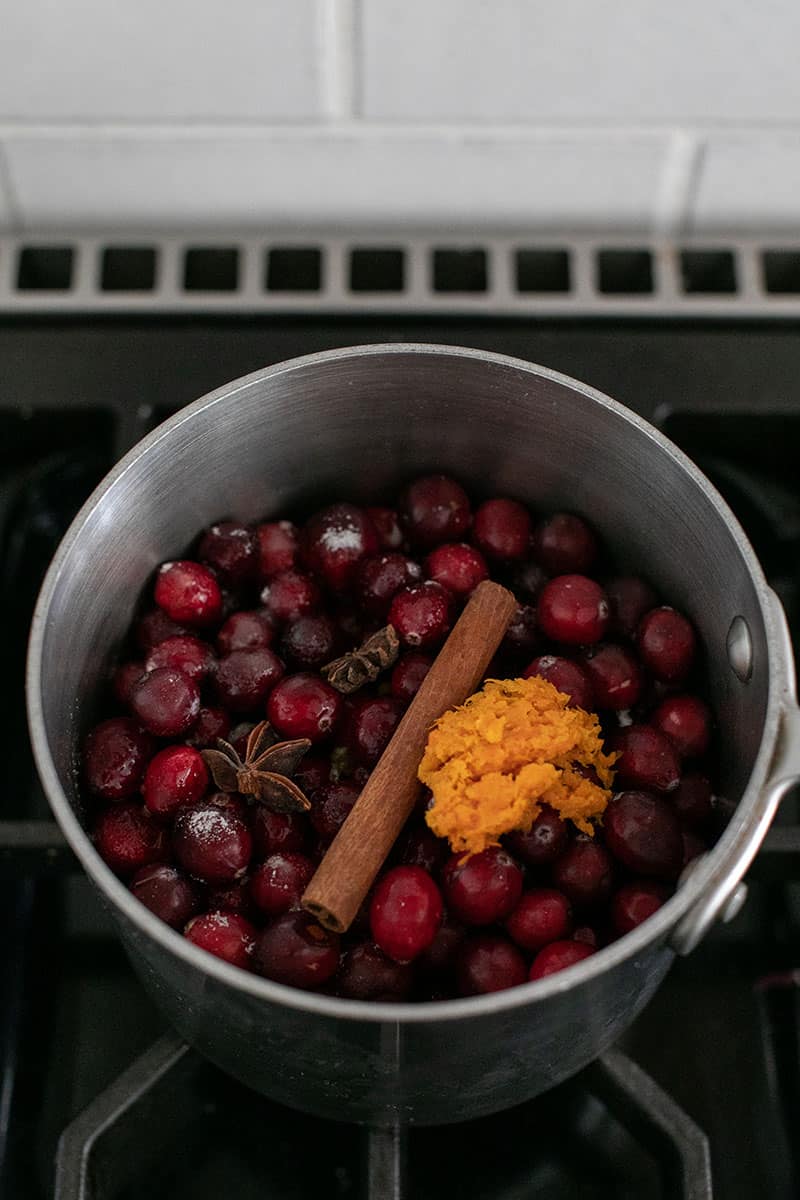 For additional flavor, mix in, even more, orange and lemon zest to give your homemade cranberry sauce a kick. You can also include nutmeg to finish it off and create a rich, autumnal flavor profile.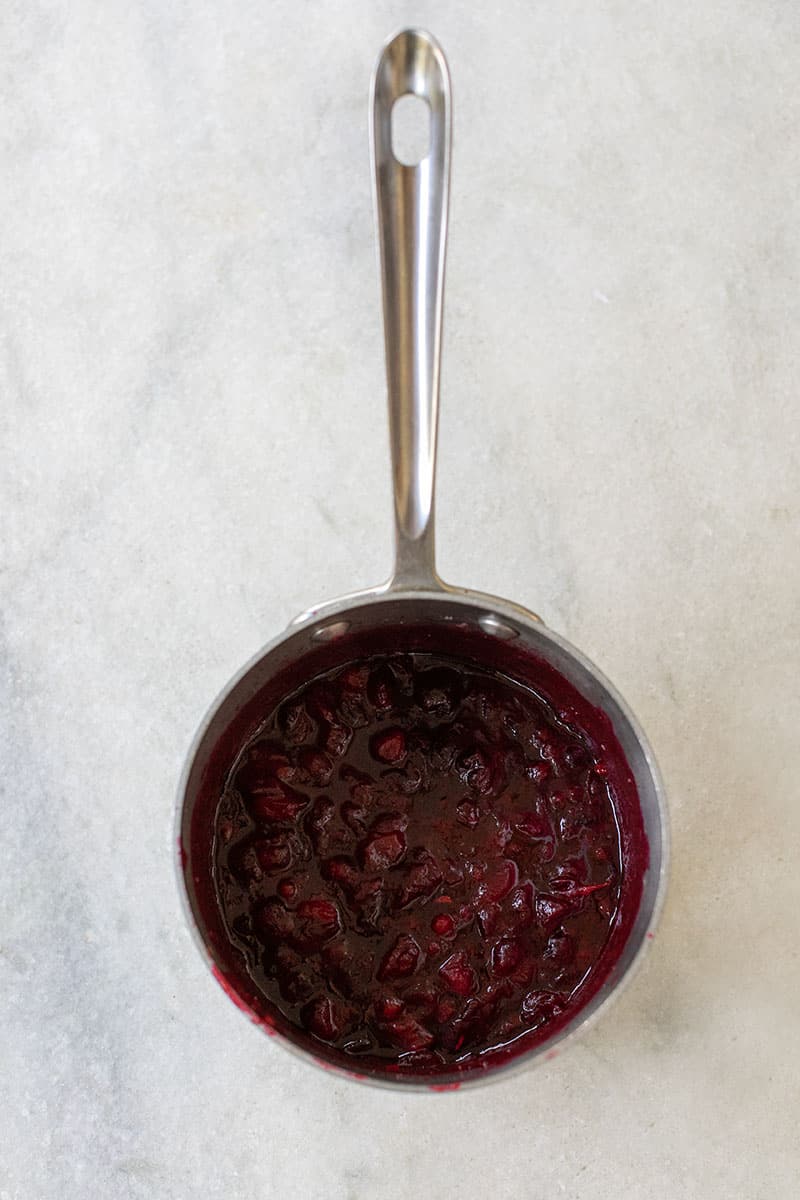 This is what the sauce will look like after it boils on the stovetop.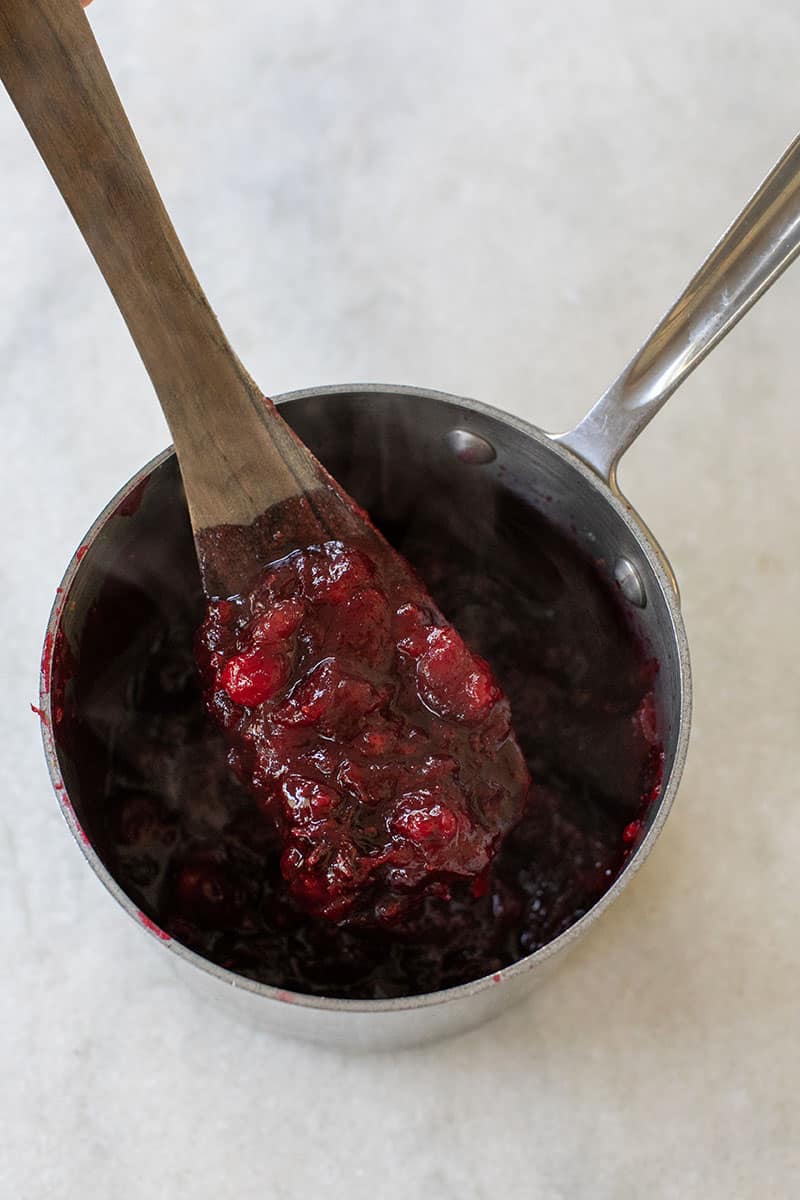 Why do People Eat Cranberry Sauce with Turkey?
For many Thanksgiving fans, cranberry sauce is a nice relish to serve on the side with the main dishes. But for others, cranberry sauce is an awesome addition to be eaten right on top of the turkey.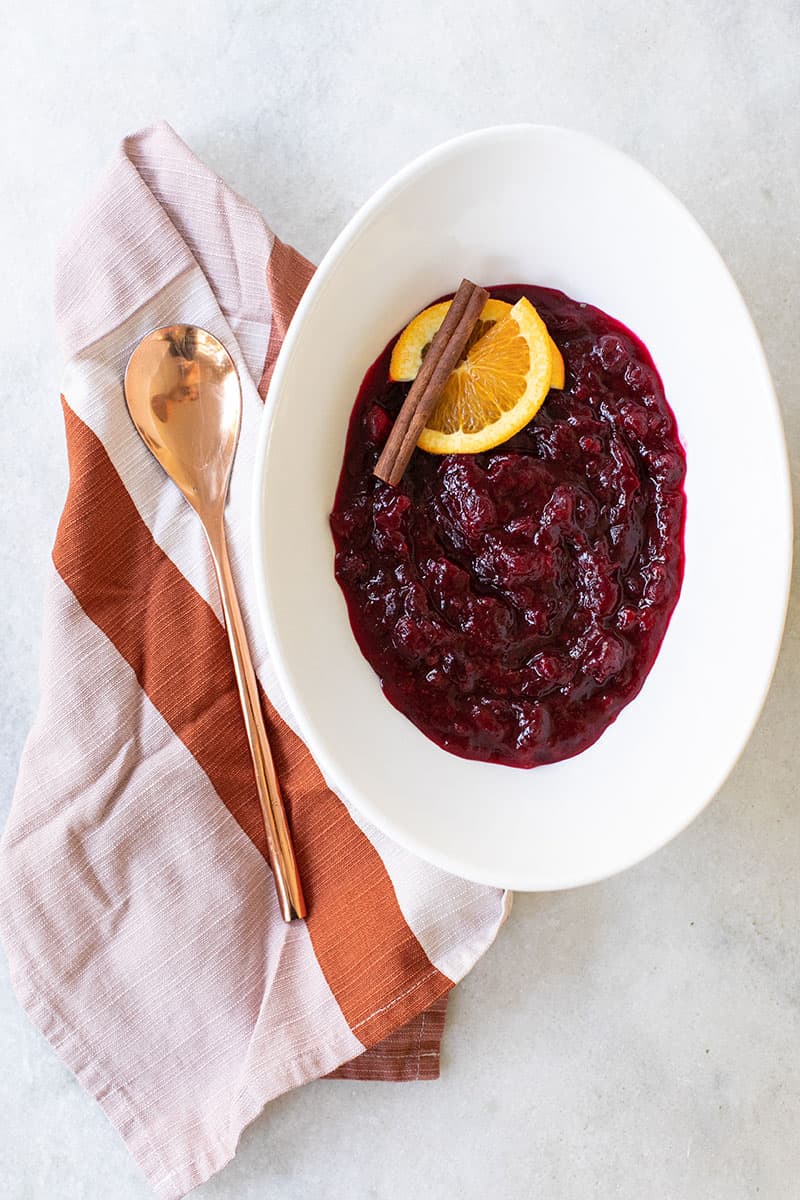 Some people prefer to spread cranberry sauce directly on top of their turkey slices on Thanksgiving day. It's also a popular favorite to spread on a turkey sandwich to give leftovers a bright "zing" and a punch of flavor.
Cranberries are native to North America, so it's no surprise that they've been a traditional food for decades. While there's no proof that they were eaten at the first Thanksgiving meal, they're still a popular holiday treat today for most Americans.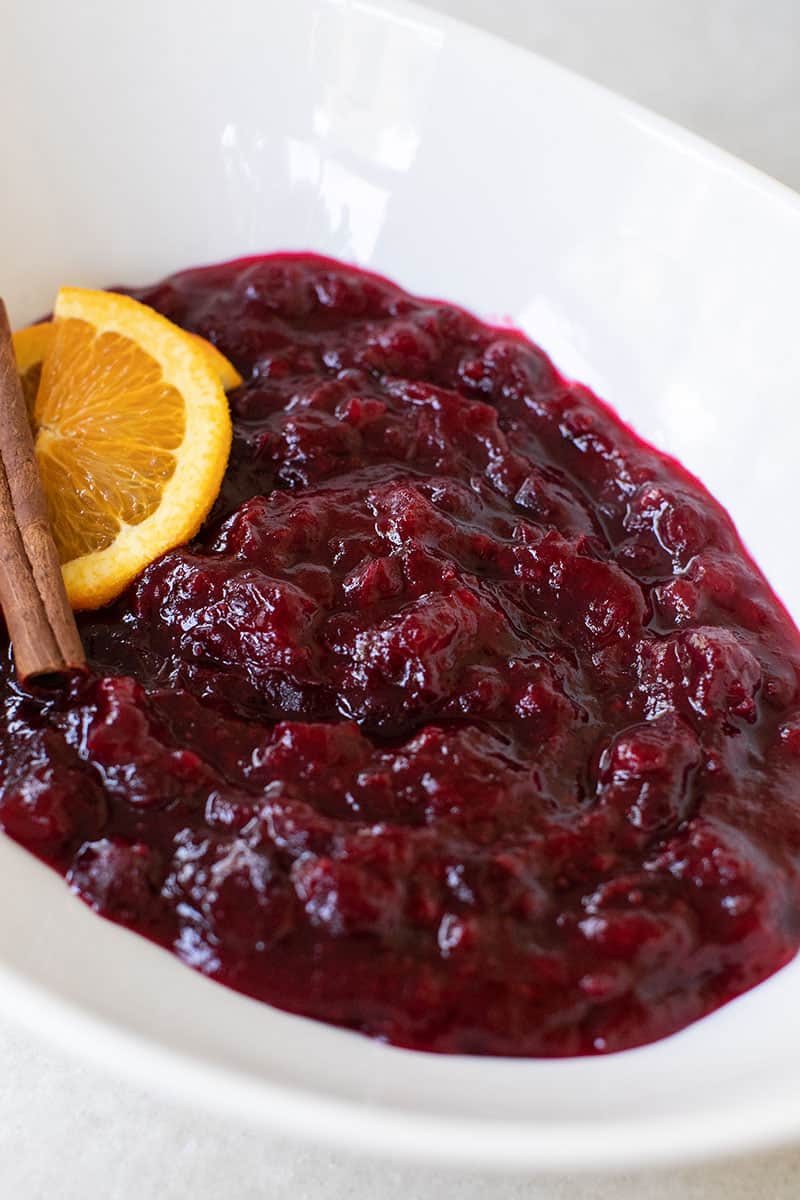 Some Native American tribes used cranberries as medicine. Their tart flavor appealed to the settlers, and the fruit was passed down as part of an ingredient for many meals including turkey dinners.
What's the Proper Serving Temperature For Cranberry Sauce?
While there's no one right or wrong serving temperature for cranberry sauce, most people prefer it at room temperature.
Some people serve this tangy sauce hot, but it's typically eaten either cold or lukewarm. Allow your sauce to warm up just a bit before serving for the best results. You can also serve at room temperature.
Canned cranberry sauce is typically served chilled, but your homemade version will taste more appealing at room temperature.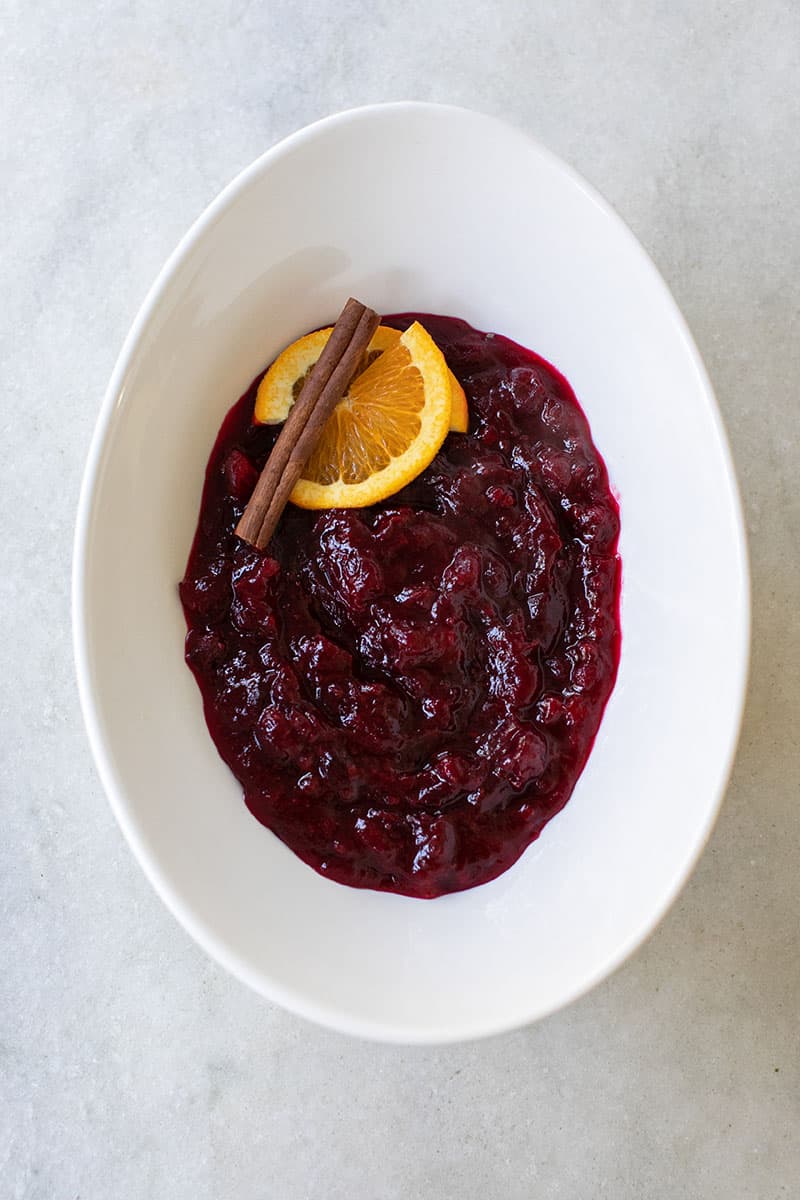 What Makes Cranberry Sauce on Top of Turkey Taste So Good?
Turkey is a savory dish, so adding a bit of cranberry sauce can really enhance the flavor profile. Lots of people enjoy adding the sauce directly on top of the turkey to balance out the flavors.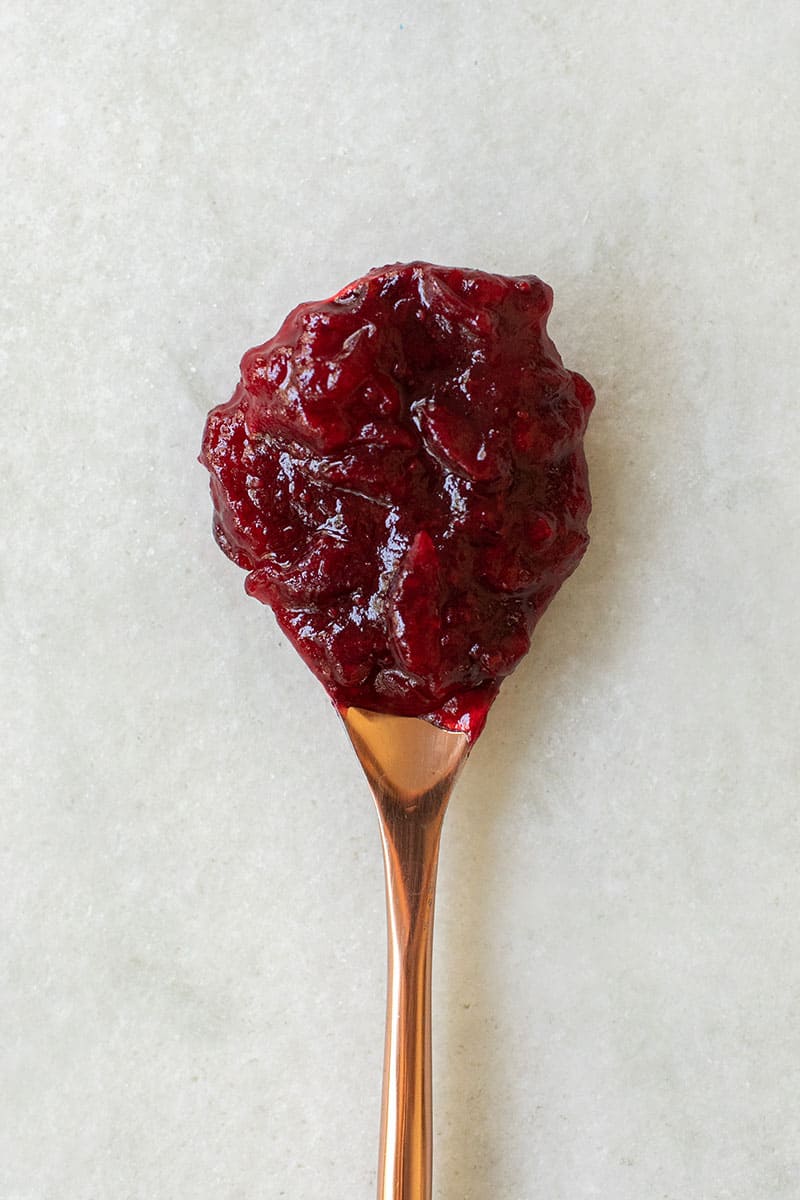 The perfect mixture of saltiness and sweetness is pleasing to the palette. When you add this tangy yet sweet sauce to turkey, it creates a fantastic balance of flavors that work well together naturally.
Sometimes, cooked turkey can end up tasting a bit dry. Cranberry sauce gives the turkey the perfect amount of moisture to make it a delicious multifaceted dish.
How do People Eat the Canned Cranberry Jelly on Thanksgiving?
If you've never made homemade cranberry sauce, you've probably had your share of canned cranberry jelly. This storebought version is quite tangy and comes premade in a tin can.
To serve the jelly at the Thanksgiving table, it must be cold in order to keep its shape. The jelly is removed from the can and then cut into slices for serving.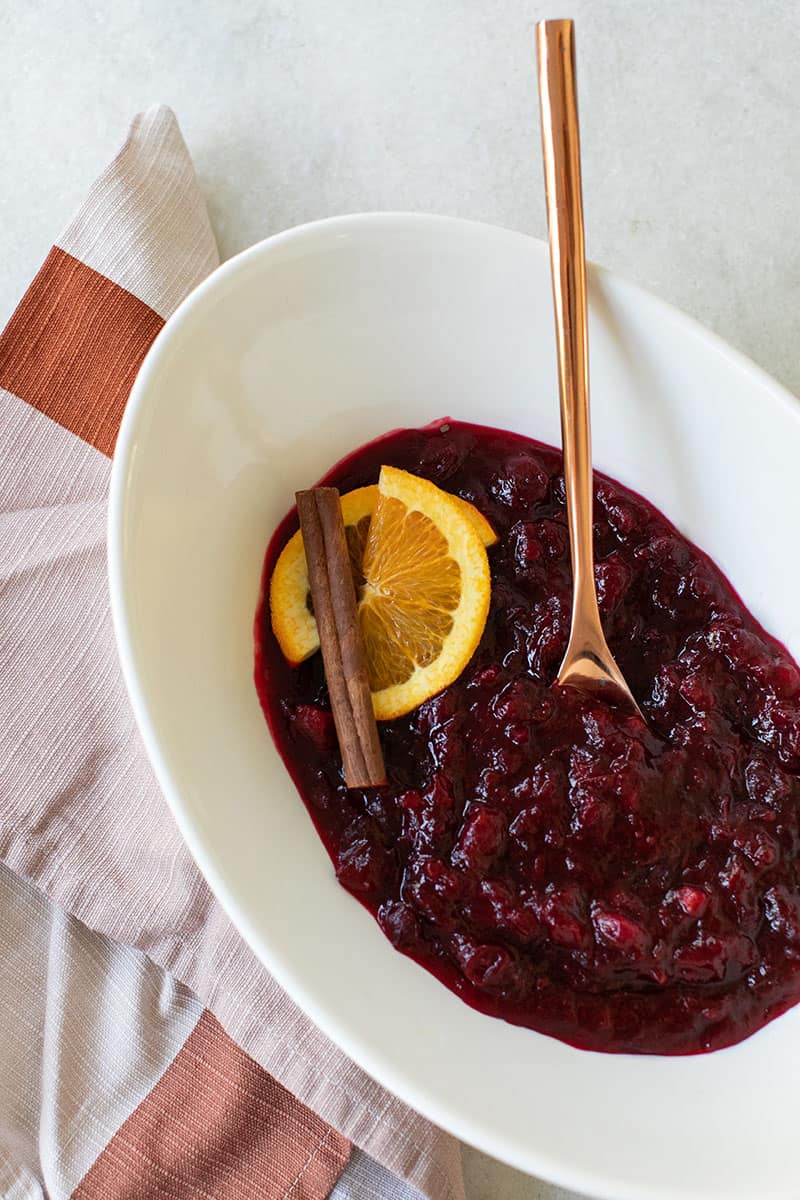 If you want to add some cuteness to canned cranberry jelly, use a cookie cutter to cut the slices into fun fall shapes. You can also spruce it up with some rosemary sprigs, candied ginger, or orange zest.
How Long Can You Store Cranberry Sauce?
Cranberry sauce has a surprisingly long shelf life as long as you keep it cold. In general, you can store the sauce in the fridge for around 10 to 14 days.
When you store your sauce, keep it in an airtight container with a lid. You can also put the cranberry sauce in plastic storage bags if you prefer.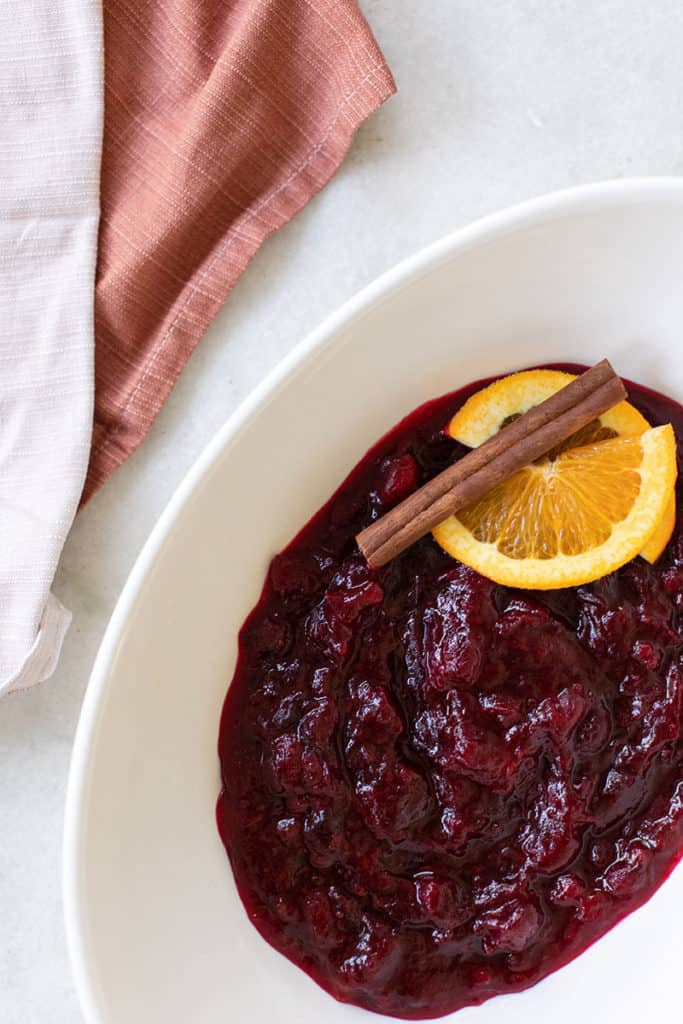 How Many Cups in a 12-oz Bag of Cranberries?
Most storebought cranberries come in 12-ounce bags. There are three cups of cranberries in bags of this size.
One 12-ounce bag of cranberries equals about two and one-quarter cup of chopped berries. A single serving is about one-half cup of fresh and about one-quarter cup of dried berries.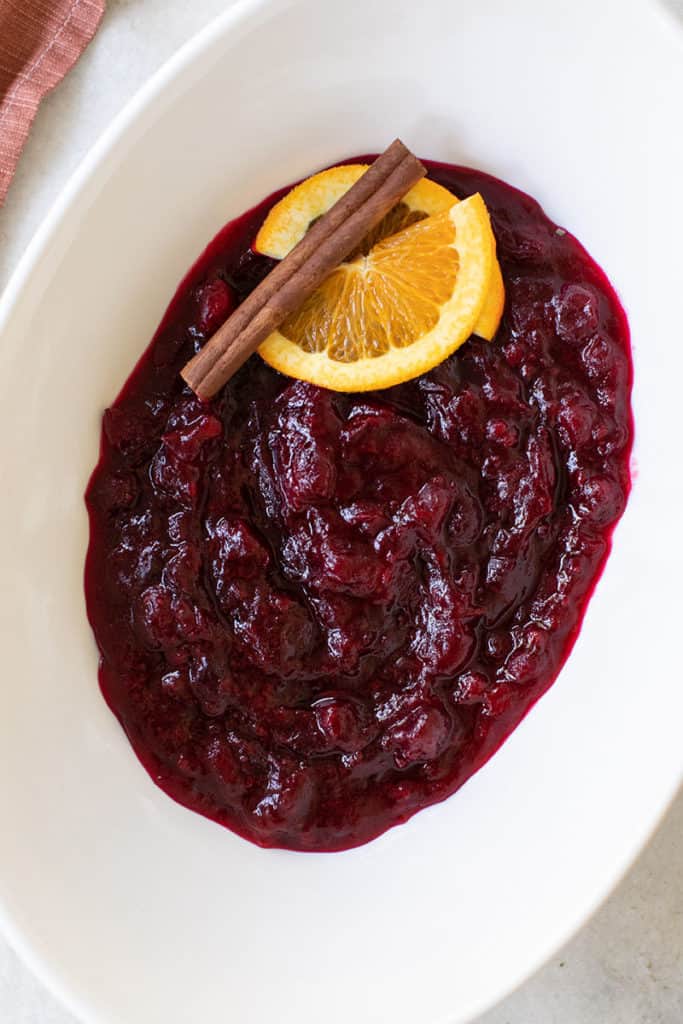 How Do You Make Cranberries Less Tart?
Cranberries are a naturally tart fruit, but you want to add some sweetness when serving them as a Thanksgiving sauce. You can make them less tart by creating a quick simple syrup.
Mix equal parts sugar and water and bring it to a boil until it forms a semi-thick syrup. Add this to your sauce to reduce the tartness of the berries. You can also add a teaspoon of honey to cut through the tartness if you desire.
Enjoy Cranberries Every Holiday
Now that you know how to make cranberry sauce at home, you can craft a delicious side dish everyone will love. Make sure you let your sauce chill and add a few extras like orange zest and sugar for flavoring.
Whether you top it on your turkey or serve it with sandwiches, this popular fruit is a must-have for your Thanksgiving meal.
More Thanksgiving Recipes + Ideas!
The Best Pumpkin Panna Cotta Recipe
How to Cook a Turkey – Step by Step Guide
A Modern Rustic Thanksgiving Table
How to Make Cranberry Simple Syrup
5 Tips for Beautiful Thanksgiving Table Decor
Easy Cranberry and Vodka Punch
For more fabulous ideas about holidays and home, visit our website and be sure to sign up for our newsletter.
You can also FOLLOW US on FACEBOOK, INSTAGRAM, and PINTEREST to see more delicious recipes, cocktails, desserts, and parties!
Homemade Cranberry Sauce
Easy, homemade cranberry sauce recipe that anyone can make! It's flavored with orange juice and fall spices and foolproof!
Print
Pin
Rate
Ingredients
16

ounces

fresh cranberries

3/4

cup

sugar

2

tsp

orange zest

1/3

cup

fresh orange juice

1/3

cup

water

1

cinnamon stick

2

whole

star anise
Instructions
Add all of the ingredients into a medium saucepan.

Cook over medium heat until cranberries start to pop. About 7 minutes.

Increase the heat and cook for another 10 minutes.

Stir the cranberries so they don't burn on the bottom.

They will be a dark shade of red and look more like a jam texture.

Let the cranberry sauce cool before serving.
Notes
If you want, you can add in a teaspoon Cointreau! 
Store the sauce in the fridge for around 10 to 14 days.
Nutrition
Calories:
75
kcal
|
Carbohydrates:
19
g
|
Protein:
1
g
|
Fat:
1
g
|
Saturated Fat:
1
g
|
Sodium:
1
mg
|
Fiber:
1
g
|
Sugar:
19
g
|
Vitamin C:
1
mg
|
Calcium:
6
mg
|
Iron:
1
mg