Create your own stunning Thanksgiving Dessert with our charming ideas! From cake stands to a pretty dessert sign all of the tutorials found here!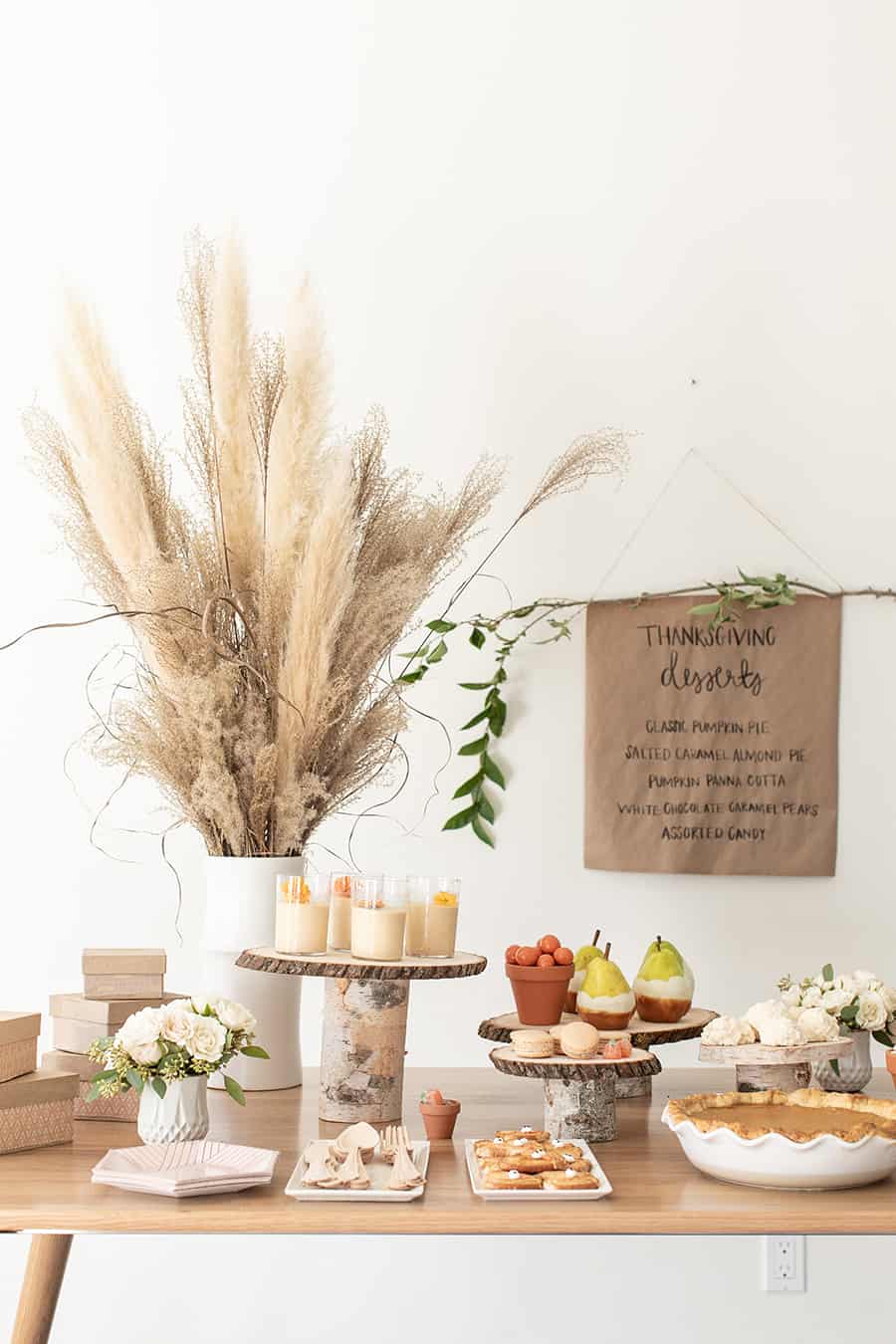 Get out the tools because the holidays are here! We're teaming up with Fiskars and their brand new line of DIY tools! The tools are modern, sleek and have the iconic Fiskars orange accents.
I'm very excited to have my own DIY tool kit now, considering how much I use staple guns, scissors, hammers and everything else when bringing my DIY ideas to life.
I felt like I was always digging through Zan's tool cabinet never knowing what I needed, but now I have the perfect set that no one is touching!
We used the tools to help us create a charming Thanksgiving dessert table consisting of three easy DIY projects and some delicious treats!
Together, the tools cover all the bases to create these little projects and bring our Thanksgiving dessert table decor to life. We served pumpkin panna cotta, classic pumpkin pie, white chocolate, and caramel dipped pears, caramel pie and assorted candies!
Also, a side note since we're all looking for holiday gifts right now, these tools would make such a charming gift! Package them up in a wooden box, with a bow, and give to someone who loves to DIY and entertain!
How To Make A Thanksgiving Dessert Table – Step By Step
DIY Cake Stands For Your Dessert Table
Bring the outdoors inside with these beautiful, DIY rustic cake stands! They're so easy to make and by placing several cake stands out on the table, you create a dessert bar that can fit a variety of festive treats!
We picked up the Birchwood pillars and round centerpieces at our local craft store.
Using the quick and convenient Fiskars Precision Hand Drill, we drilled holes at a 45-degree angle on 2 opposite sides of the pillar. The cord-free, manual-powered design of the drill is perfect for precise, hassle-free holes through drywall, wood, and laminate.
It comes with four standard drill bits to help hang items too. The drill will be available in December – just in time for the holidays!
Once the hole is drilled on both sides, you'll screw in a wood screw to connect the pillar to the flat round piece of wood. The screw, at the 45-degree angle, will catch the disc and connect them both. Do this on each side and that's it!
Thanksgiving Desserts
Here are some easy Thanksgiving desserts for your table!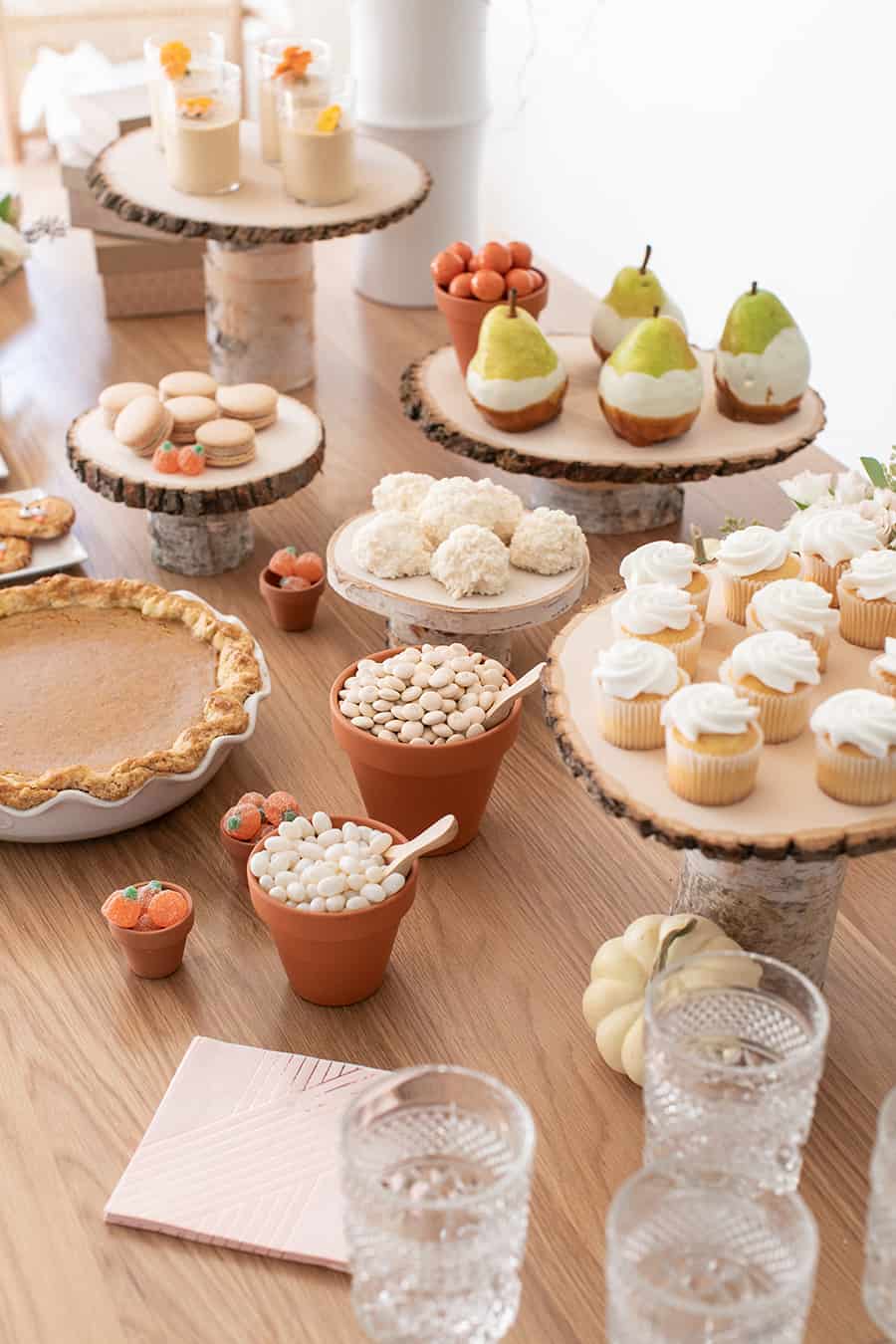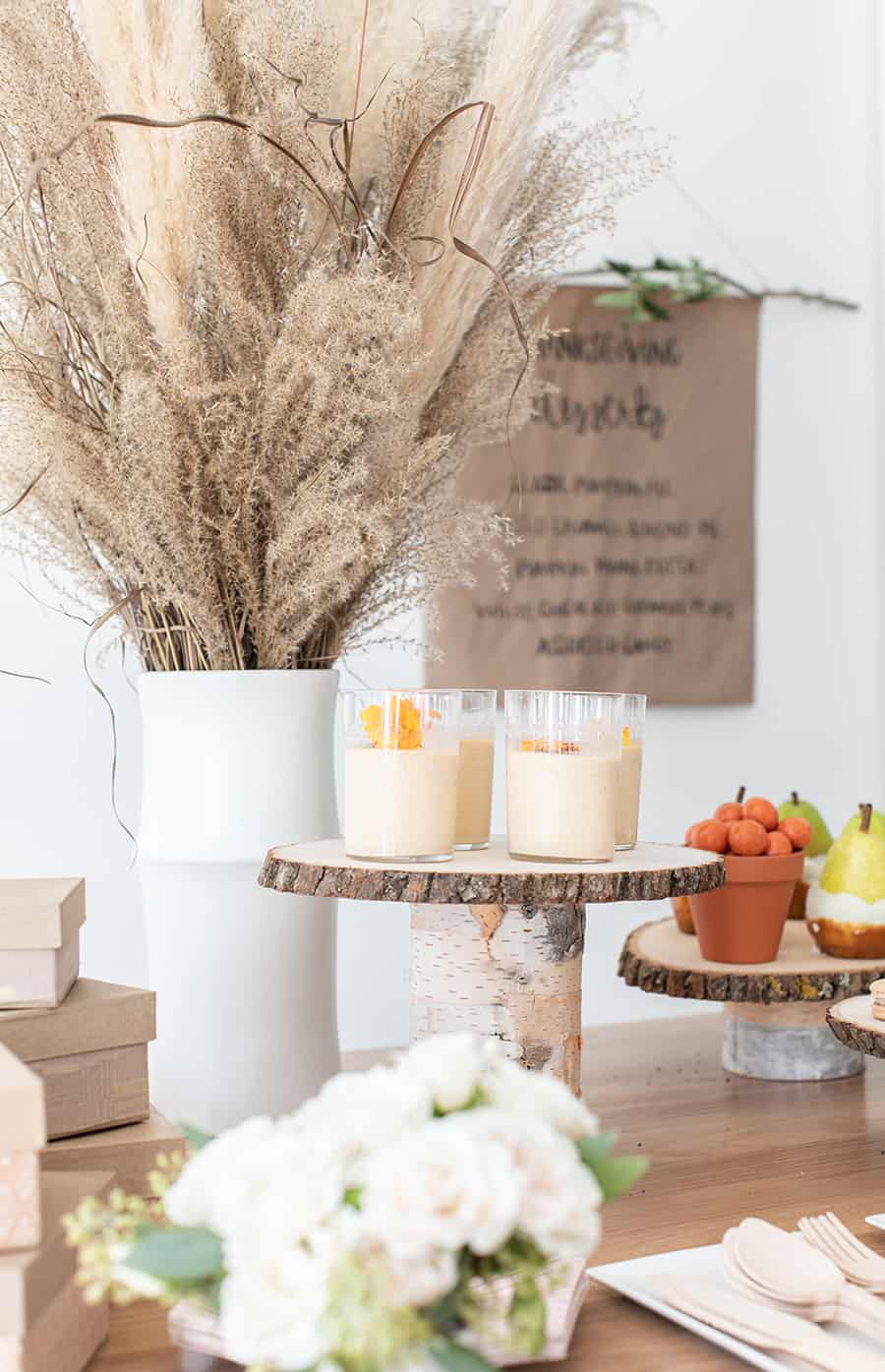 A Custom Made Dessert Menu For Your Dessert Table
Continuing with the rustic vibe, we brought the outdoors in with a custom-made dessert menu. We used the Fiskars PowerCut™ Shears that have a premium, heavy-duty, stainless steel blades to cut through challenging materials, like twigs!
We cut a small branch from our very overgrown tree and tied twine around each side. For the menu, a brown paper roll works great, and then just use hot glue on the edges to glue it to the branch.
The menu adds a nice touch to the dessert table and lets your guests know what's being served. I was also happy I got to use my Fiskars Precision Hammer to hang the menu! So fun. Also, due to it's weight, it's extremely easy to use but still powerful enough to drive in nails.
DIY 'To-Go' Boxes, For Leftover Dessert!
Since there will always be leftover dessert from Thanksgiving, with all of the stuffed bellies, dessert can be even better the next day!
We added some charm and color to our to-go boxes to fit within the vibe of our dessert table. It's so easy to do and we love sending guests home with leftover desserts wrapped up in a pretty box!
To make these, purchase fabric from your local craft store and cut it into strips that will fit around the box. Using the Fiskars Precision Staple Gun, pull the fabric strips tightly around the box and put two staples in to secure it.
Line each box with parchment paper and the boxes will be ready for guests to fill! Since this staple gun is so lightweight and compact, it is perfect for easy maneuvering in tight, awkward spaces.
Top Tips For Your DIY Thanksgiving Dessert Table
Grab yourself a set of Fiskars DIY tools, for hassle-free DIY!
Make sure to line your go-to boxes with parchment paper, this adds a gift vibe and also protects the box from any dessert spills.
Add some floral arrangements to the table for an added pop of color.
Opt for a mix of pies and individual desserts on the table, to add variety.
Check Out These Other Great Thanksgiving Ideas
A Rustic Modern Thanksgiving Table Setting
Charming Printable Thanksgiving Tags
5 Steps To A Beautiful Thanksgiving Tablescape
Apple & Gin Autumn Cocktail by No Spoon Necessary
DIY Thanksgiving Centerpieces by Real Simple
If you have tried this Thanksgiving Dessert Table let me know how it turned out in the comments below! You can also FOLLOW US on FACEBOOK, INSTAGRAM, and PINTEREST to see more delicious recipes and party ideas!