Tips for creating the perfect, festive and easy Thanksgiving kids' table to keep the kiddos happy, busy and having lots of fun!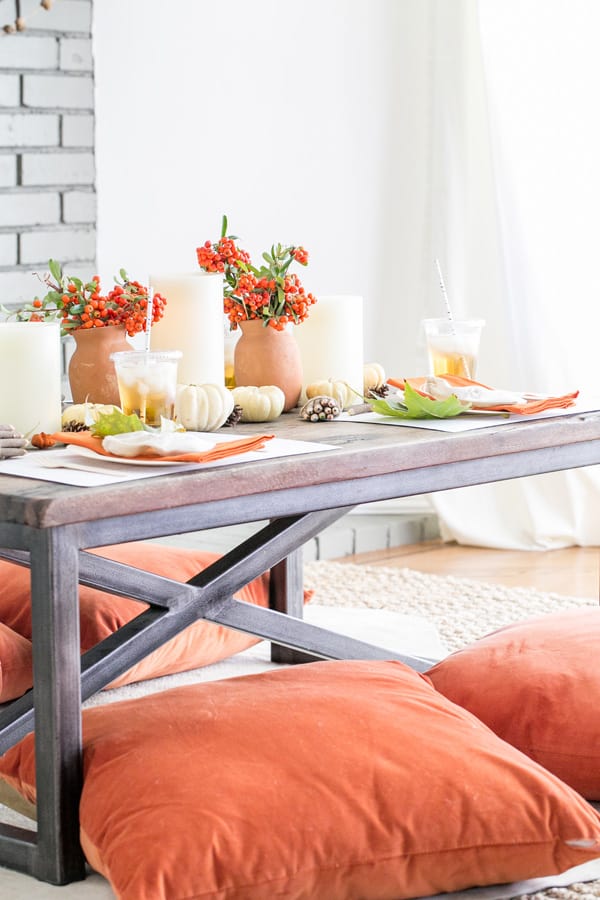 I can literally remember my mother pulling out an extra table for the kids for Thanksgiving dinner. We loved being able to sit with our cousins, laugh, play and eat while the adults enjoyed themselves.
Flash forward many years and now I'm the one creating the kids' table and to me, it's just as important as setting the main table!
There is nothing sweeter than kids enjoying each other's company. One rule we have… leave phones and iPads at the door!
How to Set a Thanksgiving Table for Kids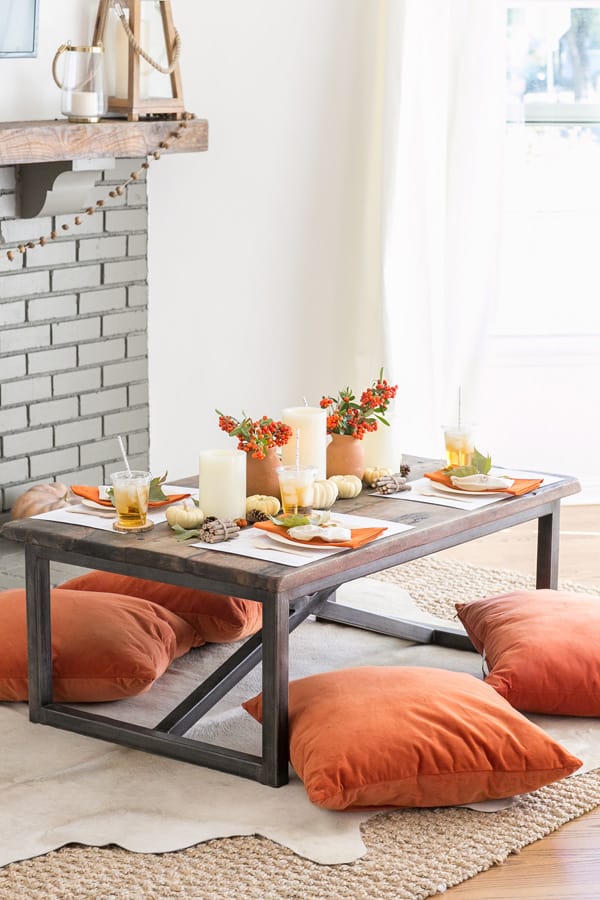 Don't even worry about finding extra chairs! Let the kiddos gather around a coffee table and toss some comfortable pillows on the floor.
Kids actually love sitting on the floor and they have a bit more wiggle room for the long dinner. It's fun and creates a cozy atmosphere.
For easy cleanup (they can even do it themselves!), use disposable bamboo dinnerware. It's sturdy and looks chic and kids won't care.
No spills! Try paoer cups with lids and fun straws like these birchwood ones. Also, great for easy cleanup.
Set the mood and atmosphere with electronic flameless candles.
For simple and cheap decor, pick berries, fall leaves and pine cones on a nature walk. Incorporate them onto the table and you can even involve the kids when choosing leaves and sticks.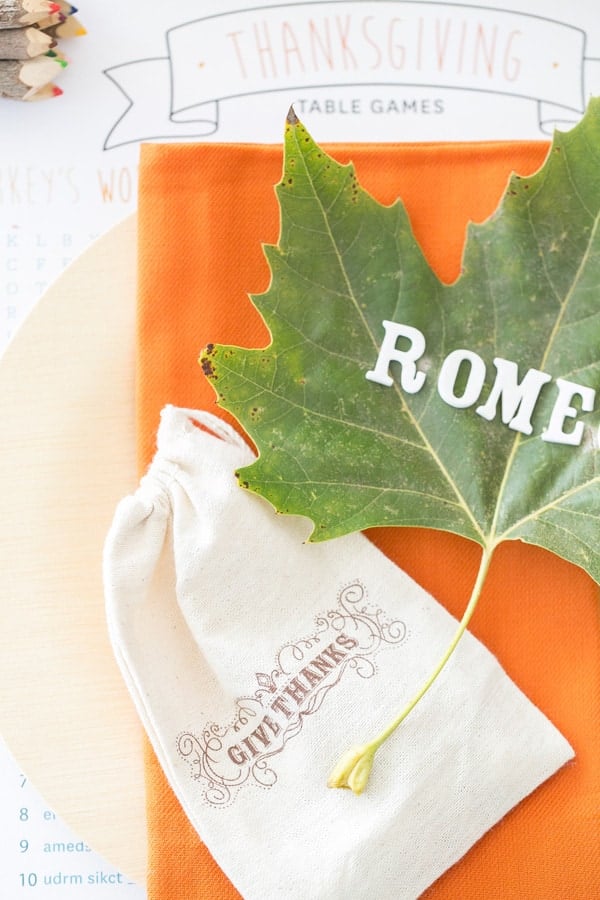 To make super easy name cards, use letter stickers on flattened leaves to spell out names.
Thanksgiving Crafts for Kids
Have at least 3 craft activities for the kids to do after (or while) they're eating. Here are some good ideas!
DIY bracelets and necklaces are a fun craft to keep kids busy! Have the elastic already cut with one end tied and all of the beads in individual bags for each child.
Make a felt turkey! Since craft stores are fully stocked with easy and affordable holiday crafts, we found these turkeys that didn't require cutting or gluing!
Check your local craft store for easy craft kits to make. You can also order a few online too!

Thanksgiving Activity Sheets
Turkey Stickers
The Hot Potato game is great for the outdoors
Check out 40 more fun Thanksgiving activities to do you with kids!
Thanksgiving Desserts for Kids
Everyone looks forward to Thanksgiving dessert, especially kids! My son talks about having a giant slice of pumpkin pie all year! Kids would love our DIY Thanksgiving dessert table. Here are some more delicious recipes too!
Salted Caramel Pumpkin Pie Pops
Mini Fondant Pumpkin Pies
Easy Thanksgiving Turkey Sugar Cookies
Thanksgiving Appetizer for Kids
Kids will love this colorful vegetable platter for Thanksgiving! It's shaped like a turkey and filled with bright colors and a yummy ranch dip! See how to make it here!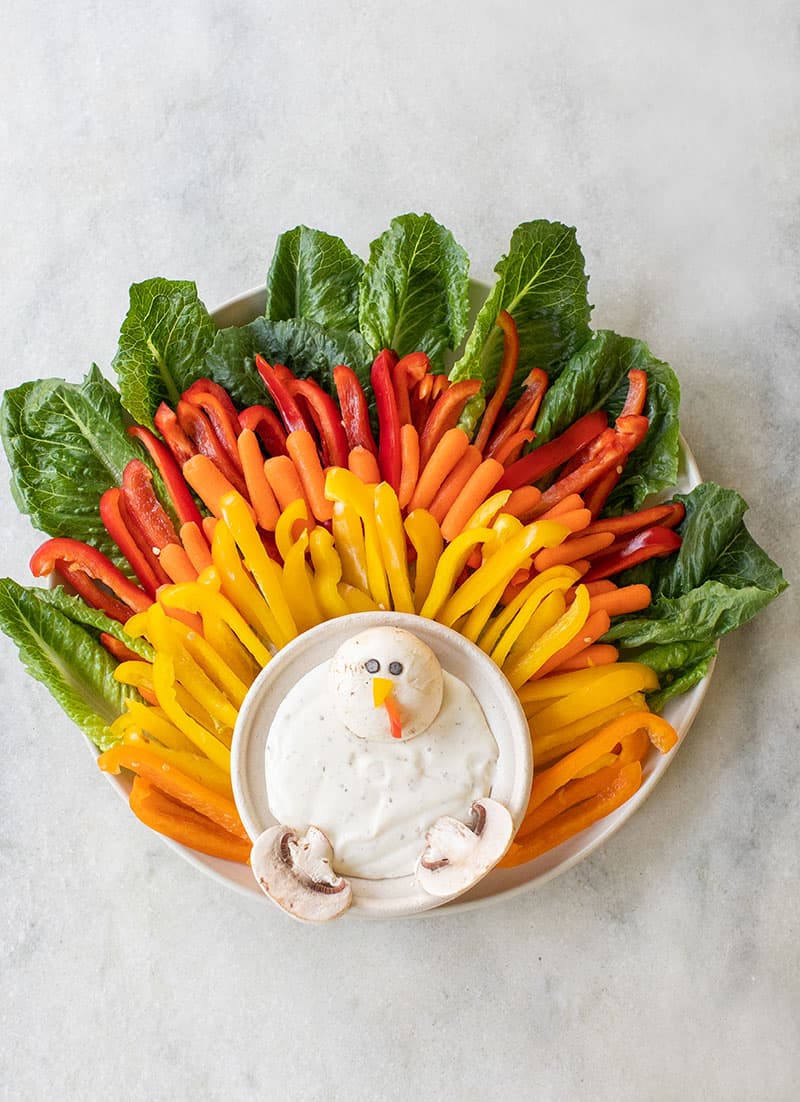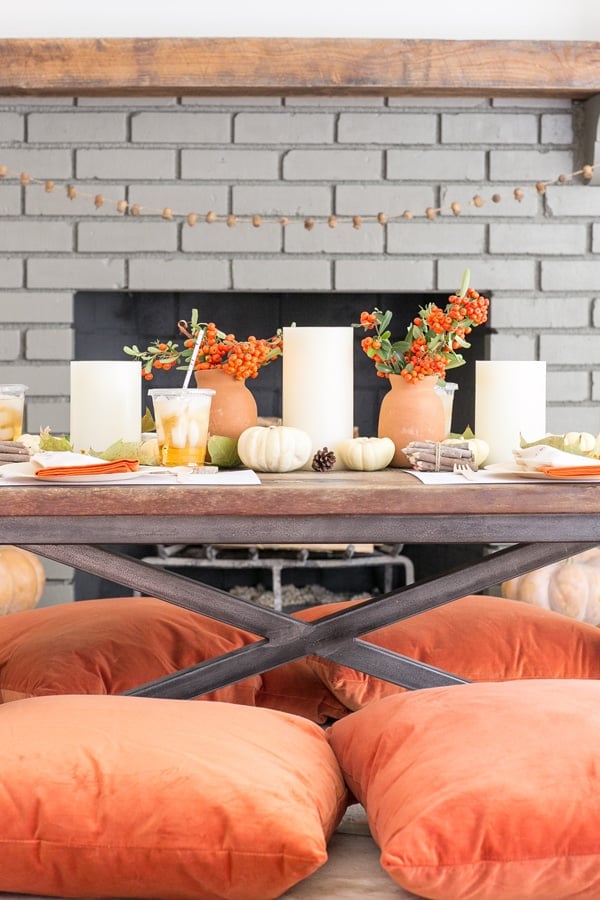 Thanksgiving Movies for Kids
As dinner slowly ends and kids are getting restless and tired put on a Thanksgiving movie! Here are some great Thanksgiving movies for kids:
A Charlie Brown Thanksgiving
Miracle on 34th Street
Garfield's Thanksgiving
Turkey Hallow. We actually did a promotion for this movie many years ago! We made 3 movie snacks and you can them here!
Thanksgiving Story for Kids
With all of the cooking, eating, football and game-playing it's important not to forget to share the story of why we celebrate Thanksgiving and what it means to your family.
Here are some Thanksgiving book suggestions to read during the month of November. You can also leave these out near the kids' table on Thanksgiving day.
Wishing you a very blessed and delicious Thanksgiving!
This post contains Amazon Affiliate Links