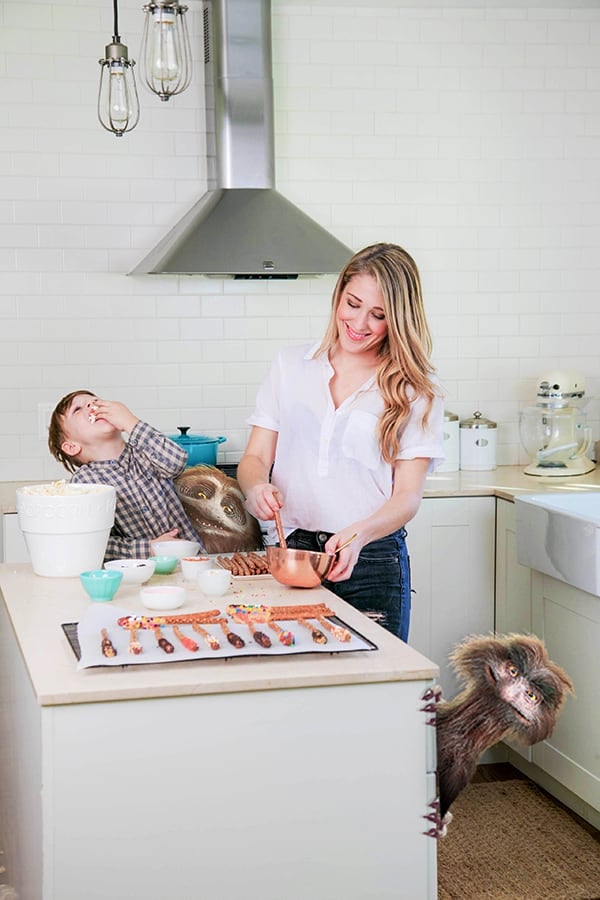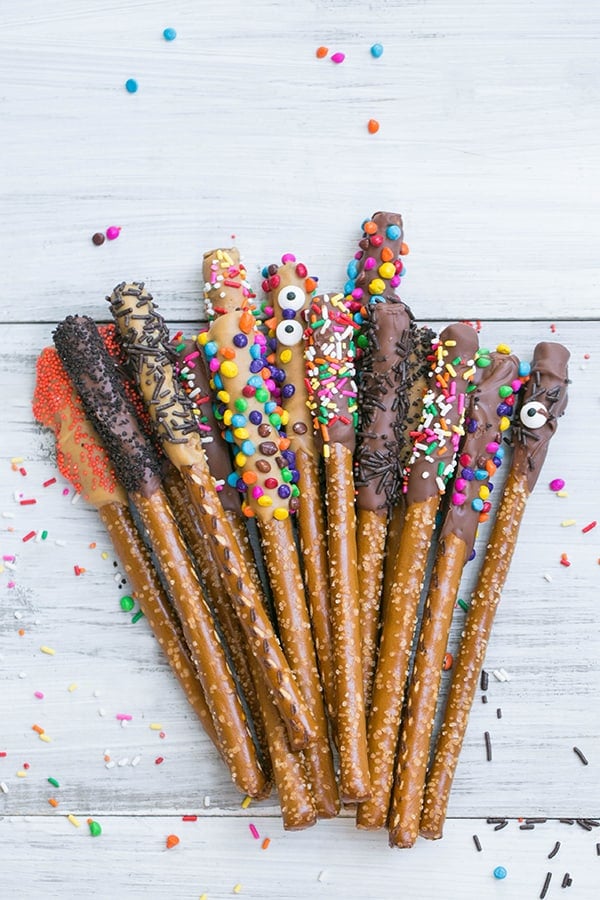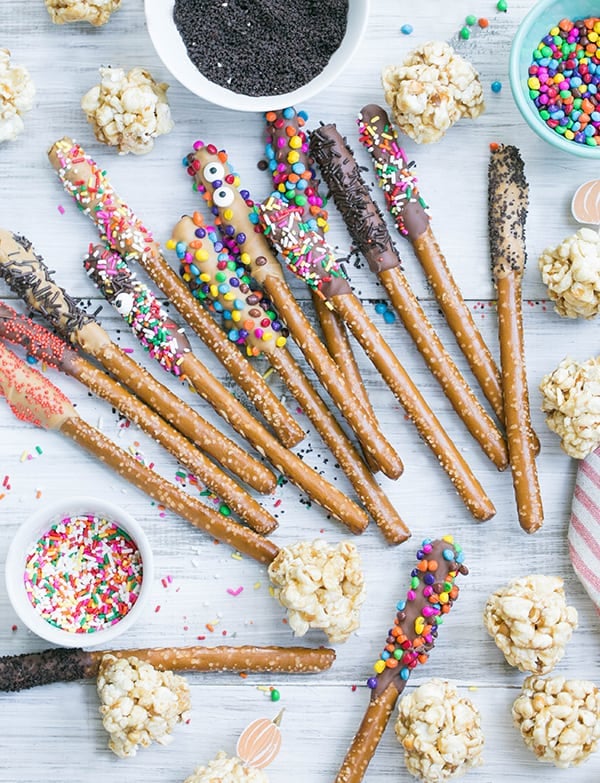 Watching movies by the fire with my family is one of my all-time favorite things to do around the holidays! I've always loved the bonding it promotes and I look forward to it every season. As Romeo gets older, the holidays are even more exciting and I love including him in the cooking and crafting festivities!! Lifetime approached us for this fun collaboration for their new Thanksgiving movie, Jim Henson's Turkey Hollow, premiering November 21st at 8|7c! I have to say, this one of my favorite projects because I got to include Romeo in it, and as a family, we had so much fun watching the movie together. The movie was awesome. Totally funny, classic and very Henson-esque, which we love. Watching it was a really great way to start the holidays!
Romeo and I made some fun movie snacks together to enjoy during Turkey Hollow. We made pumpkin spice popcorn balls and fun chocolate-dipped pretzels! Both recipes are super easy and promote kids helping in the kitchen, which is delightfully messy! I loved every minute of it!
My favorite part of this is the fact that the Turkey Hollow crew was cooking along with us in the kitchen!
Haha!! Who knew these creatures made such great sous chefs?! ☺
See our fun movie snack recipes for kids below and tune in to watch Jim Henson's Turkey Hollow on Lifetime November 21st at 8|7c with your family!!
Chocolate Dipped Pretzels
1 bag milk chocolate chips
1 bag Reese's morsels
Pretzels sticks
Sprinkles
In a double broiler, melt the chocolate and the Reese's morsels. Transfer to a bowl and dip the pretzels. Then dip in sprinkles and lay flat on parchment paper to cool until hardened!
Pumpkin Spice Popcorn Balls
3 bags popped popcorn (I used butter flavored!)
3/4 cup light corn syrup
1/4 cup butter
2 tablespoons cold water
1 cup brown sugar
1 cup powder sugar
1 cup mini marshmallows
2 teaspoons pumpkin pie spice
2 teaspoons cinnamon
In a sauce pan combine the corn syrup, butter, water, sugar and marshmallows and bring to a boil.
Pour over popped popcorn. Add in the spices and then fold, so all of popcorn is coated.
Wait a few minutes until it cools down. Then butter your hands (the fun part!!) and press into mini balls! Place on parchment paper to cool.