If there is one holiday to set a stunning table for, it's Thanksgiving! We're sharing some beautiful fall Thanksgiving table setting ideas for you to incorporate into your own table!
Also, make sure to check out our guide to preparing for Thanksgiving dinner and the ultimate guide for an easy Thanksgiving dinner.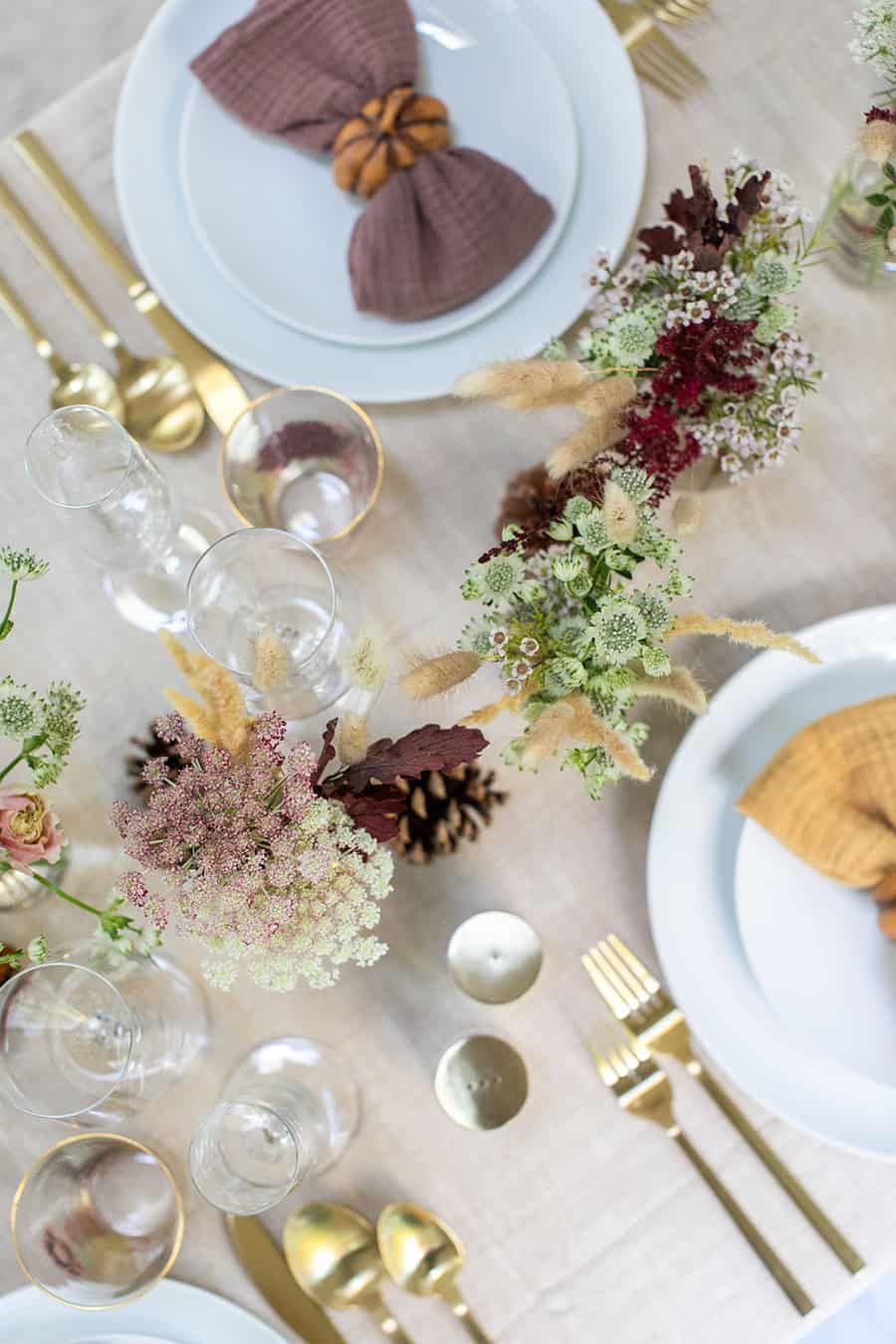 It's time to start planning your Thanksgiving table setting! If you're hosting a gathering this year, we're sharing some of our favorite Thanksgiving ideas, as well as beautiful table decor for a fall-themed dinner.
From being the best host to creating a memorable dinner for your family, there is an art to entertaining and we're excited to share some of our favorite ways to make it special!
How to Set a Thanksgiving Table
A Thanksgiving celebration is all about food, family, and friends. Give thanks and do it with the ones you love.
There are a few ways you can set a table, casual, formal, and modern. We go over each of these table settings with graphics in the post, How to Set a Table: A Guide to Everything You Need to Know. Depending on what you're serving for dinner will help decide which table setting is best.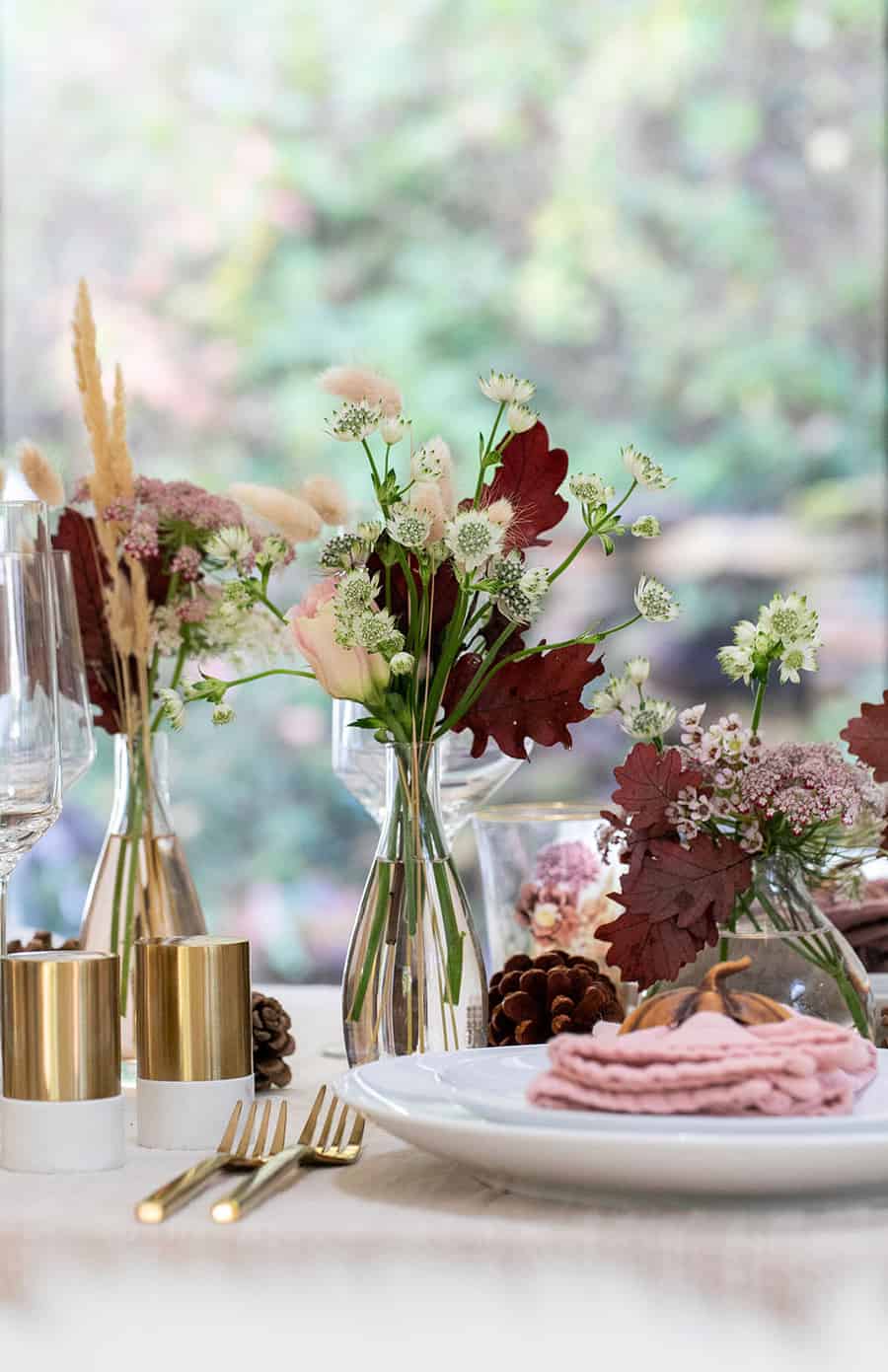 Flowers for a Thanksgiving Table Setting
A simple way to add flowers to your Thanksgiving table setting without having to arrange them is to use small bud vases. Fill the bud vases with fall flowers or clippings from outside.
Line the bud vases down the table for an easy Thanksgiving centerpiece.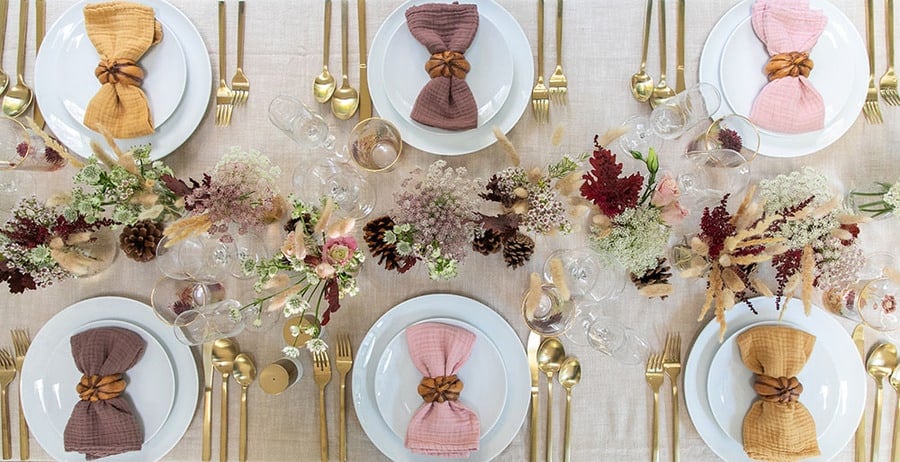 What colors are for Thanksgiving?
Traditional colors for Thanksgiving are neutral colors and shades of muted red, orange, yellows, and brown. We also used shades of blues in our modern rustic Thanksgiving table setting and it looked beautiful!
Pumpkin Napkin Rings
Napkin rings add a touch of charm to the table setting. Napkin rings were originally used to distinguish napkins in a household in between weekly washes. Now they are used as a decorative item for a beautiful table setting.
These pumpkin rings can be used all fall and are perfect for Thanksgiving!
Glassware for a Thanksgiving Table Setting
Don't hold back on beautiful glassware for Thanksgiving! Depending on what you're serving you'll want to set your table with one wine glass, one champagne flute, and one water cup.
If you'll be serving a red and white wine, you'll need to have two wine glasses on the table with a champagne flute and a water cup.
For more information on serving wine and knowing the difference between wine glasses and temperatures to serve wine at check out our easy and helpful tips for serving wine post!
It's All About the Deatils!
It's all about the details! Adding a few chambering touches to your Thanksgiving gathering will make it memorable. Here are a few ideas!
Thanksgiving Table Setting Shopping Guide
All of these products can be used everyday too. Buy them once and invest in good quailty entertaining items like wine glasses, beautiful white plates and gold flatware that you can use over and over again.
Thanksgiving Treats and Candy
Serve festive Thanksgiving treats on a large platter filled with chocolates, pumpkin-flavored candy, and fall treats. See all of the details for making a Thanksgiving dessert platter here, including a buying guide.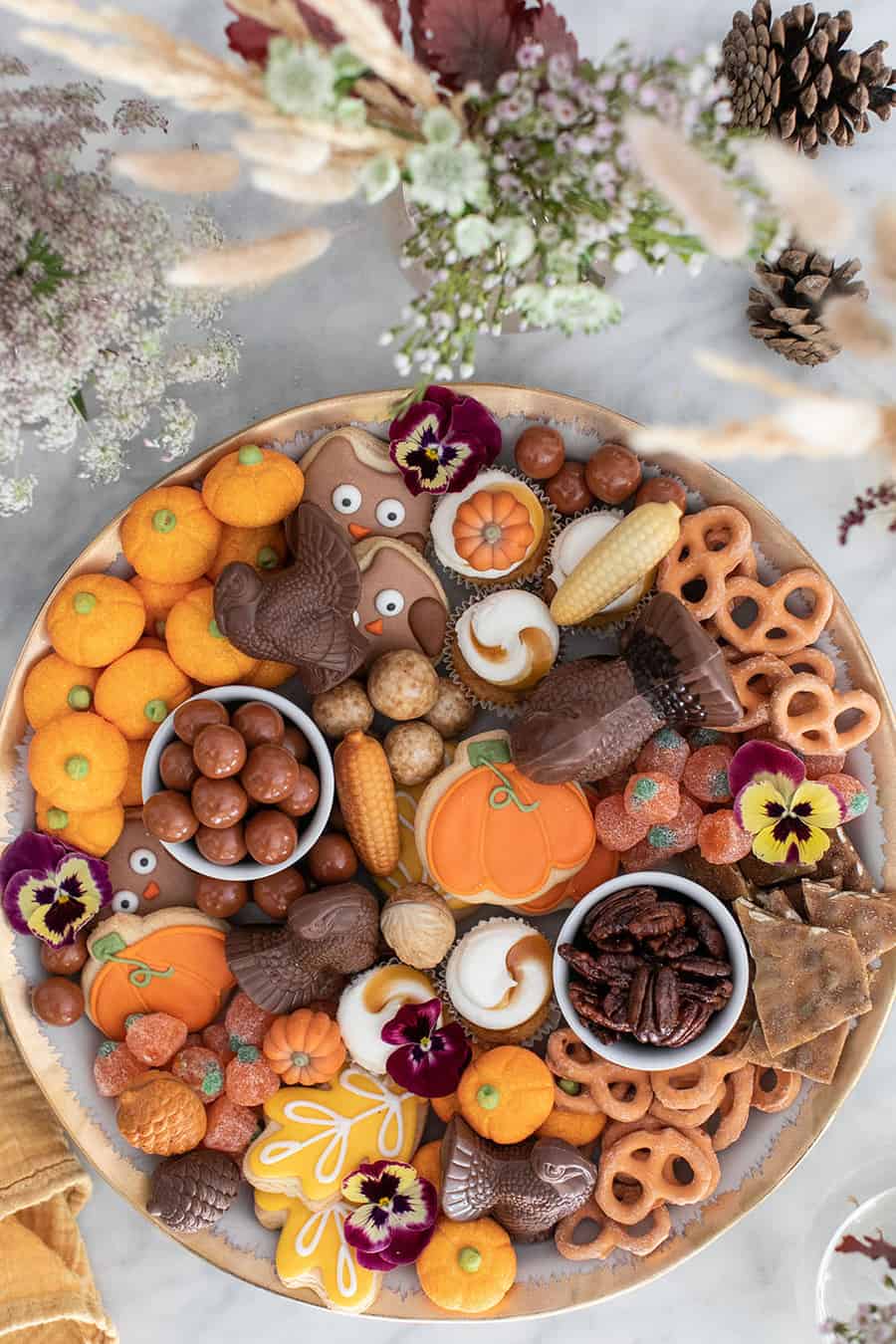 Charming Thanksgiving Recipes
Here are some of our favorite Thanksgiving recipes to add to your table setting!
Sweet Potato Casserole with Marshmallow Fluff
How to Cook a Turkey Step by Step
Creamy Sautéed Brussel Sprouts with Garlic
Thanksgiving Appetizer Platter
The Most Delicious Pumpkin Pie
We hope you've been inspired to create your own beautiful Thanksgiving day table setting! Please share your table settings with us by sharing them on social and tagging @sugarandcharm! We want to see what you create!
You can also FOLLOW US on FACEBOOK, INSTAGRAM, and PINTEREST to see more delicious recipes, cocktails, desserts and parties!
This post may contain affiliate links. Please read our disclosure and privacy policy.