Whatever you want to call them easy cheesy scalloped potatoes, cheesy potato casserole, or potatoes au gratin, this potato dish is rich and creamy! This recipe is truly the best for super cheesy scalloped potatoes and a must on your holiday table!
We make this classic side dish every year for Thanksgiving and they're always a hit. A cheesy potato casserole with cream, gruyere cheese, onions, shallots, and tender gold potatoes. Every bite is full of flavor and goes so well with turkey and stuffing. These cheesy potatoes are rich, creamy, and absolutely divine!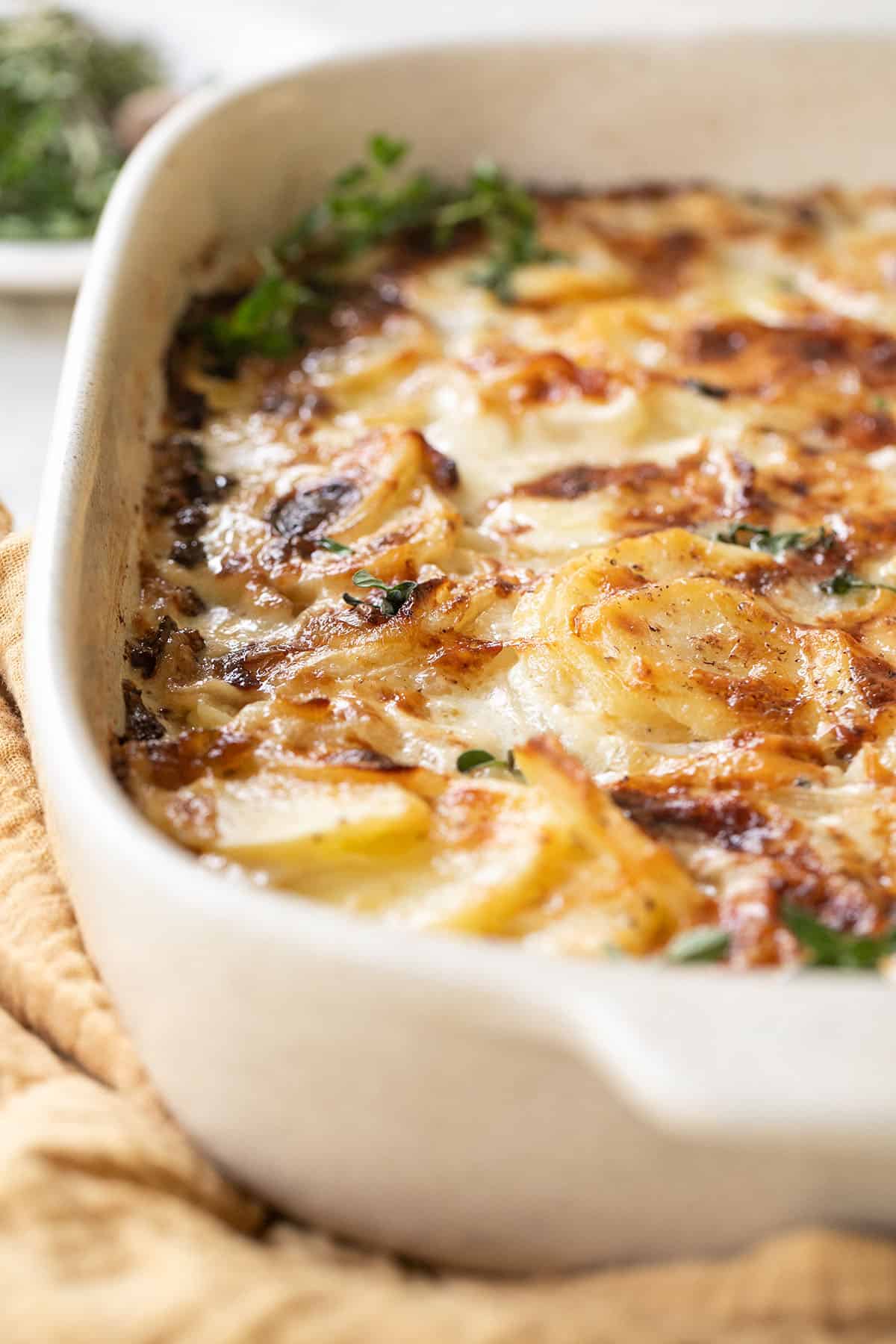 Scalloped potatoes are an incredible dish that is sure to satisfy the whole family. They're cheesy, creamy, rich potatoes that are the perfect side dish for our ham recipe or turkey.
You can cook them for any holiday meal from thanksgiving to Christmas or you can dish them up to your family for Sunday dinner. We also like to make these on Easter Sunday too and other special occasions too.
If you're interested in learning how to make the perfect cheesy scalloped potatoes recipe, this helpful guide is for you. Let's take a look at everything you need to know about scalloped potatoes to whip up the perfect dish.
How to Make Scalloped Potatoes
What You'll Need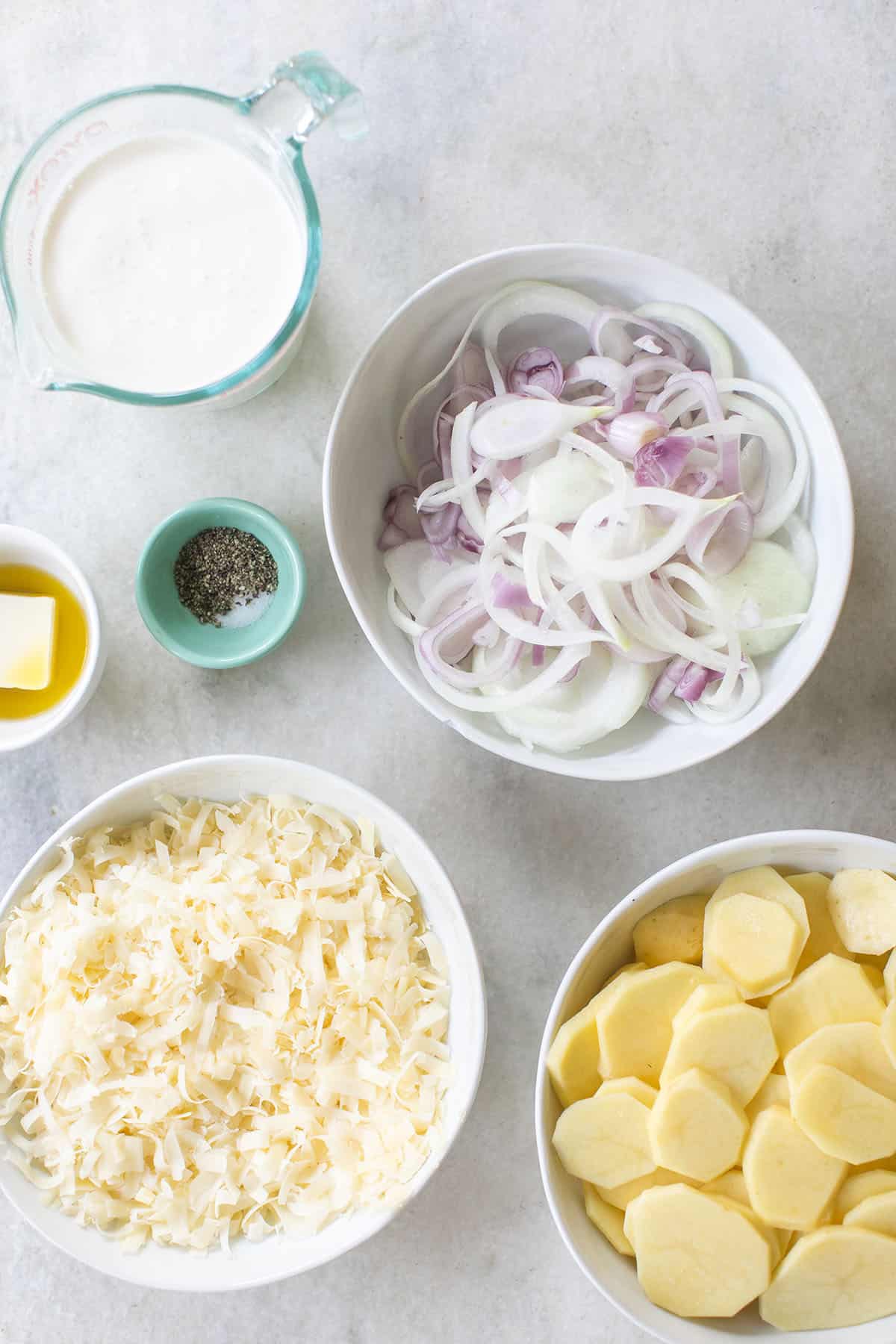 Ingredient Notes (Full Recipe In Recipe Card Below)
These cheesy scalloped potatoes are made with simple ingredients that you can find at your local grocery store.
Yellow Onion – This adds flavor and texture.
Shallots – This is a small bulb that resembles an onion.
Butter + Olive Oil – Both of these ingredients add so much flavor. Use organic unsalted butter when possible.
Gold Potatoes – Gold potatoes have a creamy texture. They are ideal for baking and for scalloped potatoes because of their creamy texture. You can also try Yukon gold as well.
Heavy Cream – The cream baked with the potatoes gives the dish the creamiest texture and flavor. You can also use whole milk if you prefer.
Gruyere Cheese – A rich and creamy cheese with a nutty flavor. It melts nicely and has a wonderful taste! If for some reason you can't find gruyere cheese you can try Swiss cheese.
Nutmeg – Adds a nutty flavor to the dish.
Salt + Black Pepper – Season and enhance all of the flavors in the dish.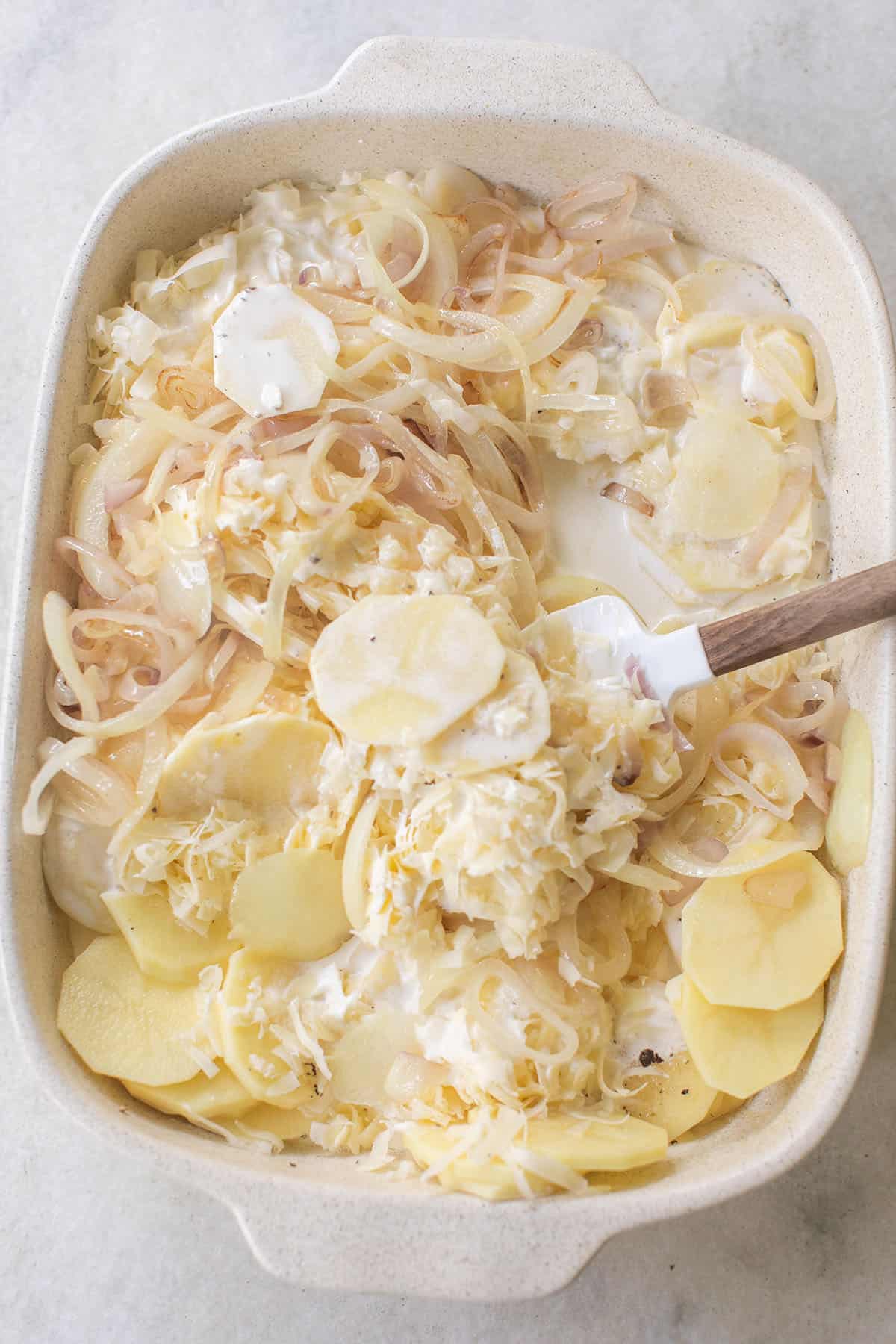 How to Store
After whipping up your favorite Scalloped potato recipe with cream, you should make sure to store any leftovers in an airtight container. The dish can be kept inside the refrigerator and reheated alongside other Thanksgiving leftovers, such as savory stuffing or green bean casserole. 
How to Reheat
For the best results, when reheating your scalloped potatoes, you'll want to remove them from the freezer and allow them to thaw first.
If you don't, you can end up drying out the potatoes, rather than getting the rich, moist, cheesy goodness we all know and love. Plus, cooking the potatoes from frozen can increase the cooking time.
To make sure you get the best-scalloped potatoes possible, add a little cream to the dish after it's defrosted. This helps loosen up the potatoes and add moisture back to the dish.
How to Freeze
You might want to store your cheesy potato casserole for use later down the line. To do so, you can package them up in rigid freezer containers. From there, seal the containers tightly and place them in the freezer.
If you want to freeze the potatoes in their original baking dish, cut a sheet of wax paper to the size of the dish and cover the potatoes. From there, cover the dish with aluminum foil. No matter how you choose to freeze your potatoes, you can store them for several weeks at a time in the freezer.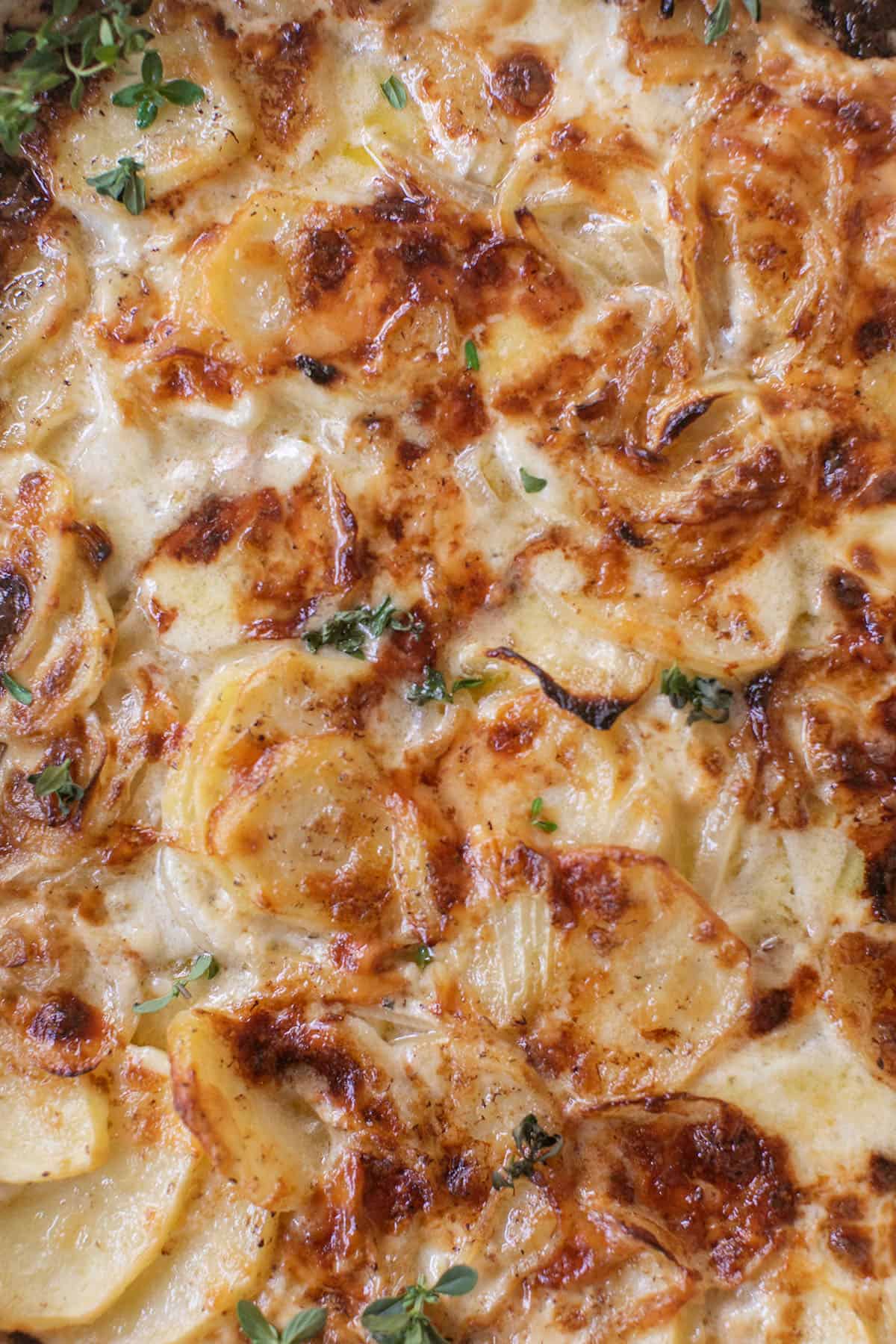 How to Make Ahead
To help save time in the middle of the holiday hustle and bustle, you can make scalloped potatoes ahead of time. The easiest way to make scalloped potatoes ahead of time is to assemble the dish without cooking anything.
Leave out any perishable ingredients, such as cream, until you're ready to prepare the dish. This will help keep it from spoiling.
After you've put together the dish, cover it and put it in the refrigerator. You can leave it in the fridge for several days before you cook it, saving you time when preparing Thanksgiving dinner on the big day.
Recipe Variations
If you're wanting to take your cheesy scalloped potatoes to the next level, you can do so with a few easy variations. Here is a couple we recommend trying out:
Add bacon or ham
Bake your potatoes in the slow cooker or skillet instead of the oven
Swap potatoes for parsnips or golden beets
Sprinkle with fresh chives
Add spicy chile for a kick
These are just a few of the many ways you can mix up your scalloped potatoes!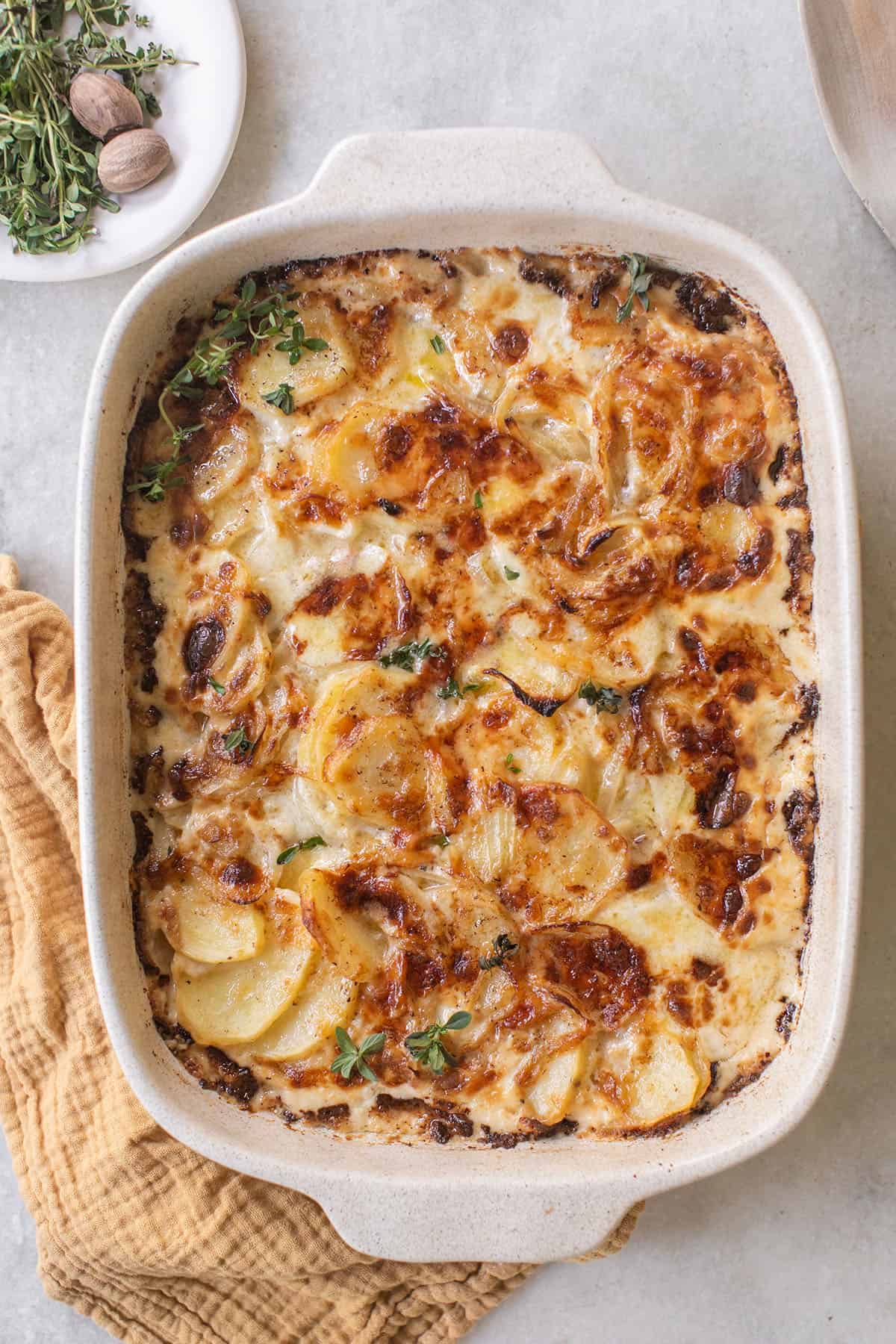 Tips for Making Scalloped Potatoes
To help you make the best-scalloped potatoes possible, there are a few things you can do. Here are a few of our favorite tips for making the perfect scalloped potatoes:
Choose the right type of potato
Use a mandoline to get your potato slices as thin as possible
Don't allow your potatoes to discolor
Make sure the milk doesn't curdle
Cook the dish until the potatoes are just tender
Let the dish rest before serving
With these simple tips, you'll be ready to whip up the best cheesy scalloped potatoes you've ever tried!
Potatoes
The best potatoes for potatoes au gratin are starchy potatoes. A few of our favorite starchy potatoes include:
Russet potatoes
Yukon golds
Idaho potatoes
Starchy potatoes release a creamy, white liquid when cooked. This blends perfectly with the other flavors in the dish, making for a tasty potato bake!
Frequently Asked Questions
How Long Do Scalloped Potatoes Last?
As much as we'd love our creation to last forever, scalloped potatoes do have an expiration date. Cheesy potato casserole can last for 4 days in the refrigerator. 
When you're ready to serve the al gratin potatoes, they're easy to reheat. Simply throw them back in the oven, in the frying pan, or in the microwave, and enjoy the cheesy goodness!
What Is the Difference Between Scalloped and Potatoes au Gratin?
While these dishes are certainly similar, these two dishes are not the same.
Scalloped potatoes are a much simpler version of potatoes au gratin. They are simply potatoes baked in a cream sauce, whereas au gratin potatoes have cheese sprinkled in between layers of thinly sliced potatoes. 
Should You Soak Your Potatoes Before Making Scalloped Potatoes?
While you might think it's a good idea to soak your potatoes before making scalloped potatoes, this is a mistake. Soaking the potatoes allows them to soak up all the moisture from the water. 
When you skip the soaking, your potatoes will soak up the moisture from the creamy sauce in your dish, instead. This results in more flavorful potatoes!
Why Does Cream Curdle in Cheesy Scalloped Potatoes?
If you've ever made a batch of potatoes au gratin only to have the cream curdle, you're not alone. The cream in the dish curdles due to the high oven temperatures. Cook at 350 degrees and don't worry if there is a small amount of curdling in the sauce, the cheese will cover it nicely! 
Should You Peel Scalloped Potatoes?
While you don't have to peel your potatoes to make scalloped potatoes, we recommend it. The potato peel can flake off in the dish, making a gooey mess and distracting from your perfect creation. 
Additionally, potato skins change the flavor of the dish. They take away from the creaminess, meaning they're better left out.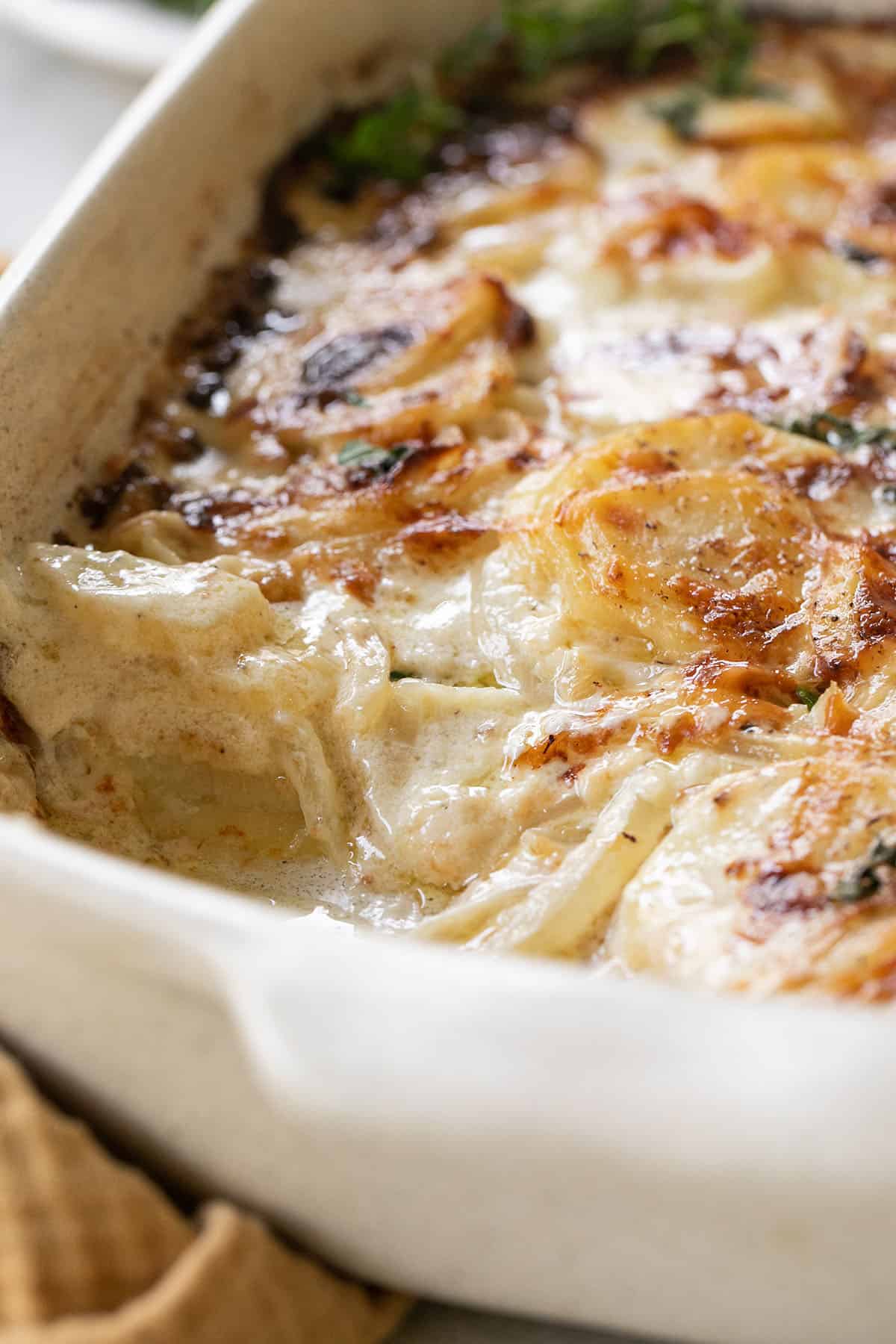 More Recipes You'll Love
If you're looking for more recipes to add to your holiday dinner, here are a few of our favorites:
Homemade Sweet Potato Pie – Truly one of the best pies.
Sweet Potato Casserole with Marshmallow Fluff – Another classic dish we always have on our holiday table.
How to Make Cranberry Sauce – An easy, traditional recipe for cranberry sauce.
The Best Orange Cornbread – Flavors or orange cardamon make this one of our favorites.
Creamy Brussels Sprouts – Another delicious, creamy side dish.
Thanksgiving Appetizer Platter – One of our favorite appetizers to serve for a Friendsgiving.
Serve this dish with our favorite fall cocktail recipes or the best apple cider drinks.
Make the Perfect Cheesy Scalloped Potatoes Recipe with Cream
With these tips and tricks, you're ready to get started making the perfect cheesy potato casserole! It's time to roll up your sleeves and get started whipping up your favorite scalloped potato recipe.
Let us know what you of these homemade scalloped potatoes by leaving a comment and review below!
You can also FOLLOW US on FACEBOOK, and PINTEREST to see more delicious recipes, cocktails, desserts, and parties!
Scalloped Potatoes
These are truly the best cheesy scalloped potatoes! We make them every year for Thanksgiving and they're always a hit. A cheesy potato casserole with cream, gruyere cheese, onions, shallots and tender gold potatoes. Every bite is fulll of flavor and goes so well with turkey and stuffing. They're rich and creamy and absolutely divine!
Print
Pin
Rate
Ingredients
1

cup

onion

,

chopped

2

shallots

,

sliced

2

tbsp

olive oil

2

tbsp

unsalted butter

2

lbs

yukon gold potatoes

2

cups

heavy cream

2 1/2

cups

Gruyère cheese,

grated

1/2

tsp

ground nutmeg

1

tsp

salt

1

tsp

pepper
Instructions
Preheat the oven to 350 degrees.

Slice shallots and onion and sauté them with olive oil and butter until tender.

Thinly slice the potatoes by hand or using a mandoline.

Layer the potatoes in a 10×15 baking dish. 

Pour the heavy cream, salt and pepper and the sautéed onions and shallots. 

Fold the ingredients together using a spatula. 

Sprinkle the grated cheese all over the top.

Add fresh nutmeg over the cheese. 

Bake for 1 hour until the potatoes are tender and the top is bubbly and golden brown.
Notes
Choose the right type of potato
Use a mandoline to get your potato slices as thin as possible
Don't allow your potatoes to discolor
Make sure the milk doesn't curdle
Cook the dish until the potatoes are just tender
Let the dish rest before serving
Nutrition
Calories:
404
kcal
|
Carbohydrates:
20
g
|
Protein:
10
g
|
Fat:
32
g
|
Saturated Fat:
19
g
|
Polyunsaturated Fat:
1
g
|
Monounsaturated Fat:
10
g
|
Trans Fat:
1
g
|
Cholesterol:
101
mg
|
Sodium:
433
mg
|
Potassium:
489
mg
|
Fiber:
3
g
|
Sugar:
2
g
|
Vitamin A:
1056
IU
|
Vitamin C:
20
mg
|
Calcium:
253
mg
|
Iron:
1
mg