We love celebrating Halloween with spooky decorations and fun cocktails, but we're all about doing it on a budget! Sharing tips for creating the ultimate halloween bar on a budget.
How to Create a Halloween Bar on a Budget
Shop Thrift Stores
When it comes to shopping for Halloween, it's all about saving money! Second-hand stores like Savers or The Goodwill are great places to find unique Halloween party decorations and costumes.
Everything for this Halloween bar was purchased at Savers and other local thrift stores. I found the most charming, vintage, one-of-a-kind pieces to pull this party together and saved money.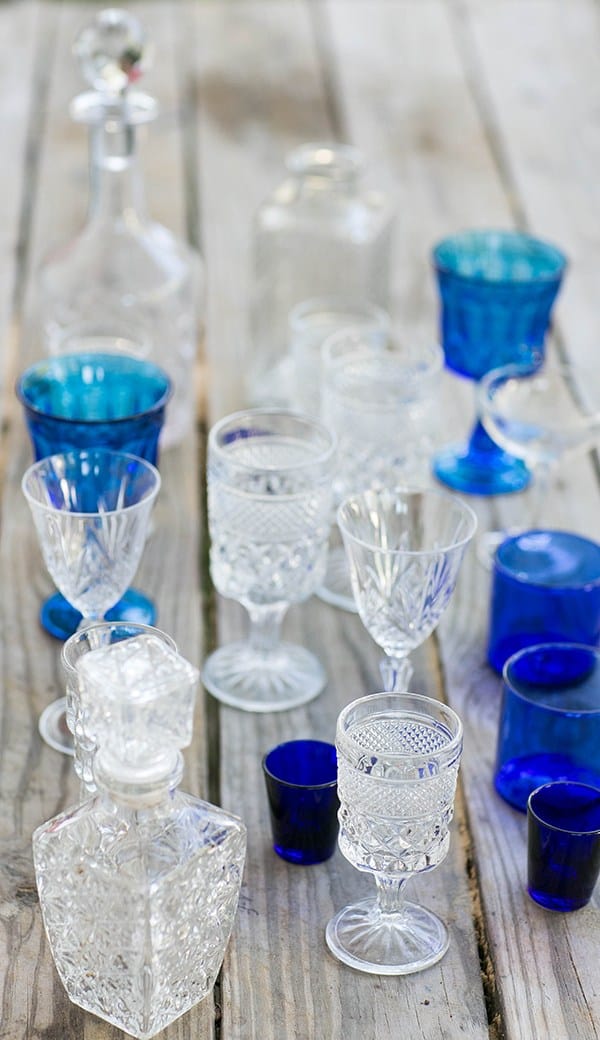 I went shopping with an overall idea of what I wanted to create, but I didn't have a color scheme in mind. As soon as my eye landed on the most gorgeous royal blue goblets, I KNEW they would be stunning for Halloween!! Like a black cat, in that dark blue sky look… it all came together in the aisle. Search high and low (literally on the shelves!!) for vintage glassware, punch bowls, vases, fabrics, vintage glass decanters, and any other royal blue items tp incorporate. As you can see, you'll find a lot of treasures for your Halloween bar.
Halloween Party Decorations Ideas
Here's a list of items you can score at thrift shops to save money and use to decorate a Halloween Bar. Some thrift stores will have a Halloween section for faux spider webs and Halloween costumes.
Vintage vases
Punch bowels
Decanters
Old wooden frames
Cake stands
Spider webs
Old linens and table cloths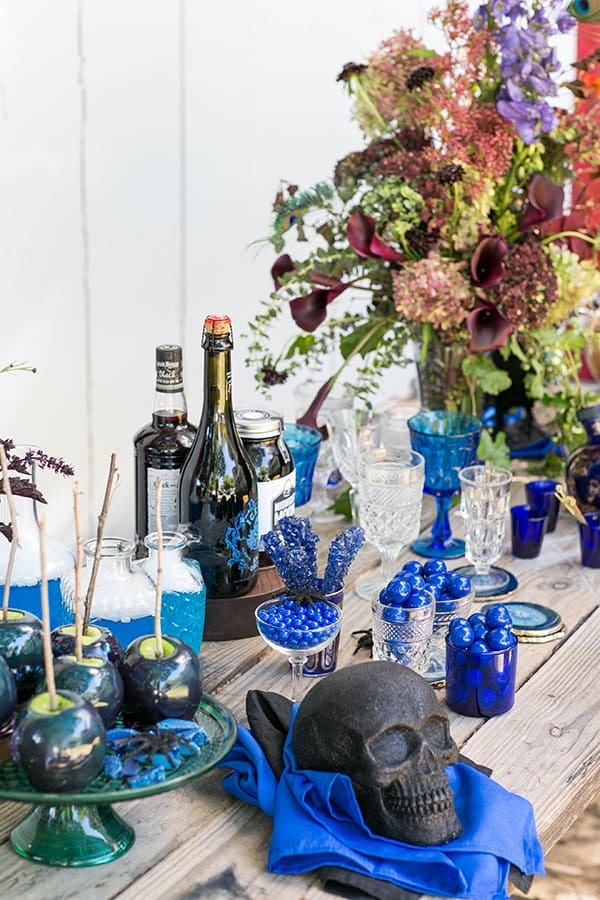 Halloween Flowers
Always have flowers at your party, even for Halloween! Halloween florals are fun to make as you can use dried or fresh flowers, darker colors and cobwebs. They add instant decor to a Halloween bar! I had Erin make a charming floral arrangement, in the blue vase I found at the thrift store, and we used peacock feathers to go with the blue theme. We also used the feathers to garnish the cocktails too, which added so much charm! Oh and rock candy makes a great garnish too!
To save money, create an arrangement from flowers and branches outside. The best part about a Halloween arrangement is that the flowers can be dried and discolored as it adds to the spookiness!
Halloween Cocktails
Here is a list of some delicious Halloween cocktails to make!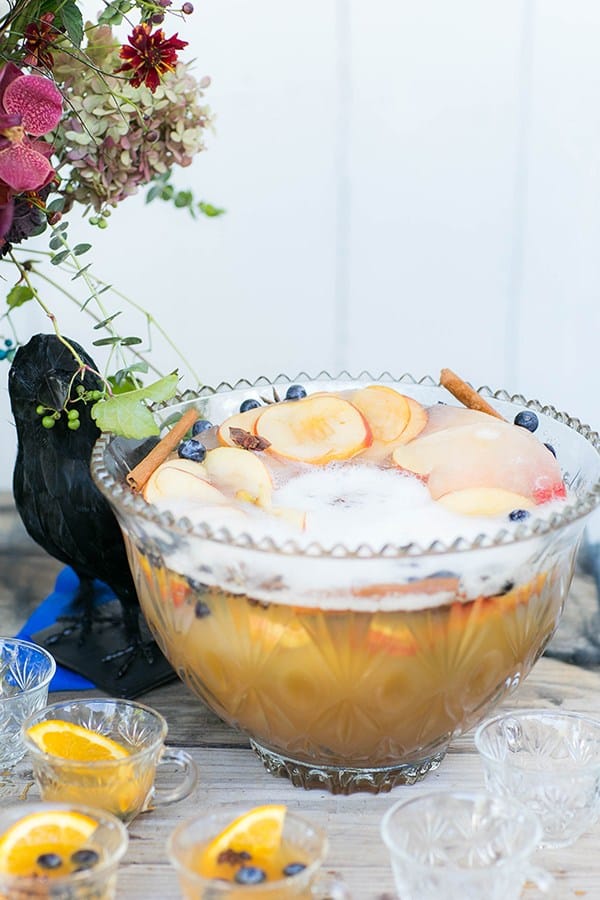 How to Make Ice Rings
Ice rings are great for keeping a punch cool. Add fruit, dried flowers, and spices in a round bundt pan and freeze. Here is a tutorial on how to make ice rings! For the apple cider punch, we made an ice ring using sliced apples, blueberries, and cinnamon sticks. I LOVE the way ice rings look in punches!
Dry Ice In Cocktails
We used dry ice to add a little spookiness to the drinks and decanters! Dry ice makes the cocktail look like it's smoking. We use it often for Halloween. You have to be careful and follow directions since it's so cold it can burn your hand, so you can't touch it directly. Once it's in a drink it will fall to the bottom and start to melt. Here is a guide to using dry ice in cocktails.
You can also use dry ice in decanters as decor. Once the water gets really cold, you'll need to switch it out with warm water and add more ice to keep he smoke going.
How much does dry ice cost?
Dry ice varies in price depending on where you buy it. Some stores have minimums on purchasing, especially if they sell in bulk. It can range anywhere from $1.00 to $3.00 per pound. We get ours at a local ice store that sells everything from ice sculptures, dry ice to shaved it.
Halloween Bar Snacks
It's always a good idea to have some snacks and desserts out for guests to nibble on, like cheese plates, small bite-size appetizers, and mixed nuts. Here are some fun ideas for easy Halloween food and desserts!
Have some assorted candy out in vintage glass containers. It is Halloween after all! We chose all blue candy and purchased it at Party City.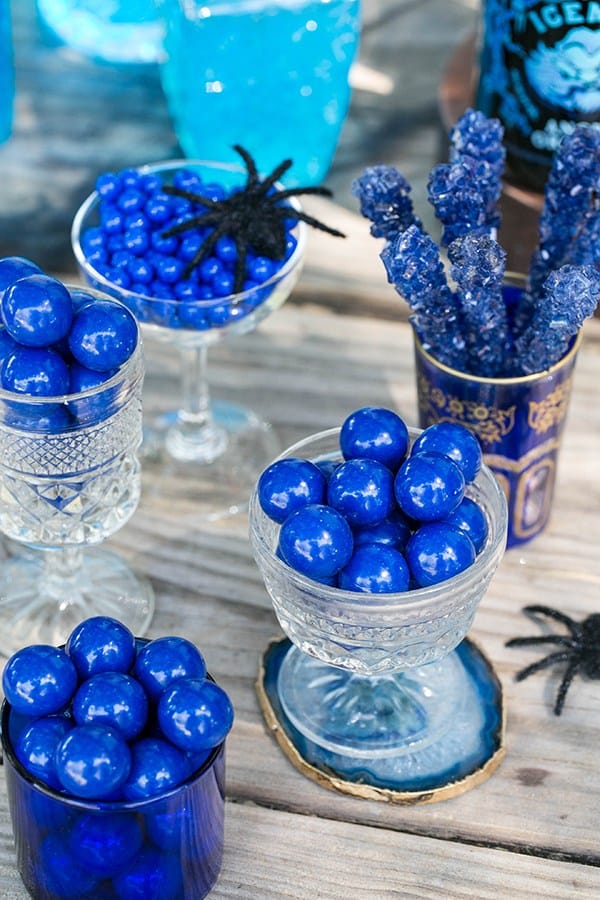 When shopping for spirits, look for bottles and labels that go with the Halloween bar theme. Things like Angry Orchard, Midnight Moonshine or Pumpkin Beer. Local grocery stores or liquor stores will carry a large supply of unique sprits to place on the bar.
This tequila bottle was one of my favorite items on the table. I splurged a little on this but I couldn't resist! After the tequila is gone it can still be used for decorations!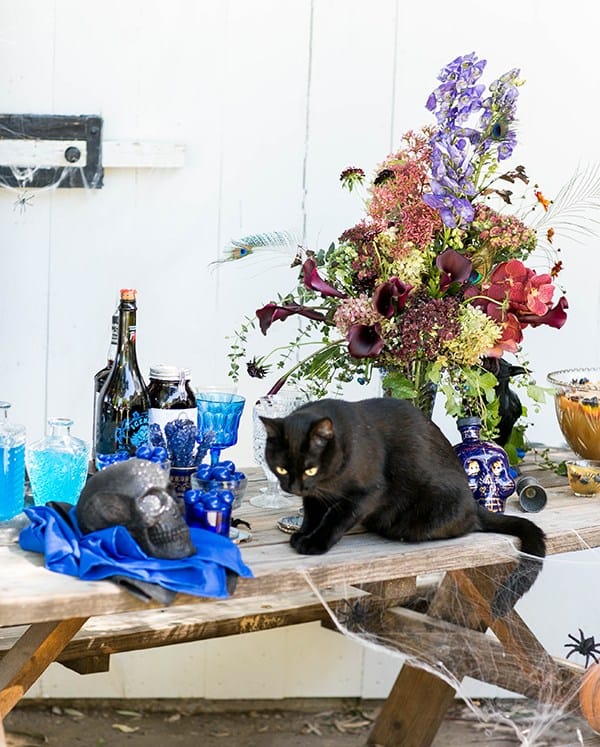 More Halloween Parties
Hope you have a wonderful and safe Halloween! Please tag us @sugarandcharm on Instagram and Facebook to share your Halloween bars!