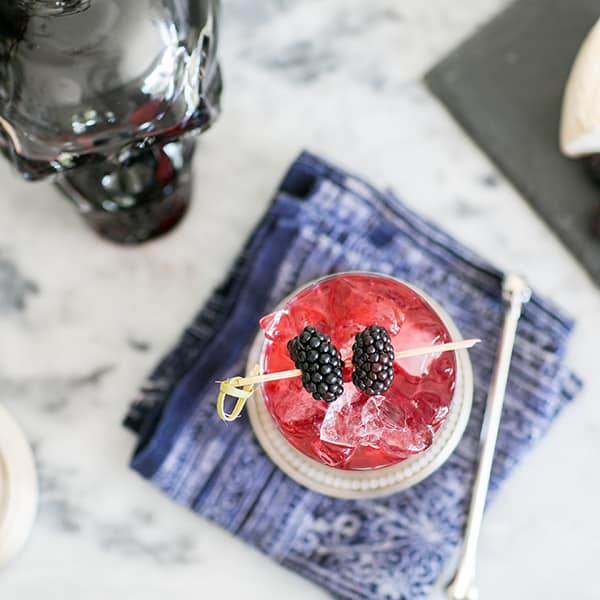 We teamed up with Pottery Barn to share some our 6 tips for creating a charming Halloween bar for your home parties! This was a pretty exciting collaboration because we love Pottery Barn and have for so many years! We jumped at the opportunity to work with them! Also, you can find the recipe for these delicious Halloween cocktails on their charming blog, Inside & Out! Below are a few of my tips for creating a charming, yet spooky Halloween bar!
1. Choose your theme or a color scheme you want to stick with and run with that! For this, we loved all of the skeleton items from Pottery Barn, so we went with those and then did a black and dark berry color scheme. Love how it turned out!
2. Give your guests a few different drink options. We made a berry smash, blueberry martini, wine and a skull coffee shot! How cool are those skull shot glasses? Find ALL of the recipes for these yummy cocktails HERE or click on each cocktail photo to take you directly to the recipe!
3. Order or make an arrangement of flowers for the bar. There is nothing better than gorgeous florals on a bar! It's an instant centerpiece!
4. Have a few snacks placed out to nibble on. A cheese plate, berries, almonds, charcuterie, chips, etc. Also, having some water nearby is a good thing too, ha!
5. Use dry ice, but use it with caution. It looks gorgeous in Halloween drinks, but cannot be consumed. It needs to melt before anyone drinks it and never use your bare hands to handle it! If you don't feel comfortable using it in drinks, then just place some in decanters for decoration to create a smoking bar.
6. Depending on the casualness of the party (for Halloween, it usually is), have spirits, mixers, cocktail shakers, jiggers, stir sticks and napkins out, so guests can make their own!