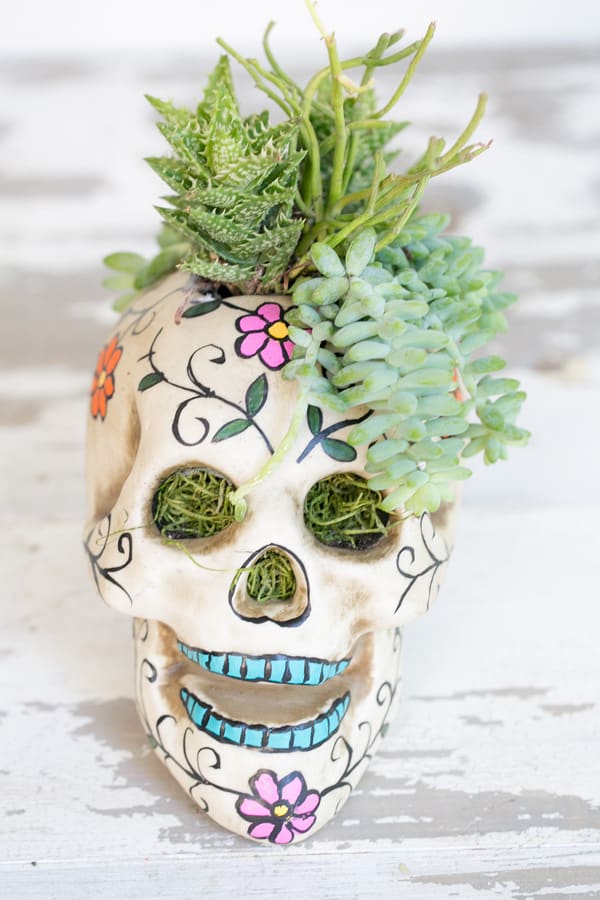 We teamed up with Erin from White Fig Designs to create this adorable and easy Halloween centerpiece using a pre-decorated styrofoam skull and succulents! It's so simple to make and lasts the entire month of October! I usually put out my Halloween decor items throughout the month of October. I've had this arrangement sitting on a cake stand in our kitchen and I love how festive and charming it is! It goes well with my fairy tale pumpkins, skeleton garland and candles. I think I'll place it outside on Halloween night. Directions below!
Succulent Halloween Skull Centerpiece
1 styrofoam skeleton head (this one came pre-decorated at the LA flower mart, but most craft stores have something similar and in different sizes)
succulents
duct tape
knife
planting dirt
handful of moss
Directions
Cut a hole in the top of the styrofoam skeleton in the shape of a square.
Use that piece (that you just removed) to fit into the bottom of the skeleton if there is an opening. You might need to cut it to adjust.
Fill the bottom with a handful of moss, make it come out of the eyes and nose.
Use duct tape to tape around the edges of the hole, so the styrofoam doesn't get too wet when watering the plants.
Add in the dirt and plants.
Sprinkle with water every few days and enjoy!