A guide to hosting a charming Halloween movie night and a list of our favorite, family-friendly Halloween movies! Create a not-so-spooky evening with popcorn candy and some charming Halloween decorations.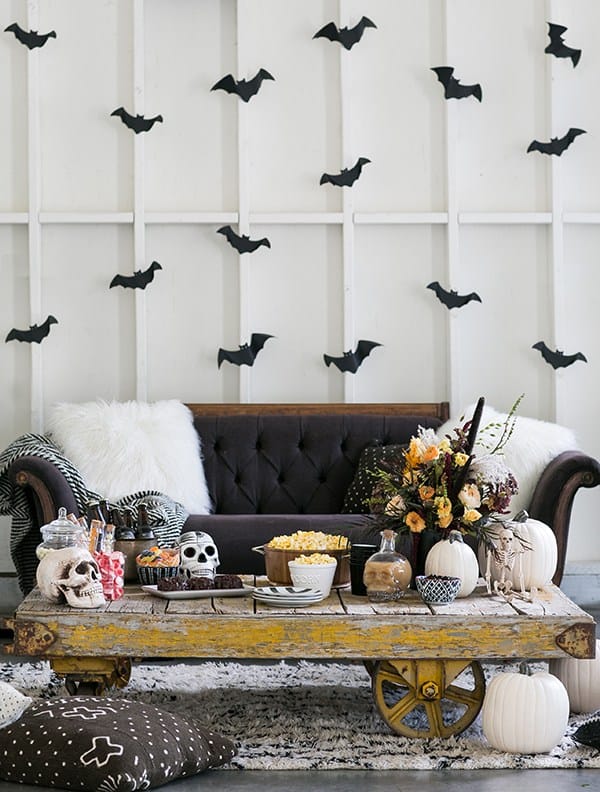 I always try to incorporate some charm in everything I do. Halloween is no exception, so we put together a charming Halloween movie night. Since my love Halloween runs deep, I knew this would be the perfect way to spend it. I adore that Halloween kicks off the holiday season — pumpkin carving, dressing up, homemade chili and trick or treating.
It's also been one of my favorite holidays for entertaining. Every year, I host a small Halloween night for Romeo and a few of our close friends and nothing makes me happier than creating those memories for their childhood.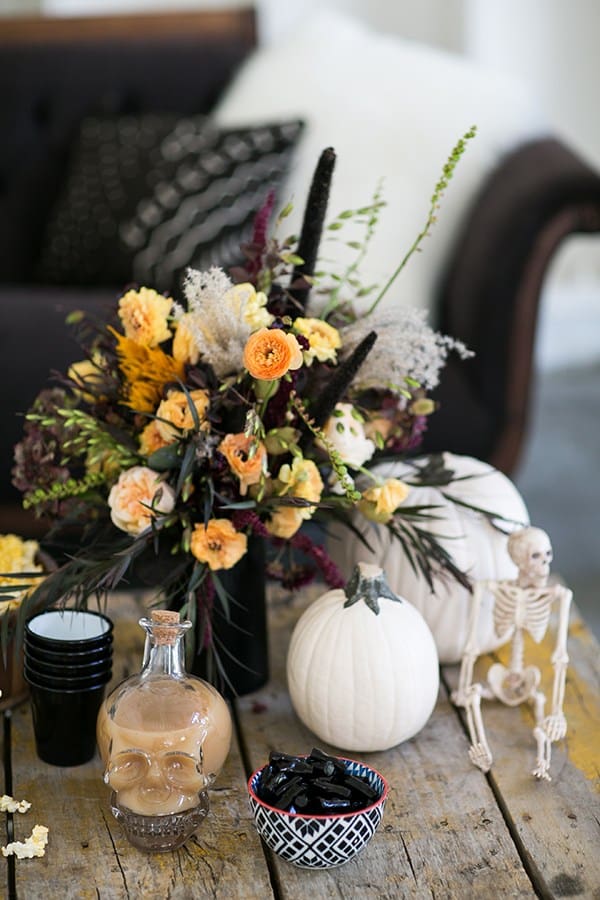 I like to keep our Halloween movie night light with some not too spooky Halloween movies. I shared a few of my family favorites below… who likes stuff frightening anyway?! I like just a little spook. Below are some of my favorite items and tips for hosting a charming Halloween movie night.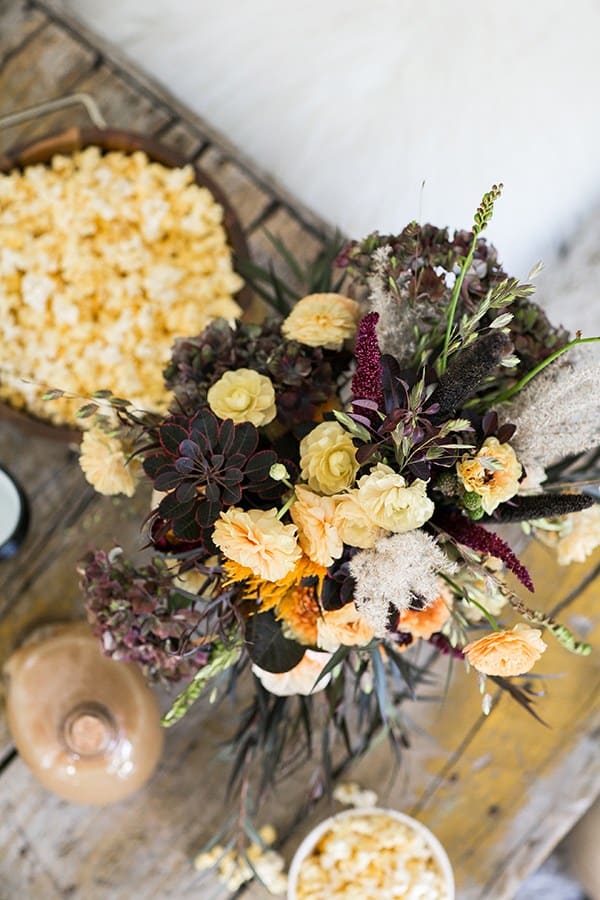 Halloween Movie Night Ideas
Halloween Decorations
For simple decor, stick these paper bats on the wall. I used the ones from Martha Stewart's Halloween collection, so easy and fun! You can also do this with spiders.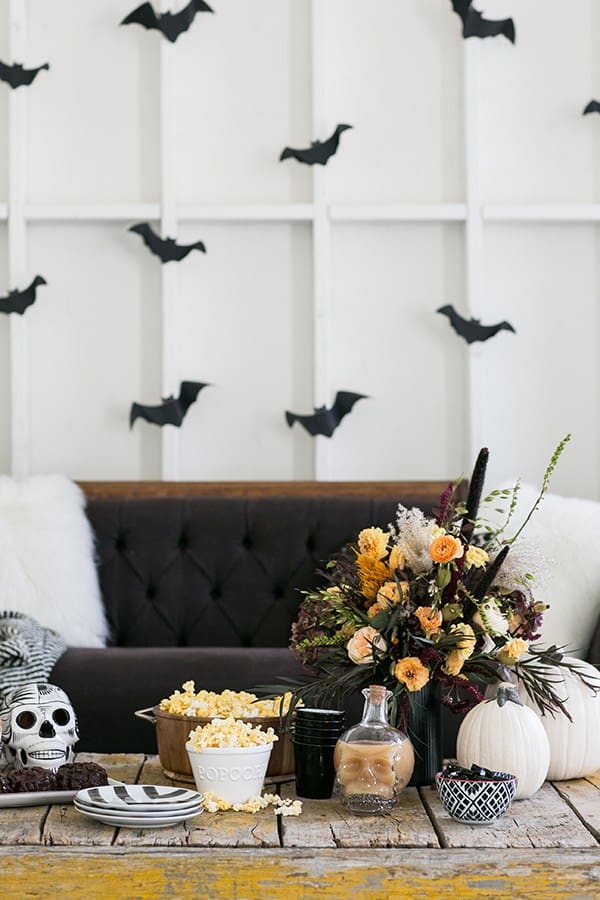 Flowers
Flowers make great Halloween decor! Create arrangements with darker colors and in a black vase to go with the holiday theme.
Faux Pumpkins
Faux pumpkins are great if you can't get real ones! They also never go bad, so you can store them away for the following year. They even have carvable faux pumpkins!
More Halloween Decor Items
Skeleton decanters, enamel black dishes, test tubes, and wooden bowls are all great for Halloween decorations!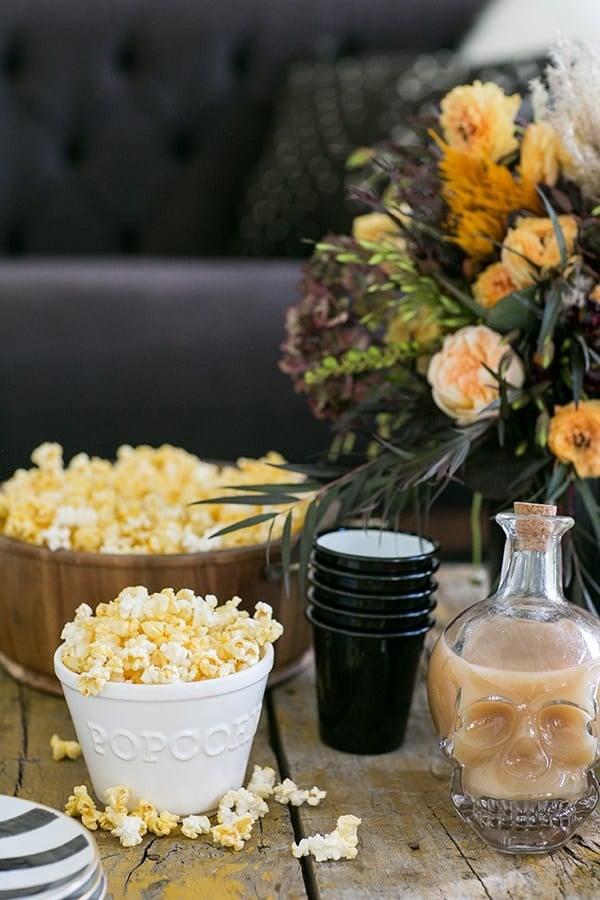 Halloween Party Food
For food, make an easy slow cooker chili or pot roast when entertaining for Halloween. For an appetizer make our Halloween cheese platter and when the movie starts serve buttery popcorn.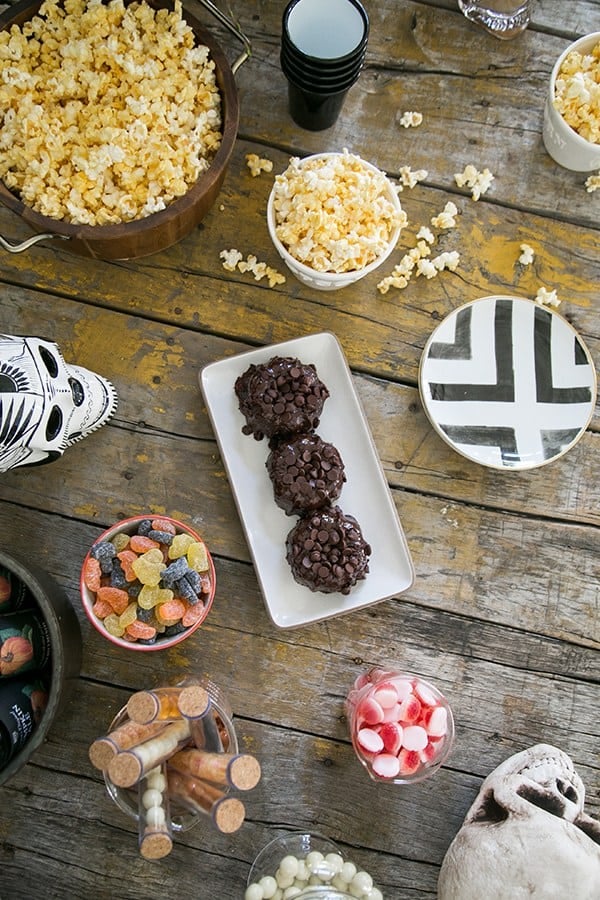 Halloween Movie Desserts
Candy and Desserts are a MUST for watching Halloween movies!! Here are some of our favorite dessert recipes that will have everyone screaming!
Brown Butter Mummy Rice Krispies
Two Simple Oreo Desserts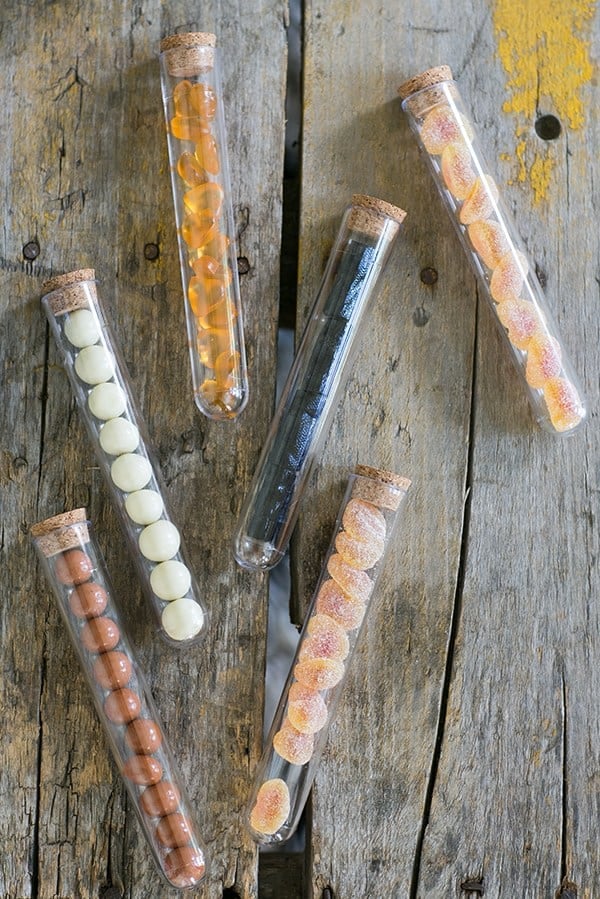 Halloween Drinks
For easy drinks serve pumpkin beer (goes well with chili!), hard apple cider.
For kids whip up our 3 ingredients kids punch or homemade almond milk horchata.
If you want to make a cocktail, try one of these:
Hard Spiced Apple Cider Cocktail
Spiked Apple Cider Punch Recipe
Red Sangria or Black Sangria
Halloween Candy
It's not Halloween without candy! We stocked up on candy from one of our favorite boutique candy stores, Sugarfina! I filled bowls with candy, as well as these clear tubes!
The zombie brains are by far my favorite!!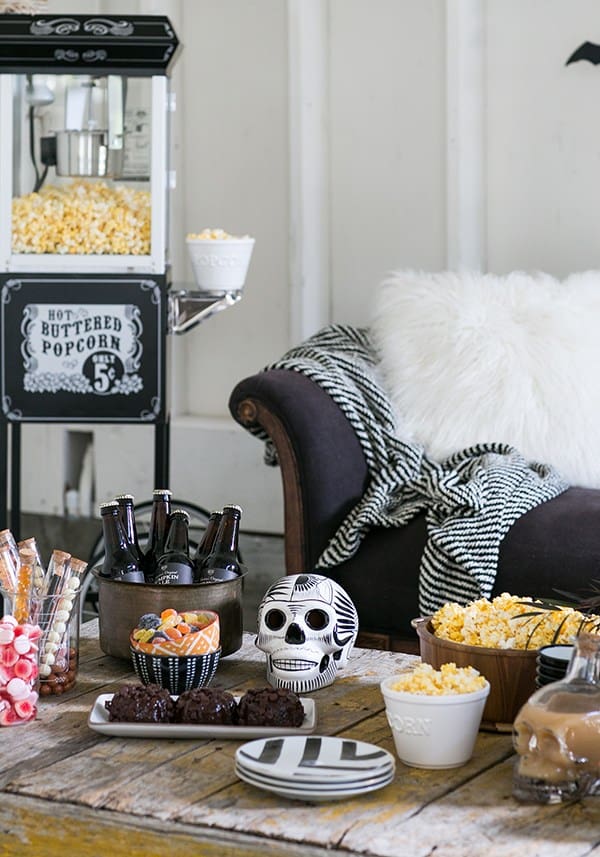 Popcorn Bar and Toppings
You can find an old school popcorn machine online to add some vintage charm to the Halloween movie night. Add yummy toppings to the popcorn too!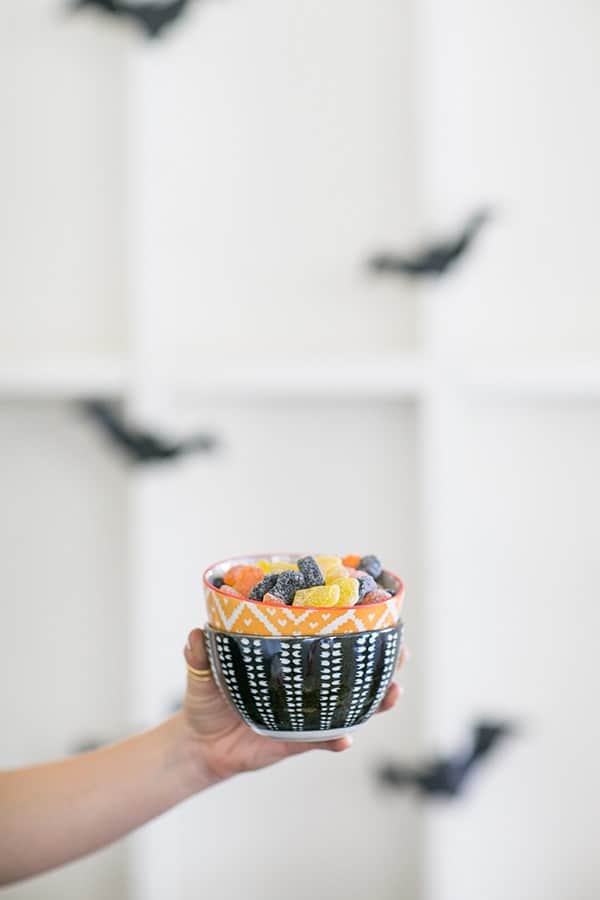 Family-Friendly Halloween Movies
Here's a list of our favorite family-friendly Halloween movies. They're not too spooky, but still have the Halloween we're all looking for in October!
Hocus Pocus
The Nightmare Before Christmas
The Addams Family
Coraline
Goosebumps
Harry Pottery
Monster House
Gremlins
ET
Halloween Town
Casper
Double Double Toil and Trouble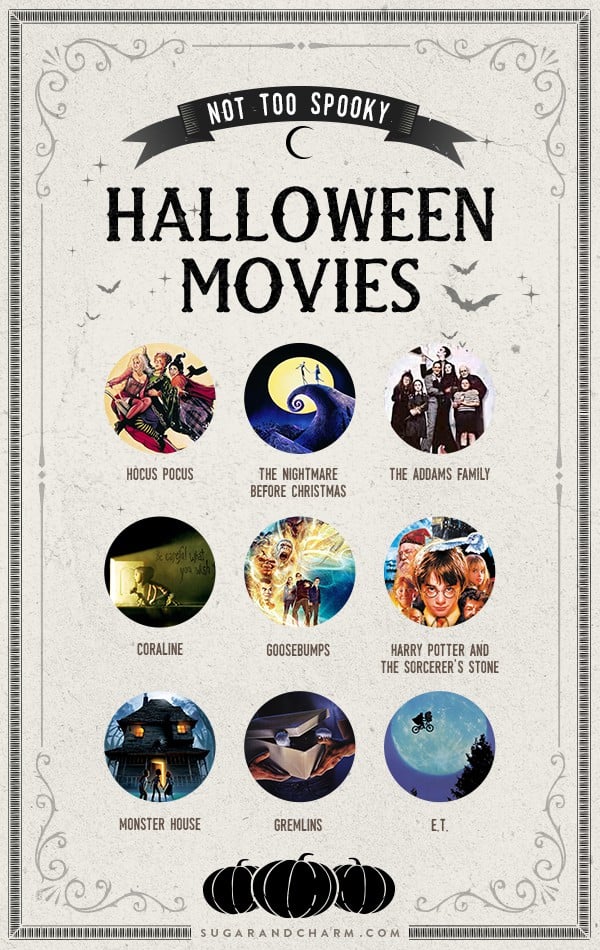 Now invite some friends over for pumpkin carving and a create a fun Halloween movie night! Let us know if you're inpsired to host your own Halloween movie night!