Three-dimensional skull vodka jello shots are the perfect Halloween jello shots! You can make them in any color or flavor too. Follow the jello shot recipe below and even make your own combination, inclduing blue jello shots!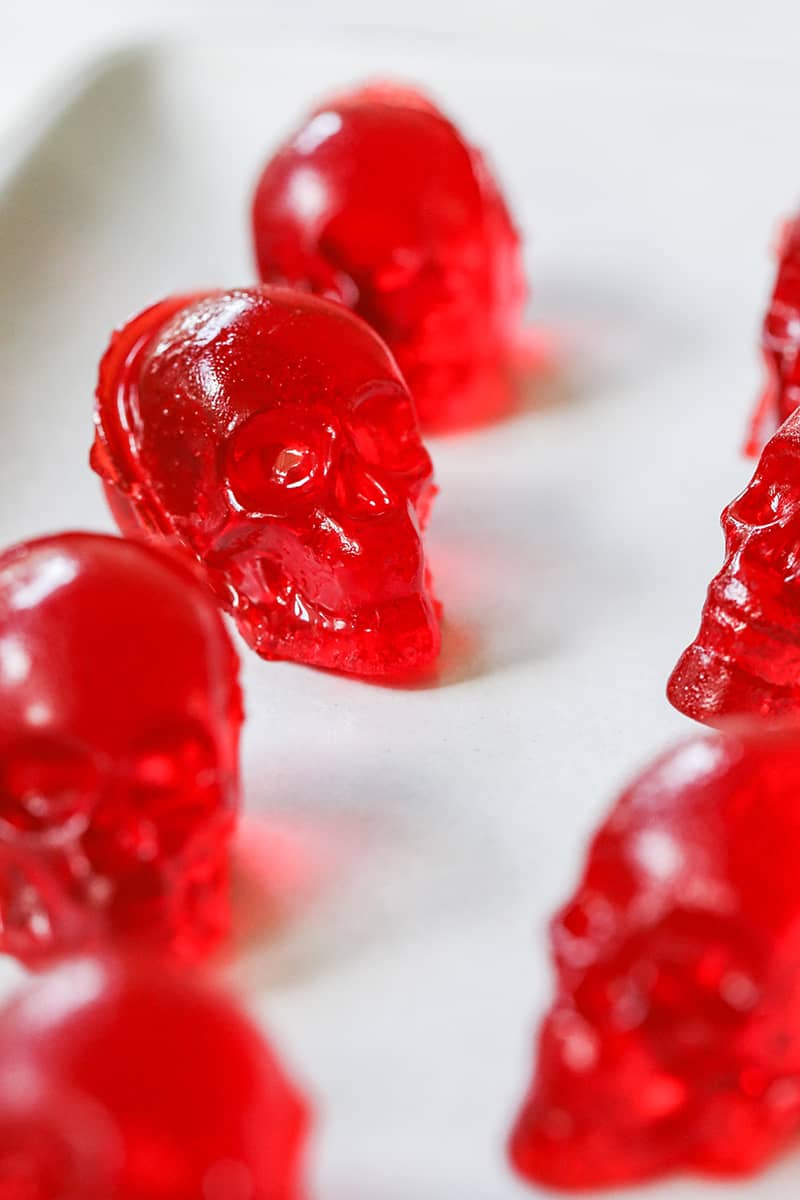 Making jello shots is incredibly easy and fun. We make them every Halloween before trick-or-treating and it's become our tradition!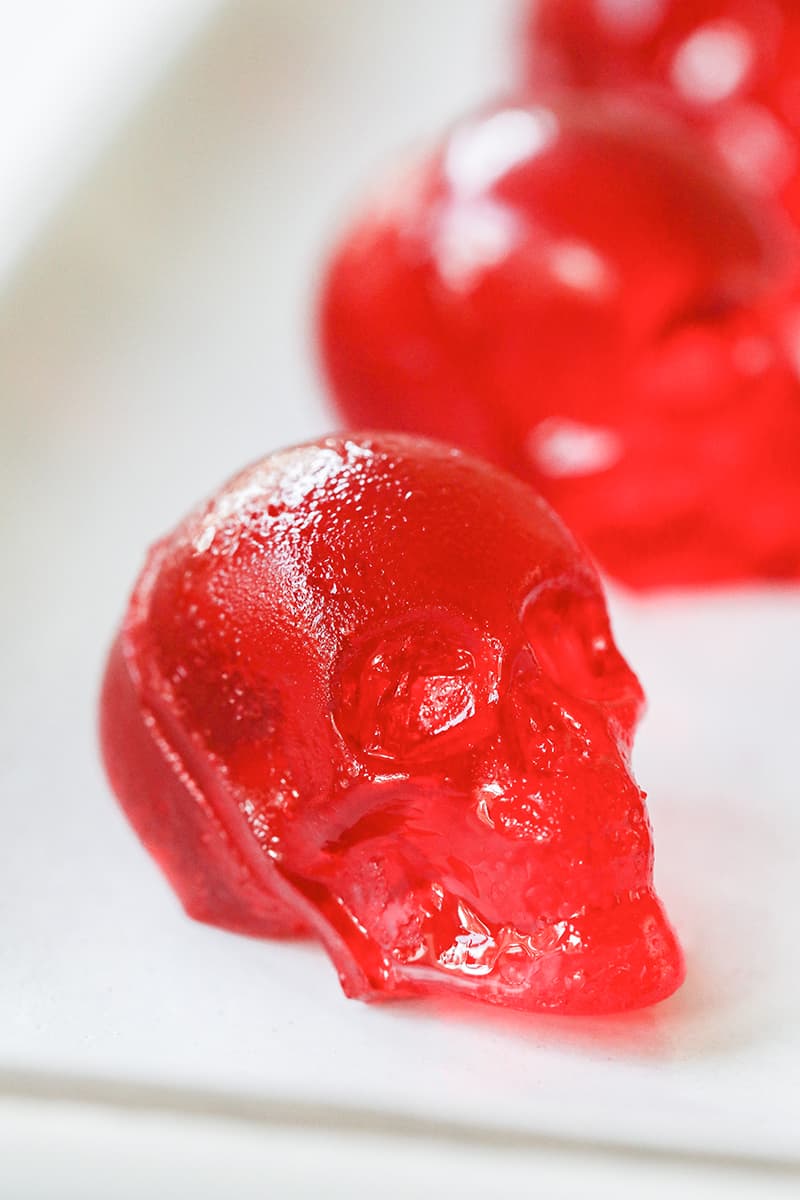 How to Make Jello Shots
In the shape of a skull!
Supplies
Medium Mixing Bowl
Skull Silicone Molds – order 2-3 molds to make a batch at the same time. These can also be used to make skull ice cubes.
Cooking Spray
Liquid Measuring Cup
Medium Pot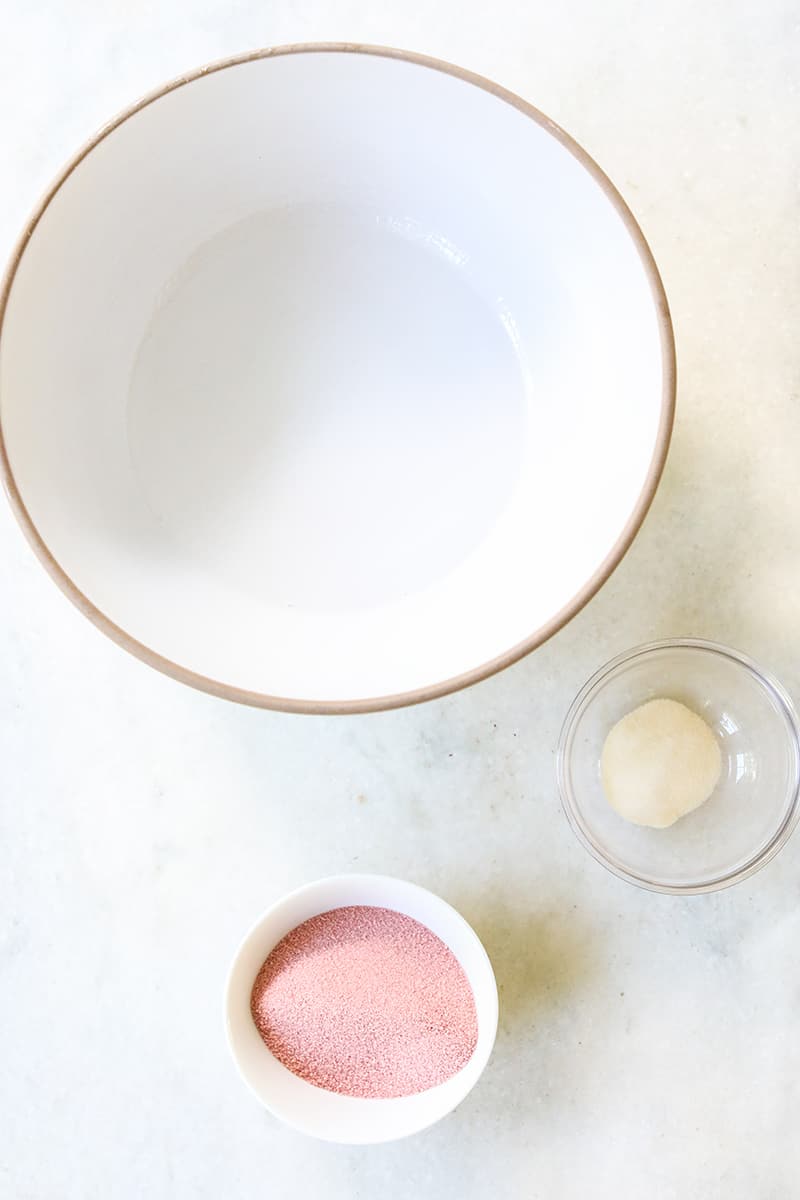 Ingredients
Vodka
Gelatin
Jello Pack (we used red cherry)
Hot Water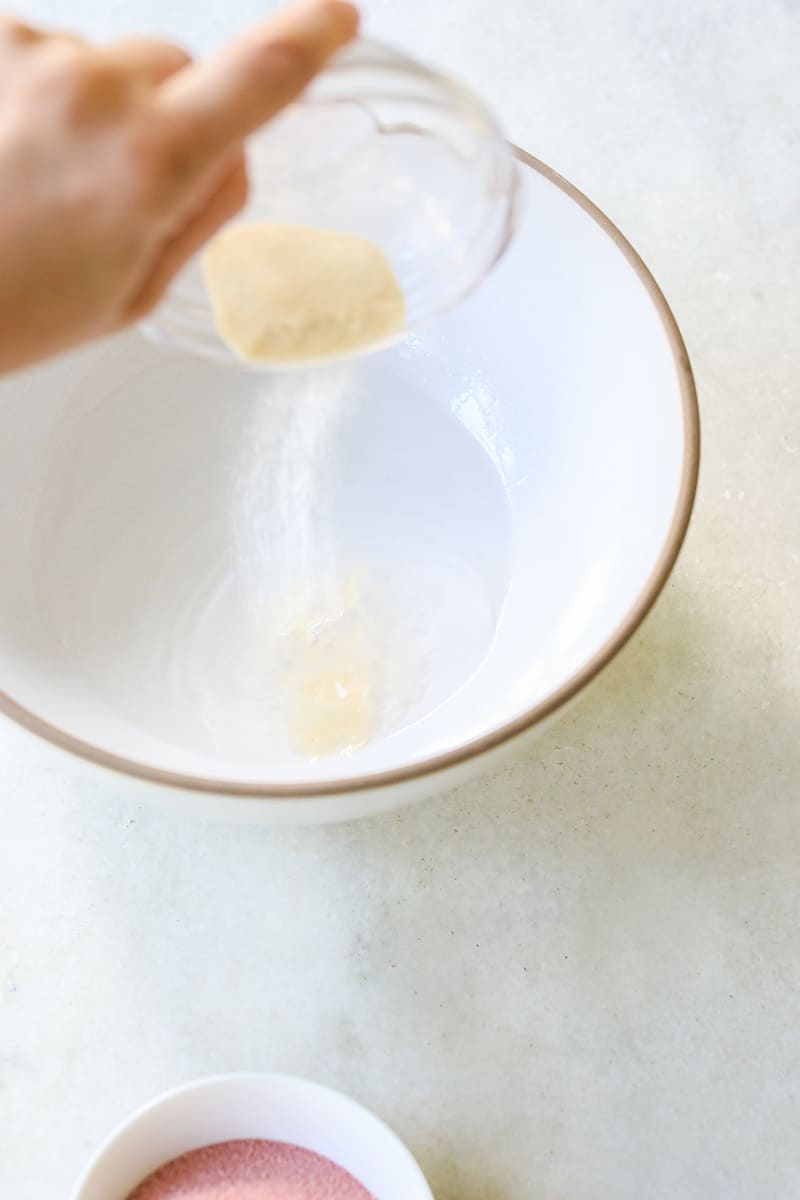 Directions
Add the vodka in a medium size bowl.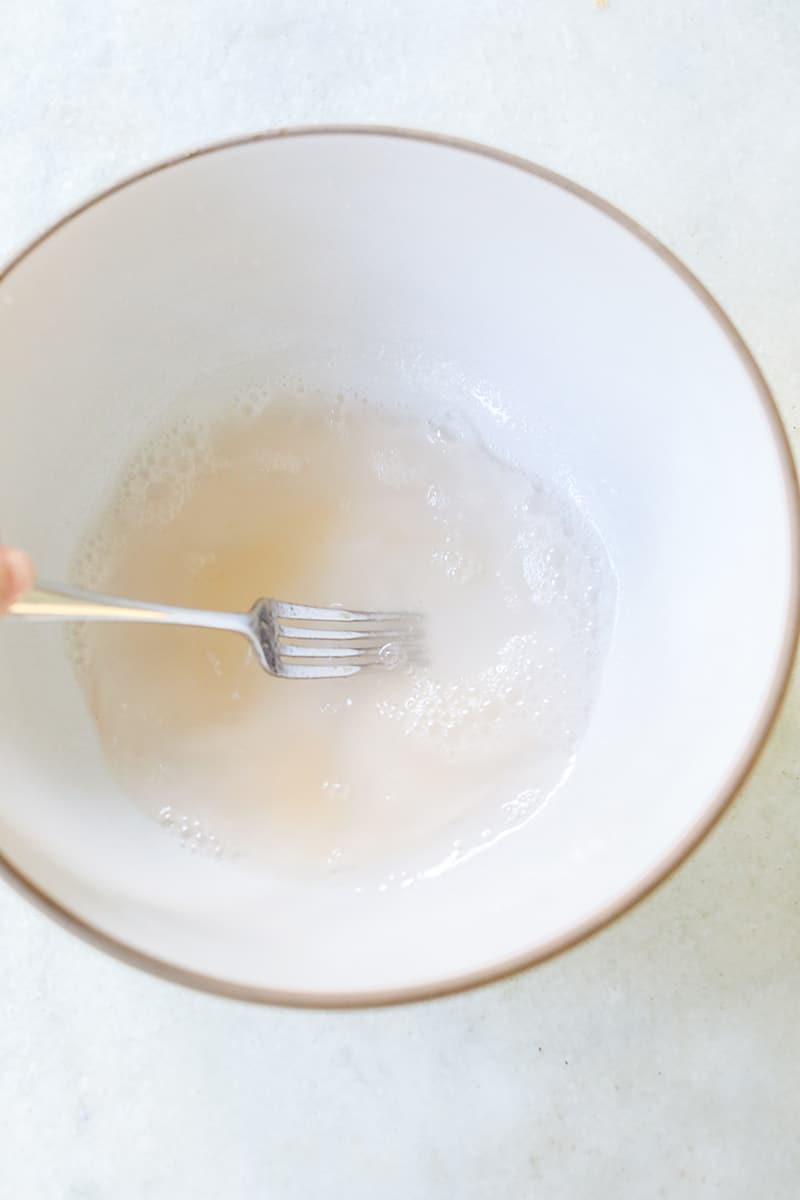 Sprinkle gelatin packet over the top and whisk with a fork for about a minute.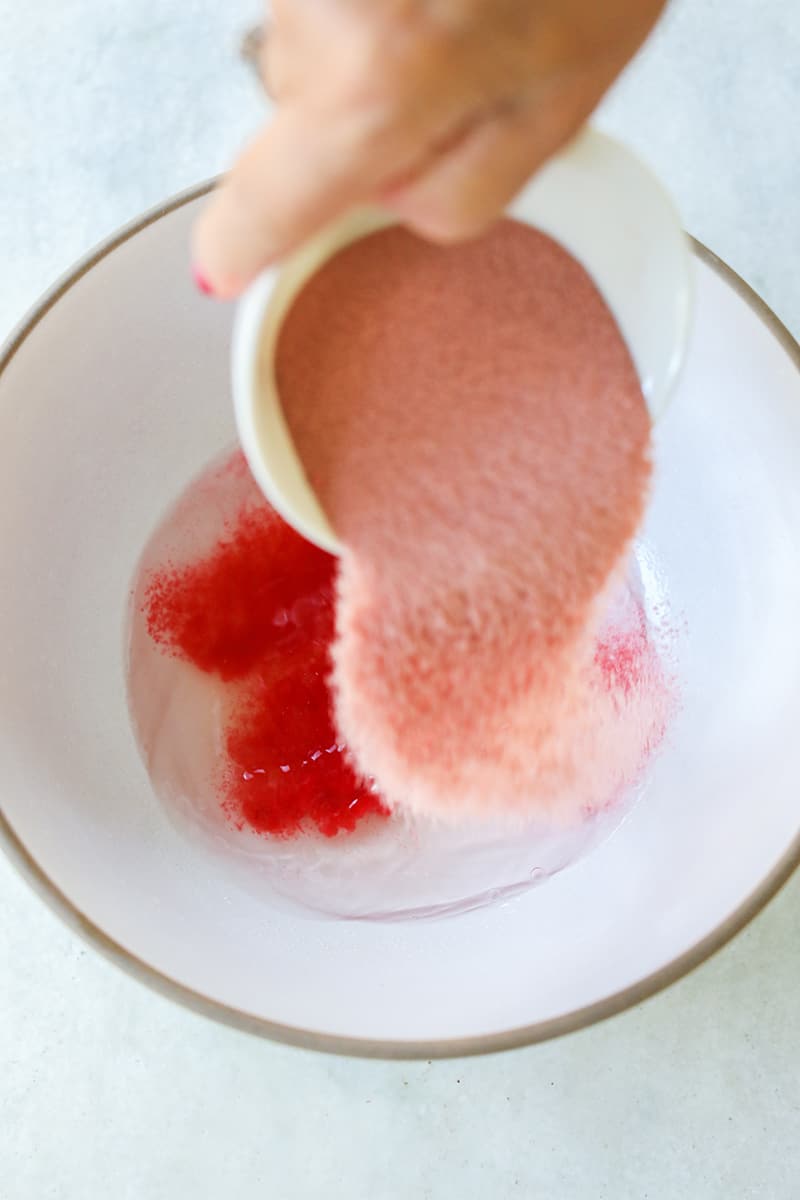 Add in strawberry or cherry flavored jello. Or really any flavored jello you like!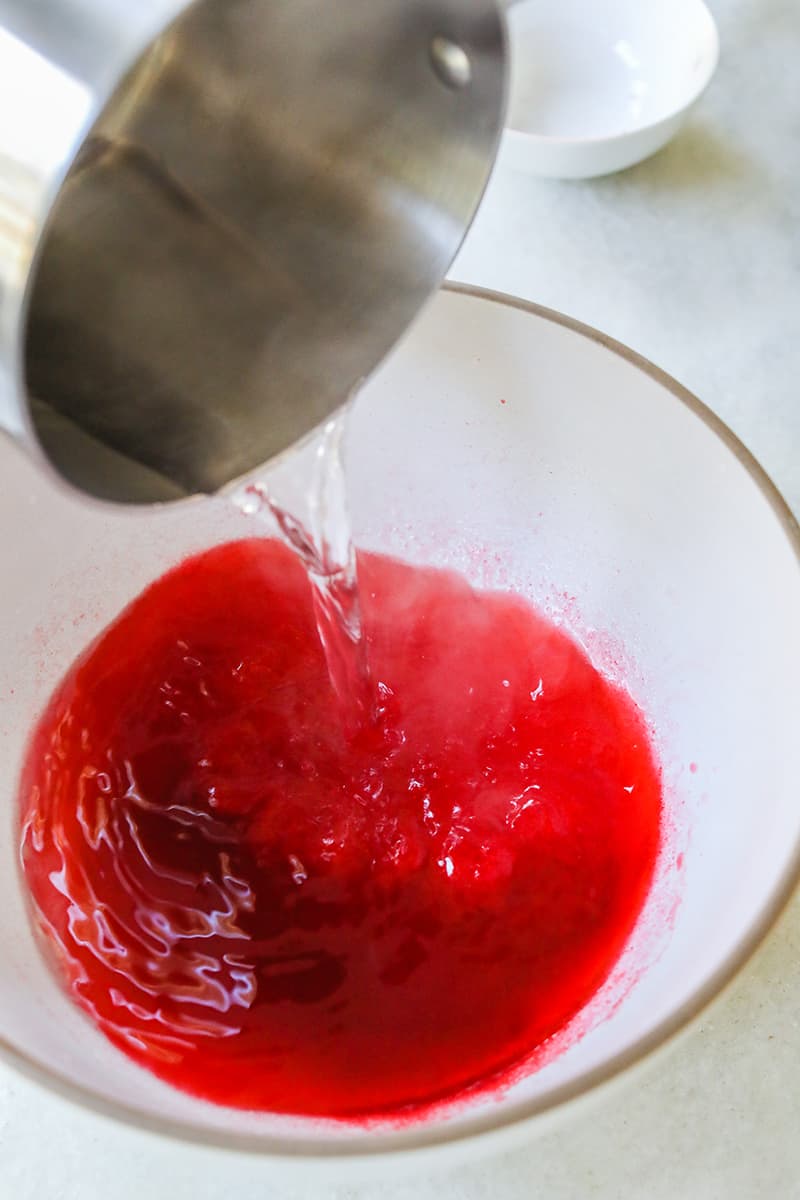 Pour boiling water in the bowl and continue to whisk to mix all of the ingredients together.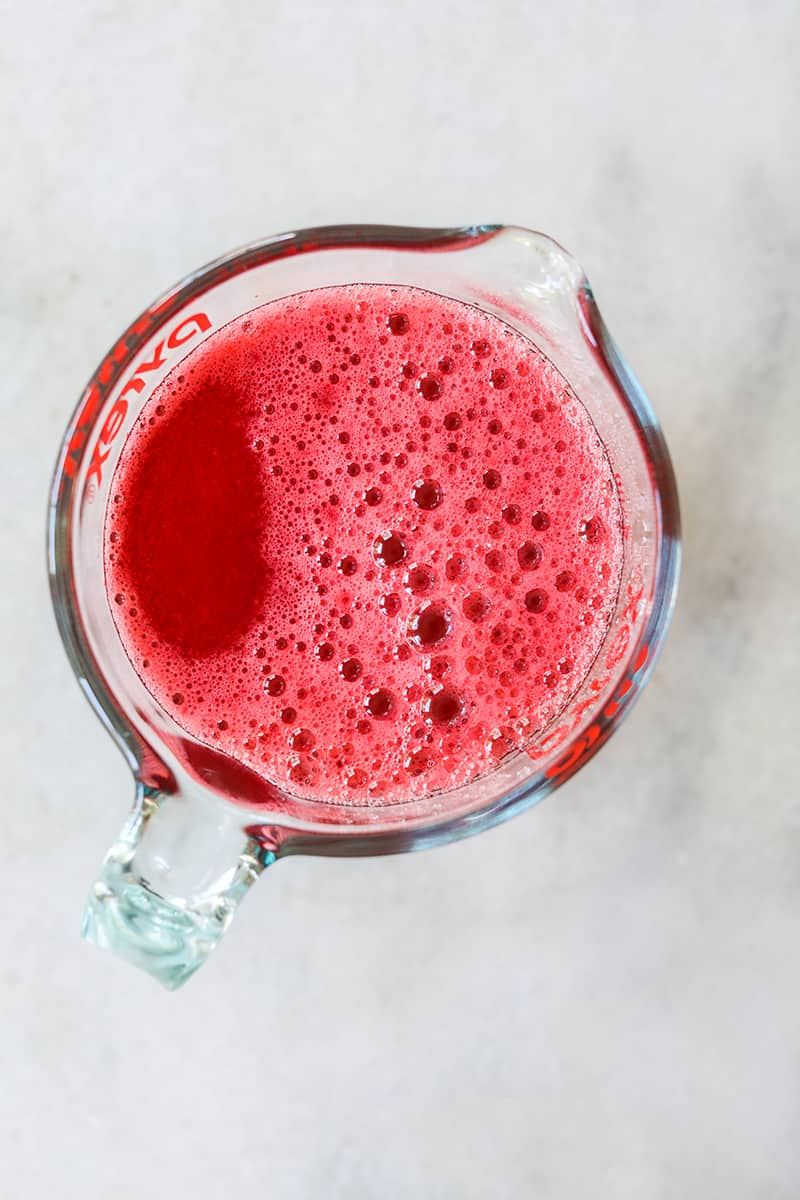 Pour the mixture into a heat proof, clear liquid measuring cup with a spout.
This will make it easier to fill the skull molds.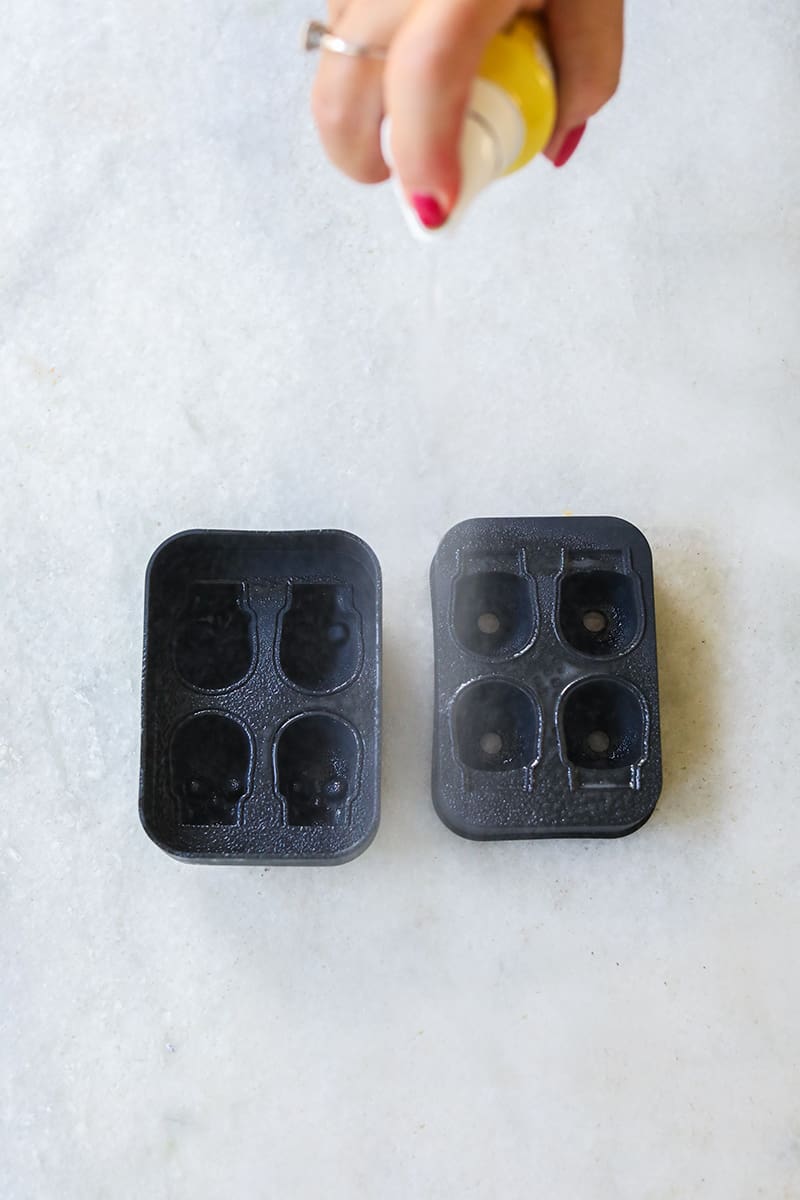 Spray the molds with cooking spray. This is a must so that the skulls are easy to remove.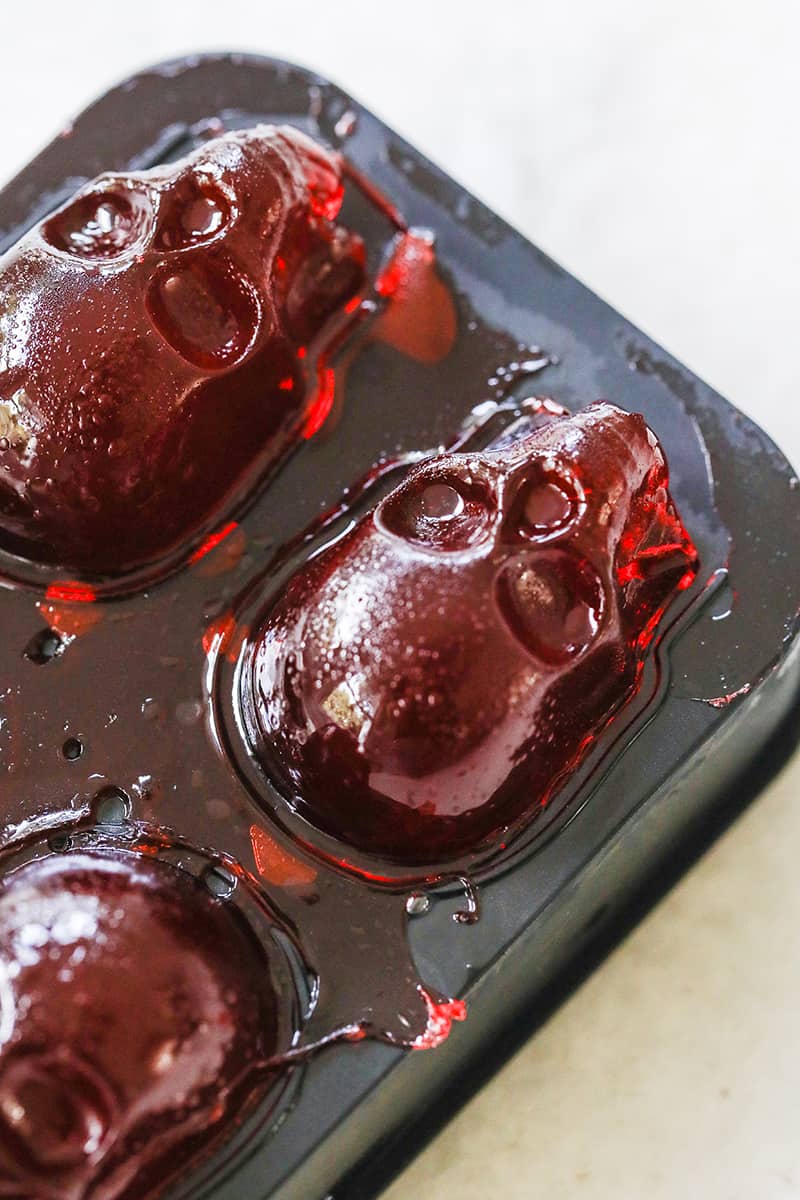 Close the mold and then pour the liquid through the tiny hole at the top of the mold.
The easiest way is to place the mold in a clean sink and then gently pour the liquid into the mold. It will spill a little so it makes for easier cleanup.
Since these are three-dimensional the mold will already be closed and you won't be able to see if it's full or not. So fill it until it reaches the top of the hole.
You can also pour some liquid out if it's too much and pushing the mold apart.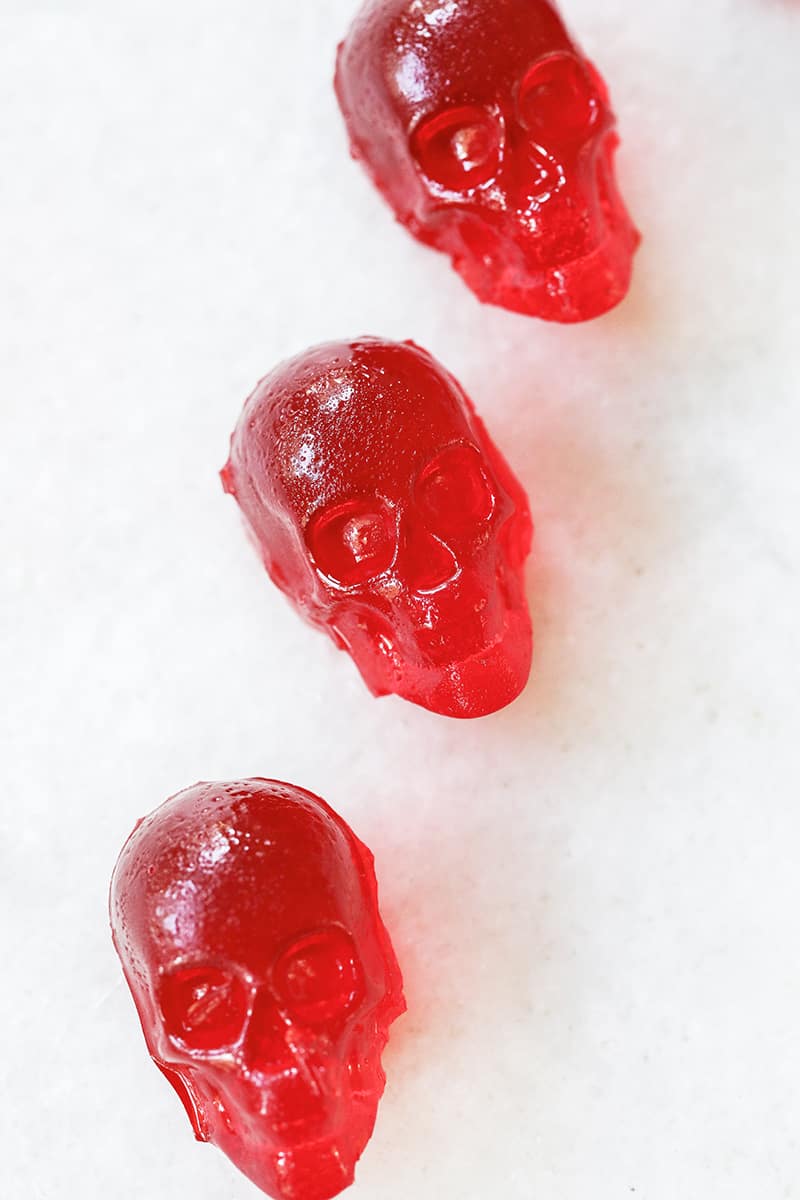 Let the jello set in the refrigerator for 3-5 hours or even overnight.
Slowly remove the lid of the mold and then each skull.
Serve them on a small serving platter for guests to grab!
Jello Shot Flavor Combinations
Using our recipe, you can make different flavor versions of jello shots! Use a flavored vodka and choose the flavor of jello to switch it up. Here are some fun ideas!
Coconut Vodka + Lemon Jello = Limoncello Jello Shot or Lemon Drop Jello Shot
Coconut Vodka + Pineapple Jello = Malibu Jello Shot or Tropical Jello Shots.
Apple Vodka + Watermelon Jello = Jolly Rancher Jello Shots
Vanilla Vodka + Orange Jello = Orange Creamsicle Jello Shots
Make margarita jello shots by using tequila instead of vodka and lime jello! Add a dash of salt on the top. So good!
Or make jello shots with rum too! Using our easy jello shot recipe, the versions you can create are endless!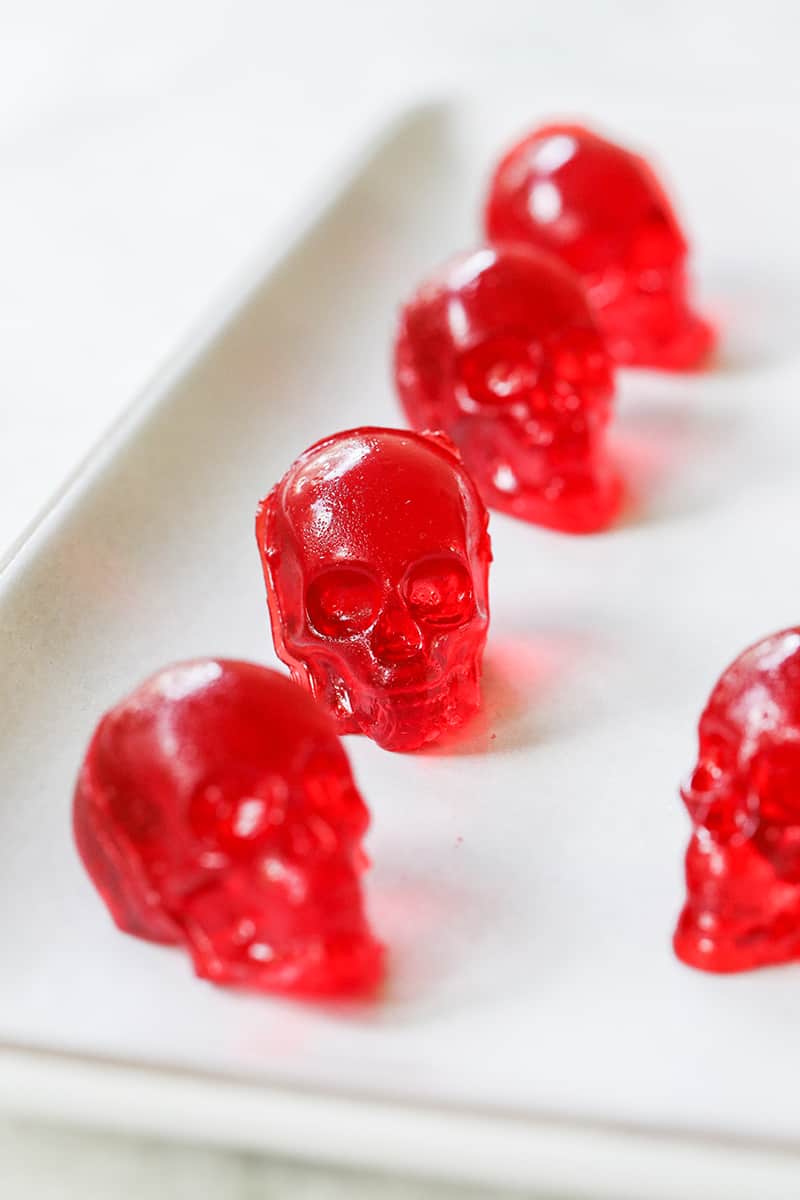 How long does it take for jello shots to set?
It takes about 3-4 hours for a jello shot to completely set. We actually leave it in the refrigerator over night to be 100% sure they are set. If you don't have time to do that, check them after 3 hours.
How do you take Jello shots?
The best thing about these jello shots is that you can just grab one from the plate and eat it! It's so simple!
If you prefer to make them a little stronger, you can set them in small plastic cups and run your finger or a knife around the edge and then squeeze it into your mouth.
Or you can serve them in these jello shot syringes, which are great for Halloween jello shots.
More Jello Shot Recipes You'll Love!
Red, White and Blue Jello Shots
Champagne + Chambord Jello Shots
Let us know if you make these! Also, tag @sugarandcharm on social so we can see what you make!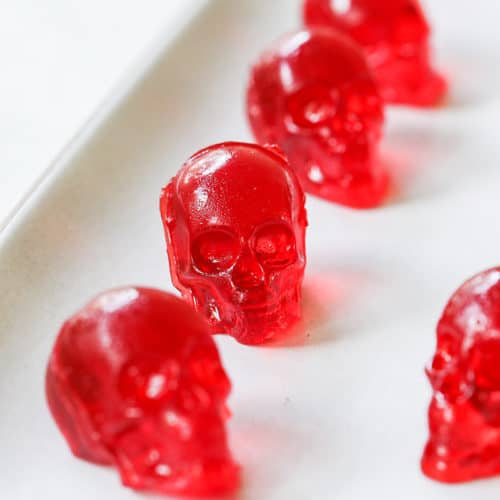 Ingredients
1

cup

vodka

1/4

ounce

gelatin

,

1 packet

3

ounces

strawberry jello

,

or cherry

1

cup

boiling water
Instructions
Pour 1 cup of vodka into a bowl.

Sprinkle 1 envelope of unflavored gelatin over the vodka.

Let it stand for a few seconds then whisk with a fork.

Add strawberry flavored Jello and whisk.

Pour 1 cup of boiling water in the bowl and whisk until the gelatin completely dissolves.

Pour the liqud in a heat proof measuring cup with a spout.

Spray the inside of the mold with cooking spray.

Close the skull mold and pour the mixture into the small hole at the top to fill each mold.

Let the jello set for 3-5 hours or overnight.

Slowly release the top of the mold and remove the jello shots.
Nutrition
Calories:
75
kcal
|
Carbohydrates:
6
g
|
Protein:
1
g
|
Fat:
1
g
|
Saturated Fat:
1
g
|
Sodium:
35
mg
|
Sugar:
6
g