We've rounded up 15 of our favorite spooky Halloween cocktails! From delicious punches to smoking martinis there's definitely a recipe in here for your Halloween party!
Halloween Cocktails
If you're planning a party or just having with a few friends, whip up one of these cocktails to enjoy on a spooky cold evening!
Don't forget to add some dry ice to make it smoke and charmingly spooky garnishes! Sharing ideas for those below!
These Purple Gin and Tonics are the perfect spooky Halloween cocktail! It's perfect for parties and so easy to make. Plus, they're colored with natural ingredients too!
Sour Green Apple Margarita by Heather Christo are made with sour green apple juice! How unique is that? Add a little spice to it and some tequila for a delicious Halloween cocktail!
This smoking lavender blueberry martini is made with homemade blueberry lavender simple syrup, fresh blueberries and then we used a little dry ice to make it smoke! Perfect for a Halloween cocktail
The Blackbeard by Honestly Yum gets its deep black color from Squid ink and dark rum! Don't be alarmed, it's a fantastic cocktail that is perfect for Halloween!
Another one by Honestly Yum, this one is called Pumpkin Punch. With flavors like spiced rum, orange juice and pumpkin puree. It's perfect for fall and of course Halloween.
What's Halloween without a Jolly Rancher drink?! My Spiked Jolly Rancher Punch is perfect for a crowd and full of candy flavors without being too sweet!
Black Lagoon Cocktail via Martha Stewart is a lemony vodka conation with homemade licorice ice cubes!
Halloween Sunset Cocktail via Martha Stewart is made with tangerine juice and grenadine with rum. The pretty colors make it look spooky and a great cocktail to serve at your Halloween party.
These blood orange vial cocktail shots by Martha Stewart are spooky but also delicious. Made with blood orange and orange liqueur, they will go down smoothly and look awesome in those tubes!
This Halloween party punch is light, refreshing and not overly sweet! plus it's an easy punch to whip up. The colorful candy and eyeball ice cubes add a spooky and colorful twist!
This delicious cucumber cocktail is a triple threat! It's super tasty, with a refreshing kick, plus it's easy to make in a batch and a bit healthy! Plus it looks great at Halloween parties – make that a quadruple threat!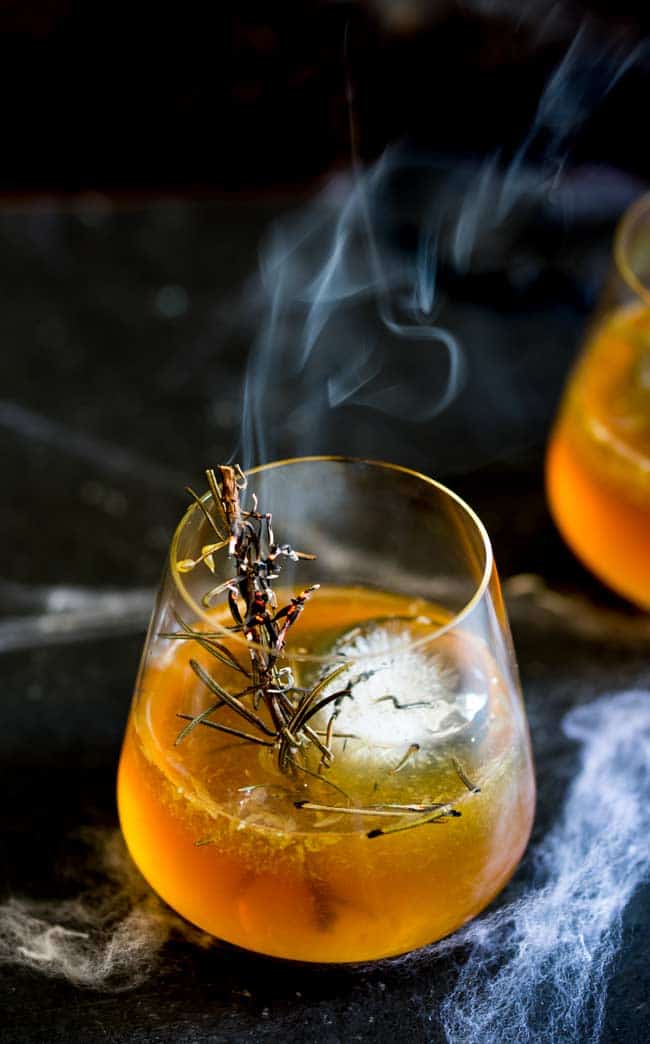 This cocktail by Sprinkles and Sprouts is made with bourbon and maple. The smoky rosemary adds a charming, haunted touch!
We love these Gremlin Drops by Honestly Yum. However, we love the evil drink lab even more for a Halloween party!
This Blood Orange Punch via Williams-Sonoma is made with sparkling wine and a cocktail mixer. It's the perfect, easy Halloween cocktail.
This Black Sangria Recipe is perfect for all of your Halloween entertaining! This make-ahead cocktail will mean your spending less time in the kitchen and more time with your guests. This black cocktail will be the star of your party!
Tips for Making Halloween Cocktails
Once you have the recipe, Halloween cocktails are fun to dress up! Here are some "spooky" ideas to take your cocktail to the next level.
Dry Ice
Dry ice creates bubbles and smoke in cocktails. It's a fun way to add a little spookiness to a Halloween drink! Here's some information on how to use dry ice in cocktails.
Colored Sugar
Rim glasses with colored sugar for a fun detail. Here's a recipe for DIY colored sugar. Make green, red or even blue!
Test Tubes
Pour shots or serve mini cocktails in test tubes. Use a funnel and these glass test tubes, then close them up and serve in a bowl over ice.
Candy Skewers
Using cocktail picks or wooden skewers and gummy candies, create candy skewers to garnish the cocktails.
Licorice Straws
Cut a small piece off the top and bottom of the licorice to create a licorice straw! They're perfect for Halloween!
Brew Shimmer
Brew shimmer is a product that creates liquid shimmer in a drink. It looks like a potion and is totally unique and fun to use in Halloween cocktails.
We hope one of these Halloween cocktail recipes and tips have inspired you! Please leave a comment and let us know which cocktail you make!
You can also FOLLOW US on FACEBOOK, INSTAGRAM, and PINTEREST to see more delicious recipes, cocktails, desserts and parties!