This is a fun 3-ingredient lychee martini recipe that's perfect for Halloween! This lychee drink is easy to make and features a festive Halloween garnish. If you're hosting a party or just want a special martini to sip on during the holidays, give this recipe a try!
I've tried lychee martinis at restaurants and they're also really good. Lychee is a unique fruit with a specific taste to it. When combined with a few other ingredients it really makes a delicious, exotic cocktail! I served these at our Halloween party last year and they were such a hit. It's a fun drink because it's unique and has a light and refreshing flavor.
Check out our smoking blueberry martini for Halloween too!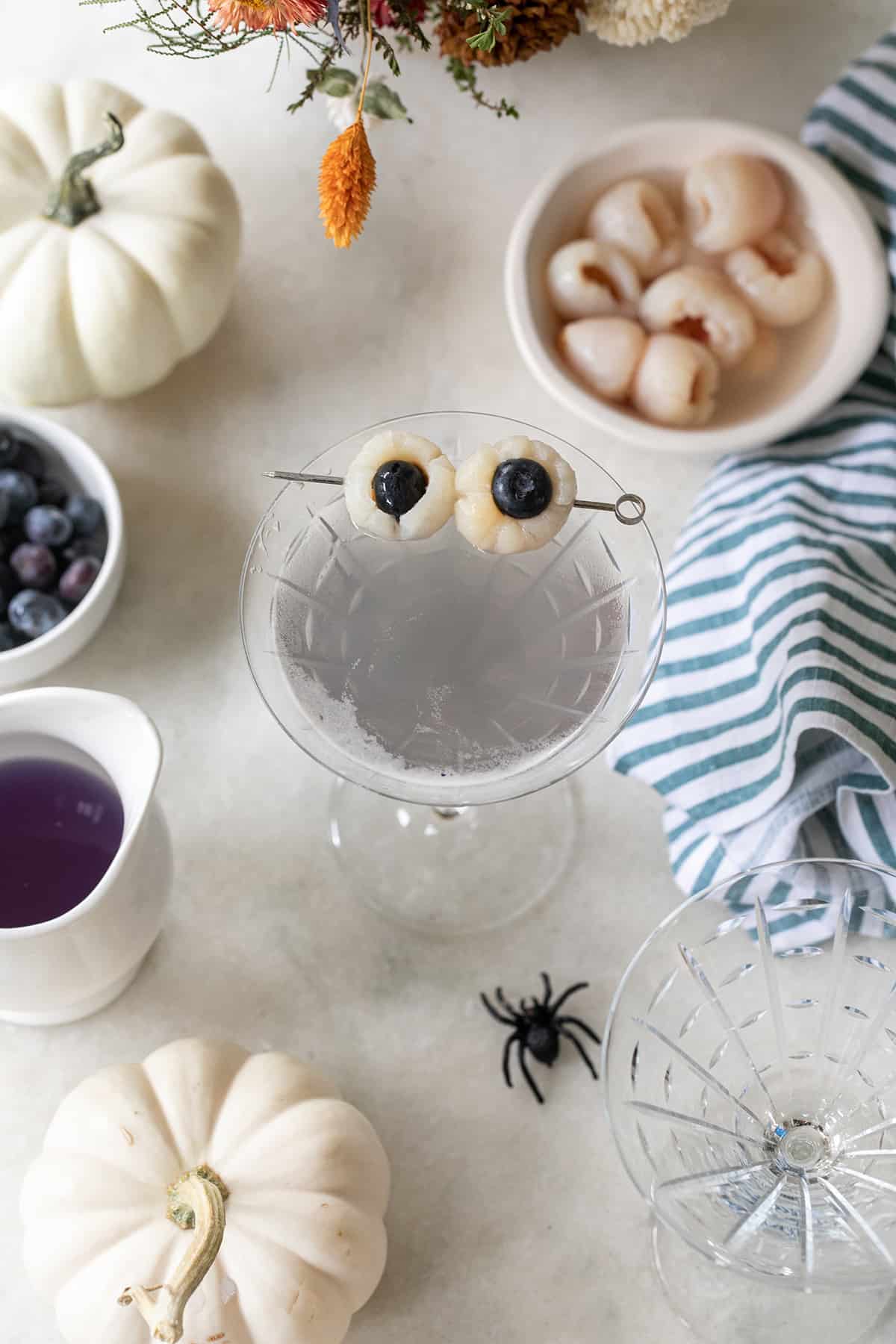 To give it a subtle gray color I used butterfly pea flowers. I use these in my cocktail recipes as they are the best natural food coloring! They will turn drinks blue or purple depending on what you're making. For this recipe, I got a beautiful shade of gray which is perfect for Halloween.
I recommend keeping dried butterfly pea flowers in your house for recipes. You can find them online and they last a long time.
What is Lychee?
Lychee is a tropical fruit that is native to Southeast Asia. It's often used in Asian cuisine and has a very distinct taste. The fruit has red rough skin that has to be removed before eating. It's often used in desserts, but it can also be used in savory dishes as well.
Lychee is also packed with vitamins and health benefits. It's usually eaten fresh but can also be canned or dried. For this recipe, we used canned lychees and the sweet juice in the can for the martini. I find fresh lychee at our local Mexican market.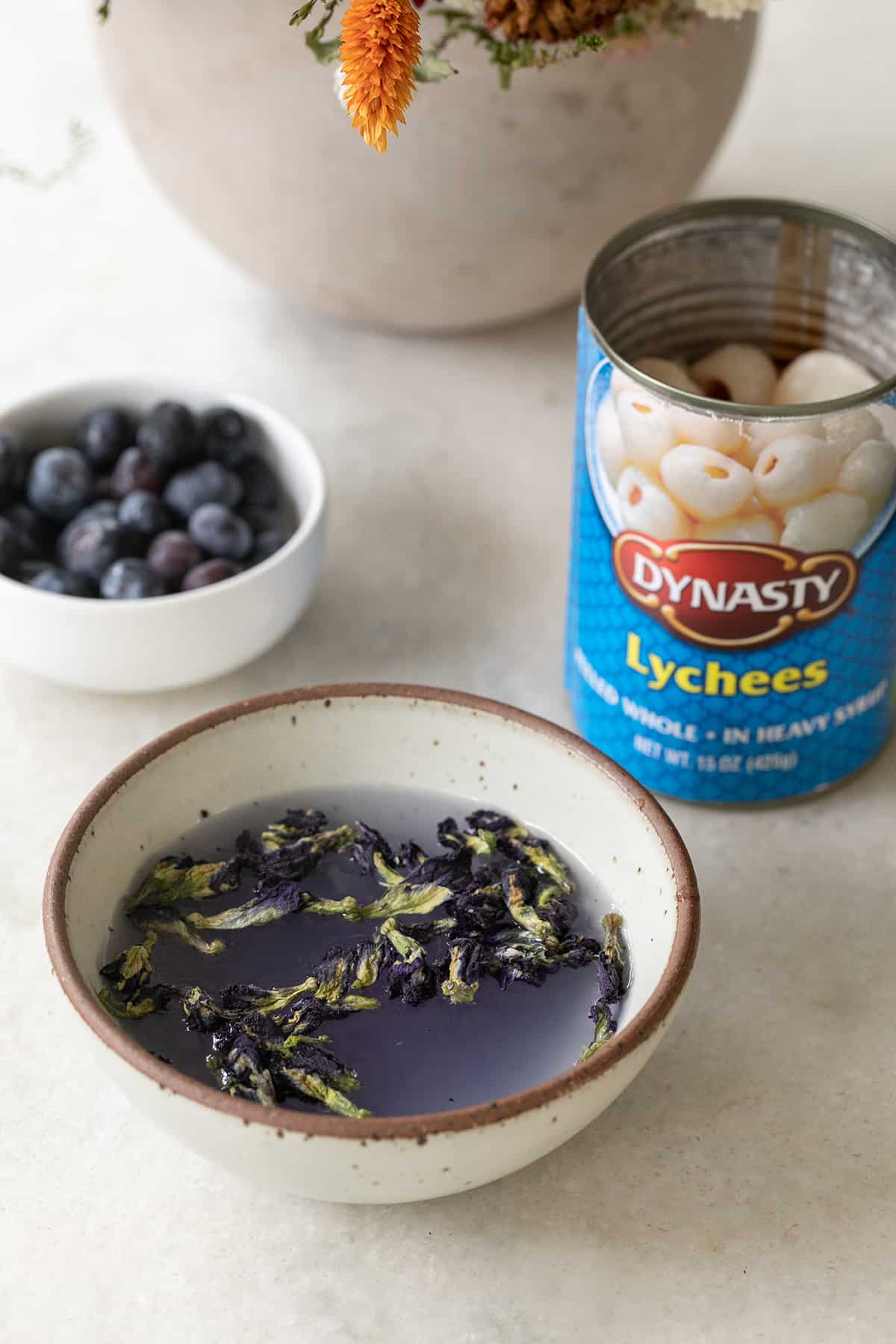 Halloween Lychee Martini Recipe
Everything you need to know to make the best lychee martini! The full recipe is in the recipe card below.
Ingredients
Vodka – Use a smooth, good-quality vodka when making martinis.
Orange Liqueur – You can use either Cointreau or Grand Marnier for this recipe. The orange liqueur adds sweetness and a hint of citrus.
Canned Lychee – For this recipe, we use the heavy syrup that comes in the can and the lychee fruit for the cocktail garnish. Not every grocery store will have this but you can find it online. You can also check your local grocery store or specialty food store.
Butterfly Pea Flowers – These are optional, but if you want the purple cocktail color these are perfect!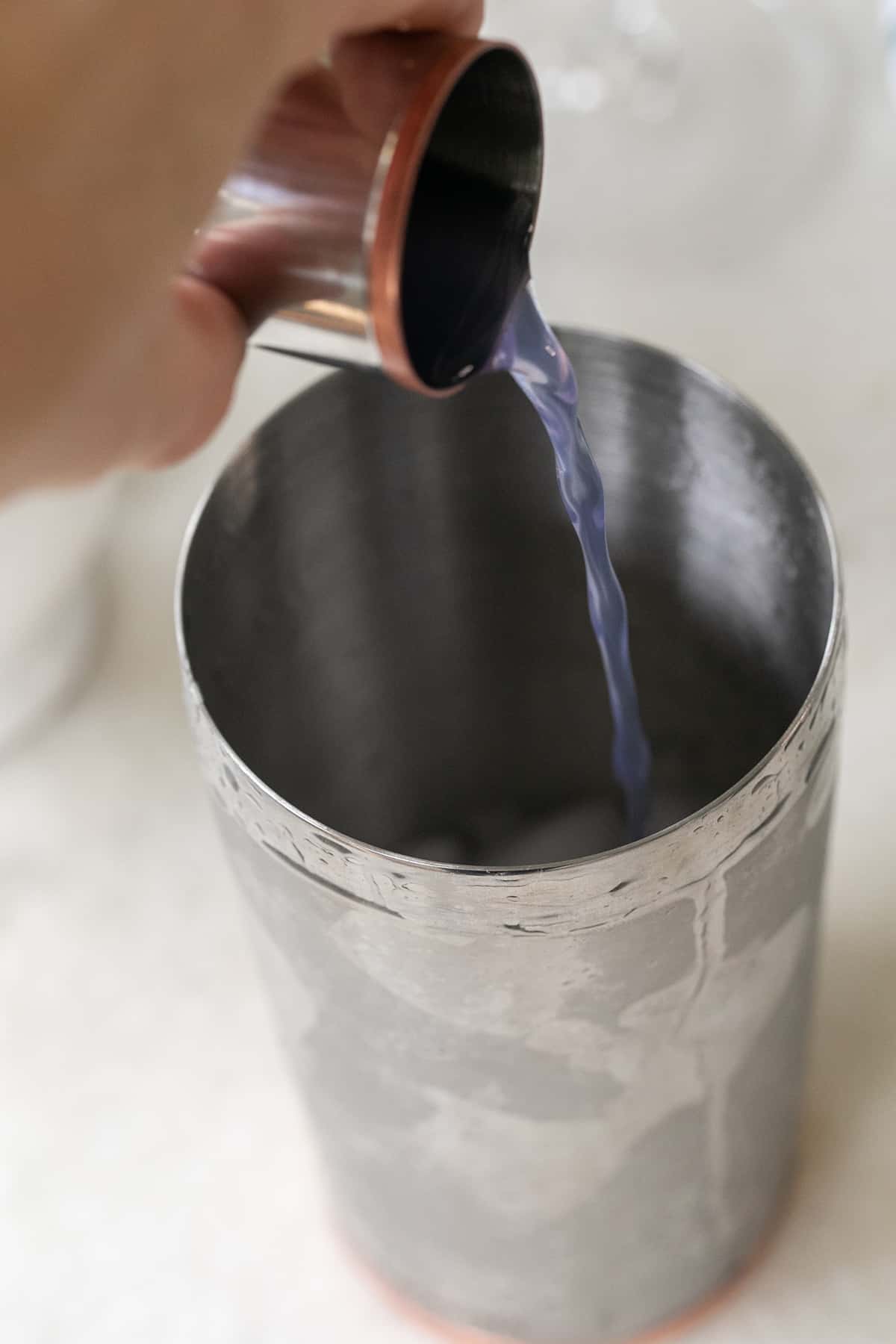 How to Make a Lychee Martini for Halloween
You can make this drink in 3 easy steps!
Combine the butterfly pea flowers and vodka into a small bowl to infuse the color of the vodka.
Add all of the ingredients into a cocktail shaker with ice cubes.
Shake with ice and strain into a martini glass.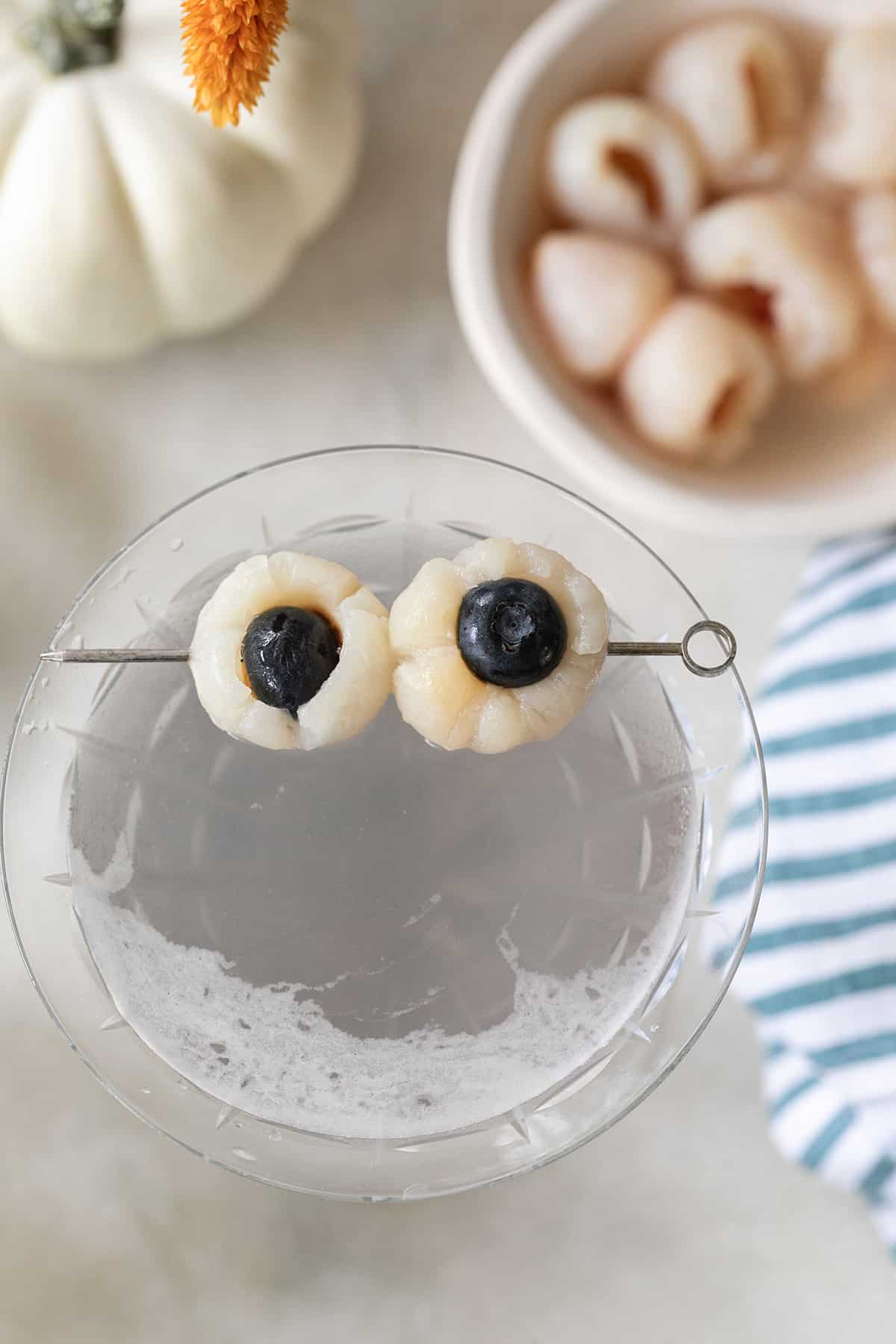 Lychee Garnish
Since I turned this vodka martini into a Halloween cocktail, I had to give it some spooky lychee eyeball garnishes! These are so fun and easy to make.
Simply, use the lychee in the can and a fresh blueberry and place the blueberry into the middle of the lychee!
Add two of them to a cocktail pick and garnish the martini with them. They look like little googly eyes that are perfect for Halloween!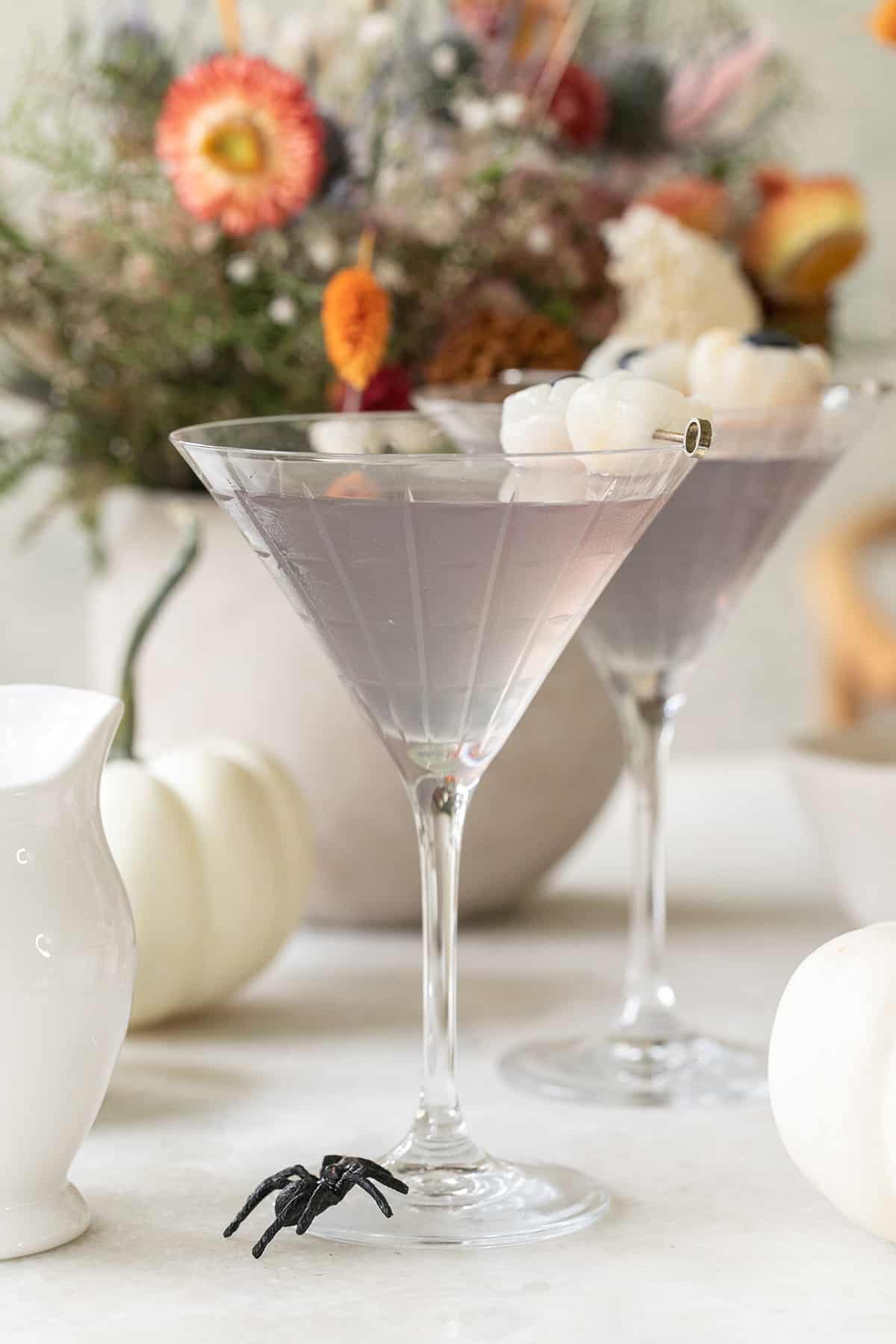 Expert Tips and Alternatives
Here are ways you can alter this recipe:
Use gin instead of vodka for a gin lychee martini.
If you don't want to use butterfly pea flowers, you can muddle blueberries to give the drink a purple hue.
If you want a more robust lychee flavor, add an extra ounce of lychee juice.
For a sweeter martini, use a little simple syrup or a dash of elderflower liqueur for a lychee elderflower martini.
If you don't have lychee juice, you can use white grape juice or white cranberry juice.
Pour the cocktail into a chilled martini glass for a smooth flavor and texture.
If you don't want the purple color, you don't need to add the butterfly pea flowers.
Recommended Tools and Ingredients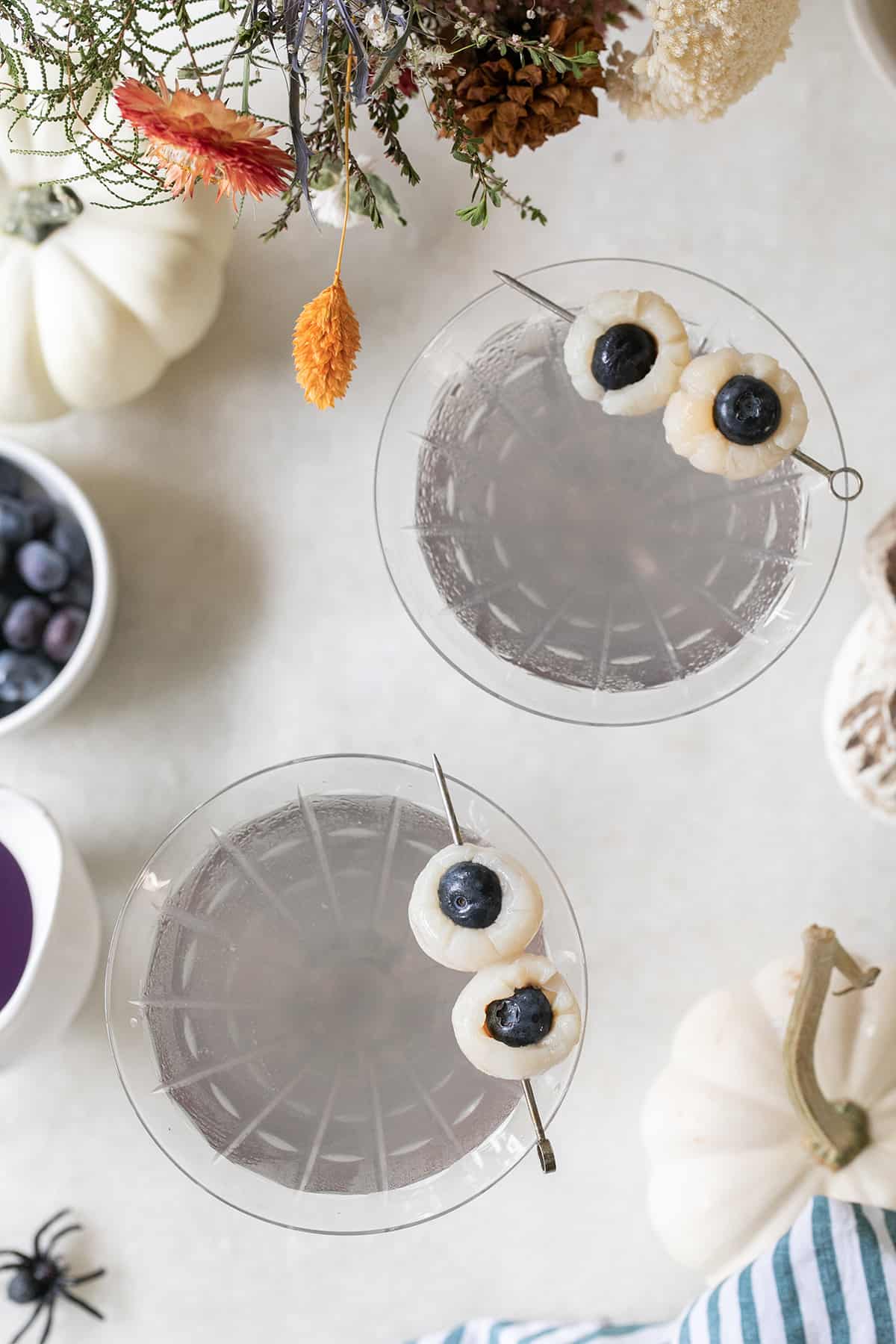 When to Serve a Halloween Martini
Serve this drink at any Halloween party or celebration! Here are some ideas:
What to Serve with a Halloween Drink
This cocktail is perfect to serve with Halloween party snacks! Here are some of my favorite recipes:
Check out how to make your own trick-or-treat bar for the ultimate Halloween party!
Frequently Asked Questions
What does lychee taste like?
Lychee has a very unique taste that is hard to describe. It's sweet and floral with a hint of citrus. It tastes different depending on your palate. It has a subtle taste of watermelon or grape or strawberry.
What is a lychee martini made of?
A lychee martini has three ingredients in it. It's made with the juice of lychee, vodka, and orange liqueur. They are refreshing and not too strong.
What does a lychee martini taste like?
A lychee martini has a sweet flavor with floral notes and a hint of citrus. It's refreshing and not too strong.
More Martini Recipes You'll Love
Pretty Pink and Cranberry Martini
We hope you love this martini recipe as much as we do! If you make this for your Halloween party, please leave a comment and review below. We want to know what you think!
You can also FOLLOW US on FACEBOOK, INSTAGRAM, and PINTEREST to see more delicious recipes, cocktails, desserts, and parties!