Whether you're hosting a holiday party or just getting together with friends, this pretty pink, gin cranberry martini is the perfect drink to serve! It's easy to make and tastes great. Plus, it's sure to impress your guests because it's a gorgeous cocktail!
We like to think of this drink as a party cocktail. It's easy to whip up 4 at a time and serve as a welcome cocktail when guests arrive. Our recipe makes for 4 cocktails. You can cut this in half and make two or one large martini too!
So when I invite friends over for dinner, I love welcoming them with a cocktail, and this pretty pink Cranberry and Gin Martini is perfect.
It's a great way to kick off the evening and allows everyone feel relaxed and excited about the food and a good convo ahead!
Martinis are classic cocktails that have been around since the mid1800s. They're typically made with gin or vodka, vermouth, and garnish. They are normally pretty heavy on alcohol, but we like to make ours a little lighter and fruitier!
I do like martinis but don't like them when they're overly strong. A nice balance of all the ingredients tastes better to me. I'm the one who orders an extra dirty martini with 10 olives!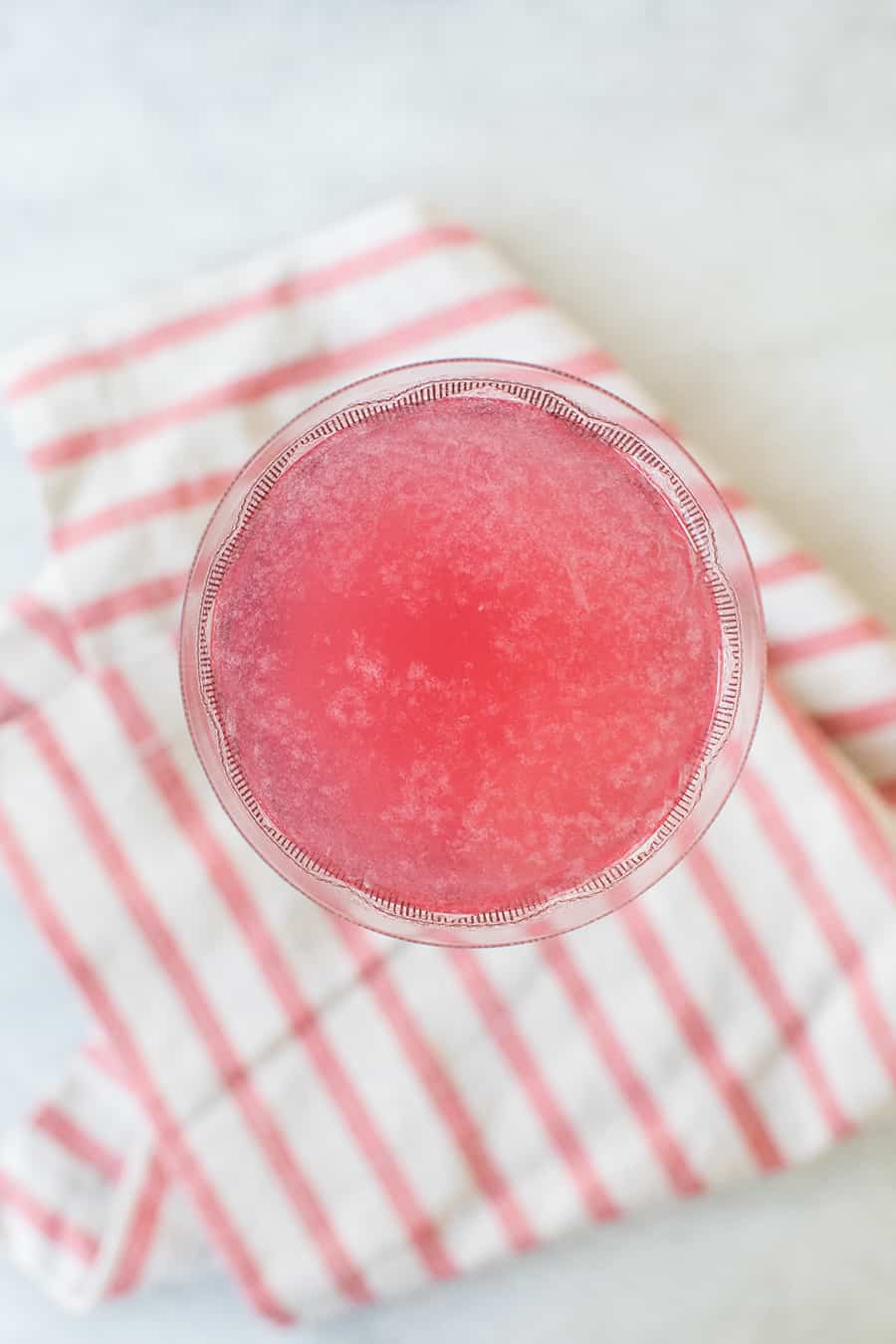 Bar Tools
You'll need a few bar tools to make this cocktail:
Cocktail shaker – If you're making 4 cocktails, use a large cocktail shaker with a built-in strainer.
Ingredients
Fresh Squeezed Lemon Juice – Always use freshly squeezed lemon juice.
Orange liqueur – Something like Cointreau or Triple Sec. Either one of these orange liqueurs will work. They add a hint of orange flavor and balance to the drink.
Sweetened Cranberry Juice – Use something like Ocean Spray
Gin – Use a good quality gin for this recipe.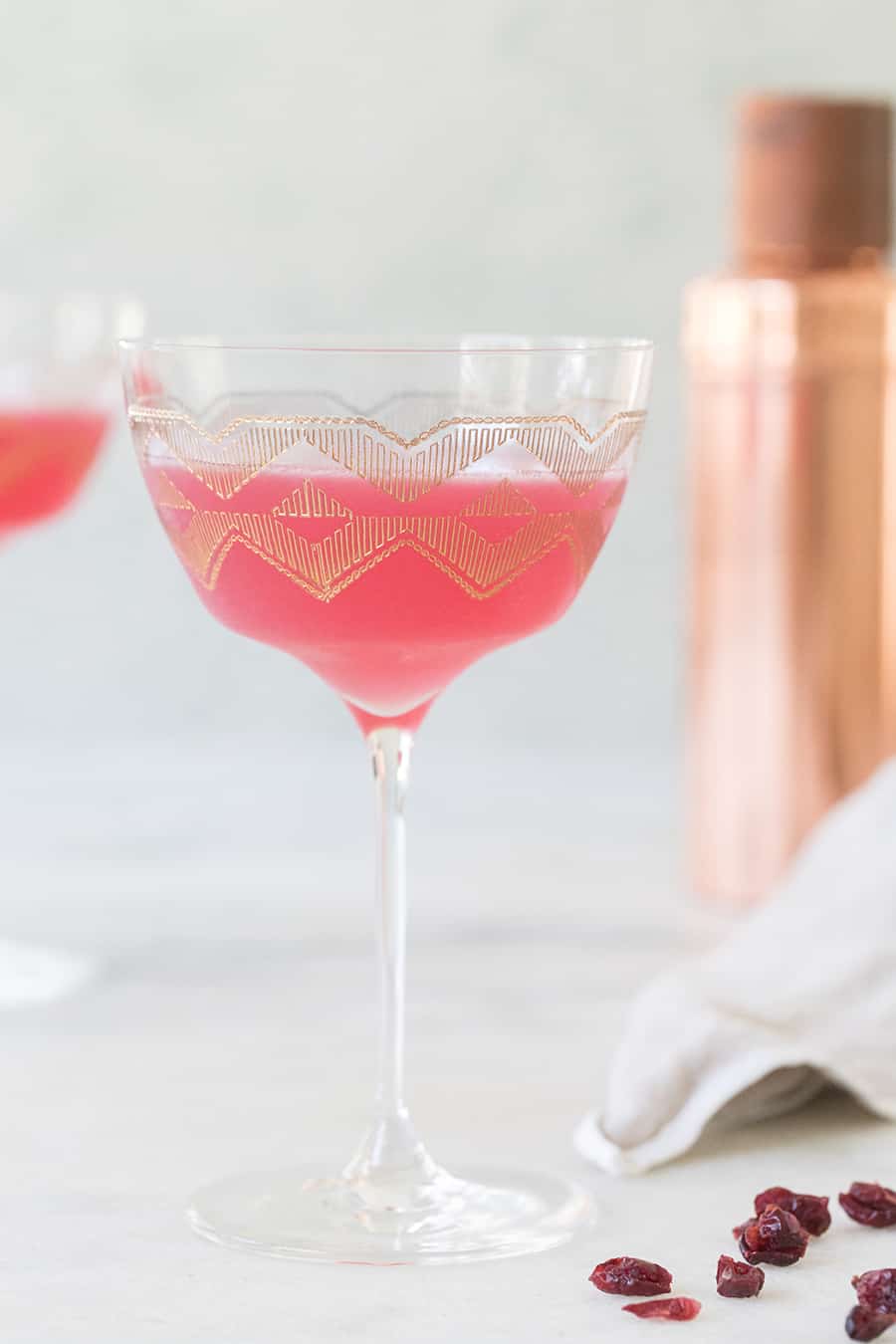 How To Make This Gin and Cranberry Martini
Add all of the ingredients into a pitcher and store in the fridge.
Before serving, fill a cocktail shaker with ice and add in as much of the mixture as you can.
Shake for 20 seconds then strain.
Add in the rest and repeat.
This will make four delicious cocktails.
Recipe Variations
If you want a sweeter martini, add a teaspoon of simple syrup to the mix.
For a stronger drink, increase the amount of gin.
For a less fruity drink, use less cranberry juice.
Switch out the lemon juice for lime juice.
Make it a zero-proof recipe by using a zero-proof gin.
This recipe is for 4 drinks. Cut it in half to make 2 cocktails.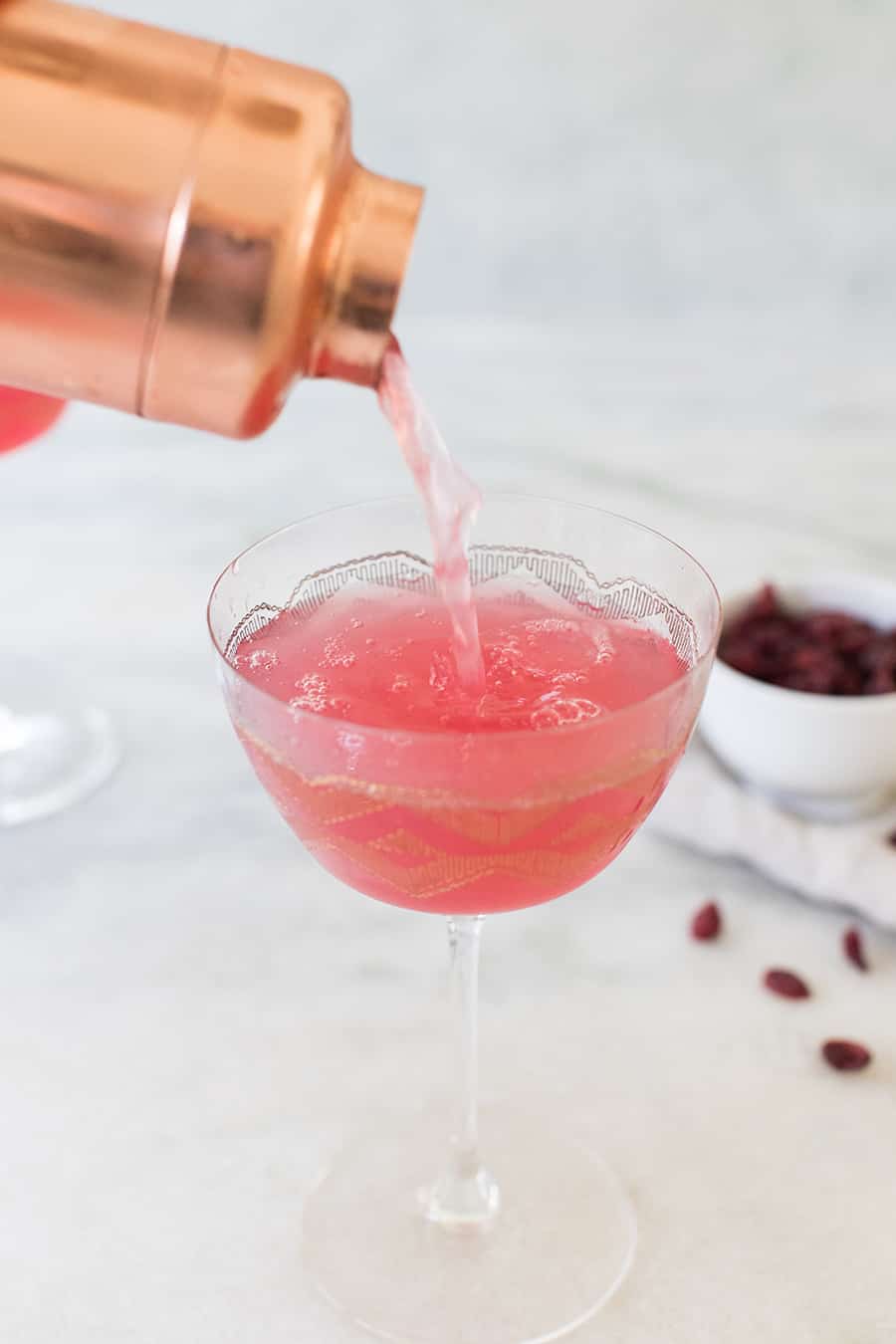 Unsweetened Cranberry Juice vs. Sweetened
Unsweetened cranberry juice is made from 100% cranberries and has no sugar added. It has a very butter, strong flavor to it. Sweetened cranberry juice is made from cranberries and other fruits that have been sweetened with sugar.
The main difference between the two is that unsweetened cranberry juice is tart and bitter and sweetened is lighter and sweeter.
White Cranberry Juice
White cranberry juice is made from a blend of white cranberries and other fruits. They are less ripe than red cranberries and have a sweeter taste. White cranberry juice is a good choice if you want a less tart drink.
Cocktail Garnishes
For this cranberry martini recipe, we like to garnish our drinks with fresh cranberries. You can also use any of these cocktail garnishes to make it pretty!
Rosemary and Thyme
Lemon Twist or Lemon Zest
Orange Slice or Fresh Orange Zest
Sugared Cranberries
If you fancy a sugared rim you can easily do that by swiping the rim if the glass with a lemon wedge, then dipping it into a plate filled with sugar.
Vodka Cranberry Martini
Substitute vodka for gin and follow the same recipe. When using vodka it has a similar taste to the gin cranberry martini but with a little less of a bite. It still works great and makes a delicious vodka martini.
Good Gins For This Cranberry Martini
A good martini requires a good gin! You may already have your fave, but in case you don't, here's some gin!
Soft Martini: NOLET'S Silver Gin
Citrusy Martini: Plymouth Gin Original
Juniper Lover's Martini: Tanqueray London Dry Gin
Classic Martini: Boodles Gin
Floral Martini: Hendrick's Gin
Martini Glasses
You can use a martini glass or a coupe glass for this lovely cranberry martini.
The martini cocktail glass is the classic glassware for a martini. It was originally developed not because of aesthetics but because of practicality. Likely dating to the late 19th century, the vessel suits cocktails that are "served up".
The lengthy stem and separated bowl mean that the cocktail isn't warmed up too much by the drinker's hands, as there's no added ice to ensure it stays chilled.
It wasn't until the early 20th century that the Martini glass came to be distinct from the cocktail glass.
The slightly rounded sides of the former transformed into a purely conical shape, with the walls of the glass descending into a single point at the bowl's base. The Martini glass's stem also lengthened, and its rim grew wider.
Again, these changes were made not in the service of looks but of convenience. As Martinis must be served frosty cold, the long stem further ensures that the cocktail isn't warmed up too quickly. The widened brim was also invented to best benefit the gin.
The greater exposure to air helps the spirit to open up, and its complex botanicals are more discernible than they would be if it were served in a narrower glass.
Tips For This Gin and Cranberry Martini
Choose a good gin!
Opt for sweetened cranberry juice.
Shake the shaker until it gets cold for at least 30 seconds.
Serve in a long-stemmed glass, to keep the cranberry martini cold for longer.
When to Serve a Cranberry Martini
This pink color and fruity flavor of this cocktail make it a wonderful choice to serve on many different occasions! Here are a few of our favorites:
An easy holiday cocktail for the holiday season.
What to Serve with Cranberry Martinis
These cocktails are great on their own, but if you're looking for something to serve alongside them, here are a few of our favorite ideas:
Frequently Asked Questions
What is the name for vodka and cranberry?
Vodka cranberry is the most common name for this drink. Other names include Cape Codder, Cranberry Cooler, and Cranberry Vodka.
Can I make a Cranberry Martini ahead of time?
Yes, you can make the Cranberry Martini mix ahead of time and store it in the fridge for up to a week. When you're ready to serve, just shake it up with ice and strain it into glasses.
Do I have to use freshly squeezed lemon juice?
Yes, we suggest you always use freshly squeezed lemon juice. This is because it has the most flavor and freshness. You can use store-bought lemon juice, but it won't taste as good.
What is a gin martini called?
A gin martini is just called a "martini." Martini's are traditionally made with gin, but you can also make them with vodka.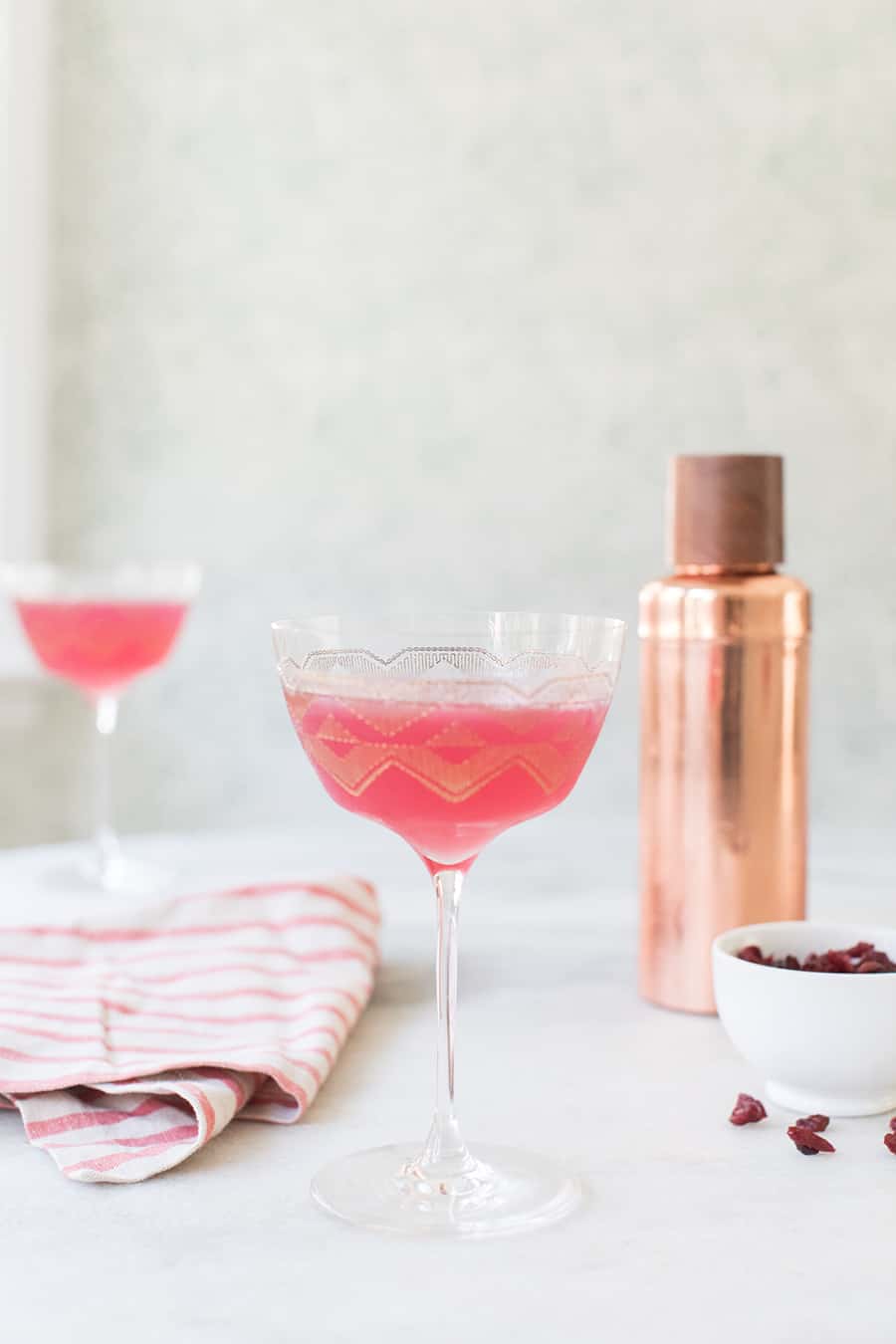 Check Out These Other Delicious Cocktail Recipes
Let us know if you make this delicious cranberry martini recipe by leaving a comment below!
You can also FOLLOW ME on FACEBOOK, INSTAGRAM, and PINTEREST to see more delicious recipes, cocktails, desserts, and party ideas!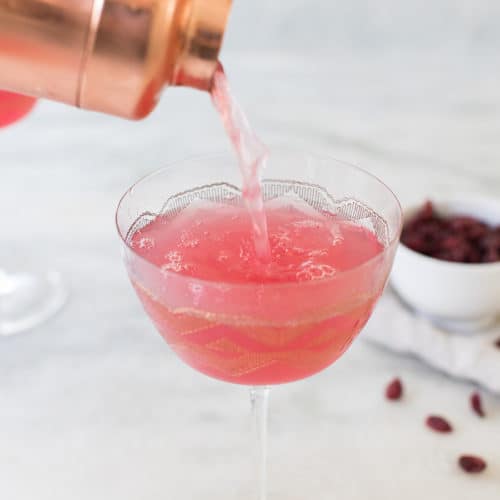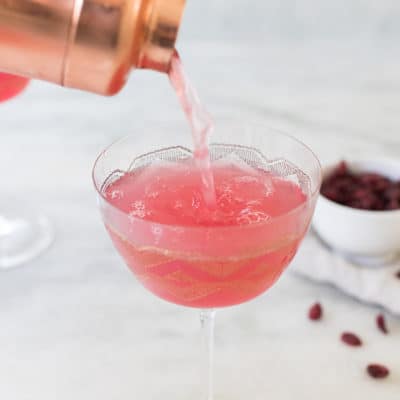 PINK CRANBERRY AND GIN MARTINI
This bright and tasty Cranberry Martini is perfect for entertaining! It's an easy cocktail that's bound to please.
Print
Pin
Rate
Ingredients
4

ounces

fresh squeezed lemon juice

4

ounces

[Cointreau or orange liqueur

6

ounces

cranberry juice like Ocean Spray

6

ounces

gin
Instructions
Add all of the ingredients into a pitcher and store in the fridge

Before serving, fill a cocktail shaker with ice and add in as much of the mixture as you can.

Shake for 20 seconds then strain.

Add in the rest and repeat.

This will make four delicious cocktails.
Nutrition
Calories:
211
kcal
|
Carbohydrates:
16
g
|
Protein:
1
g
|
Fat:
1
g
|
Saturated Fat:
1
g
|
Sodium:
4
mg
|
Potassium:
62
mg
|
Fiber:
1
g
|
Sugar:
15
g
|
Vitamin A:
19
IU
|
Vitamin C:
15
mg
|
Calcium:
3
mg
|
Iron:
1
mg