The easiest Halloween punch recipe! This jungle juice is perfect for serving a large group of people. It's made with refreshing fruit juice and flavorful rum and can be customized to your liking.
So gather your friends and family and party with this spooky drink!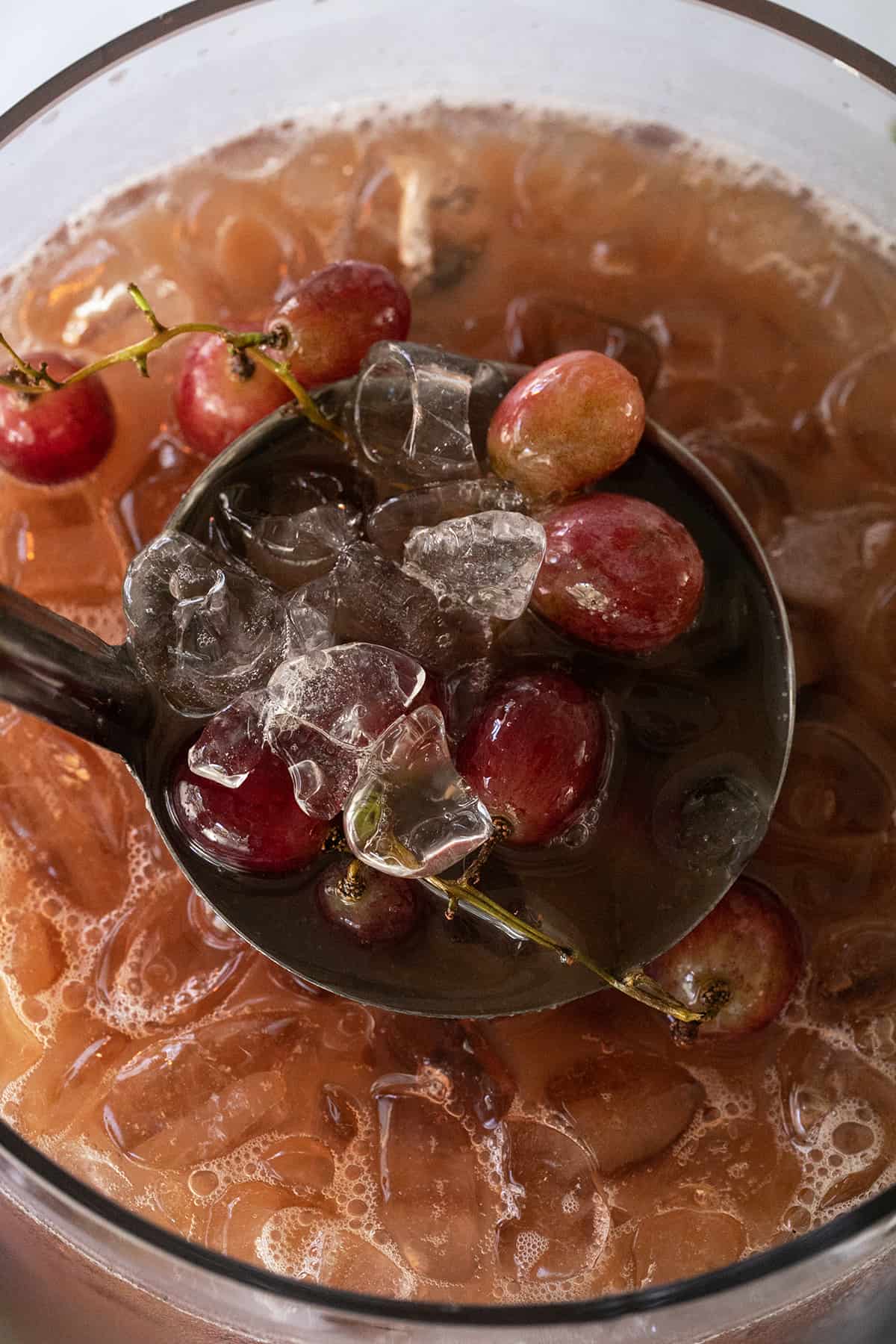 There is a lot of history and stories about where the term "Jungle juice" came from. One thing we know for sure is the term is for bootlegged alcoholic drinks.
The term "jungle juice" became popular among American troops during World War II, when it referred to any alcoholic beverage made with locally available ingredients, including moonshine.
When I think of jungle juice, I think of my early college days of making an affordable punch for a crowd! However, this recipe is a step up from those days. I have graduated to higher-quality juices and better spirits!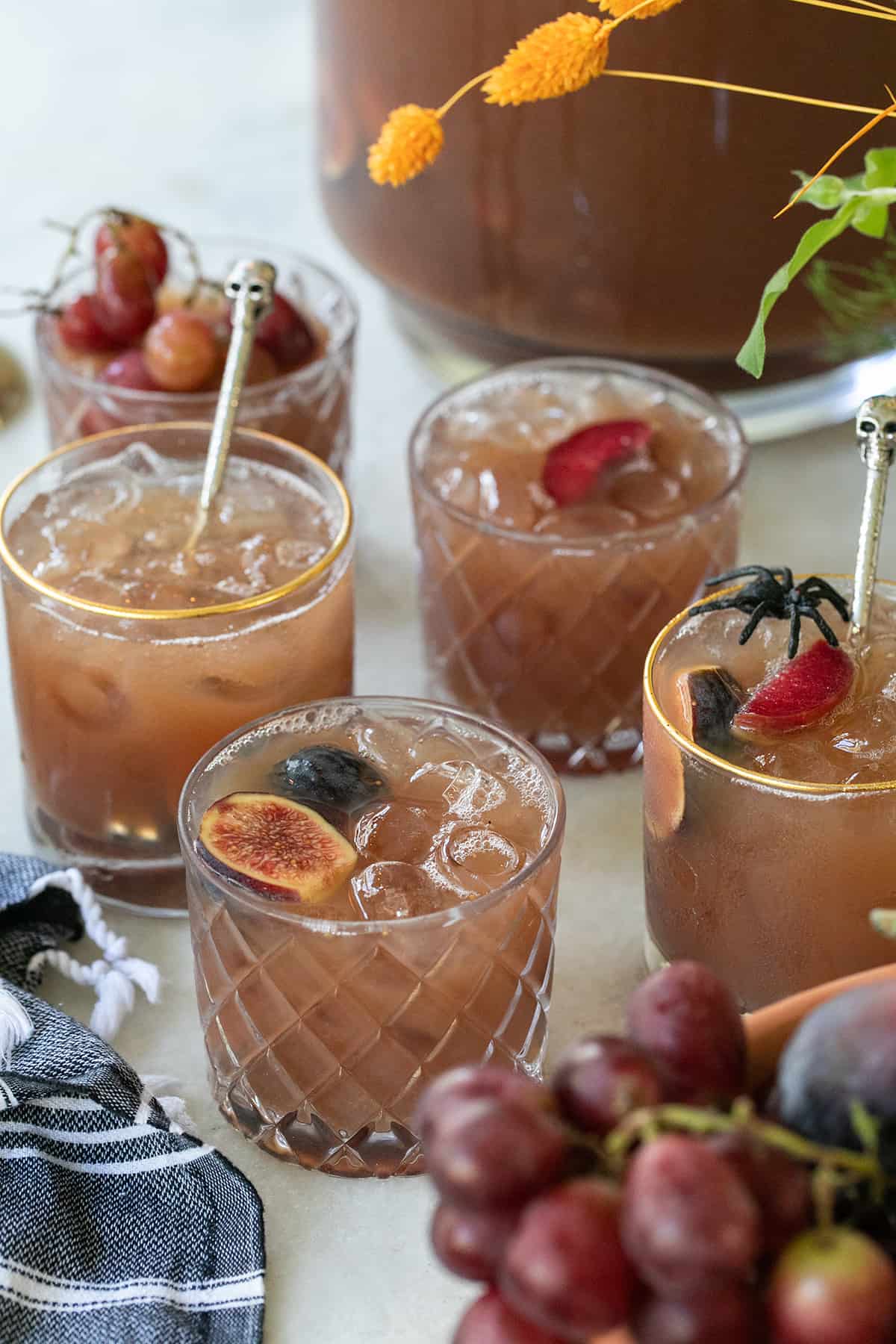 Why This Recipe Works
This punch is not as sweet as you think and you can make it as strong or light as you like. This is a massive Halloween punch and perfect for a large Halloween party, especially if you're on a budget.
My recipe is for a big batch punch. It's an easy way to serve a lot of people and doesn't cost much money. You'll need a more significant punch bowl to hold all of the juice and rum and a ladle for easy serving.
Besides a bit of fruit chopping, this fun drink is one of the easiest recipes you'll ever make! The perfect option for your party guests and spooky bash!
It's created so you can add more of less of what you like.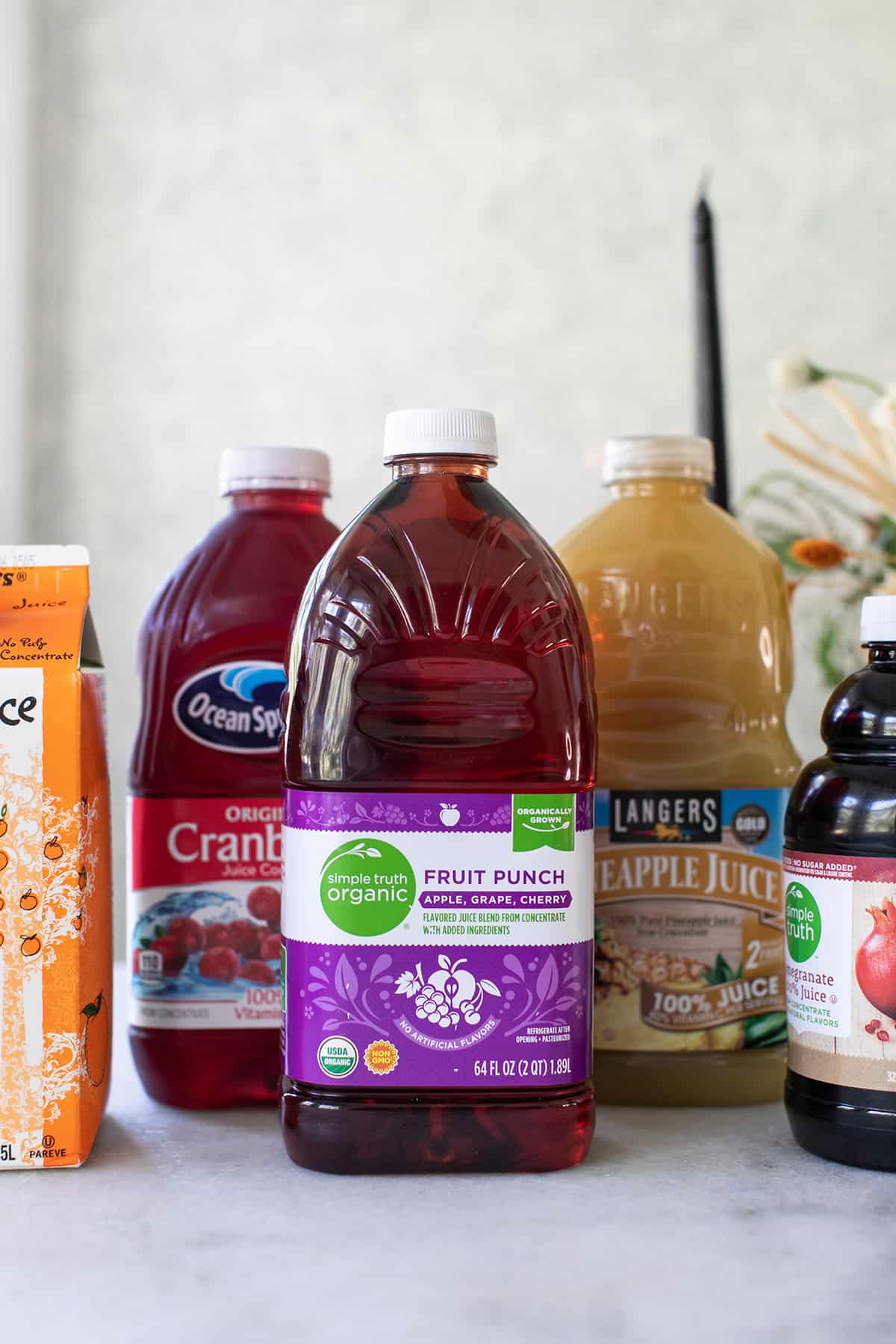 How to Make Halloween Jungle Juice Recipe
This recipe is made with simple ingredients that you can find at your local grocery store. Here is a list of the ingredients in this easy jungle juice recipe:
Ingredients
Fruit Punch – A juice blend that is a mixture of apple juice, grape juice, and cherry.
Pineapple Juice – Use 100% pineapple juice without any added sugar.
Cranberry Juice – Use sweetened cranberry juice or it will be too tart.
Orange Juice – No need to squeeze fresh orange juice for this recipe! Organic orange juice without added sugar works perfectly.
Pom Juice – This is added over the top to give it a deeper color. Use unsweetened, thick pomegrante juice to enhance the color of the punch.
Rum – We used a mixture of black rum to give it a deep purple color for Halloween. We also use spiced rum!
Fresh Fruit – Jungle juice has a lot of fresh fruits that soak in the punch. For this Halloween version, use dark fruit like plums, grapes, and figs to give it a spooky look. We also like to add some orange slices in there too.
The great thing about this recipe is that you can easily adjust it to your liking. I like to use a combination of pineapple juice, orange juice, and cranberry juice. You can use any fruit juice that you like.
Directions
In a large punch bowl or container, mix together all of the juices.
Add in the rum and stir well.
Fill the punch bowl with ice.
Expert Tips for Making Halloween Jungle Juice Punch
Make it ahead of time without the ice and let the fruit soak in the juice.
This s a big batch punch. If the punch bowl you're using only fits half, store the other half in a pitcher in the refrigerator without ice and refill the bowl during the party.
Use 100% fruit juice and even organic if you can for a more natural punch.
For a stronger punch, use more rum or add in a liqueur.
Garnish with gummy worms and spooky eyeball candy for a fun look.
Use a fun punch bowl or container to make it more festive!
Use organic juice and ingredients for a fresher flavor.
For a budget-friendly punch, you don't need to use expensive alcohol since there are a lot of flavor variations. So save your expensive spirits for Halloween martinis!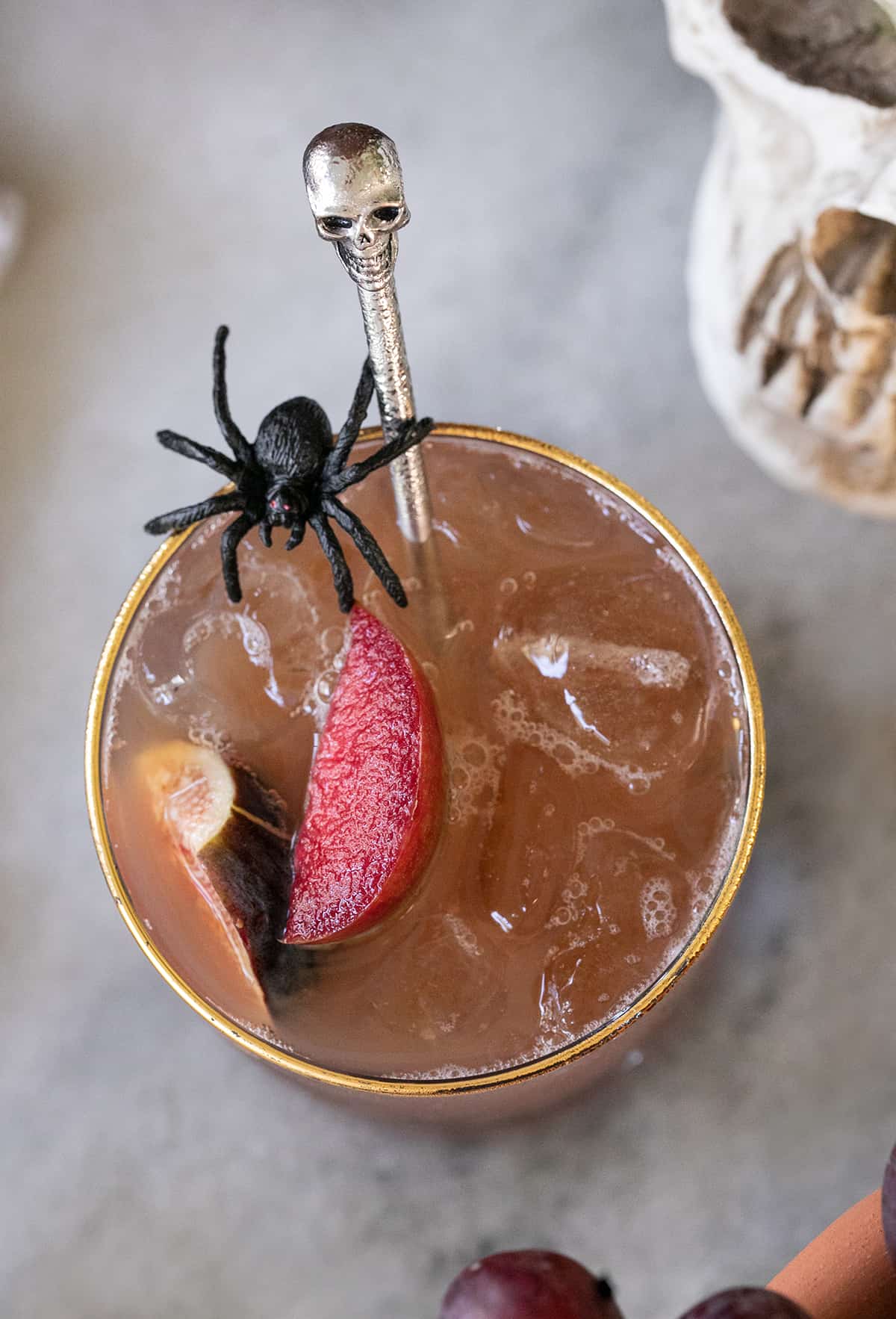 Recipe Variations
You can make this Halloween punch recipe your way in so many ways. Here are some fun options:
Use different types of fruit juices to change the flavor.
For a non-alcoholic punch, leave out the rum or use an alcohol-free rum.
Use different types of fresh fruit to garnish the punch.
Add vodka or gin instead of rum or switch it out for coconut rum or white rum.
Pour some peach schnapps in for even more fruit flavor.
For some fizz, add in ginger ale or lemon-lime soda.
Use cherry juice instead of cranberry juice.
How to Store Halloween Punch
If there are any leftovers, remove the ice and it can be stored in the fridge for up to three days. Just make sure to keep it in a covered container or pitcher.
You can also make this recipe the day before and let the fruit soak in the mixture. Add the ice right before serving.
Best Punch Bowls for a Halloween Party Punch
Here are some fun and festive punch bowls that will be perfect for serivng Halloween jungle juice!
Large cauldron punch bowl
Glass punch bowl with floating ghosts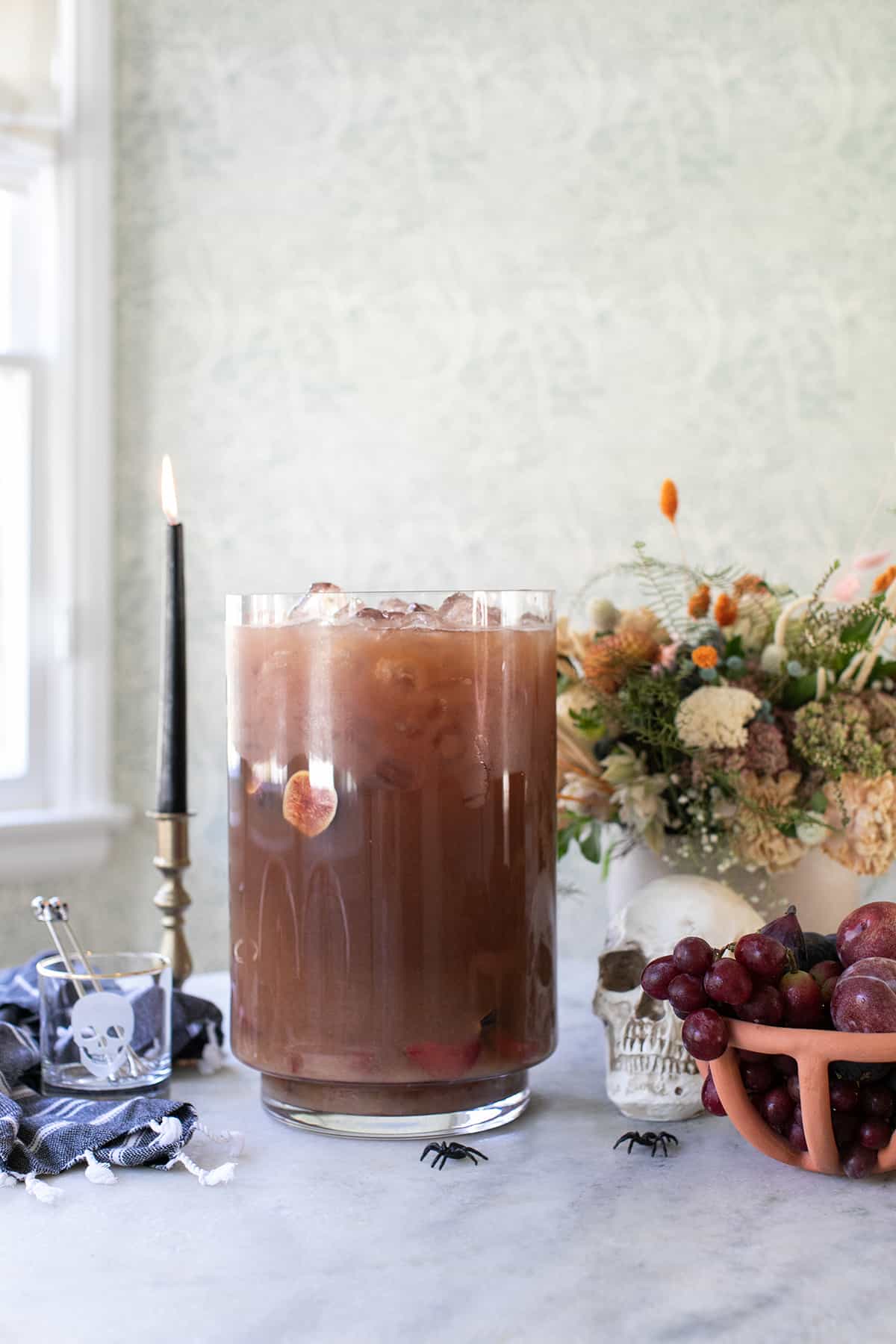 What to Serve with Halloween Punch
Do you need ideas for what to serve with this festive jungle juice? Try any of your favorite Halloween snacks! I like to serve this punch with a variety of Halloween appetizers and finger foods. Here are some of my favorites:
When to Serve Jungle Juice
This delicious cocktail punch is perfect for serving at all Halloween celebrations and Halloween parties! It's also great for sipping on while handing out candy to trick-or-treaters. Serve it at any of these spooky occasions:
Frequently Asked Questions
What is jungle juice?
Jungle juice is a type of punch that is usually made with fruit juice, rum, and a lot of fresh fruit. It is often served in a large bowl or container, which makes it perfect for a crowd and the Halloween season. Our version is a fruity Halloween punch that you can alter and add your own touch to.
Does jungle juice get you drunk?
This boozy concoction is strong, but you can still control how much alcohol goes into the punch and how much you drink. It really depends on how much rum you add to the punch.
If you want a stronger drink, then add more rum. For a lighter drink, add less rum. We also suggest drinking in moderation. Sip one cocktail throughout the evening.
Can I make this punch without alcohol?
Yes, this is the perfect drink to turn into a mocktail! Just omit the rum from the recipe and that's it!
What is the flavor of jungle juice?
The flavor of jungle juice punch is a combination of fruit juices and rum. It has a fruity flavor from the fresh fruit. This recipe is perfectly sweetened too and not overwhelming.
Can you put dry ice in jungle juice?
Yes, you can! Just be sure to use caution when handling dry ice. Add it before serving and don't let it sit in the punch for too long.
Can I make this ahead of time?
You can make the punch without the ice and fruit a day in advance.
What is another name for jungle juice?
Halloween jungle juice is also known as Halloween punch.
More Halloween Cocktails
Looking for more Halloween drink recipes? Here are some of our favorite delicious drinks to make at home for your next party or any special occasion.
Also, if you're hosting a party with kids, try our three ingredients Halloween party punch without alcohol.
So get your Halloween decorations up, plan a party, and make this punch! This is an excellent recipe for all special occasions!
Let us know if you make this punch by leaving a comment and review below! Happy Halloween!
You can also FOLLOW US on FACEBOOK, INSTAGRAM, and PINTEREST to see more delicious recipes, cocktails, desserts, and parties!
Halloween Jungle Juice Punch
An easy, affordable, and delicious Halloween punch!
Print
Pin
Rate
Ingredients
64

ounces

fruit punch

64

ounces

pineapple juice

32

ounces

cranberry juice

16

ounces

orange juice

8

ounces

pomegranate juice

33

ounces

rum

,

you can use black rum, spiced rum or coconut rim.

4

cups

sliced fruit

,

figs, grapes, plums, orange slices, apples.
Instructions
In a large punch bowl or container, mix together all of the juices.

Add in the rum and stir well.

Add in the sliced fruit. This can be figs, grapes, orange slices and plums.

Fill the glass bowl with ice.
Notes
You can use any type of fruit you like for this recipe. 
Switch out the rum for vodka or gin.
Add ginger ale for some bubbles. 
Add more or less alcohol depending on how strong you want the cocktail. 
Nutrition
Calories:
187
kcal
|
Carbohydrates:
28
g
|
Protein:
1
g
|
Fat:
0.5
g
|
Saturated Fat:
0.05
g
|
Polyunsaturated Fat:
0.2
g
|
Monounsaturated Fat:
0.1
g
|
Sodium:
14
mg
|
Potassium:
320
mg
|
Fiber:
4
g
|
Sugar:
21
g
|
Vitamin A:
449
IU
|
Vitamin C:
26
mg
|
Calcium:
21
mg
|
Iron:
1
mg