Whether you're planning to be a spooky ghost, a mysterious witch, or a character from your favorite cartoon or movie, Halloween is the best time of year to celebrate your adventurous side. This season, you can host an amazing party that everyone will remember, and you can do it all without breaking the bank. Check out these 15 super amazing and fun Halloween party ideas.
Ideas that you can incorporate at home and have a blast while sticking to your budget.
1. Dress up Your Table with Spooky Placemats
Take your party to the next level by adding a few custom accessories. You can start with spider web placemats that are extremely easy to create and they won't cost a fortune, either.
Take some black puffy paint and use it to create your own spider webs, applying it to parchment paper. Let the paint dry overnight, then peel the spider webs from the parchment paper to create an awesome placemat! You can do this with other things, too, like orange puffy paint to create pumpkins or white paint for ghosts.Â
2. Scary Centerpieces from Your Own Backyard
You don't need to spend a ton of money to create a cool Halloween-themed centerpiece. Pick out some branches from your backyard and paint them using spray paint in colors like black and orange.
The branches can be from trees or shrubs, and best of all, they're completely free. Once the branches are painted and dry, place them in a vase for a creepy centerpiece your guests will love. If you don't have a vase, paint a coffee can or other container in a Halloween color to make a spooky vessel.
3. Make Your Own Custom Menus
If you're planning to serve a variety of goodies at your party, make your own menu using an online program at home. Pick out a few cool templates and then fill them in with your menu items.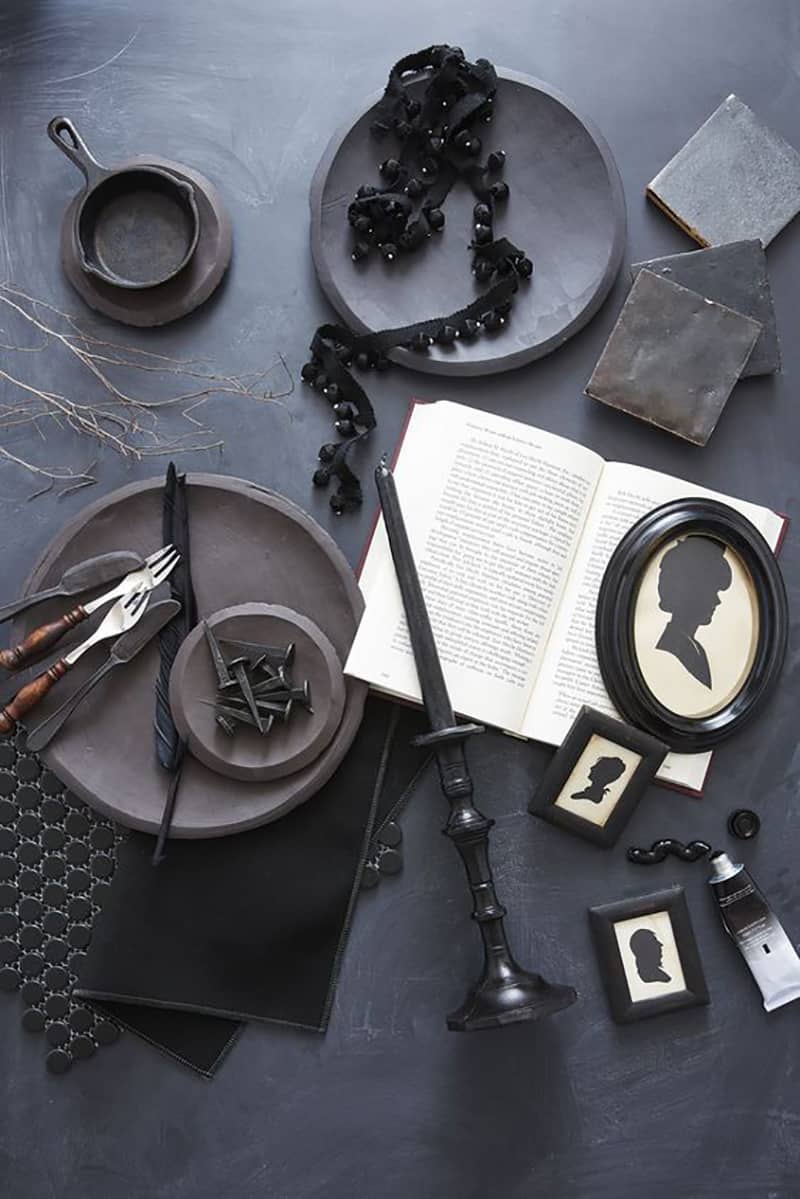 Print the menus on colorful paper or use colored text on white. When you print from home, you can do almost anything you want including place holders and spooky signs. See how many fun ideas you can come up with, and then print to your heart's content.
4. Repurpose Those Christmas Lights
Lighting can do wonders for your Halloween party, and you don't have to go out and buy anything special. Instead, take some of your white Christmas string lights and dress them up in spooky style.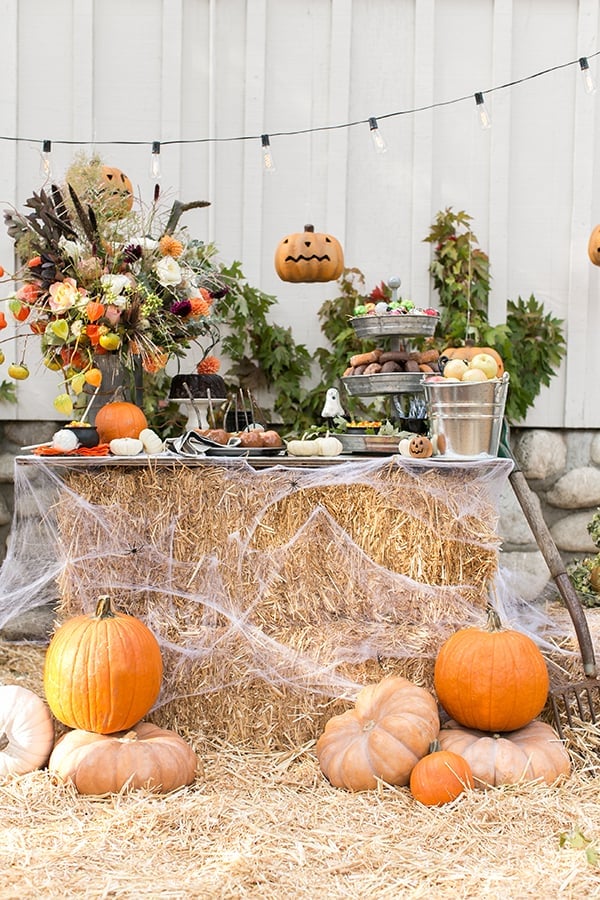 Cut out shapes like cat heads, pumpkins, and ghosts from construction paper. and use a hole punch for the eyes where the lights will go. Place the shapes over each individual light and hang them up for a fun take on classic string lights. This project is super-simple, and the kids will love doing it, too!
5. Transform Your Porch with Poison Apples
Welcome your party guests with a few fun decorations. This "poison apple" decor is not only cute, but it's also something you can eat later.
Fill a few black barrels or baskets with red apples. Next, make a handmade sign saying things like "beware" or "get your poison apples here." This simple decor is a fun addition to an entryway and everyone can grab an apple on their way out if they choose.
6. Give Your Chairs a Ghostly Makeover
When it comes to charming Halloween party ideas, this one is eerily simple. Take some old white sheets (or large white beach towels) and use them as a ghostly chair cover.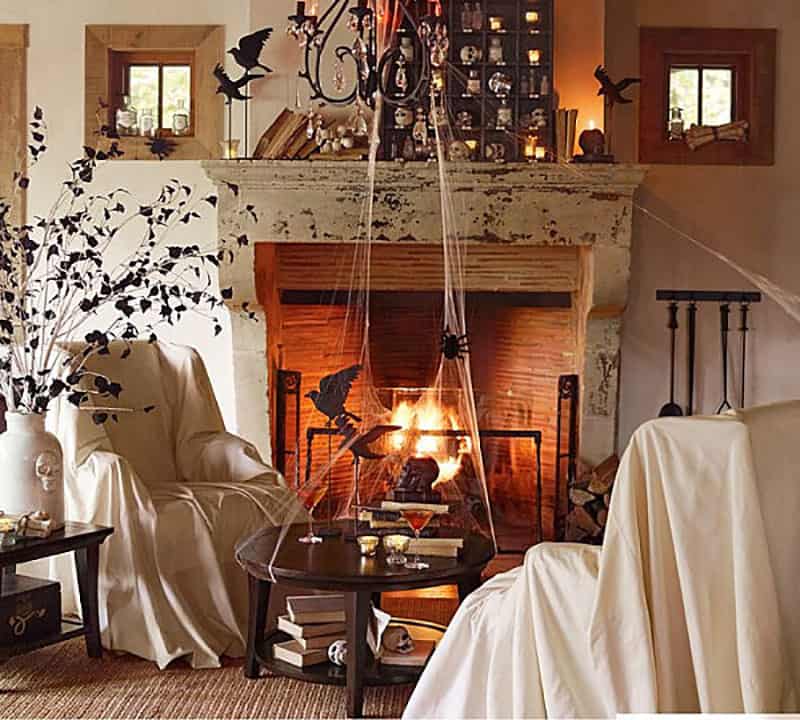 Use black felt and cut out the eyes and mouth for each ghost. Take a glue gun and apply the facial features to each one. Now you have an adorable and memorable chair slipcover that will create a super-spooky look for your table.
7. Handmade Lanterns
If you have a lot of old metal coffee cans or other tins lying around, spruce them up by making a handmade Halloween lantern. First, draw out a design on each one in your desired shape.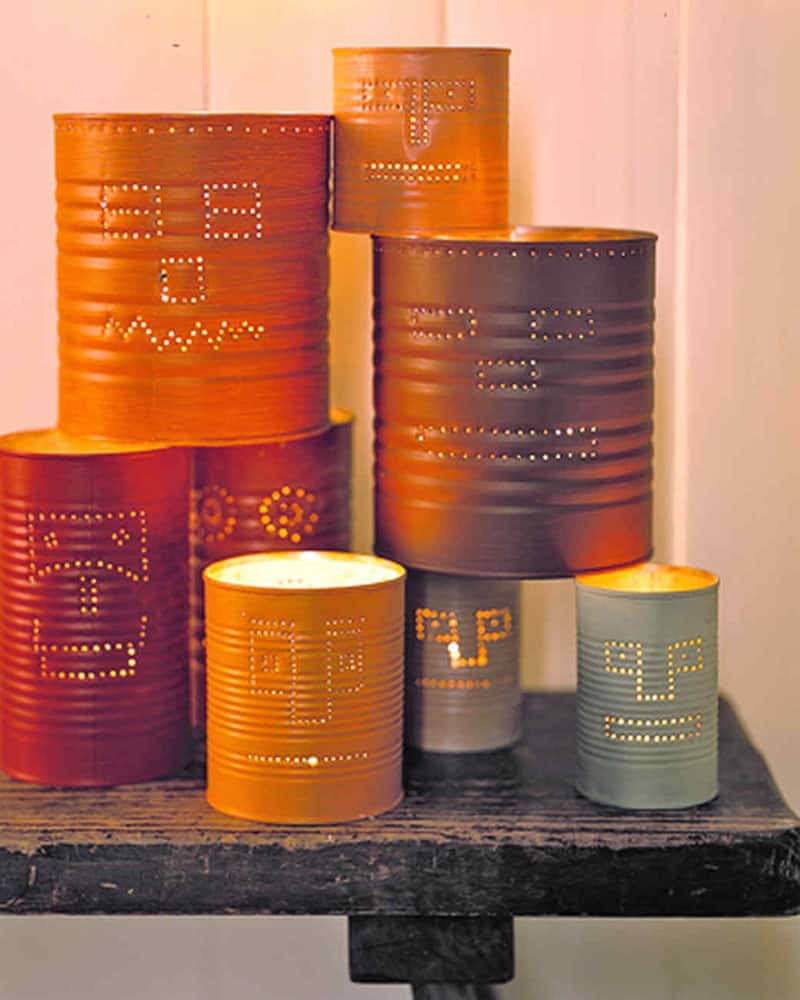 Once your shapes are drawn, use a sharp tool and poke small holes around the border of each design. Paint the tins in colors of orange or black, and place a small tealight or votive candle inside for a fabulous flickering lantern. Use tins of various sizes and in different designs and place them around your home for a spooky touch of light.
8. Costume Contests are Always a Hit
When you plan your party, let your guests know there will be a costume contest. This not only adds to the fun but it also ensures that almost everyone comes dressed in their spooky best.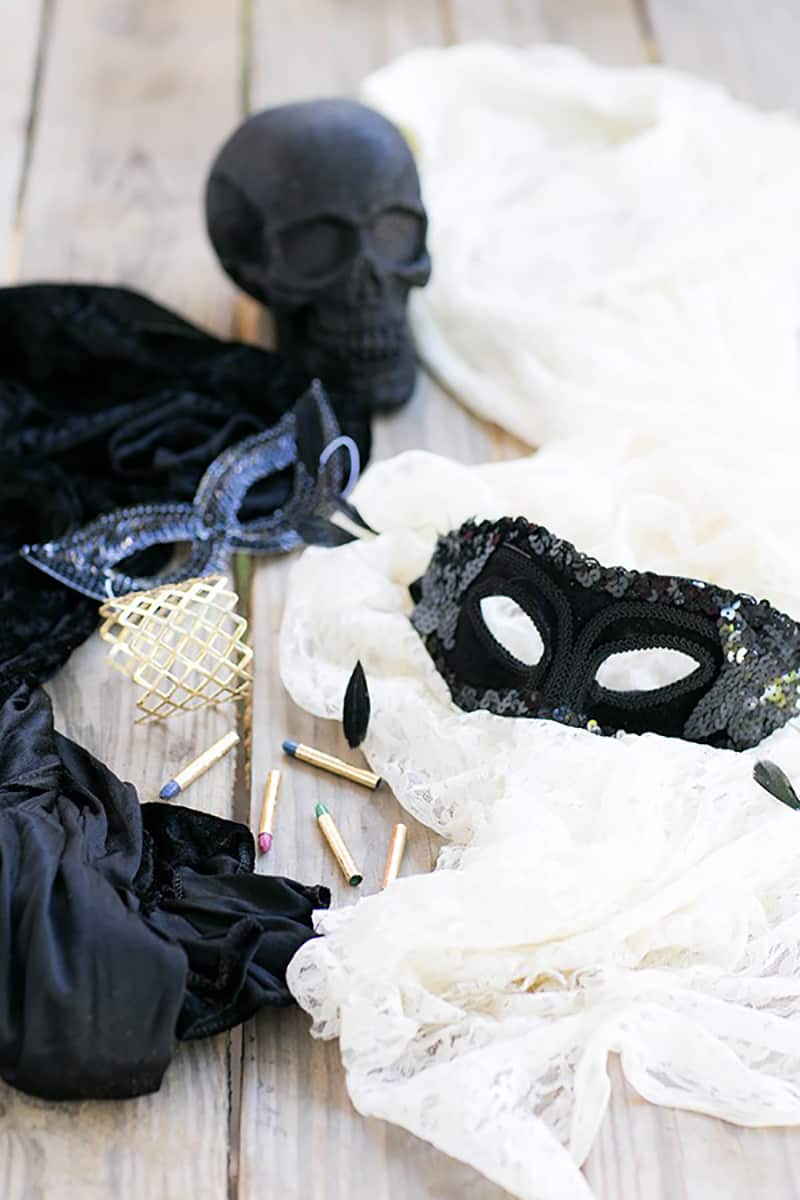 You can pick a few people to "judge" the contest later in the night. Select one to three winners, and give them a fun prize. Your prize doesn't have to be anything extravagant; a bag of candy or a homemade trophy will make their night!
9. DIY Halloween Party Ideas: Pin the Spider on the Web
Everyone remembers the classic pin the tail on the donkey party game. Make it Halloween-themed by creating your own version using spiders and a spooky spider web.
Give each participant a spider that you've printed on thick paper and cut to fit the shape. Blindfold each person, spin them around, and have them try to pin their spider onto the web. Your "web" can also be simple by printing it out on a large piece of paper, or you can have people pin them on faux spider webs made of cotton you can find at most retails stores.
10. Dress up Your Drinks With Bewitching Labels
If you're planning to serve cocktails at your Halloween party, dress up bottles and decanters with creepy labels. You can find templates of labels online, then print them out and either tape them onto the bottle or use printable sticky labels.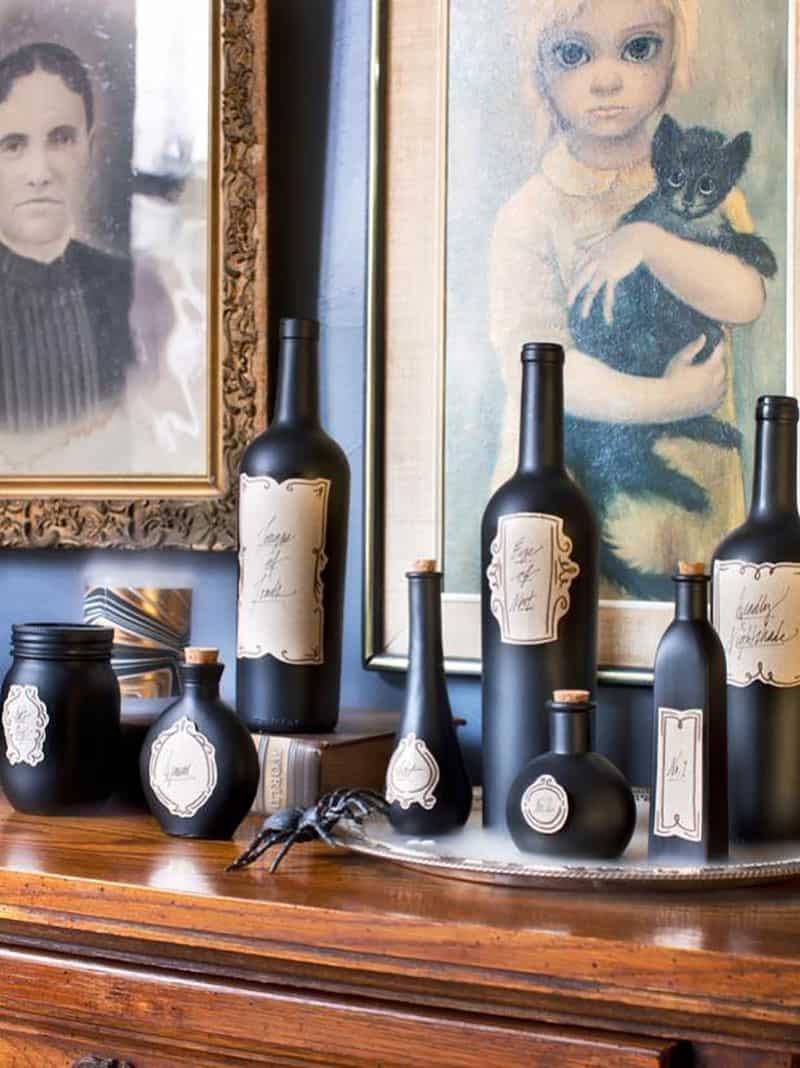 Make each bottle different and look for wording like "witch's brew" or "poison." Put the bottles altogether in one location and spruce up the bar area with some orange and black straws. These labels add a ton of fun to the Halloween theme, and they're inexpensive to make right at home.
11. Turn Pumpkins Into Vases
Pumpkins are a classic Halloween icon, and they're also quite versatile when it comes to creating your very own handmade decor. Hollow out a few small to medium-sized pumpkins to transform them into adorable vases.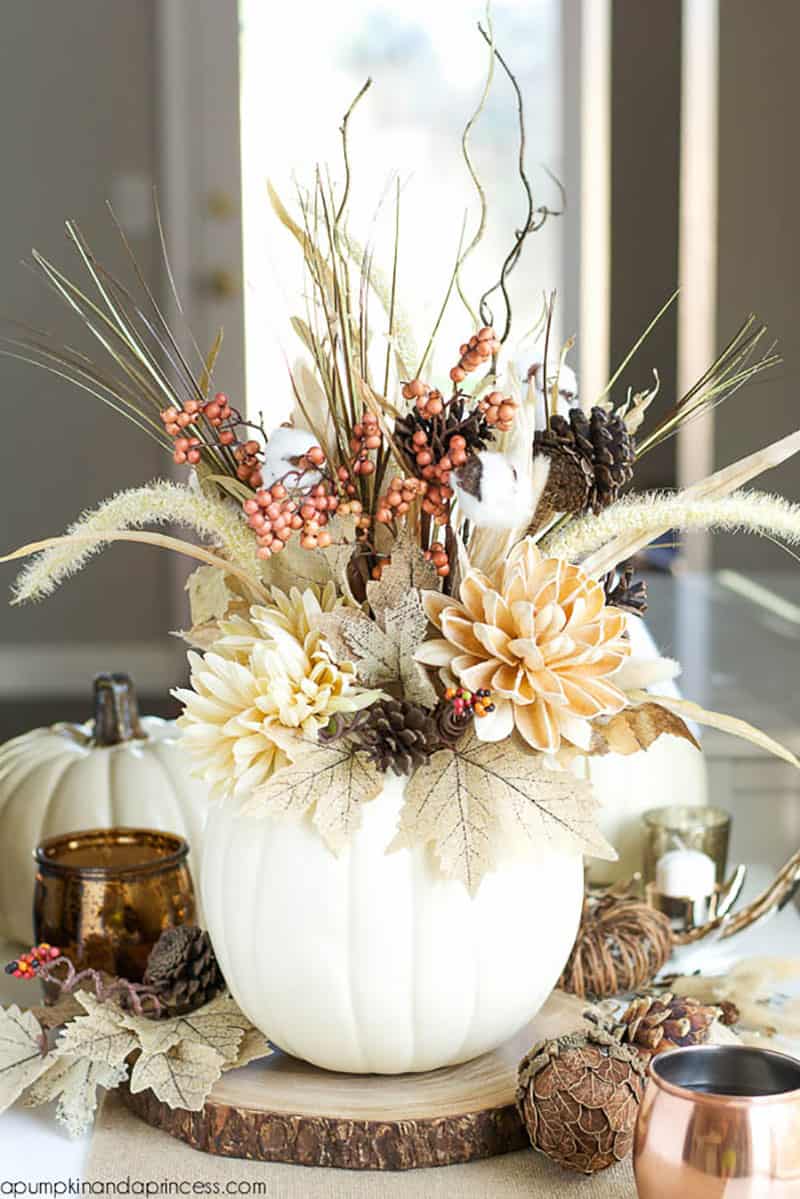 You can also use Faux pumpkins like A Pumpkin and a Princess did! See the tutorial here!
You can leave the pumpkins as they are or paint them in a few fun fall colors. Fill them with autumn flowers like bunches of mums to give your home a lively look. Use mason jars filled with water and insert them into the pumpkins to help your flowers stay fresh.
12. Add Apple Candle Holders to the Mix
If you don't want to spend extra money on Halloween-style candle holders, use apples instead. Take a few red apples, and hollow out the top so it's shallow enough to hold a tealight candle.
Domestically Blissful has a wonderful tutorial on how to make these apple candle holders!
This decor idea is a fun and fabulous choice for fall decor and Halloween alike. And, this uniquely inexpensive candle holder is also wonderful for Thanksgiving time, too. Battery-powered tealights are recommended so the candle doesn't drip wax and you won't need to worry about a fire if the apple tips over.
13. Have a Scavenger Hunt
Get your guests engaged with a fun scavenger hunt that's really easy to do. Come up with some fun clues and use words that incorporate Halloween into the scavenger hunt theme.
Divvy up your guests into teams and give each team a printed copy of their instructions. Hide an assortment of objects throughout your home or backyard, and let the games begin! You can give the winning team a fun prize at the end or just let them have the first slice of cake.
14. Serve Drinks in Spooky Bottles
It's easy to make your own Halloween-style bottles for your party. First, use several small clear glass milk jugs, regular glasses, or mason jars that match if possible.
Take some black contact paper and cut out shapes of faces like cats, pumpkins, and monsters. Apply the paper facial features to the front of each glass for a fun look your guests will love. Fill the glasses with an orange or green-colored punch to take the party up a notch.
15. Goodie Bags on the Cheap
It's always fun to give your guests some parting gifts, and you can do it without shelling out a ton of cash. Take small, simple treat bags and decorate them with markers or glitter.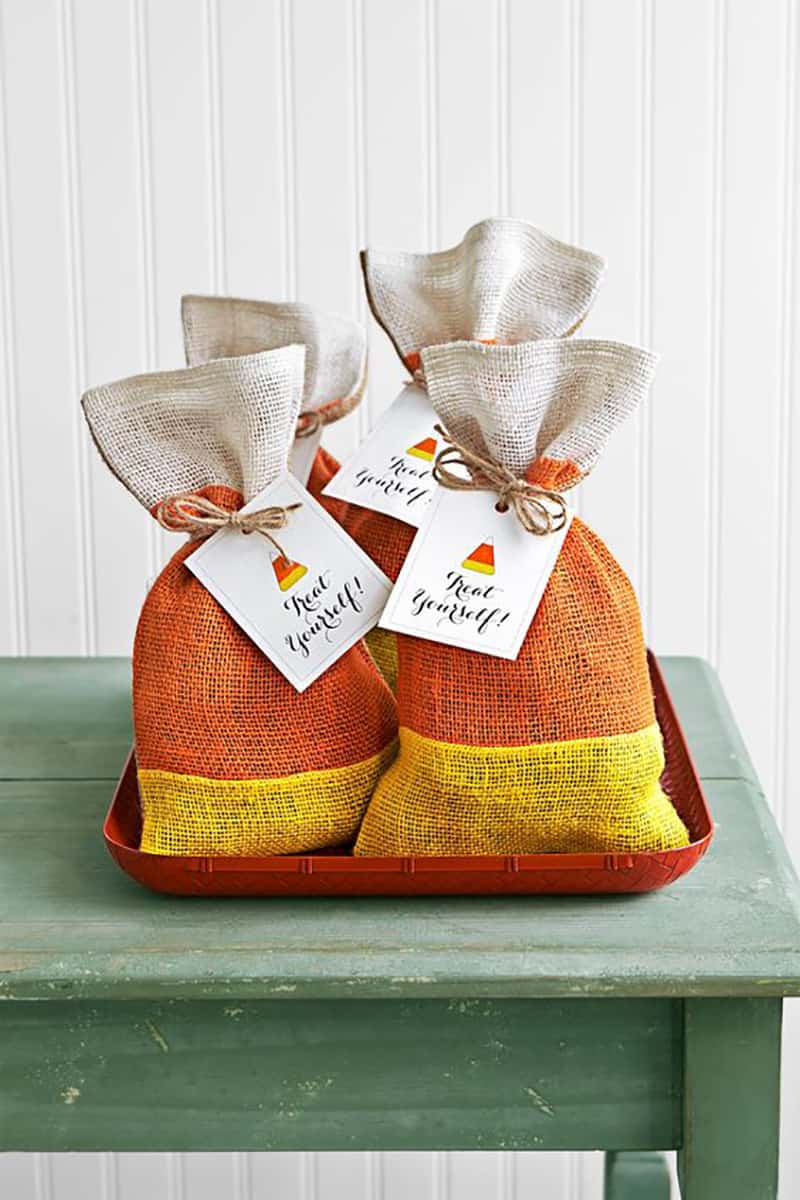 You can also find treat bags at most dollar stores with a Halloween them already printed on them. Fill each bag with small candies and tie them up with a colorful ribbon. At the end of the night, give each guest their bag as a fun memento of a successful Halloween party.
DIY Halloween Parties in Style
You don't have to spend a fortune to have a blast at your next Halloween party. Use these creative Halloween party ideas to get inspired, and be sure to put your own personal stamp on each one.
Be sure to visit our website for tons of great Halloween treat ideas, recipes, and inspiration for every holiday and every occasion.