Halloween is one of the best days of the year to host a party! We love unique Halloween party ideas that you can put together for a hilariously spooky night. We created a trick or treat bar with actual Halloween tricks AND treats! Your guests will be cracking up all night long!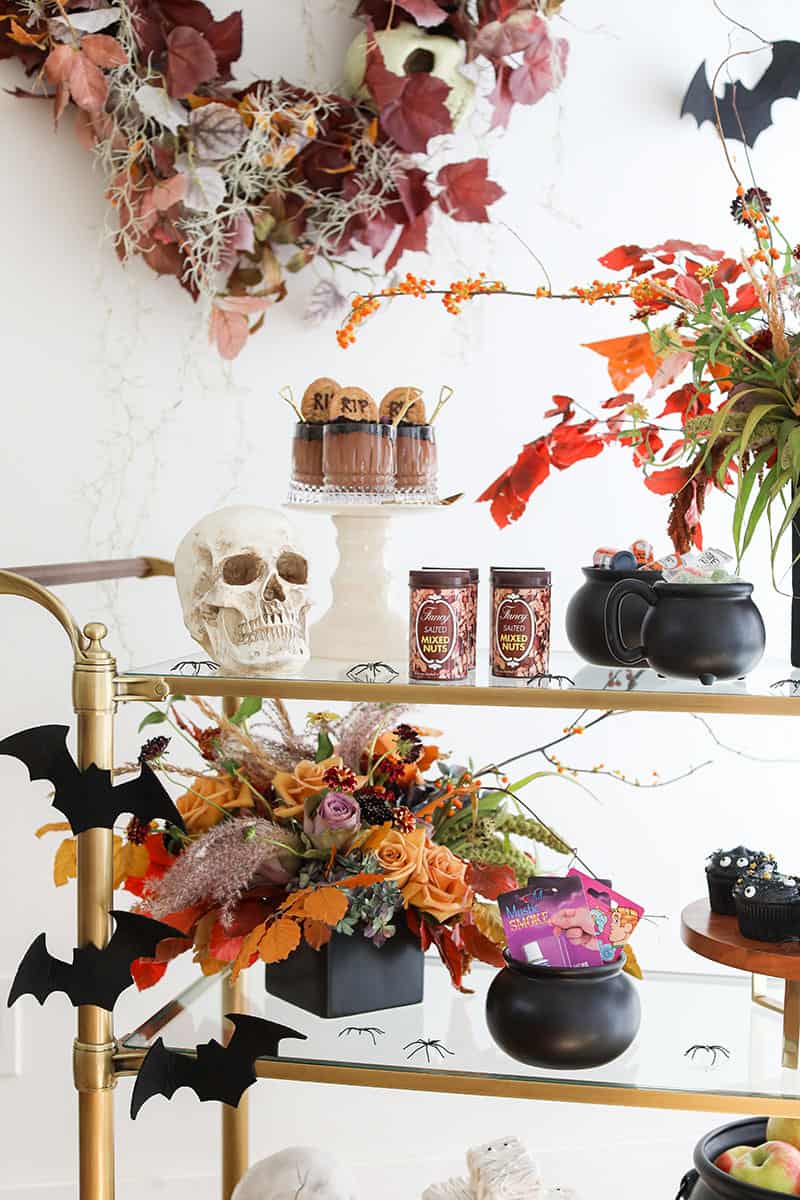 Halloween Trick or Treat Bar
Halloween is all about treats. From desserts to bags full of candy, but what about the tricks? The tricks can be even more fun than the treats and who doesn't love playing a little trick on or adult friends. It's a great adult Halloween party idea and also fun for teens!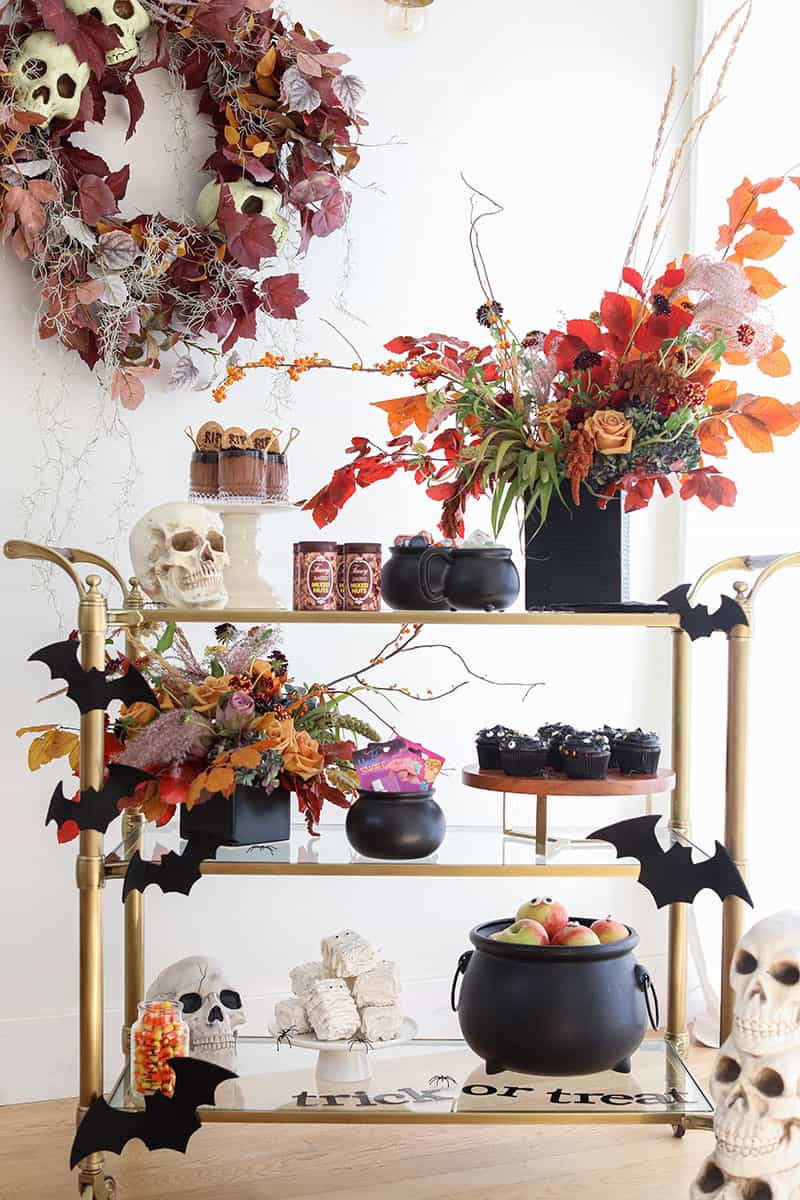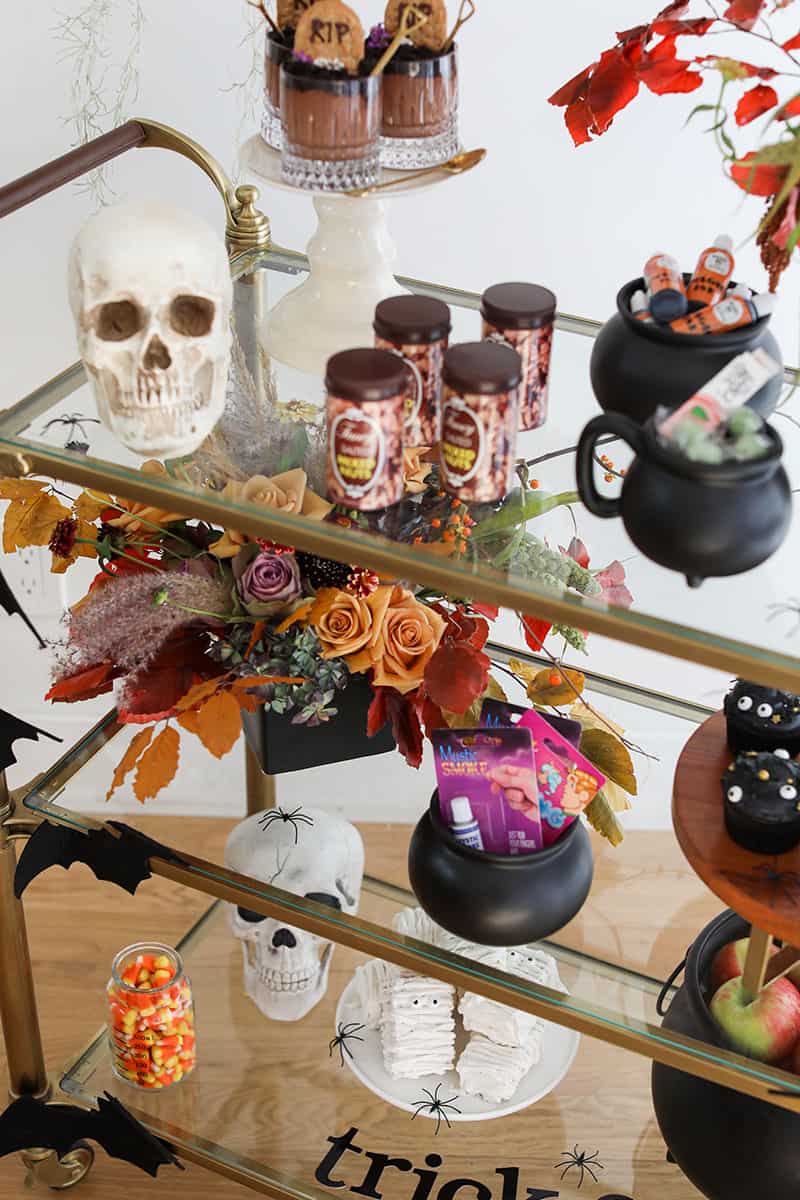 For this Halloween party theme, we chose a trick or treat party. This set-up is so easy and can be done in a smaller space too! It brings out the kid in all of us.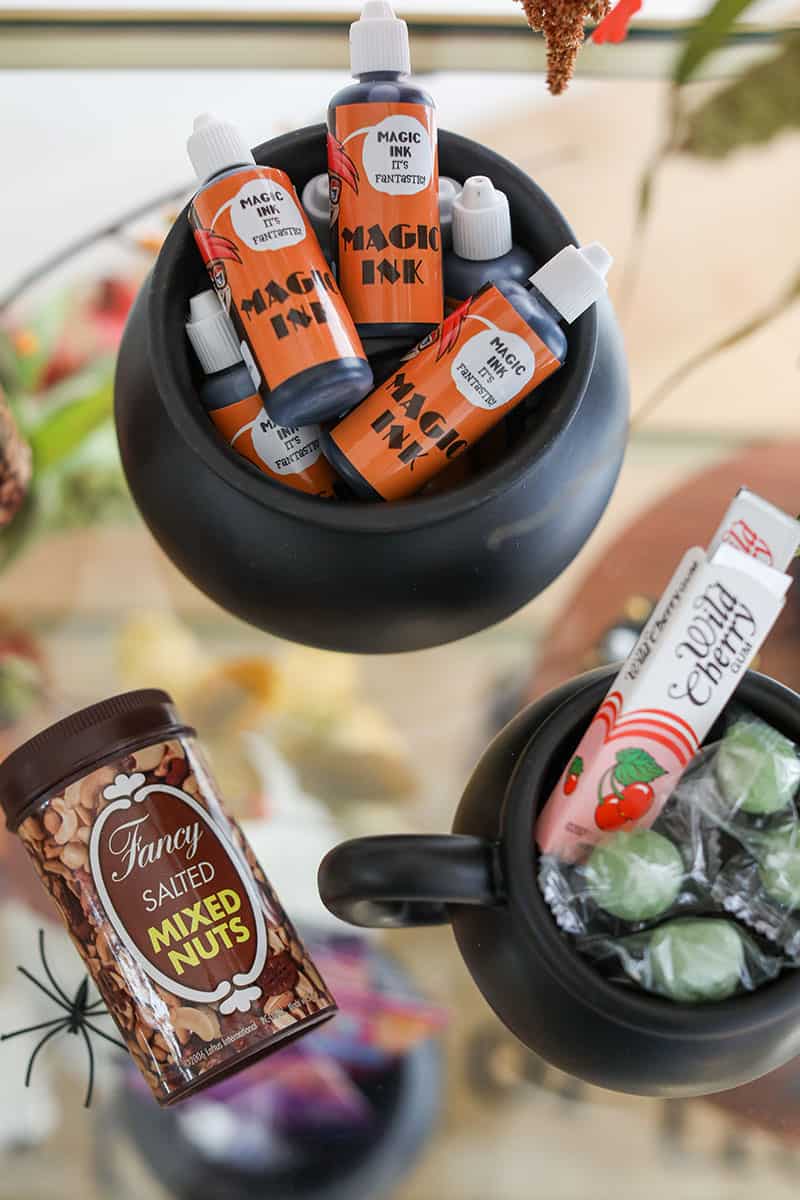 How to Host a Trick or Treat Halloween Party
Halloween Tricks
Fil the bar with fun Halloween tricks that bring nostalgia to guests, especially adults! Examples are little the finger traps, onion candies, lollipops that make your mouth blue, magic ink, cans of fake peanuts, crab flavored candy, animal sounds. All of those classic tricks we loved as kids.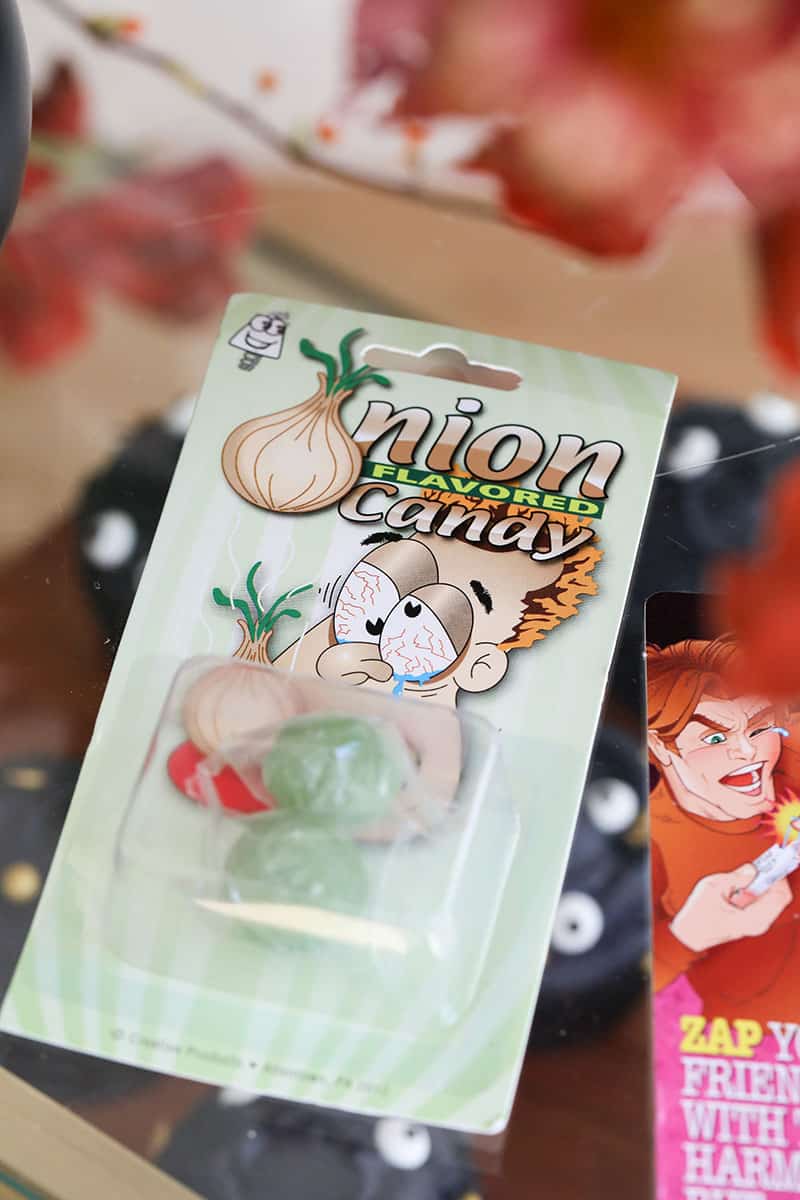 The classic gum trick is too fun! When you pull on the wild cherry gum, it snaps your finger! Also, the onion candy is such a good trick!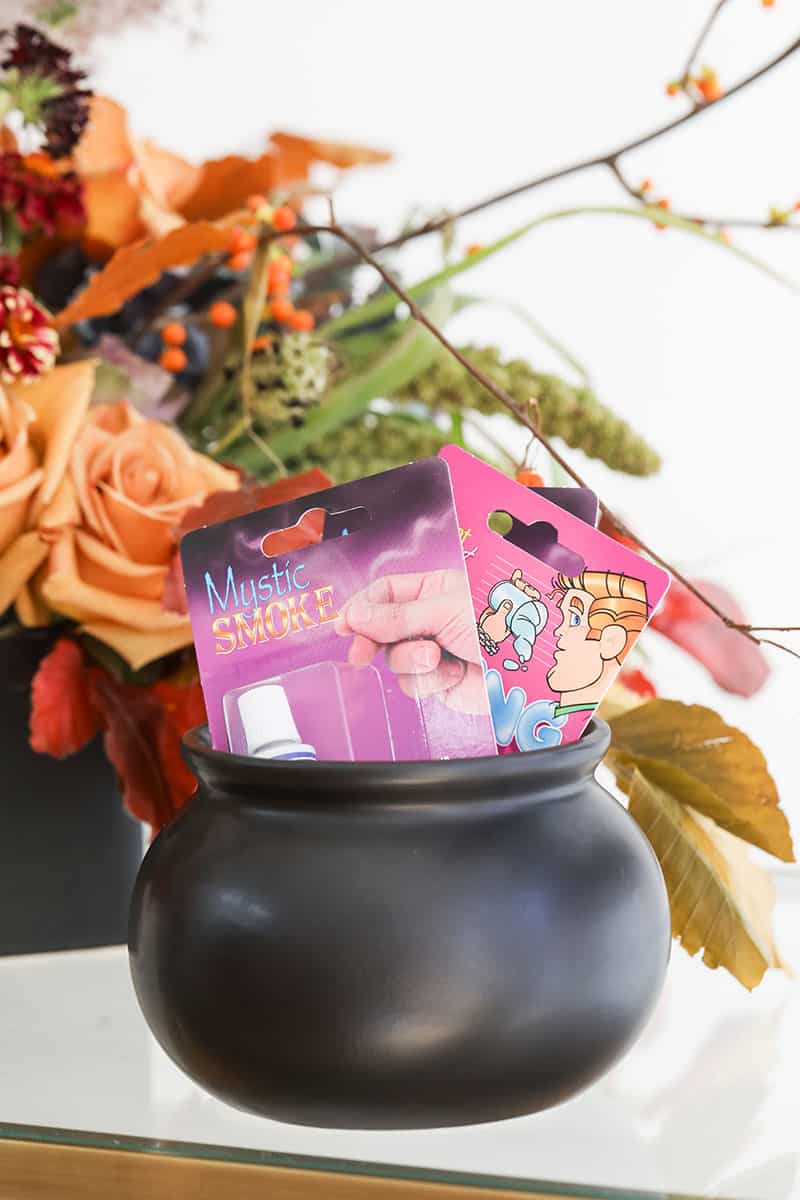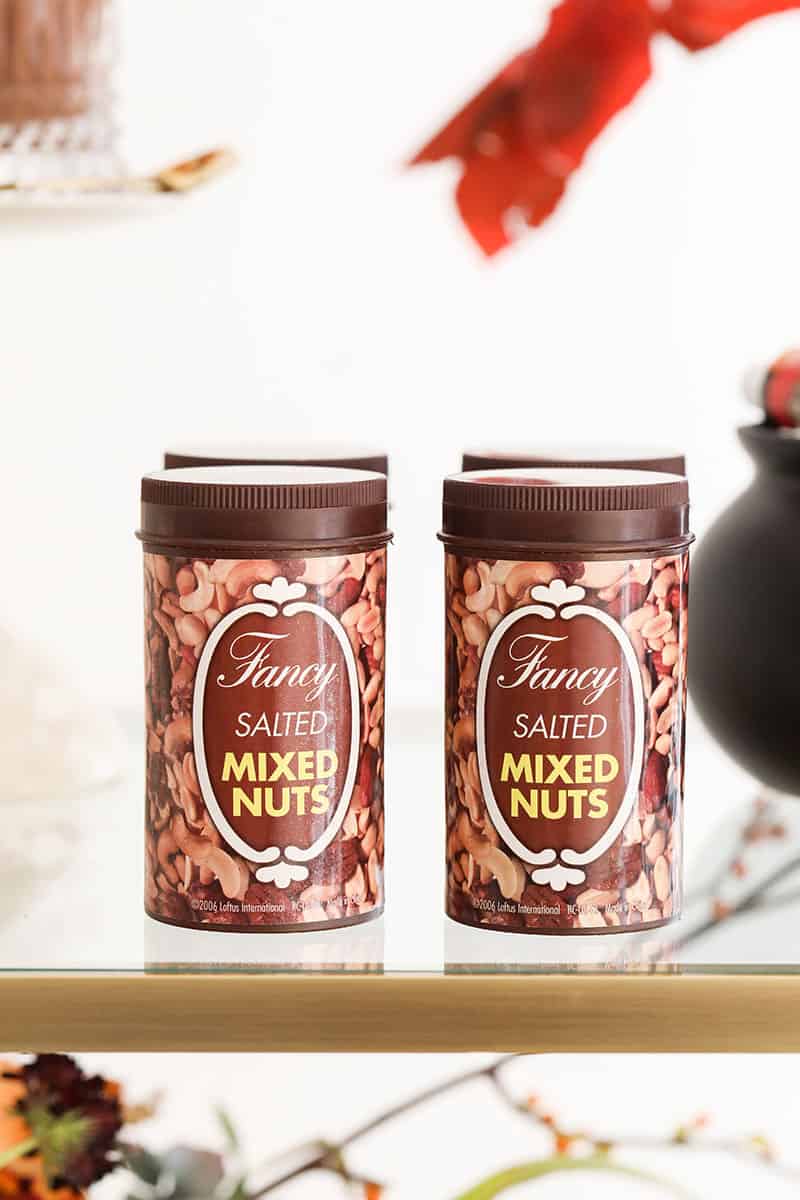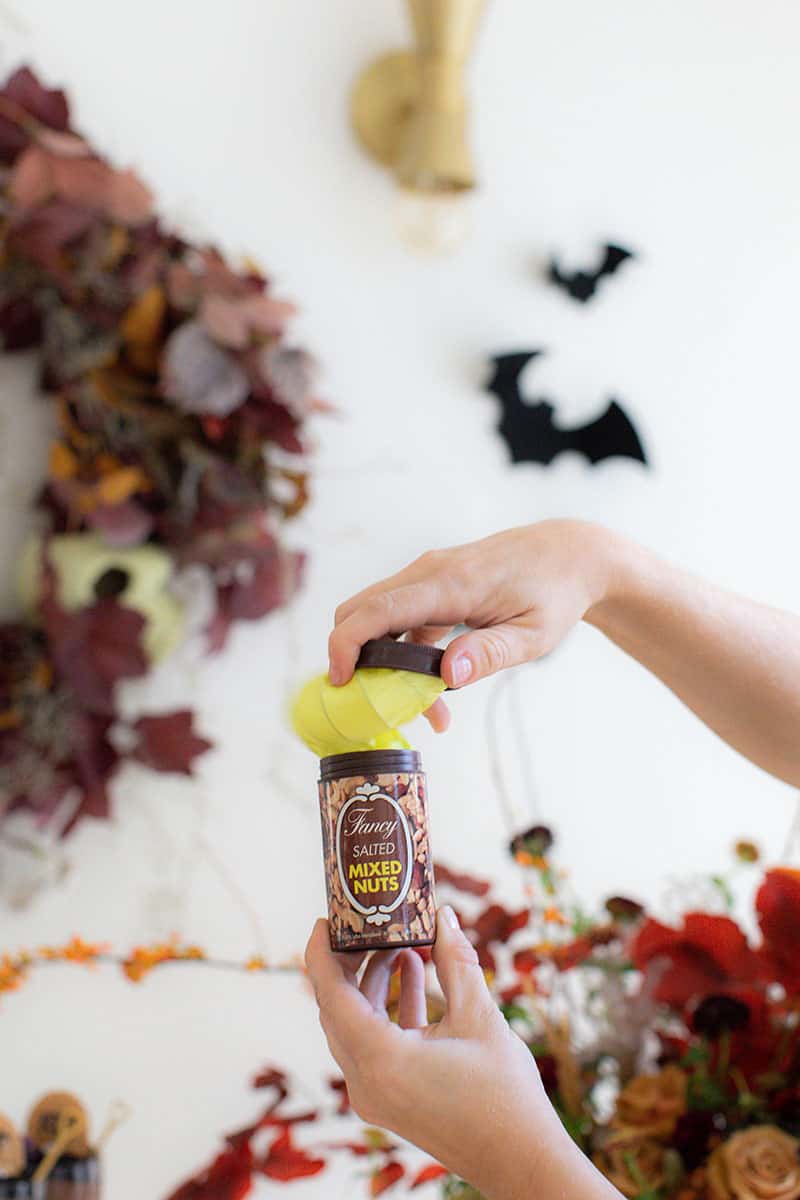 Halloween Food Tricks
Food tricks are fun to add to the trick or treat bar too. Make Brussel sprout truffles (literally a brussel sprout dipped in chocolate), onion caramel apples or add sprinkle eyeballs to apples. Here are more hilarious food pranks to add to your trick or treat bar!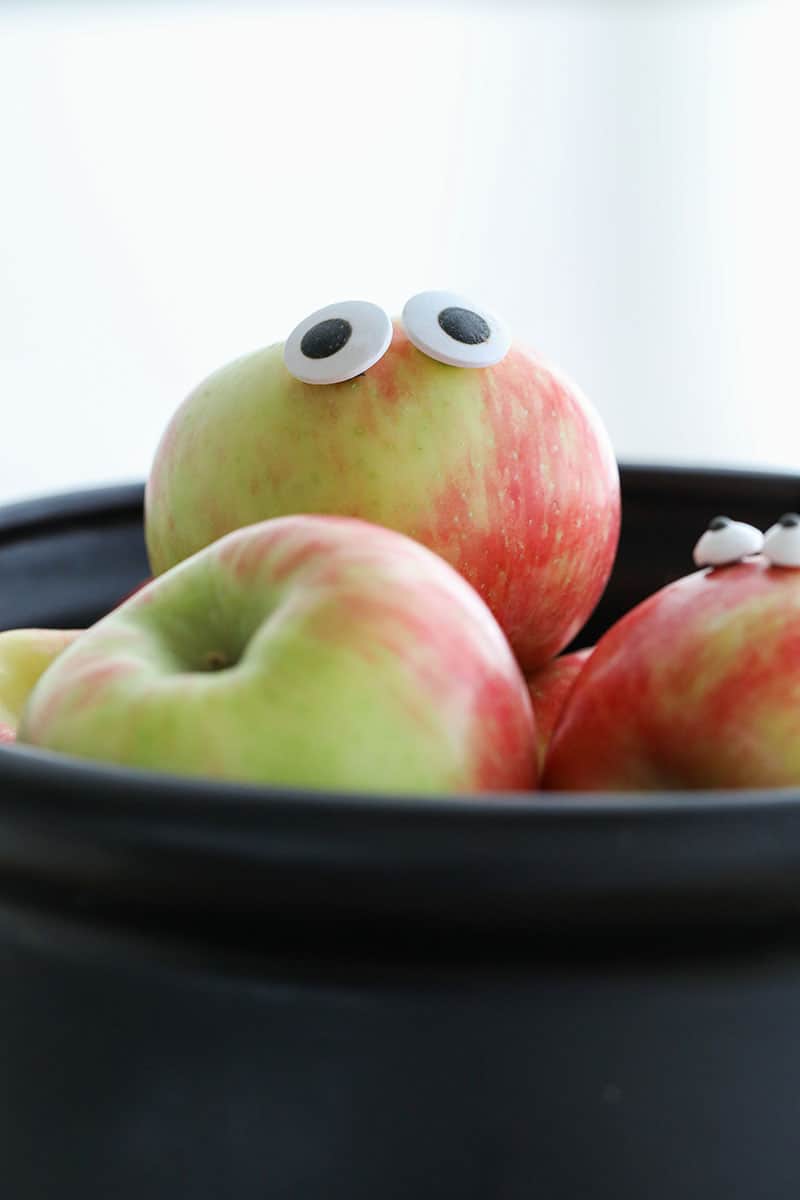 This is a cute and simple trick – add little sprinkle eyes to apples or other fruit!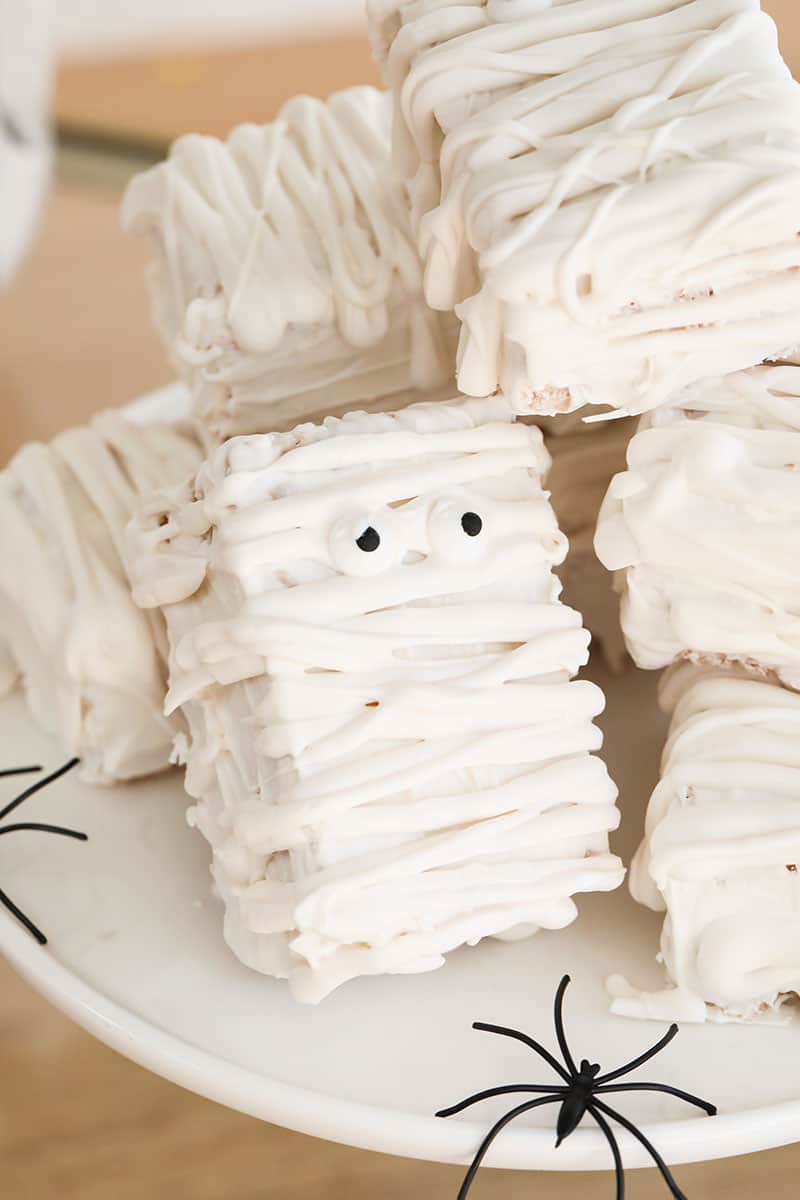 Halloween Treats
Since it's a trick or treat bar make sure you add real halloween treats to the bar! It can't all be tricks. Here are some Halloween dessert ideas to make that are easy and delicious!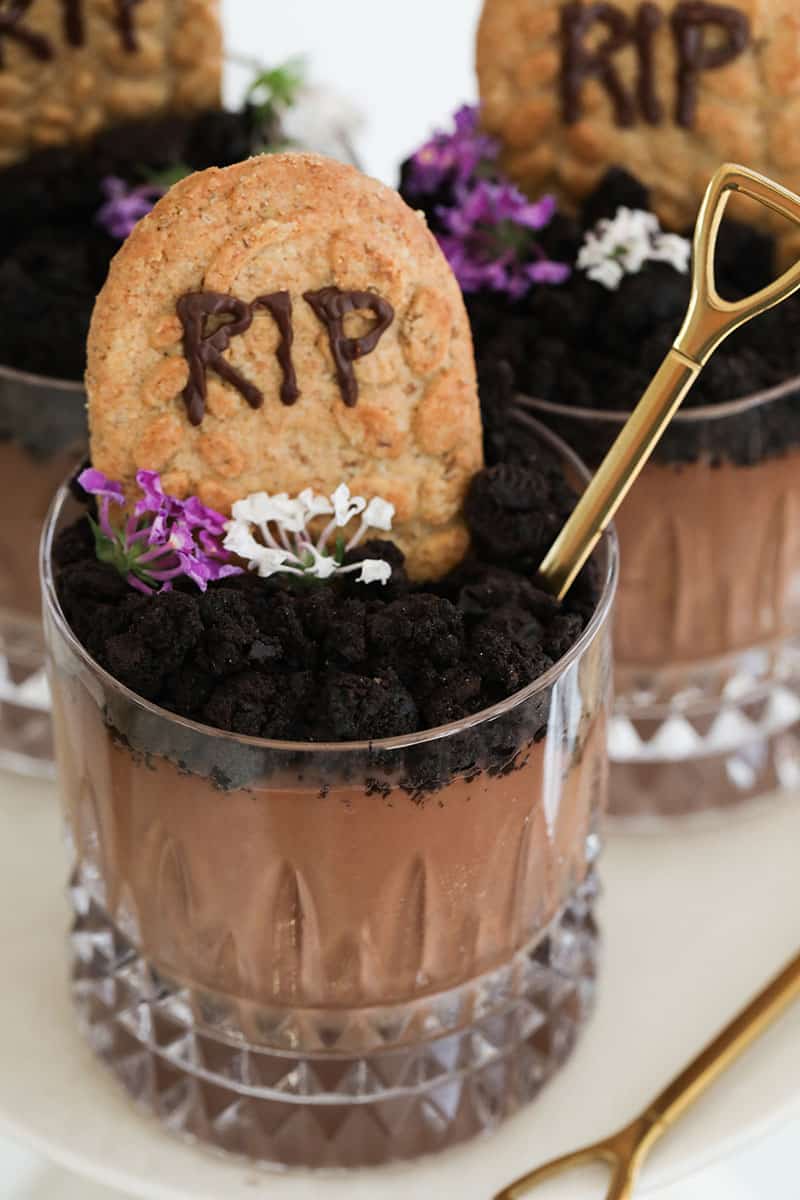 Halloween Party Decorations
I have a pretty standard list of Halloween party decorations that I use year after year. Grandin Road has awesome Halloween decorations you can order online. Also, shop local thrift stores for affordable Halloween decorations! Even Dollar Stores have some great options!
Plastic skulls
Felt Bats (A favorite!!)
Spider webs
Pumpkins
Cauldron
Wreaths
This wreath from Grandin Road adds instant Halloween decor. You can also use it for your front door weeks leading up to Halloween!
Flowers are also a great way to decorated a Halloween bar. If you have it in the budget, hire a local florist create something gorgeous for you. However, you can also make your arrangement with flowers, sicks and greenery!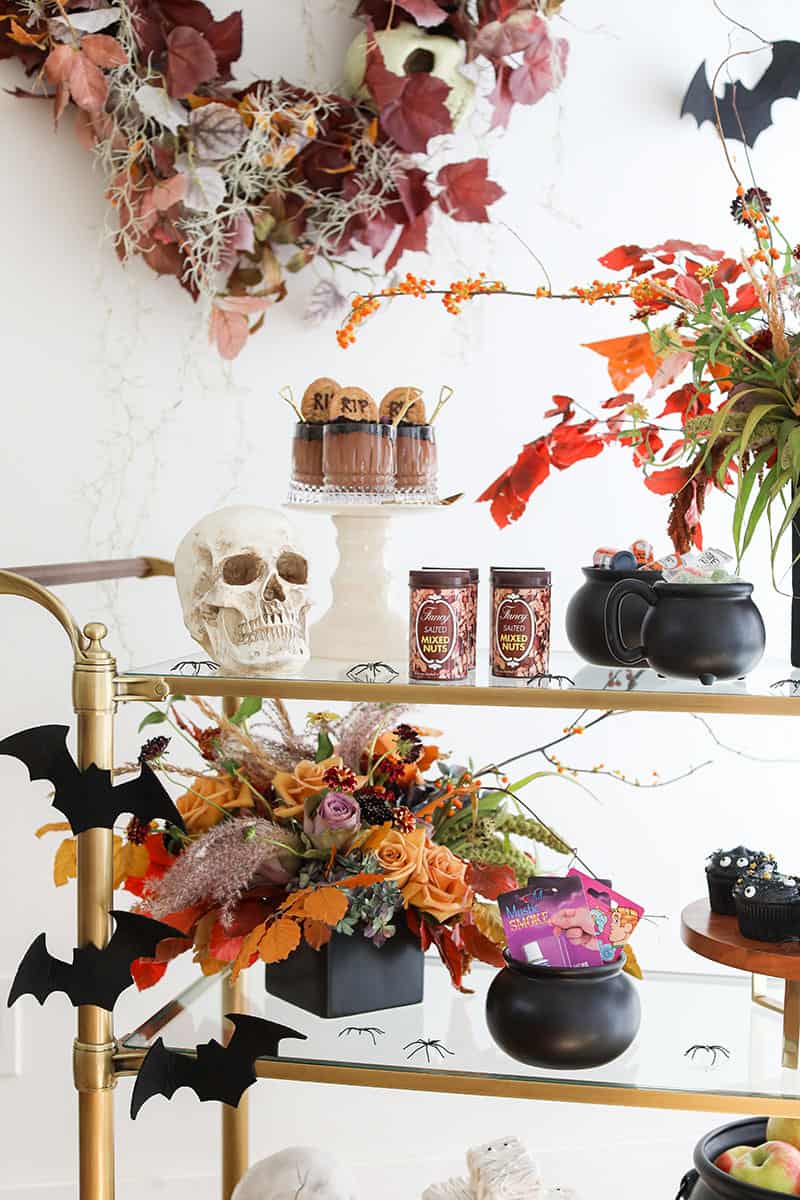 Traditional Halloween Games
You can also play some other classic Halloween games like bobbing for apples and check out these 15 super amazing Halloween party ideas! Aslo, this party is filled with charming and vintage Halloween ideas.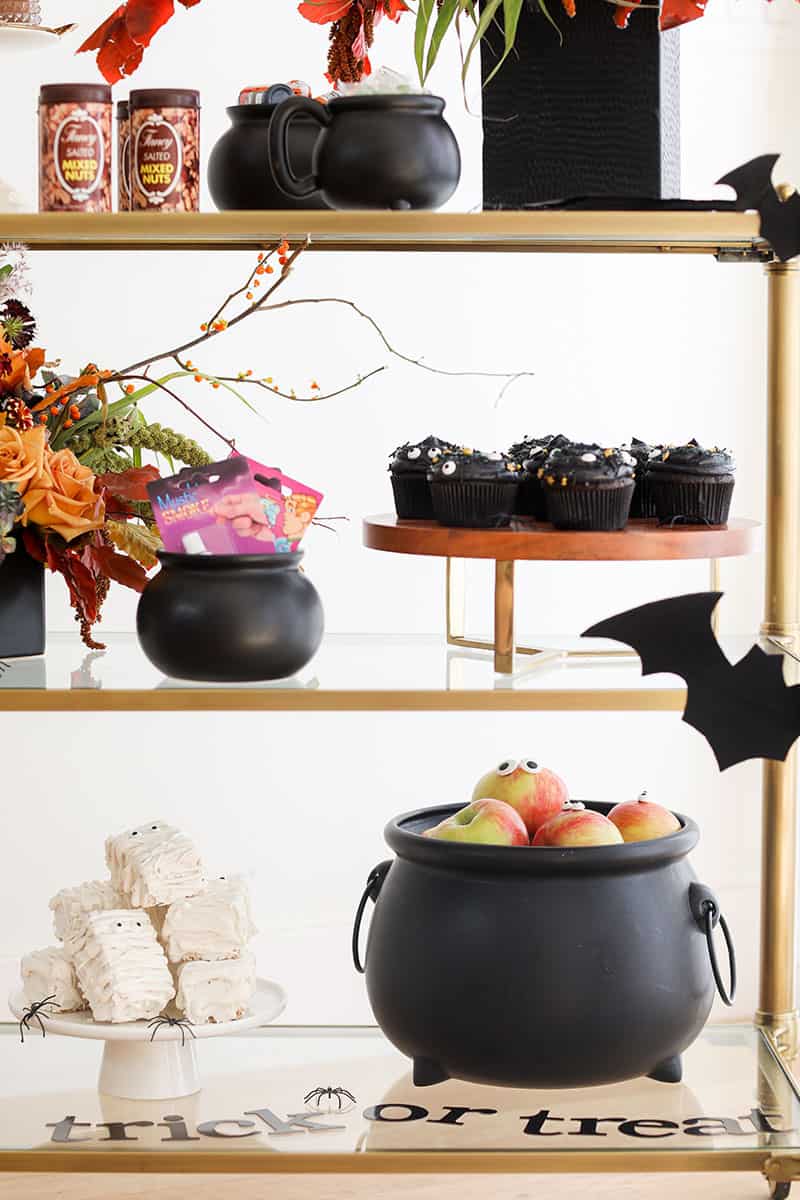 Party Tip – Place large letters out that tell guests this is a trick or treat bar. You can pick these up at craft stores.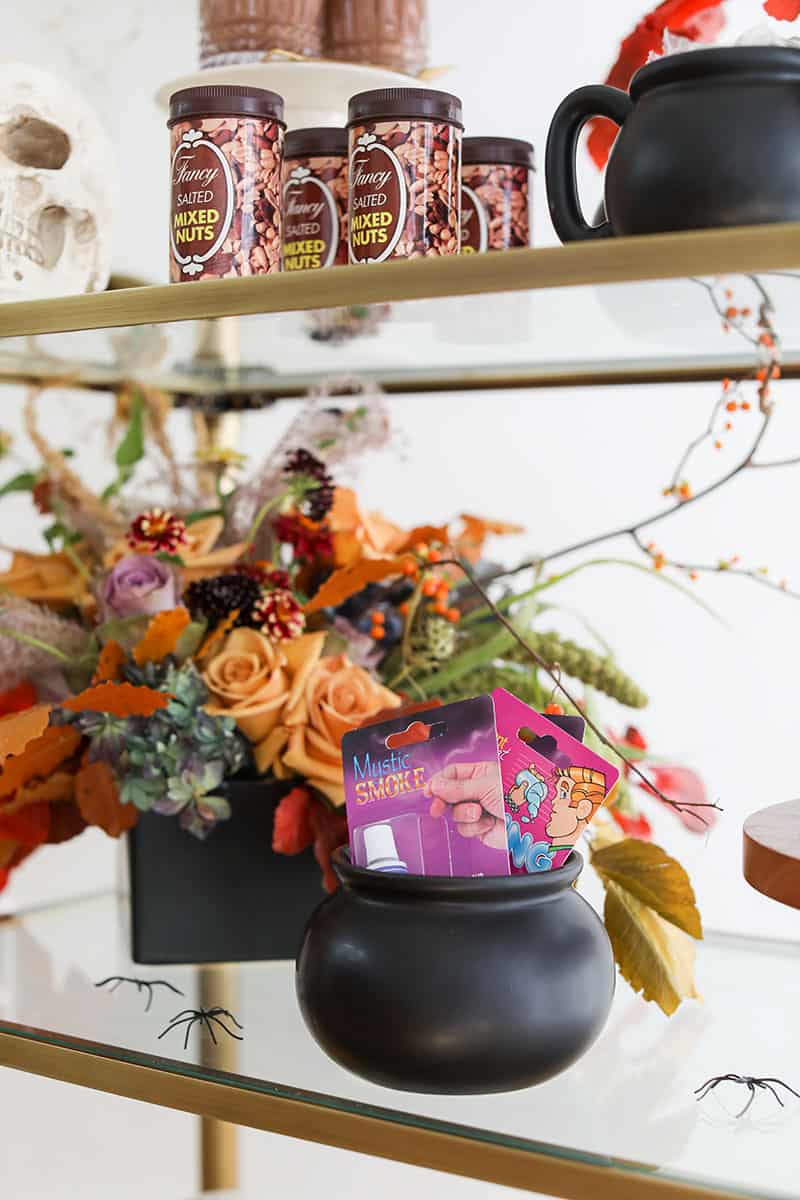 We had so much fun with this party! Beware, your guests might not attend your next event, but at least you had fun!! Haha! If you put together a Halloween trick or treat bar, let us know in the comments below.
Also, tag your photos @sugarandcharm so we can see them! We love seeing what you all do and how you're inspired by Sugar and Charm!