Are you ready for the best Halloween drinks?! We're sharing all the spooky Halloween drink recipes, Halloween mixed drinks and Halloween drinks for kids. Ideas for the entire family!
Halloween kicks off the holiday season. The crisp fall air and spookiness of October is magical. Our festivities begin on October 1st and we're ready to fill our cups with Halloween joy!
So if you're hosting a fun pumpkin carving party, setting up a Halloween bar, or just wanting to make a spooky Halloween drink while watching your favorite Halloween movie, check out our favorite Halloween drink ideas below!
Halloween Drink Ideas and Recipes
Halloween Drink Recipes for Adults
We look forward to creating spooky Halloween cocktails each year! From smoking drinks to fun twists on coffee, these are some of our favorite Halloween mixed drinks.
Shimmering Poison Apple Cocktail
Surprise your party guests with this shimmering poison apple cocktail! It's the perfect Halloween mixed drink for your party. Made using only 4 ingredients too!
Purple Gin and Tonics
These Purple Gin and Tonics are the perfect spooky Halloween cocktail! Plus, they're colored with natural ingredients too which is a plus for us!
Spiked Apple Cider Punch
This easy spiked apple cider punch recipe is the perfect alcoholic cocktail for when you're entertaining for a crowd. Spiked with white wine and bourbon, this party punch is for adults only.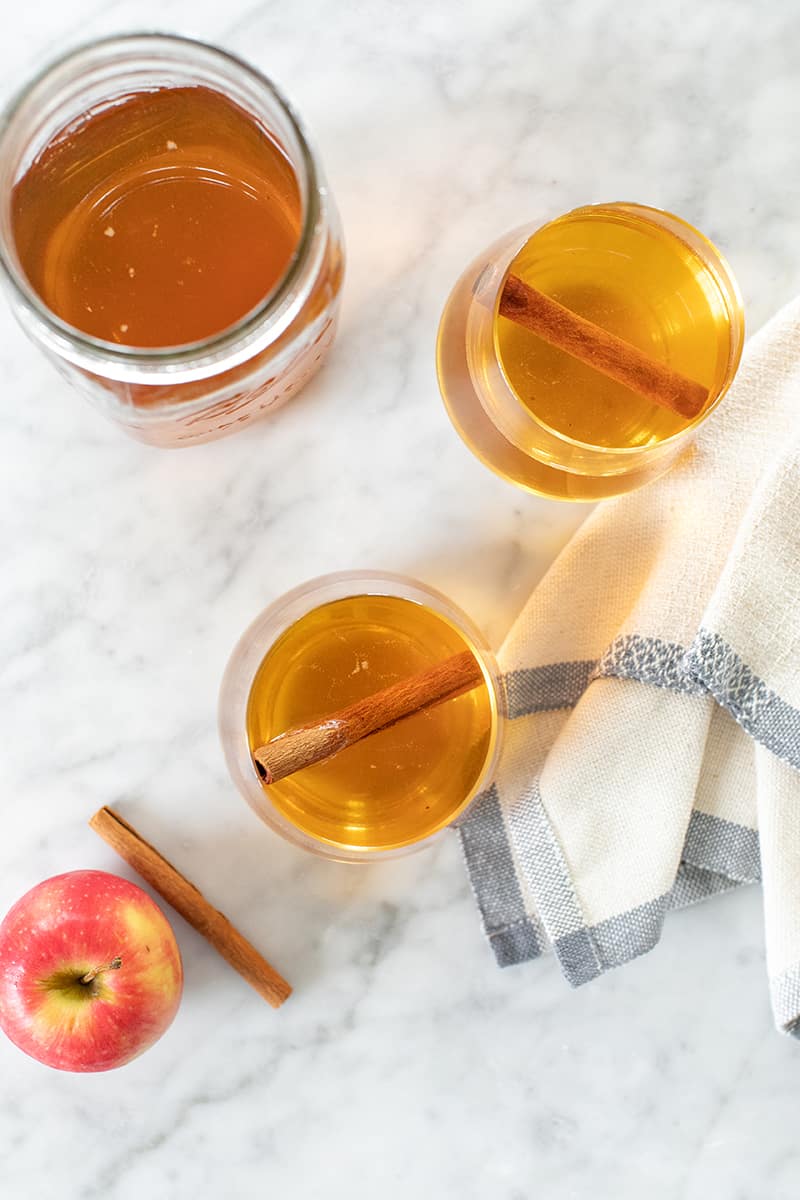 Apple Pie Moonshine
A delicious recipe for homemade apple pie moonshine! It's sweet and filled with apple and spices. The perfect fall cocktail to sip on a crisp evening.
Color Changing Mermaid Cocktail
A twist on the classic Paloma. Using butterfly pea flower and spiked seltzer we created a mermaid-inspired cocktail. The color changes with pH balance and creates a magical color and must-try cocktail!
Smoking Blueberry Martini
This smoking lavender blueberry martini is made with homemade blueberry lavender simple syrup, fresh blueberries and then we used a little dry ice to make it smoke! Perfect for a Halloween cocktail
Pumpkin and Rum Horchata
This scrumptious pumpkin and rum horchata has all the spicy, deep fall flavors a pumpkin cocktail should and it's delicious to sip while the weather is cooling down.
Witch's Brew Iced Coffee Recipe
This yummy, spiced coffee punch is the perfect Halloween drink for brunches and get-togethers! Plus, it's so smooth tasting and easy to make! Another cocktail alternative is this Witches Brew Recipe.
Mulled Wine
An easy, traditional recipe for mulled wine. It's a perfect, warm cocktail for cozy winter days and holiday parties.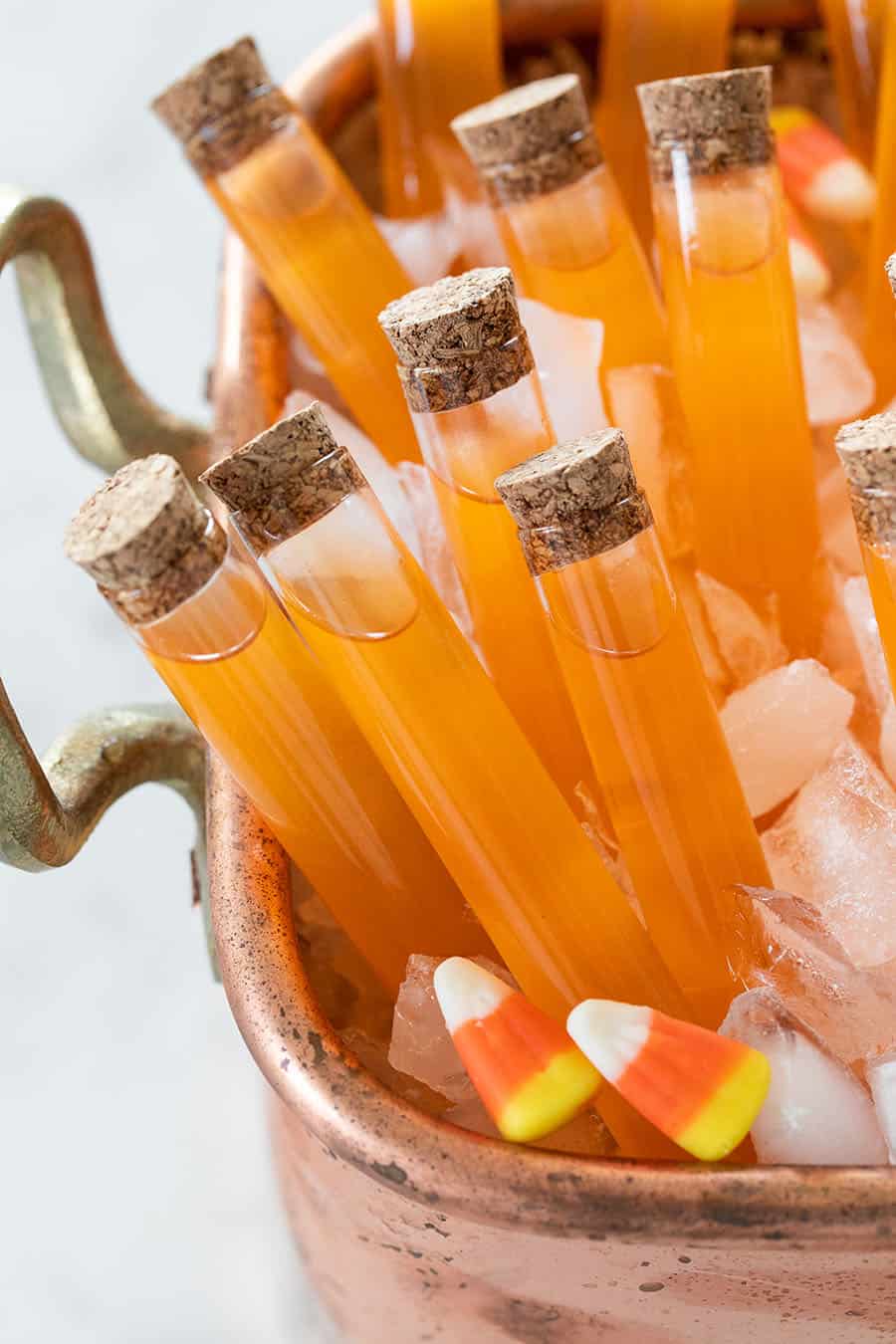 Candy Corn Vodka Shots
Candy corns are essential to Halloween, so we've infused vodka with the classic orange and yellow candy to make candy corn Halloween shots!
Halloween Drinks for Kids
We have a few really great options and perfect Halloween drinks for kids.
Three Ingredient Butterbeer Recipe
This is a nonalcoholic drink! If you've ever wondered about butterbeer since the first Harry Potter book, we're sharing the easiest butterbeer recipe using only three ingredients!
Super Simple Halloween Punch for Kids
This is an easy, three-ingredient Halloween punch for kids. It's a bright orange Halloween punch and garnished with slimy gummy frogs and gummy worms.
Almond Milk Horchata
This creamy and delicious Almond Milk Horchata is so easy to make, dairy-free, and perfect for kids' parties! With its homemade almond milk and sweet cinnamon honey flavors, it's going to be a hit.
Halloween Drinks Non-Alcoholic
Making a Halloween drink without alcohol is easy! We have a complete guide to making mocktails. Using fall ingredients and flavors, you'll be able to create your own recipes that will wow your guests!
Ingredient to have on hand to make Halloween drinks without alcohol:
Club Soda
Cranberry Juice
Ginger Beer
Halloween Drinks Ideas
You can take a simple drink recipe, but to make it a Halloween drink it needs to have a small spooky detail. Here are a few of our favorite ideas to add a little scare to your Halloween drinks.
Dry Ice
Gummy Worms, Spiders, Eyes, and Frogs
Edible Shimmer
Cinnamon Sticks
Broomstick Drink Stirs
Spider Ice
Gummy Skewers
Let us know if you make any of these recipes by leaving a comment below!
You can also FOLLOW US on FACEBOOK, INSTAGRAM, and PINTEREST to see more delicious recipes, cocktails, desserts and parties!