A twist on the classic Paloma. Using butterfly pea flower and spiked seltzer we created a mermaid inspired cocktail. The color changes with pH balance and creates a magical color and must try cocktail!
Can you believe that gorgeous color comes from one single plant? Butterfly pea flower works magic and we love using it in our recipes! In addition to this cocktail, we've made natural blue ice cubes with it.You can buy butterfly pea flower here!
We're calling this cocktail Paloma by The Sea. It's a perfect cocktail for a summer party or even a Halloween bash!
What is Spiked Seltzer?
Spiked Seltzer is seltzer water with alcohol. They are great to drink alone as they have very little calories. In addition to being gluten free they have no sugar added (depending on the brand) and zero carbs. It's made with purified water with a hint a natural fruit flavors.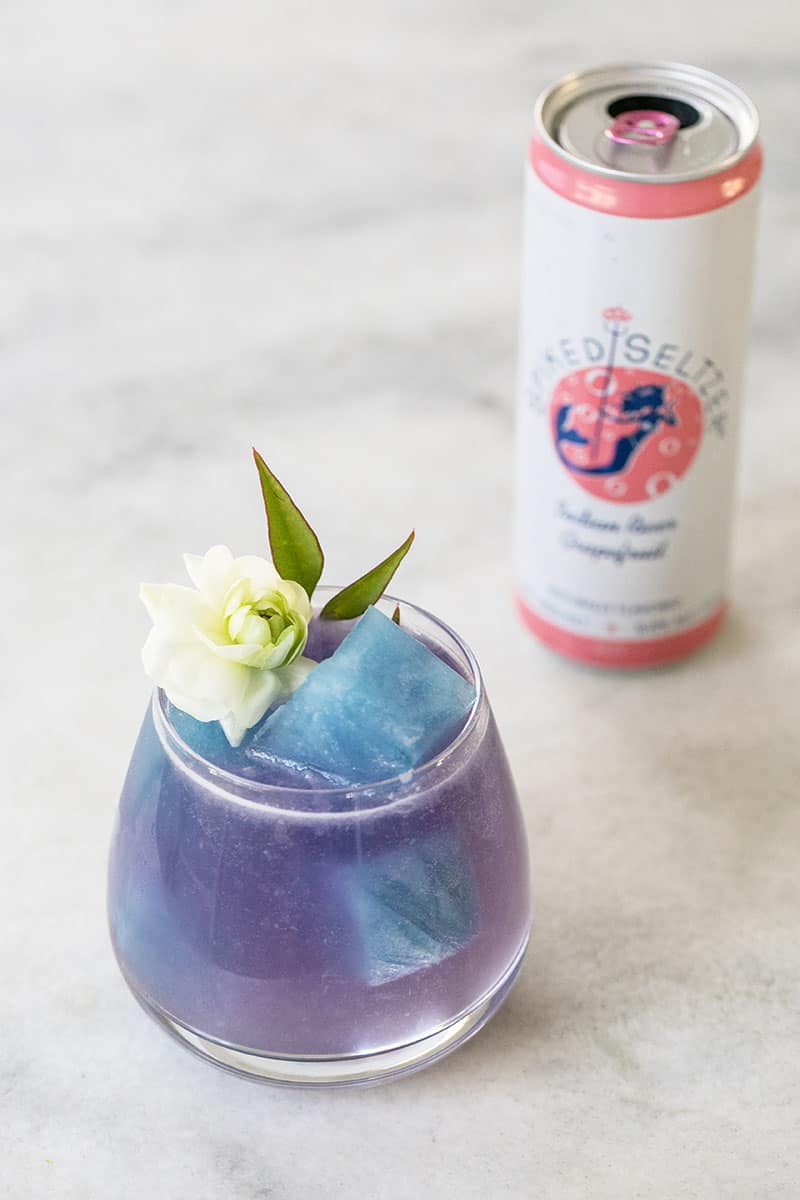 Furthermore, the alcohol in spiked seltzers come from fermented sugars. It's not a vodka or a beer, so it's unique on it's own!
However, they also make a wonderful ingredient for fun cocktails! They add some bubbles to a cocktail and a hint of flavor! You can use it to replace club soda in a cocktail.
Is Bon & Viv the same as Spiked Seltzer?
Yes! Bon & Viv is a brand of spiked seltzer. We used Bon & Viv Spiked Seltzer in this recipe. They have several delicious flavors, however, we used grapefruit to compliment the Paloma.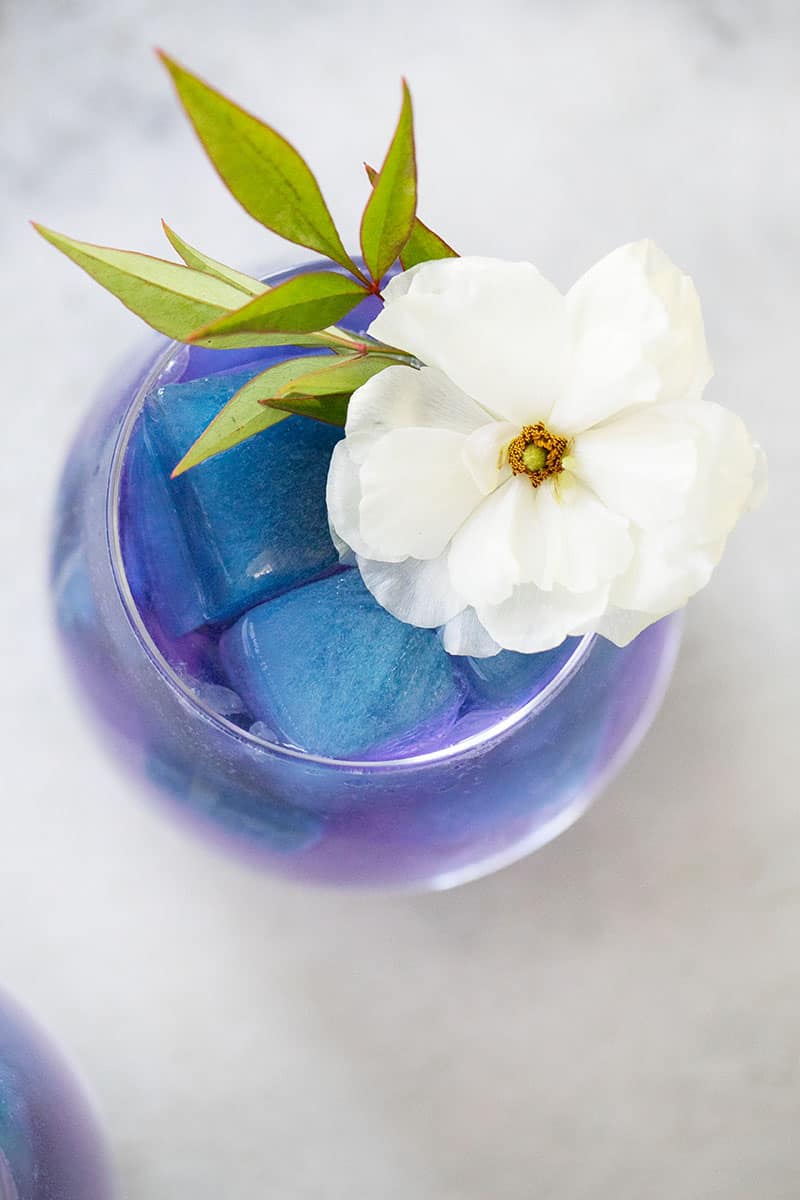 Spiked Seltzer Brands
In Addition to Bon & Viv, we also love these two brands of spiked seltzer: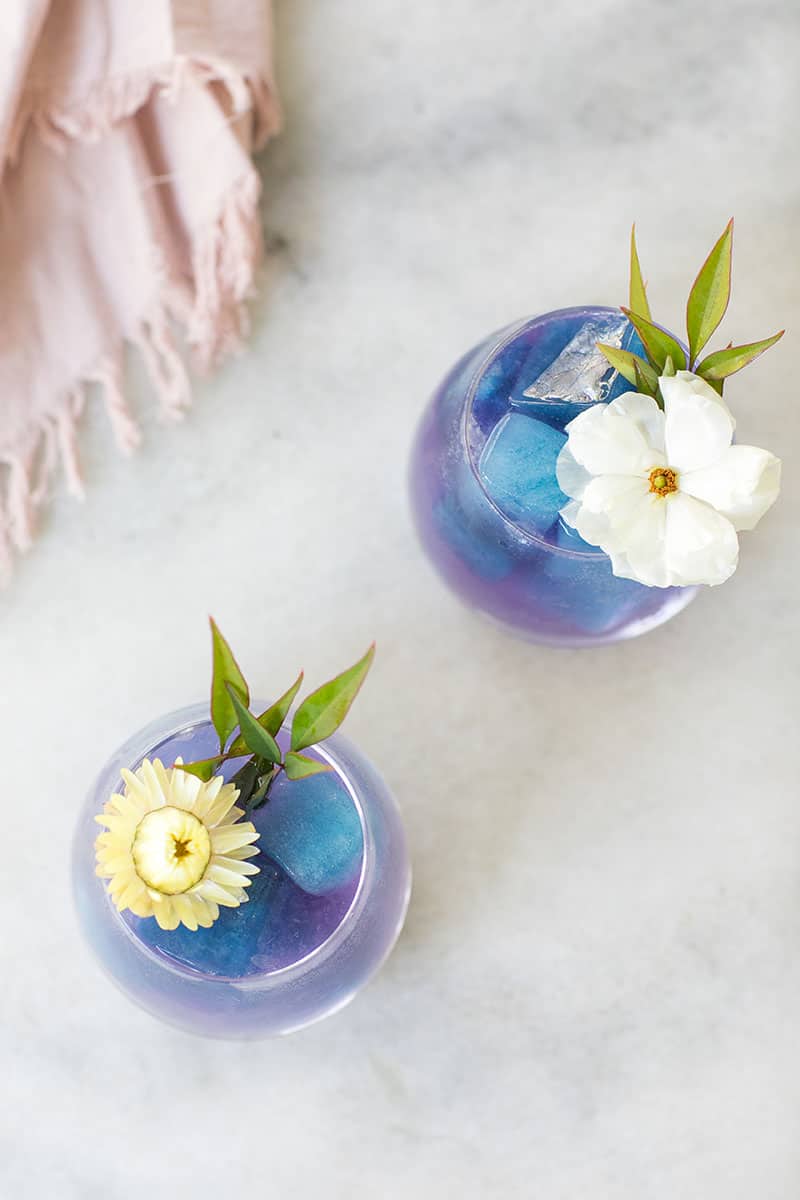 How to Make a Spiked Seltzer Paloma Cocktail
A Paloma is a simple cocktail made with grapefruit juice, lime juice and tequila. We call this cocktail Paloma by the sea because the beautiful blue hues. We used Bon & Viv and they have a mermaid on the can which inspired the name of the cocktail.
First, start with making a homemade butterfly pea flower simple syrup. This will be the ingredient that turns the cocktail a beautiful shade of blue and purple.
Next, add tequila, fresh lime juice and fresh grapefruit juice in a glass and stir.
After that, add in the simple syrup and watch the cocktail turn purple from the fruit acid!
Lastly, add in a few natural blue ice cubes and top with grapefruit spiked seltzer.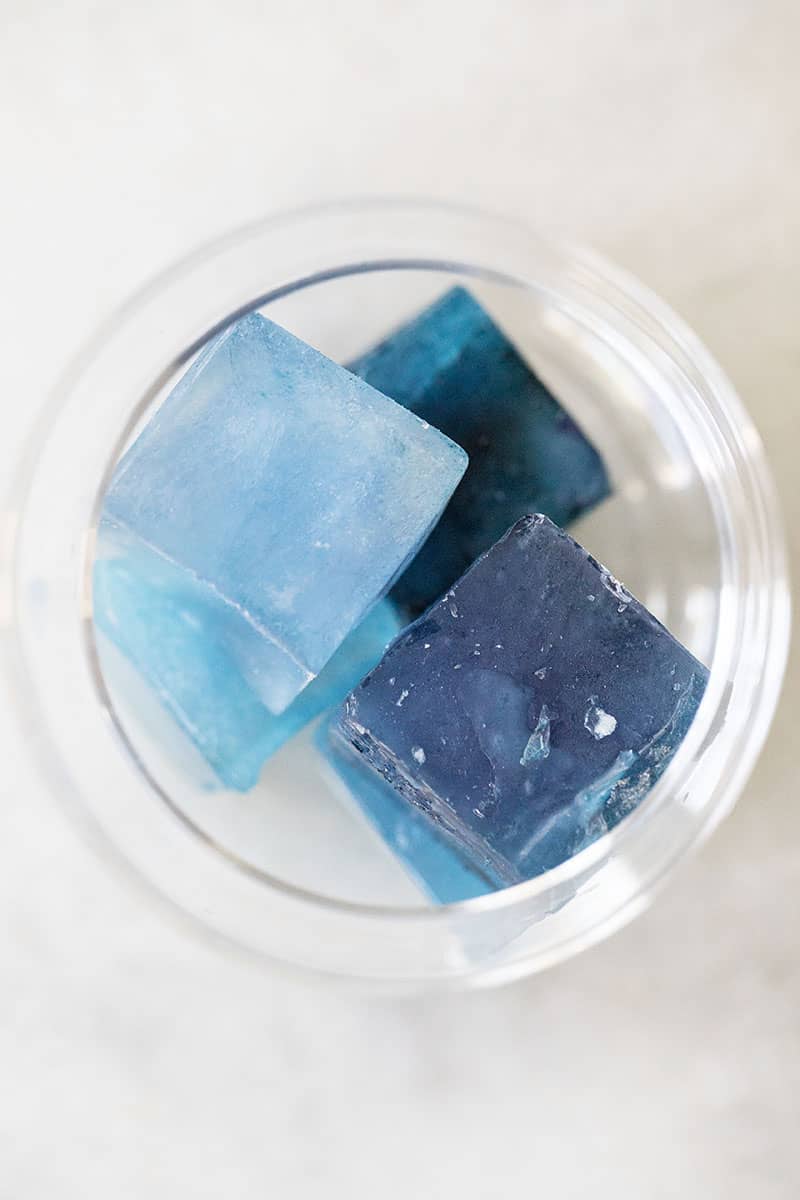 Butterfly Pea Flower
Butterfly pea flower is a plant most commonly found in South East Asia. It's used as a natural food coloring. The color changes depending on the pH balance. It's perfect to use in cocktails!
More Cocktail Recipes You'll love!
How to Make Naturally Dyed Pink Ice Cubes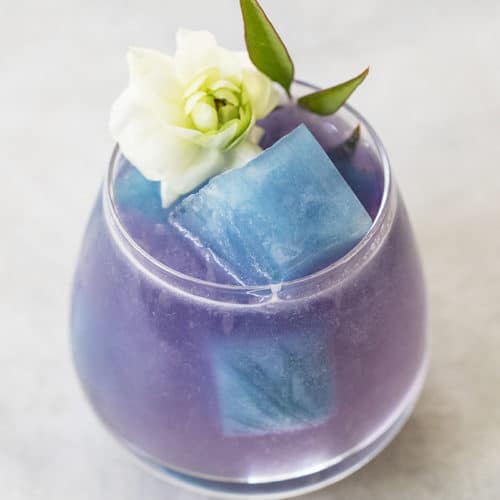 Paloma by The Sea
A spiked seltzer cocktail using butterfly pea flower for a beautiful shade of purple and blue!
Print
Pin
Rate
Ingredients
Paloma by The Sea
2 1/2

ounces

grapefruit juice

,

fresh squeezed

1

ounce

tequila

1/2

ounce

lime juice

1/4

ounce

butterfly pea simple syrup

,

follow the recipe below

1

can

spiked salter

,

to top off the cocktail
Butterfly Pea Flower Simple Syrup
1/2

cup

water

1/2

cup

sugar

2

tbsp

dried butterfly pea flower
Instructions
Butterfly Pea Flower Simple Syrup
In a small sauce pan, on low heat simmer the water and sugar together.

Add in the butterfly pea flowers and watch the simple syrup turn a rich shade of blue.

Simmer for 10 minutes so the color can absord into the simple syrup.

Add more dried flowers if you don't achieve a nice shade of blue.
Paloma by the Sea
In a glass, add the lime, tequila simple syrup and grapefruit juice and stir.

The cocktail will turn pruple because of the lime juice acid, so pretty!

Add in two butterfly pea flower ice cubes.

Top the cocktail with sparkling spiked seltzer in grapefruit!
Nutrition
Calories:
489
kcal
|
Carbohydrates:
109
g
|
Protein:
1
g
|
Fat:
1
g
|
Sodium:
9
mg
|
Potassium:
115
mg
|
Sugar:
108
g
|
Vitamin C:
23
mg
|
Iron:
1
mg