A traditional recipe for easy mulled wine, also known as glühwein. It's a perfect, warm spiced wine for cozy winter days and holiday parties.
It's made on the stovetop with spices, red wine, and apple cider. The flavors beautifully, blend together, creating the perfect warm cocktail to enjoy by the fire.
You can also use our homemade mulling spices to make this recipe too. They make wonderful gifts too!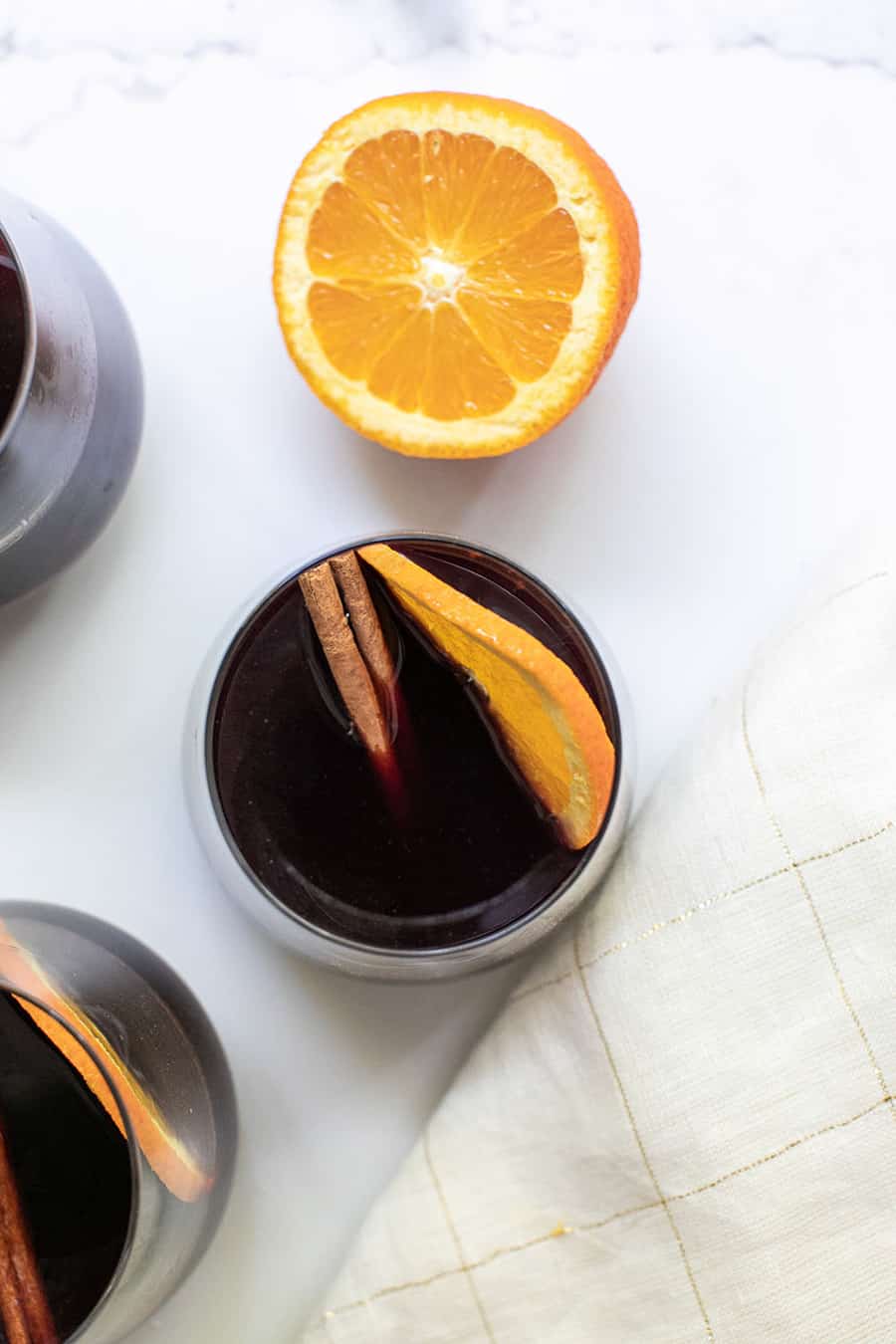 If you love to relax with a glass of wine at night, then you'll love this easy mulled wine recipe!
For those of you who are fans of deep wine flavors, mulled wine offers the perfect blend of sweet, spicy, and oaky. Even if you're not usually a red wine drinker, mulled wine can bring you around to its relaxing, full-bodied world. It's almost like a warm version of sangria but filled with winter spices like cinnamon and cloves.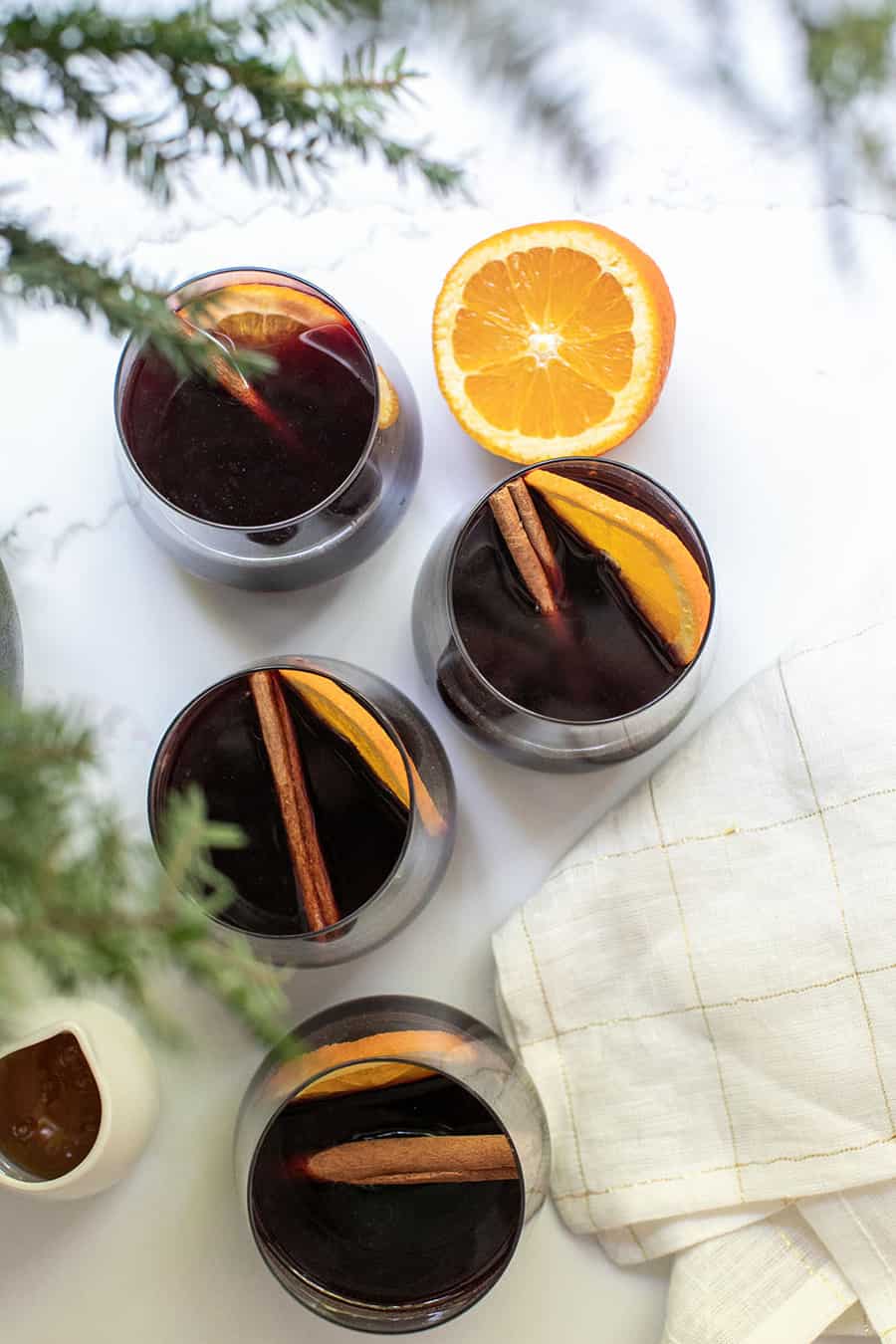 It's perfect to serve if you're hosting any fall or winter gathering, especially outside as a cup of this warms the soul. Another benefit is that it cooks very slowly on the stovetop and creates the most beautiful aromas throughout the house.
Before we share the recipe below, let's dive into mulled wine a little more so you'll know everything about this delicious drink.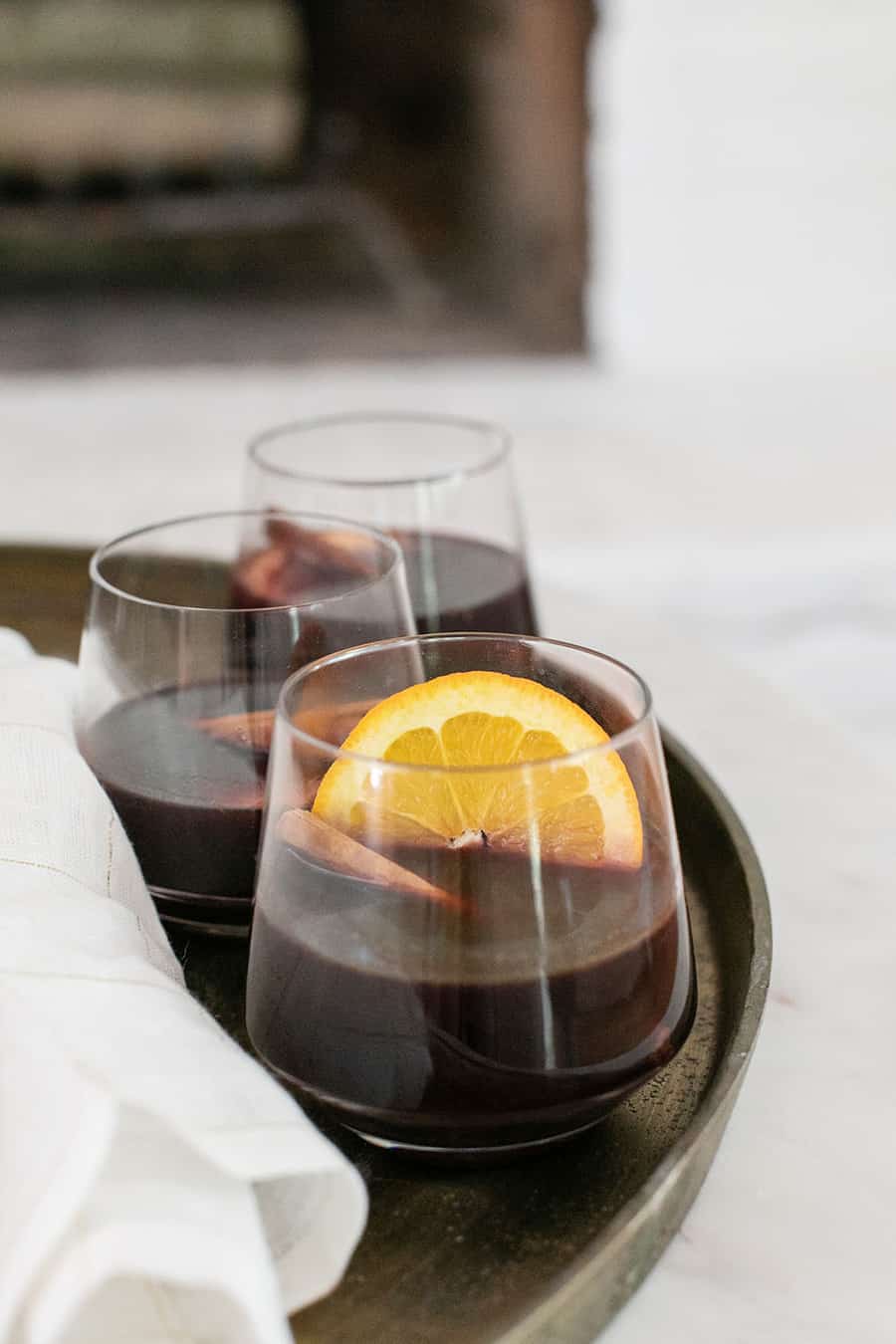 How To Make this Easy Mulled Wine Recipe
Ingredients
Red Wine – A cabernet is perfect. You don't need a fancy bottle to make this.
Apple Cider – Pressed, organic apple cider without any added sugar is always best. It's easy to find in the grocery store starting in September
Honey – We use honey as the sweetened for our recipe because it's the best way to naturally sweeten the wine. It melts perfectly when simmered with the other ingredients.
Mulled Wine Spices
Cloves – You'll want to buy whole cloves which you can find in the spice section at any grocery store.
Cinnamon Sticks – Find whole cinnamon in the spice section at any grocery store.
Orange Zest and Juice – The orange zest adds so much flavor and scent. You will zest the orange first, then use that orange to squeeze fresh juice to add into the pot as well.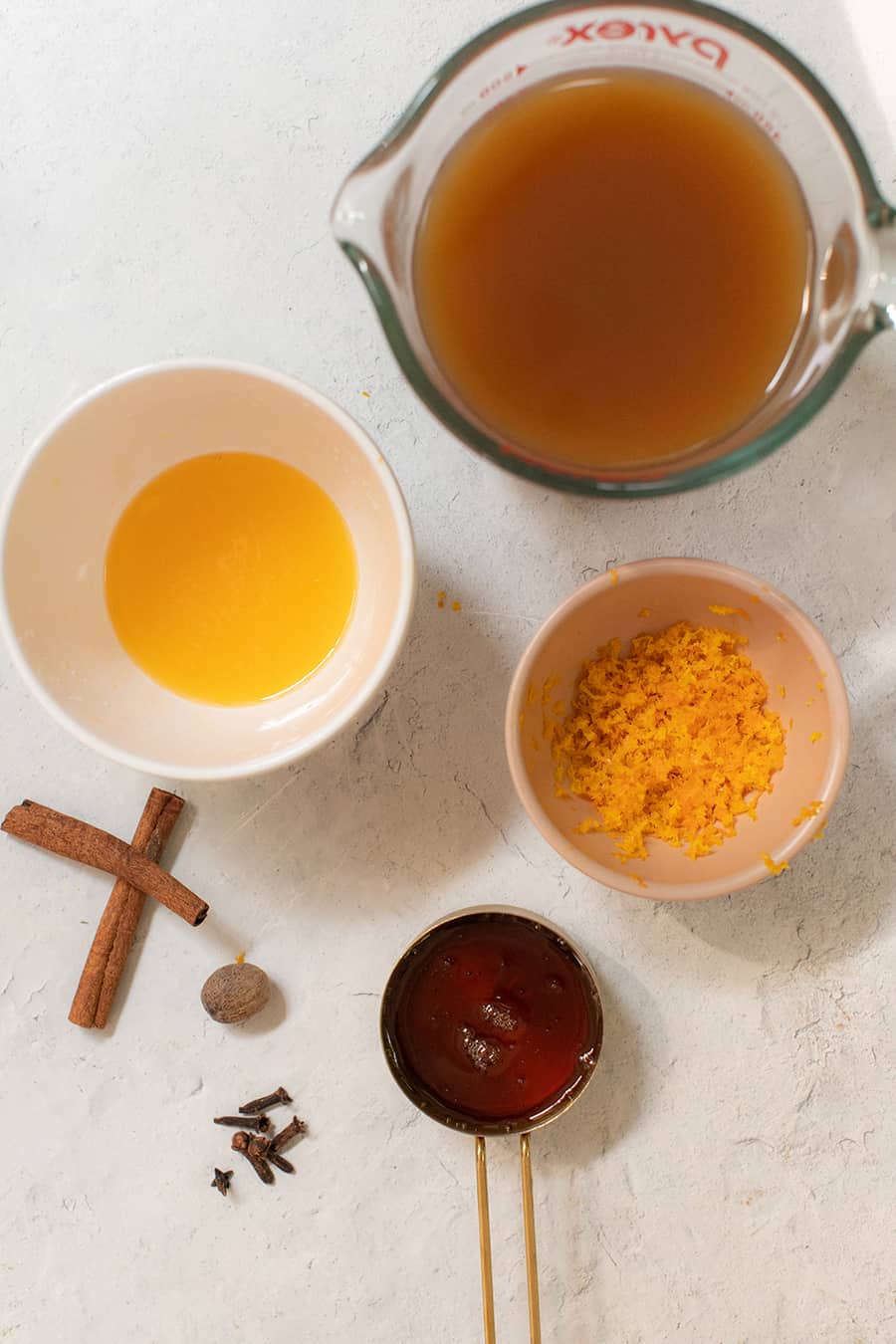 Supplies
Large Saucepan or Dutch Oven
Measuring Cups
Directions
Combine all of the ingredients into a saucepan or dutch oven.
Simmer for 30 minutes up to 4 hours.
Strain the mixture through a sieve and into a serving bowl OR another pot that can be placed back on the stovetop.
The reason for pouring it back into another pot is that you can easily warm it up if you needed to before serving.
Add sliced oranges into the mulled wine and serve with a cinnamon stick.
How to Serve Mulled Wine
While most wines use glasses to help you best appreciate their flavors, mulled wine is best served in mugs because they protect your hands from the heat. Mugs made from ceramic, porcelain, or glass are especially effective.
If you're hosting a house party, you can serve wine directly from a pot or slow cooker and let guests ladle some for themselves. Or you can save it directly with appetizers like fresh cheese, toasted nuts, and mince pies.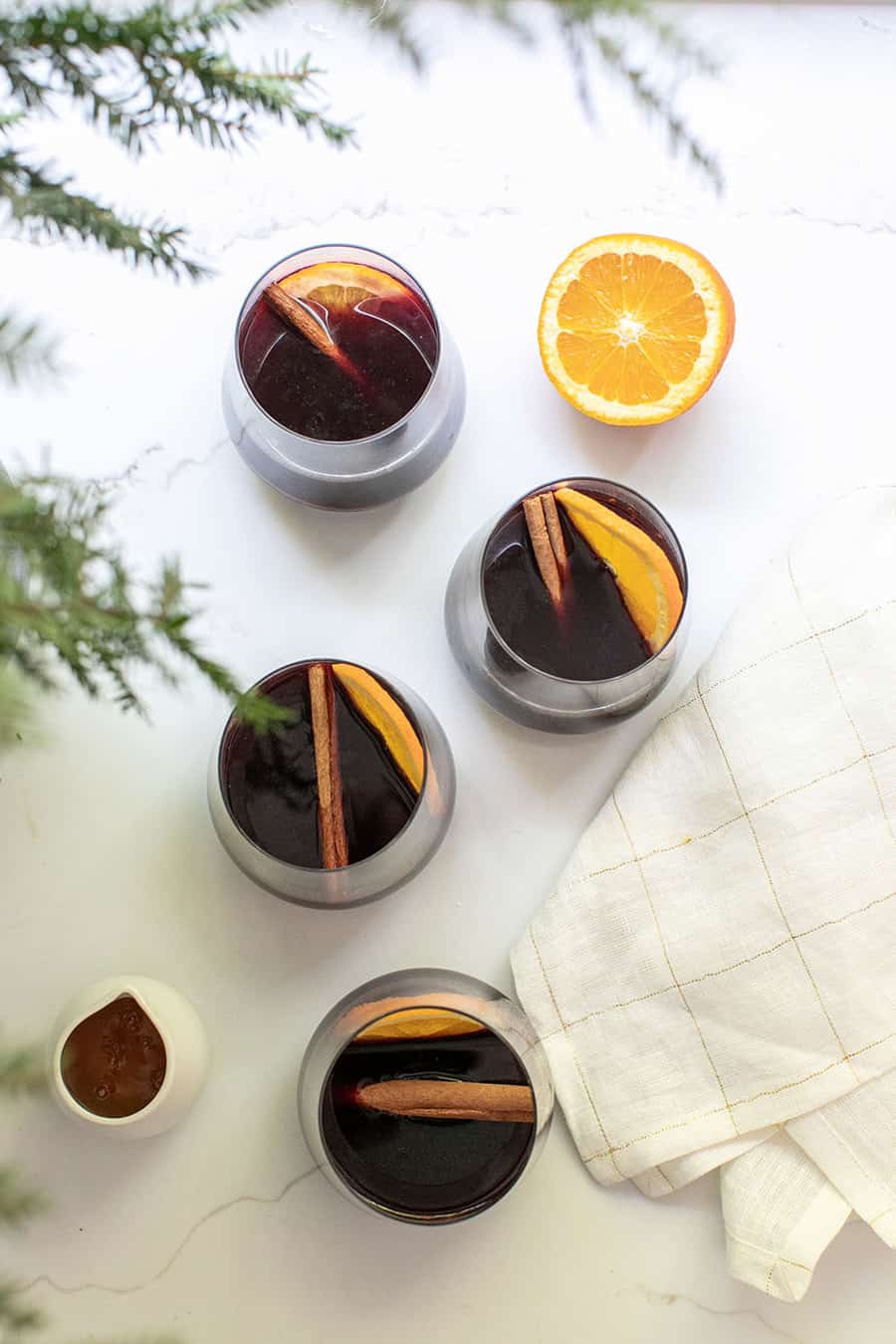 Frequently Asked Questions
What is Mulled Wine?
It is usually red wine such as merlot or mal bac. In Europe, it's common for mulled wine to get served warm on nippy evenings in local pubs. In the US, it's popular for folks to serve mulled wine during the holidays. Mulled wine generally gets served with orange and spices like cinnamon and star anise. And a little brandy rounds it all off. 
Why Is It Called Mulled Wine?
Mulling is a word that means thinking deeply or at length about something. And mulled wine needs to be simmered at length, anywhere from fifteen minutes to three hours. During that time, the wine is able to deeply drink on the flavors of the spices and fruit that are warming up to it, just as a scholar ponders deeply over profound ideas. And that's something to mull over!
How Long Can You Keep Mulled Wine?
If you want to save your wine for later use, let it cool completely first. You can then let it cool down to room temperature. After placing it in an air-tight container, you can store mulled wine in your fridge for about three days.
Can Mulled Wine Be Reheated?
Mulled wine can be reheated as long as it's not more than a few days old. You can place it on your stovetop or in a slow-cooker. Heat it on low until it's warm.
What Wine Is Best for Mulled Wine?
Full-bodied red wines work best for mulling. This could be something like Syrah or Malac. You could also try a merlot of Cabernet Sauvignon.
If you're one of those unique folks using a white for mulled wine, you could try something aromatic like a Reisling or Chenin Blanc.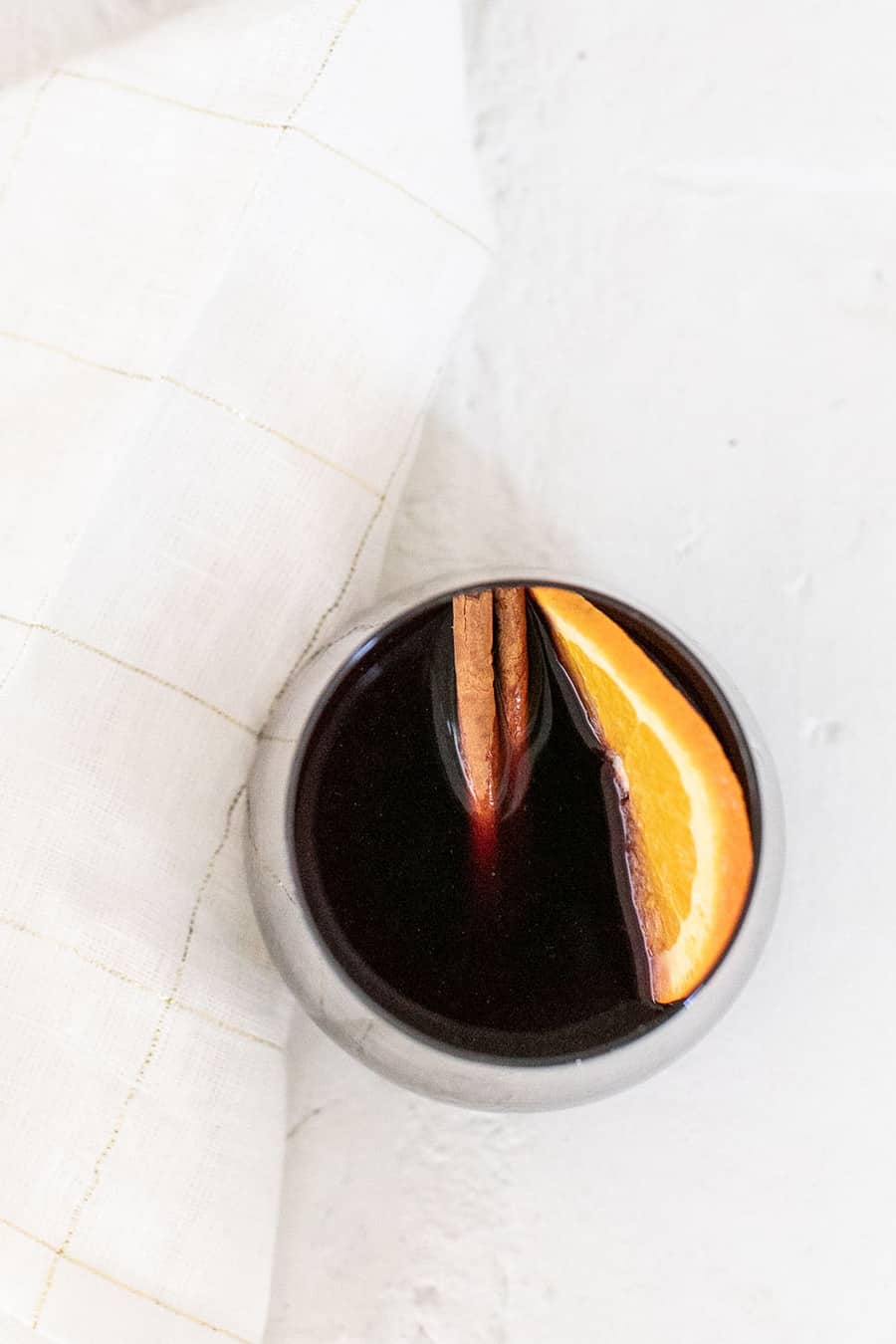 Can You Leave Mulled Wine Overnight?
If you've got a thermos handy, you can keep your mulled wine with you overnight and it will stay toasty and tasty. Or you can leave it in your slow-cooker on low or warm.
If, however, you're going to let your wine cool, make sure you store it in your fridge.
Variations of Mulled Wine
You can try white mulled wine if you're looking for a little variety. Just add some cloves, star anise, and ginger. You can also shake things up with lemon or lime.
Add a Splash of Bourbon
If you want to add bourbon do it after the wine has been strained. Start with 1/4 cup bourbon, tatse it and decide if you want to add another 1/4 cup.
More Wine Recipes You'll Love!
Easy and Traditional White Sangria
Apple and Ginger Wine Spritzer for Fall
Honeydew Watermelon Sangria Recipe
Let us know if you make this recipe by leaving a comment and review below!
You can also FOLLOW US on FACEBOOK, INSTAGRAM, and PINTEREST to see more delicious recipes, cocktails, desserts and parties!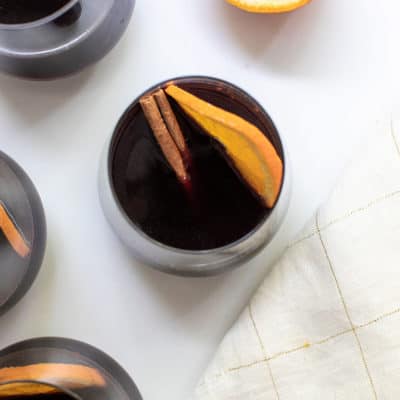 Mulled Wine
An easy, traditional recipe for mulled wine. It's a perfect, warm cocktail for cozy winter days and holiday parties.
Print
Pin
Rate
Servings: 6 servings
Calories: 213kcal
Ingredients
750 mil red wine, like cabernet
2 cups apple cider, pure apple cider
1/2 cup orange juice, freshly juiced
2 cinnamon sticks
1/4 tsp nutmeg
1 tsp cloves, whole
1/3 cup honey
Instructions
Zest the outside of an orange, then cut it in half and squeeze the fresh juice.

Combine all of the measured ingredients into a large saucepot.

Simmer for 30 minutes up to 4 hours.

Strainer the mixture through a seive into a serving bowl OR another pot that can be placed back on the stovetop.

The reason for pouring it back into another pot is that you can easily warm it up before serving.

Add sliced oranges into the mulled wine and serve with a cinnamon stick.
Notes
No need to use an expensive bottle of red wine. Keep it affordable as you're mixing other ingredients with it. Add more honey if you want a sweeter mulled wine. The mulled wine can simmer for up to 4 hours! Adds a beautiful fragrance to the home. Serve in heat resistant glasses. If you prefer, add some star anise to the recipe.     
Nutrition
Calories: 213kcal | Carbohydrates: 31g | Protein: 1g | Fat: 1g | Saturated Fat: 1g | Sodium: 10mg | Potassium: 289mg | Fiber: 1g | Sugar: 26g | Vitamin A: 41IU | Vitamin C: 11mg | Calcium: 30mg | Iron: 1mg
This post may contain affiliate links. Please read our disclosure and privacy policy.