I saw this idea on Martha's website and I had to make my own mini terra-cotta votives! Aren't they adorable for fall entertaining?! You can make any size (even really large!) and add any scent to them. I think extra-large ones would be a nice touch placed in the middle of a table or the small ones at individual place settings. They're also perfect for adding a beautiful, fall glow to an outdoor area. The tiny ones would make great wedding favors AND you can paint names on them too : ) I'm a little obsessed with these! They were so simple to make and cheap too! I bought all of my supplies at Michaels.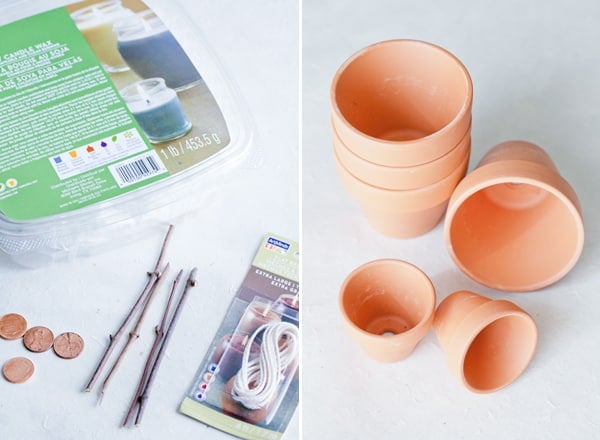 Instructions:
Supplies: soy wax, twigs, wick, pennies, and mini terracotta planters
Place a penny in the bottom to close the hole. With the wick, tie a loose knot around the twig and cut so it fits nicely in the terracotta planter.
Melt the wax and add any oils or scents you like. Pour into the planter. Make sure the wick is centered.
Let the wax harden then remove the twigs and cut the wick down to around 1/4 inch.
Light and watch the glow