DIY Paper fortune cookies that are perfect for parties! Print funny fortunes or questions for conversation starters. These are easy to make and people love them!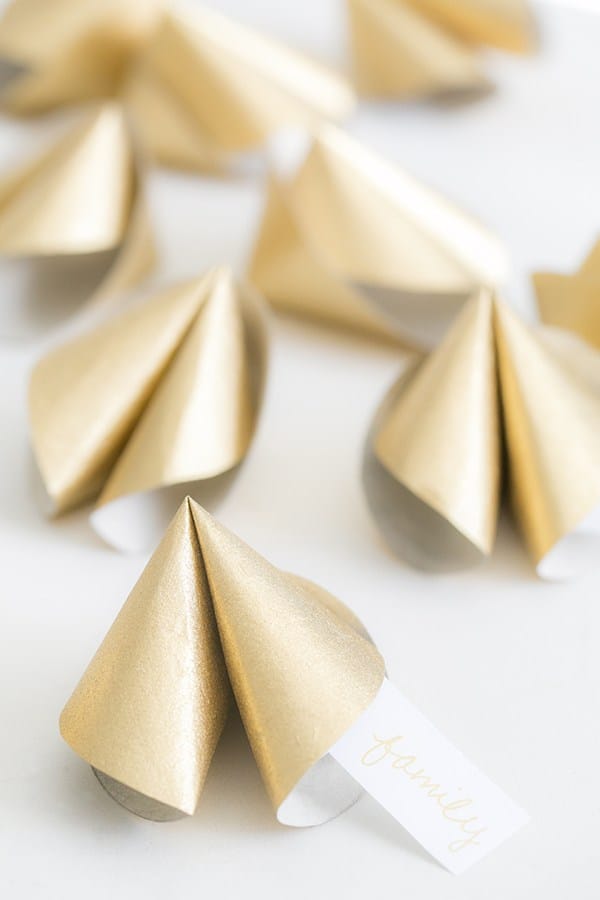 Traditional fortune cookies are simple, crispy cookies, folded with a message or "fortune" inside. They're given out as a dessert at Chinese restaurants and always a fun way to end the meal with a few laughs.
However, we've made them into a fun party favor! So for any of you hosting a fun dinner party, birthday party or even a New Years' party, these DIY Paper Fortune Cookies are great conversation starters!
They're a fun touch to add to the party, all while giving positive words of wisdom, perfect for graduation or to start the new year off.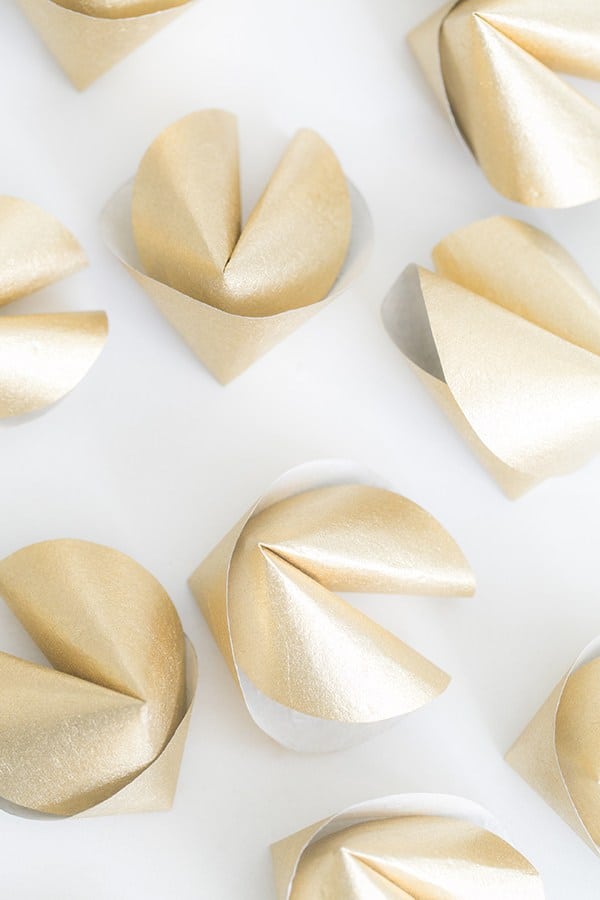 Since you can make up any message you want to put inside, you can pull an amusing prank, you could write ridiculous fortunes in your faux fortune cookies, but we're keeping it sweet (like sugar) over here, and sticking with nice versions.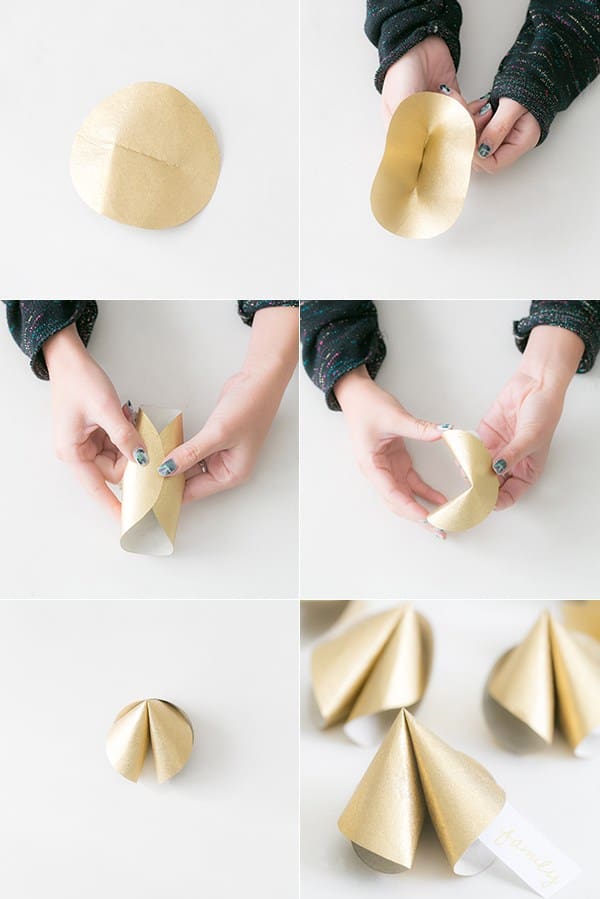 How to Make DIY Paper Fortune Cookies
Cut paper into circles, about 3 – 3 1/2″ in diameter.
Lightly fold the circle in half and crease the center.
Open the circle and roll two sides backward so they slightly overlap.
With one hand keeping hold of the overlapped sides, fold the top and bottom of the circle down.
Put a dab of glue close to the center crease, and hold for several seconds until the fortune cookie is set.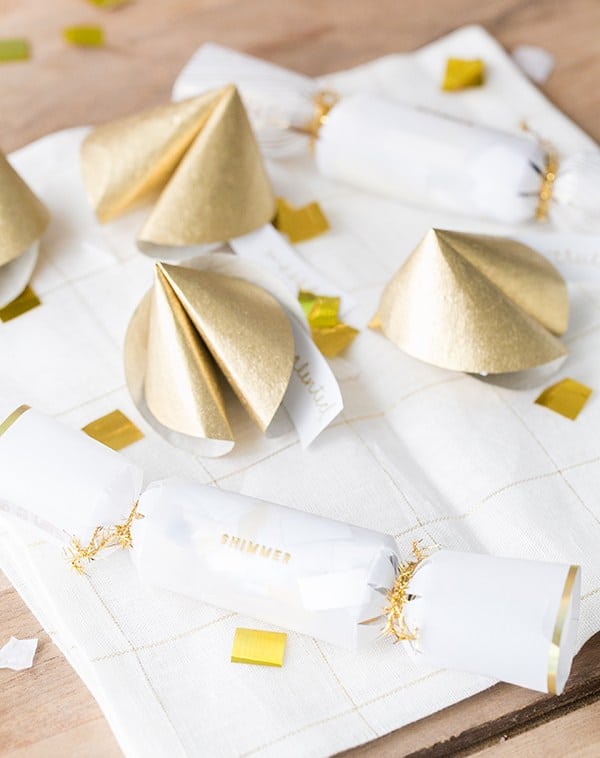 More DIY Projects You'll Love!
Creative Gift Ideas with Stubhub
A Charming Caramel Apple Gift Box
A Charming Bubble Bath Gift Box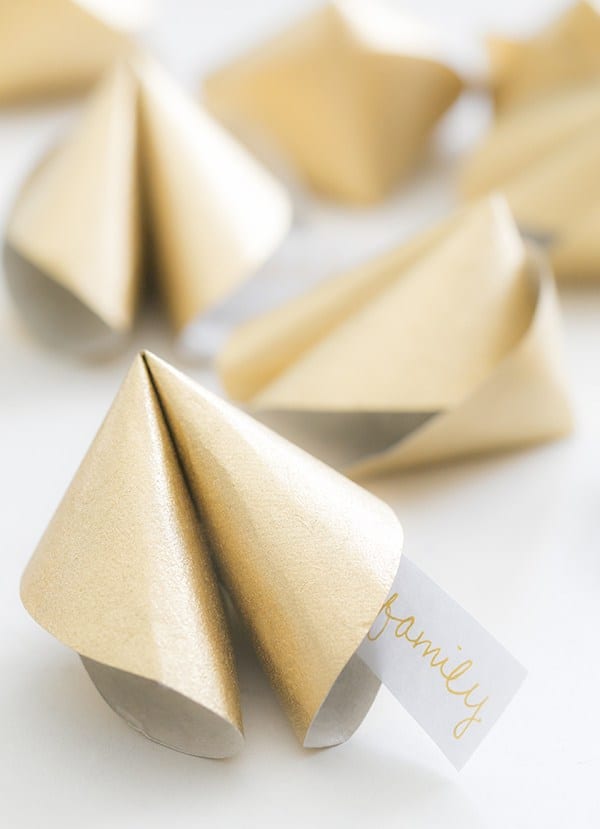 Let us know if you make these paper fortune cookies! We would love to hear your thoughts and how you used them, so leave a comment below!
You can also FOLLOW US on FACEBOOK, INSTAGRAM, and PINTEREST to see more delicious recipes, cocktails, party ideas, desserts and more!