How to make a charming bubble bath gift box! The perfect gift for relaxation.
Hi, friends it's Jen from The Effortless Chic! While Eden is busy soaking up all of the baby snuggles and that delicious newborn scent, I offered to drop by with a little DIY post for you guys.
We had actually already shot this little gift box number, but it seemed particularly fitting for Eden.
She would never be able to say this about herself, so allow me: She is the most genuinely generous and thoughtful soul you will ever hope to meet. She is always going out of her way for other people and is a truly incredible friend. One of the greatest things that have come to me from blogging is Eden's friendship!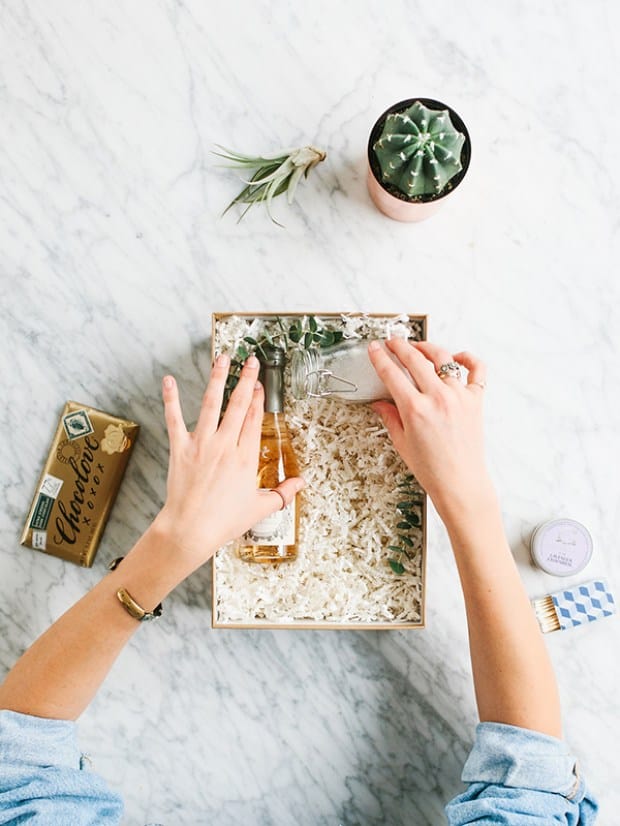 So with that, let's chat holiday gifts, shall we? I wanted to make a box that was under $30 that still felt really thoughtful and had things in it that people would actually enjoy using.
Teachers were the first people that came to mind! If you have a couple of kids in school who do a few activities, your gift shopping list can really begin to add up in this category.
This relaxing bubble bath gift box is equal parts charming and useful and guaranteed to earn brownie points with your favorite teacher! (Also, consider making an extra one for yourself and saving it for a day when you could really use a little extra relaxation– you'll be glad you did!) Here's what we included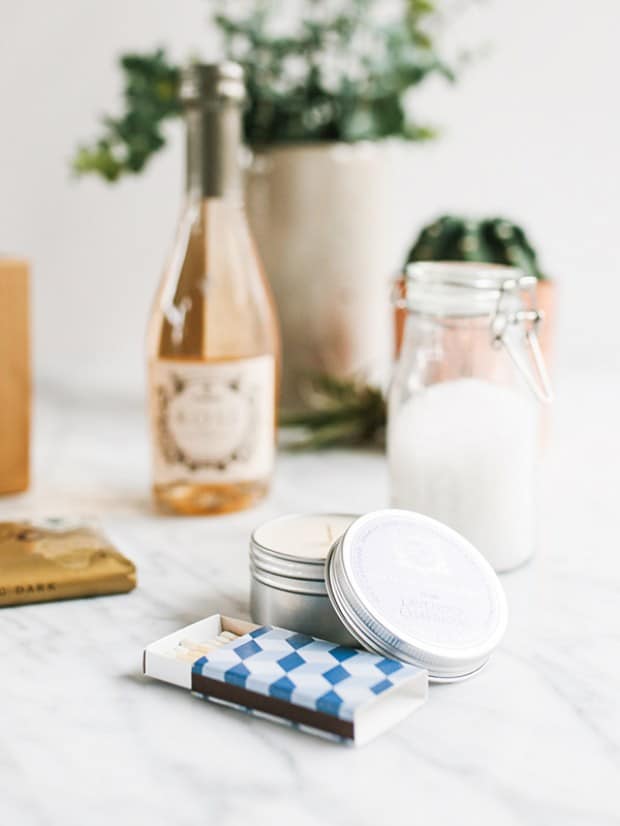 A Charming Bubble Bath Gift Box!
Box: We used one that we had lying around the studio, but you can get them really cheap in bulk at your local craft store or Amazon.
Candle (These mini candles are my favorite and super affordable!)
Cute matches: A lot of local restaurants and hotels have cute matches.  Pick up a few on your next date night.
Lavender Bath Salts: We picked up the glass bottles from Hobby Lobby and then poured the bath salts that we picked up at Central Market (a local grocery store) into them.
Add crinkle cut craft paper or tissue paper to the bottom of the box to fill in and make it look complete. We also added a few sprigs of eucalyptus to ours. You can forage for Magnolia leaves, rosemary, eucalyptus, holly berries or whatever else you have nearby!
Close the box, wrap with ribbon and voilá!
More Gift Ideas You'll Love!
Tips for Creating the Perfect Gift Box
You can also FOLLOW US on FACEBOOK, INSTAGRAM, and PINTEREST to see more delicious recipes, cocktails, desserts, and parties!