Ring in New Year's with a charming table setting and New Year's Eve dinner at home! Recipes, decorations and more to make your party charming.
We love celebrating the end of a year and the beginning of a new year with a fun dinner party at home.
Here are some charming ideas, appetizers and cocktail recipes to make your New Year's Eve dinner memorable!
New Year's Eve Decorations
Gold Rings
We're "ringing" it in by using gold rings, hanging over the table, as a pretty display. We placed a gorgeous arrangement in the center of the table and placed our DIY fortune cookies on each table setting, along with some party poppers!
For the rings, we used fishing wire and a little clear tape to tape the wire to the ceiling. You can also hang them from a window curtain rod if you want. You can find the gold rings here, in all different sizes. Also, Jo-Ann Fabric has them too.
Flowers
Flowers are alway a must for any dinner party. Create your own beautiful arrangements for have your local florist make you something stunning to set in the middle of your table-setting.
Giant Fortune Cookies
These fun paper fortune cookies are perfect for a New Year's celebration. Fill them with good fortunes for the new year, inspiration quotes or even funny jokes to read at the table.
Find the DIY fortune cookie tutorial here!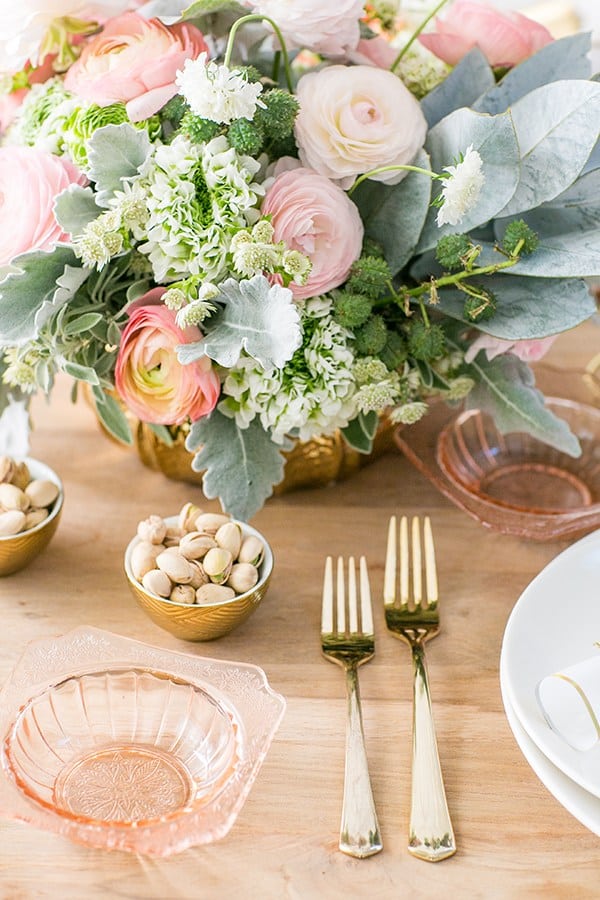 New Year's Eve Cocktails
When the clock strikes 12, celebrate with Champagne or one of these festive cocktail recipes!
You can also take it one step further and create a beautiful Champagne bar or sangria bar!
Spiced Sparkling Apple Cider Punch
New Year's Eve Dinner Ideas
Here are some fun recipe ideas for New Year's Eve Dinner.
Simple Salad that Goes with Everything
New Year's Eve Desserts
Chocolate Covered Strawberries
Lemon Thyme Shortbread Cookies