Celebrate the new year with a New Year's Eve Champagne bar! All the details to create your own beautiful bar to ring in a new year!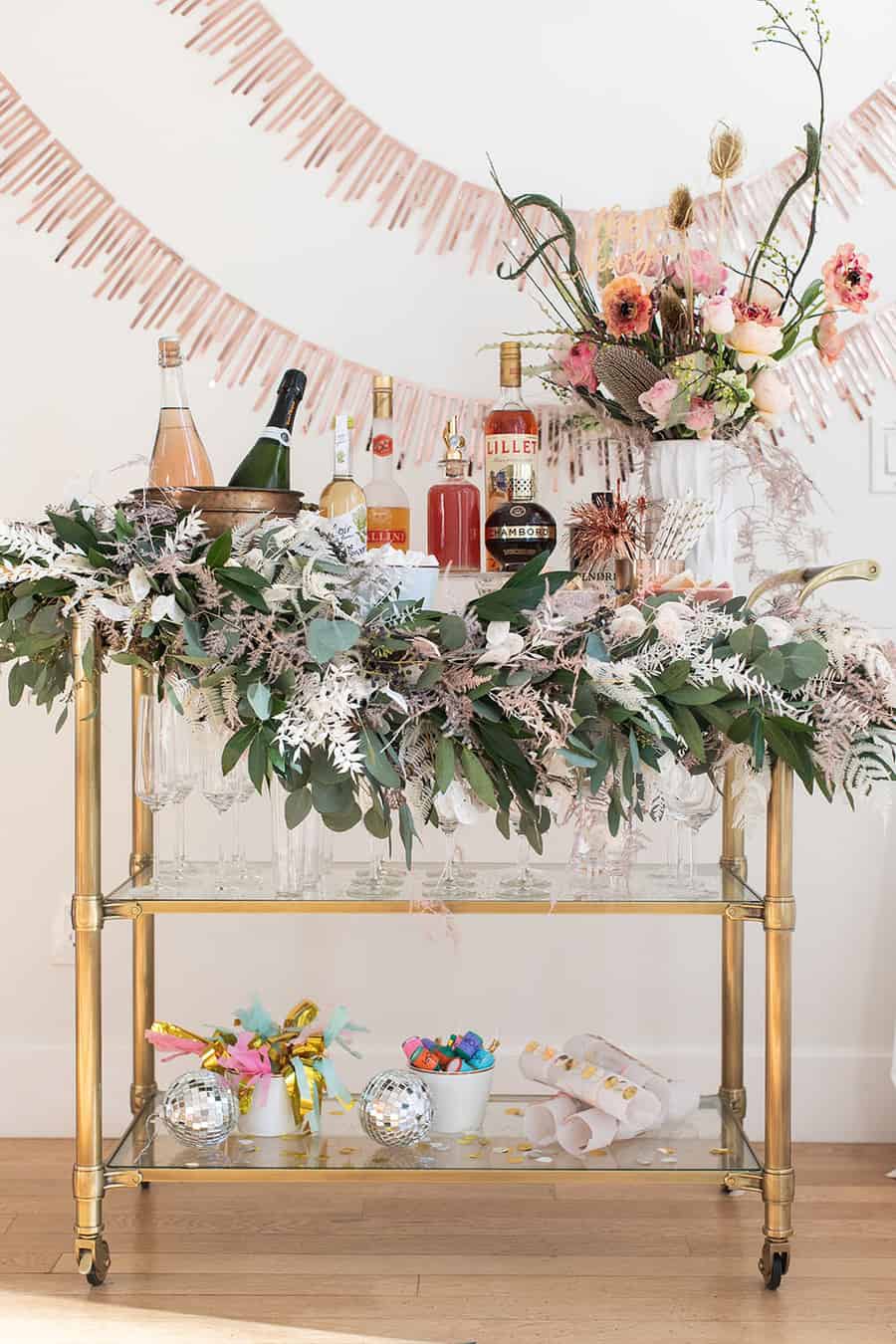 Ring in the new year with a festive Champagne bar! My favorite way to celebrate NYE is a small gathering at home. There can be so much pressure to make it a crazy celebration, but the best ones we've had, have been at home with a delicious meal, a cozy fire, and lots of charming details!
This bar is the perfect way to add charm to NYE. It's easy to put together and fun for guests to make their own Champagne concoctions.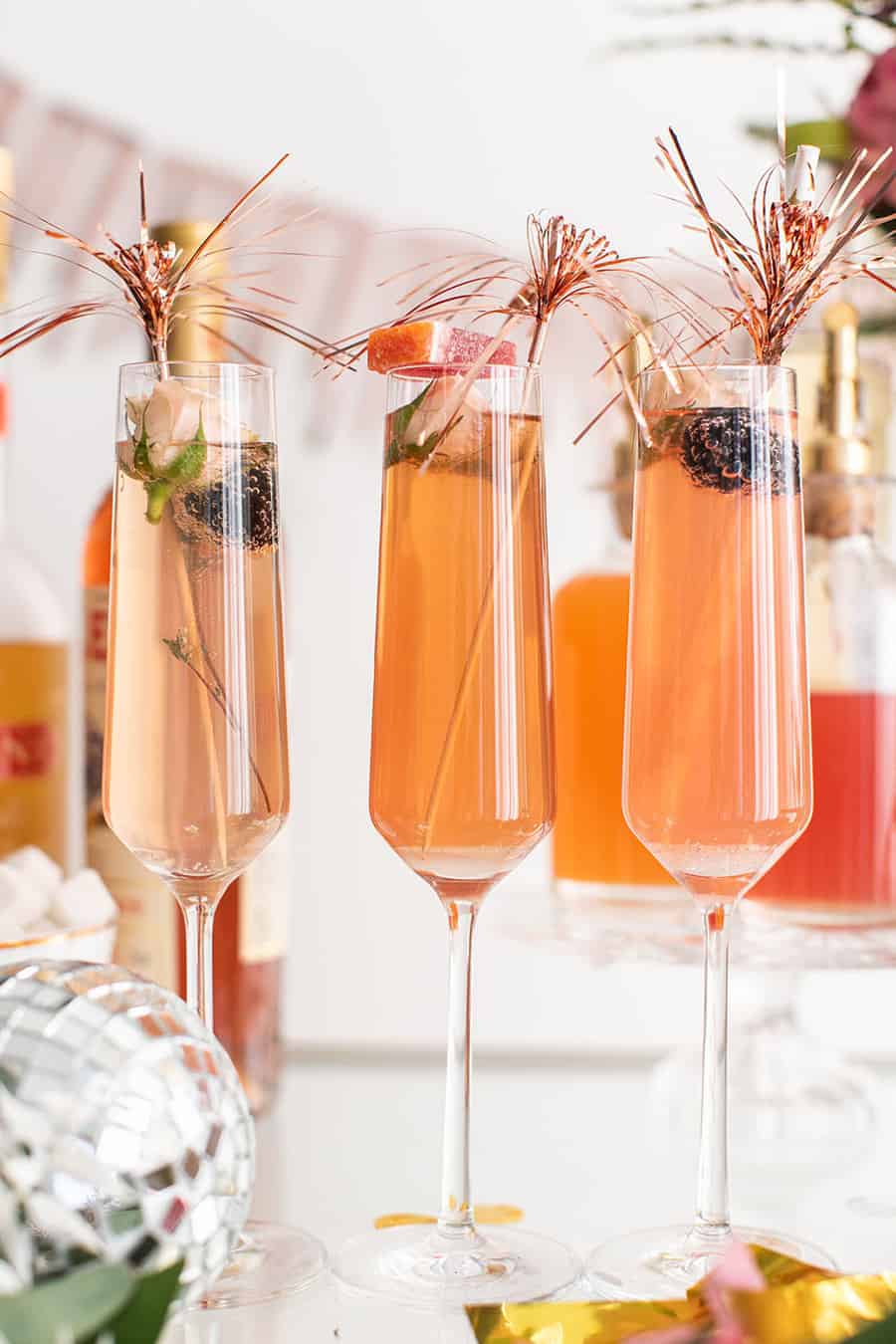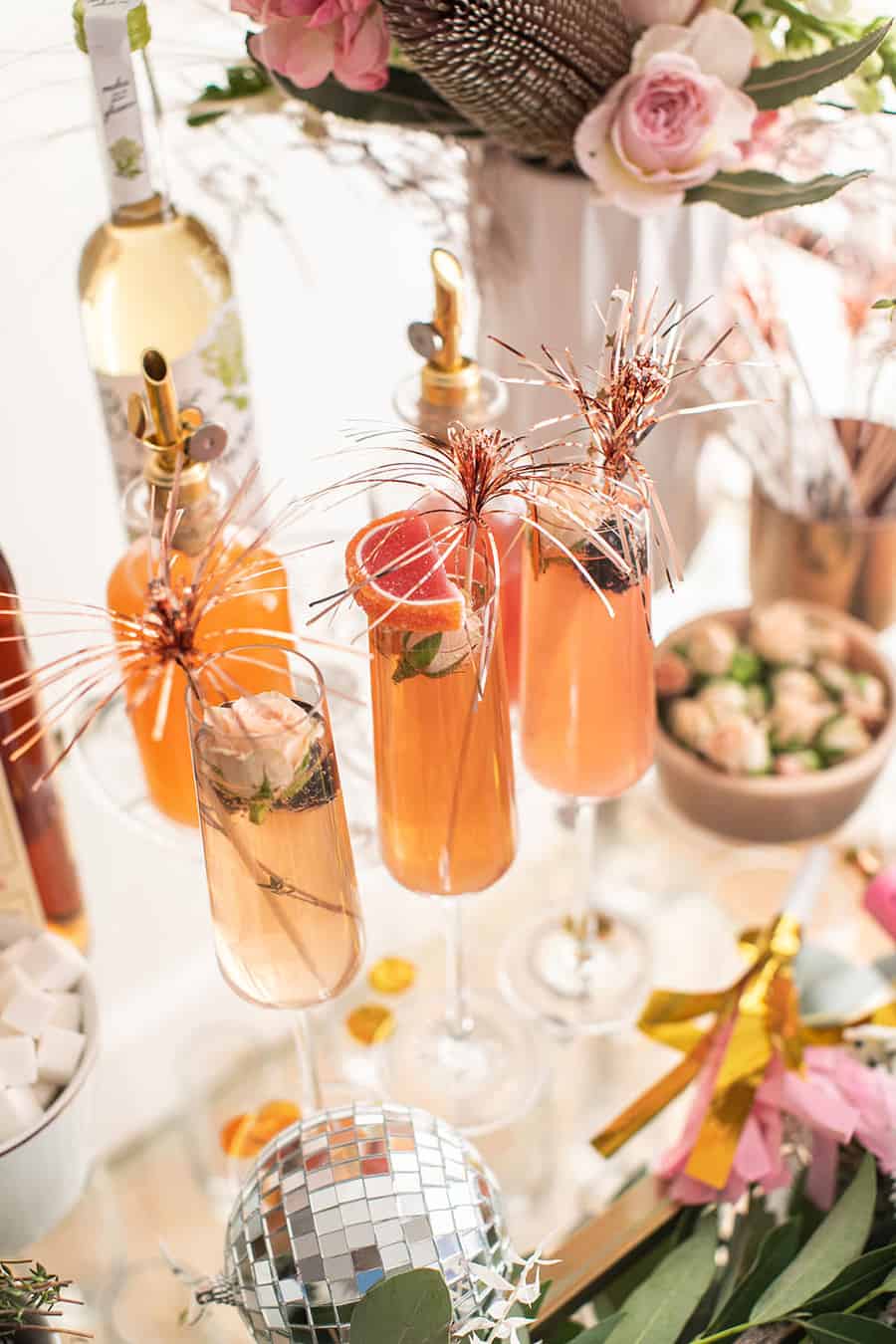 How to Make a New Year's Eve Champagne Bar (Step by Step)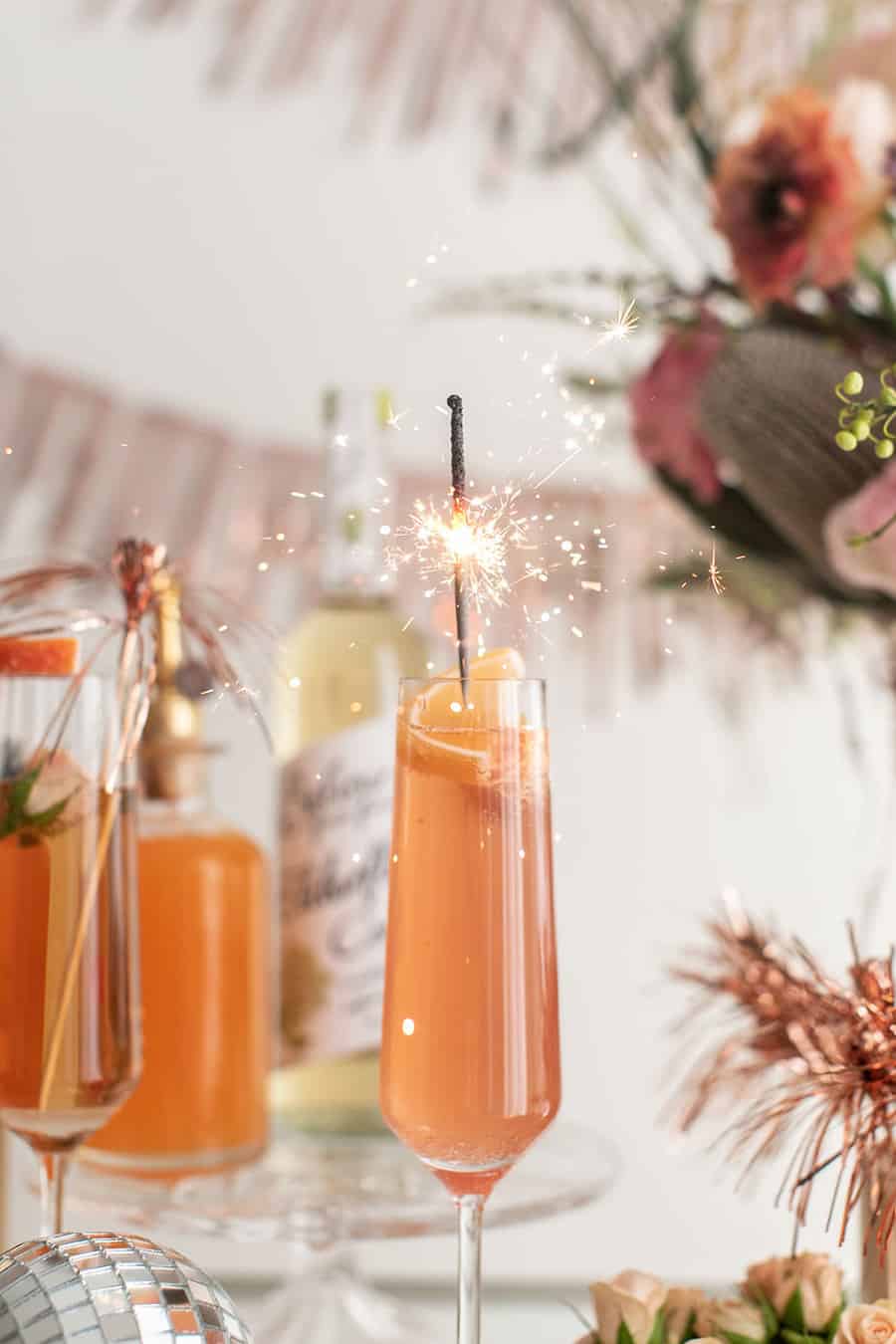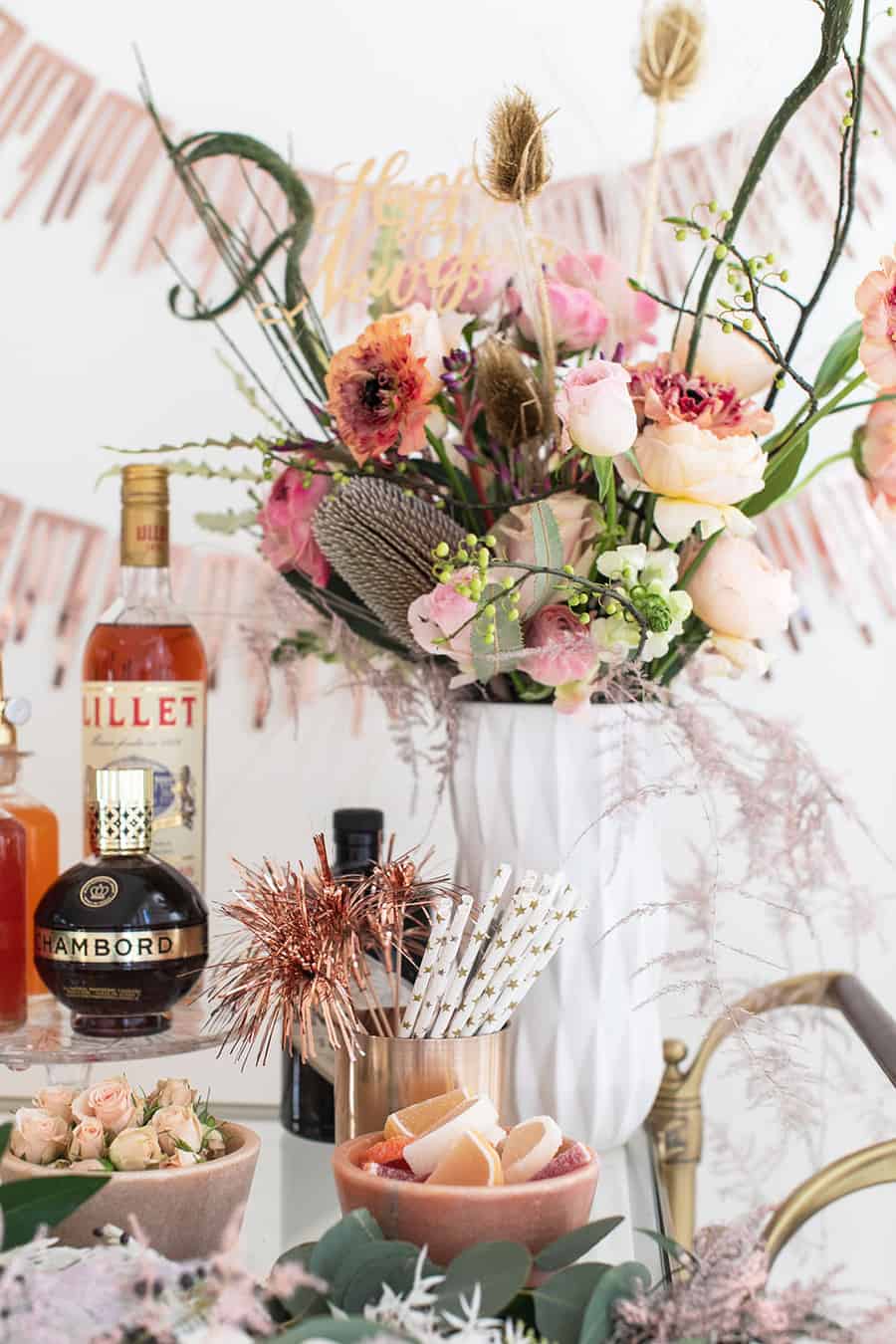 Set aside a designated area for the the Champagne bar. If you have bar cart that's the best option. You can also create a space on the counter, table or a simple standing tray. Make the bar as big or small as you please!
If you need help deciding how much to buy, see our party buying guide depending on your guest list.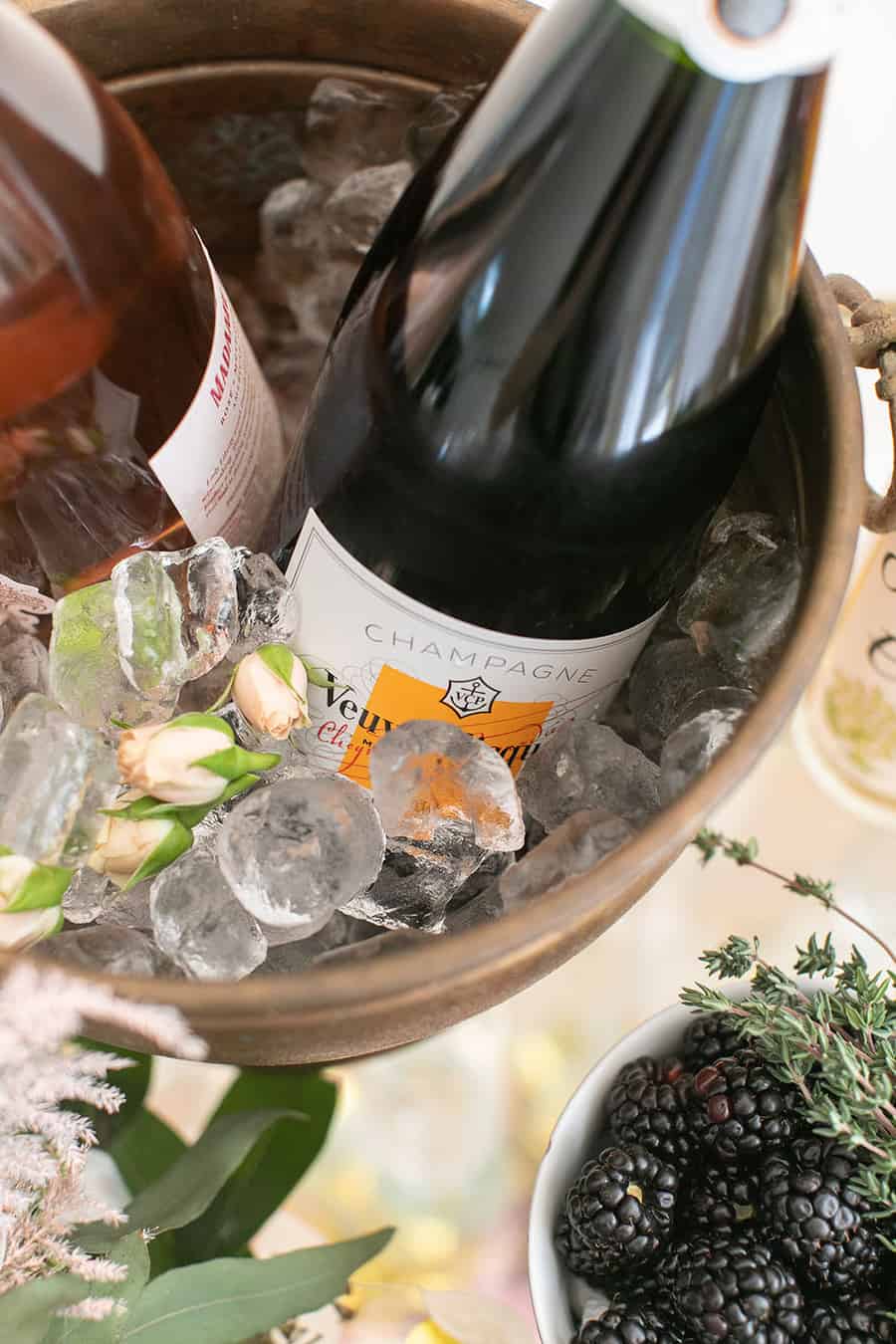 Champagne
Fill an ice bucket with a few bottles of Champagne. You can also buy sparkling white wine or sparkling rosé.
Bottles ranging from $10 to $20 are perfect since you'll be adding in different juices, liquors and toppings.
However, having one nice bottle on hand for anyone who just wants a glass of Champagne is also nice.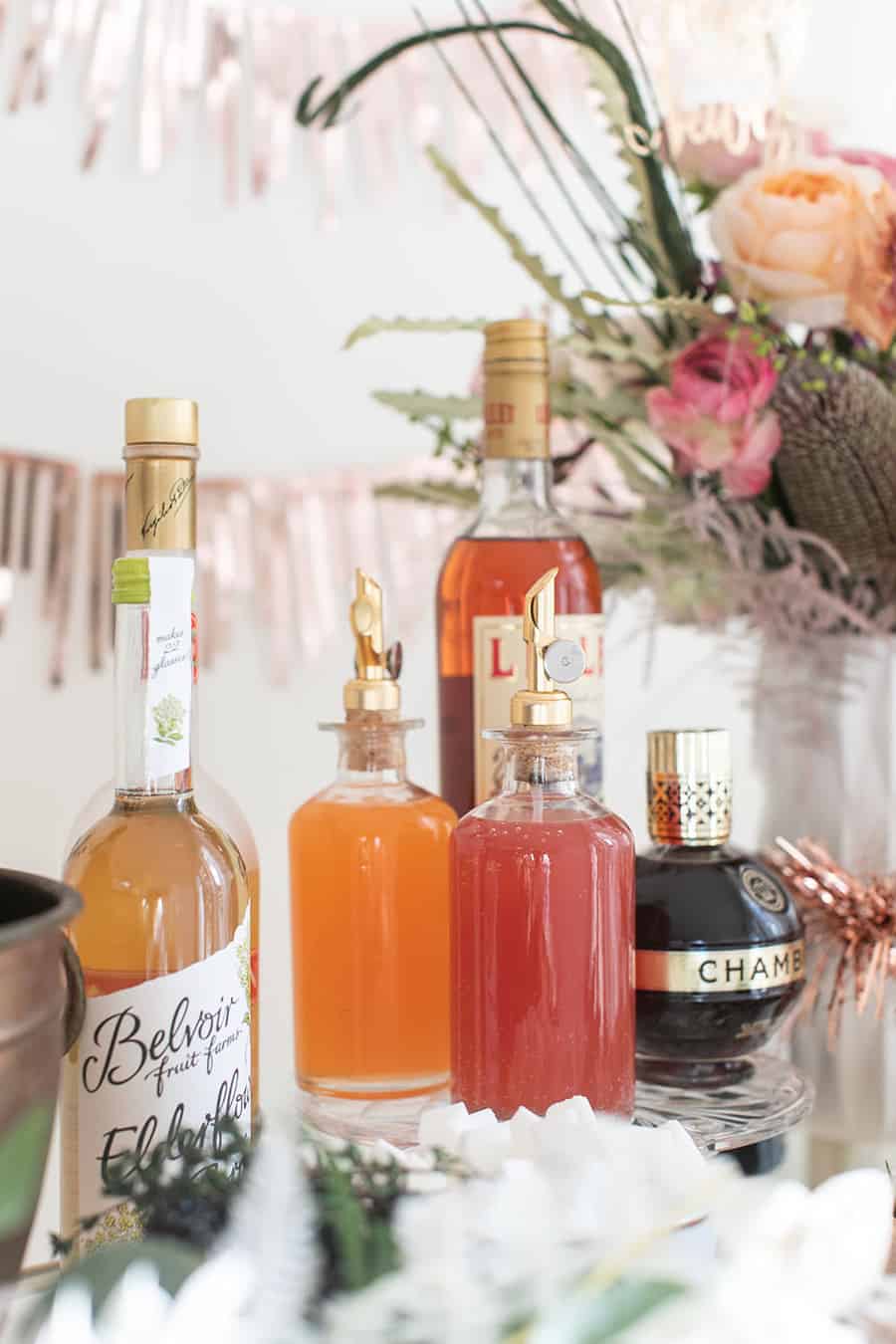 Juices, Liqueurs and Liquor
This is the fun part! Filling the bar with all kinds of juices, liqueurs, and liquor to add to the Champagne! Think of your favorite cocktails made with sparkling, like a French75 or Mimosa, and have those items available.
Here is a list to get you started:
Orange Juice
Blood Orange Juice
Cranberry Juice
Grapefruit Juice
Peach and Pear Liqueur
Elderflower Tonic or Liqueur (St. Germain is a great option)
Lillet
Chambord
Gin
Fresh Lemon Juice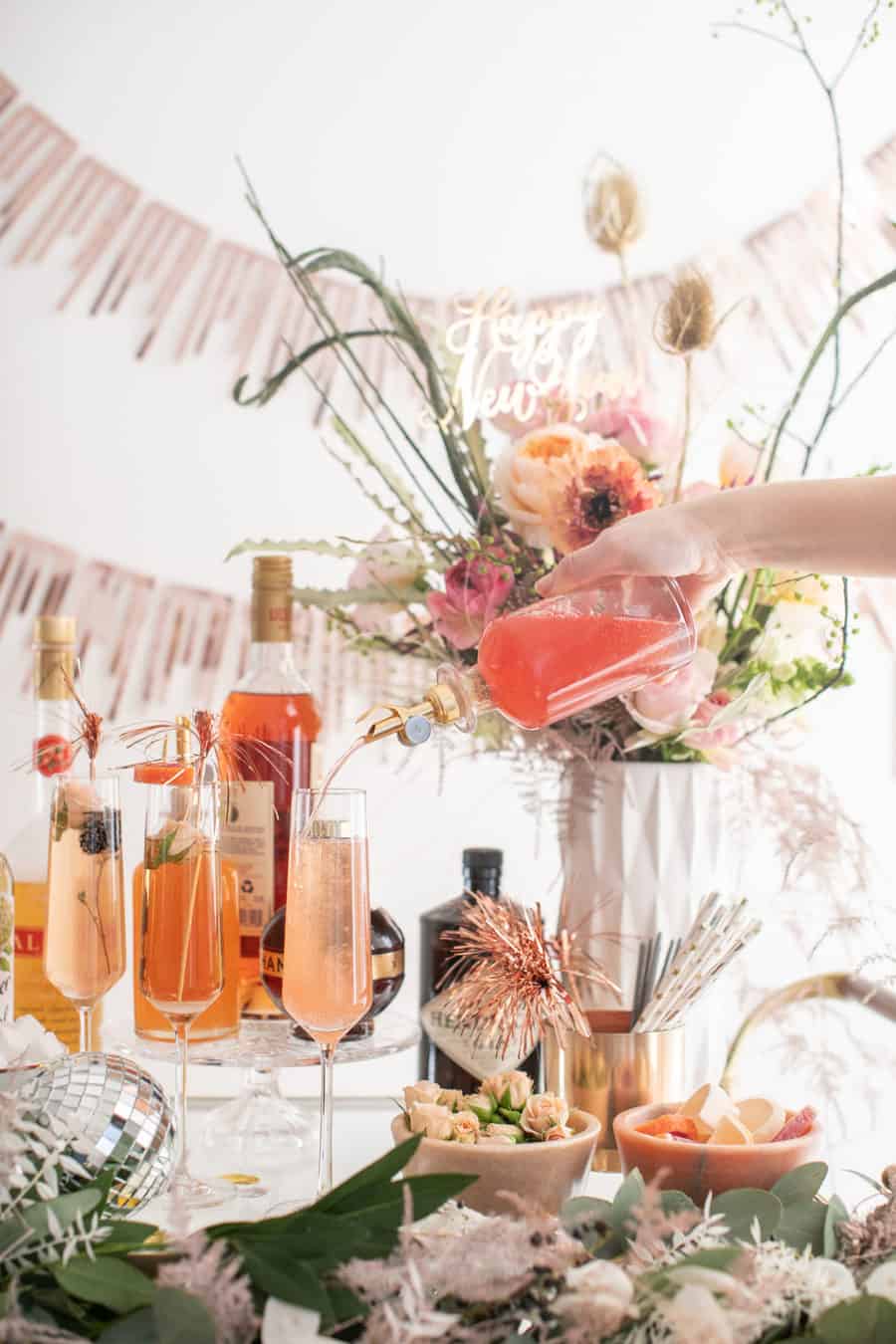 Simply add in what you want! Add a splash of gin, a 1/2 ounce of liqueur and some juice.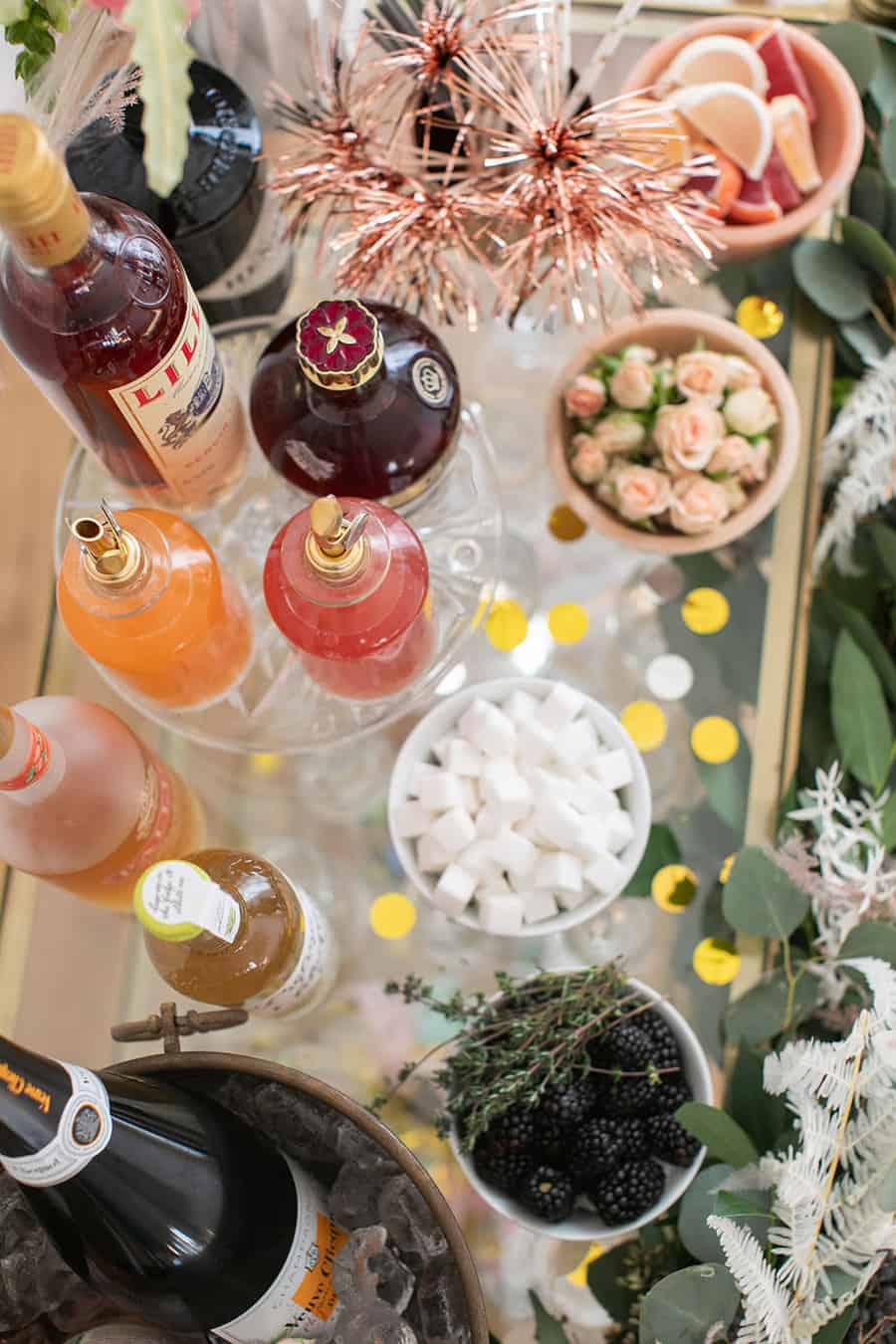 Champagne Bar Toppings
Toppings are items that are used to garnish the Champagne cocktail. They make the drink look festive and ready for an NYE celebration! Here's a list of toppings you can add to your bar: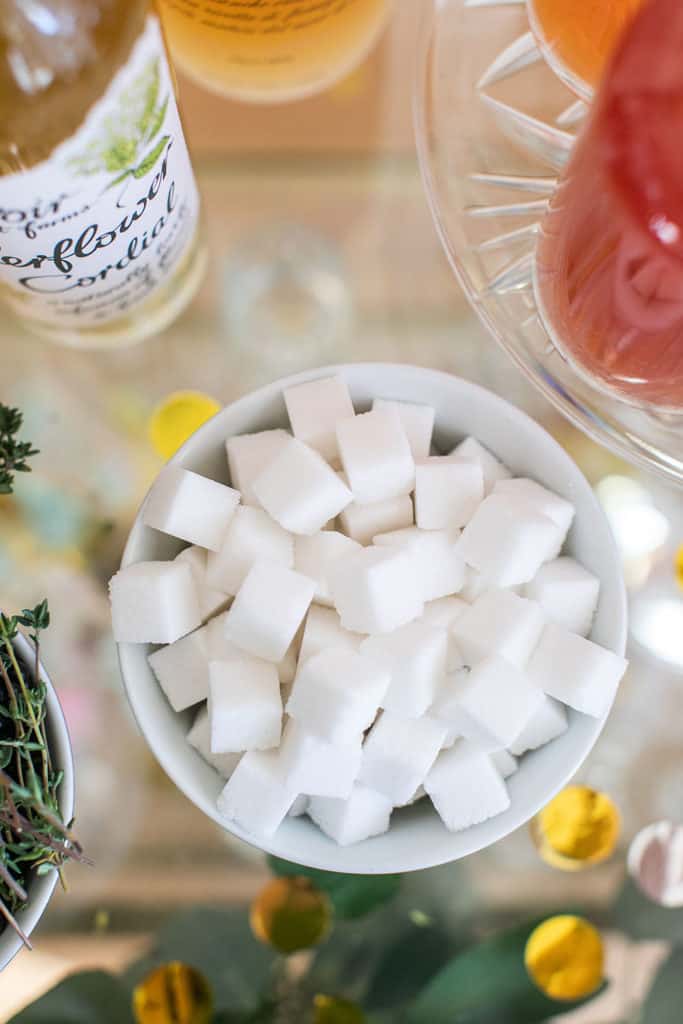 Garnishes
Lastly, add a few extra garnishes on the bar to make the cocktail sparkle even more!
Festive Drink Stirs
Paper Straws
Sparklers (never drink with a sparkler in the cocktail)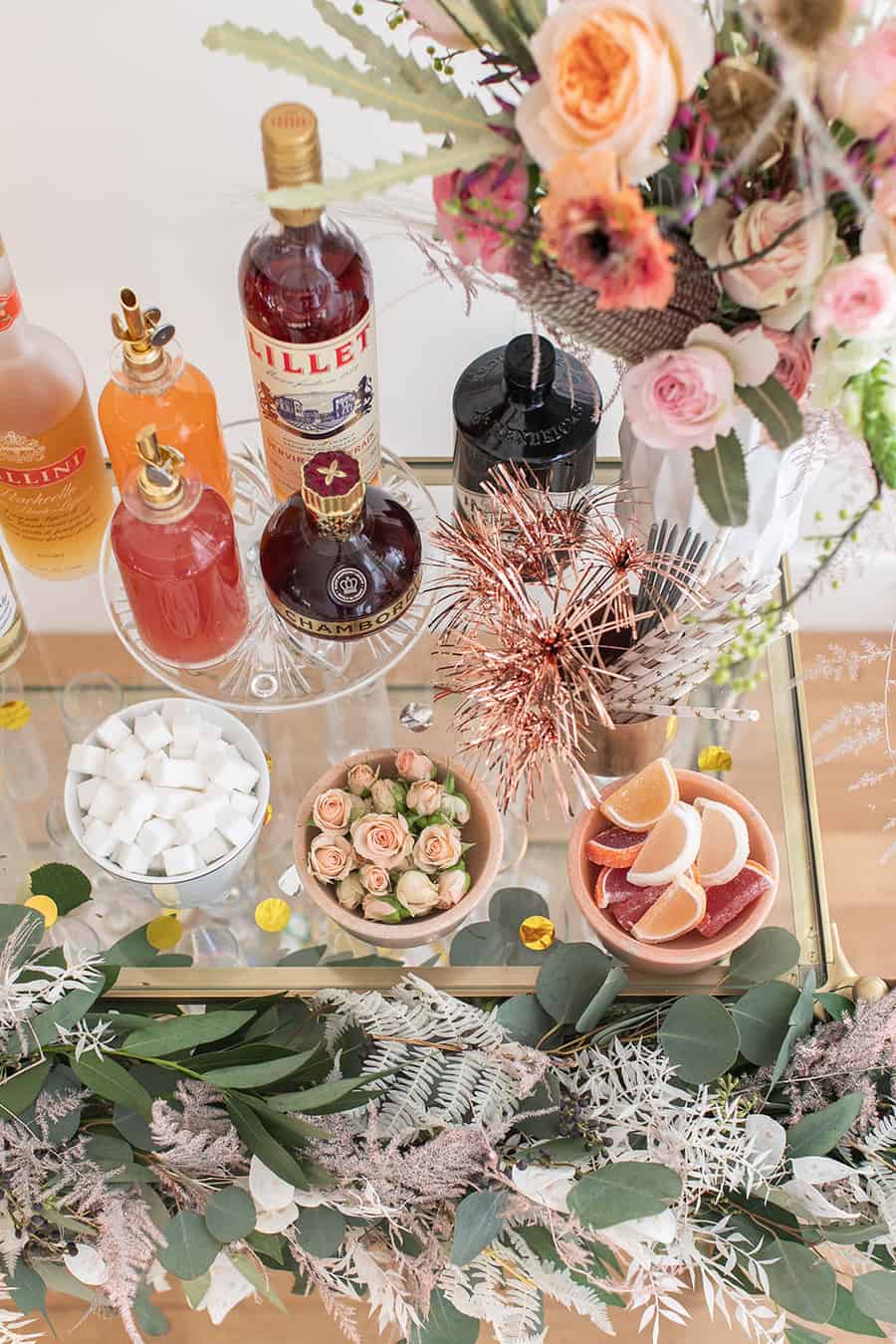 New Year's Eve Champagne Bar Decorations!
Decorating the bar is just as important as making the drinks! Make it festive, fun and over the top! It's New Year's Eve and this is how you'll make it feel like a real celebration.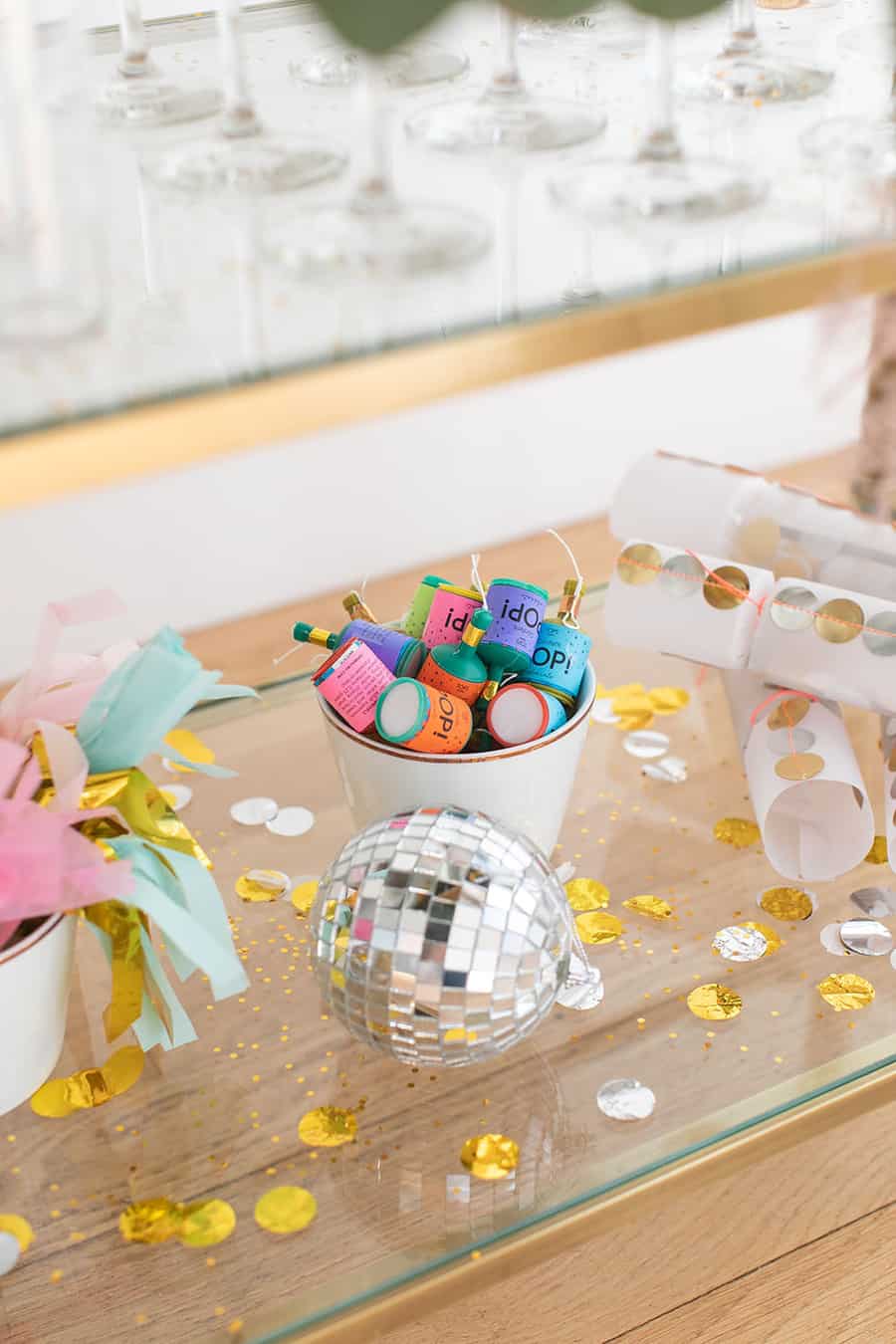 Poppers, Party Horns and Sparklers
Have party poppers, sparklers and party horns available for guests. Make sure everyone has one when the ball drops!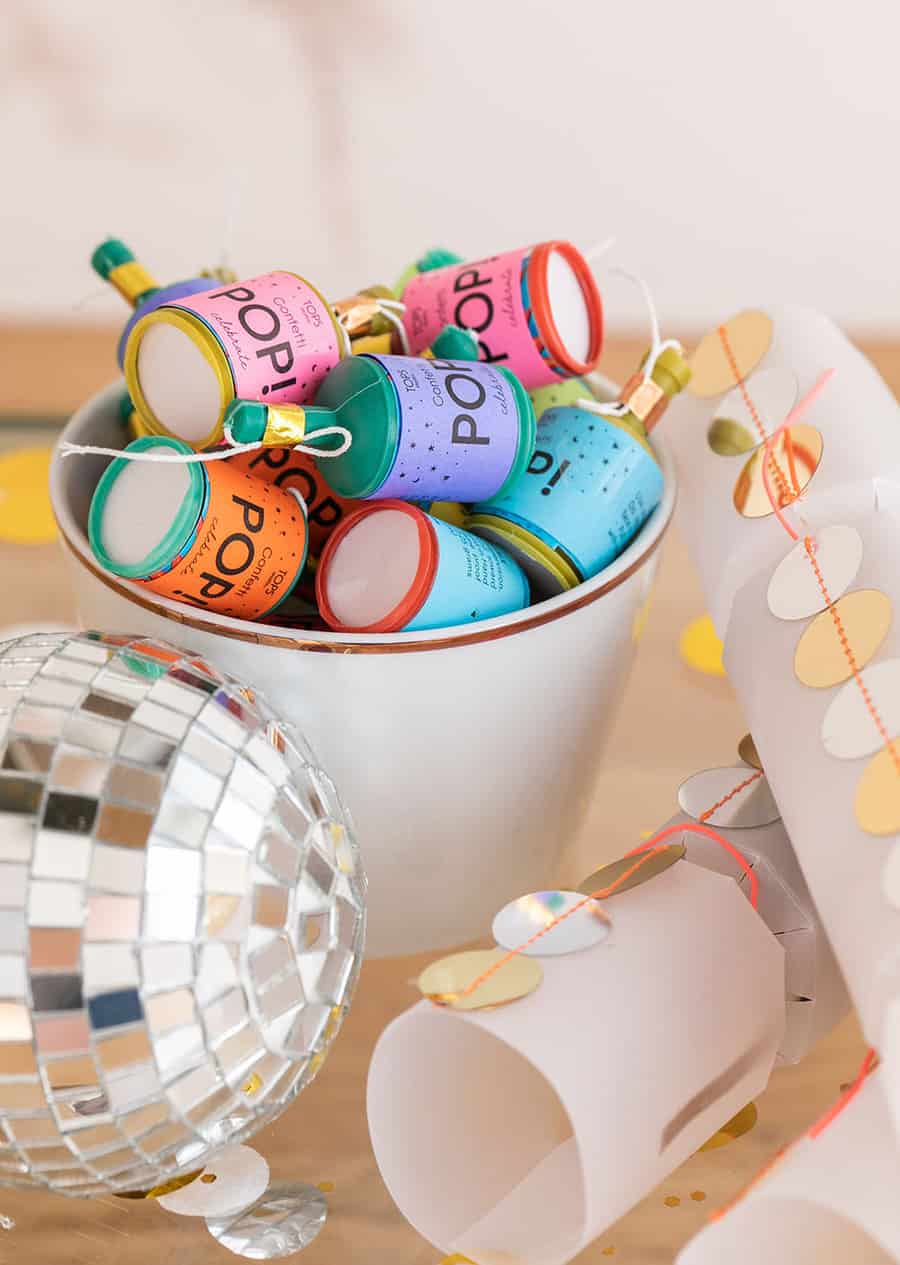 New Year's Eve Flowers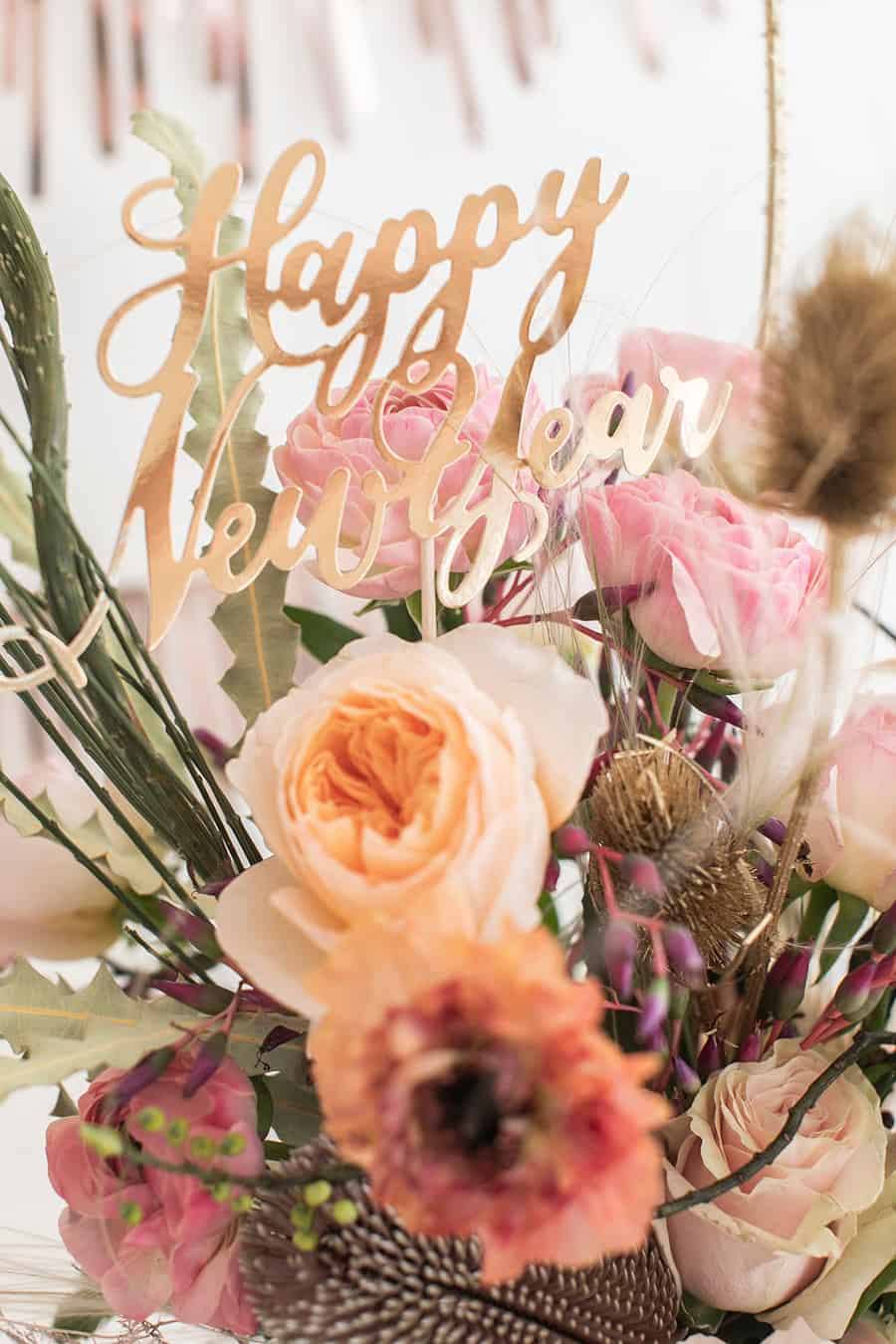 Flowers are the best way to decorate for a party. Hire a local florist to make you a show-stopping arrangement for the Champagne bar. If you're using a bar cart, add a festive garland to it to make it shine!
White Fig Designs made these special floral arrangements for our bar cart.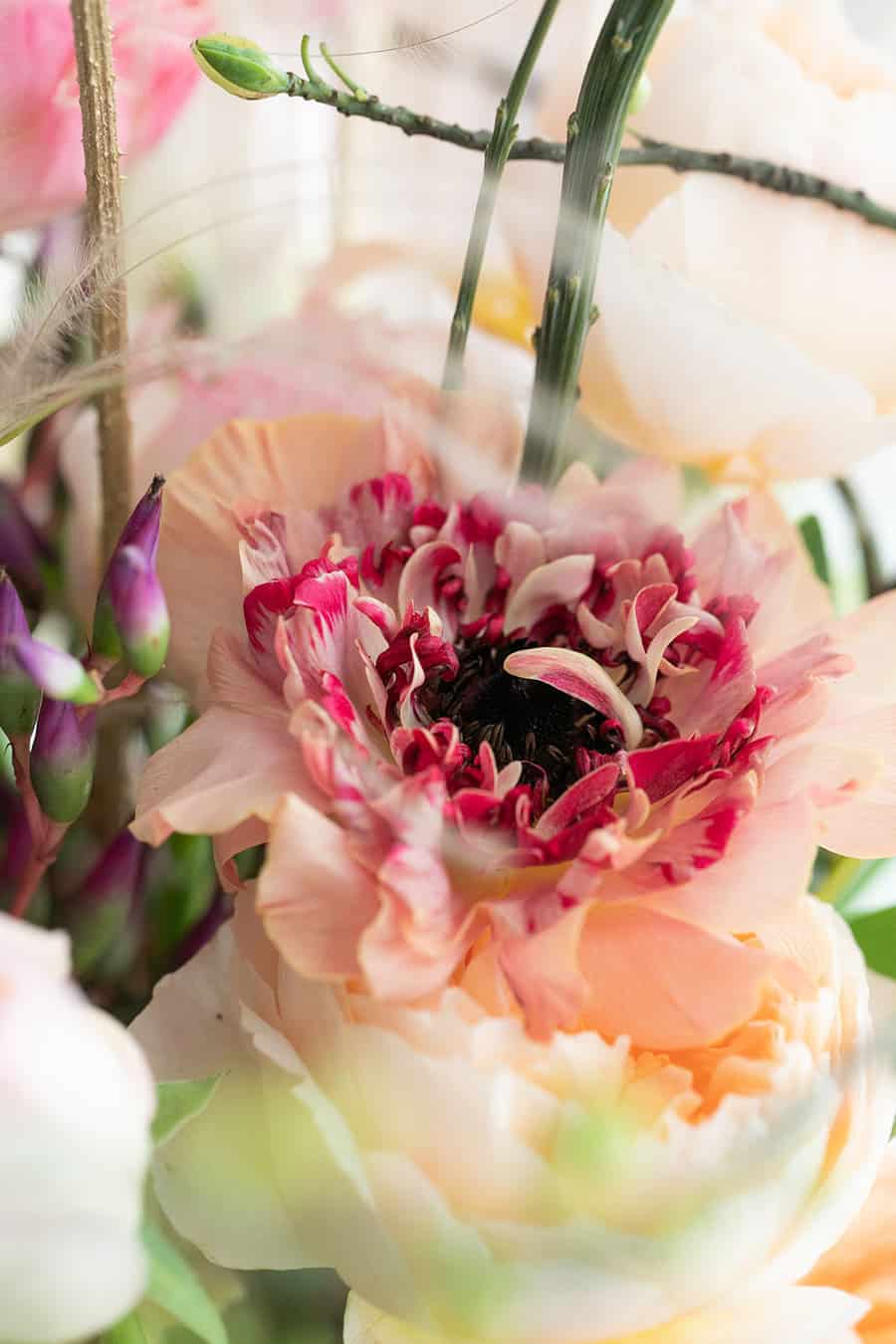 New Year's Eve Cheese Platter
Serve an epic cheese platter to go with your Champagne board! Here is a step by step guide to creating the best cheese platter ever!
You can also create a fruit platter or a fruit and cheese platter to go with your Champagne bar.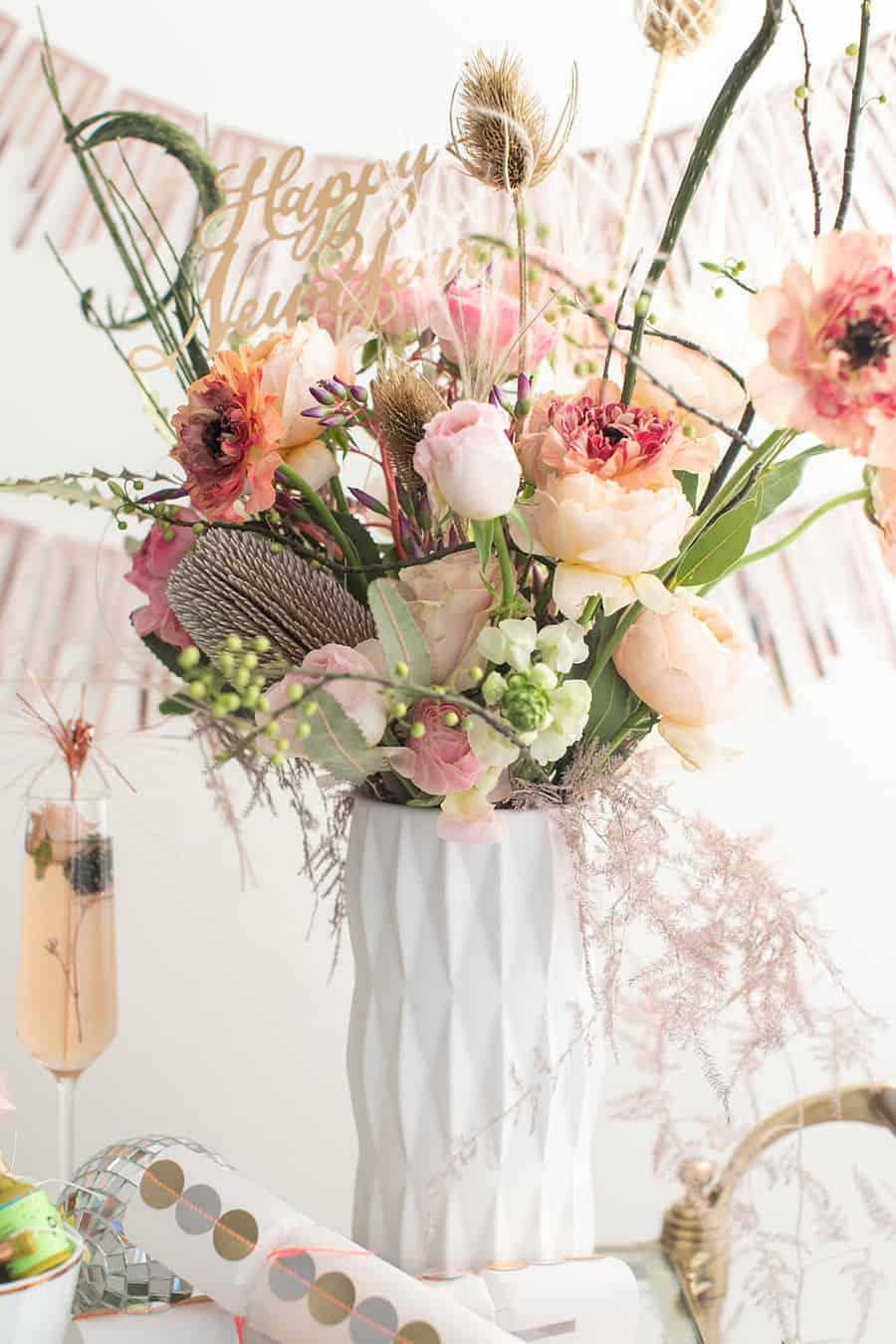 And there you have it! A fun New Year's Eve party idea that will wow your guests and make your NYE party at home festive and fun!
More New Year's Eve Ideas!
How to Make a Lemon Drop Martini
Create a Cocktail Snow Cone Bar
More Bar Ideas for Entertaining
Let us know if you make this fun Champagne bar by leaving a comment below!
You can also FOLLOW US on FACEBOOK, INSTAGRAM, and PINTEREST to see more delicious recipes, cocktails, desserts, and parties!
This post may contain affiliate links. Please read our disclosure and privacy policy.