We're proud to present Sugar and Charm's party buying guide! It's an excellent resource for buying party essentials like drinks and snacks for entertaining up to 24 guests!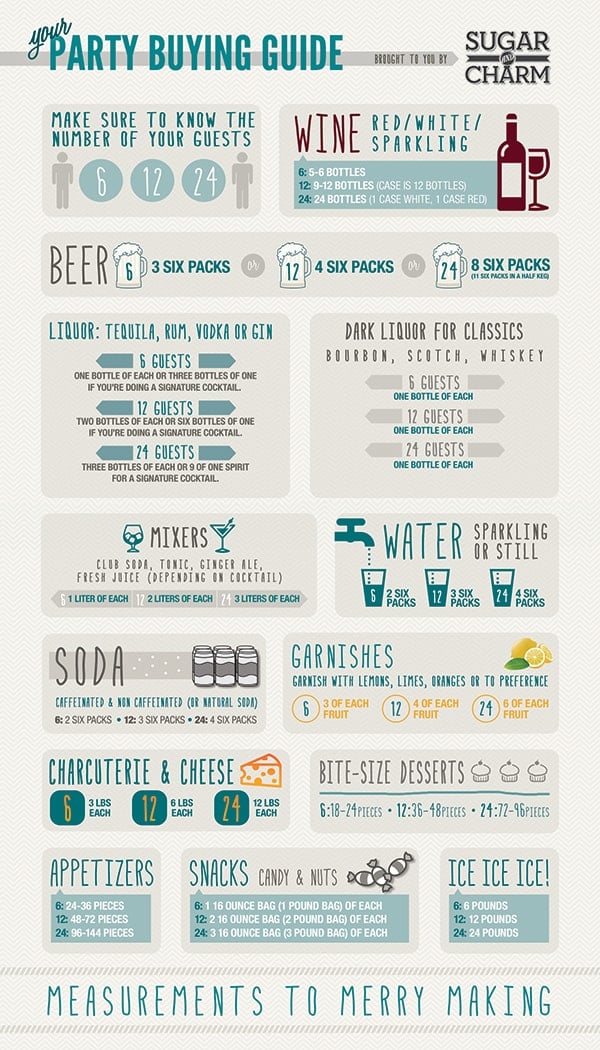 If you ever need to know how much liquor or bite-sized desserts to buy, this guide will be your best friend. Be sure to Pin it so you always have this convenient buying guide on hand! For a printable PDF download click here!
Party Buying Guide Questions
How much ice do you need for a party?
Have 1 pound of ice per person during the part.
How much water do you need for a party?
If you're buying water, try to buy glass water bottles. 2 six-packs for 6 guests, 3 six-packs for 12 guests and 4 six-packs for 24 guests. You can also fill pitchers up with water for guests to pour themselves.
How many desserts do you need for a party?
Count one bite-size dessert or one slice of dessert as a piece of dessert.
6 Guests – 18-24 pieces
12 guests – 36-48 pieces
24 Guests – 76-92 pieces
How many appetizers fo I need for my party?
6 Guests – 24-36 pieces
12 guests – 48-72 pieces
24 guests – 96 – 144 pieces
How much wine do I need per person?
This can be a tough question since some guests will drink more and some less. It's best to always have extra bottles so you don't run out. Here's an average hourly calculation.
1 hour = 2 drinks
2 hours = 3 drinks
3 hours = 4 drinks
4 hours = 5 drinks
5 hours = 6 drinks
Our Easy & Helpful Tips for Serving Wine is great to check out before hosting your party!
Party Recipes and Ideas!
Greek Mezze Platter is perfect for a crowd!
64 Best Appetizers for a Party
Fish n' Chips! This is a fun twist on the classic!
A Charming Outdoor Movie Night
Outdoor Pizza Night
We hope that we've answered a few of your party buying questions! Now go host a party!