It's all about red, white, and watermelon for this 4th of July party! We're sharing 4th of July party ideas to celebrate Independence Day!
Also check out our easy entertaining ideas for the 4th of July, 4th of July Party Ideas, more party ideas and how to create a 4th of July floral arrangement.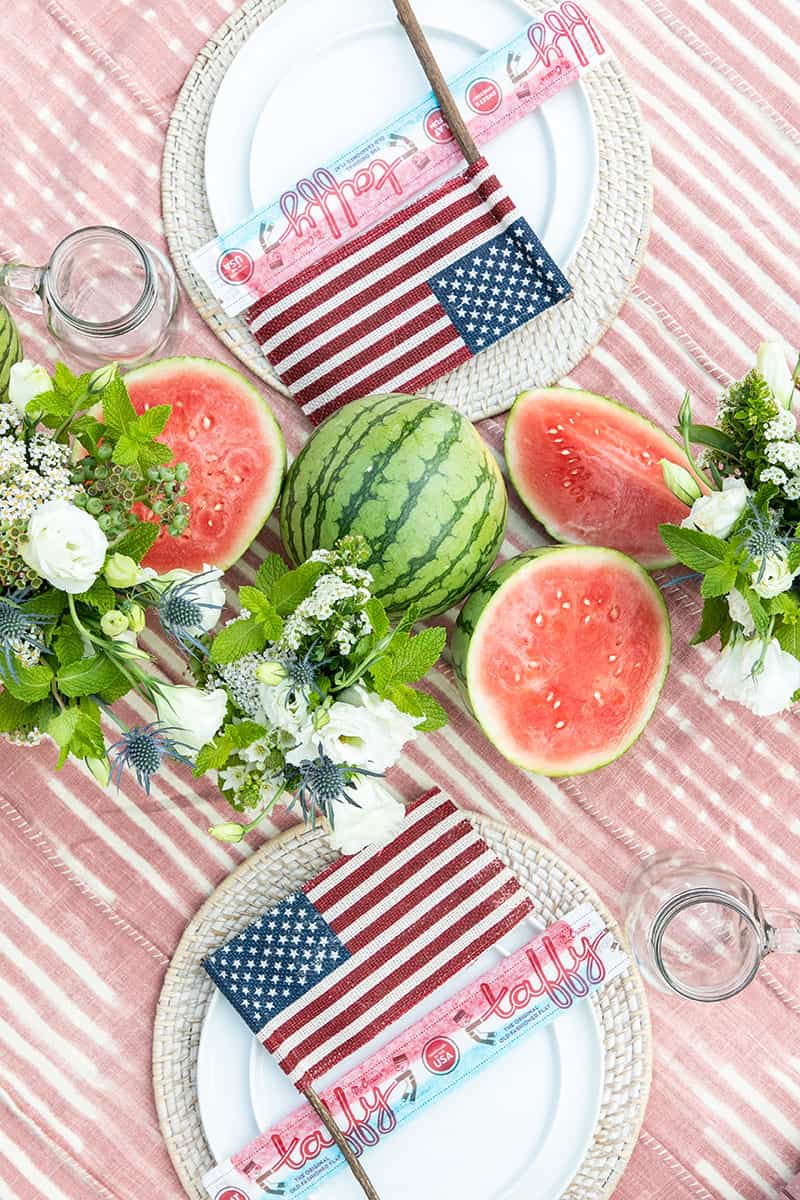 For this party, we used watermelons as the main focus. We created a centerpiece down the center and then incorporated them throughout the party with watermelon beachballs, watermelon water, food, desserts… and more!
How to Throw a 4th of July Party
Send email invites 6-4 weeks before the 4th of July.
Pick a theme! Of course, the 4th of July is a great theme, but we wanted to switch it up and make focus on our favorite summer fruit, watermelon!
Shop for party decorations online and in-store. See our shopping guide below. Start shopping early so it's not a rush to get party supplies the day before.
Plan the menu and if guests are bringing food items, let them know what they can bring.
Start setting up for the party the day before. Do everything from hanging decorations to making make-ahead food items.
Enjoy the party! Most people head to a parade in the morning and then a 4th of July party in the afternoon, early evening.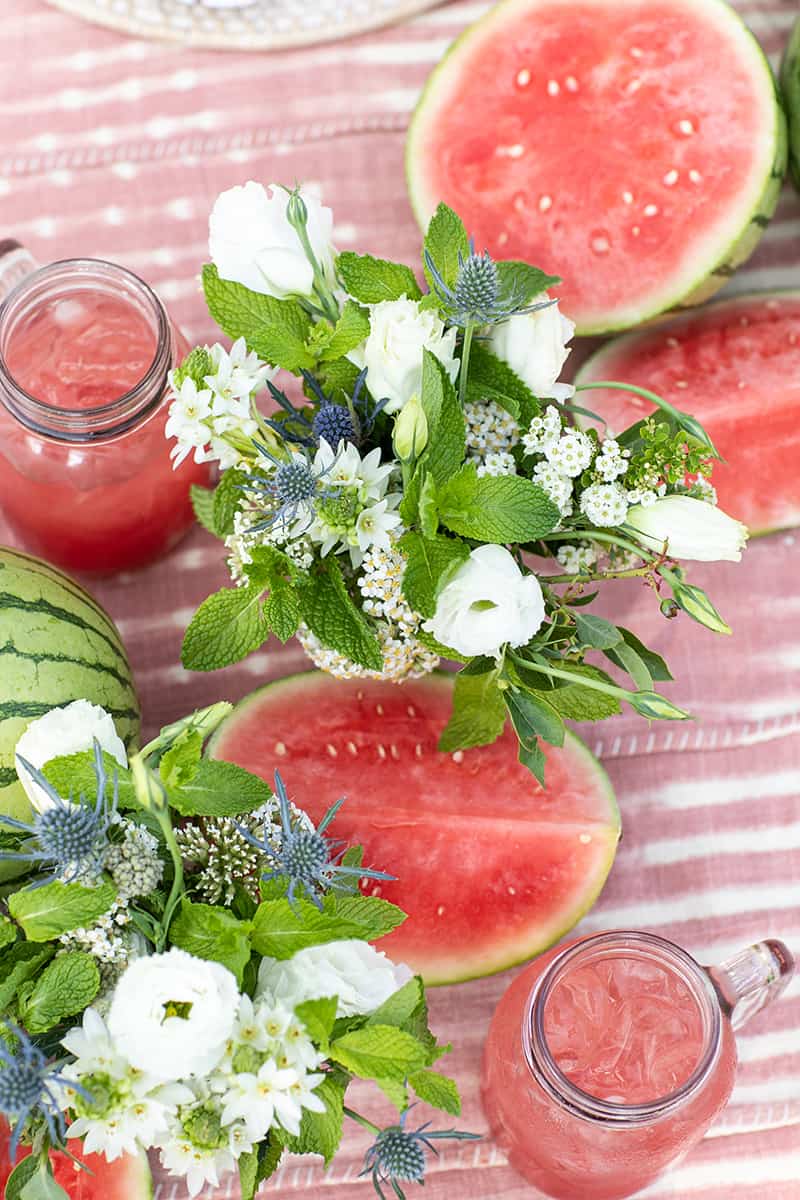 4th of July Party Ideas
This is one of our favorite holidays to decorate for! Since this 4th of July theme is all about watermelon, we made sure watermelon was the focus.
Flags – Hang flags and flag bunting over patios and doorways.
Watermelons – Cut watermelons in half and in fourths to use down a table setting.
Flowers – Blue and white flowers are the perfect decoration to add to a table setting.
Candy Vases – Red, white and blue candy in tall vases makes an easy party decoration.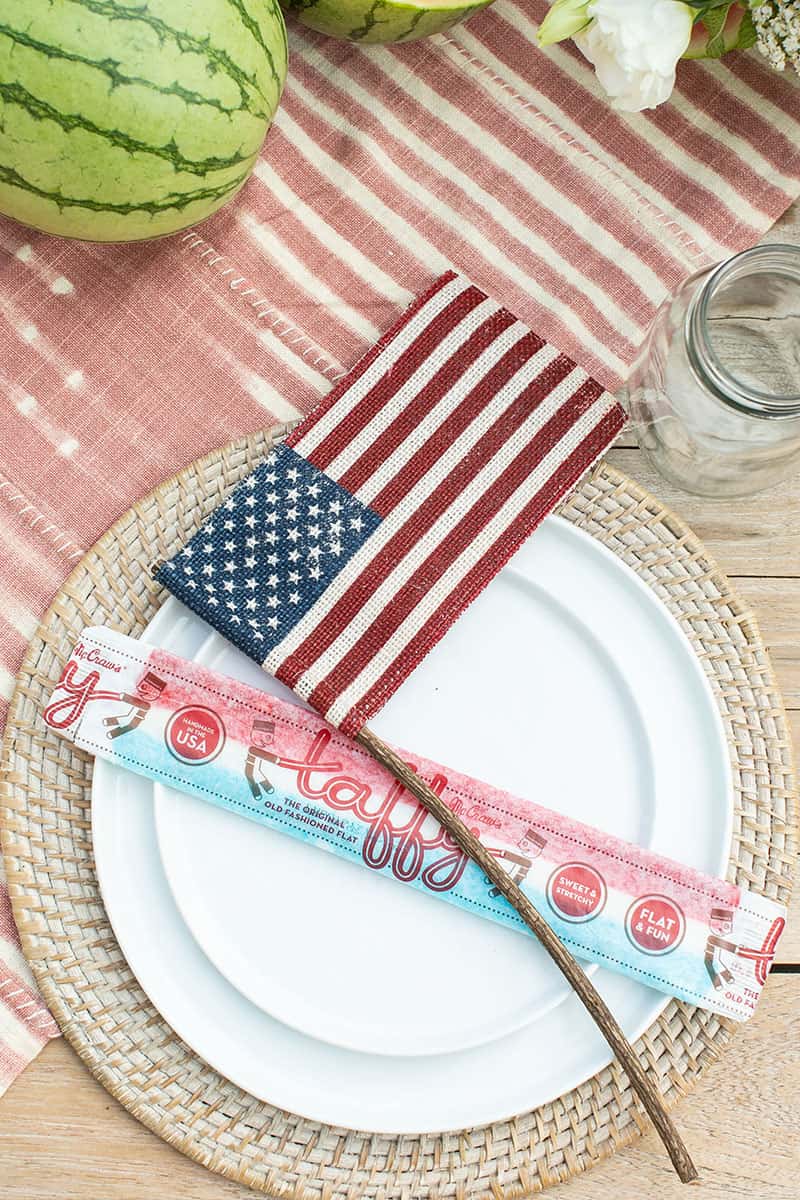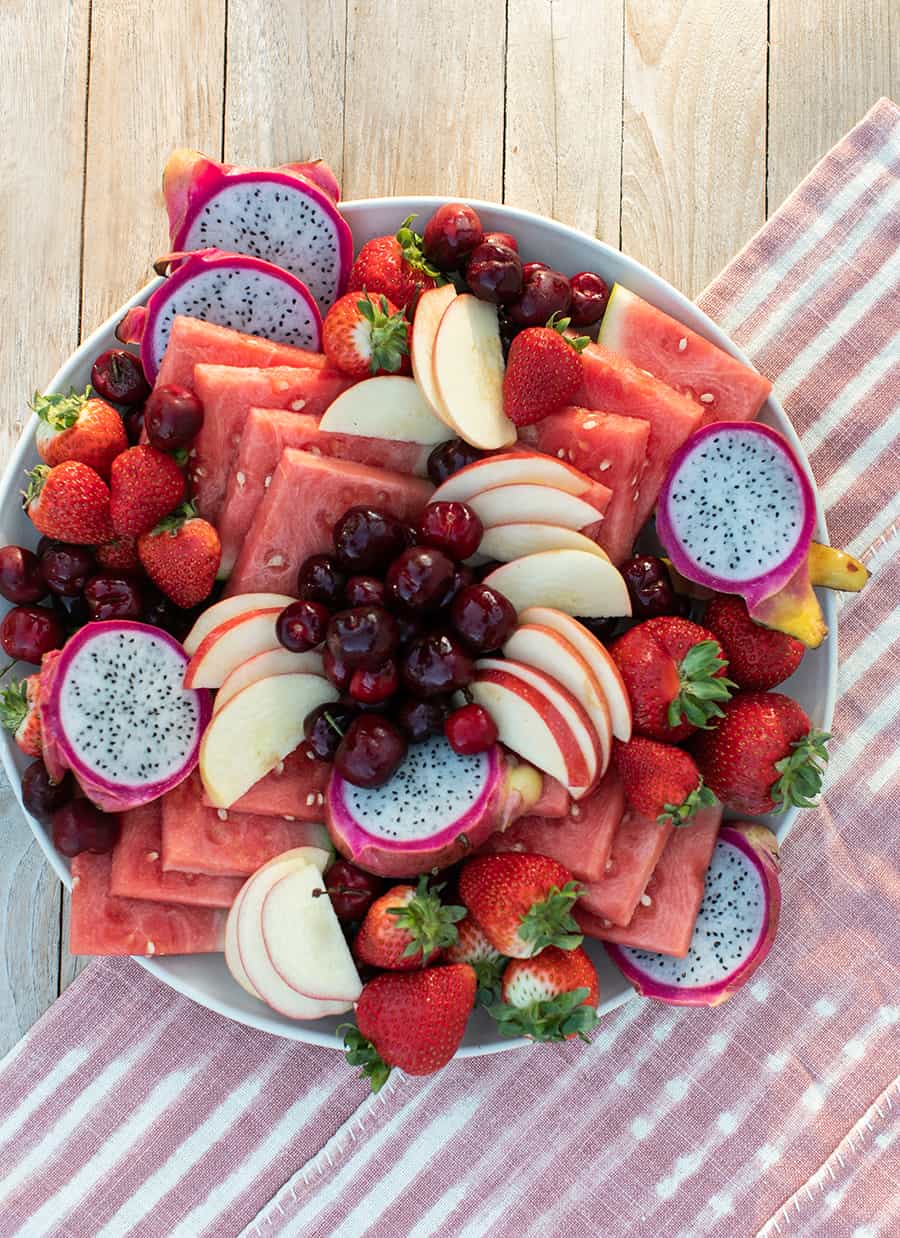 4th of July Party Food
It's all about outdoor entertaining for the 4th! Burgers, steaks, hot dogs! Here are some ideas to make your party delicious: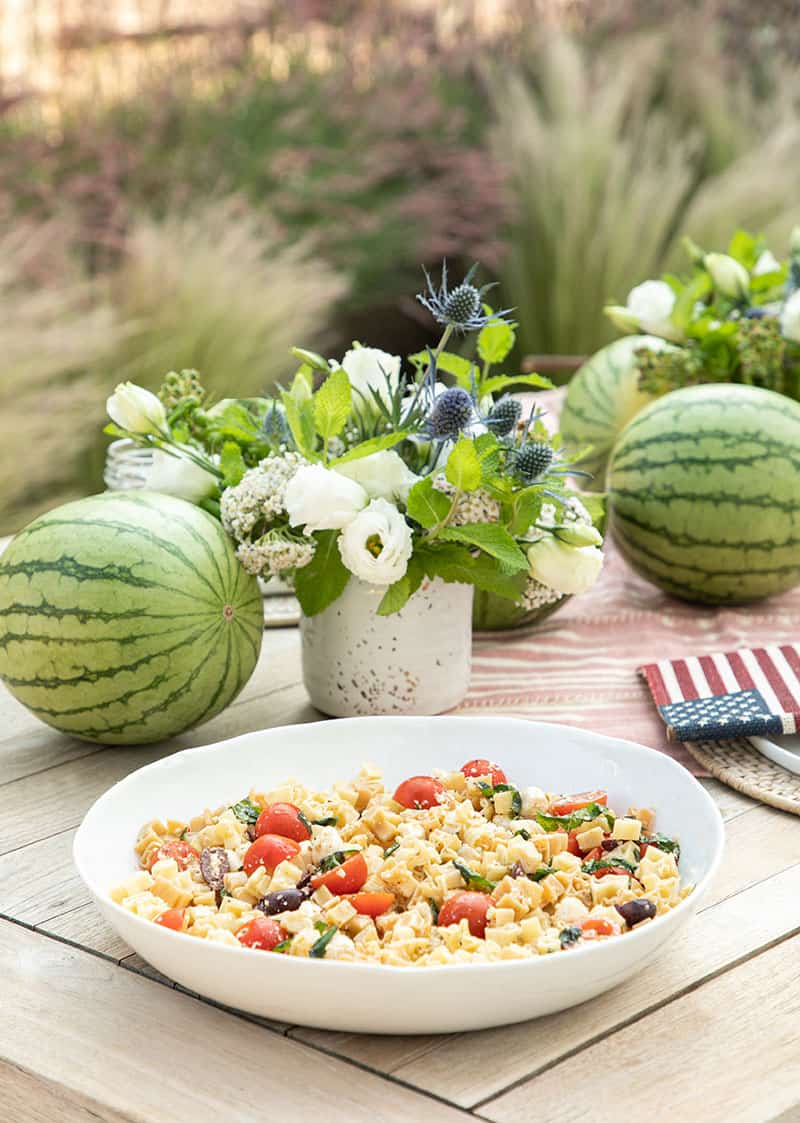 Here are 10 more watermelon recipes to make!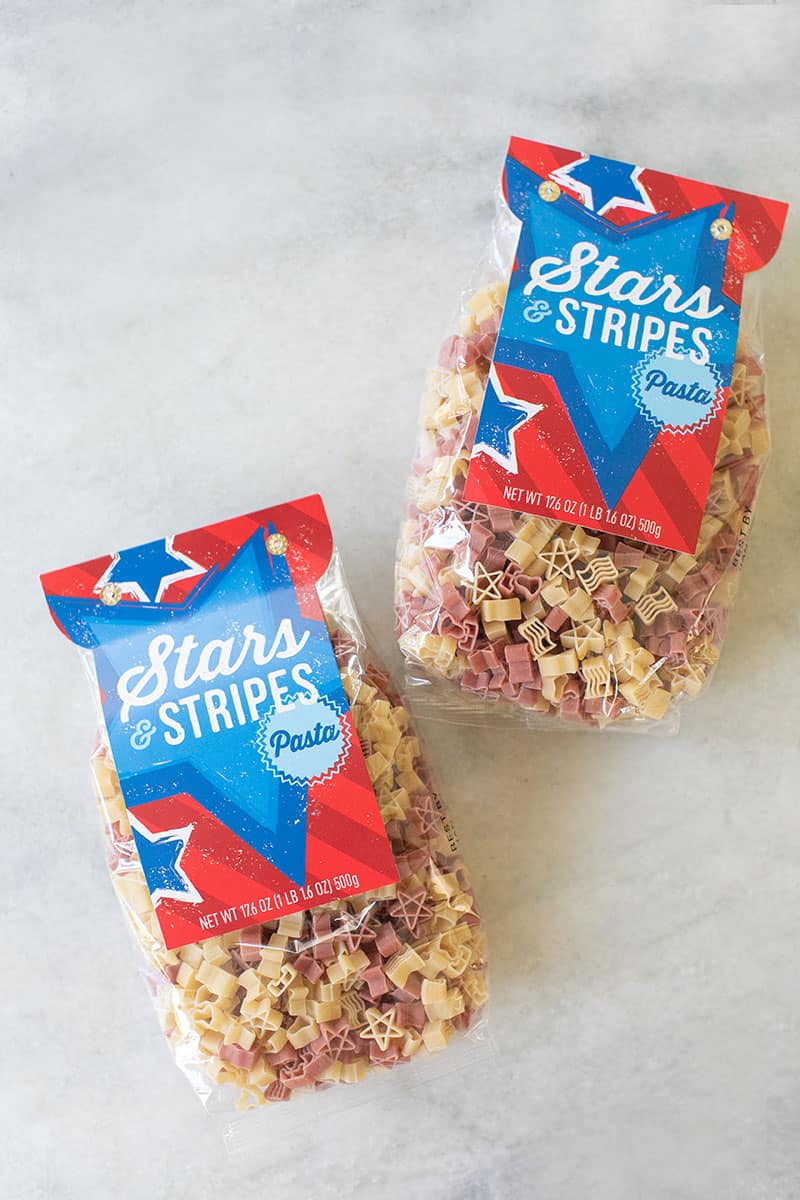 We made this delicious pasta salad using the most festive 4th of July pasta noodles! Love this stars and stripes pasta! The color boils out a little, but you still have the fun shapes.
Vintage red, white and blue Laffy Taffy is such a fun item to set on a table setting. It's these little vintage touches that make a party stand out.
4th of July Party Invitations
We're all about online party invitations, especially for casual gatherings like the 4th of July! You can easily track your guests' list, make updates and send reminders. Our go-to for online invites are Paperless Post, Minted and Evite.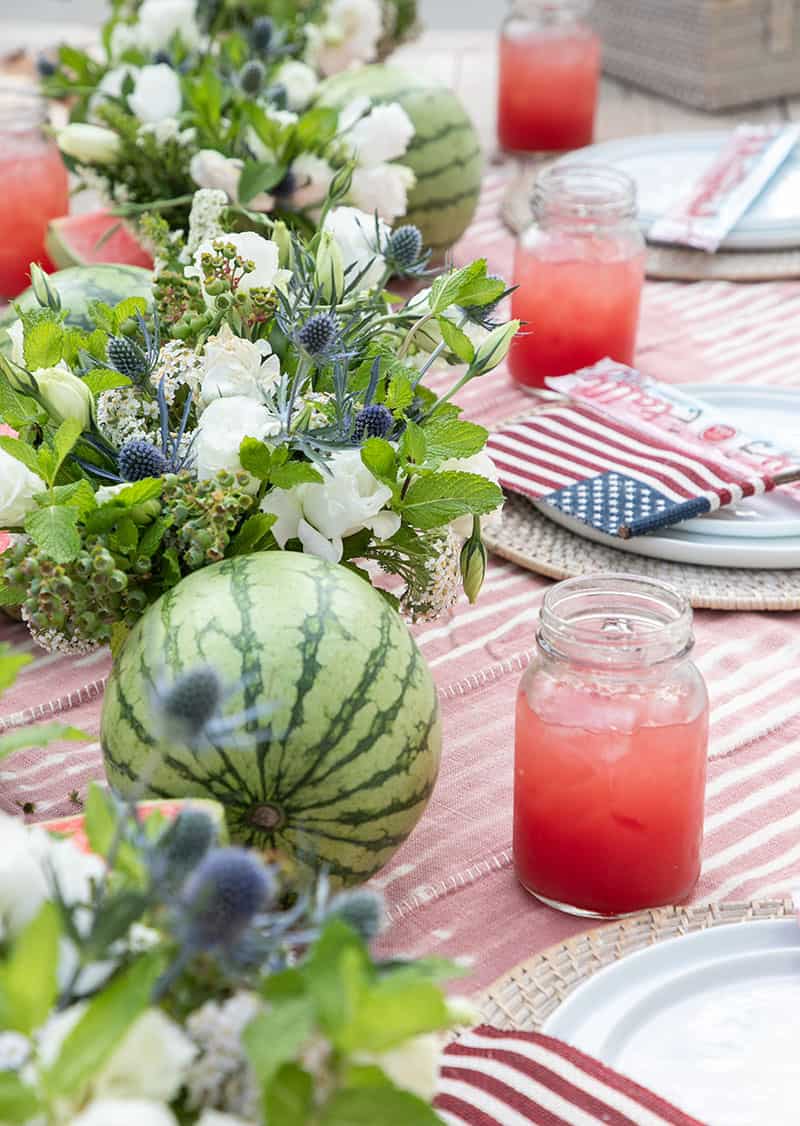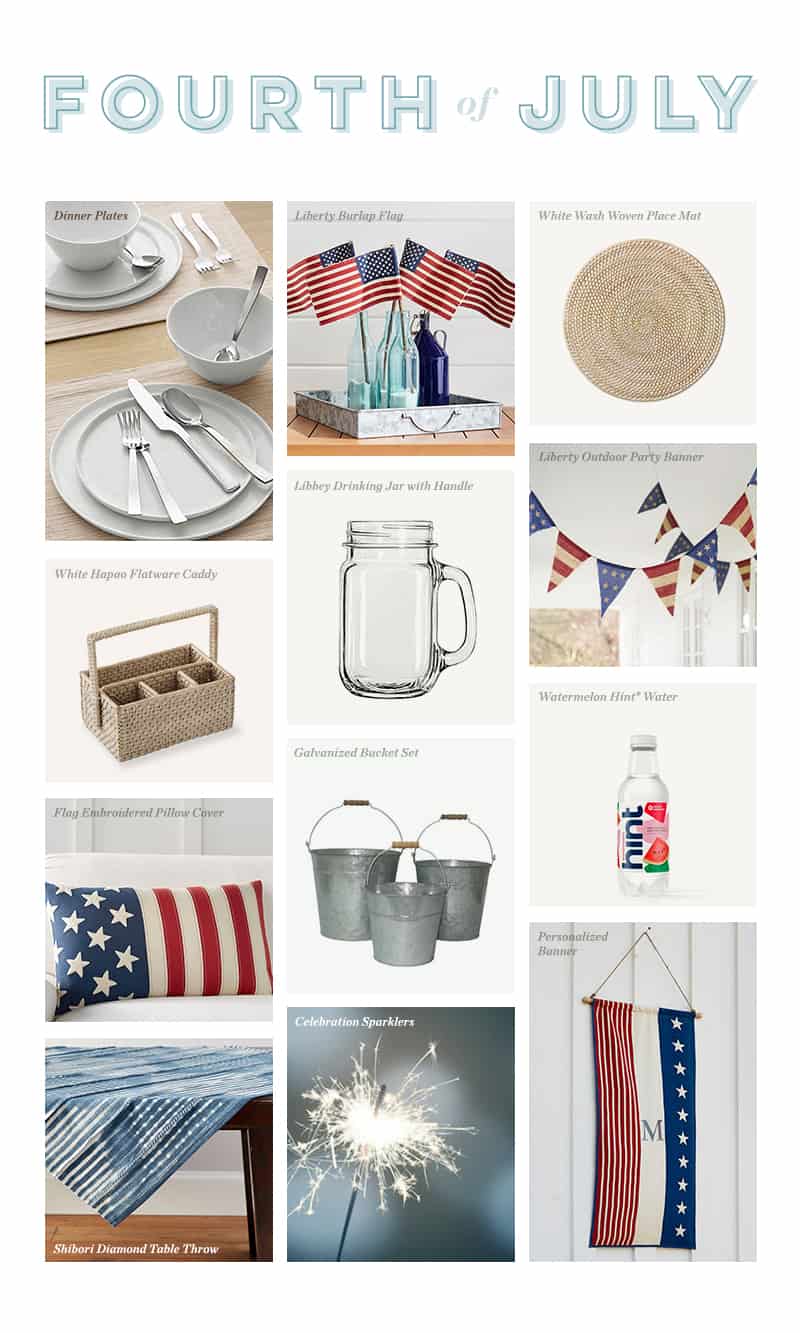 4th of July Party Decorations
It's hard to know where to buy 4th of July decorations! Here's a list of decorations and items we used for this watermelon-themed 4th of July party. Also, add in vintage items like fun vintage candy and sodas which also act as decor!
White Plates
These are my go-to for most events, but if you're keeping it more casual just buy some bamboo or white paper plates.
Burlap Flags
These are my absolute favorite!! I adore them! They're great quality and rustic looking.
Personalized 4th of July Party Banner
This is such a great decor item that you can use over and over again!
Woven Chargers
I use these a lot when entertaining outdoors. I keep the entire collection close by so I can quickly set a charming outdoor table. It's one of my favorite lines that Williams Sonoma carries right now.
Flatware Catty
From the same collection, this is a staple for summer entertaining! Holds napkins and utensils and makes them easy to carry outside.
Glass Jar with Handle
These are just classic American drinking jars! I love how big they are and how much they hold and they're just fun! Serve beer, cocktails, or strawberry-infused water.
Burlap Bunting
This is a classic burlap bunting that goes with the flags and the sign! Great quality and looks gorgeous above a table setting or front door.
Galvanized Buckets
So versatile! Great for flowers, sparklers, drinks and you can use them all summer long. This is a set of 3 and I love the wooden handle.
Water
We love the small details, so we served hint water in watermelon!
Festive Pillows
This holiday really brings out my patriotic side! I just love a few fun American throw pillows for outdoor chairs. Instant, charming decor!
Table Throw
This is one of my favorite table throws! They have it in blue or blush color. We used the blush color for our watermelon party! It's a diamond shape, so you just toss it over a wooden table or it's a great picnic blanket too.
Sparklers
Wouldn't be the 4th without sparklers! We like these extra-long ones so there's more time for fun!
If you're having a more casual party, stack white paper or bamboo plates near the food and use a silverware caddy for napkins and utensils.
4th of July Desserts
It's all about red, white, and blue when it comes to 4th of July desserts. Fresh berries, ice cream, berry pie… classic American desserts! We also like to add a little unexpected charm by serving watermelon tequila pops or maybe a fancy confetti cake!
Ice Cream Floats with Watermelon Juice
Pina Coladas with Watermelon
You can also toss together an easy dessert charcuterie platter filled with red, white, and blue treats!
Setting the Table
There are several ways you can set a table for your party. Follow our table setting guide to learn how!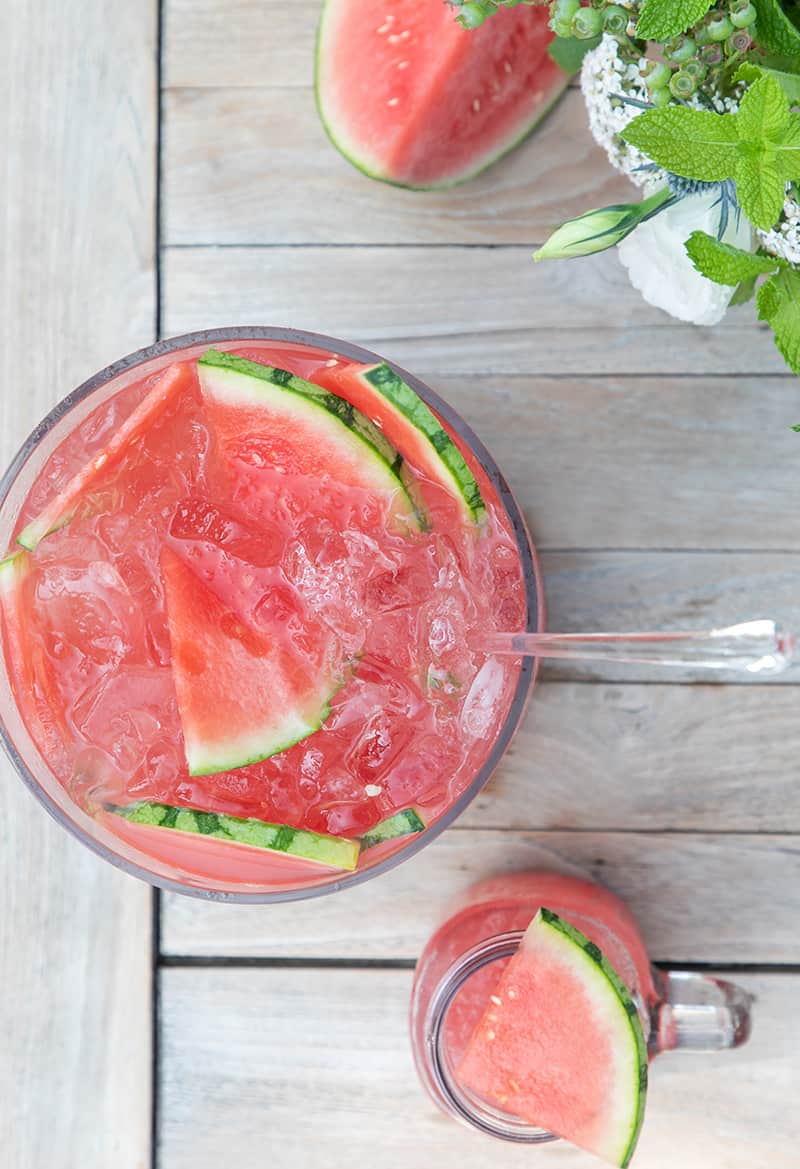 4th of July Drinks
One of the most important parts about throwing a successful party is serving some good drinks! Here are a few suggestions:
Party Punch with Tequila with Watermelon Juice
Hint Watermelon Water – Boxed water for kids too!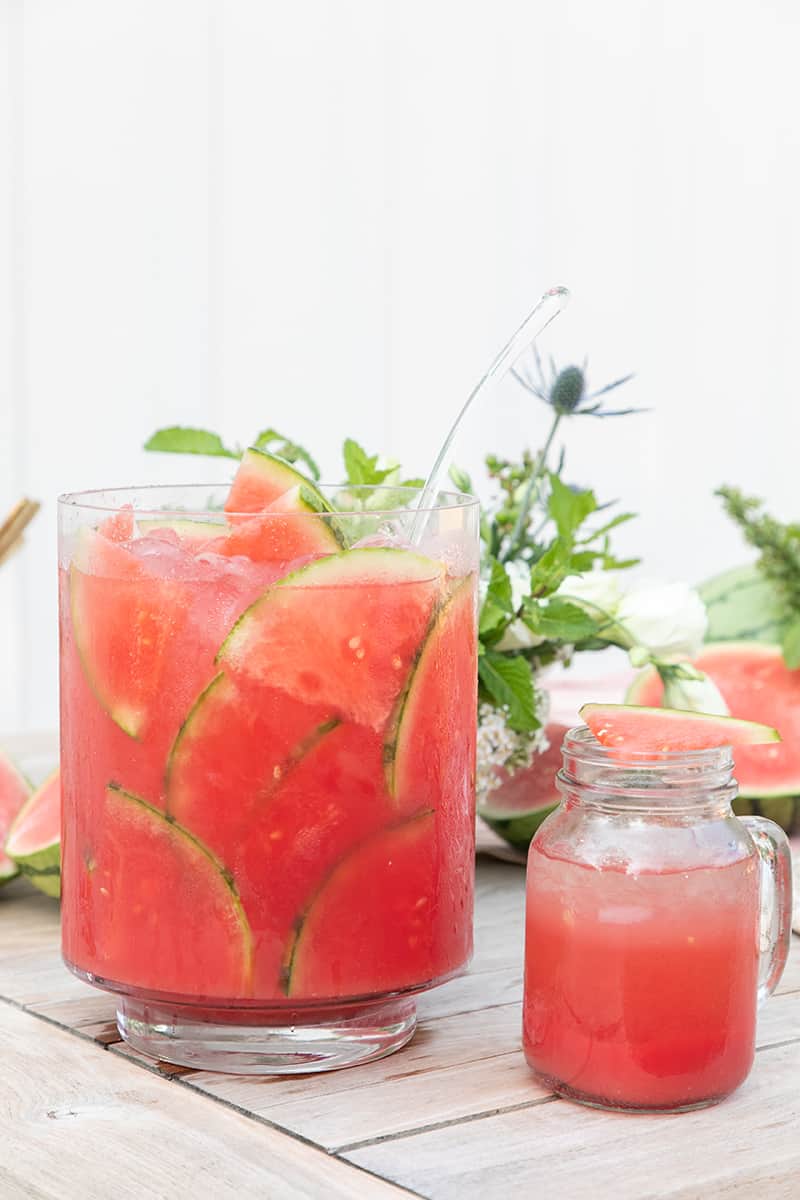 More Party Ideas
Here are more fun summer party themes to host!
We hope you have a festive and safe 4th of July! Let us know if you use any of these ideas for your 4th of July party! We'd love to see your photos too! Share your party ideas with us by tagging @sugarandcharm on social!
You can also FOLLOW US on FACEBOOK, INSTAGRAM, and PINTEREST to see more delicious recipes, cocktails, desserts, and parties!
This post may contain affiliate links. Please read our disclosure and privacy policy.