It's all about the homemade blue cheese dressing with this classic wedge salad recipe! Literally the BEST wedge salad dressing I've ever had. It has extra flavor from the buttermilk, hot sauce, and fresh lemon juice.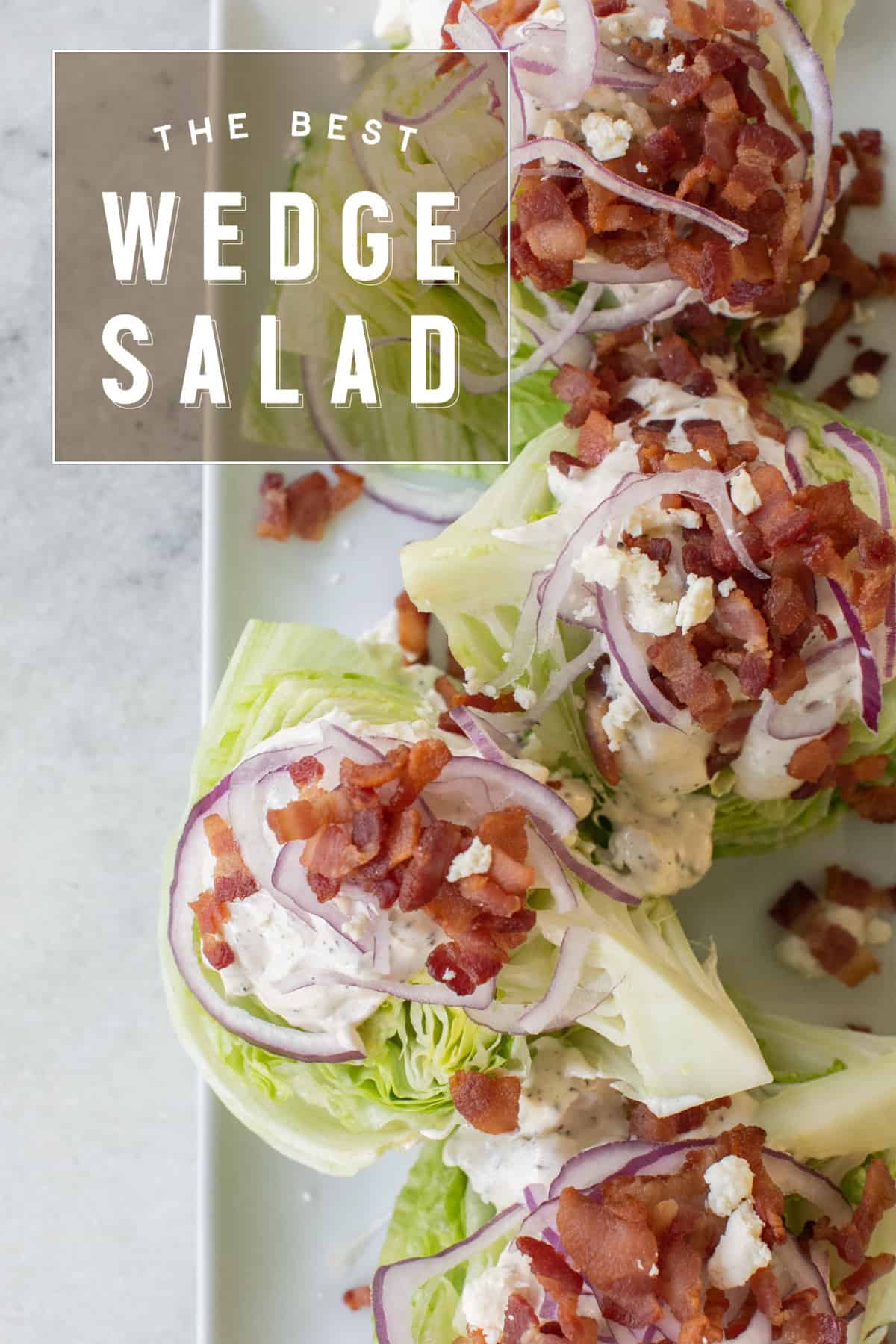 This salad is perfect as a side dish or even for a light lunch. If you're going to serve an easy wedge salad, make a homemade dressing. It's so worth it! We promise you will make this recipe over and over!
It wasn't until my 30's that I started making a wedge salad at home. I've always ordered them, mostly when we dined at a steak house, and it's been one of my favorite salads for years.
Once my mother-in-law shared this recipe with me, I was hooked! It's hard to even order them at restaurants now because nothing compares to this. Really it's all about the dressing (SO GOOD) and a simple onion trick too!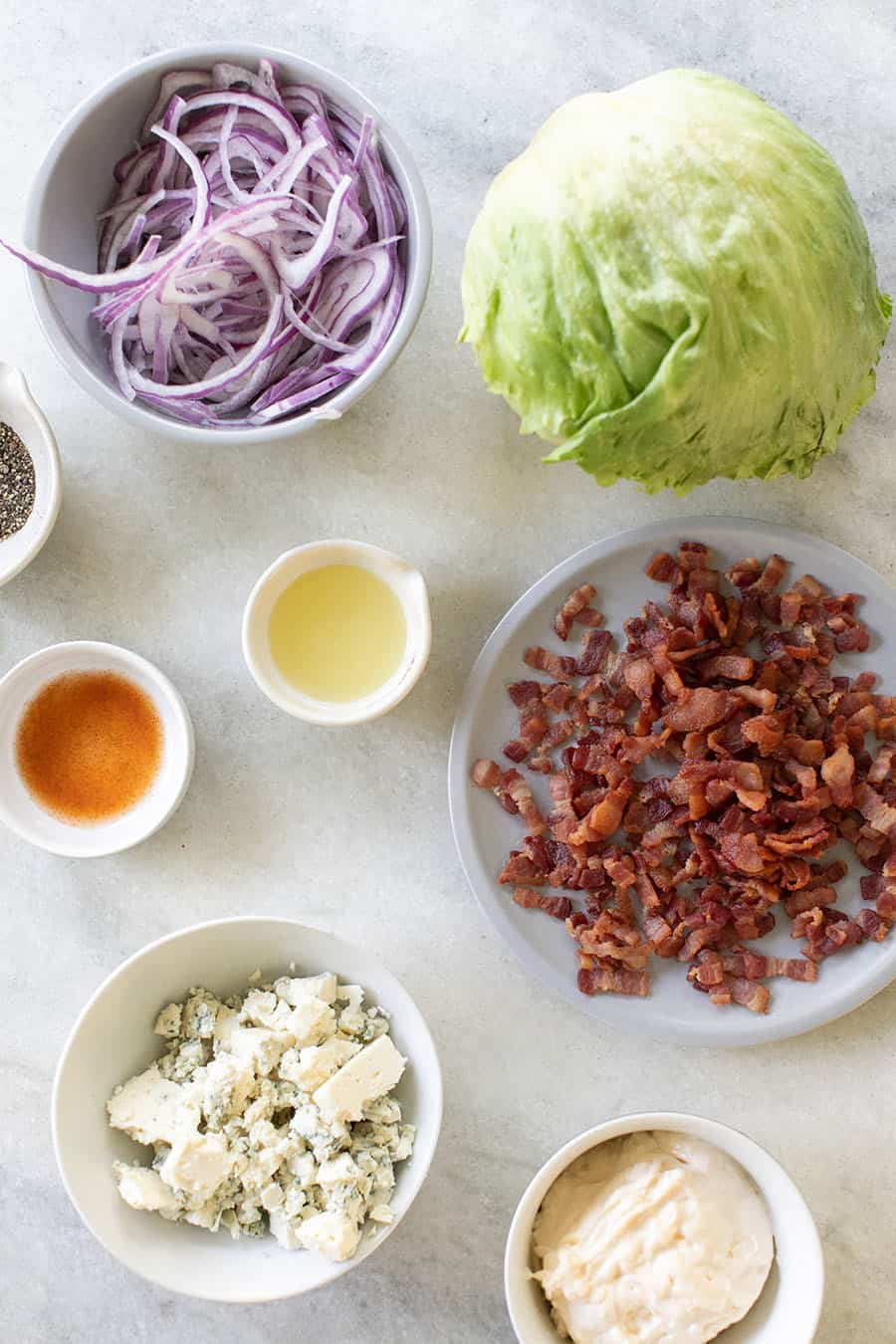 How to Take the Bite out of Raw Onion
Raw onions are a very important part of a wedge salad, but sometimes they can be a little intense! Here's a tip for taking the edge off of the raw onion and making them perfect for your salad.
Slice the onions as the recipe calls for, then soak them in ice water for 10-15 minutes. This will mellow the flavor a little. How easy is that?!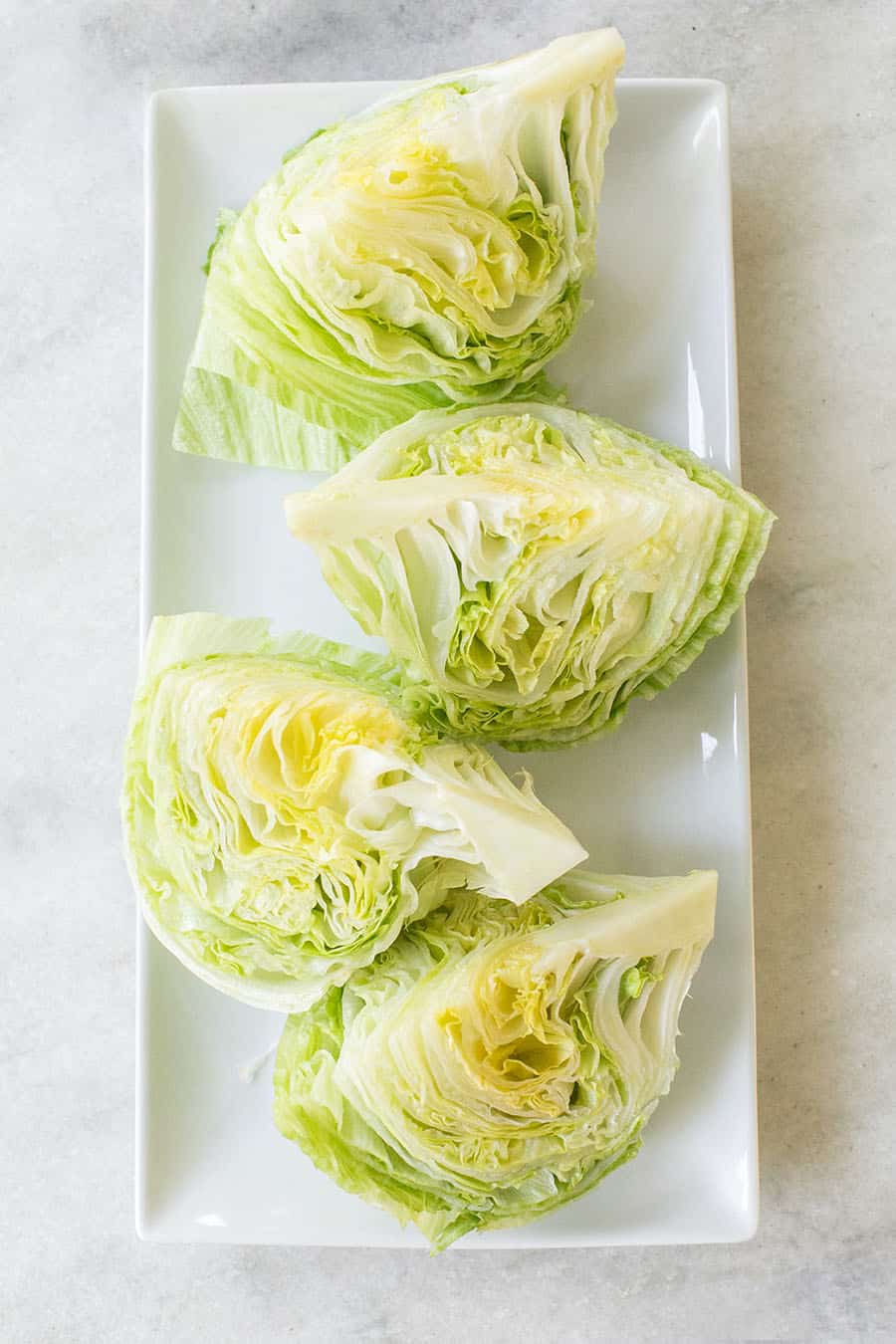 How to Cut a Wedge Salad… Into Wedges!
Using a pre-washed (if possible) crisp, iceberg lettuce, cut the round in half and then cut it in half lengthwise. This will give you four wedges. You can also cut the stem off, but I leave it all intact, which also keeps the lettuce together. Just two slices and a good wash and it's ready to be served.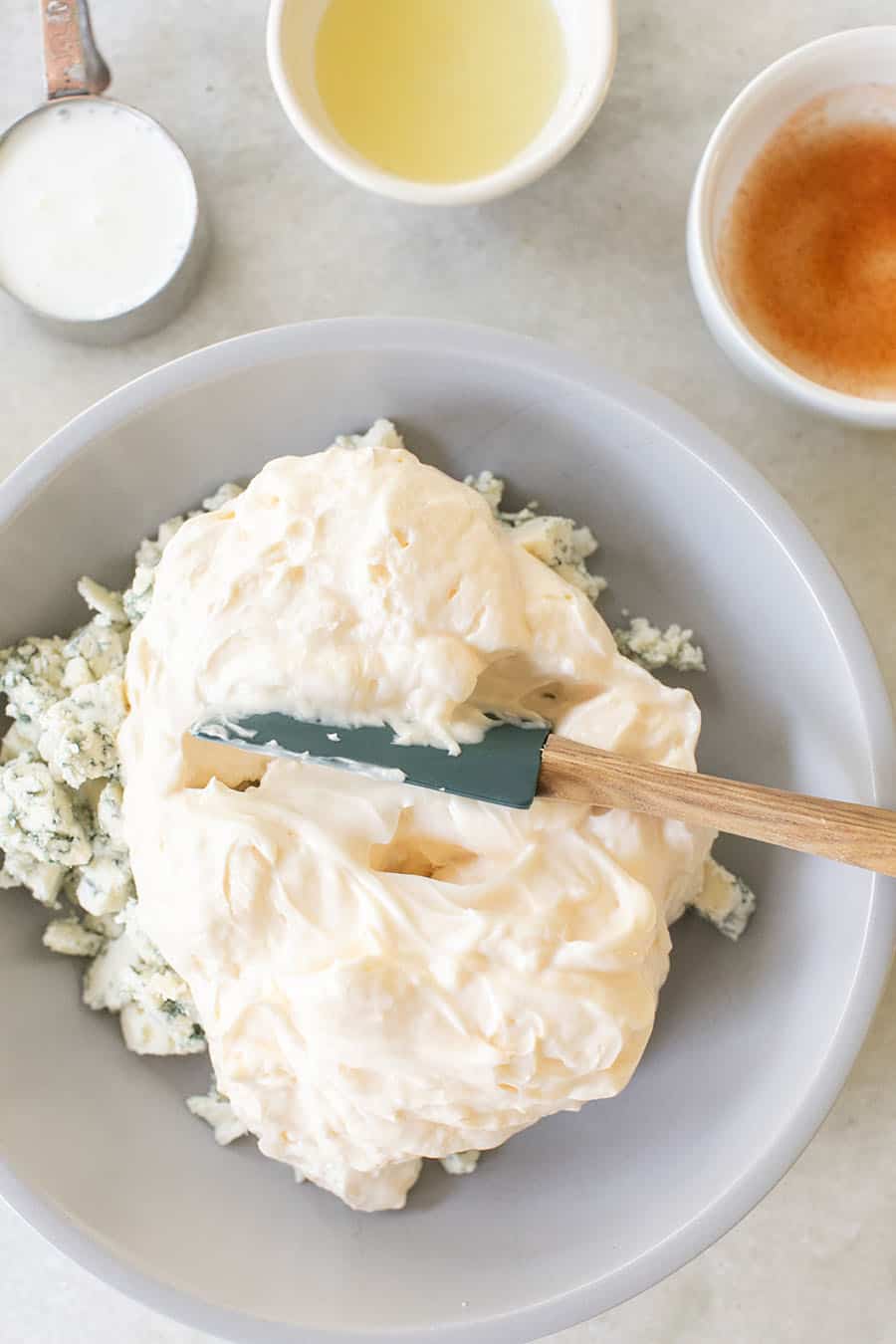 The BEST Wedge Salad Blue Cheese Dressing!!
Can we please talk about this dressing? The dressing is what makes this recipe so delicious! It has a little hot sauce, which gives it a kick, and fresh lemon juice in it.
The chunks of blue cheese are so good paired with the salad and it's all seasoned with salt and pepper. You just mix all of the ingredients below in a medium bowl and that's it! You will love it.
Ingredients
Mayonnaise
Lemon Juice
Tabasco Sauce
Blue Cheese
Buttermilk
Salt and Pepper
How to Cook Bacon in a Cast Iron Skillet
There are several ways to cook bacon, but when making a wedge, I like to cook it quickly in my cast iron skillet. If you don't have a cast-iron skillet, get one! They're affordable and last a lifetime!
Arrange 6-8 slices thick-sliced bacon in the cast-iron skillet.
Cook over medium heat until the bacon starts to brown.
Use tongs to turn the bacon over and brown on the other side.
Just a few minutes on each side should work.
Once fully cooked, remove and place on a paper towel to drain.
Cut into smaller pieces for the salad.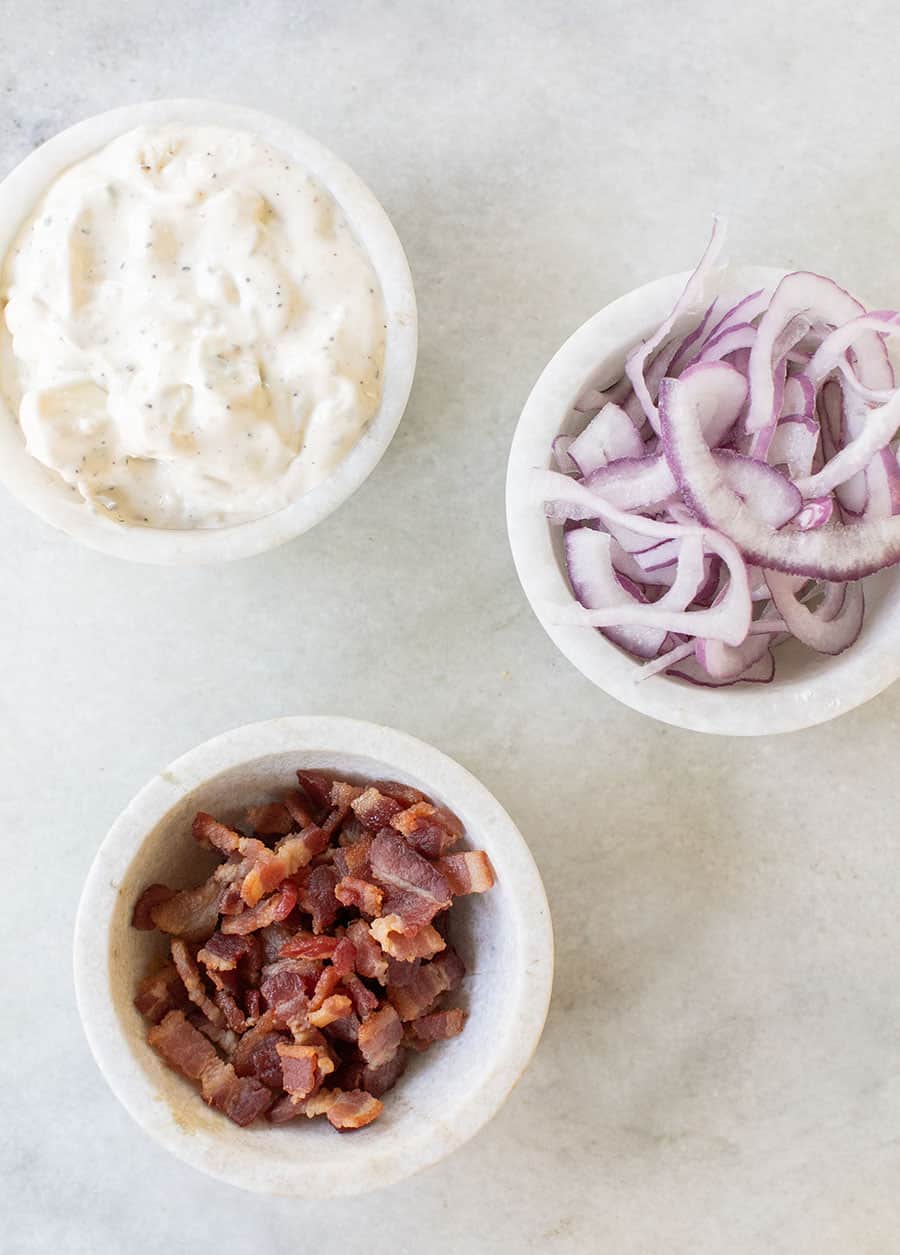 Classic Wedge Salad Toppings
I prefer bacon, our homemade dressing, and onions on the salad. I know people love tomatoes as a topping too. For some odd reason, I don't!
BUT tomatoes are perfectly acceptable and traditional on a wedge salad, so add them if you like!
Homemade Dressing
Sliced Onions
Thick Cut Bacon
Salt and Pepper
Tomatoes (if you prefer)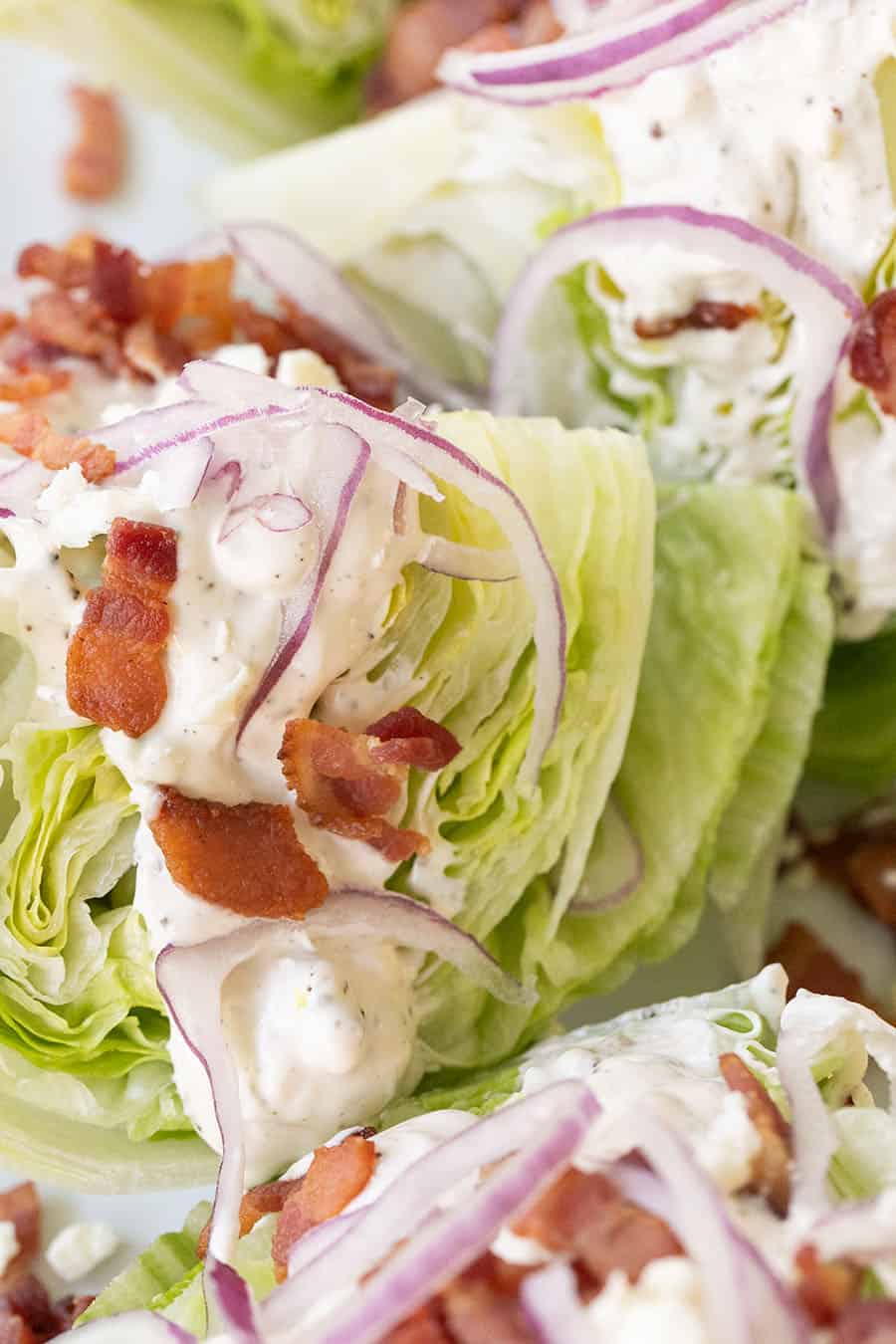 I like to drench my wedge in the dressing because it's so flavorful. I didn't do it for the photos, otherwise, you wouldn't see the beauty of the wedge, but it's best with more dressing and you'll have plenty with the recipe below.
How to Eat a Wedge Salad
Serve the wedge salad as a wedge with all of the toppings. Serve with a knife and fork so guests can cut the wedge as they eat.
I like to chop the entire wedge first, then dig in. Some people prefer to cut into the wedge at the go. There is no right or wrong way!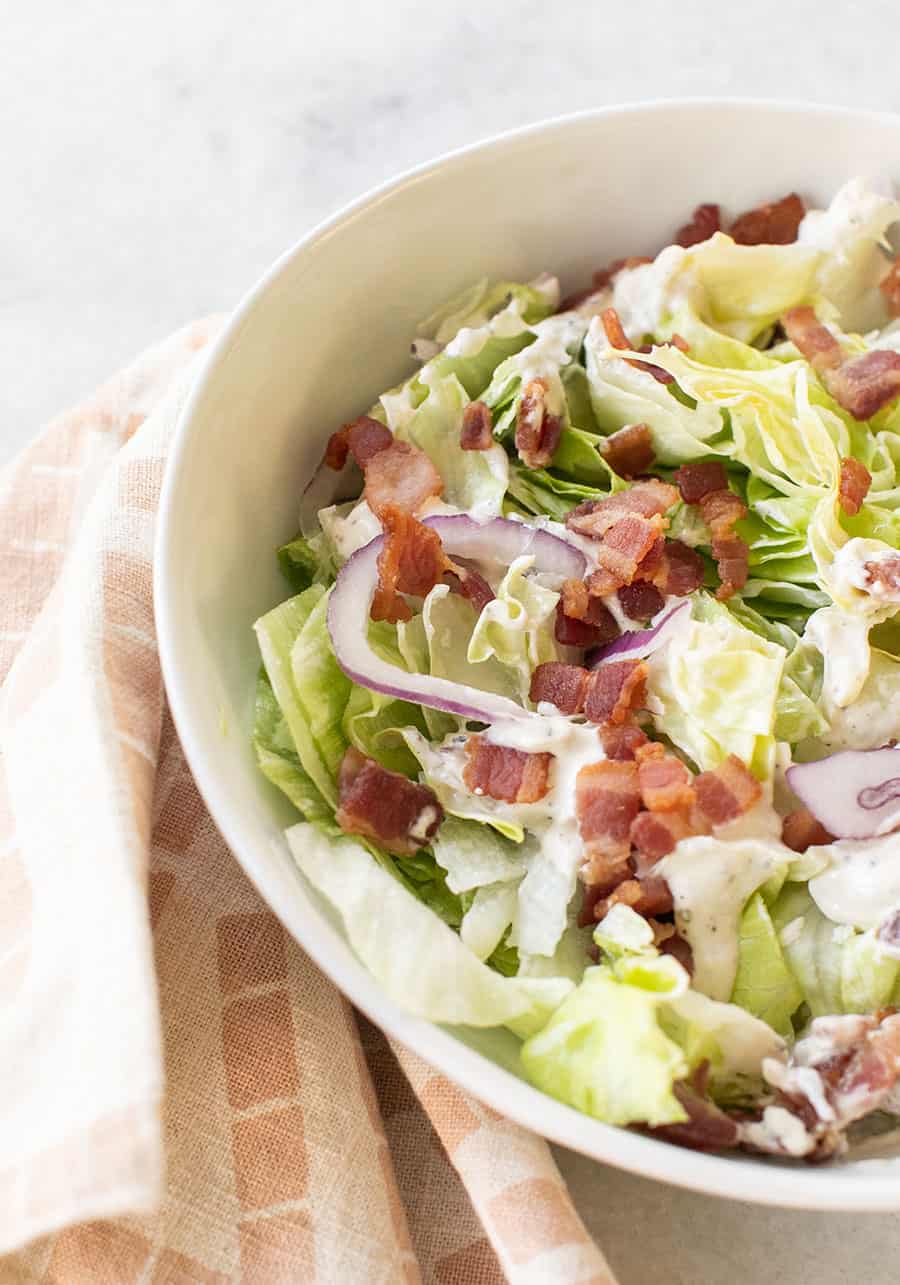 More Delicious Dinner Recipes!
Sausage and Pepper Sheet Pan Meal 
The Most Delicious Turkey Meatball Recipe
One Pan Basil and Tomato Pasta
Simple Green Salad that Goes with Everything!
Classic Wedge Salad with THE BEST DRESSING EVER!!
The yummiest carbonara recipe!
50 Simple Salads – Food Network
Delicious Cobb Salad – Two Peas and Their Pod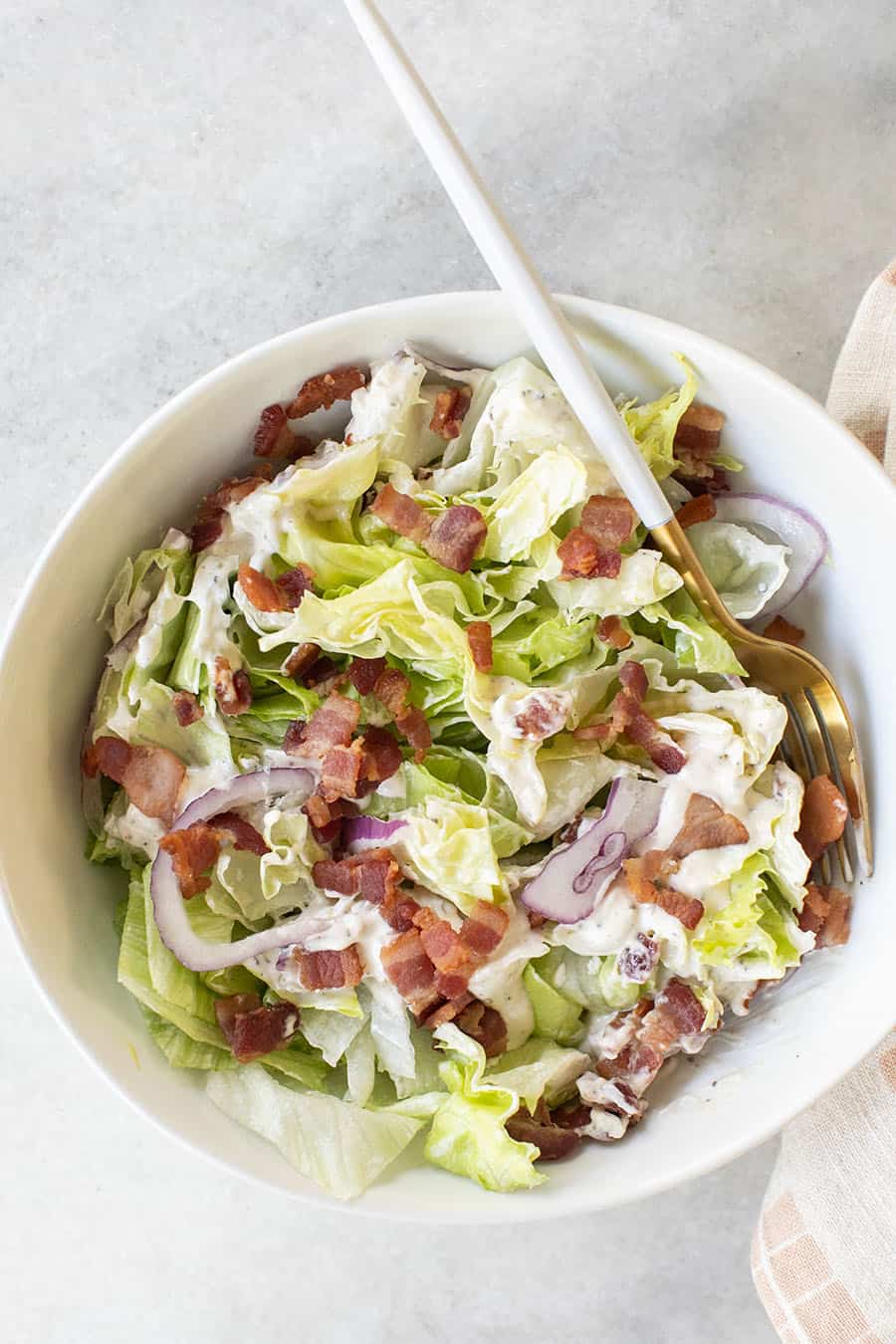 If you try this classic wedge salad recipe please leave a comment and review below! We love seeing what you all make! You can also tag us @sugarandcharm #sugarandcharm on social.
Best Wedge Salad Recipe
Fresh iceberg lettuce topped with our favorite homemade dressing, bacon and sliced onions. This recipe is absolutely delicious and perfect for a backyard BBQ or a weeknight dinner!
Print
Pin
Rate
Ingredients
1 1/2

cup

mayonnaise

2

tablespoons

fresh squeezed lemon juice

1

tablespoon

ground pepper

,

coarsely ground

1 1/4

teaspoon

Tabasco sauce

1

cup

crumbled blue cheese

1/4

cup

buttermilk

3/4

pound

bacon

,

cut into thicker slices

1

Large Head

Fresh iceberg lettuce

1

red onion

,

sliced
Instructions
In a bowl, mix the mayonnaise, lemon juice, ground pepper, and Tabasco sauce.

Add in the crumbled blue cheese and stir well.

Add in the buttermilk and continue to stir until the ingredients are combined.

Cook the bacon in a skillet until golden brown. Set aside.

Make two cuts to the iceberg lettuce. One down the middle and then one horizontally so you have four large wedge pieces to serve.

Arrange the four wedges on a platter and add the dressing over the top. Be generous with the dressing, it's the best part!

Add the bacon and the sliced onions over the wedges. Enjoy!
Notes
To take the bite out of the raw onion, let the slices soak in ice water for 5 minutes. Drain them before serving on the wedge salad.
To eat a wedge salad, serve a knife and a fork. You can cut as you eat or chop it all before. I prefer chopping the entire wedge once it's on my plate.
Serve extra dressing, bacon, and onions in small bowls for guests to add more.
Buy preached lettuce heads to make it easier.
Nutrition
Nutrition Facts
Best Wedge Salad Recipe
Amount Per Serving
Calories 1097
Calories from Fat 963
% Daily Value*
Fat 107g165%
Cholesterol 118mg39%
Sodium 1636mg71%
Potassium 618mg18%
Carbohydrates 13g4%
Protein 21g42%
Vitamin A 1315IU26%
Vitamin C 11.1mg13%
Calcium 253mg25%
Iron 1.6mg9%
* Percent Daily Values are based on a 2000 calorie diet.