Host a garden pineapple party this summer! It's such a fun theme and the options for pineapple decorations, food, drinks, and games are endless! We're sharing all the details to host your own, very charming pineapple party!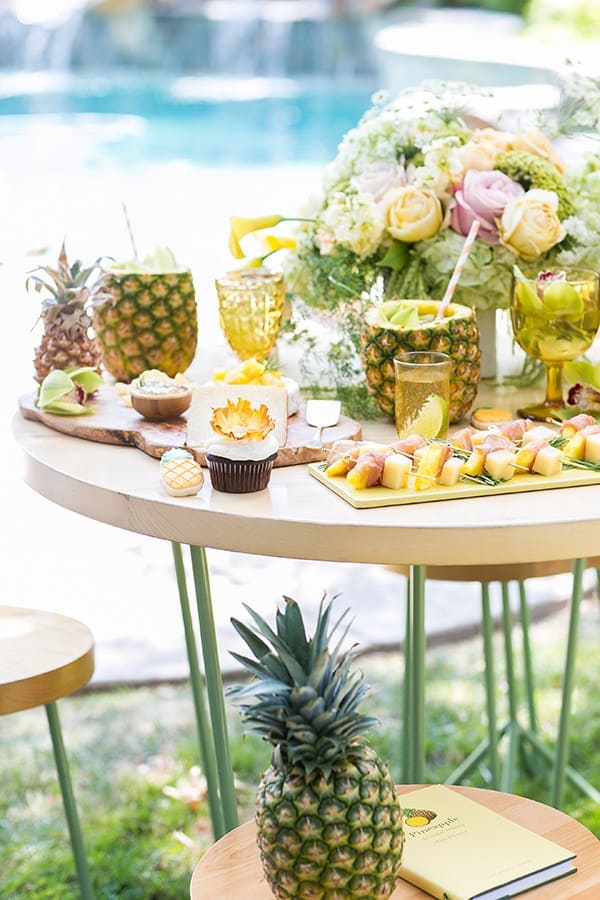 Just picture it, everything is perfectly pineapple, the weather was beautiful, the pool is warm and you're sipping a fresh pineapple cocktail with your friends and family. It's the best way to kick-off summer or to end summer.
We're all about fun themes when hosting parties and pineapples symbolize hospitality and entertaining. It's also one of our favorite fruits as it's versatile, juicy and sweet!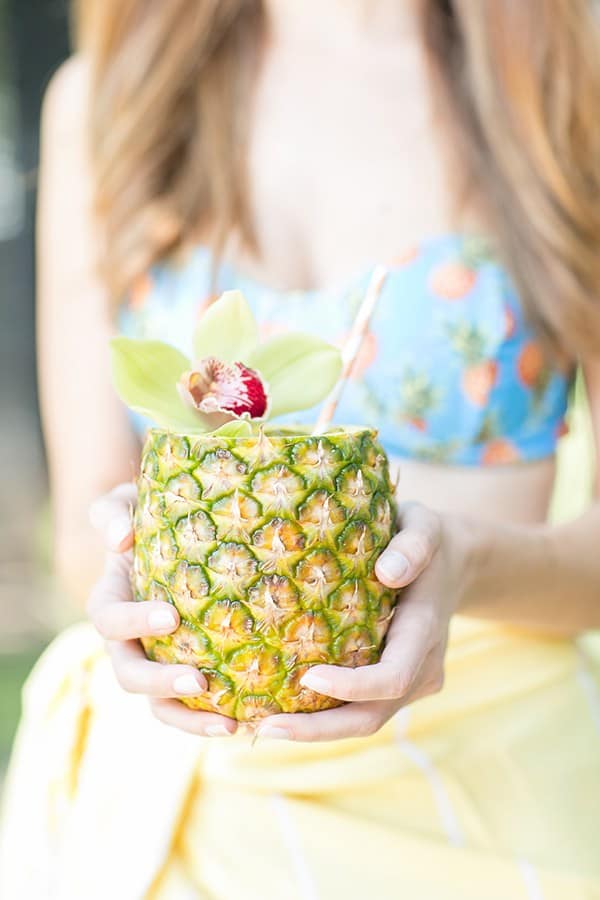 Pineapple Party Decorations
When you choose a party theme, picking out decorations is much easier! We had so much fun finding the sweetest pineapple decorations!
Pineapple book – A good coffee table read or put it by the bar. It's fun for guests to browse.
Yellow towels – These are great for tossing on the lawn or by the pool.
Cocktail umbrellas – All different colored cocktail umbrellas. The green and yellow are perfect!
Gold cocktail picks – Perfect for cocktail garnishes.
Copper mugs – If you're serving our pineapple Moscow mule, copper mugs are a must!
Garland – A cute garland can be hung around a bar or doorway.
Corer to make pineapple cups – Making pineapple cups is a lot of work, but also worth it because they're so charming!
Paper Plates – Gold plates in the shape of a pineapple.
Straws – These straws are adorable with tiny printed pineapples!
Pineapple gum – It's the little details like this that make a party charming!
Yellow Confetti – Perfect if you're having a pineapple birthday party!
Pineapple Pool Float – If you're hosting a pineapple pool party, it must have a pool float!
Brass Pineapple Cups with Straws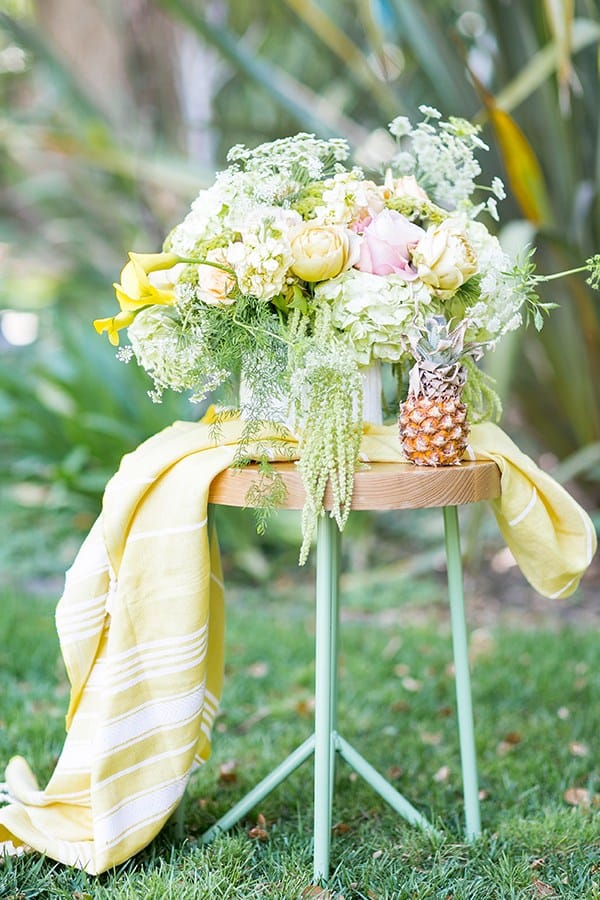 Flowers are a MUST at all of our parties. They make up the majority of the decorations.
Tropical flowers are also perfect for garnishing cocktails, so get extra!
Pineapple Drinks
It's not a party without cocktails! Here are a few fun ideas for pineapple drinks to serve at your party!
Pineapple Mojito served in a Pineapple
Naturally Sweetened Garden Pineapple Cocktail
Toasted Coconut Pineapple Cocktail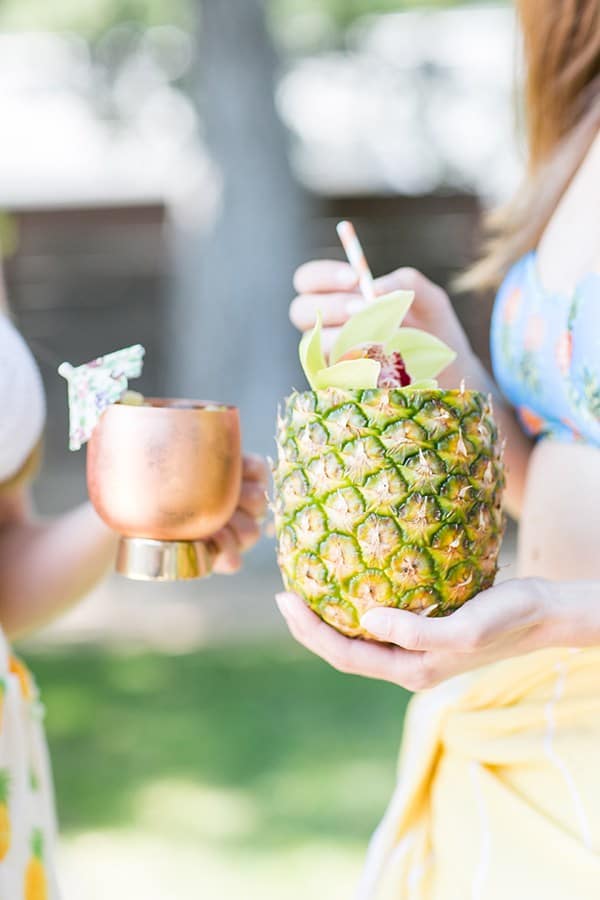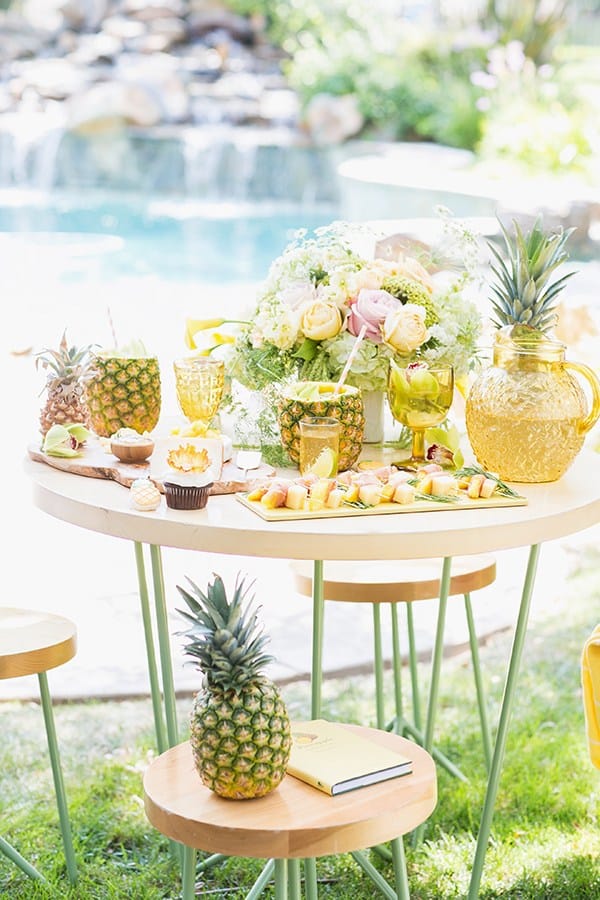 Pineapple Party Food
You can get so creative with pineapple party food! We created a pineapple cheese plate with candied pineapple, brie with sautéed pineapples on top, served with pineapple preserves.
We also made a simple appetizer by wrapping pineapple in prosciutto and added a cube of gruyere with it. See below for more pineapple party food ideas!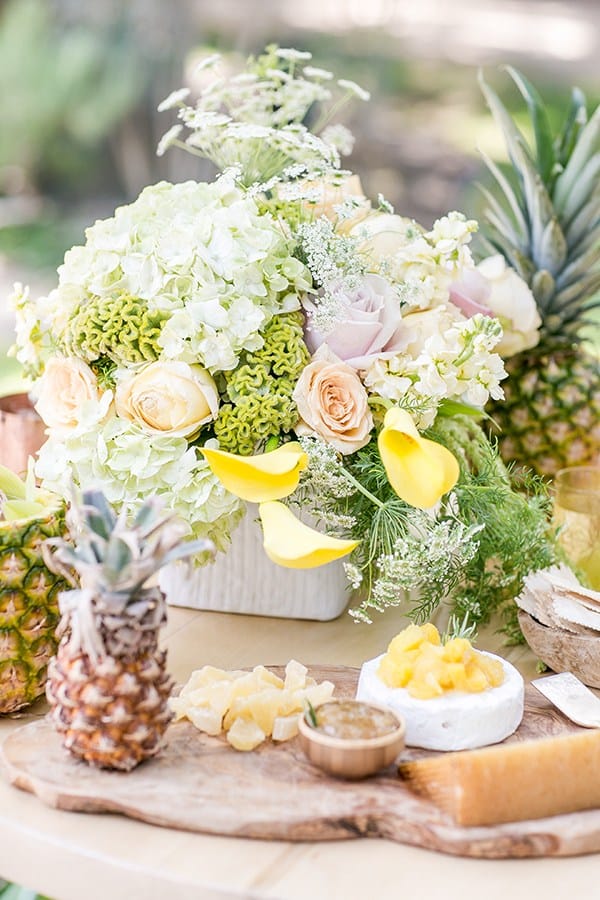 Pineapple Salsa served in a Pineapple Bowl
Coconut Rice – Not pineapple but goes very well with pineapple!
Roasted Pineapple with Black Pepper and Rum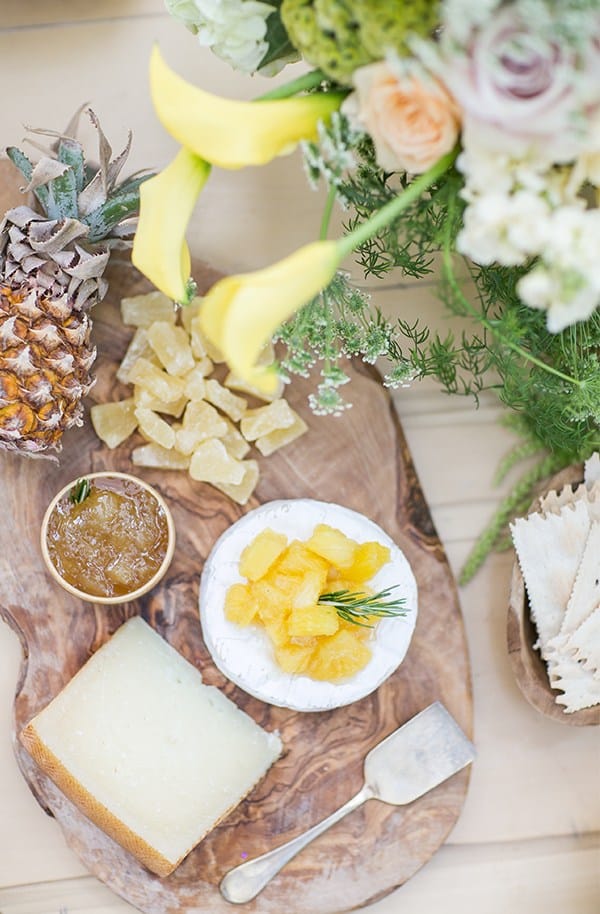 Pineapple Desserts
Well, we all know there are hundreds of pineapple desserts you can make for a party! Here is a list of some of our favorites!
Sugar Cookies Decorated as a Pineapple
Pineapple Flowers – Perfect for cupcakes or cocktails.
Mexican Style Fruit Plate with Chili Lime Salt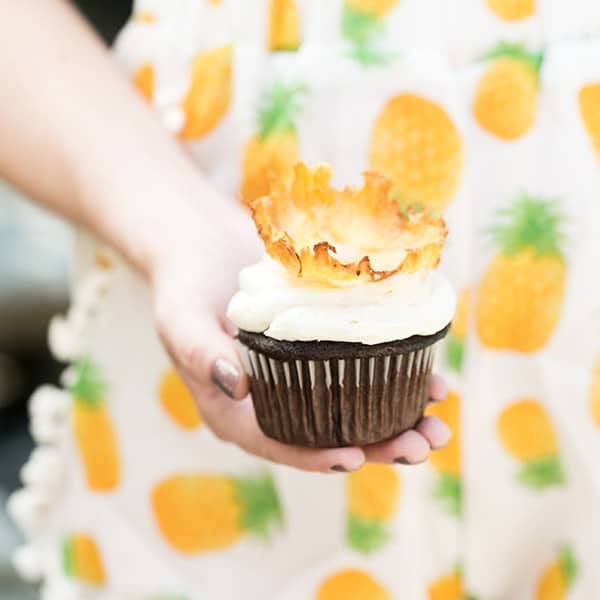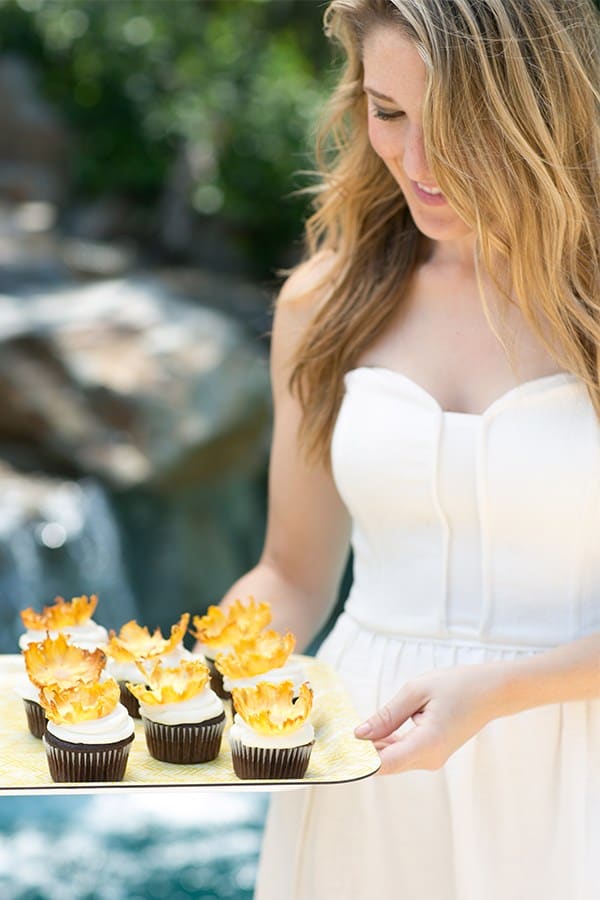 Benefits of Eating Pineapple
Since we're hosting a party all about pineapple, we should know the benefits of this might fruit! Here are just a few quick benefits of eating pineapple.
They're loaded with nutrients like fiber, vitamins, potassium, iron folate and more!
Pineapples are lower in calories!
They're also a good source of antioxidants too.
In some cultures it's known as a medicinal plant as it's bromelain may lower inflammation.
It can also helo shorten viral and bacterial infections.
More Parties You'll Love!
How to Host a Tropical Backyard Party
4th of July Watermelon Themed Party
How to Host a Last Minute Birthday Party
We hope you're inspired to host a charming pineapple party! Please leave a comment below and let us know if you need help or have any questions!
You can also FOLLOW US on FACEBOOK, INSTAGRAM, and PINTEREST to see more delicious recipes, cocktails, desserts and parties!