A pineapple cocktail that uses the entire pineapple! Learn how to make a Toasted Coconut Pineapple Cocktail and a Pineapple Cup! It's refreshing you'll feel like your on a tropical beach!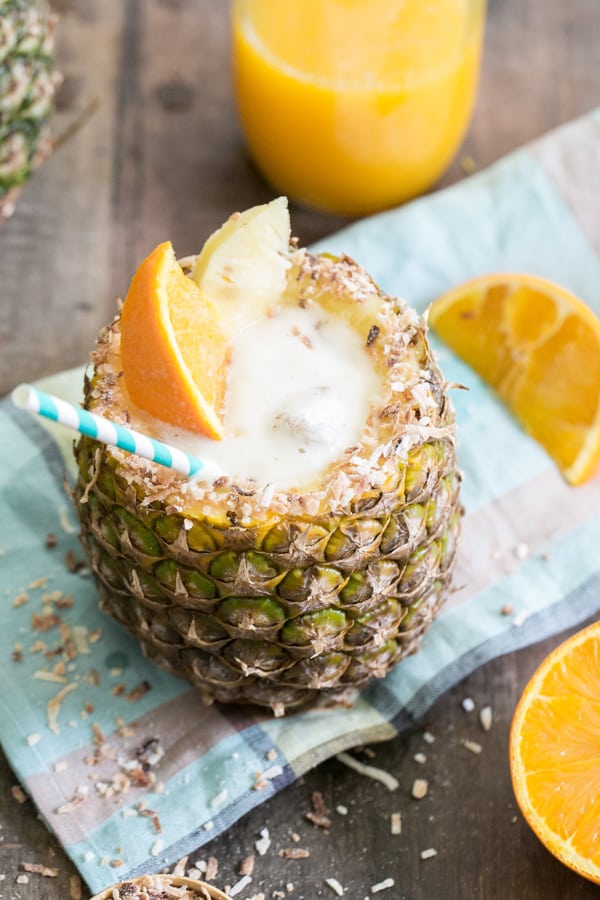 When we go to Paradise Cove, I'm always tempted to order the pineapple mojito because they serve it in a pineapple cup and it makes me feel as if I'm on a tropical vacation.
This past week I had a lonely pineapple staring at me for a few days and I was inspired by the ones we sip by the beach at the Cove. So, similar to carving a pumpkin, I carved out the middle of the pineapple and pureed it in a blender leaving the shell for a cup.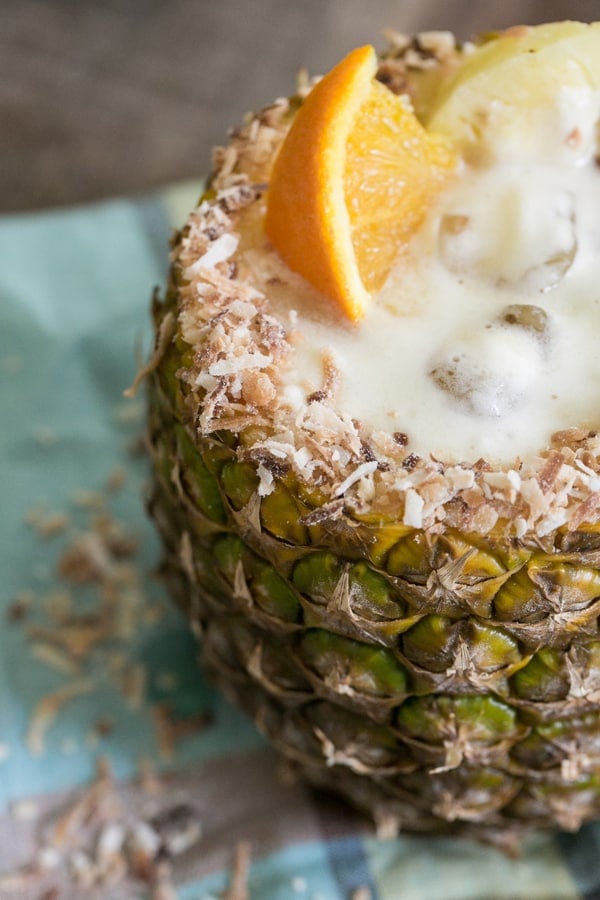 The carving part can be a little messy and you may or may not end up with some pineapple splashes on your face! I then whipped up a very refreshing, no sugar added (so it's not too sweet), toasted coconut pineapple cocktail! I'm loving this cocktail and it's a total crowd pleaser!
Really, who doesn't like drinking a coconut pineapple cocktail out of a pineapple cup?! I felt pretty relaxed sitting in my backyard sipping this… all I was missing was the sand. Try it!
How to Carve a Pineapple
There are fancy pineapple carving tools, but if you're like me I keep my kitchen gadgets limited. So here are a few simple steps for carving a pineapple!
Using a sharp knife, cut the top of the pineapple off.
Using a smaller sharp knife, cut around the inside of the pineapple, leaving a nice edge so the drink doesn't leak out. Don't cut to the bottom. Leave about 2 inches at the bottom of the pineapple.
Then cut the middle part diagonally and carve it out. The center to easily scoop out the pineapple.
Use a cookie scooper to remove the middle and place it into a bowl to use for the cocktail.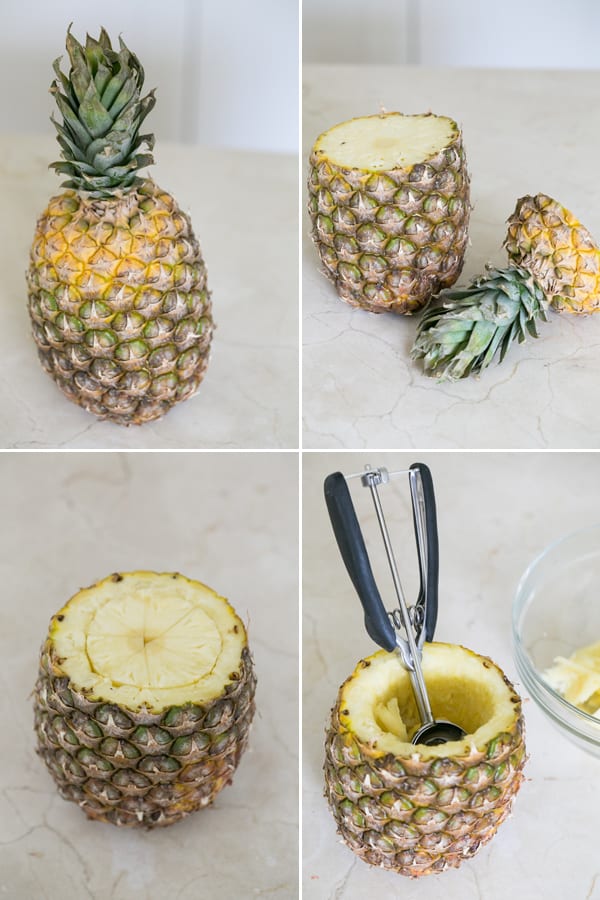 This is a pineapple cocktail with rum and coconut rum. It's so refreshing and easy to make! If you really feel like you don't need a pineapple cup, you can serve this shaken cocktail over ice instead.
The toasted coconut adds a lot of flavor too, so don't forget that!
How to Make a Pineapple Cocktail
Puree the pineapple chunks in a blender and push through a mesh strainer.
Shake all of the ingredients (recipe below) in a cocktail shaker with ice for 20 seconds.
Strain into the pineapple filled with ice.
Garnish the edge of the pineapple with the toasted coconut.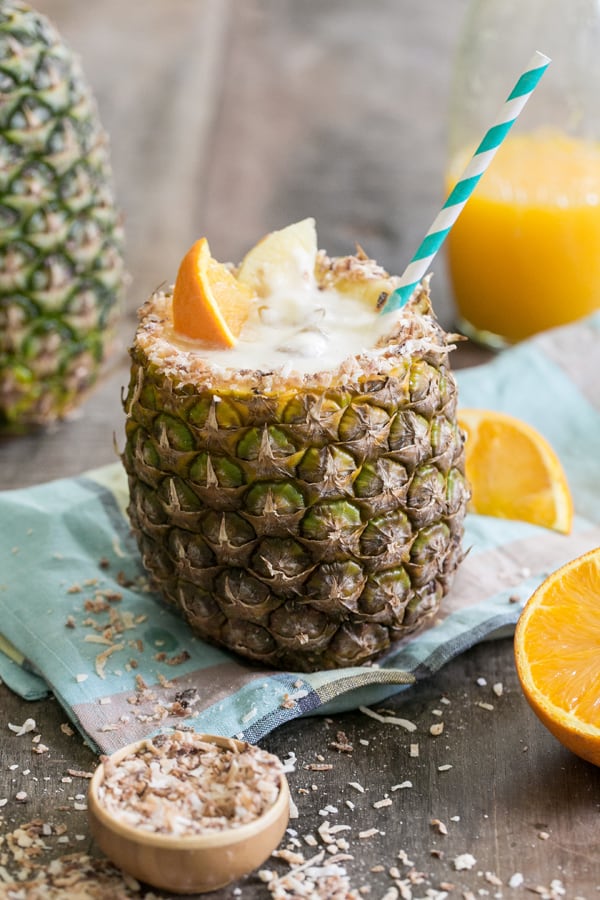 Pineapple Cocktails
Here are some more pineapple cocktails you'll love!
Let us know if you make this by leaving a review below! Tag us on social @sugarandcharm to show us your creation!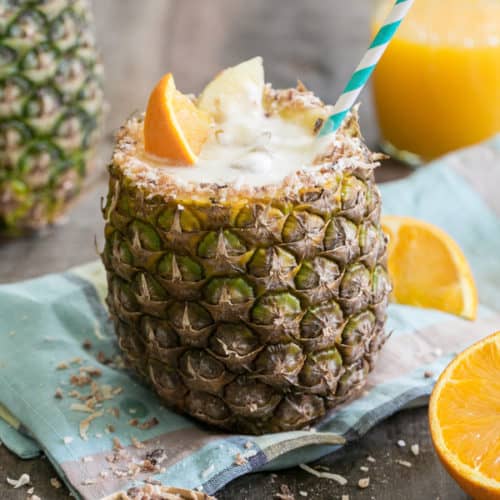 Toasted Coconut Pineapple Cocktail in Pineapple Cup
A delicious coconut pineapple cocktail served in a pineapple!
Print
Pin
Rate
Servings: 2 Cocktails
Calories: 474kcal
Ingredients
1/2 cup shredded coconut, This is for the rim (I toasted it in the oven for a few minutes until golden brown)
1/4 cup orange juice, freshly-squeezed
1/4 cup coconut rum
1 1/4 oz dark rum
1/2 cup pureed pineapple , (puree the pineapple you carved out of the middle)
Instructions
Shake all of the ingredients in a cocktail shaker with ice for 20 seconds.

Then strain into the pineapple filled with ice.

Garnish the edge of the pineapple with the toasted coconut.

The best way to remove the middle is to cut a circle in the middle, leaving about 1/2 inch rim around the sides.

Then cut the middle part diagonally and carve it out.
Notes
Add more or less sweetener as you like. You can also add more alcohol to make it stronger too. 
Nutrition
Serving: 0g | Calories: 474kcal | Carbohydrates: 28g | Protein: 2g | Fat: 16g | Saturated Fat: 14g | Sodium: 119mg | Potassium: 276mg | Fiber: 2g | Sugar: 25g | Vitamin A: 124IU | Vitamin C: 31mg | Iron: 1mg