Sharing three fun ideas for making easy Christmas appetizers for a holiday gathering! These holiday wreaths look pretty and are even better tasting! If you're hosting a holiday party these appetizers are so easy to make and guests will love them.
It's always nice to have appetizers out and ready for guests when hosting a gathering. You never know how hungry someone will be when they arrive at your house! So we've created a few super simple Christmas appetizers the can be easily assembled. The best part is, they're all shaped as cute wreaths!
Serve these with one of our festive Christmas cocktail recipes for the ultimate holiday happy hour!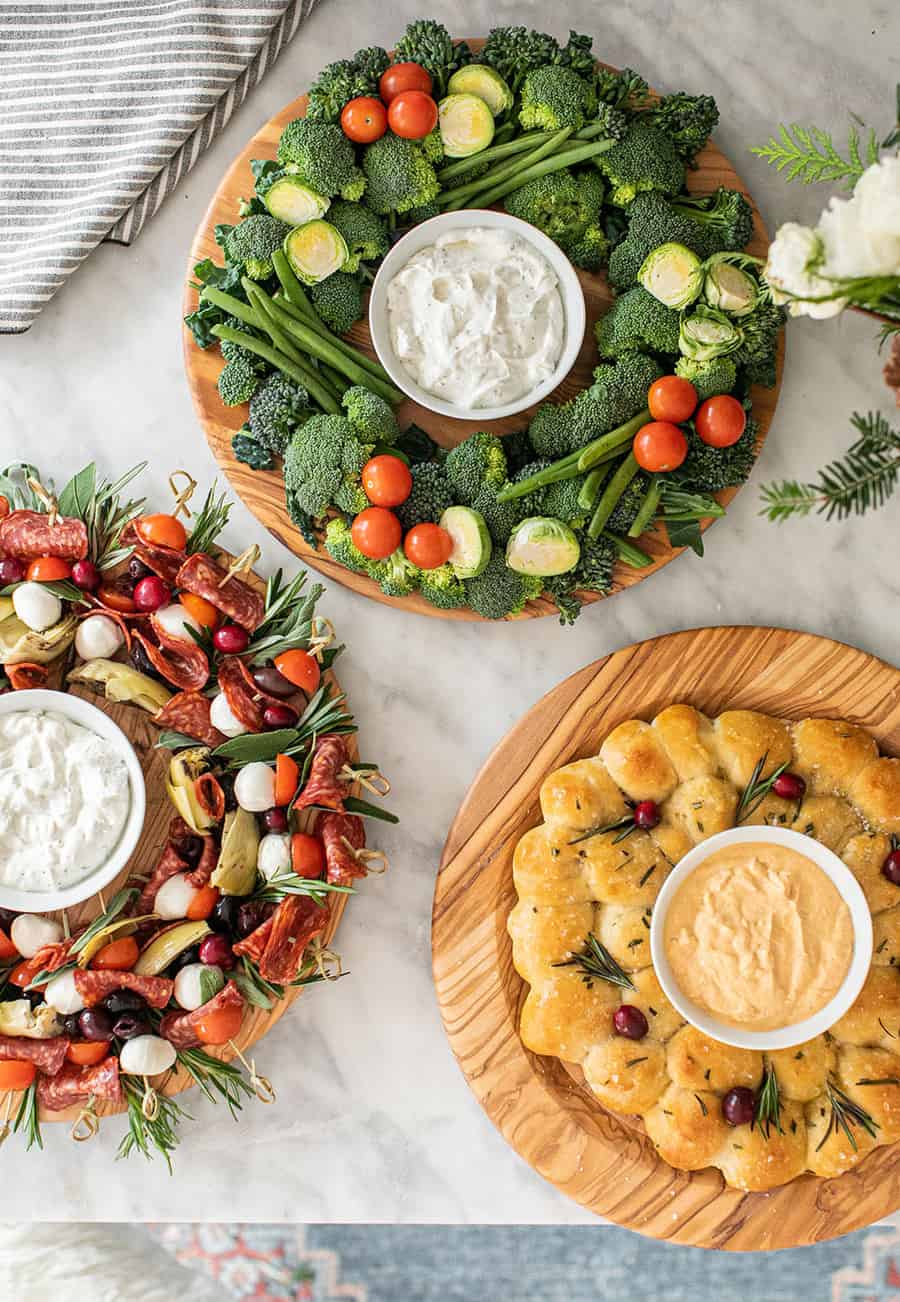 So gather a few platters, they don't have to be similar in size. However, I like how they all match and are the same size, but that's totally up to you! I used these olive wood charges from Williams Sonoma as the "platters" to hold the wreaths.
Read below how we quickly assembled these fun platters!
Simple Christmas Appetizers
Vegetable Wreath Platter
This vegetable wreath platter is so easy to make. It's really just a traditional vegetable platter in the shape of a wreath. You can add whatever vegetables you like, keeping the green theme (or white!) and then adding cherry tomatoes as "berries."
Layer kale on the bottom of the platter. Then add broccoli, sugar snap peas or green beans, Brussels sprouts (cooked or uncooked), and layer them around the edge of the platter.
Leave a hole in the center to add a dip or just for shape!
A few tips – Always wash and dry the vegetables for optimal freshness. Add some salt and pepper over them too!
Antipasto Skewer Wreath
This is personally my favorite Christmas appetizer. Antipasto skewers are easy to make and so flavorful! They require zero cooking but are savory and totally satisfying. They can also be paired with a dip or add a drizzle of olive oil and salt and pepper over the top.
Layer them around the edge of the olive wood platter to create the wreath shape.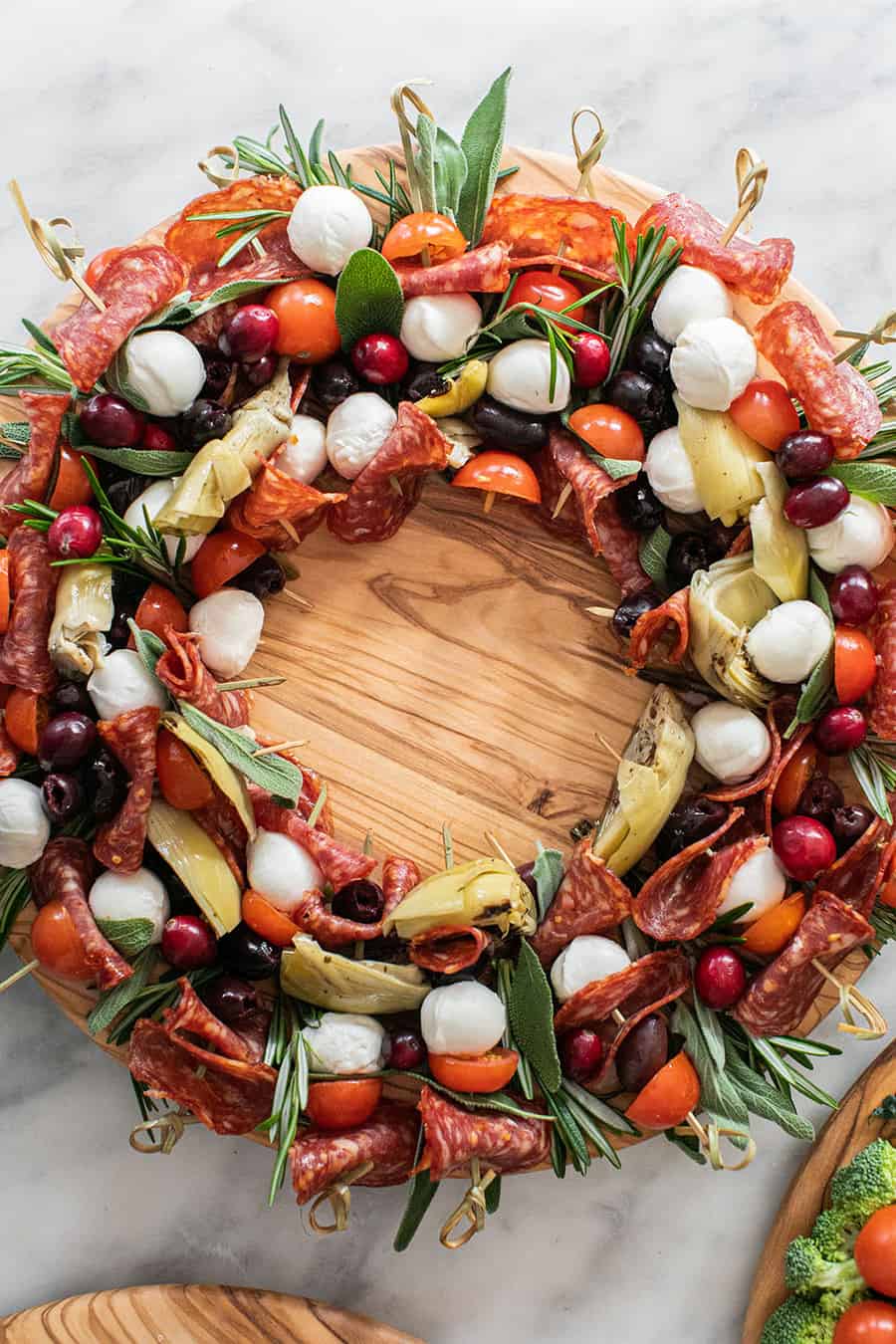 How to Make Antipasto Skewers
You'll need larger bamboo skewers and the ingredients below. You can really choose what you like to add to the skewer but this is what I prefer:
Marinated Artichokes – Quick tip, the roasted artichokes at Trader Joe's are DIVINE! They come in a jar and are easy to add to the skewer.
Olives – Black or green olives. Just make sure they're pitted.
Small Mozzarella Balls
Cherry Tomatoes – Cut in half
Fresh Herbs – Rosemary, sage, thyme.
Salmi – I used a spicy pepperoni for these and loved it.
Add one of each item onto the skewers. You can switch it up and add a few more cheese balls to one or maybe skip the artichoke on another. They don't need to be the same nor do they need to be in the same order.
It's better to have them look rustic and different, so the wreath has more texture and variety.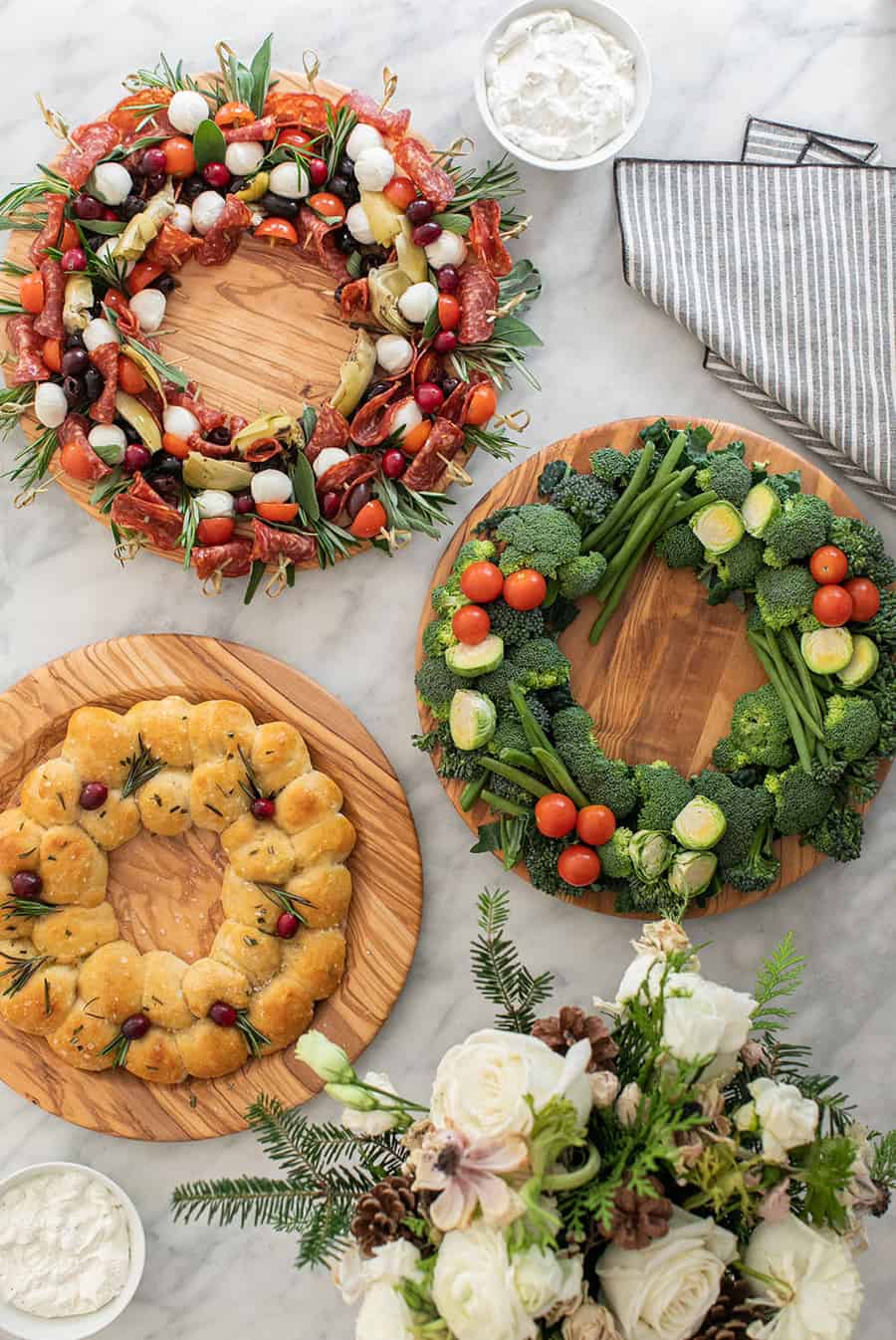 Super Simple Bread Wreath
We all love warm bread, especially dipped in ranch or nacho cheese!
This is another very easy Christmas appetizer you can make by using store-bought biscuits or pizza dough, rolling small balls, and shaping them into a circle on the pan. See below for some tips!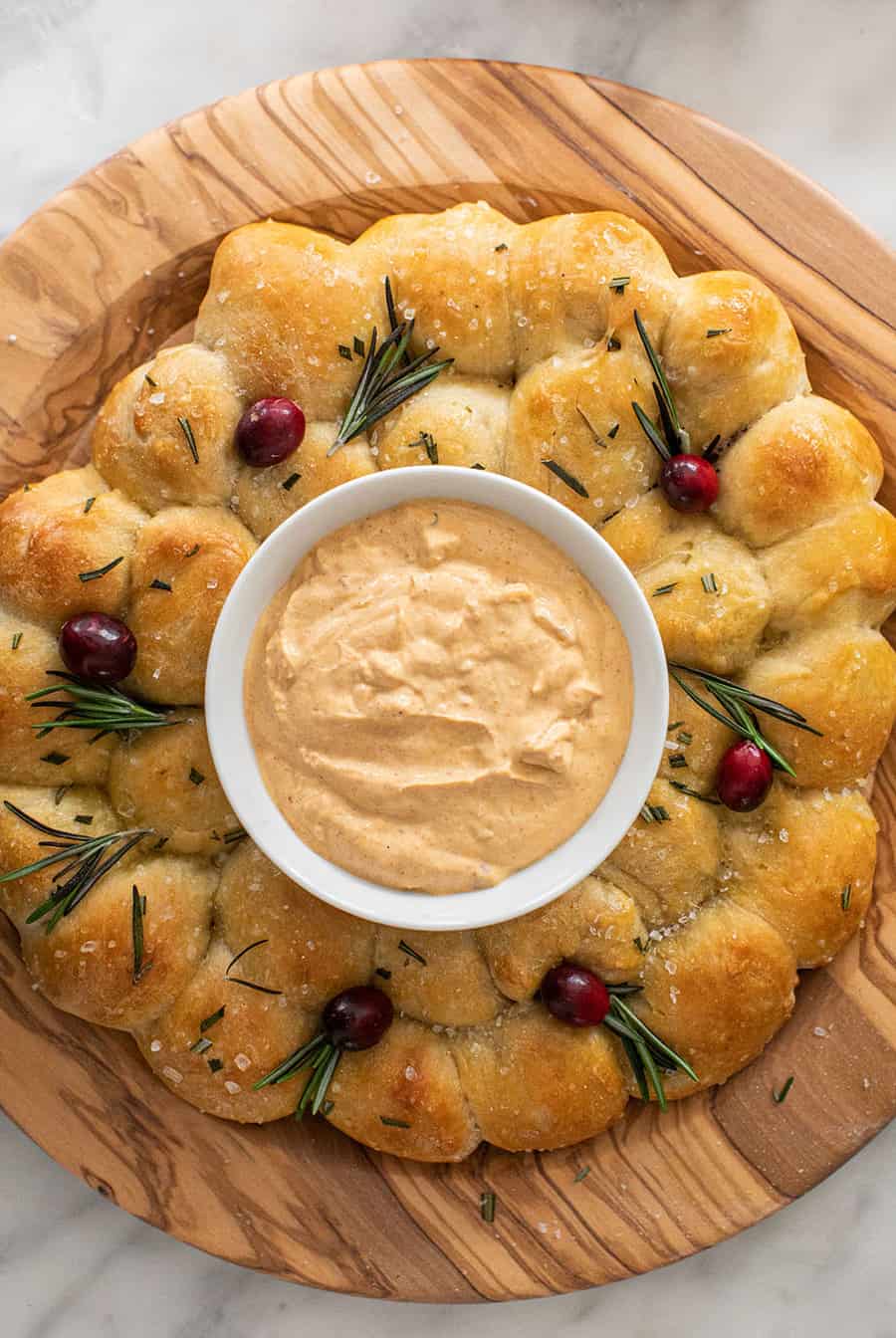 How to Make a Bread Wreath
First, tear off a large piece of parchment paper and place it over the wooden charger. Use the charger (or platter) to guide the size of the bread wreath. It can act as a template and will fit perfectly on the platter you're using.
Place small balls of dough around the inner edge of the platter or charger you're using. Then do another ring inside of that. Press them tightly together.
When the shape is finished, pull the parchment paper (with the dough on it) onto a baking sheet.
Add olive oil, salt, and chopped rosemary over the top and bake according to the instructions on the dough package.
Pair these Christmas appetizer wreaths with different dips, like our yogurt tahini dip or our beautiful pink beet dip! They're perfect for a simple cocktail party or for a Christmas dinner.
More Christmas Ideas You'll Love
Kids Christmas Appetizer Platter
Chocolate Peppermint Panna Cotta
Peanut Butter Blossoms Cookies
Let us know what you think of these fun Christmas appetizers in the comments below!
You can also FOLLOW US on FACEBOOK, INSTAGRAM, and PINTEREST to see more delicious recipes, cocktails, desserts, and parties!
This post may contain affiliate links. Please read our disclosure and privacy policy.