It's time to master the art of the gingerbread house! We're sharing the best gingerbread house recipe and a complete guide to baking, constructing, and decorating your own gingerbread house!
This guide will help you build a festive cookie house like a pro! It's a holiday tradition for us to bake and decorate gingerbread houses, and we use this recipe yearly.
These charming houses are not only a lot of fun to make, but they're also festive decorations for the holiday season. We love to make mini gingerbread houses that are perfect to give as gifts, to use as decorations on a hot chocolate platter or dessert board or as mug toppers.
Fun, festive, and endlessly entertaining, this yuletide craft has earned its reputation as a must-do tradition on many families' celebratory to-do lists. 
If you love Christmas and gingerbread try our gingerbread tree and the most delicious gingerbread cookies! Then, wash it all down with the best gingerbread Moscow mule recipe!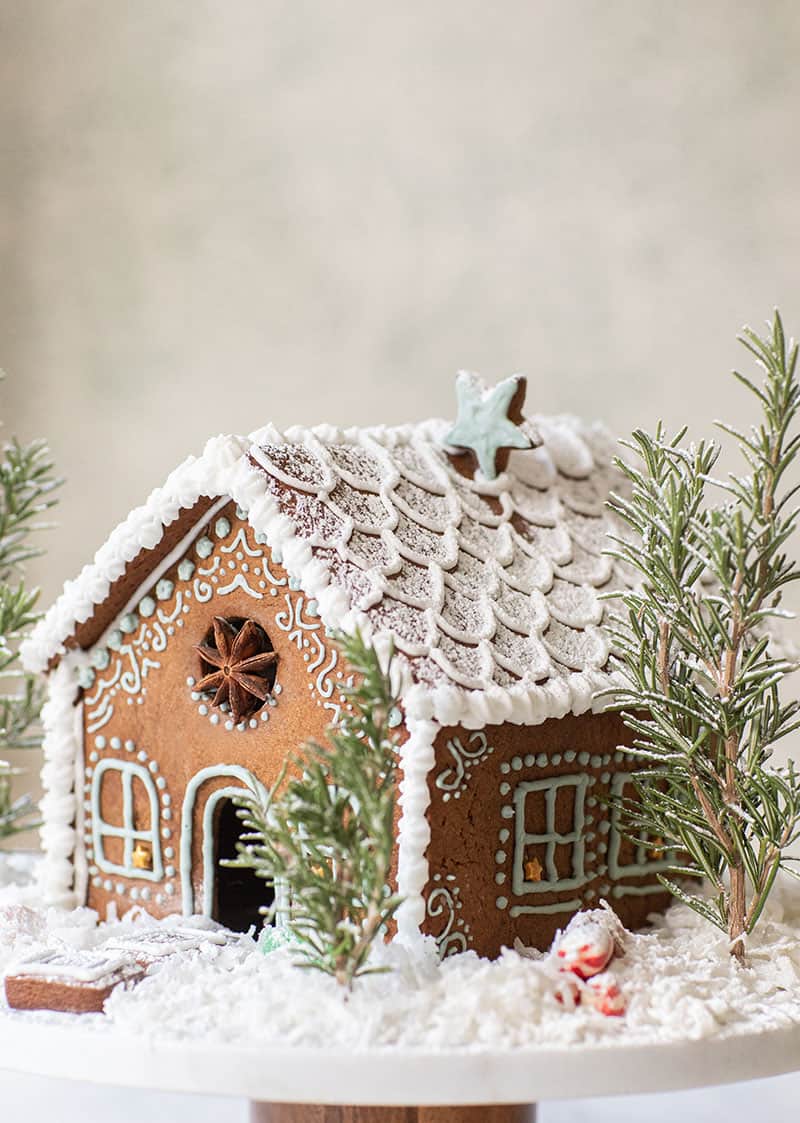 Whether you're just starting or you've been honing your skills for years, keep reading. Today, we're taking an in-depth look at the history behind this activity, the technique to master, and more!
Also, check out Tips for Creating a Perfect Gingerbread House Party!
So grab a cup of hot cocoa or peppermint cocoa if you please and gather your supplies!
How to Make a Gingerbread House
Making a gingerbread house from scratch is easier than it looks! Follow our trusted gingerbread house recipe, use these cutouts, whip up a batch of the best icing recipe and you're ready!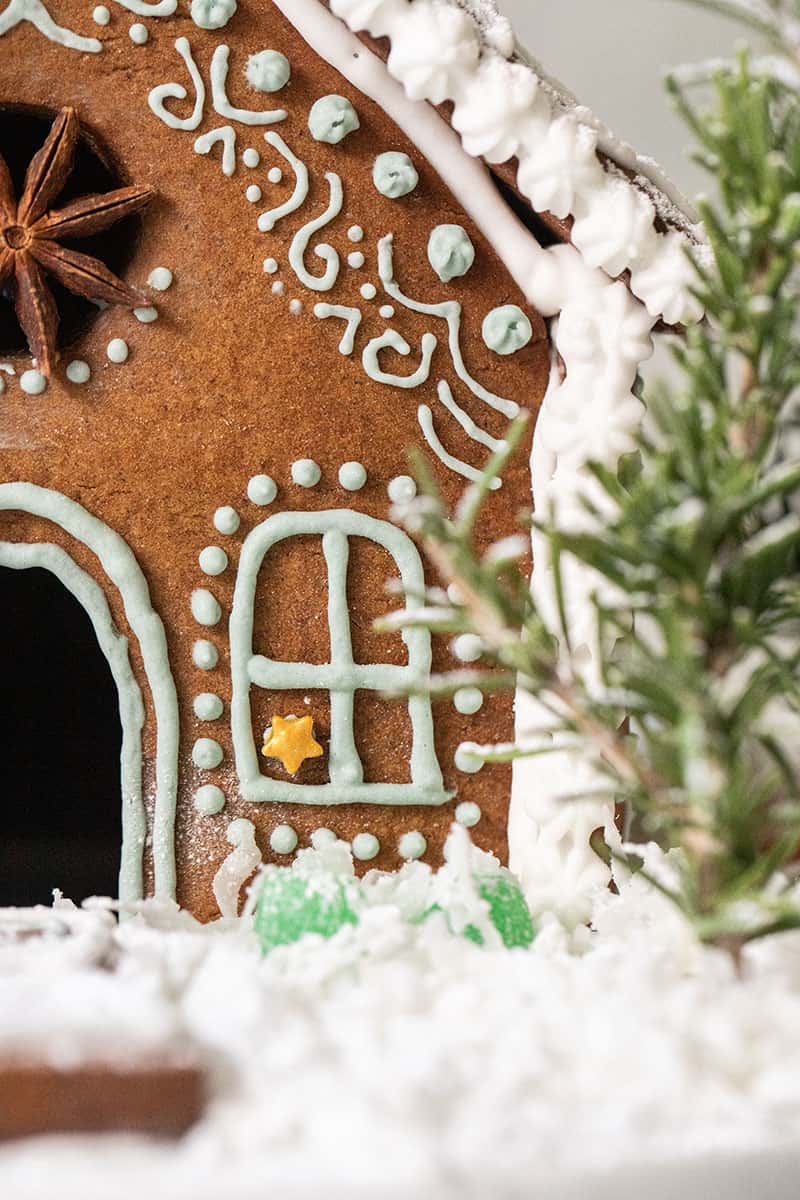 Gingerbread House Supplies
Platter or Cardboard Sheet – Something round that you can build your house on.
Ingredients
Butter – Unsalted or salted butter will work for this recipe.
Brown Sugar – Is made with granulated sugar and molasses. It has a rich flavor and it's dark brown color.
Ground Spices – Cinnamon, Ginger, Cloves.
Baking Soda – Sodium bicarbonate is a leavening agent for the gingerbread house pieces to rise slightly.
All-purpose Flour – Adds structure to the recipe and, when combined with the other ingredients, creates a delicious gingerbread dough.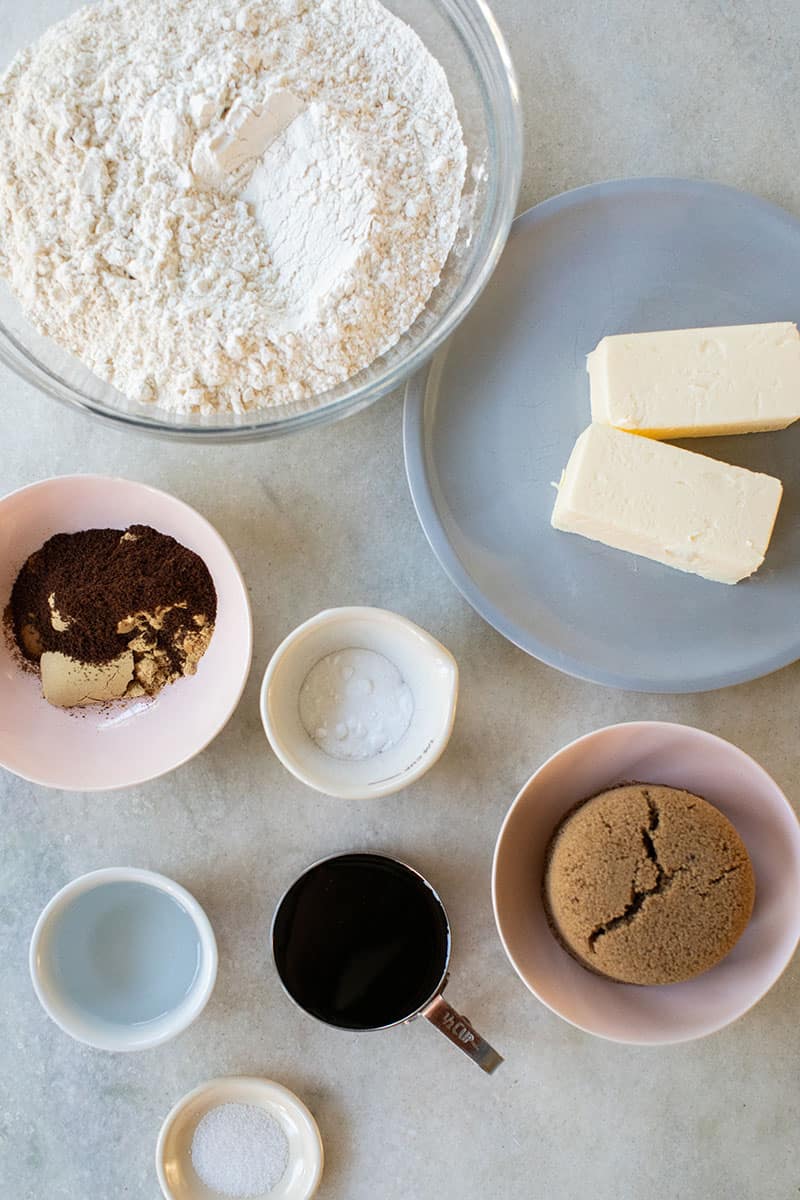 Directions for Making a Gingerbread House
In a large mixing bowl, with the paddle attachment, cream the butter, brown sugar, molasses, cinnamon, ginger, ground cloves, and baking soda together until the mixture is smooth.
With the low-speed mix, blend in the flour and water to make a stiff dough.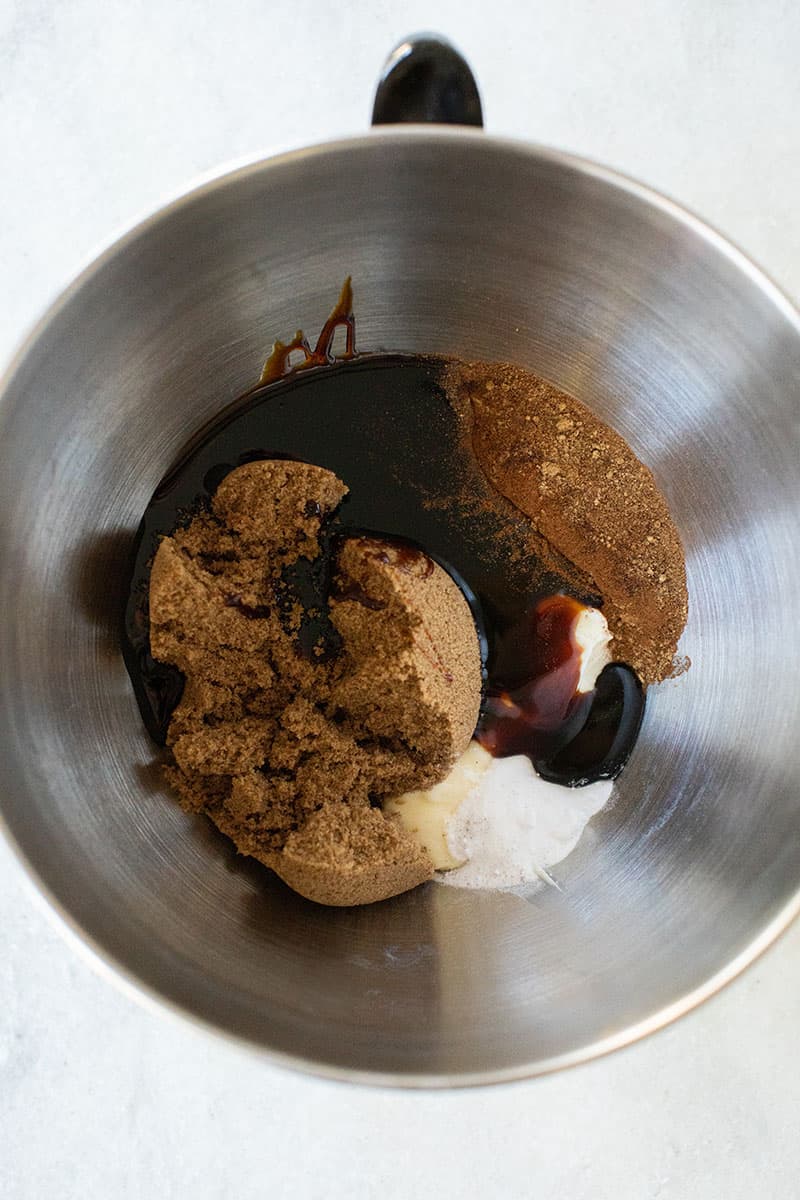 Cover the dough in plastic wrap or sealed in plastic bags.
Chill for at least 30 minutes or until firm.
Preheat the oven to 375 degrees 
Roll out the dough and use cutters to create the different star shapes.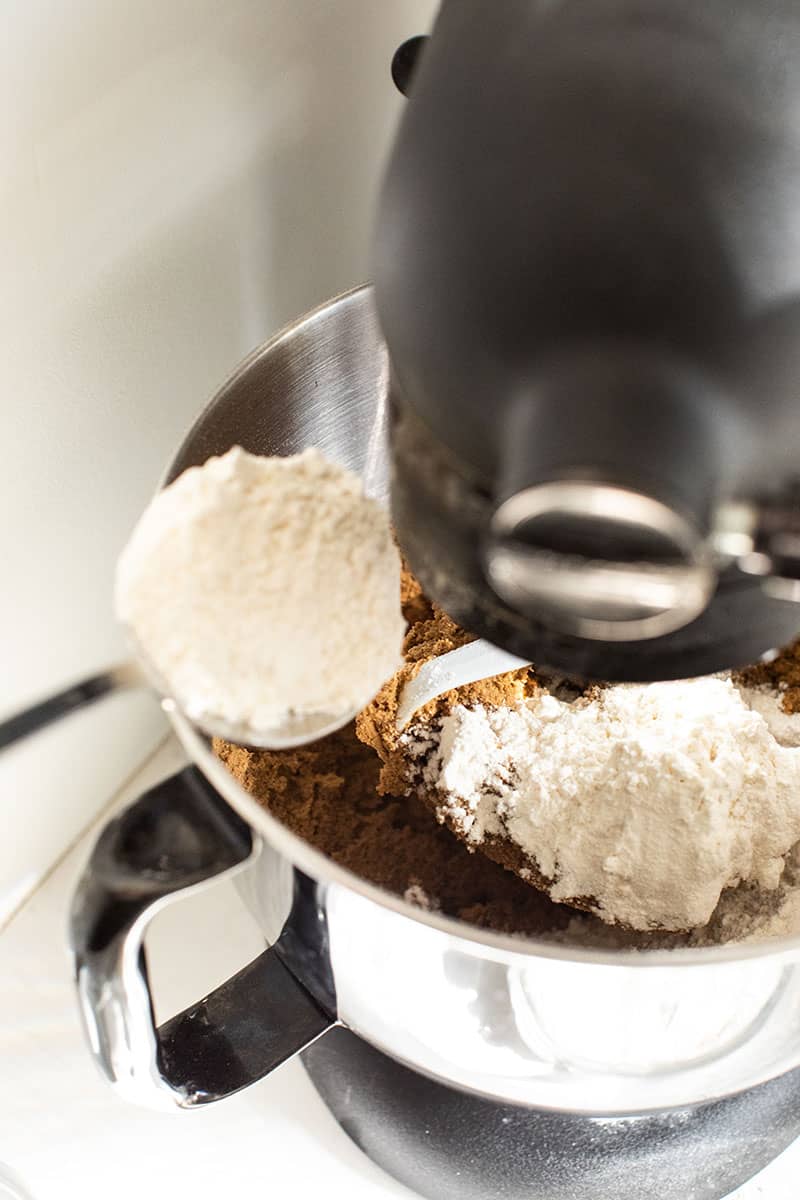 Prepare a baking sheet with parchment paper and place the gingerbread pieces on the prepared sheets to bake.
Bake for about 10 minutes or until crispy. Once the house has finished baking, let it completely cool for a few minutes before transferring it to a wire rack. 
Wait at least 20 minutes for the house to completely cool before building.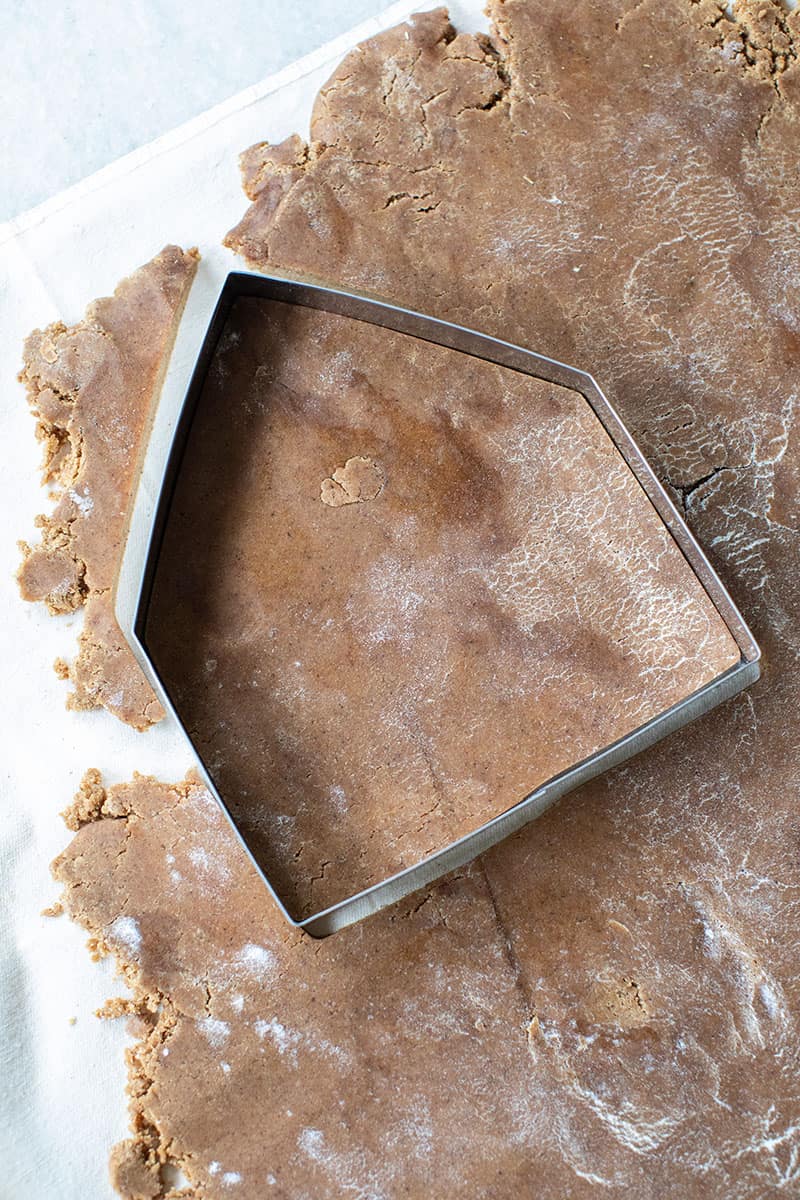 Pro tip – If you have enough dough, make gingerbread men decorating.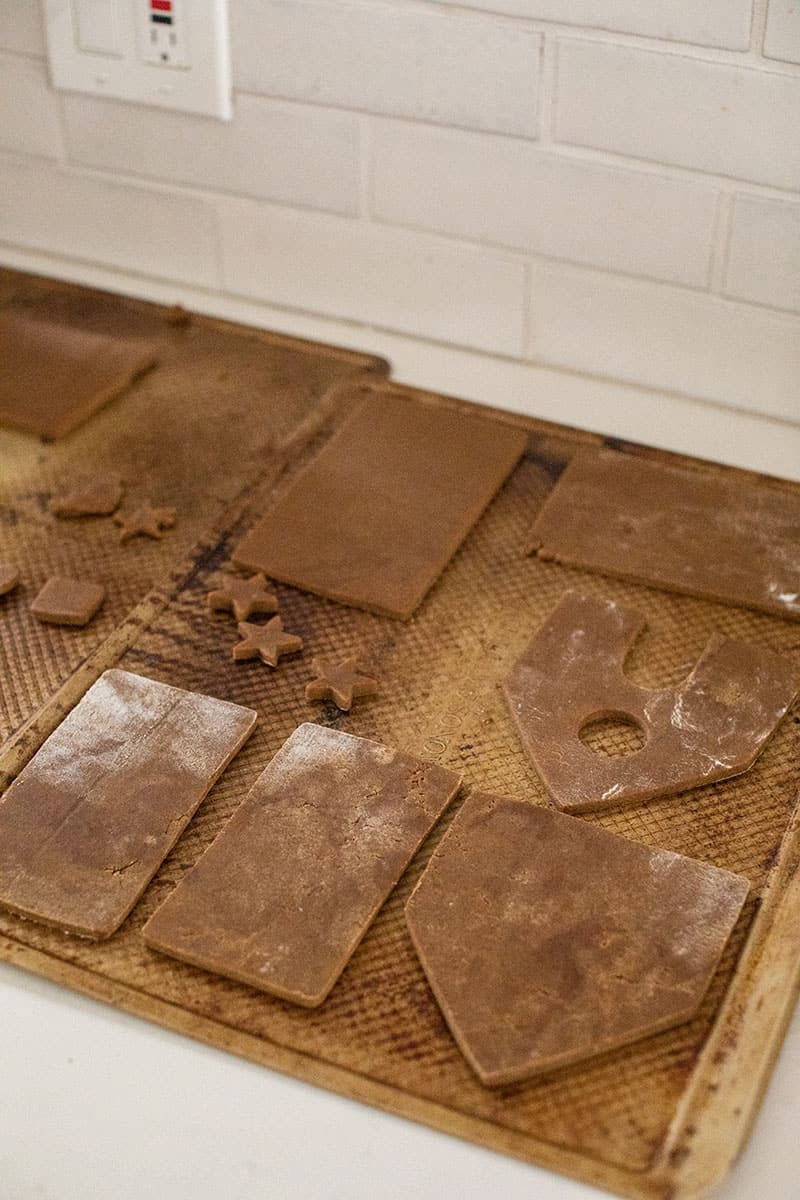 How to Build a Gingerbread House
Once the house is baked and cooled and you have your icing made, it's time to build the gingerbread house.
Use a piping bag and a large round tip like Wilton 10. 
Add icing to the bottom of the house front panel and the bottom of the side pieces, as well as the sides.
Place the front of the house on a cake stand or flat platter and hold for a minute. 
Continue adding the side walls to the house with icing and hold for a minute.
Next, add icing to the bottom of the back panel and press it against the sides of the house and the bottom of the platter.
Before adding the roof panels, let the base dry. Make sure you give it a good foundation.
Once the roof is dry, add icing to the top of the back and front panels and gently place roof pieces over the top. Hold them for a minute.
Let the house dry for 10 minutes before adding decorations. You can even do this the night before!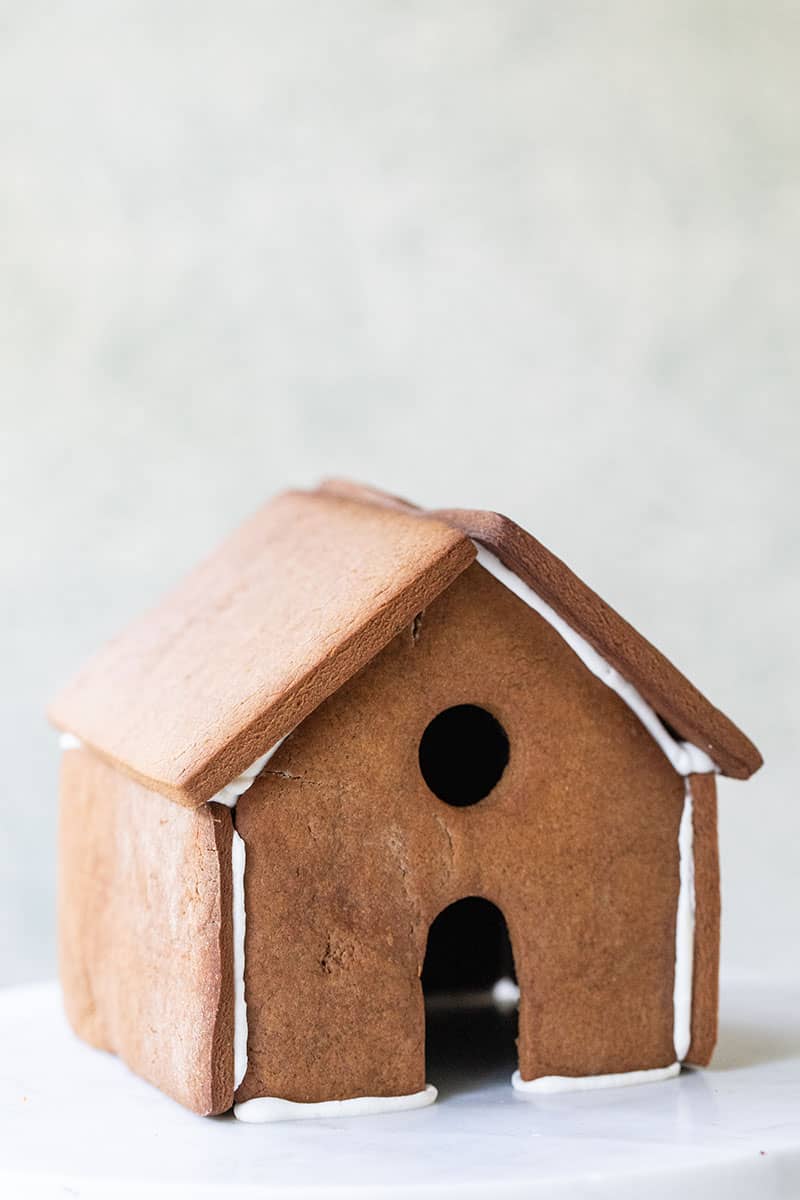 How to Stick a Gingerbread House Together
Assembling a gingerbread house and making it stick together is one of the most frustrating parts of making a gingerbread house. However, we have some really good tips for how to stick your gingerbread house together that will make your life much easier!
How to Decorate Gingerbread House
Truly there are no rules to decorating your homemade house! However, we have some tips to share that will help you decorate a gingerbread house like a pro!
Best Gingerbread Icing Recipe
The icing makes a huge difference when decorating a house and gives it extra stability.  This recipe is the best icing for building and decorating. It's light and fluffy, easy to pipe but also dries hard.
There is no comparison to store-bought icing over our fluffy homemade gingerbread icing. It's a must when creating a gingerbread house recipe! Our recipe uses egg whites and icing sugar.
Make Different Icing Colors
Divide the icing up and create different colors using food dye. Use different colors to add designs to the house. We made a light blueish-green color and loved the way it looked!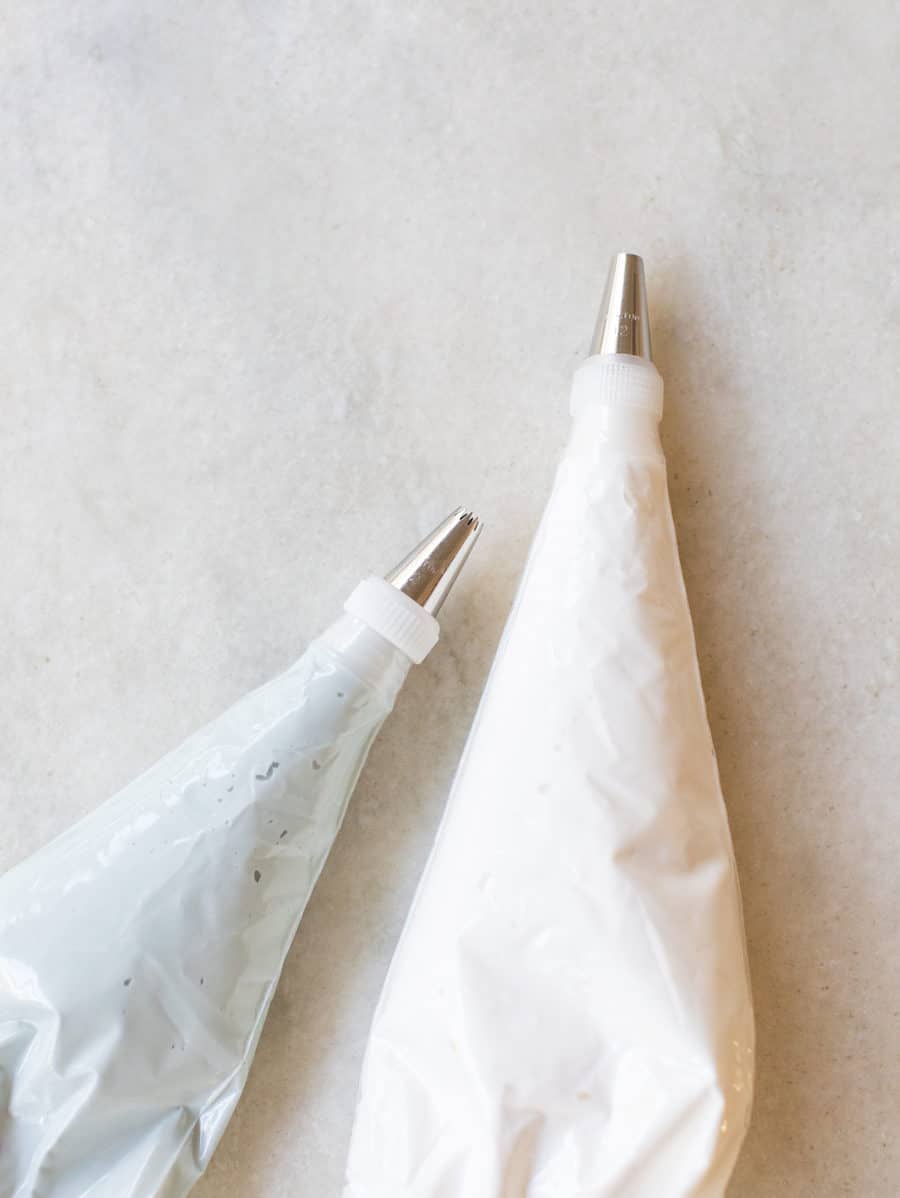 Piping Bags and Tips
Piping bags and tips are crucial to creating a beautifully designed gingerbread house. Change out the tips to create fluffy stars down the side of the house or a small round tip to add dots and detailed designs.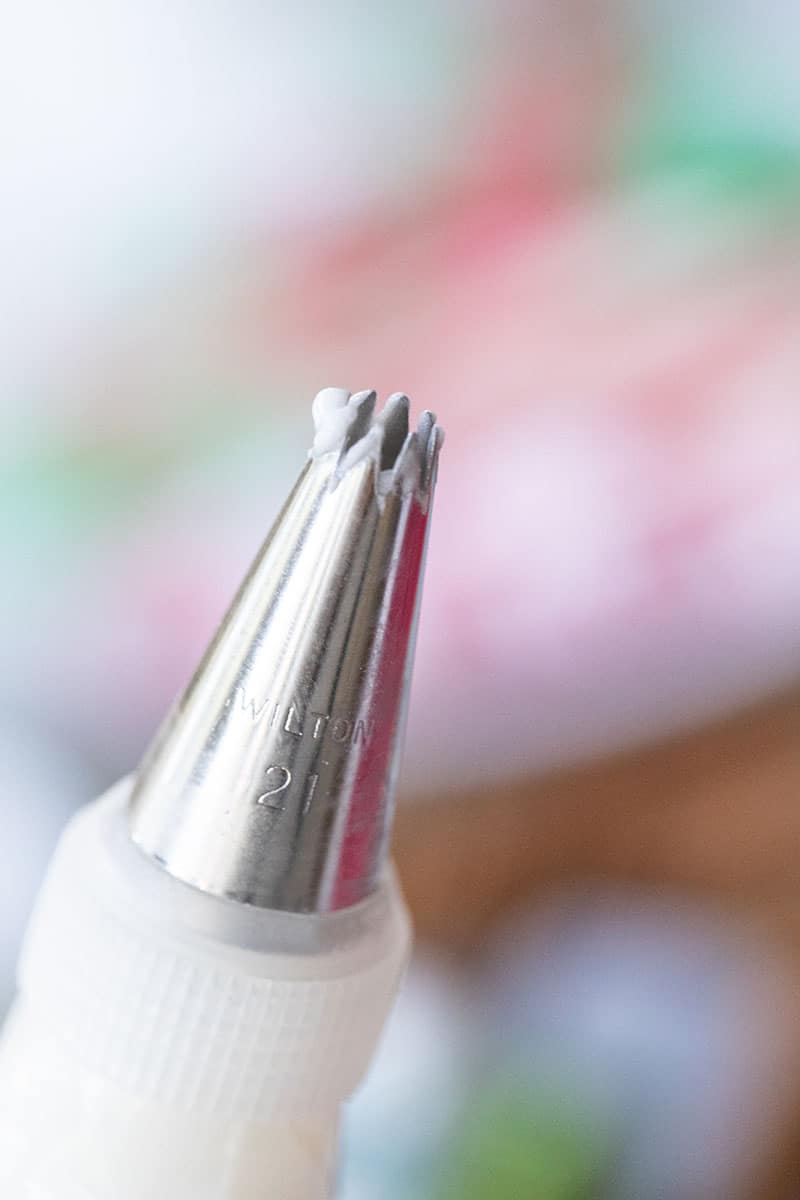 Make sure you properly set the piping bag up so you can switch out the tips for each bag and color, making it much easier. Here's an article to help!
Using a small round tip, make a fun design for the roof. Make a pattern that looks like roof tiles, or use the small tip to add candy to the roof.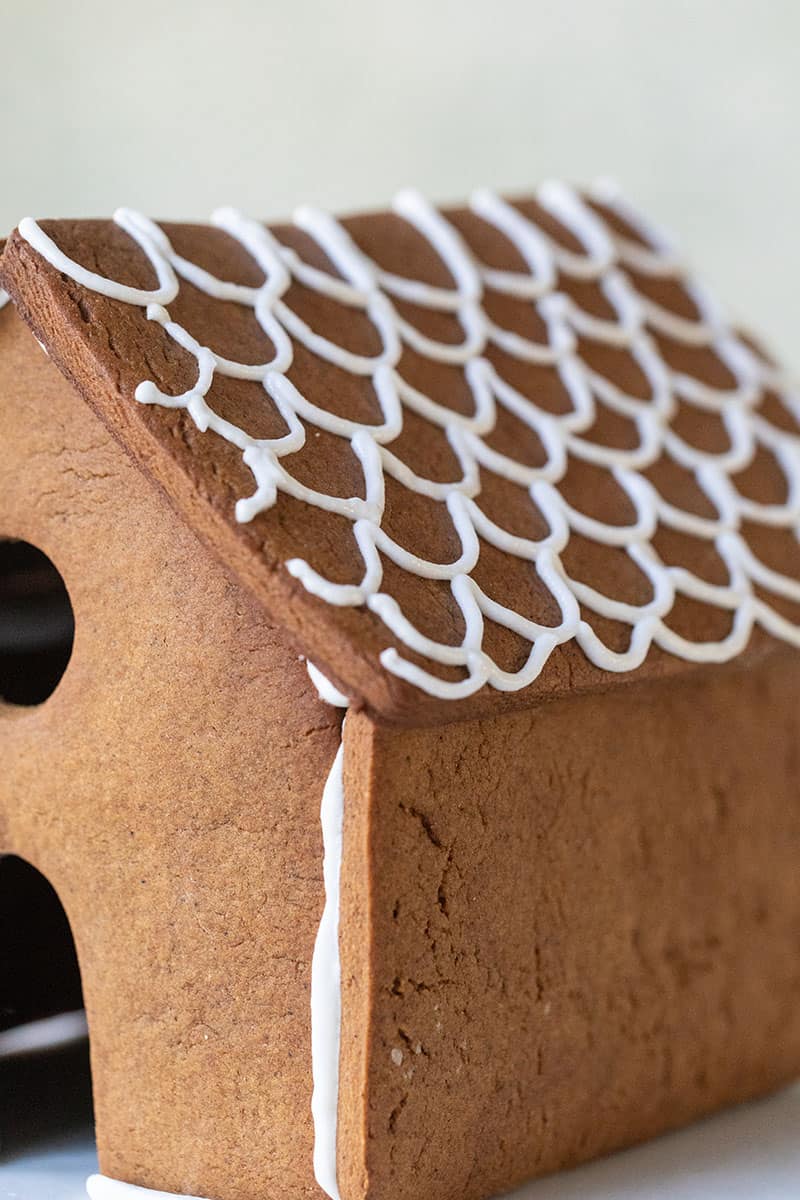 For small candy items, like these tiny gold stars, add a dot of frosting on the back and use tweezers to add them to the house.
We love the small star tip for making decorative dots and stars along with the house's frame.
Decorative Candy and Other Items
Candy! It's all about festive, colorful candies to create a charming house! There are many types of candy you can add to a gingerbread house. Here are some of our favorites:
Candy Canes
Gum Drops
Sprinkles
SweeTARTS
M&M's
Holiday Hershey's Kisses
Peppermints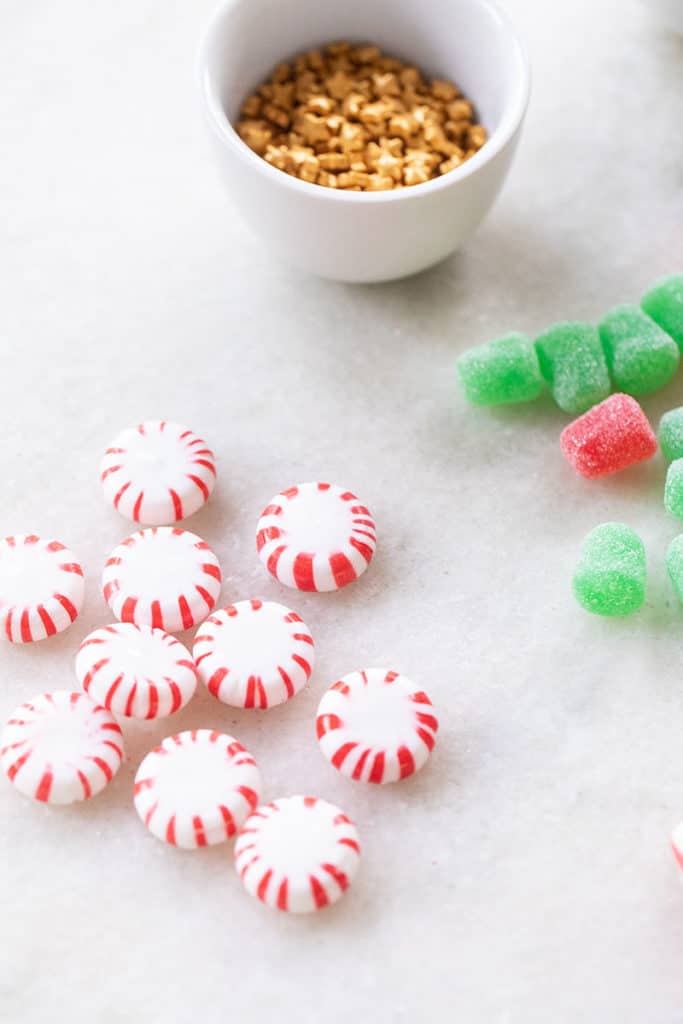 In addition to candy, here are some other ideas:
Cinnamon Sticks – Make great logs for your house.
Star Anis – They look like stars!
Herbs – Use rosemary and other herbs for trees, wreaths, and more.
Coconut – Add "snow" to the bottom of the platter for a snowy look.
Pro-tip – If you make rosemary trees, use hot glue to keep them in place on the platter. Do not use hot glue in your house, but getting these trees to stick it's the best way!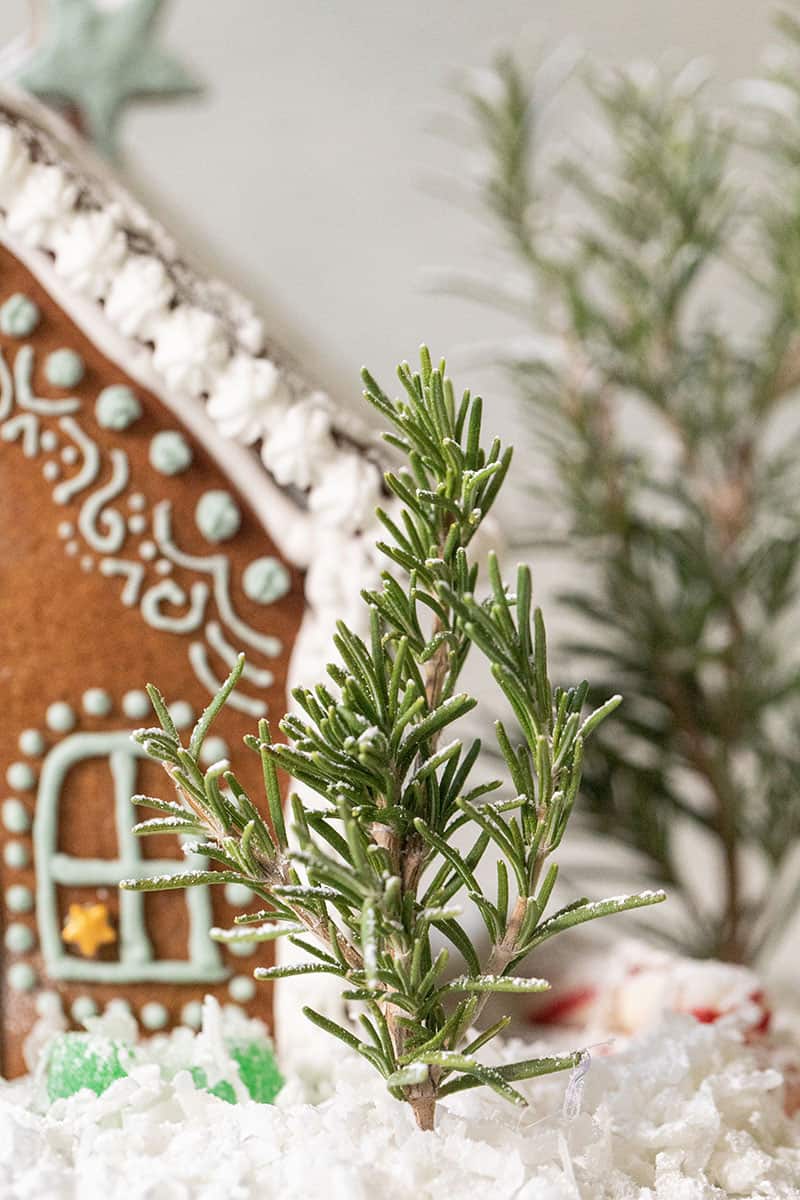 How to Make a Dusting of Snow
After the gingerbread house is fully decorated, give it a dusting of snow! This makes it look like a snowy cottage and is the final touch in creating a beautiful gingerbread house.
Add powdered sugar to a sieve. Hold it high over the house and gently shake allowing the sugar to fall onto the roof of the gingerbread house.
Frequently Asked Questions
How Long Does a Gingerbread House Last For?
Surprisingly, longer than you might think. If you follow the proper storage techniques, you can keep your gingerbread house intact for up to a year!
Does Trader Joe Have Gingerbread Houses?
Indeed! If you don't want to make one from scratch, you can find a 26.4-ounce Gingerbread House Kit on the shelves of Trader Joe's during the holiday season. With colors derived from natural sources and no artificial ingredients, this is one treat you can feel good about sharing with the whole family.
However, if you want one, you'll have to act quickly! These fly off the shelves this time of year.
We still recommend making our homemade icing to help decorate as the ones that come in the kits is usually too hard and difficult to pipe with.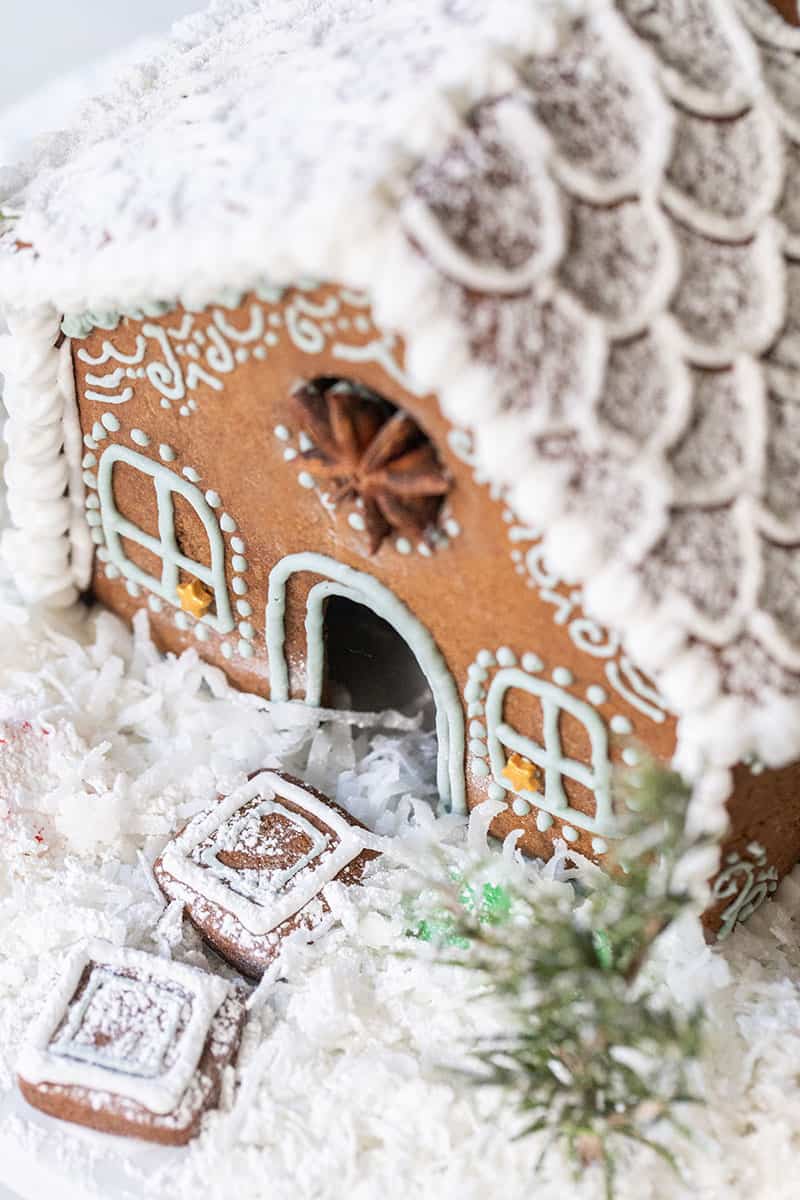 Does a Gingerbread House Go Bad?
Despite your best efforts to keep it wrapped, a gingerbread house won't last forever. However, you can extend its lifespan by keeping it covered, cool, and dry!
Can You Leave a Gingerbread House Out?
If you want to leave your gingerbread house out in the open without wrapping it, understand that the icing and other accessories will dry out quicker. It will also be exposed to dust and debris. While it will remain technically edible for a few weeks, it might not taste as great!
How Do You Keep a Gingerbread House Fresh?
Keep your gingerbread house in a tightly closed container as long as it's out on your counter or in your pantry. This way, it will last for a few weeks until going stale. For a more long-term option, you can freeze your gingerbread cake.

If you go this route, be sure to use an air-tight container that's also freezer-safe to prevent any moisture from entering. Your gingerbread house will last between six to eight months that way and still be edible when you thaw it out!

If you leave it out for decor, you can use a glass dome over a cake stand or platter to keep it fresher.
Can You Eat Gingerbread House Kits?
You'll need to read the label of each one you buy to make sure it's edible. However, most gingerbread house kits are intended to be consumed. That means that everything inside the kit, from the gingerbread itself to the candy and icing, is safe to consume.
Should Gingerbread Be Soft When It Comes out of the Oven?
Yes! Right when it comes out of the oven, homemade gingerbread will be soft to the touch. Yet, it only takes a few seconds of air exposure to harden it right up!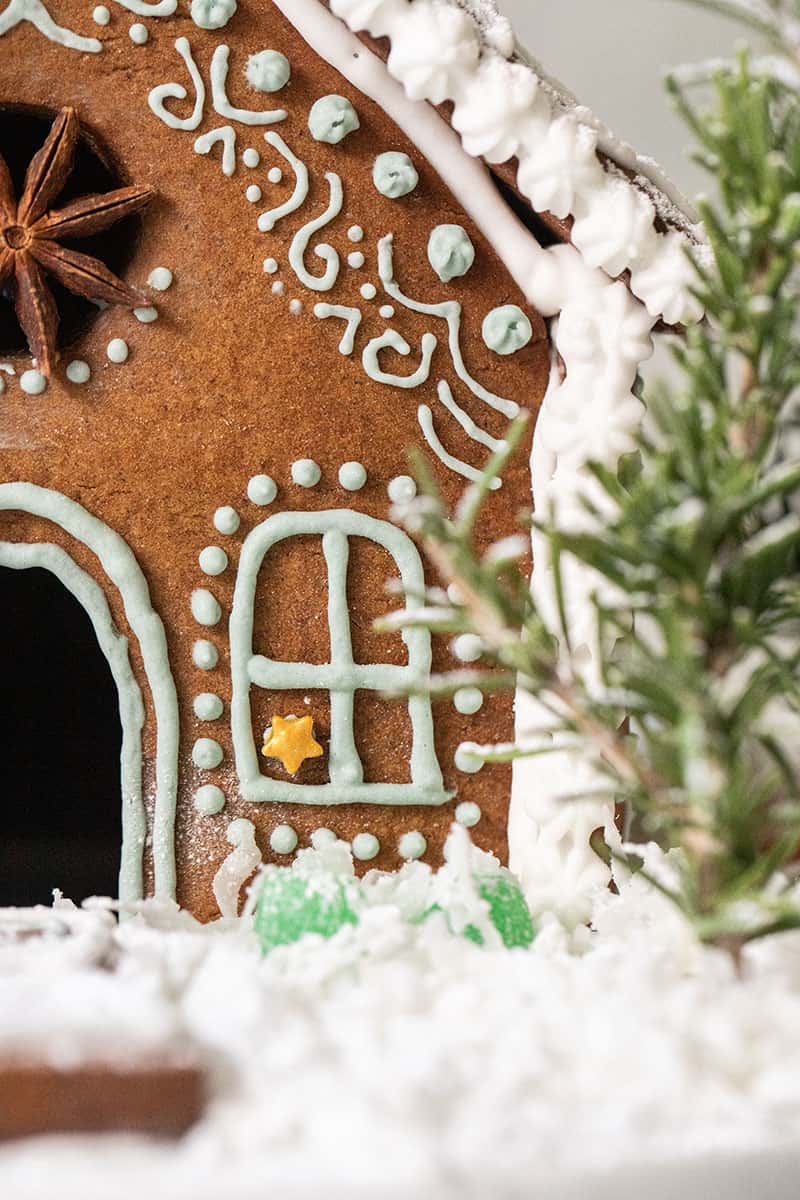 What Does Gingerbread Taste Like?
As its name implies, gingerbread has a distinct ginger taste. However, this peppery spice isn't the only one you'll notice. You'll also taste hints of cinnamon, nutmeg, cardamom, allspice, and cloves. Gingerbread can be soft and thick or thin and crispy, depending on your preference!
What Gives Gingerbread Its Flavor?
The aforementioned ginger, combined with rich and decadent molasses, gives it a rich, festive flavor. In addition, you can also thank molasses for its deep, dark color and its moist texture.
Is gingerbread house German?
Gingerbread houses originated in Germany during the 16th century. These charming decorated houses quickly became associated with the Christmas tradition.
What is the Gingerbread House Tradition?
Although families around the world make them now, gingerbread houses first began in Germany in the 16th century.
Before then, elaborately decorated gingerbread cookies were already a holiday staple, made popular during European Medieval fairs. Turning them into fanciful houses was a natural next step.
From there, the demand grew when the Brothers Grimm released "Hansel and Gretel," a children's story that features a house made of entirely — you guessed it — sweet treats.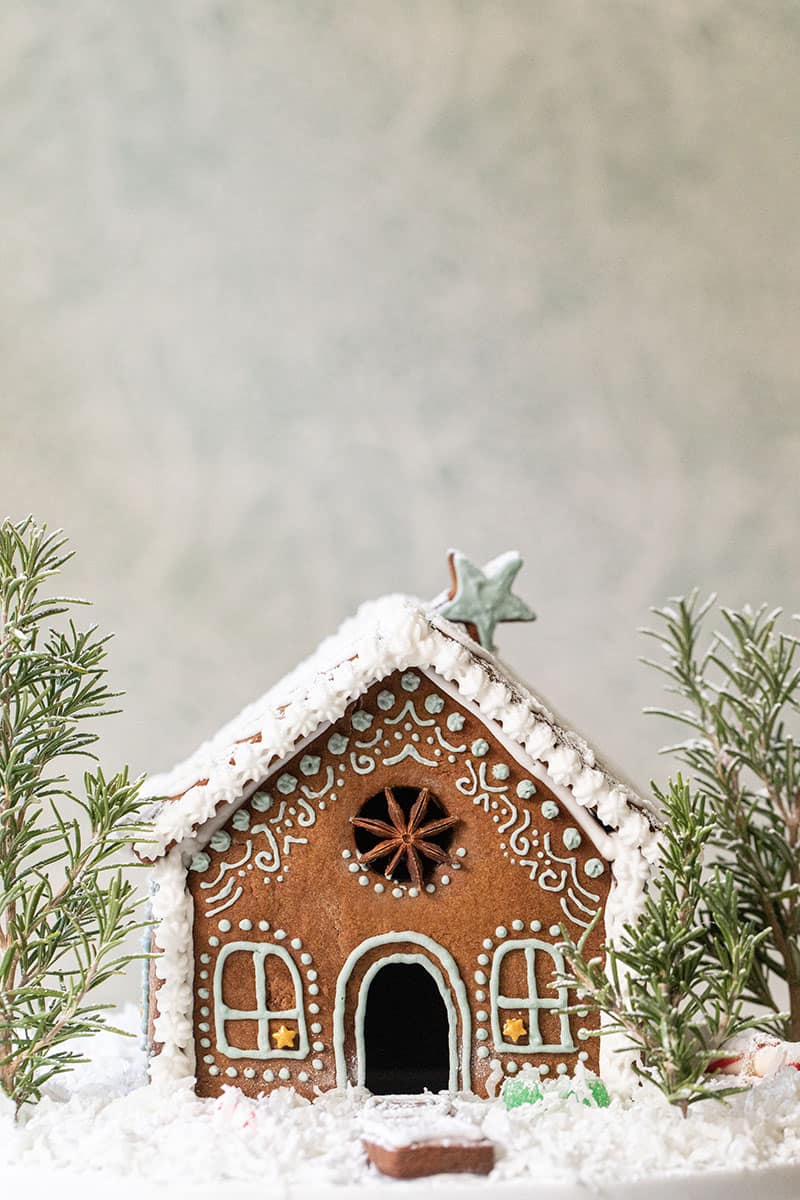 What Kind of Icing Do You Use for Gingerbread Houses?
The icing is one of the trickiest parts to get right. Basic butter frosting is too crumbly. It also takes a while to harden. This means it will stay sticky for longer, making more of a mess.
What you need is royal icing. This specialty ingredient hardens quickly and is more fast-drying than butter frosting. In addition, if you want to keep your house for as long as possible, you'll want a frosting that's devoid of any butter, as this can cause it to rot faster.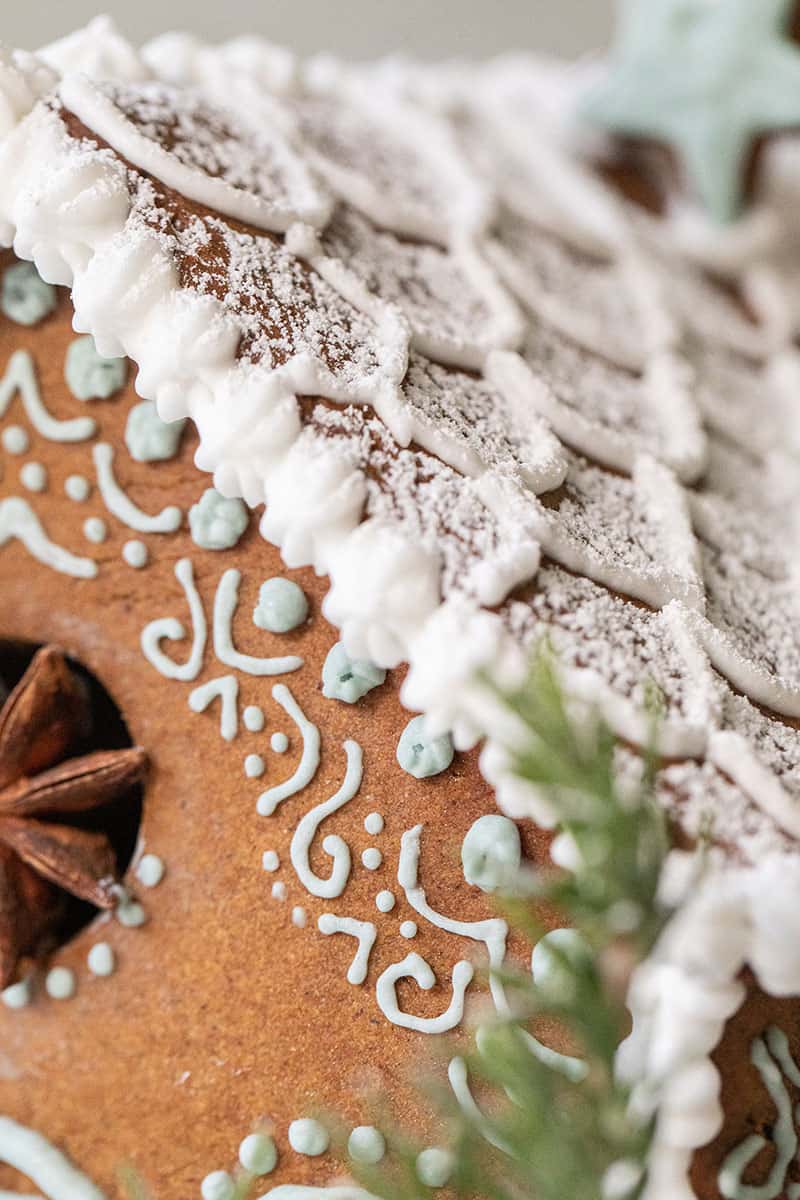 Create The Perfect Gingerbread House This Season
The art of making a gingerbread house doesn't have to be difficult to master.
By following our simple gingerbread house recipe, and tips, you can be well on your way toward creating an entire village of your own! So grab your supplies, brainstorm your design, and start creating!
Need more ideas and inspiration on how to decorate and celebrate this Christmas? Check out our collection of guides!
More Christmas Recipes You'll Love!
How to Host a Wonderful Christmas Eve Dinner
The Best Gingerbread Buttercream
Festive Drinks to Sip When Making a Gingerbread House
There is nothing better than sipping a festive holiday cocktail when making a gingerbread house! Here are some delicious recipes:
A Refreshing Christmas Martini
Now that you're in the holiday spirit, it's time to start baking!
Let us Know if You Make this Gingerbread House Recipe
If you make this gingerbread house recipe, leave a comment and review below.
You can also FOLLOW US on FACEBOOK, INSTAGRAM, and PINTEREST to see more delicious recipes, cocktails, desserts, and parties!
We would also LOVE to see your photos by tagging @sugarandcharm on social! I can't wait to see what you create!
Gingerbread House Recipe
An easy recipe to make a gingerbread house from scratch! Build your own gingerbread house, then decorate it with fluffy icing and candy!
Print
Pin
Rate
Servings:
1
gingerbread house
Ingredients
Gingerbread House Recipe
1/2

cup

butter

,

softened unsalted or salted

1/2

cup

dark brown sugar

1/4

cup

molasses

1

tbsp

ground cinnamon

1

tbsp

ground ginger

1 1/2

tsp

ground cloves

1

tsp

baking soda

2

cups

all-purpose flour

4

tbsp

water
Gingerbread House Decorations
candy canes

gum drops

sprinkles

chocolates
Instructions
In a large mixing bowl, cream the butter, brown sugar, molasses, cinnamon, ginger, ground cloves and baking soda together until the mixture is smooth.

Blend in the flour and water to make a stiff dough.

Chill at least 30 minutes or until firm.

Preheat oven to 375 degrees.

Roll out the dough and use cutters to create the shapes of the gingerbread house.

There is a chart inside the cookie-cutter package that tells you exactly how many cookies to make, 19 cookies total, but I ended up only using 16 cookies. 

Bake for about 10 minutes or until crispy.

Let the gingerbread house cool before assembling.

Once the gingerbread is cooled, you can start to build the gingerbread house by piping frosting on the bottom and sides of the house.

When the house is fully assembled, let it dry for 10 minutes before decorating it!

To decorate, use different piping tips and a lot of candy!
Nutrition
Calories:
2431
kcal
|
Carbohydrates:
374
g
|
Protein:
28
g
|
Fat:
95
g
|
Saturated Fat:
59
g
|
Cholesterol:
244
mg
|
Sodium:
2150
mg
|
Potassium:
1716
mg
|
Fiber:
13
g
|
Sugar:
171
g
|
Vitamin A:
2836
IU
|
Calcium:
427
mg
|
Iron:
18
mg