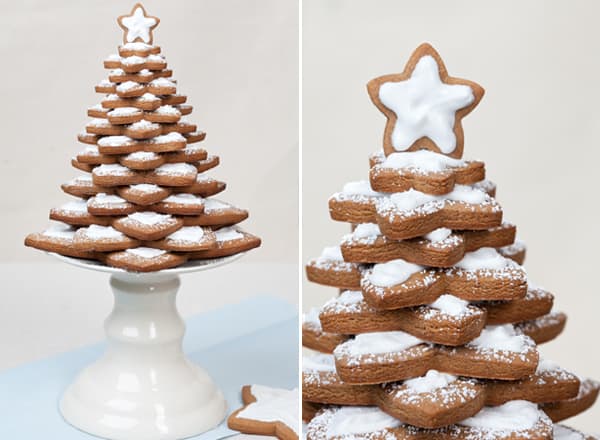 This year instead of making a gingerbread house, I decided to try a homemade gingerbread tree! I found these 
star cookie cutters
 from Crate and Barrel that are for making gingerbread trees. They're on sale now too! I also followed my 
gingerbread recipe
 from last year, which you can find 
here.
This would be an awesome centerpiece for a dessert table or even the kids' table for Christmas. It also fills the house with a delightful and cheery scent! Read below for my directions for this gingerbread Christmas tree!
Use
this
recipe to make the gingerbread
Roll and use the
star cut-outs
to make the shapes. There is a chart inside the cookie-cutter package that tells you exactly how many cookies to make, 19 cookies total, but I ended up only using 16
Follow the icing recipe (below) and then put half of it into a bowl and the other half into a piping bag or bottle
Outline and then fill in the entire cookie with icing… repeat with every cookie
Stack from largest to smallest, alternating the points of the stars. Sprinkle with powdered sugar!
Icing recipe
4 cups powdered sugar
3 tablespoon meringue powder
8 tablespoons warm water
Directions
With the whisk attachment, beat all of the ingredients for about 5-10 minutes, until the frosting is fluffy and thick.