Making a DIY gingerbread house party? Below are some great tips for a fun Christmas get-together that's great for kids and adults alike!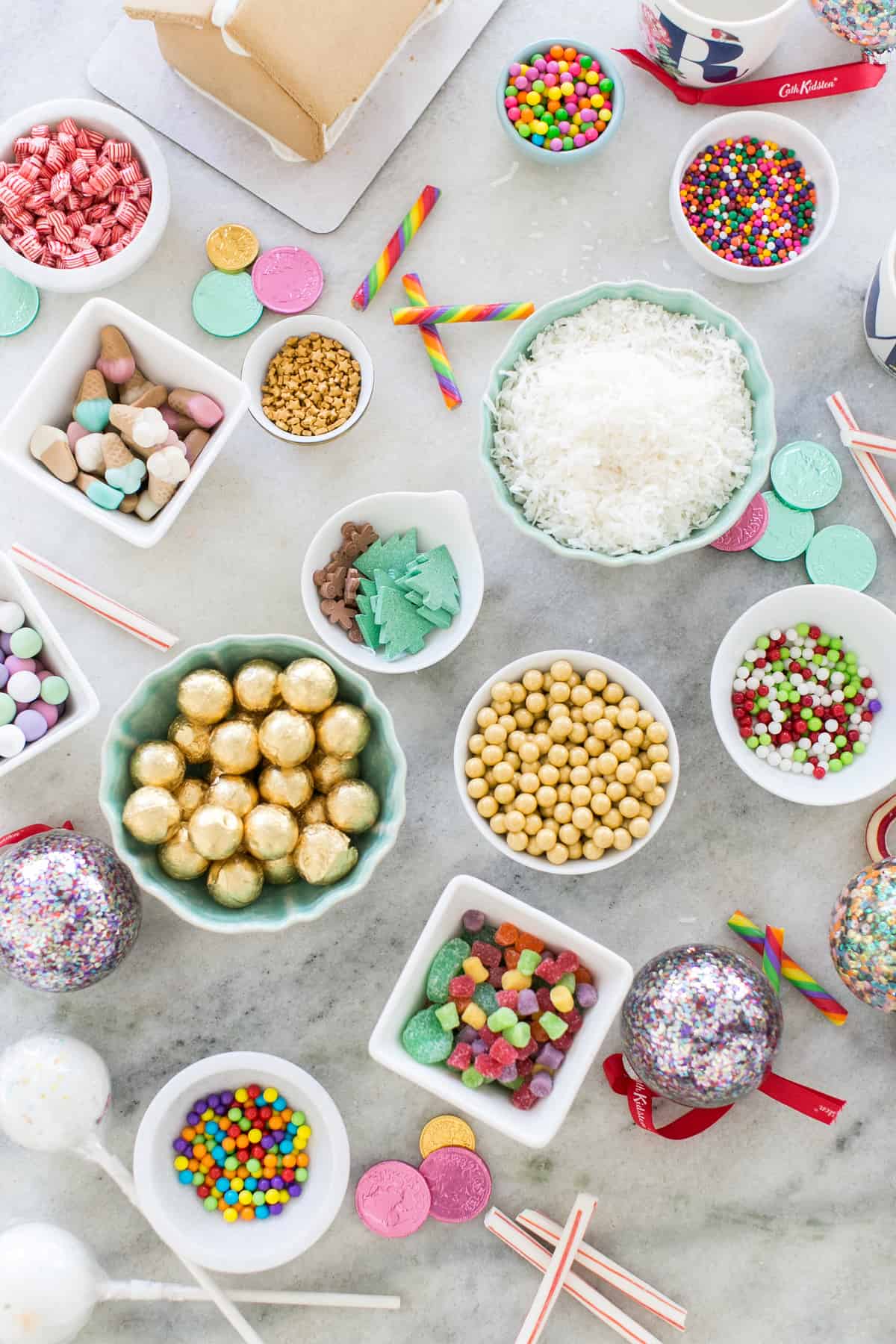 Decorating gingerbread houses has been our tradition even before our kids were born! I would invite our good friends, Mara and Matthew, over and host an evening gingerbread house-making party every December.
Now that the kids are older, it's really all about them and creating those special holiday memories for them.
So every year, I host a gingerbread house night for Romeo and his cousins, and I teamed up with one of our favorite nostalgic and playful lines, Cath Kidston, to share 5 ways I make the party special!
I adore their colorful holiday line of glittery ornaments, alphabet mugs, and even holiday sweaters like my sequin Twinkle Twinkle sweater!! It's all so perfect and charming for kids and such a fun way to add color to the holidays! It goes very well with candy too!!
How To Host A DIY Gingerbread House Party – Step By Step
1 — Send out invites, or e-vites, well in advance. The festive period is a busy time for most people, so allow them time to plan.
2 — Buy pre-made gingerbread houses!
3 — Stock up on enough decorations (edible) for your DIY gingerbread houses.
4 — Plan your space. Allow enough room for all your candies and space to decorate your DIY gingerbread houses.
5 — Have fun and get creative!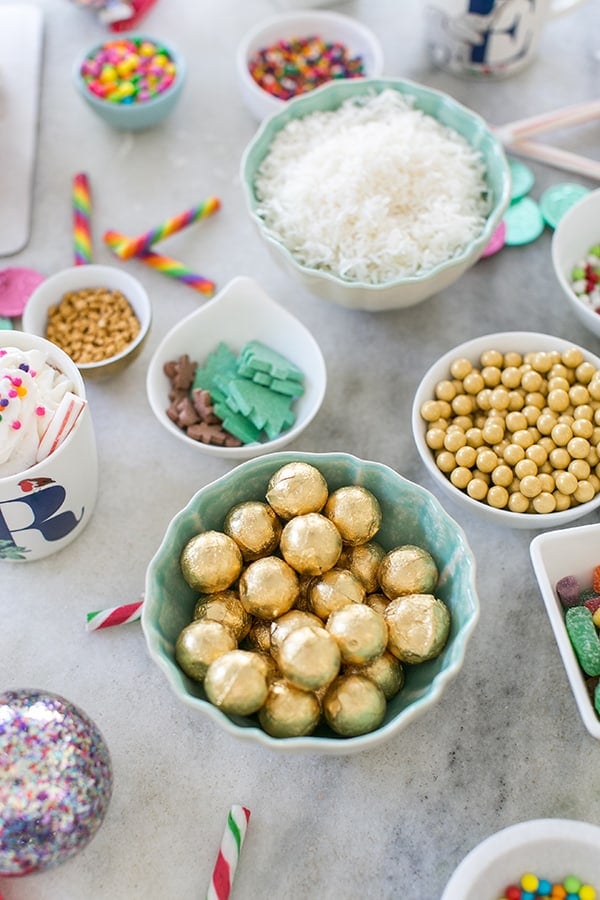 5 Top Tips To Make Your Perfect DIY Gingerbread House Party
1 — Buy Gingerbread House Kits
Unless it's for adults who want to get really into their house builds, buy the pre-made gingerbread houses! It's such a pain to put them together and wait for them to dry. The best part is decorating, so assemble them before or buy prepare. Also,  buy extra candy!!
If you're buying the boxed gingerbread houses (totally acceptable because one year I made them from scratch, and it was a lot of work, haha!), then you have to buy extra candy!
The boxes come with a little, but in my opinion, it's just not enough to create the gingerbread house of their dreams! If you're hosting little kids, it's smart to buy the pre-glued (glued with frosting, that is!) houses or even put them together the night before.
Little kids don't have the patience to wait for their houses to dry!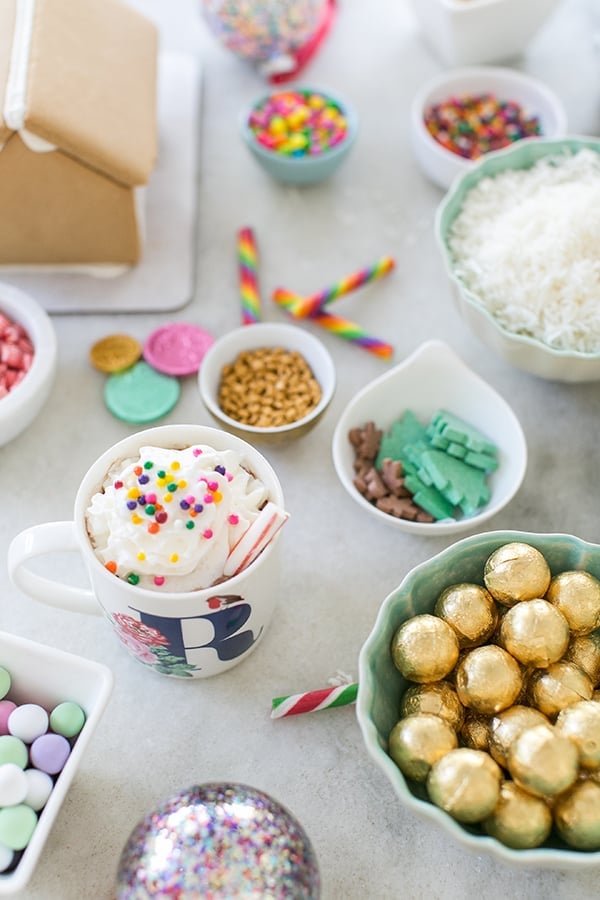 2 — Get Creative With Your DIY Gingerbread House Decor!
Add in extra things like shaved coconut, mini marshmallows, candy canes, pretzels, and anything you think would be fun when creating a gingerbread house. See more alphabet mugs here!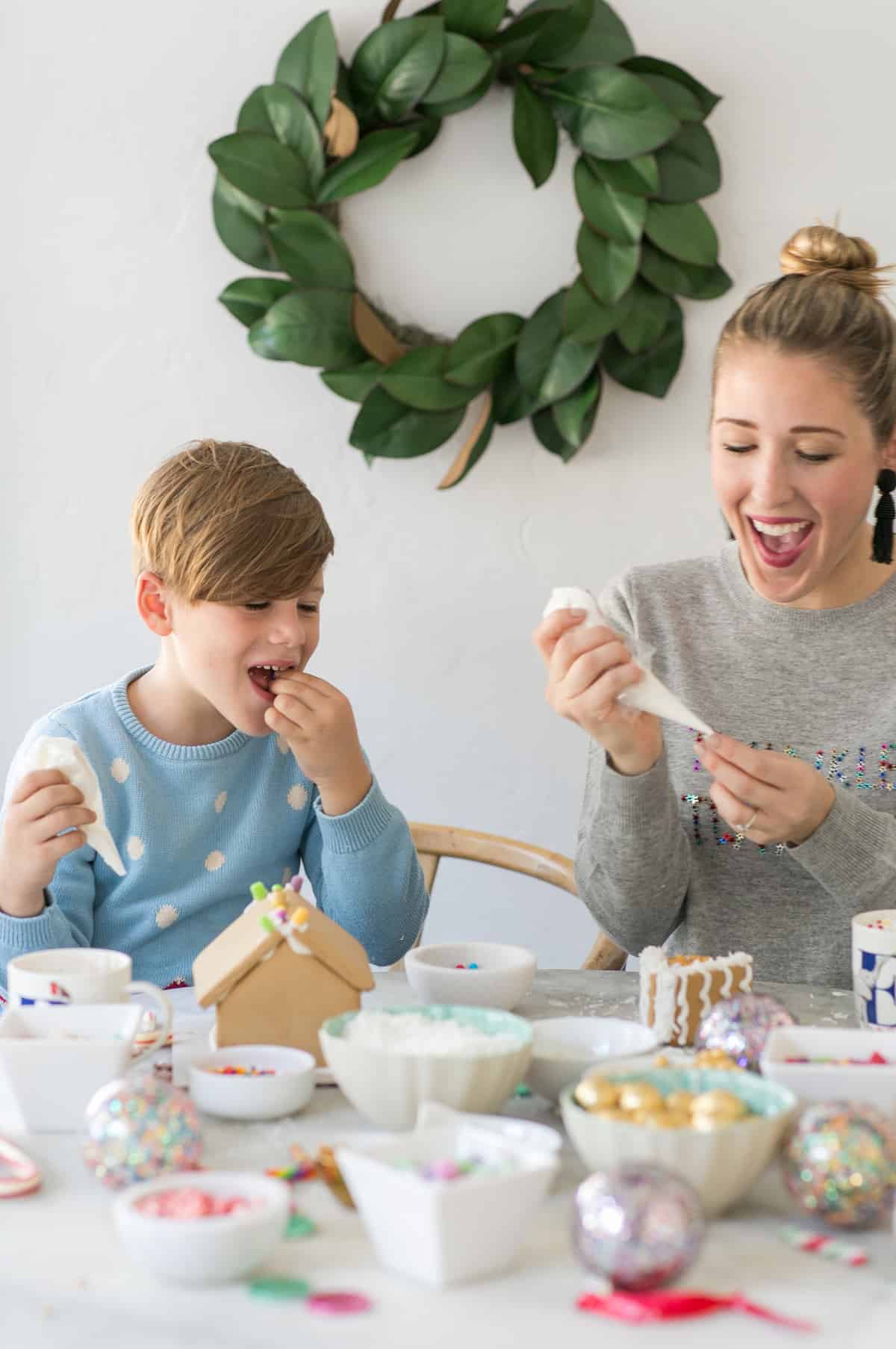 3 — Frosting For Your DIY Gingerbread Houses!
The frosting is a key element for any good DIY gingerbread house! It not only sticks to decorations but also adds another element of creativity, allowing for all sorts of fun designs. Get the kids swirling!
I usually always make extra frosting just in case someone needs more… which usually happens! You can also make different colors this way too!
If you haven't done much piping, then have a look at the queen of the Kitchen, Martha Stewart's piping basics.
Romeo is wearing this sweater!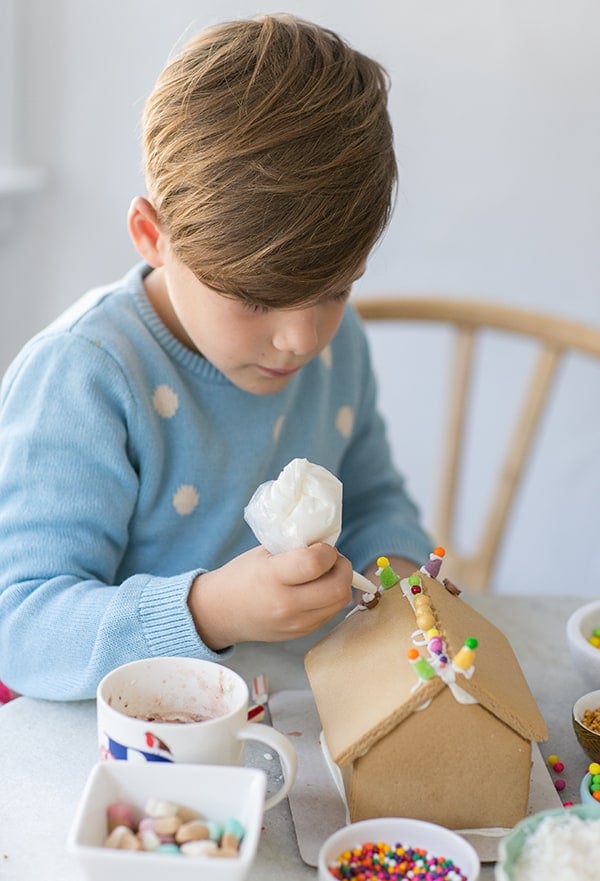 4 — Setting Up Your Build Area
When laying out your DIY gingerbread house-building stations, ensure you've allowed enough room for everyone. People want to have fun, so they will have room to spread out their decorations and elbow room for piping!
Place all of the candy out in little dishes on the table so that it's easy for everyone to grab and see what they have to use. It also makes a really festive Willy Wonka-ish layout that kids go crazy over!!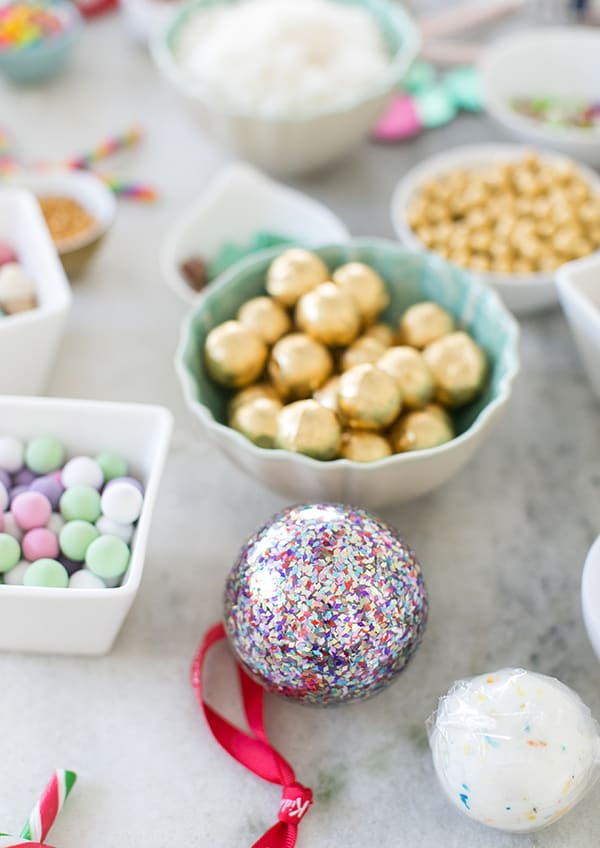 5 — Festive Drinks
Make a yummy homemade hot cocoa (that way, you can go easy on the sugar!) for the kids to drink while they're getting creative.
There's just something so special about drinking hot cocoa with Christmas music on while making gingerbread houses, and we used Cath Kidston's adorable and colorful alphabet mugs to serve it in!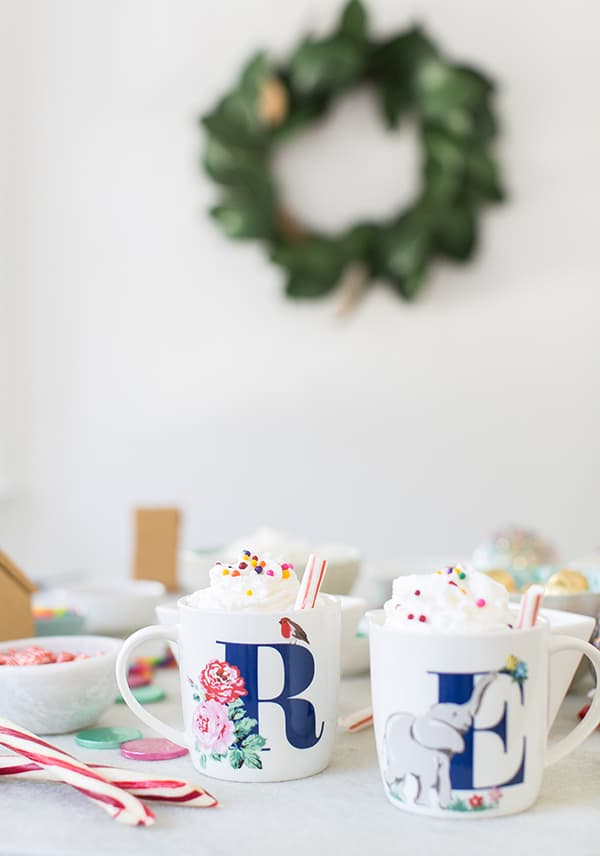 Top Tips For A DIY Gingerbread House Party
Make sure to send out invites and e-vites well in advance.
Buy gingerbread house kits.
Buy a good amount of edible decor, don't just rely on what's in the kits.
Make more frosting than you think you need – people always you more than you'd expect.
And I adore these festive and colorful glitter ornaments!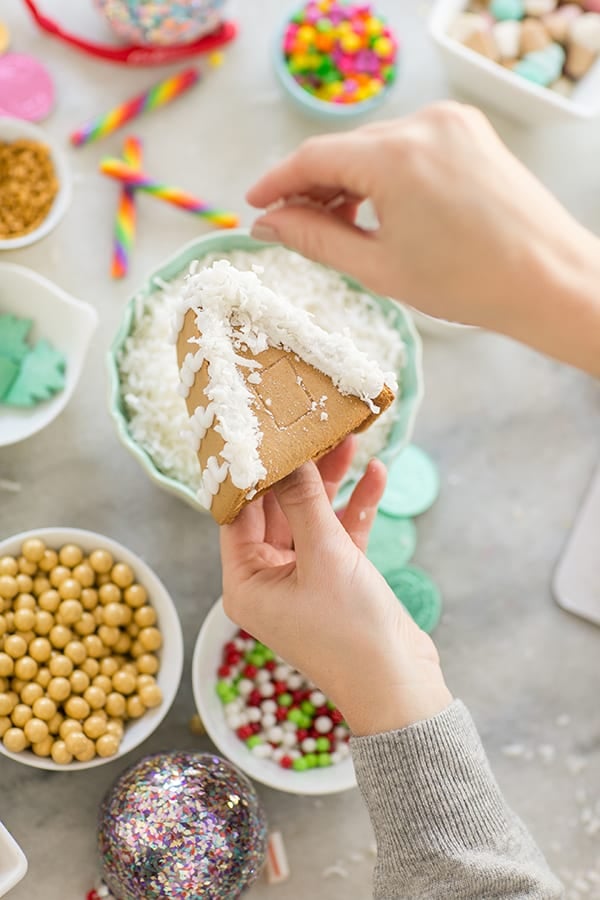 Check Out These Other Great Christmas Entertaining Ideas
Christmas Entertaining
The Ultimate Fall Fondue Party
30 Stress-Free, Easy Christmas Party Ideas by The Welcoming Table
9 Festive Kids Christmas Party Ideas by The Spruce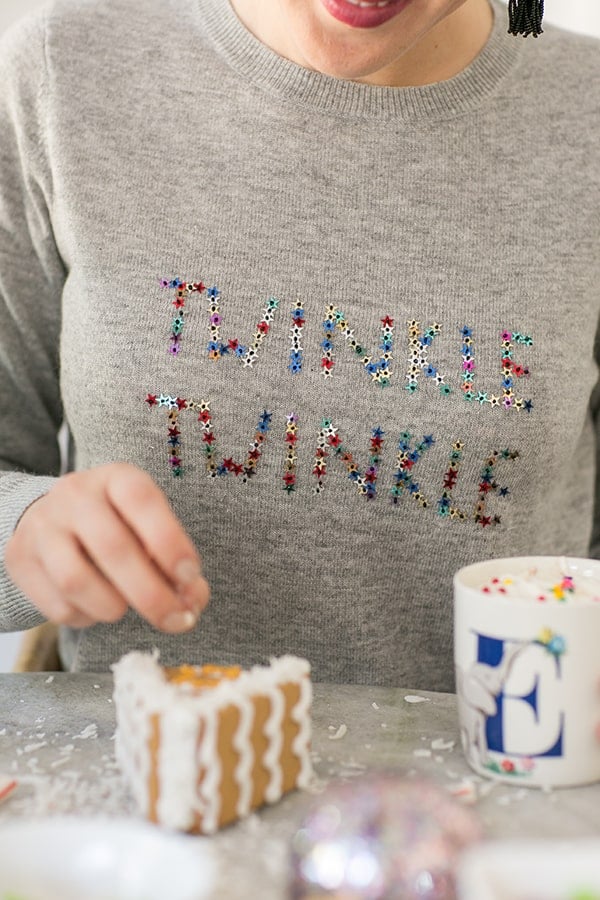 FOLLOW US on FACEBOOK, INSTAGRAM and PINTEREST to see more great party ideas!
This post is sponsored by Cath Kidston