We're getting into the holiday spirit and decking the halls! I was so excited to decorate this year since we were in full remodel mode last Christmas and living in a guest house. I wasn't able to get any of my Christmas decorations out, so it was such a treat to fill our living room with Christmas decor!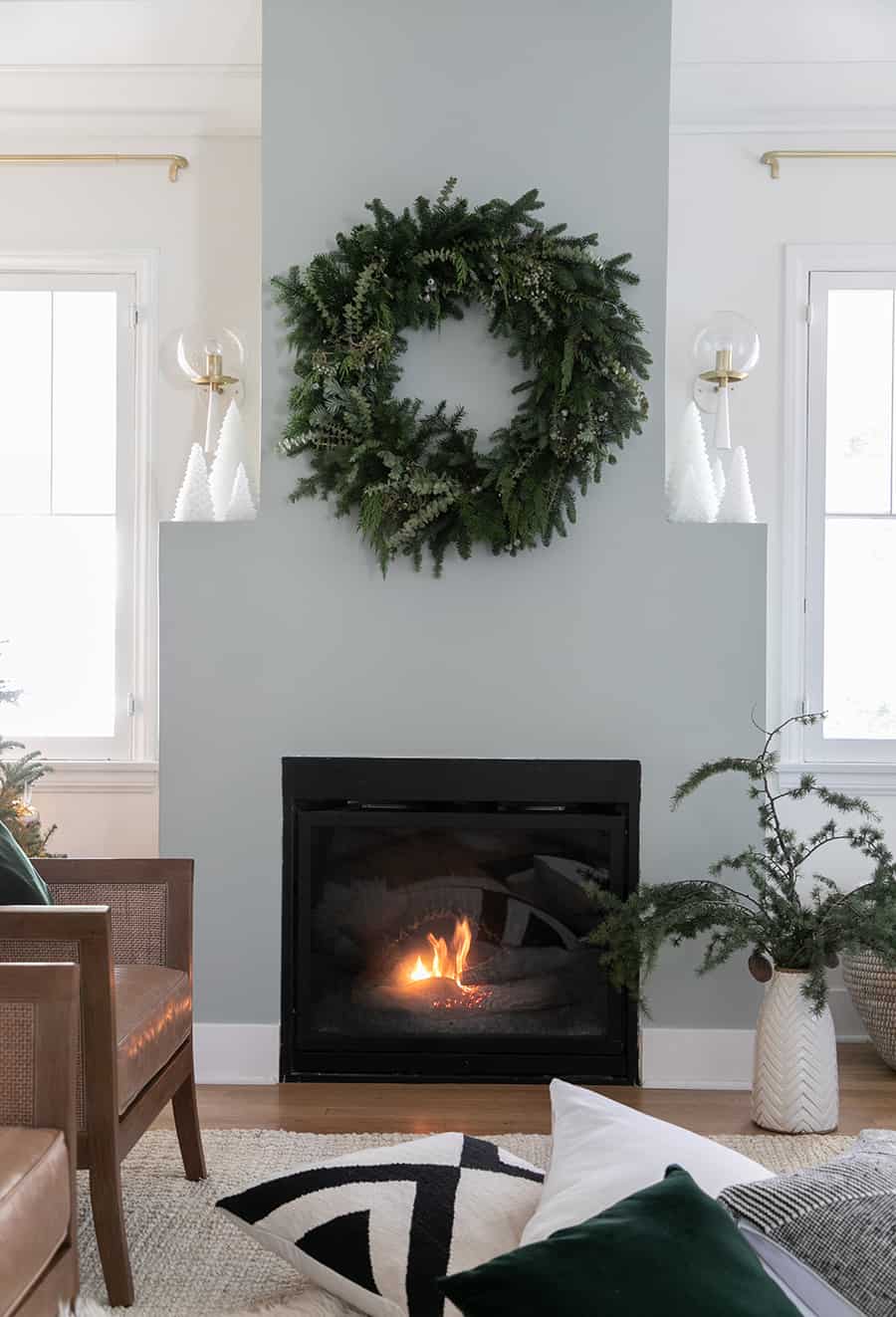 We only made a few updates and it totally transformed the entire space. It feels so warm and cozy now and we've loved sitting by the fire every night with a Christmas movie on. See my Christmas living room decor below!
1. Painted the Fireplace
The perfectly centered fireplace is the main focus in this room and the first thing you see. I wanted to bring more color to the room so we painted the fireplace to make it pop.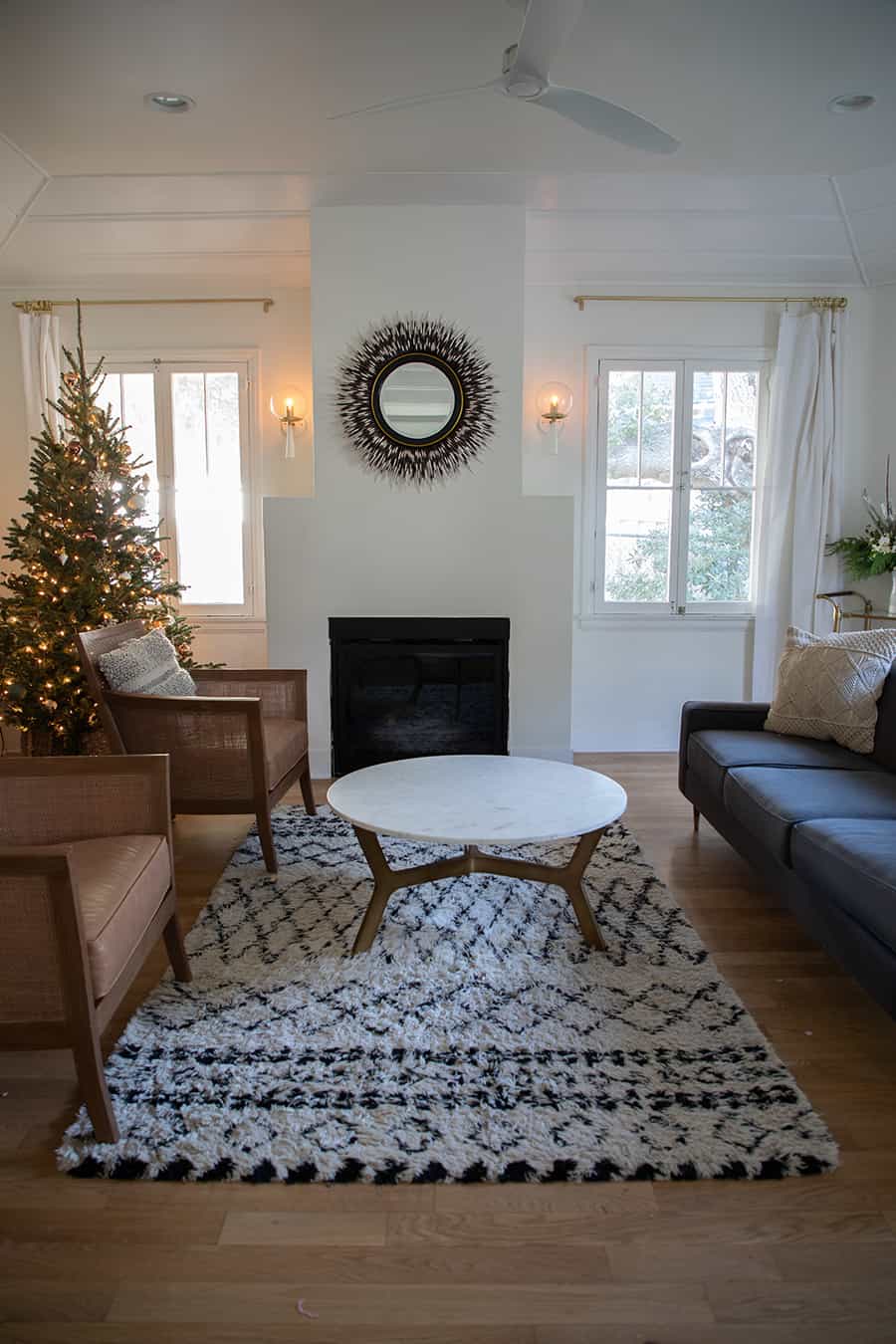 I chose a color from EasyCare Ultra Premium Paint that matched the wallpaper in our nook from a swatch. We went with Olive Branch, an in eggshell finish since the swatch matched perfectly and I couldn't believe how exact the color was when we painted it on the fireplace!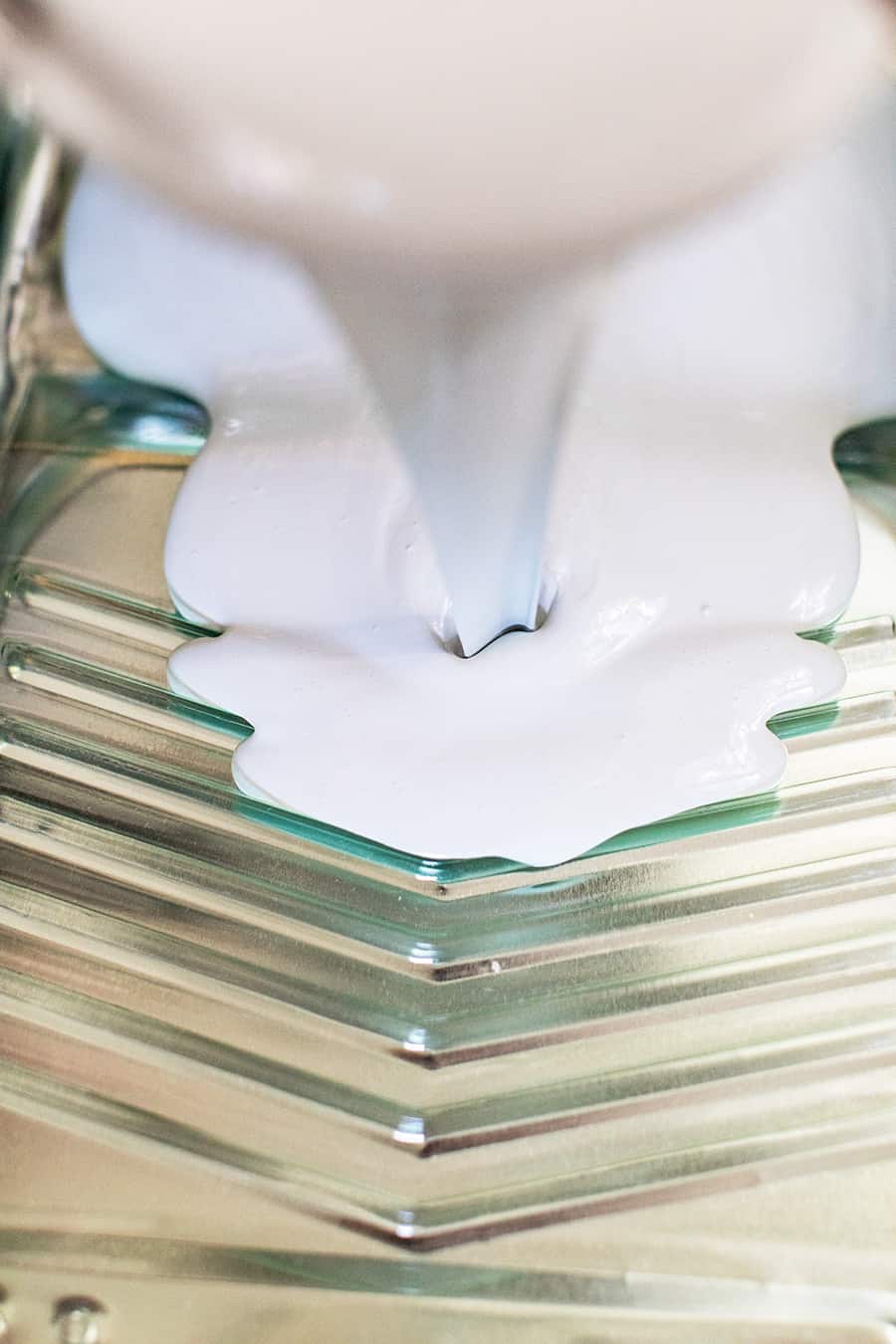 It's also one of my all-time favorite colors like it was made for Sugar and Charm, and I'm obsessed with how it turned out! The paint has such a smooth finish, and it's seriously amazing what some paint can do to space.
Here is a before picture of the living room so you can see what a difference the paint made!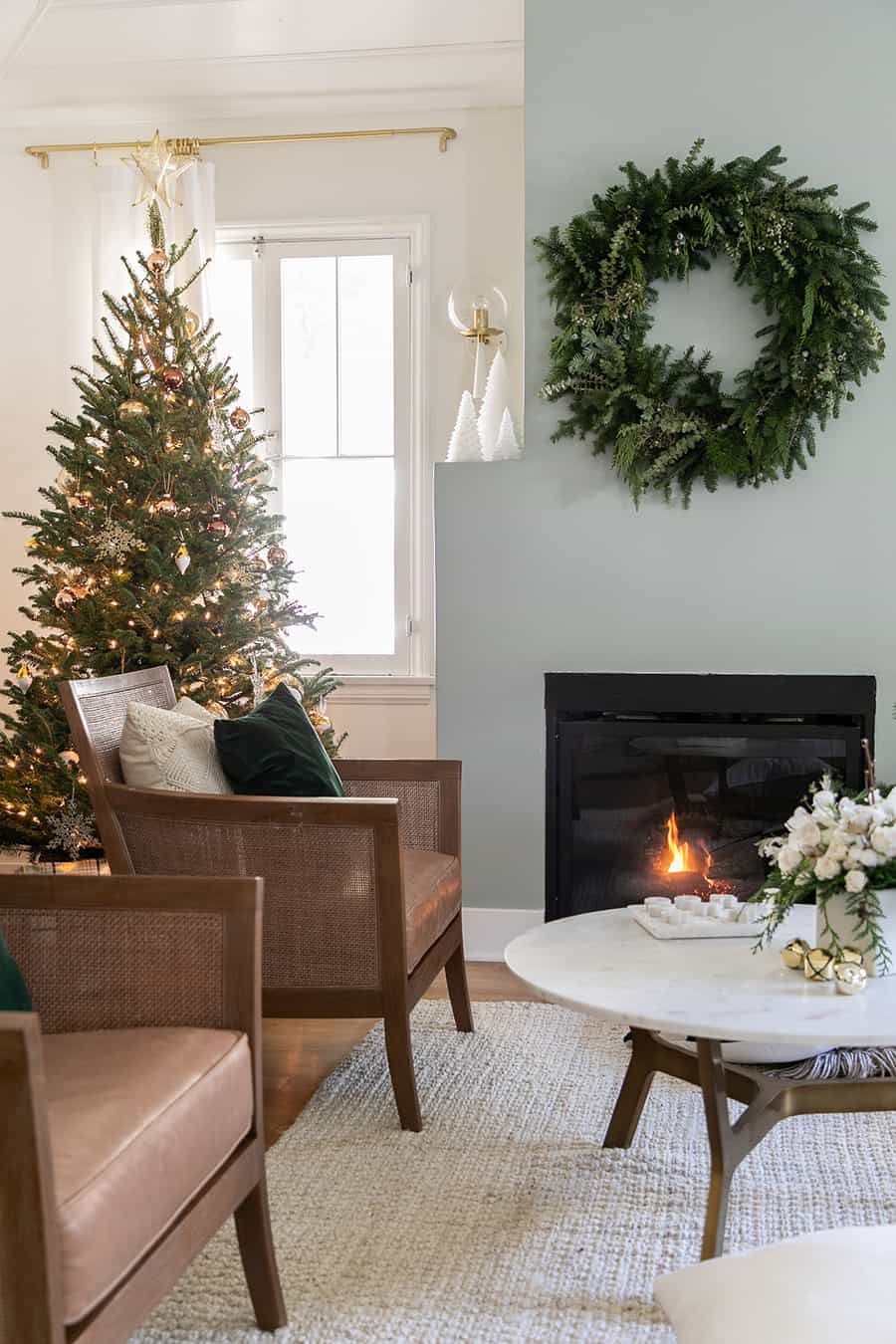 2. A New Rug
I really didn't want to commit to a rug right now, so I actually just used a white jute rug for now. It's larger than the last rug we had and looks clean and bright, especially for the holidays!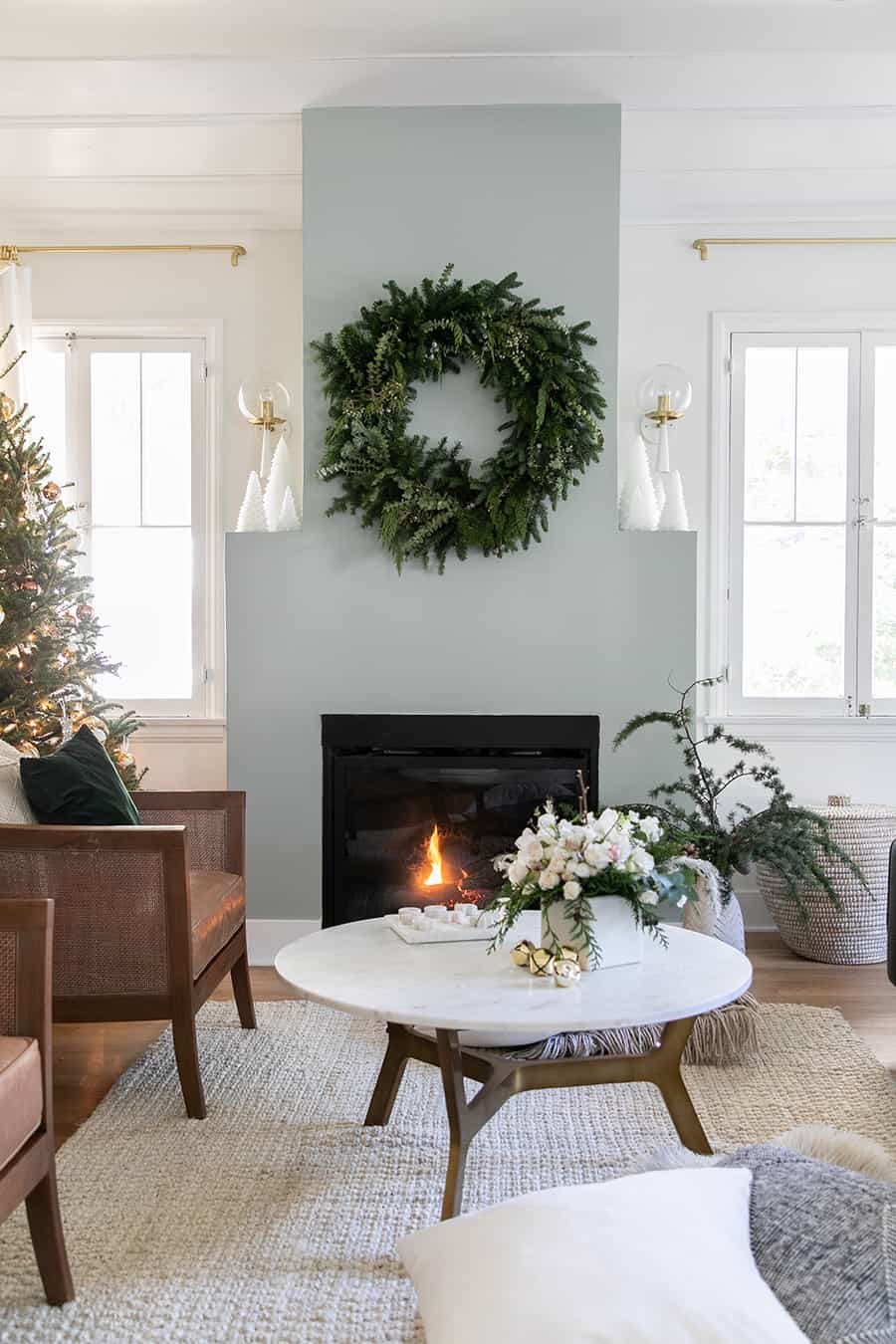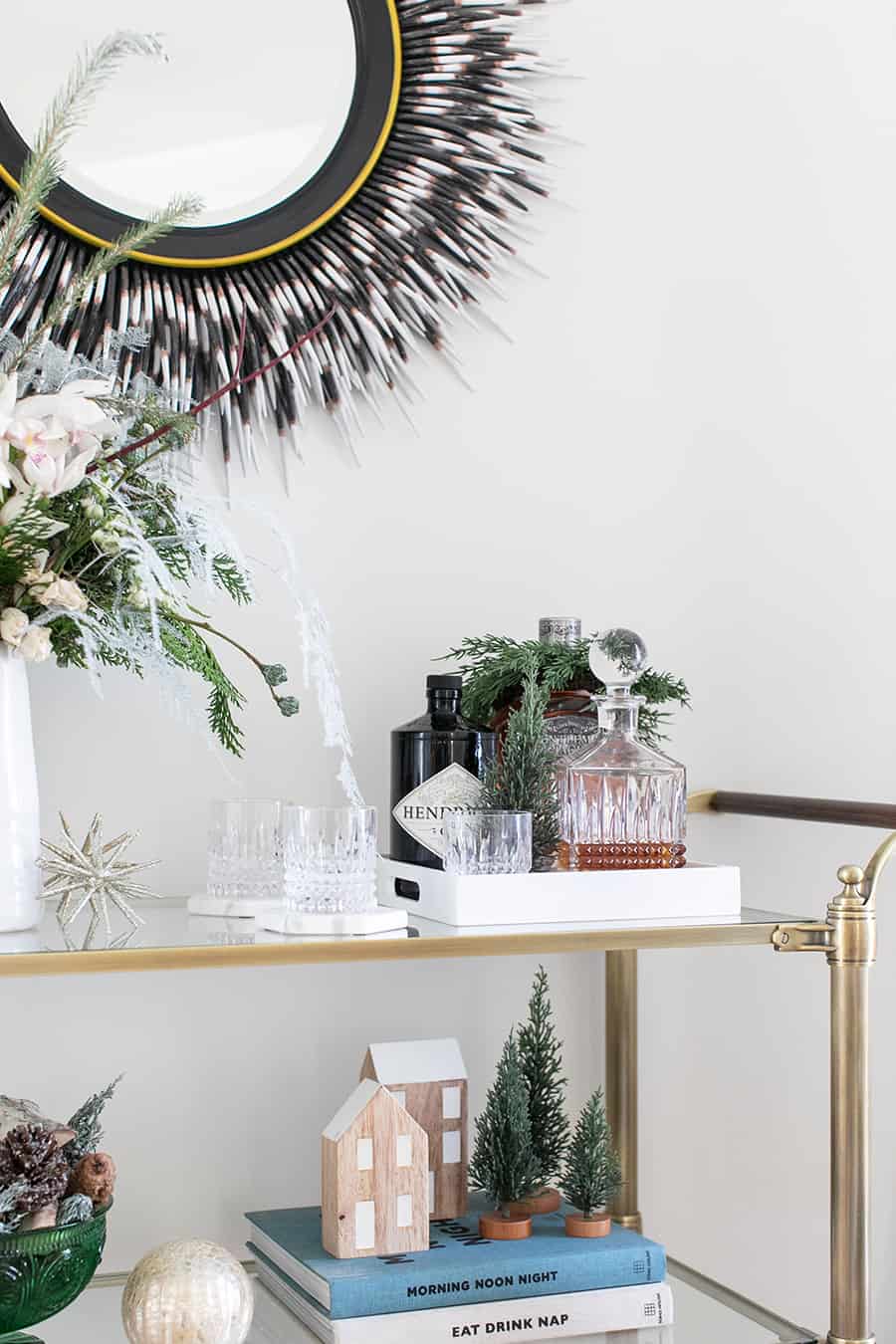 3. Bar Cart
I had been eying this brass bar cart for years and finally decided to give it a home in our living room! It's perfect for spirits, glasses and flowers.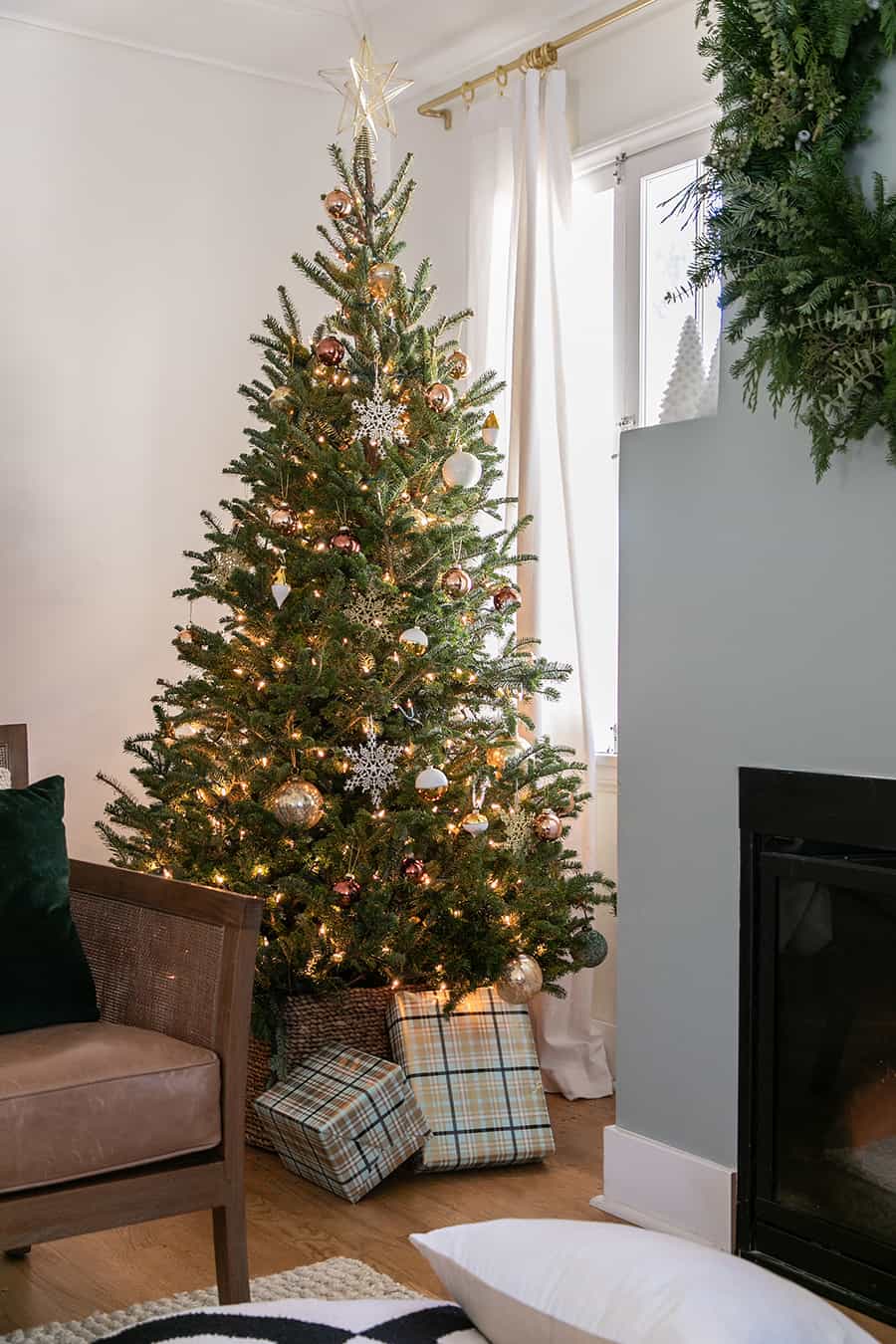 4. Christmas Tree
This year I purchased a Fraser Fir and now I am hooked for life! The tree looks so perfect and I love the way the branches are spaced out. We hung gold, white and copper ornaments on the tree, then white twinkle lights. I actually put the tree stand in a large woven basket this year and I like how it looks. I wanted something different and I had the basket so I just plopped the tree into it and viola! We also have a tree in the dining room that's for the kids and we decorate it with all of our keepsake type ornaments.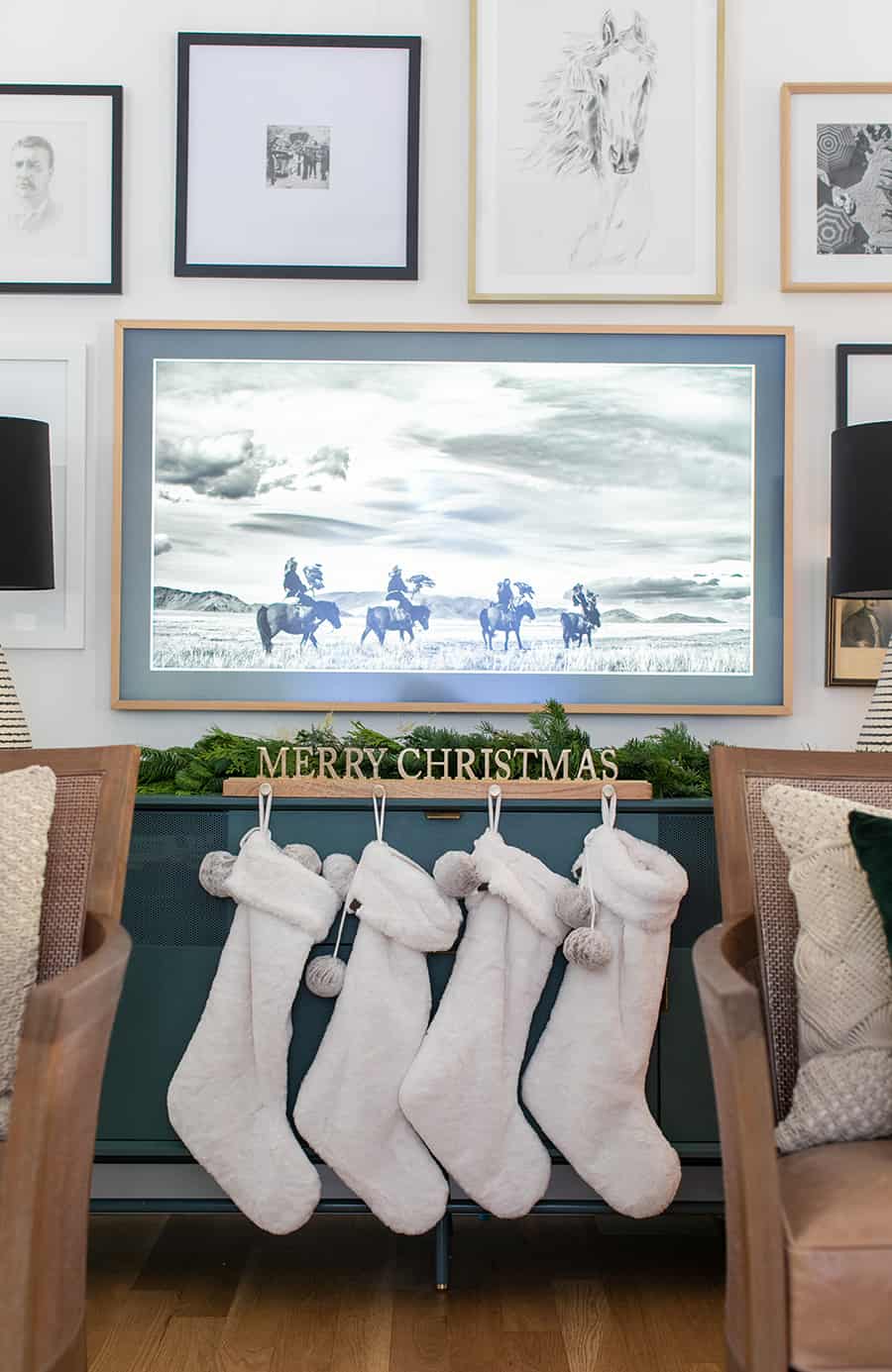 5. Christmas Decor
I personally love decorating with fresh garland, wreaths, and pretty flower arrangements.
The wreath over the fireplace is my favorite decoration in the living room. It's a large fresh wreath and looks stunning against the fireplace color. I also have my traditional items, like stockings, ornaments, and candles. And I really love these fluffy white stockings made by Ugg.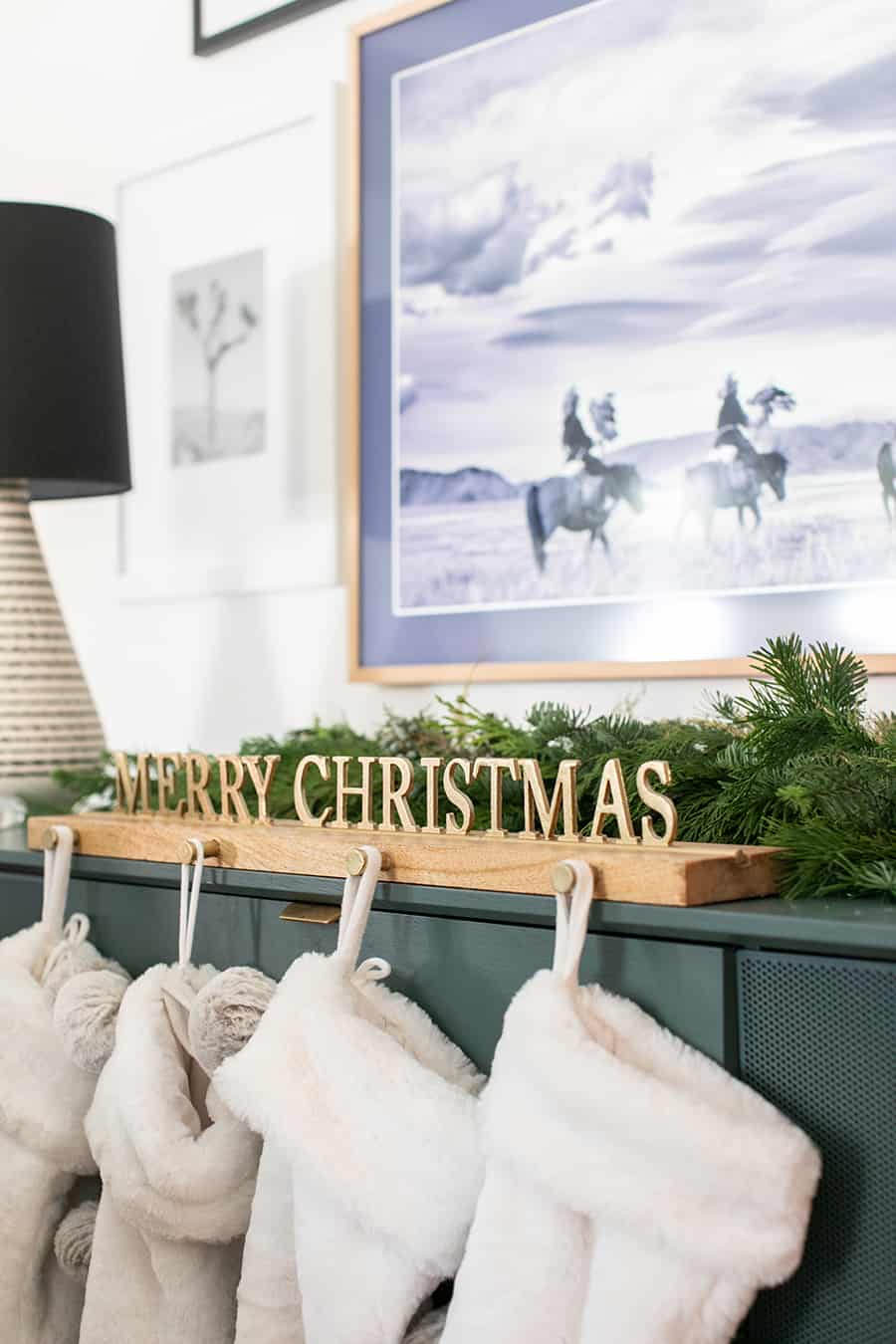 Since we don't have a mantel this year, I purchased this Merry Christmas stocking holder to hang them. You can find it here.
The large white Christmas tree candles are also a favorite that I use every year. They're instant decor!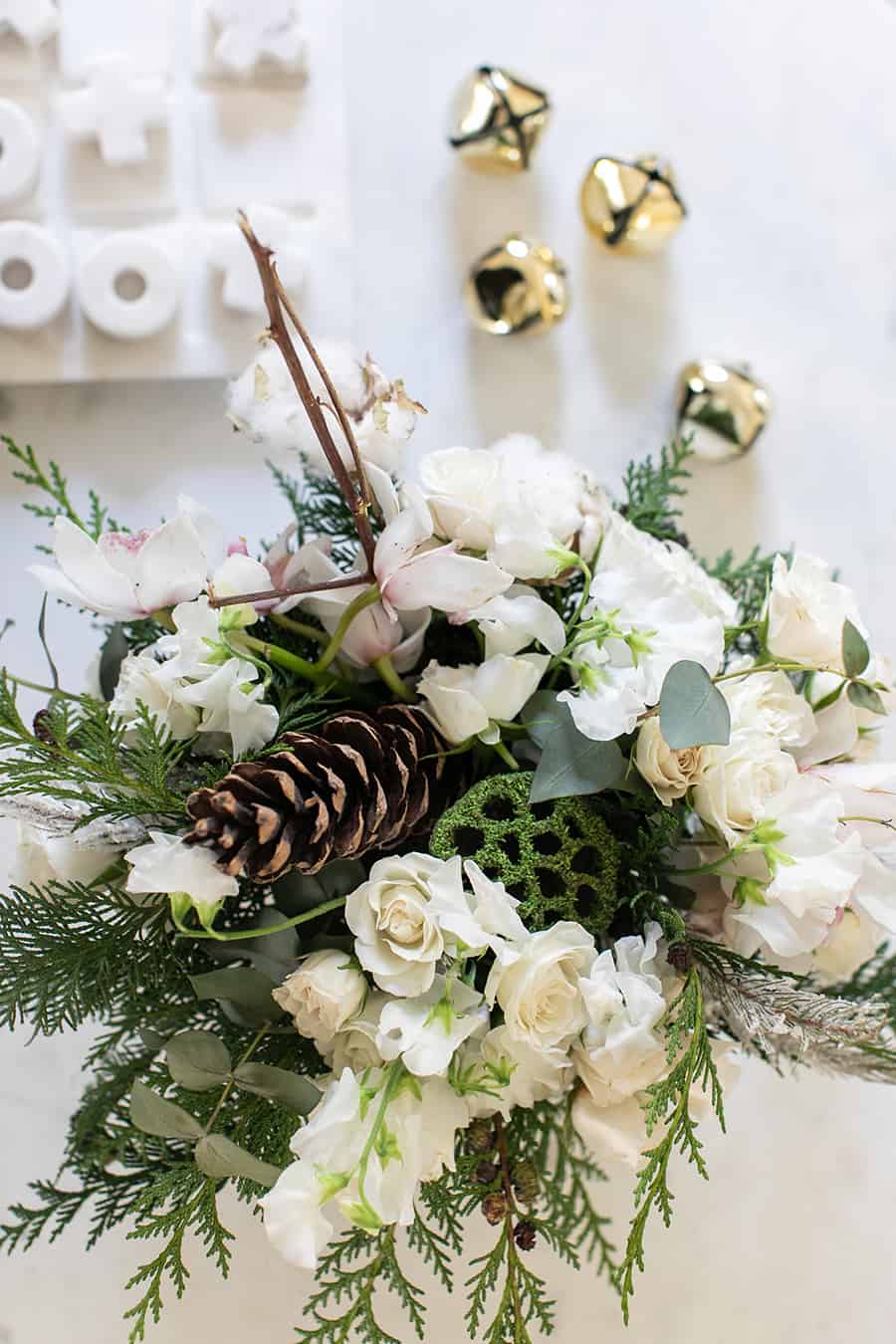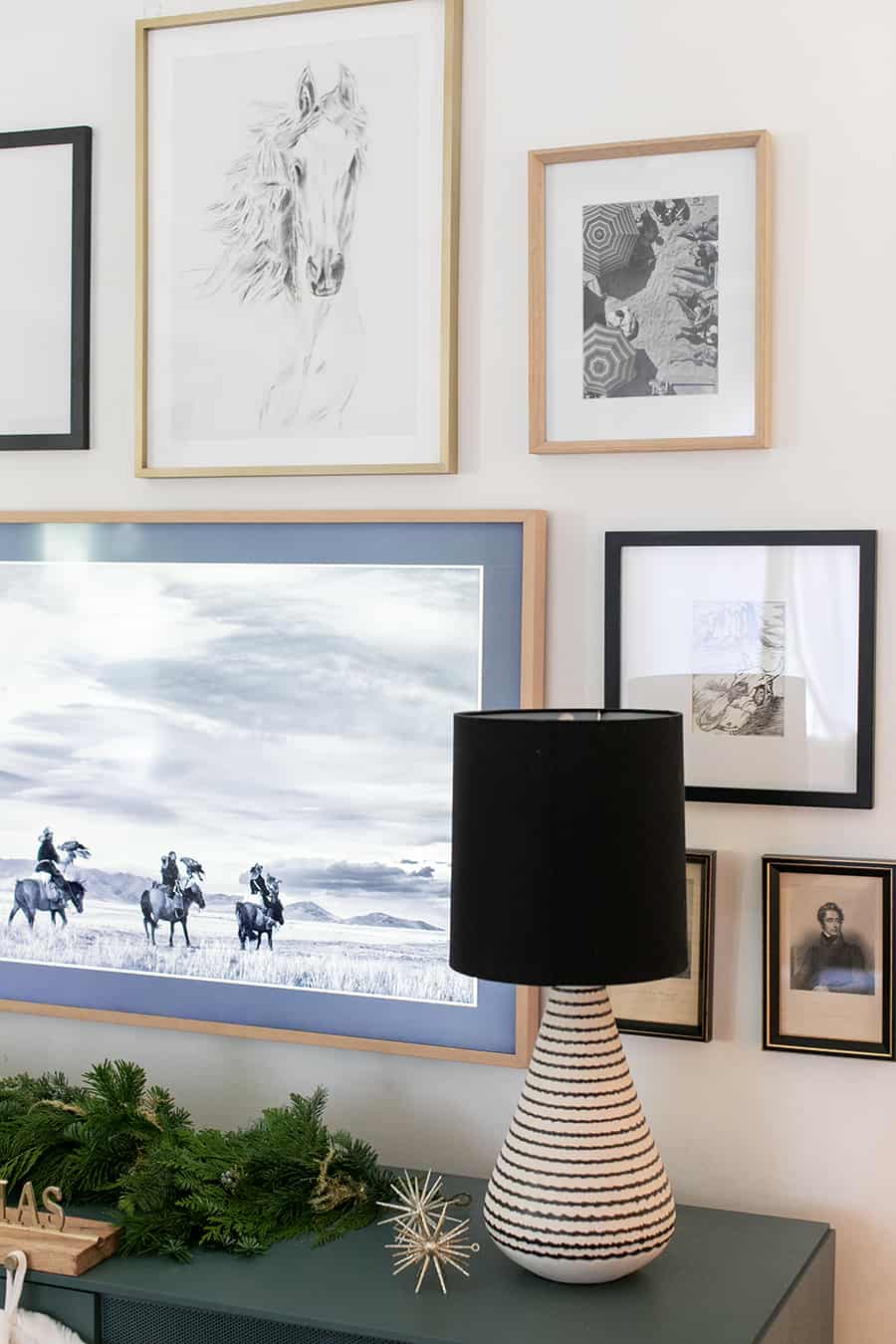 6. Throw Pillows
There is nothing I love more than sitting by the fire during the winter months. Throw pillows are a must for making a cozy spot on the floor by the fire. Just last night I was curled up in them working on some holiday posts! You can find these pillows here.
What do you all do for Christmas decor? Any traditions? We would love to hear!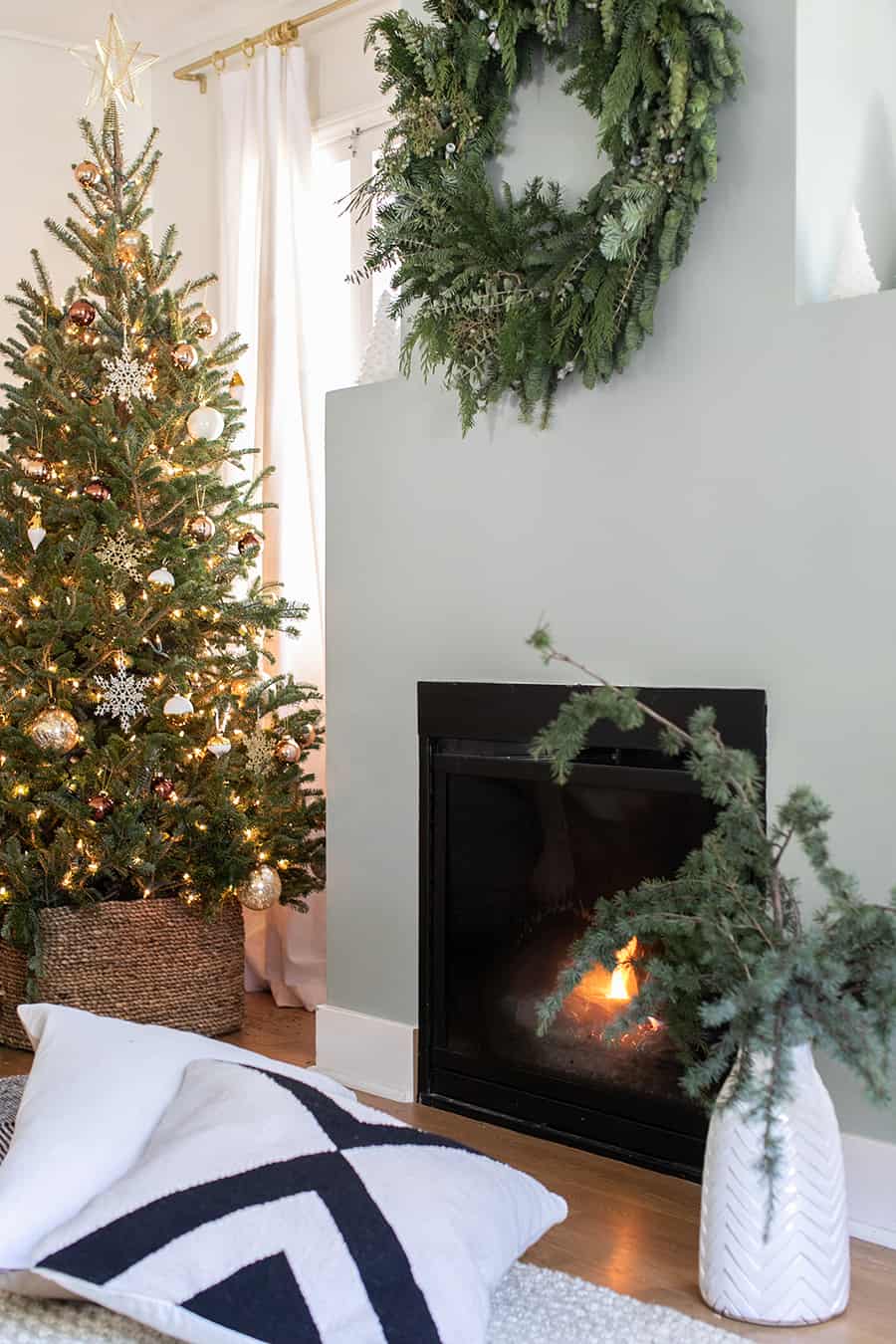 More Christmas Ideas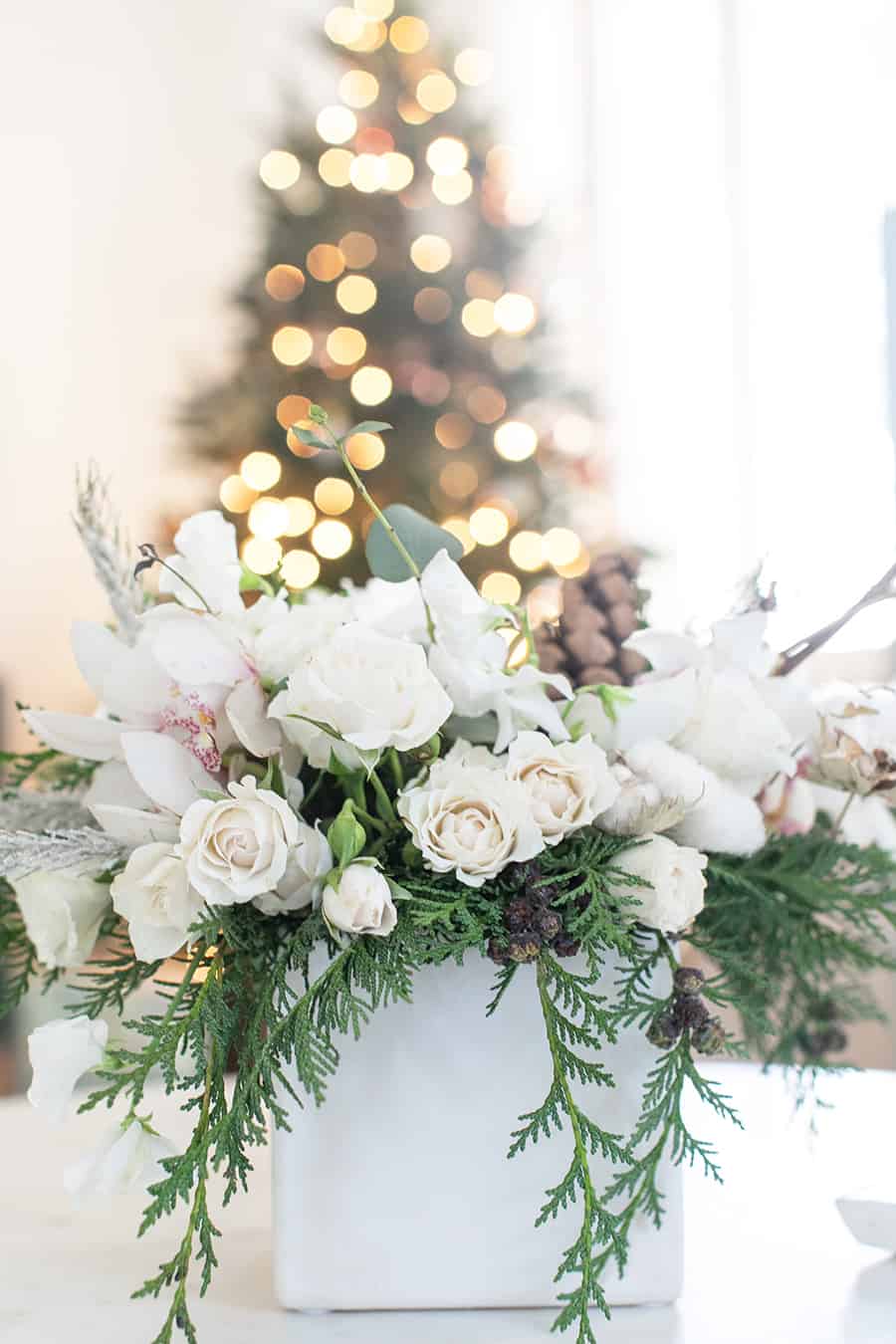 You can also FOLLOW US on FACEBOOK, INSTAGRAM, and PINTEREST to see more delicious recipes, cocktails, desserts, and parties!
This post may contain affiliate links. Please read our disclosure and privacy policy.