A guide for How to Host a Wonderful Christmas Eve Dinner Traditions! Christmas dinner, traditions, and setting a charming table!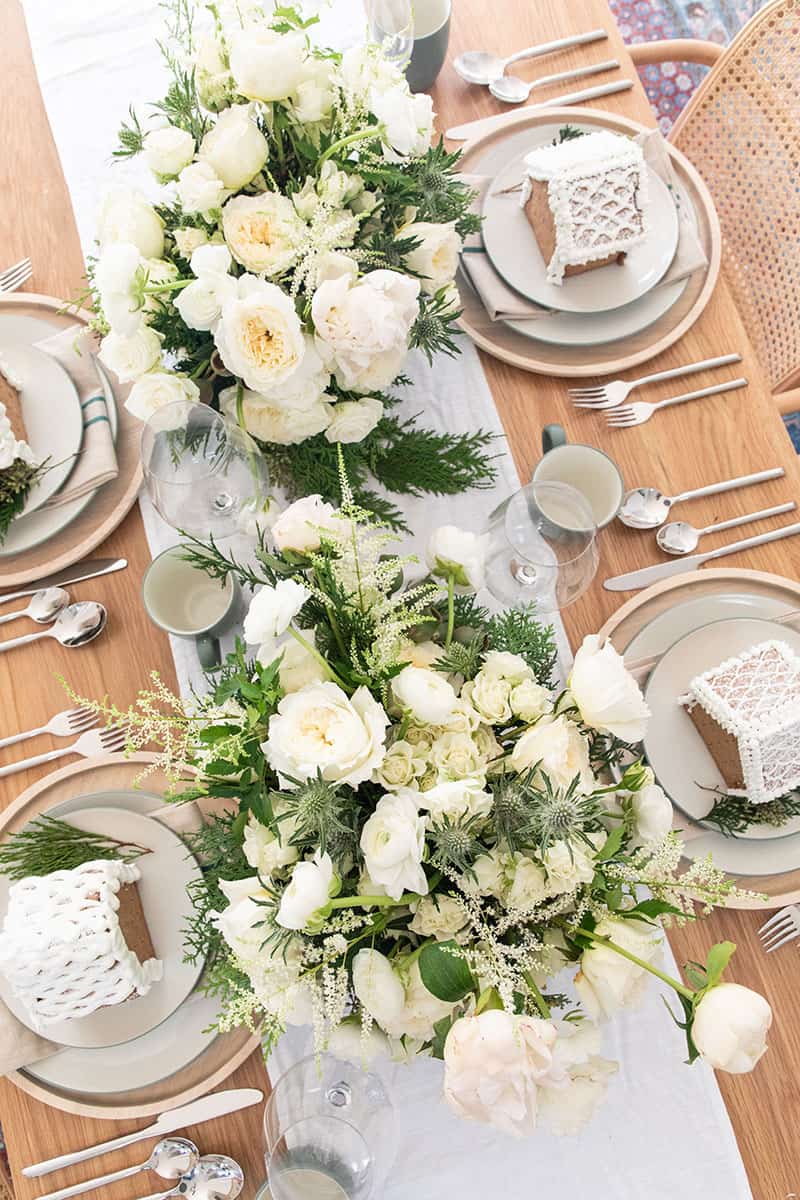 There's something magical about Christmas eve dinner traditions. I've always loved it even more than Christmas day! It's a time to spend with friends and family, many of who share the same holiday traditions that last year after year.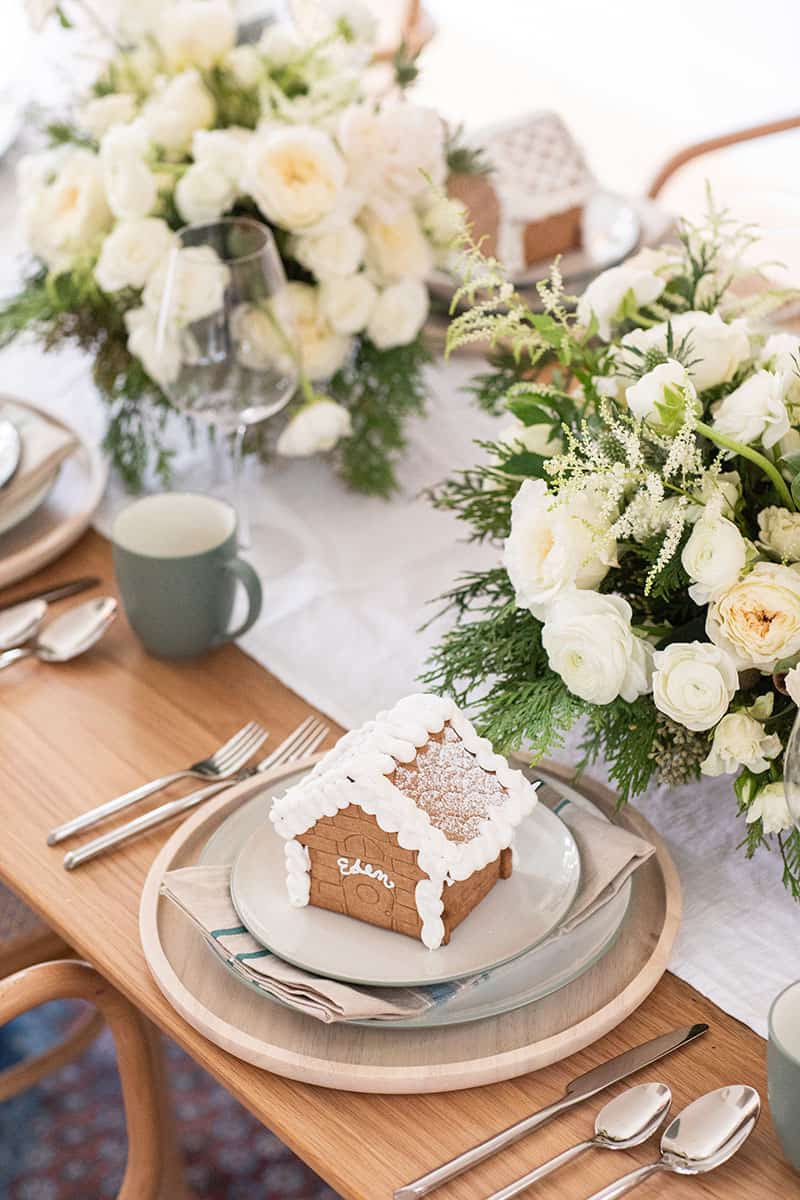 Some families make it a practice to open one gift on Christmas, and some stay up late and attend a candlelit, midnight service at their church.
Other families host yummy Christmas dinners, starting the festivities early with a warm meal surrounded by warm people. If it's your turn to host a Christmas dinner at your house, don't fret!
Here are a few guidelines to help you prepare a stress-free night and a beautiful table setting so your only concentration will be enjoying the holiday. 
A Christmas Eve Table Setting
This year we chose all of our items for our table setting at Bed Bath & Beyond!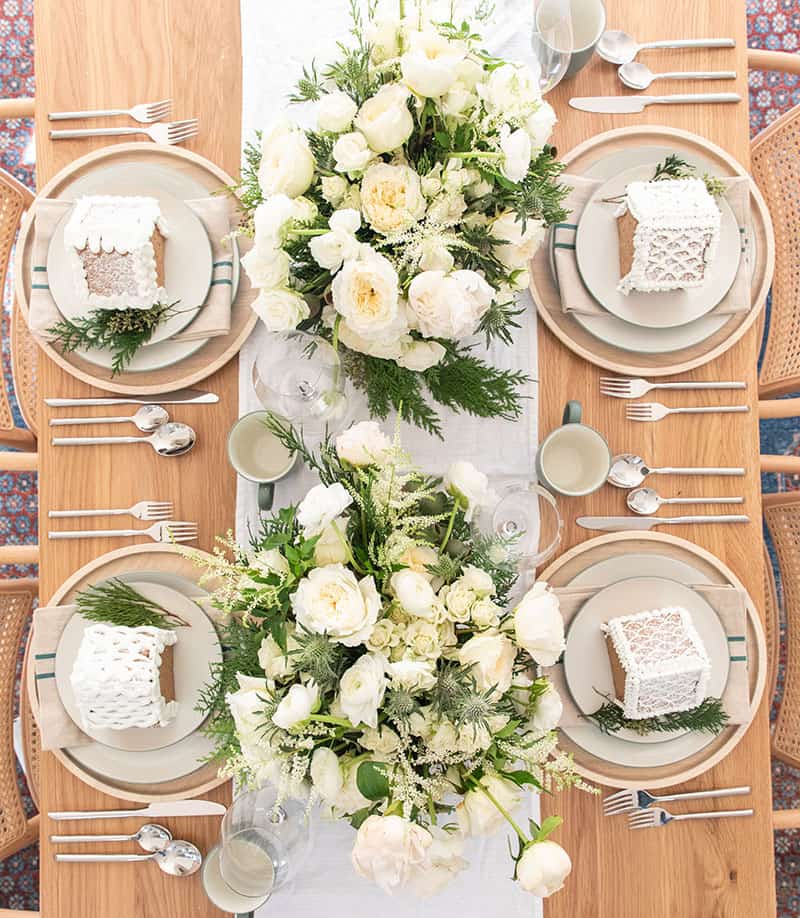 Chargers
For holidays I like to add a charger to the table to anchor each place setting. It adds texture and depth.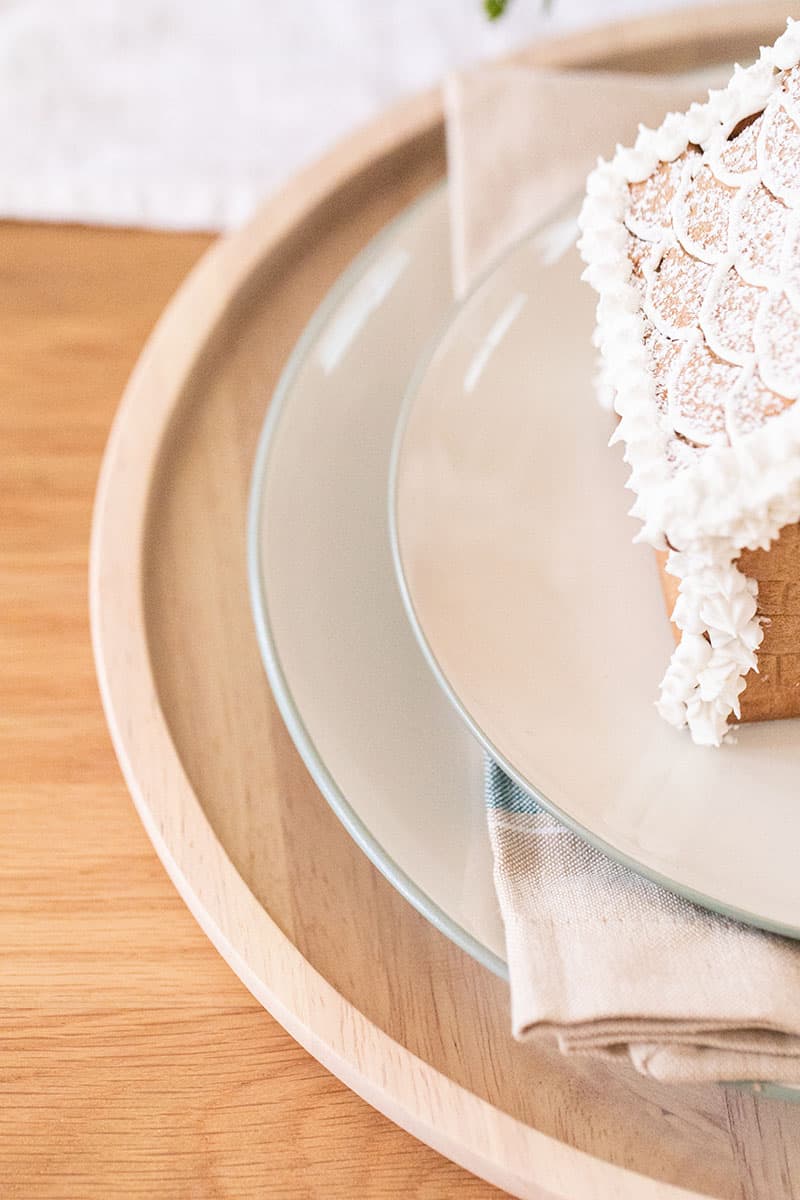 What is the purpose of a charger?
Originally, chargers were placed under the plates to catch spills and messes that would stain the tablecloth. Now, they are still used for that purpose, but also decorative reasons too. They add to a formal table setting.
Why do they call it a charger plate?
This is a very old name that originated from "chargeour".
Dinnerware 
I have a few sets of dinnerware that I love to use for the holidays. However, my day-to-day cream dishes are always lovely, too. You don't have to buy anything fancy; use what you have and add a charming napkin.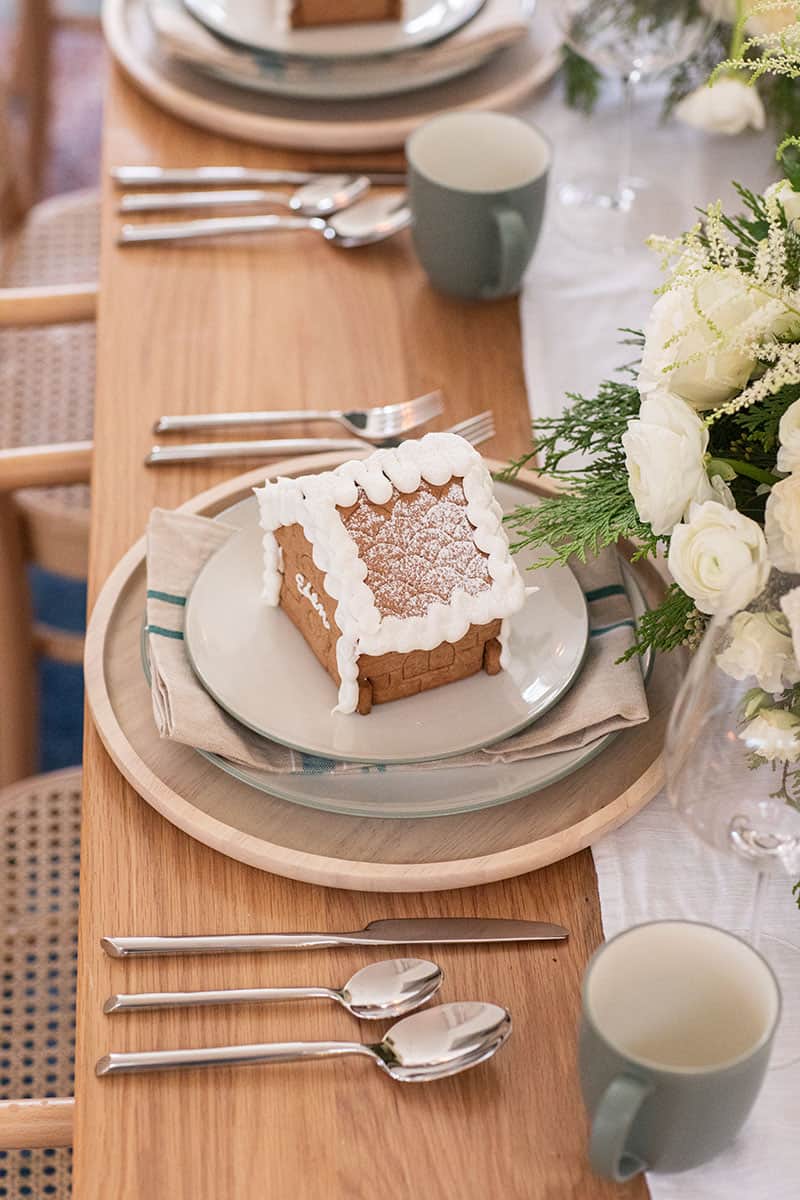 Flatware 
I have been a fan of Fortessa for years.
Napkins 
My color theme for this table setting was green, teal, blue, and neutral.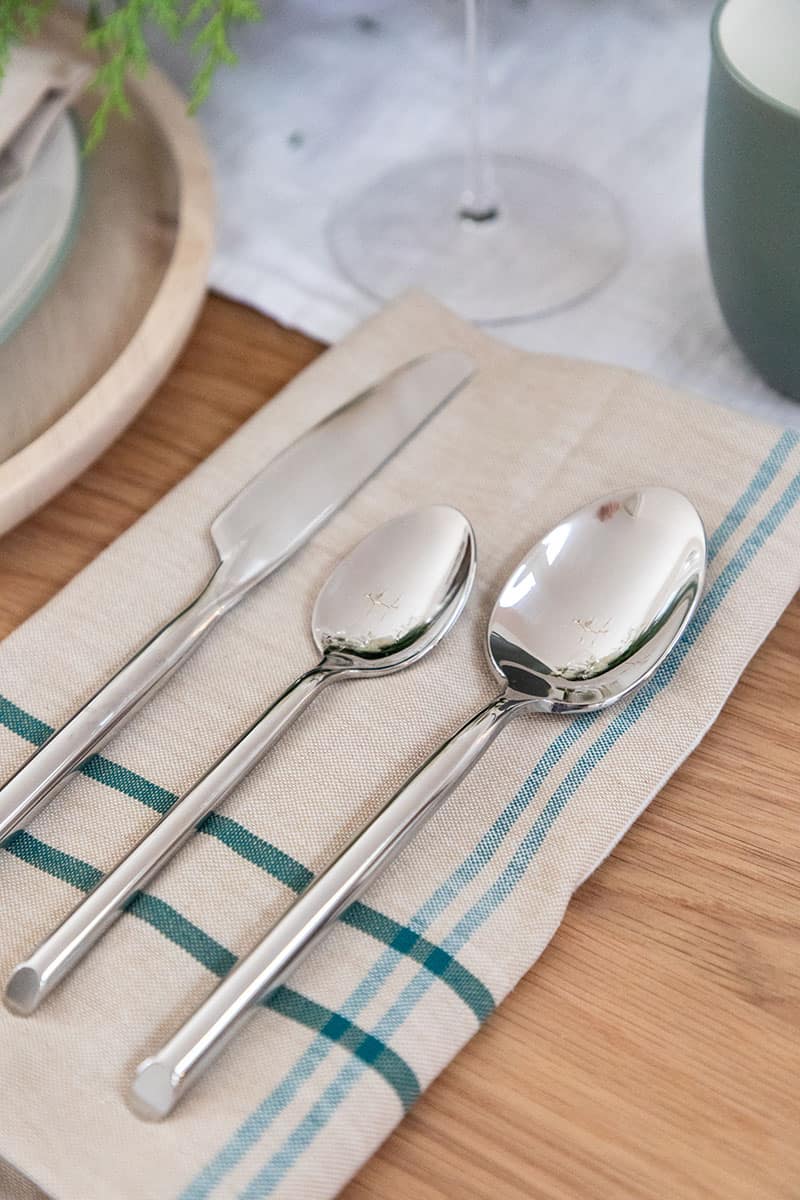 Wine Glasses 
Hands down, our favorite wine glasses are Wine Enthusiast. A friend told me about them recently, and they are like air but sturdy! And if one breaks, well… they replace them for up to 10 years!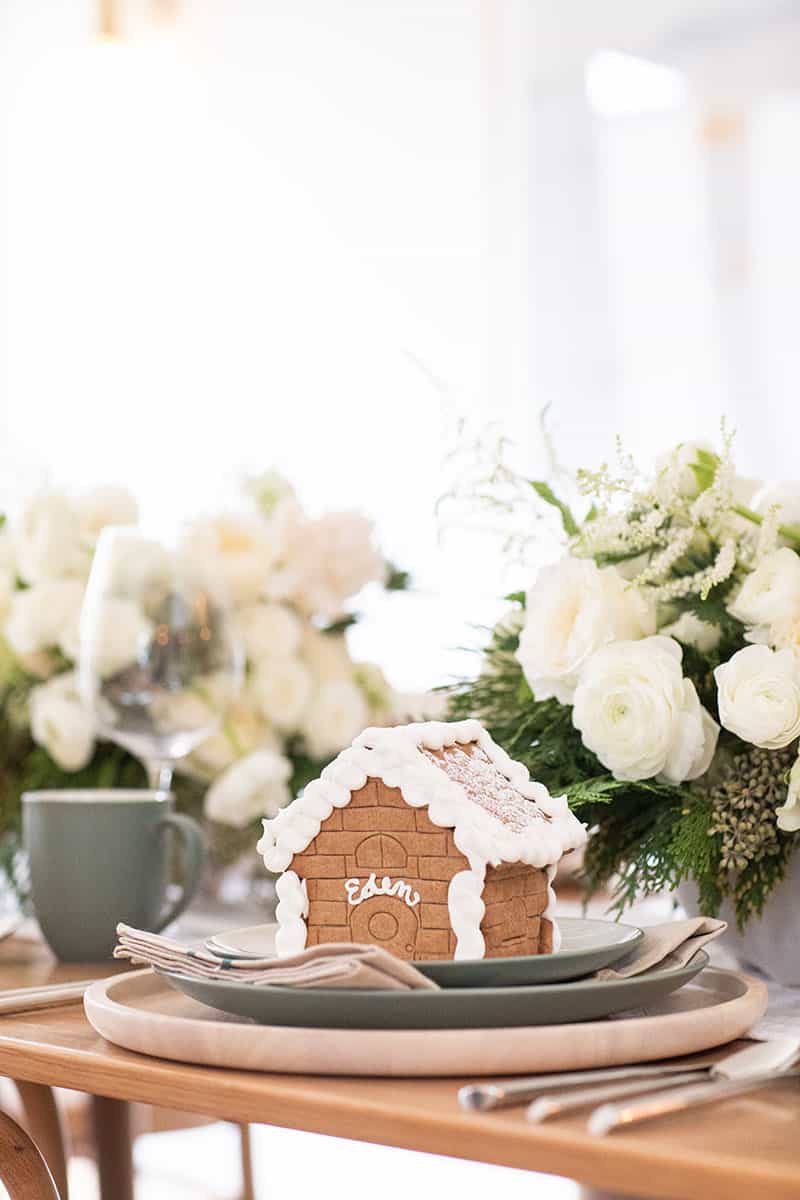 Name Place Cards
Instead of traditional place cards, use mini gingerbread houses. I wrote our names on the gingerbread house with a tiny Wilton circle tip and thick sugared frosting. I made extra frosting for our gingerbread houses to decorate with. It's a simple recipe you can see below!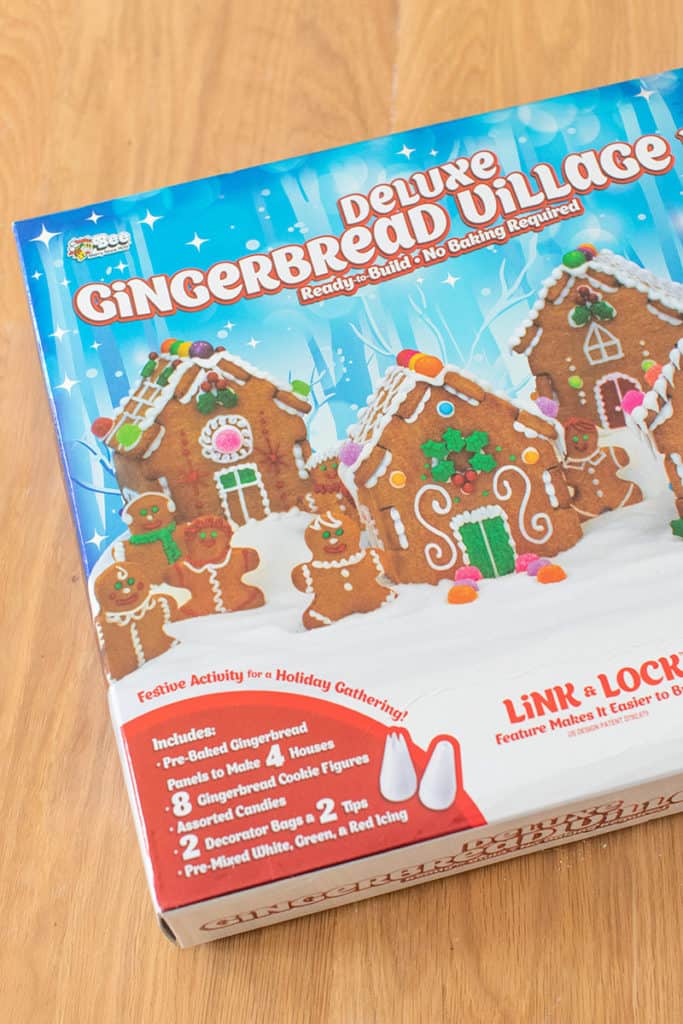 Quick tip – Sifting powdered sugar over the houses also makes it look like snow!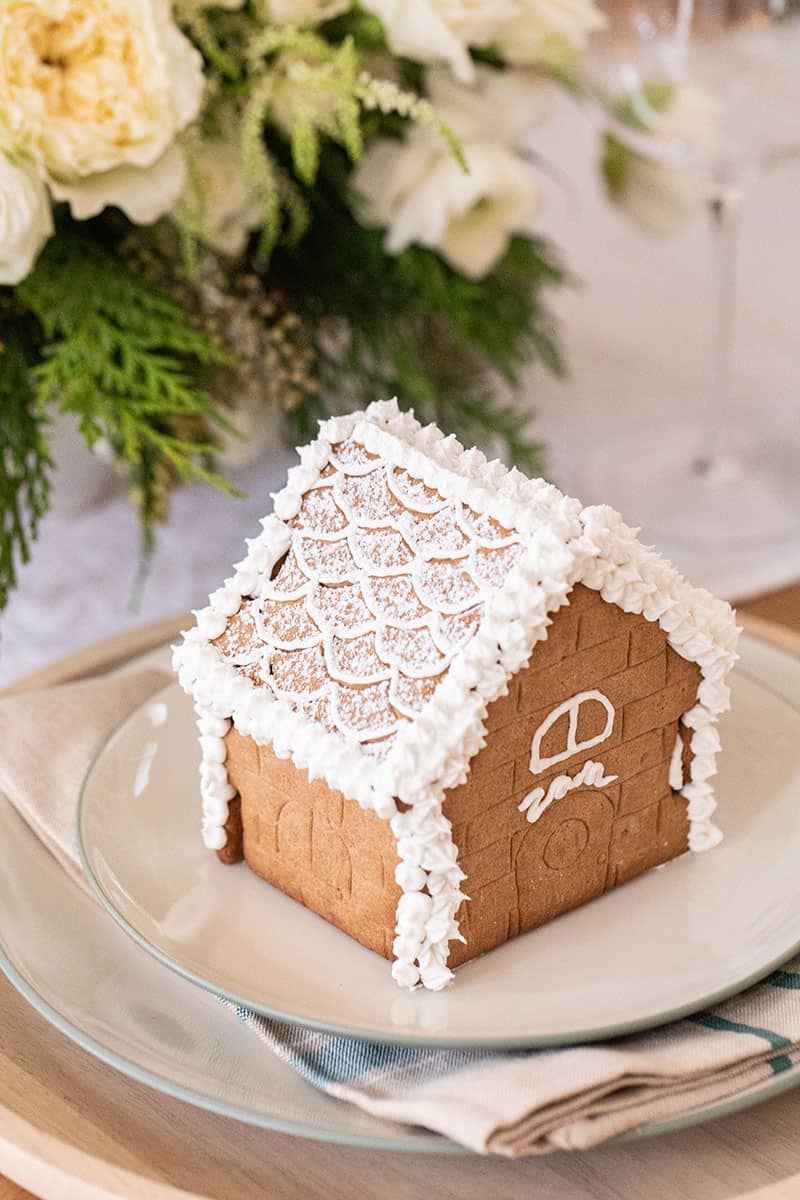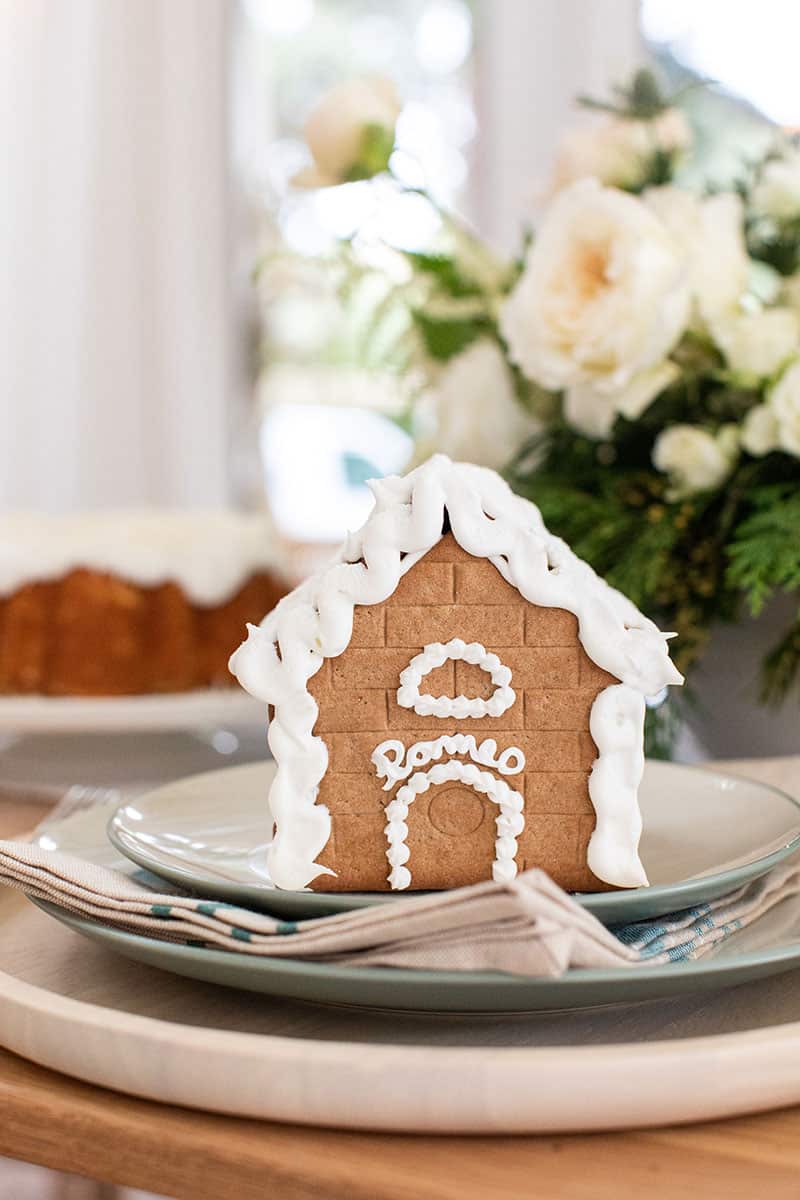 Flowers
We always add flowers to our table settings. It adds instant decor and just makes a setting complete in my opinion.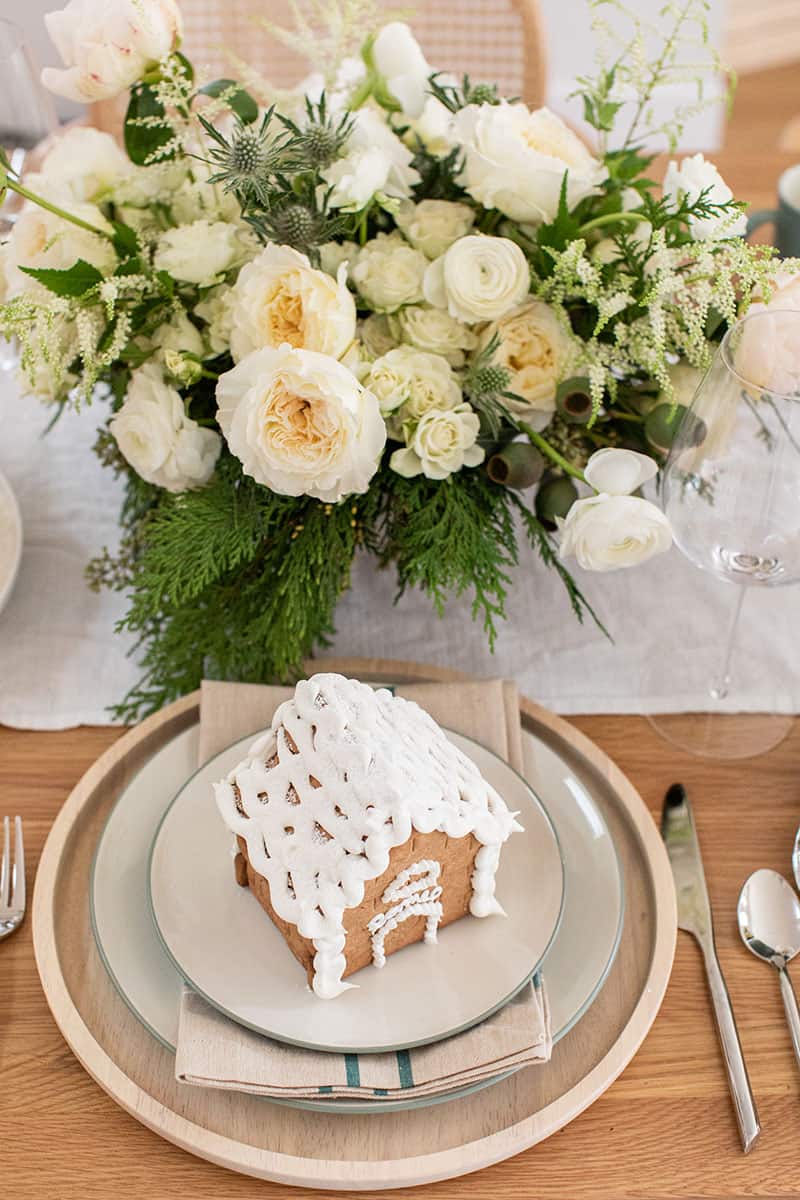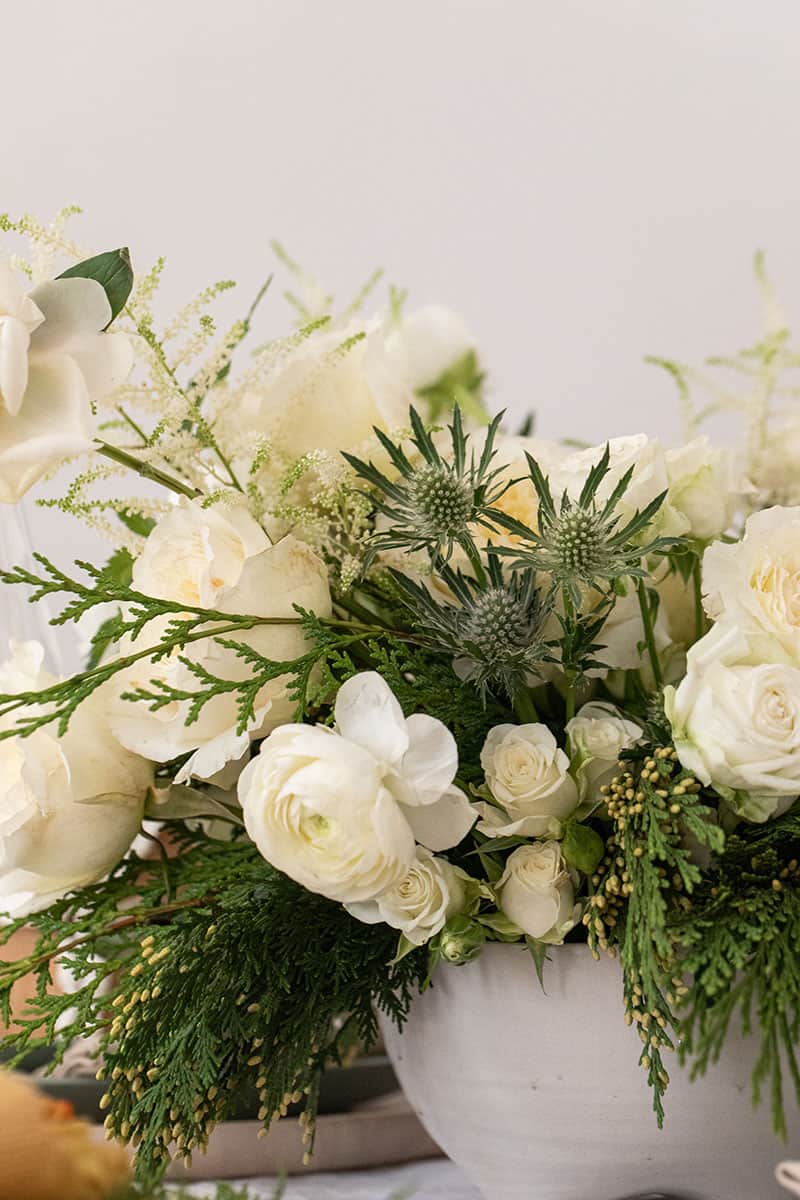 What's the Traditional Christmas Eve Meal?
The great thing about dinner is that many families have their traditions regarding the meal.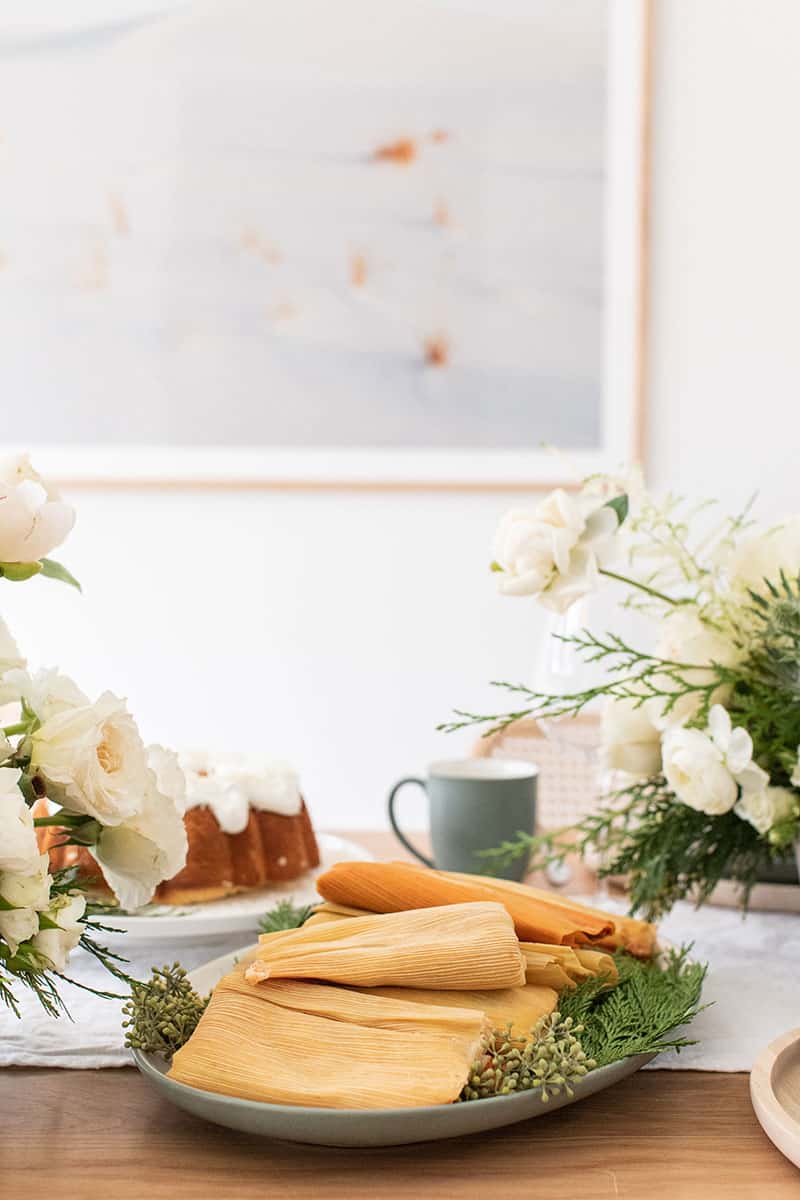 Christmas dinner has some wiggle room to be more casual and fun. And depending on your family's style, you can scale up or down with the fanciness.
Traditions play a big part in what a family makes for inner. My husband's family is from Italy, serving seafood pasta and seafood dishes for Christmas dinner. We have several friends who make tamales and a warm pot of posole soup, which is a traditional Mexican Christmas dinner.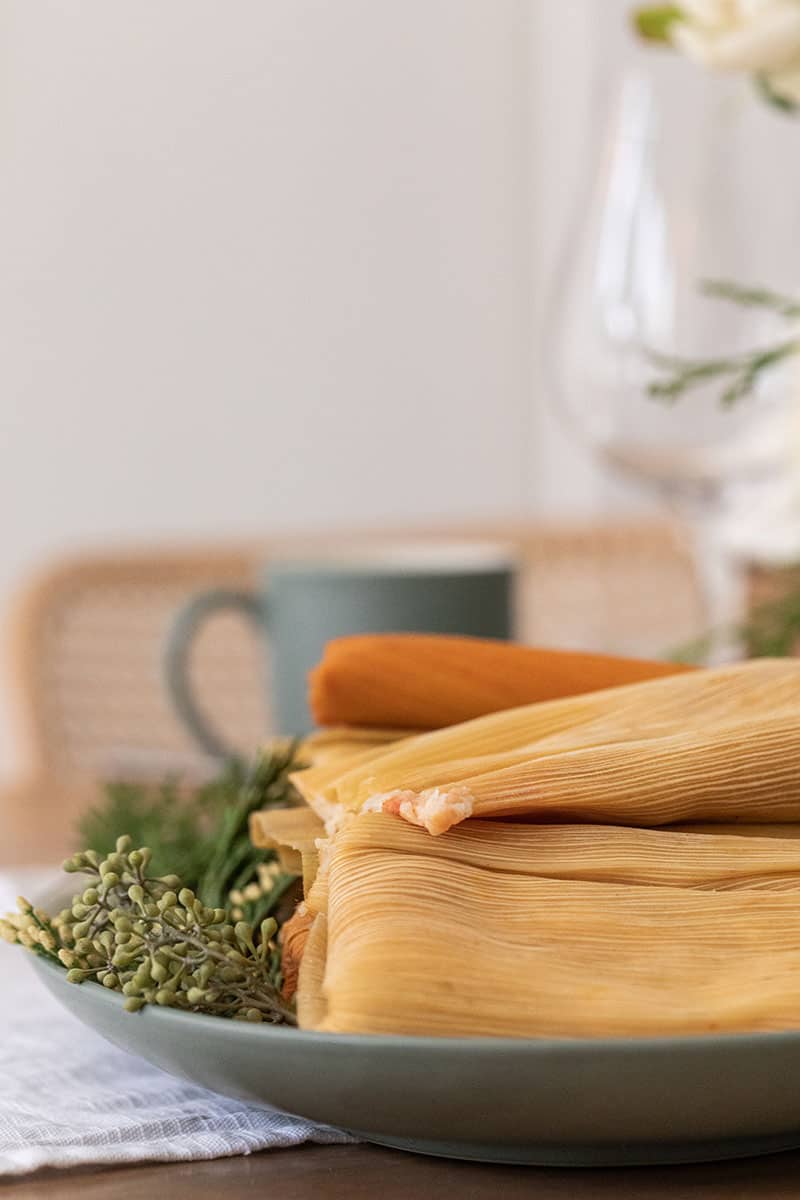 Growing up, we would usually do a similar meal to Thanksgiving but with ham. However, I truly like the Mexican tradition of homemade tamales and soup and then adding in some cornbread muffins or a cornbread chorizo stuffing. It's so flavorful and special!
Dinner Idea Selections
Christmas dinner must be hearty, filling, and easy to prepare (and clean up).
A Christmas Eve meal benefits from being straightforward, suitable for all ages and tastebuds, and relatively simple.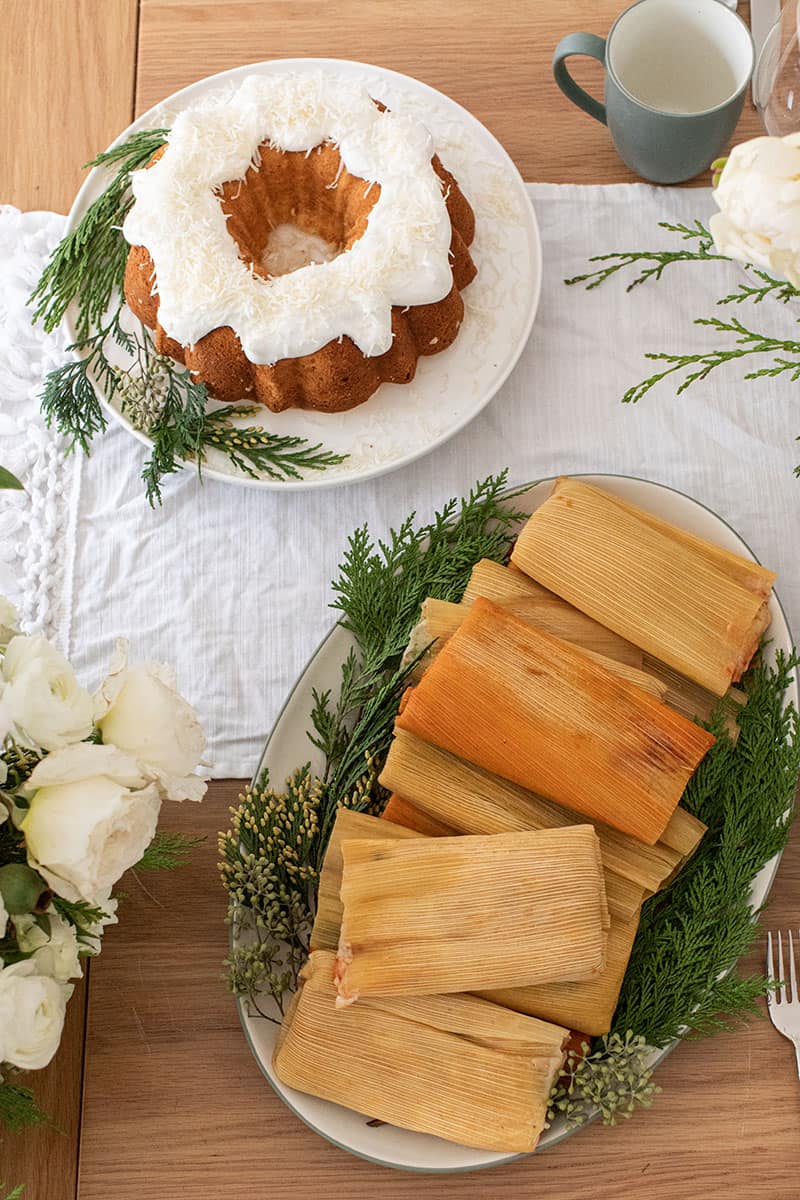 Some more great ideas are:
— A classic lasagne with homemade butter rolls and your favorite salad. If no one is a vegetarian, make it a meat lasagne
— Glazed ham with garlic mashed potatoes and crispy green beans. If you prefer, sub mashed potatoes with a sweet potato casserole
— A pot roast with potatoes, steamed carrots, and fresh bread
The great thing about the dishes mentioned above is that most only require one large dish to serve in.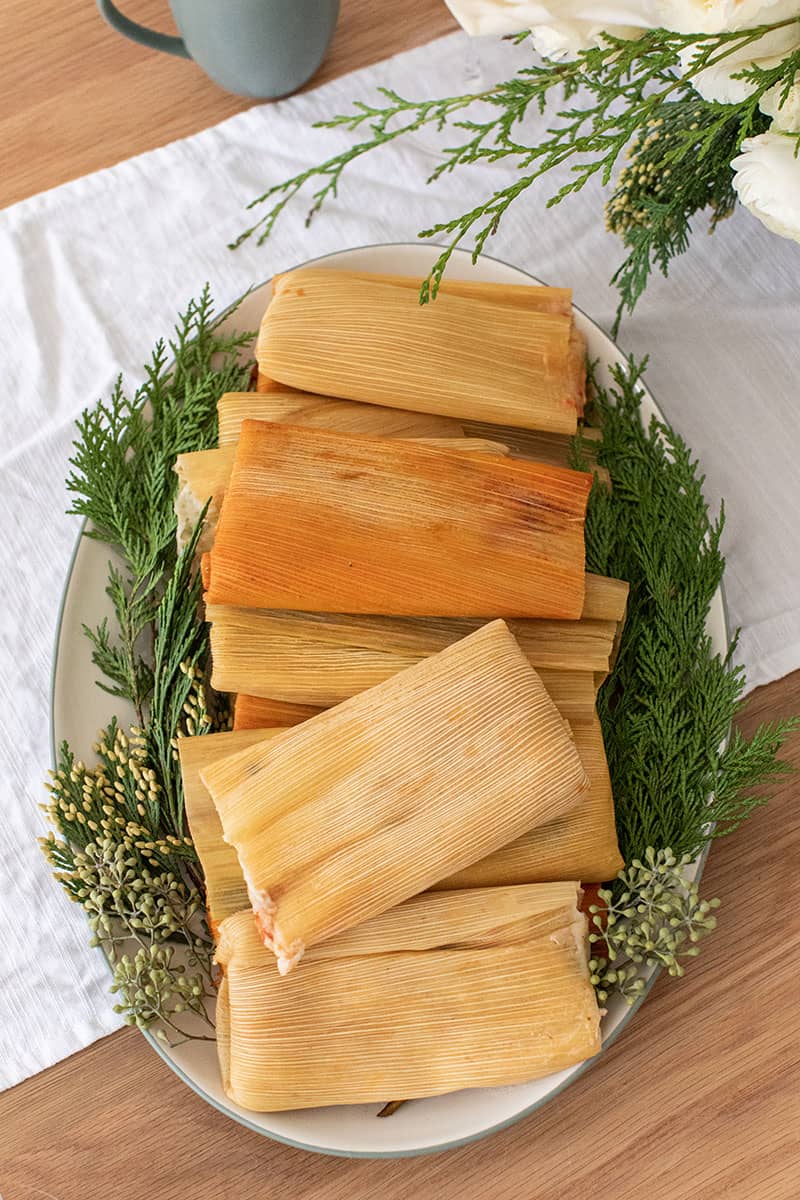 Lasagne can be made in one pan and frozen, then thawed overnight the day before, making it the most comfortable option on our list. A glazed ham is roasted in one large container with all your favorite seasonings. And a pot roast is the perfect 'set it and forget it' meal that tastes way more complex than it is.
Try any of the above for an all-around well-liked meal.
And of course, don't forget dessert. . .
Dessert Ideas Perfect For Christmas
It's not dinner without dessert! We're all about the sweetness after a savory meal. There are so many incredible options for Christmas desserts!
A classic southern dessert is coconut cake. We make it in this Lodge Legacy cast iron fluted cake pan. Top it with boiled frosting topped with coconut! It's delicious and festive for Christmas. We served it on a footed cake stand, which looked like a centerpiece for the table!
Also, remember to make a batch of reindeer food to serve Santa's deer on Christmas Eve!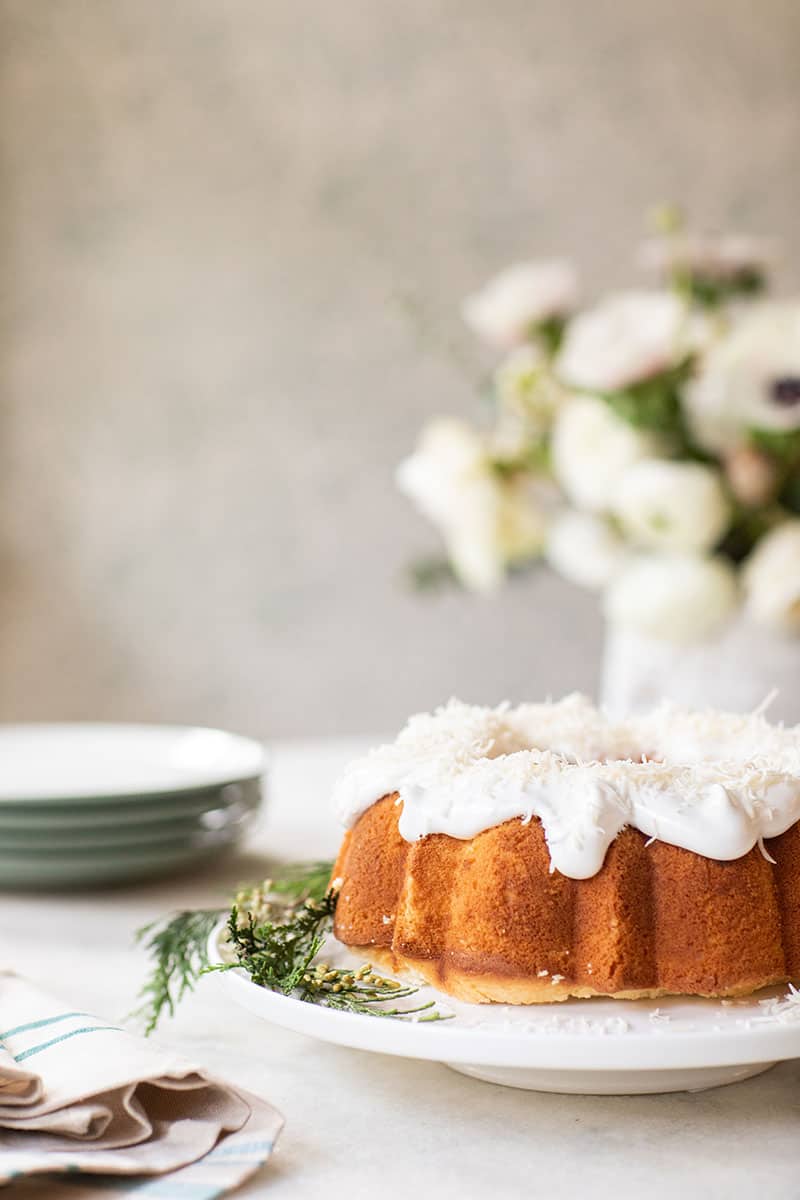 Another classic Christmas tradition is making Christmas cookies. These are perfectly soft, buttery sugar cookies decorated with colorful icing. Make sure you've got a variety of cookie cutters shaped in fun designs — top cookies with sprinkles.
Also, our spicy gingerbread cookies are very good too!
There's something about Christmastime that calls for ginger, clove, and cinnamon. If you have any extras left over (we doubt it), bring them to your Christmas gathering.
Christmas Drink Ideas
Holiday drinks are also very important for Christmas dinner! From eggnog to festive holiday punches. Here are some delicious recipes to try!
Another must-try list of drinks is this The Best Christmas Cocktails.
Happy Holidays!
Your family and friends are bound to enjoy your home-cooked, love-filled meal and a gorgeous table setting to go with it! Don't forget the Christmas music, either!
Start early to reduce some of the stress, choose entrees that require minimal dishware, and set the tone with your table settings. You can make it snazzier with Christmas-themed placemats and ornament bowls, or keep it casual with napkins folded into Christmas trees and some candles.
And don't get so busy you forget to sit down and enjoy your homemade christmas eve dinner traditions yourself!
If you liked this article about Christmas dinner traditions, consider checking out these other articles below –
You can also FOLLOW US on FACEBOOK, INSTAGRAM, and PINTEREST to see more delicious recipes, cocktails, desserts, and parties!
Thick Frosting for Gingerbread Houses
A thick frosting that is perfect for building gingerbread houses to use as name placements. This frosting is fluffy and dries quickly!
Print
Pin
Rate
Ingredients
3

egg

whites

4 1/2

cups

powdered sugar

1

tsp

cream of tartar
Instructions
Beat the egg whites and cream of tartar until whipped.

Slowly add in powdered sugar until the mixture is thick.

Add to piping bags and use it to assemble and decorate the gingerbread houses.
Nutrition
Calories:
2110
kcal
|
Carbohydrates:
541
g
|
Protein:
1
g
|
Fat:
1
g
|
Sodium:
17
mg
|
Potassium:
495
mg
|
Sugar:
528
g
|
Iron:
1
mg
For more fantastic Christmas-related articles, check out this section of the blog. We give decoration tips, punch recipes, wreath ideas, and more!