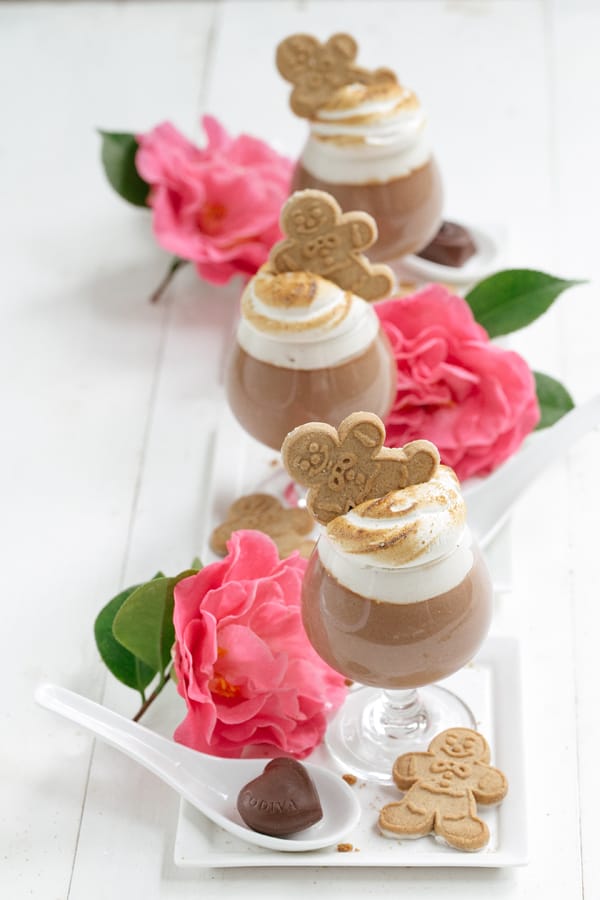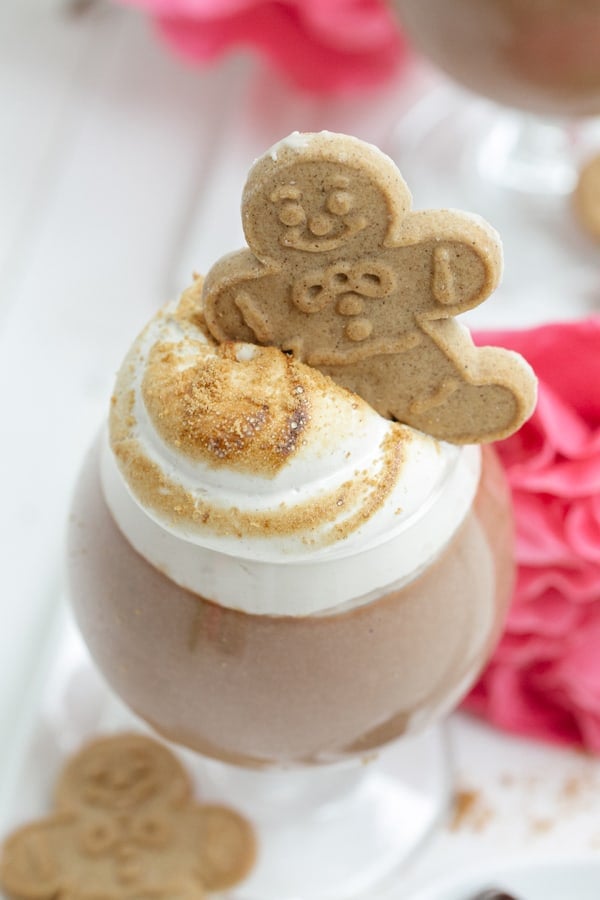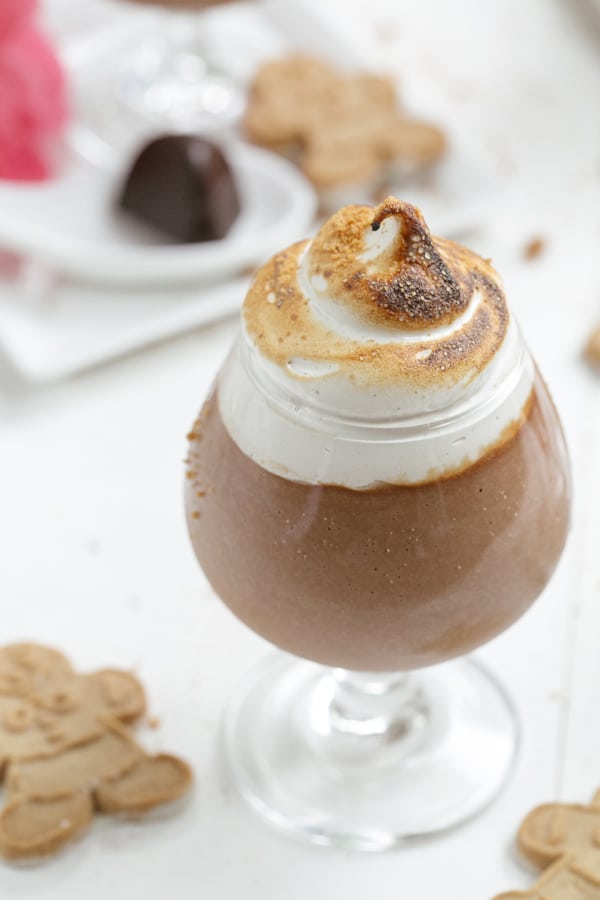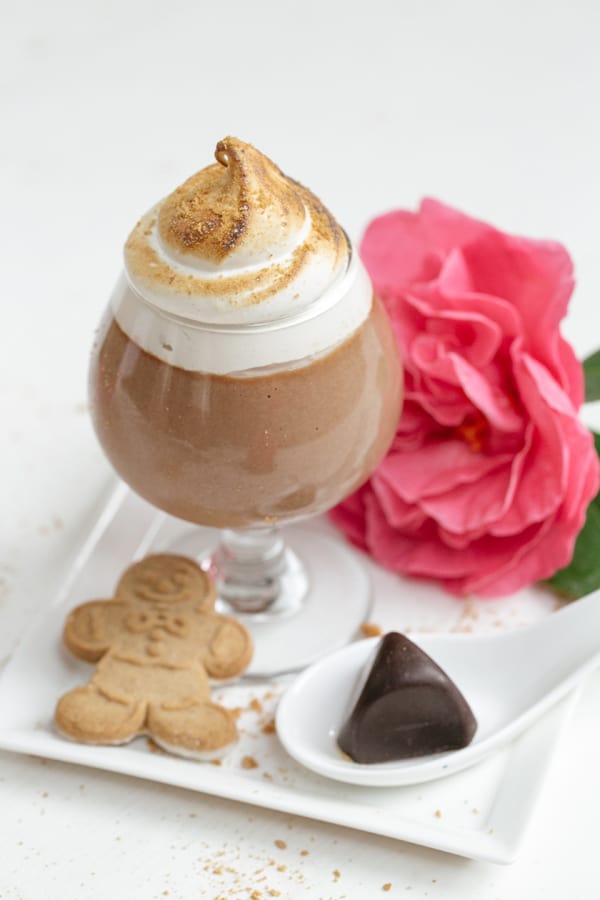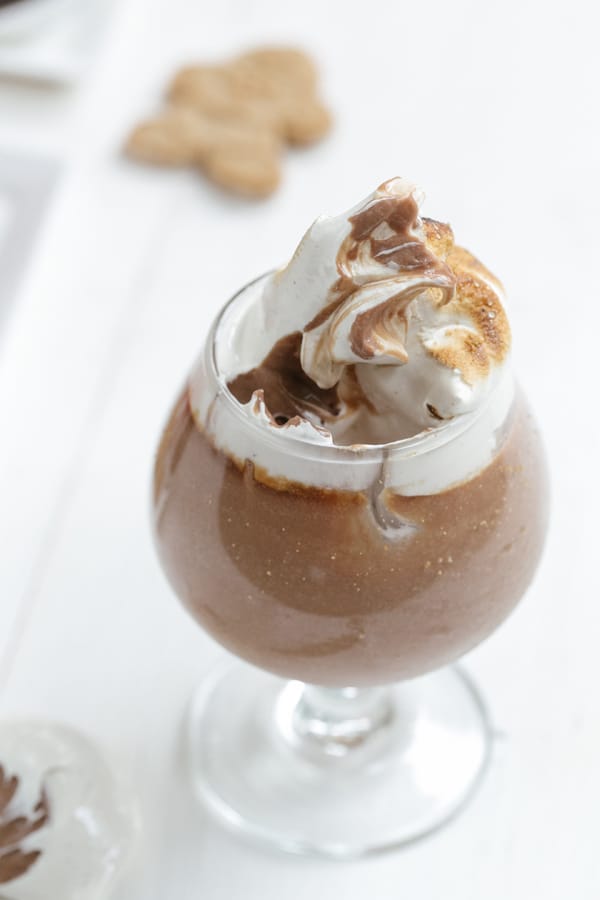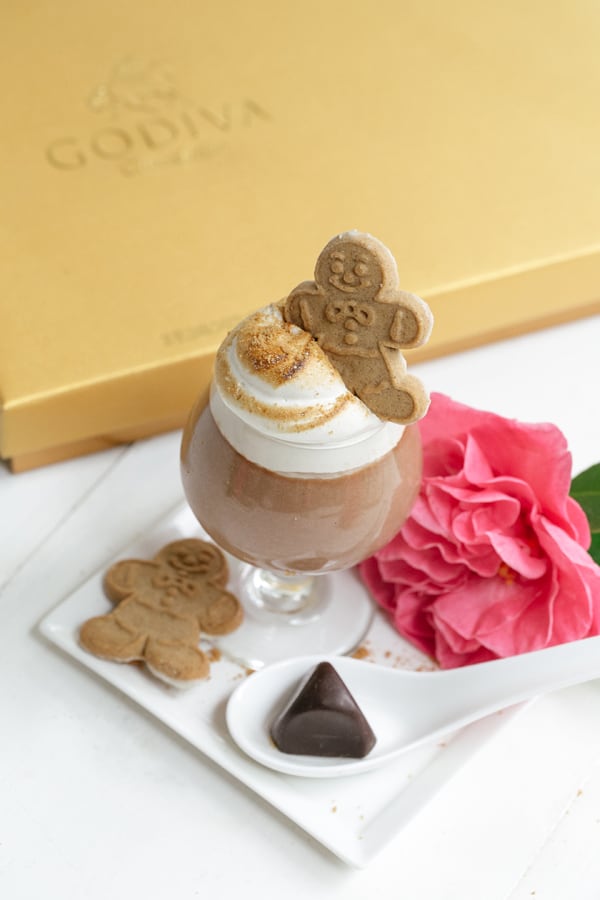 I've been having so much fun incorporating GODIVA chocolate into my holiday entertaining! With a rich Belgian heritage, GODIVA chocolates have been delighting the senses since 1926 with premium ingredients and unique recipes, so it's been a dream creating special desserts and entertaining ideas the past few months! I'm super excited to share this incredibly decadent chocolate parfait made with chocolate from the iconic GODIVA Gold Ballotin. 18 chocolates were melted into the cream to create the most luxurious flavor. Choosing a variety of chocolates, even a few with nuts, different creams and fillings adds a rich taste and subtle texture. And surprisingly it's not too sweet! I topped the chocolate pots off with a homemade toasted gingerbread marshmallow fluff and a gingerbread man of course. I love that these parfaits look so elegant, but actually are pretty easy to make! They can be made ahead of time and stored in the refrigerator until dessert is ready to be served. They were an absolute hit!
I wanted to add a pop of color and make the presentation as decadent as the dessert, so each parfait was served with a vibrant pink flower from my garden, one beautiful GODIVA chocolate on a side spoon and a small gingerbread man. After creating this Chocolate Truffle Eggnog and using the truffles as a centerpiece at my Christmas brunch, I'm definitely a believer that GODIVA chocolates are perfect for holiday desserts, party favors or to add a special touch to a table setting! They create a bit of happiness that lingers long a0er the chocolate has disappeared!
There's still time to enter the #GODIVAjoy $250 giveaway! Make sure you visit GODIVA.com before December 24th, choose the gift you think would spark a little joy this season and tweet it using the hashtag #GODIVAJOY to enter!
Print Recipe
GODIVA Chocolate Parfaits With Toasted Gingerbread Marshmallow Fluff
I'm super excited to share this incredibly decadent chocolate parfait made with chocolate from the iconic GODIVA Gold Ballotin.
Ingredients
GODIVA Chocolate Parfaits
2.5

cups

heavy whipping cream

4

egg yolks

1/8

cup

sugar

18

pieces

chocolate

from GODIVA Gold Ballotin box.Choose whichever ones you like!

.25

c

brewed coffee
Toasted Gingerbread Marshmallow Fluff
3

egg whites

2/3

cup

+ 2 Tablespoons sugar

(separate)

1

tsp

cream of tartar

1/3

cup

water

3/4

cup

corn syrup

1/8

cup

molasses

1/2

teaspoon

ground ginger

.25

tsp

nutmeg

1/4

teaspoon

cloves

1

teaspoon

vanilla
Instructions
GODIVA Chocolate Parfaits
In a medium heavy sauce pan, bring the heavy cream to a boil, stirring constantly.

Turn to low and add in the chocolates. Continue to stir.

Add in the coffee.

In a stand alone mixer beat the egg yolks and sugar on high until pale yellow, light and fluffy. The fluffier the better!

Bring the milk to another boil and stir so it thickens.

Then remove from heat and pour half of the chocolate mixture into the egg yolk mix and whisk.

Then pour the egg yolk mixture back into the heavy sauce pan with the rest of the chocolate and boil for another few minutes.

You want to boil and stir enough to make sure the mixture will thicken when cooled.

Remove from the heat and let it cool before pouring it into small glass jars.

Refrigerate until thick and chilled. Now it's time to make the marshmallow fluff!
Toasted Gingerbread Marshmallow Fluff
In a stand alone mixer, whisk the eggs, 2 tablespoons of sugar and cream of tartar on high until soft peaks form. You can let this whisk while you boil the other ingredients.

In a medium heavy sauce pan combine the water, corn syrup, vanilla, molasses, 2/3 cups sugar and all of the spices and bring to a boil for about 7 minutes. You'll want to keep stirring so nothing burns or boils over. Boiling for a certain amount of time is crucial to getting this mixture hot enough to make a good marshmallow fluff.

Once the egg whites create thick peaks, slowly pour in the boiling sugar mixture into the egg whites while the mixer is on medium speed. Let it mix fully in between pours.

When it's all in, beat on high until thick again.

Place the marshmallow fluff into a plastic piping bag and cut a hole in the bottom. Then pipe the fluff on top of the chocolate parfaits.

Torch the marshmallow fluff using a professional torch to get it nice and brown. Then sprinkle some gingerbread crumbs on top! Enjoy this amazing dessert!!