A festive Christmas appetizer platter made just for the kids! This is an easy idea to entertain little holiday guests! Sharing some of our favorite savory and sweet ideas for making a kid-approved appetizer platter.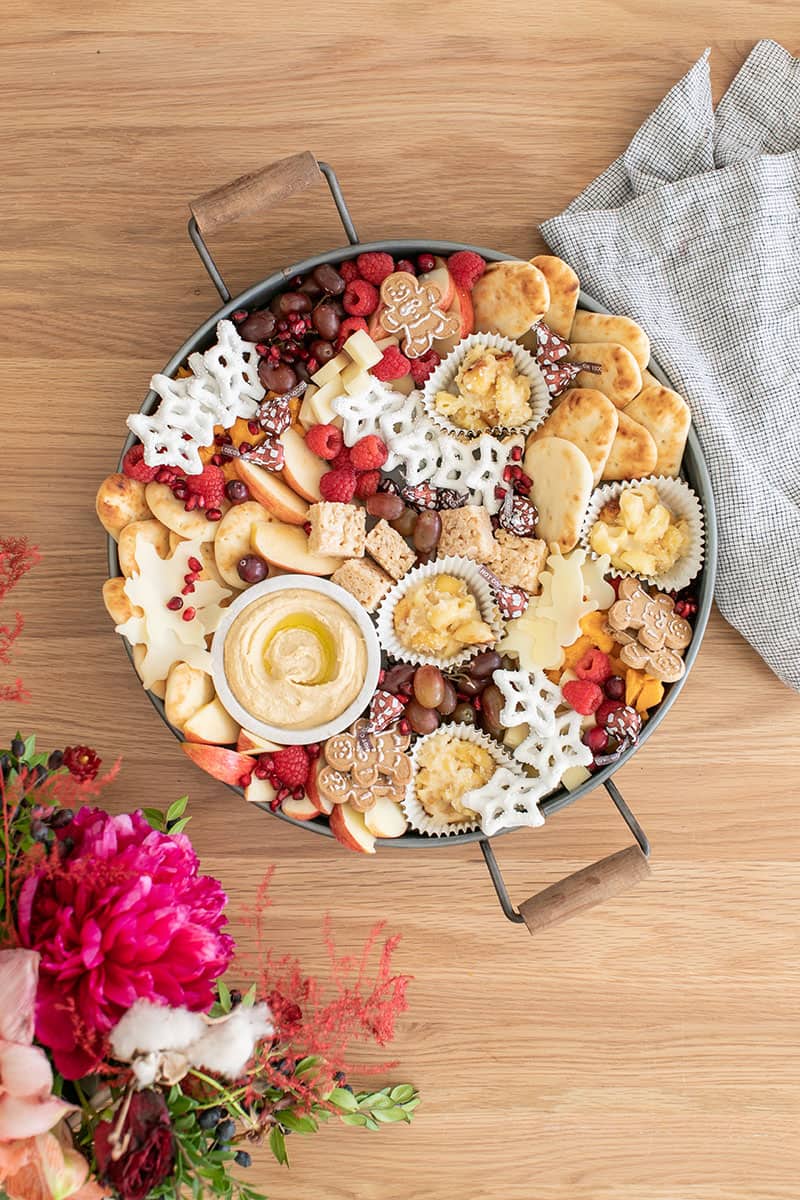 The holidays are truly about children in our home. Everything we do is for the kids and making family memories. One great recommendation when hosting little ones is to have a snack platter available for them.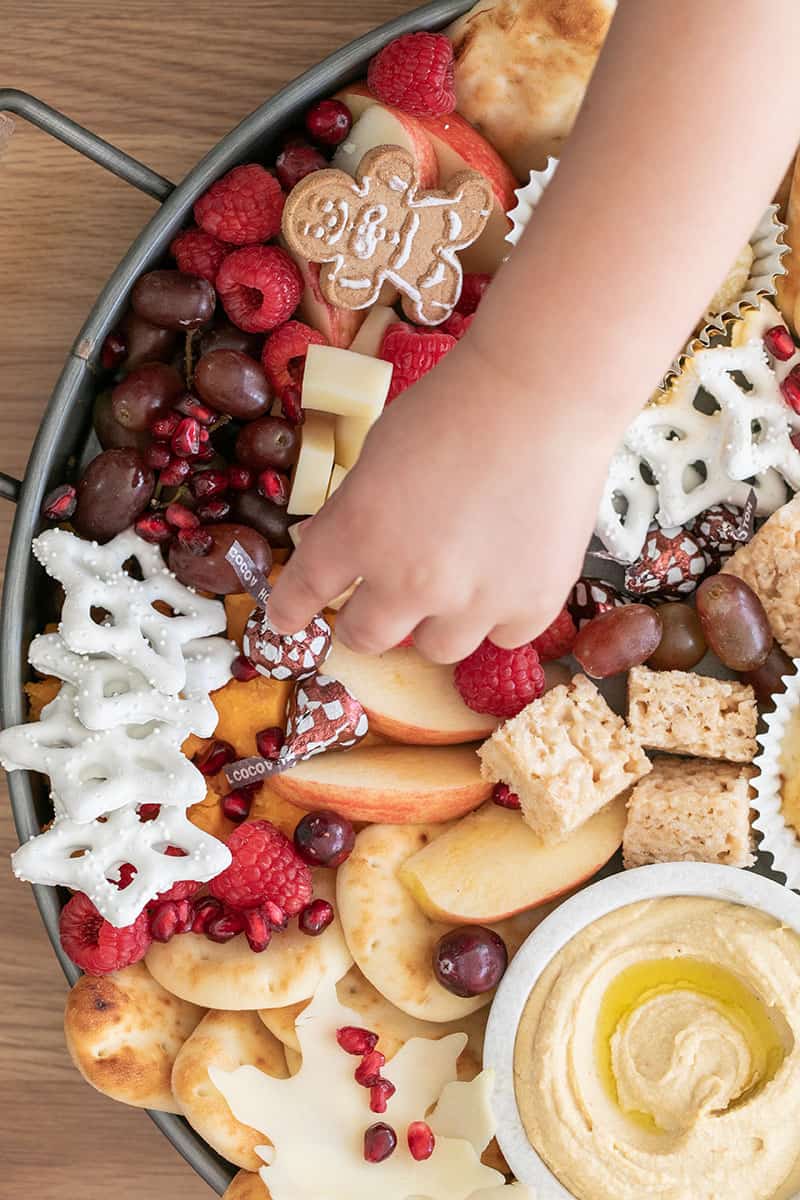 It's a great way for them to easily grab bitesize treats and snacks during the festivities and eliminates another task for the host… "can you get me a snack?" How many times have you heard that?!
Furthermore, this platter is perfect as a light snack platter while you're hosting a gingerbread party or cookie swap with kids! Sometimes, serving dinner is just too much, and instead, whip this up quickly to give kids something to snack on.
Christmas Appetizer Ideas for Kids
Fill a platter, board, or tray with savory and sweet nibbles for the kids to snack on. This is the fun part!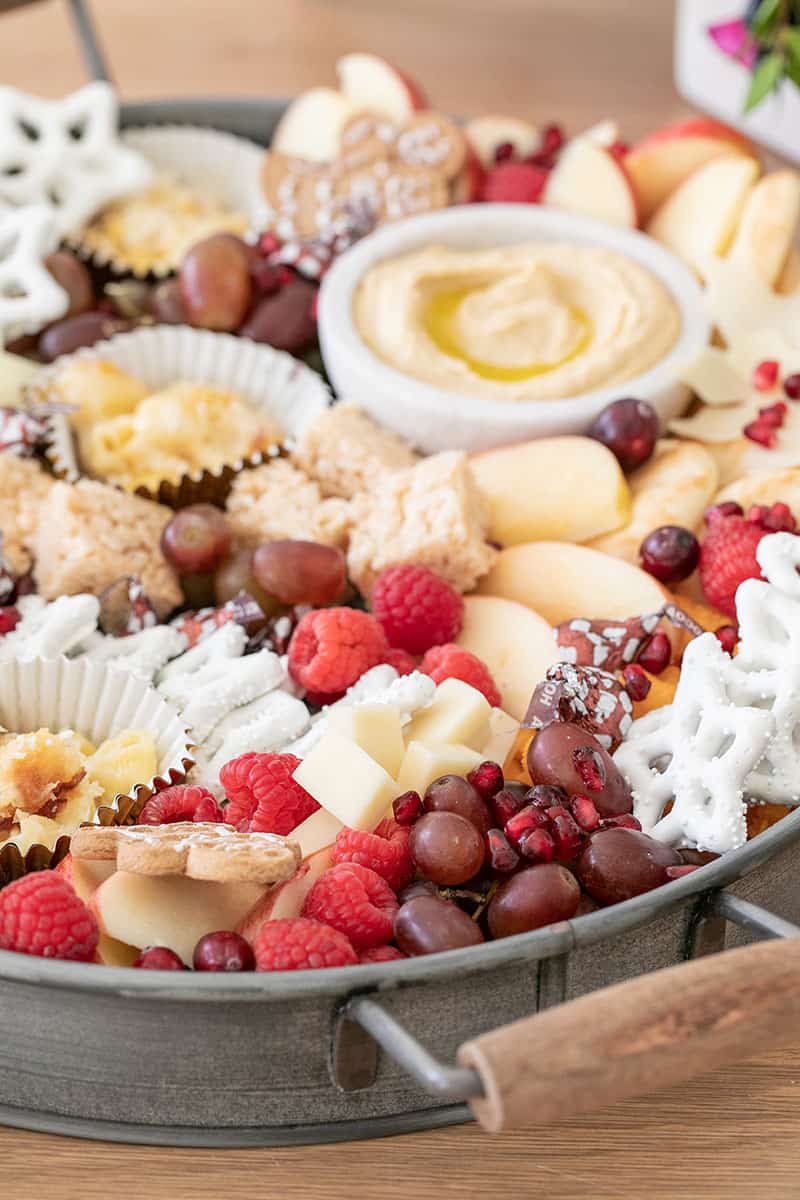 Fruit
Slice fresh fruit like apples, pears, and oranges to add to the appetizer platter.
Berries
Kids love fresh berries! In addition to being sweet and healthy, they're also easy to toss on a kids' appetizer plate! Try choosing red berries for Christmas.
Raspberries
Cranberries
Grapes
Pomegranates
Cheese
Adding a mild cheddar cheese to the platter gives an option for protein. We chose white cheddar cheese for the holidays.
Add in tiny scoops of baked macaroni and cheese too. These can be bite-size and can be served with a spoon or eaten right out of a little cupcake wrapper!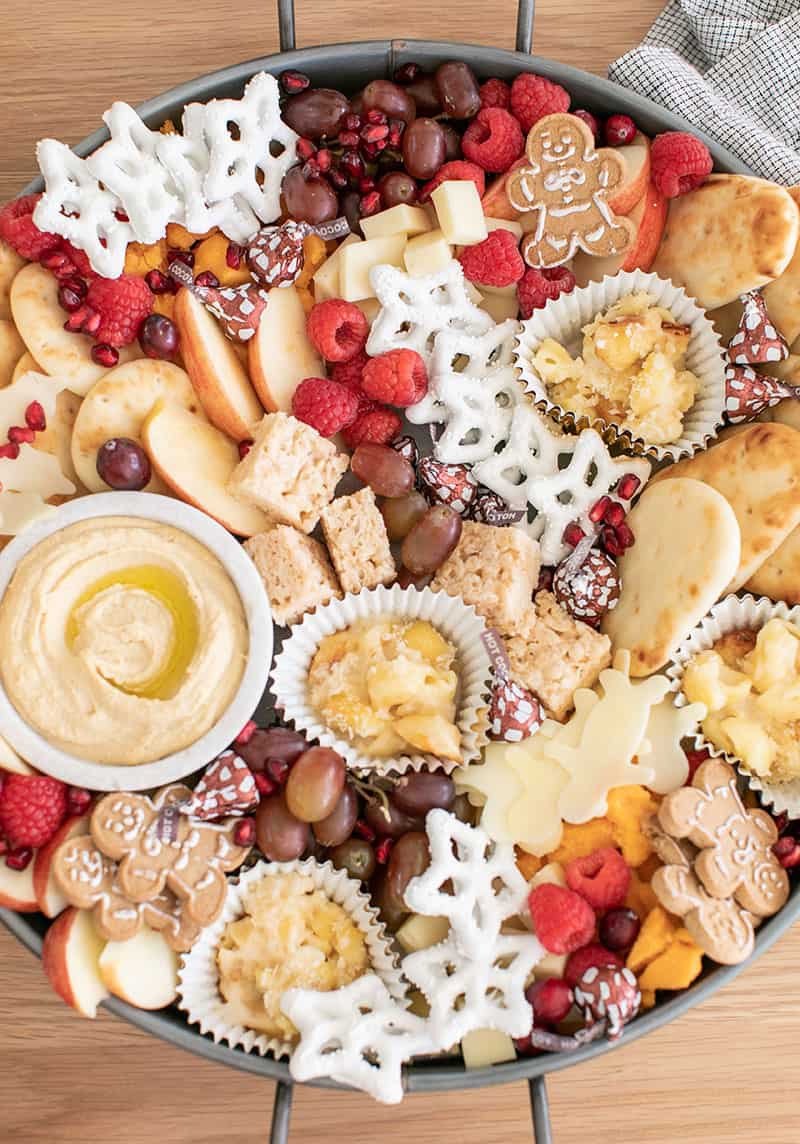 Another fun idea! Buy pre-sliced cheese and use cookie cutters to cut shapes! We made snowflakes and gingerbread men out of cheese and they were a hit.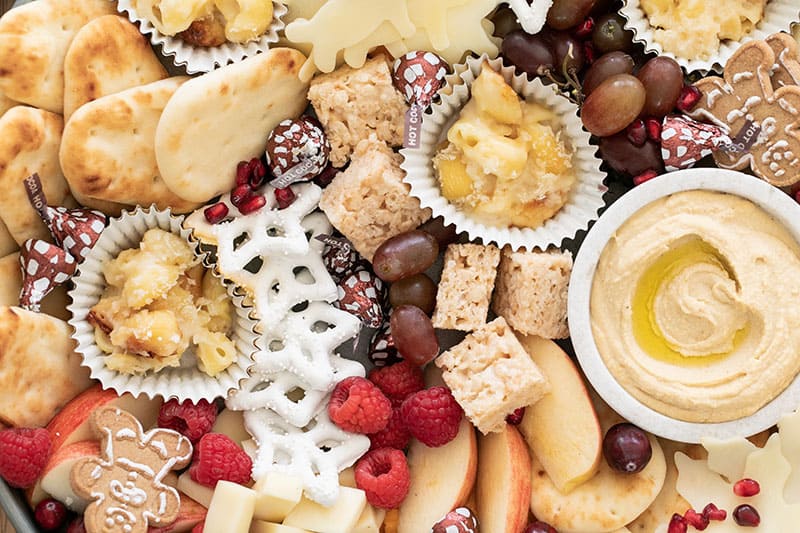 Hummus and Pita Bread
Hummus is another great kid appetizer and gives a non-dairy option. Add some hummus in a small bowl with mini pitta dippers on the side for easy dipping. Crackers work great too!
Vegetables
Red and green bell peppers are perfect or a Christmas appetizer platter!
Sweets!
Of course, a little something sweet is always appreciated on a kids' appetizer platter. Here are some ideas and what we used: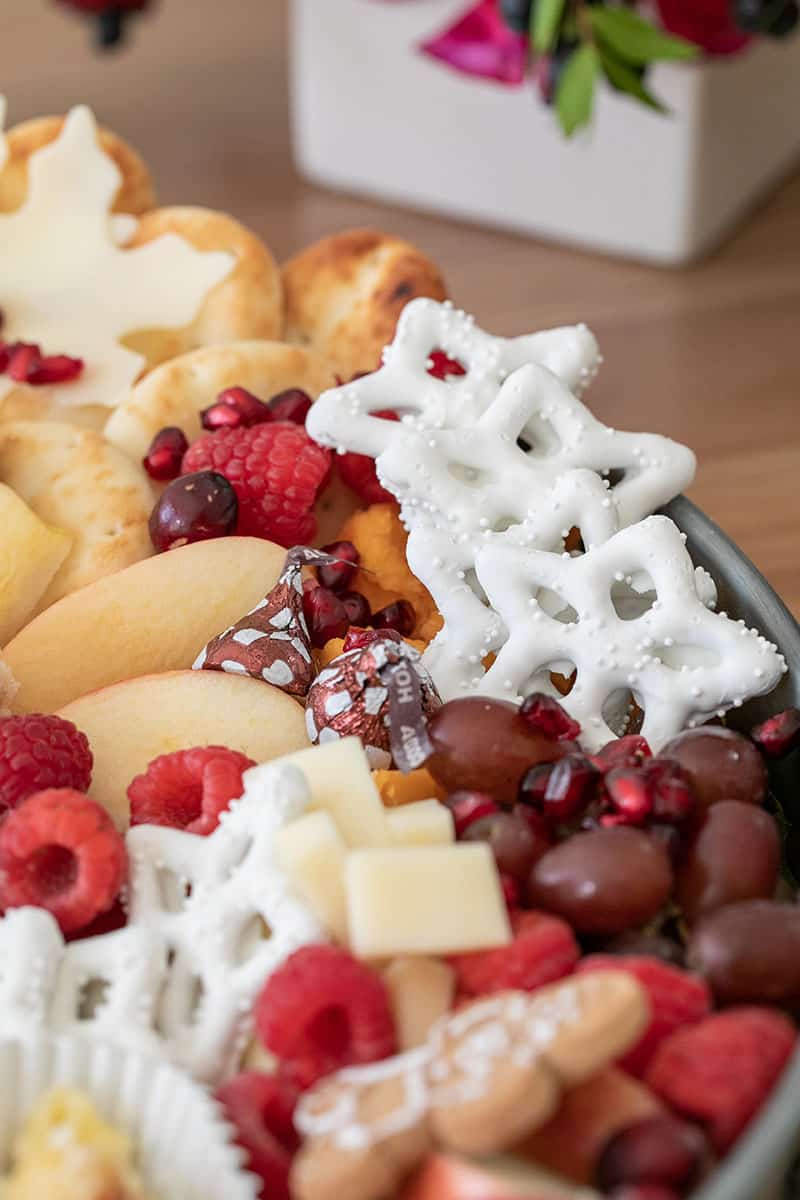 Yogurt Covered Pretzels: Find them in the shape of snowflakes and Christmas trees during the holidays.
Rice Krispies Treats: Cut them into small bitesize pieces.
Chocolate Kisses: Find hot chocolate flavored during the holidays!
Any holiday-themed candy or cookies are a great way to add charm.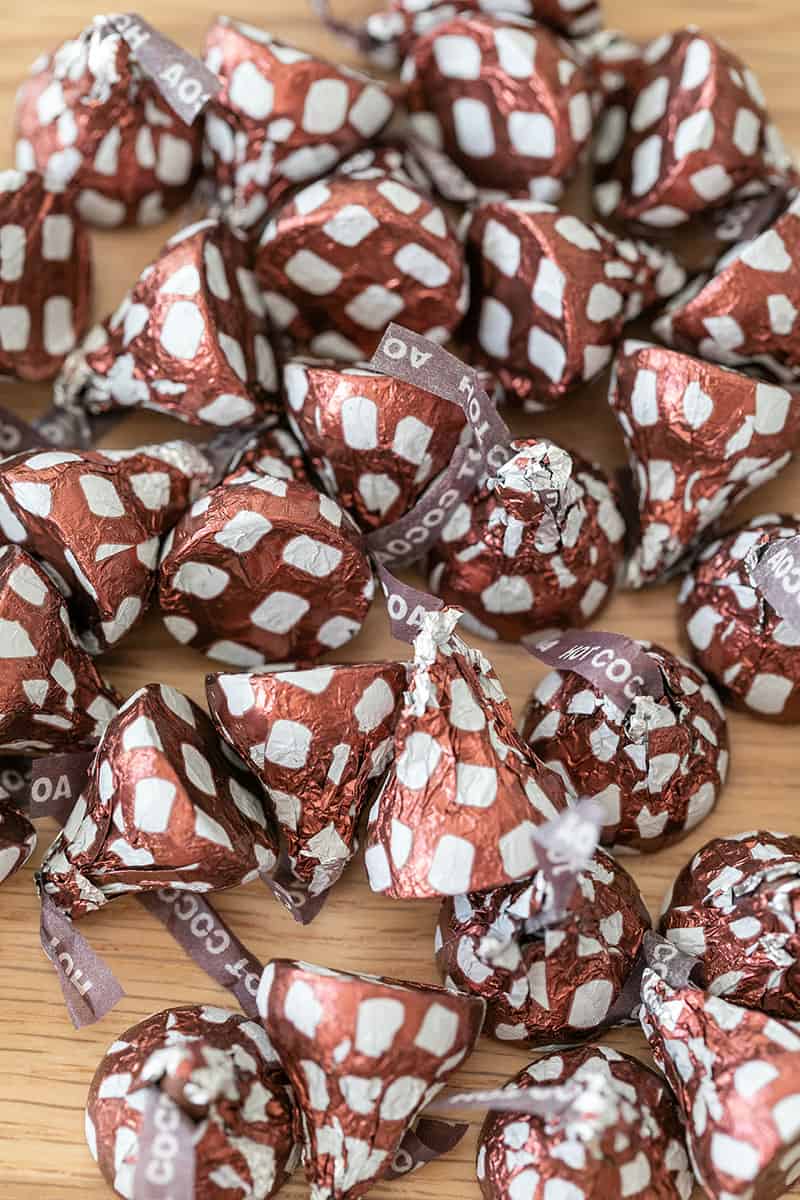 Assembling an Appetizer Platter
Use a large platter, board, or even a tray to serve all of the nibbles on. We used a galvanized tray that worked perfectly and kept the food in the tray. It was a great option for kids.
Place the appetizer platter somewhere further from where older guests will be congregating. Maybe a coffee table nearby or a nook. In addition to the platter, have water or juice box next to it as well as napkins and small plates if needed.
You can also have an activity for kids to do while they snack away. It becomes a small kid area which is nice to have during a party. Making these origami trees is a great idea!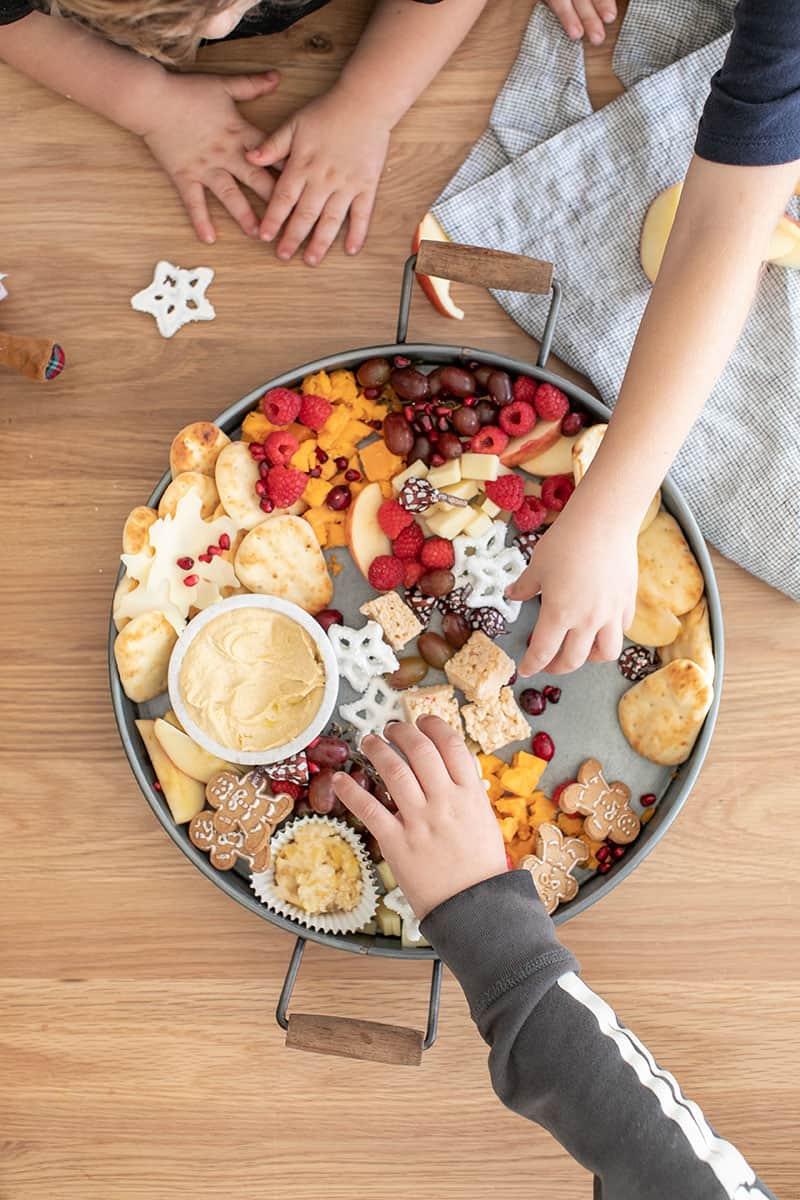 More Christmas Ideas You'll Love!
How to Set-up a Charming Hot Chocolate Bar
The Best Homemade Hot Chocolate
How to Make the Best Gingerbread House
Let us know if you make this platter by leaving a comment below!
Also, tag @sugarandcharm on social so we can see your beautiful Christmas Appetizer Platters! Kids will LOVE this and we hope you do too!