This is the best whipped goat cheese dip that can be made within 5 minutes! It's whipped with garlic, herbs, and olive oil and is super flavorful. This dip is an easy holiday appetizer for a party. Try this goat cheese appetizer for your next gathering, you'll love how easy and delicious it is!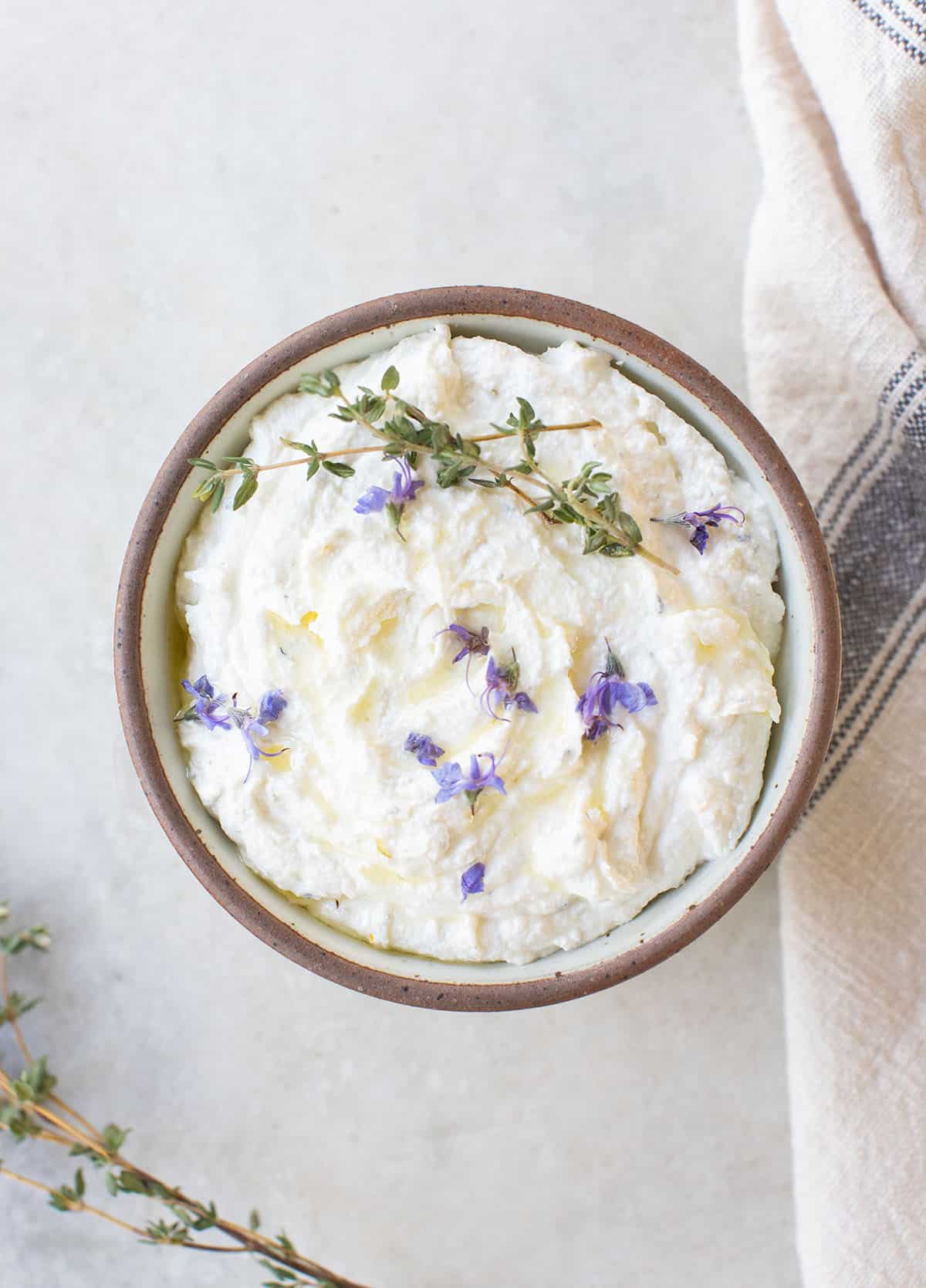 This delicious goat cheese dip comes together in a matter of minutes! There is no baking required and uses simple ingredients. Serve this with dip with fresh veggies or crackers. You can also serve it with a giant cheese platter.
For us, it's all about the party appetizers. Skip the meal and just give us a grazing board filled with the best dips and appetizers. This goat cheese dip is one of our all-time favorite party foods because it's so easy to make! No baking is required, just a blender or mixer for whipping and that's it. 
It can be easily altered to add your own festive and seasonal toppings. We like to serve this dip when we're hosting a simple gathering with friends. Everyone loves it!
What is Goat Cheese?
Goat cheese is a food going back to Ancient Greece. It's a soft, spreadable cheese made from goat milk. It originated in the Mediterranean and the Middle East, in areas where the terrain was rough and goats were more plentiful than cows. The flavor of goat cheese is tangy and earthy. It has a very distinct flavor like no other cheese.
The fat in goat cheese metabolizes faster and has less lactose and lower sodium than cow's cheese. There is evidence that it makes people feel fuller faster and it's healthier overall.
It's a versatile cheese and can be used for desserts like goat cheesecake, crumbled over salads, or used to make a fancy tart.
How to Make Whipped Goat Cheese Dip
This is the easiest goat cheese dip to make! It's whipped to perfection and makes the perfect cheesy appetizer.
Supplies for Goat Cheese Dip
To make this dip you will need a food processor, blender, or electric mixer.
Ingredients
Soft Goat Cheese – Goat cheese is made from goat milk. It comes in different styles from hard to soft. For this recipe, you want good quality, soft goat cheese.
Cream Cheese – A mild-tasting cheese made from cream and milk. Any brand of cream cheese will work.
Garlic – Garlic adds so much flavor to this recipe!
Olive Oil – Use a good quality extra virgin olive oil to create a creamy dip.
Lemon Zest – The zest of a lemon is the outer peel. It creates a vibrant lemon flavor in the dip.
Thyme – Thyme is a perennial evergreen herb in the mint family Lamiaceae. It has a beautiful fragrance and flavor and looks like tiny green flowers. It's a wonderful garnish for dips and even cookies!
Add all the ingredients into a food processor and whip until smooth.
Tips for Making Whipped Goat Cheese Dip
Don't be afraid to whip this dip! Whip it on high until it's super creamy in texture.
Use good quality ingredients to make the best dip.
Whips up nicely when the ingredients are room semi-room temperature.
Make this dip ahead of time and store it in the refrigerator.
Serve this dip at room temperature.
Make a double batch for a large party.
Store leftovers in an airtight container in the refrigerator for up to 3 days.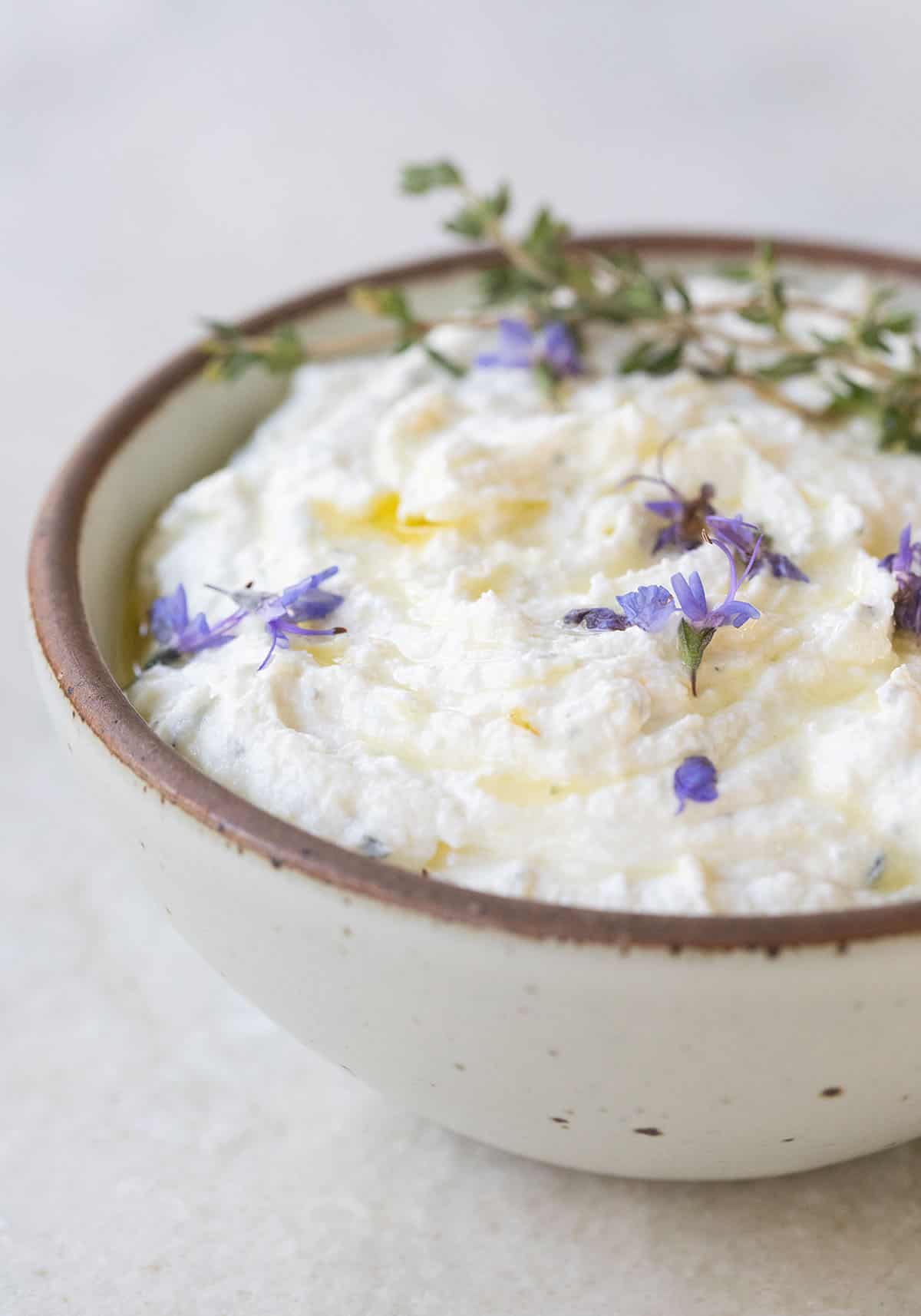 Recipe Variations
Add more or less garlic depending on how garlicky you like it.
Substitute the cream cheese with Ricotta.
Instead of garlic, you can also use shallots or chives.
Best Soft Goat Cheese Brands
There are several brands of goat cheese at the grocery store. Here are a few of our favorite brands:
What can you put on top of goat cheese?
It's all about the garnishes! It's easy to add your own flavor twist to this dip. So if you're wondering what you can add to the top of goat cheese dip, here are a few suggestions:
Edible Flowers – They add color and a seasonal touch.
Chives – Chives have a milder flavor than onions and a pretty green color. They go really well with goat cheese.
Nuts – Add crushed pine nuts, walnuts, or almonds over the top.
Herbs – Fresh herbs like thyme, parsley, oregano, and rosemary add texture, color, fragrance, and flavor.
Red Pepper Chili Flakes – Give the dip a little spice and add red pepper flakes.
Chili Crunch – If you've had chili crunch you know how addicting it is! This will take the dip to another level.
Honey – Drizzle honey over the top for some sweetness.
Bacon – Adds a salty, crunchy texture.
Lime Zest – Zest adds more color and fragrance.
Olives – Olives are a great addition to a goat cheese dip.
Dried Cranberries – These are perfect for a holiday gathering. Add some dried cranberries over the top for a sweet flavor, chewy texture, and red color.
What to Serve with Goat Cheese Dip
If you're wondering what goes well with goat cheese, we've got you covered! Here are some suggestions for what to serve with whipped goat cheese:
Crackers – Serve with an assortment of entertainment crackers or our favorite Rustic Bakery sourdough crackers.
Raw Vegetables – Carrots, radish, cauliflower, cucumbers, celery, peppers, and endives are all great options.
Fruit – We recommend apples, pears, and strawberries for this dip.
Bread – Olive bread, easy crusty baguettes, bread sticks, or crusty ciabatta rolls. Make sure you toast the bread before with olive oil to give it a crunchy texture.
Chips and Pretzels – You can't go wrong with classic chips and pretzels. We love the pretzel crisps for dipping.
When to Serve Goat Cheese Appetizer
This dip is perfect to serve year-round and for any celebration. Here are a few ideas on when to serve a whipped goat cheese dip:
Birthday Party – This is a wonderful birthday party appetizer.
Game Day – If you're hosting a sports gathering.
Baby Shower and Bridal Shower – Makes a wonderful party appetizer.
Summer BBQ – This is a great appetizer to bring to a BBQ.
Pool Party – Serve it with colorful, raw veggies and chips.
Easter Brunch – Give it a spring twist with edible flowers and lemon zest.
Thanksgiving Appetizer – Add this to our Thanksgiving cheese platter and garnish it with pomegranates or cranberries.
Wine and Cheese Party – It's all about the cheese at a wine and cheese party. Add this dip to the board for an epic platter.
Greek Mezze Platter – Hosting a party and serving a giant mezze platter? This dip is a perfect addition.
Frequently Asked Questions
Can I freeze this goat cheese appetizer?
We do not recommend freezing this dip. We also don't think there will be any leftovers to freeze! However, if there happens to be some left, you can store the leftovers in the refrigerator for up to three days.
Can I make it ahead of time?
This dip is perfect to make ahead of time! It doesn't require baking so you can whip the ingredients together and then store them in the refrigerator. Take it out 15 minutes before serving.
Can I use low-fat cream cheese?
You can use low-fat cream cheese if you prefer. It will still taste amazing because goat cheese has such a strong and unique flavor.
More Dip Recipes to Try
Looking for more easy dip recipes? Check out these:
The Best Creamy Garlic Dip Recipe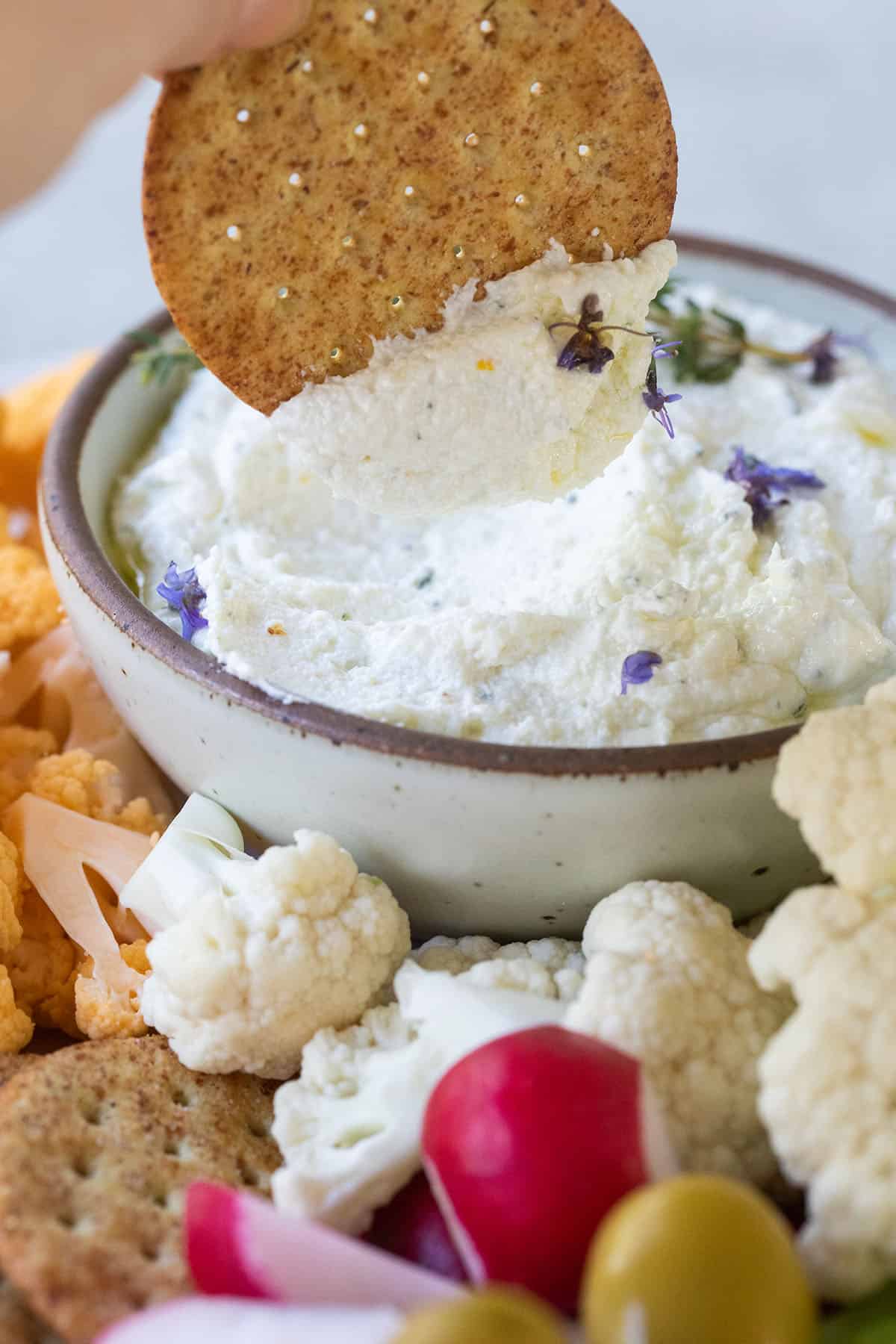 More Party Appetizers You'll Love
Here are more party appetizer ideas to make at your next gathering:
Let us know if you make this goat cheese appetizer by leaving a comment and review below!
You can also FOLLOW US on FACEBOOK, INSTAGRAM, and PINTEREST to see more delicious recipes, cocktails, desserts, and parties!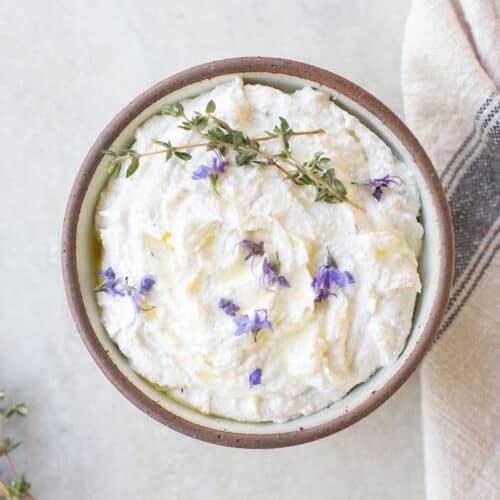 Whipped Goat Cheese Dip
This is the best-whipped goat cheese dip that can be made within 5 minutes! It's whipped with garlic, and herbs, and super flavorful. It is an easy holiday appetizer for a party. Try this goat cheese appetizer for your next gathering, you'll how easy and delicious it is! 
Print
Pin
Rate
Ingredients
10

ounces

soft goat cheese

3

ounces

cream cheese

,

soft

2

cloves

garlic

1

tbsp

olive oil

3/4

tsp

salt

1

tsp

lemon zest

2

tsp

thyme
Instructions
Add all of the ingredients into a food processor or blender.

Blend on high until the ingredients are fully whipped together.

Pour into a bowl and drizzle olive oil over the top.
Notes
Use less garlic if you don't like a strong garlic flavor.
Add more olive oil if the texture isn't whipping. 
Use semi-room temperature ingredients when whipping. 
Store in the refrigerator for up to three days, covered. 
Add your own garnishes over the top!
Nutrition
Calories:
1177
kcal
|
Carbohydrates:
7
g
|
Protein:
58
g
|
Fat:
103
g
|
Saturated Fat:
60
g
|
Polyunsaturated Fat:
4
g
|
Monounsaturated Fat:
31
g
|
Cholesterol:
224
mg
|
Sodium:
3062
mg
|
Potassium:
243
mg
|
Fiber:
1
g
|
Sugar:
5
g
|
Vitamin A:
4262
IU
|
Vitamin C:
11
mg
|
Calcium:
511
mg
|
Iron:
7
mg