This is truly the best lemon loaf cake! Made with fresh rosemary and lemons, this cake is SUPER moist, buttery, and full of flavor. Topped with a lemon, sour cream glaze. This recipe will be your new favorite loaf cake!
If you've tried our coconut loaf cake and loved it, then you will absolutely love every bite of our rosemary lemon loaf cake. It has the exact same moistness with a crispy, buttery top and fluffy inside!
Also check out our banana bread, pumpkin bread and monkey bread recipes! Furthermore, check out all of our favortie lemon recipes!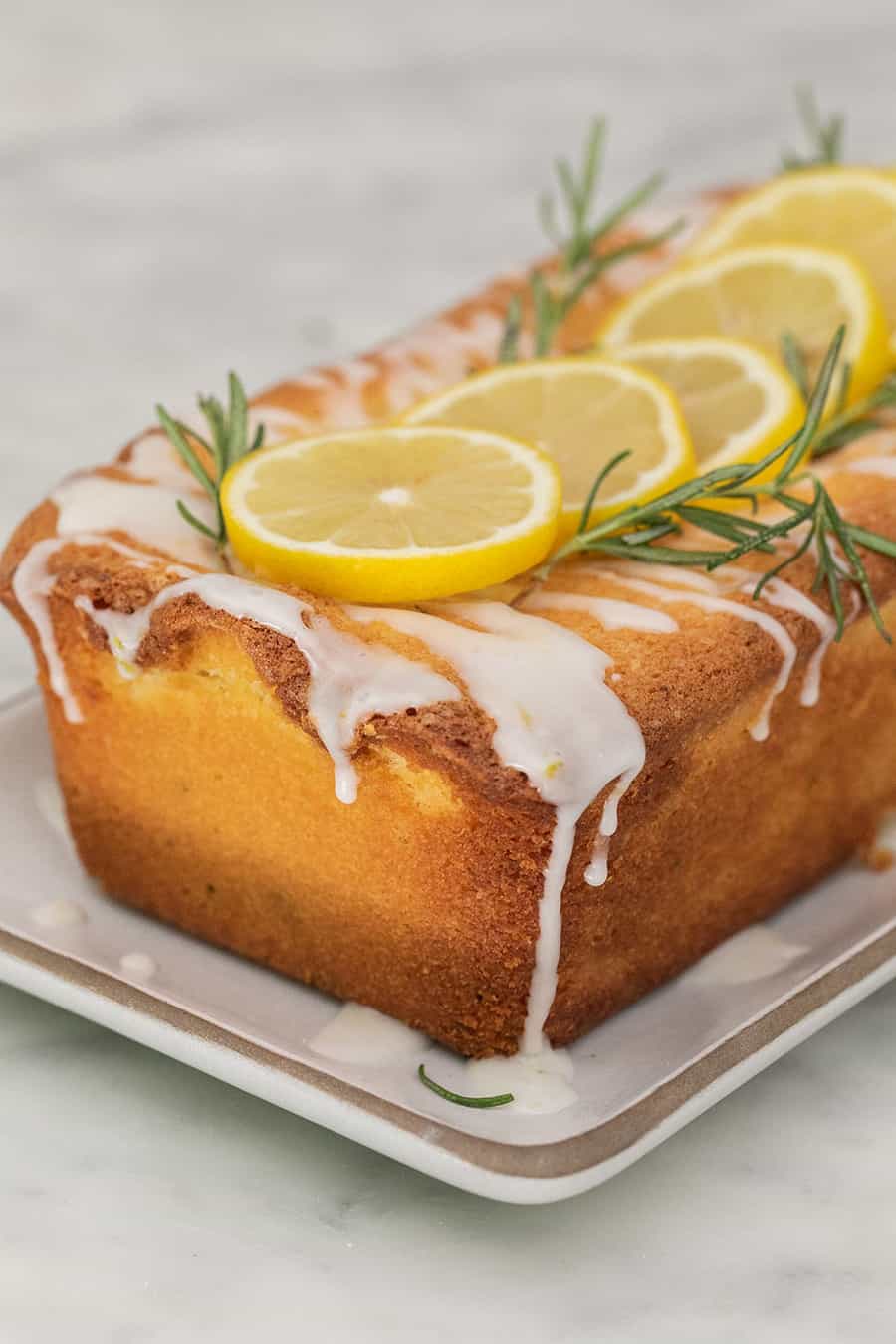 The rosemary adds a freshness to it and compliments the lemon nicely. It's perfect to serve spring or winter, as the rosemary adds a nice herby flavor to it. Also great to bake and gift to friends and for simple gatherings.
We love this loaf cake because it's made with sour cream, oil and butter making it incredibly moist and full of lemon flavor. It's truly one of the best we've ever had and are so happy to share it with you!
Need more brunch recipes? Check out our favorite brunch recipes and brunch cocktails.
What is a loaf cake?
A loaf cake is a buttery, moist cake. It usually features fruit flavors such as strawberry, pumpkin, and, in this case, coconut. Then it's usually topped with a glaze or icing and served at room temperature. It gets its name because it's made in a bread loaf pan.
How to Make a Rosemary Lemon Loaf Cake
Supplies
Loaf Pan – This is our favorite loaf pan. It's the only one you'll ever need!
Measuring Cups
Mixing Bowls
Electric Mixer – Hand held or stand alone.
Parchment Paper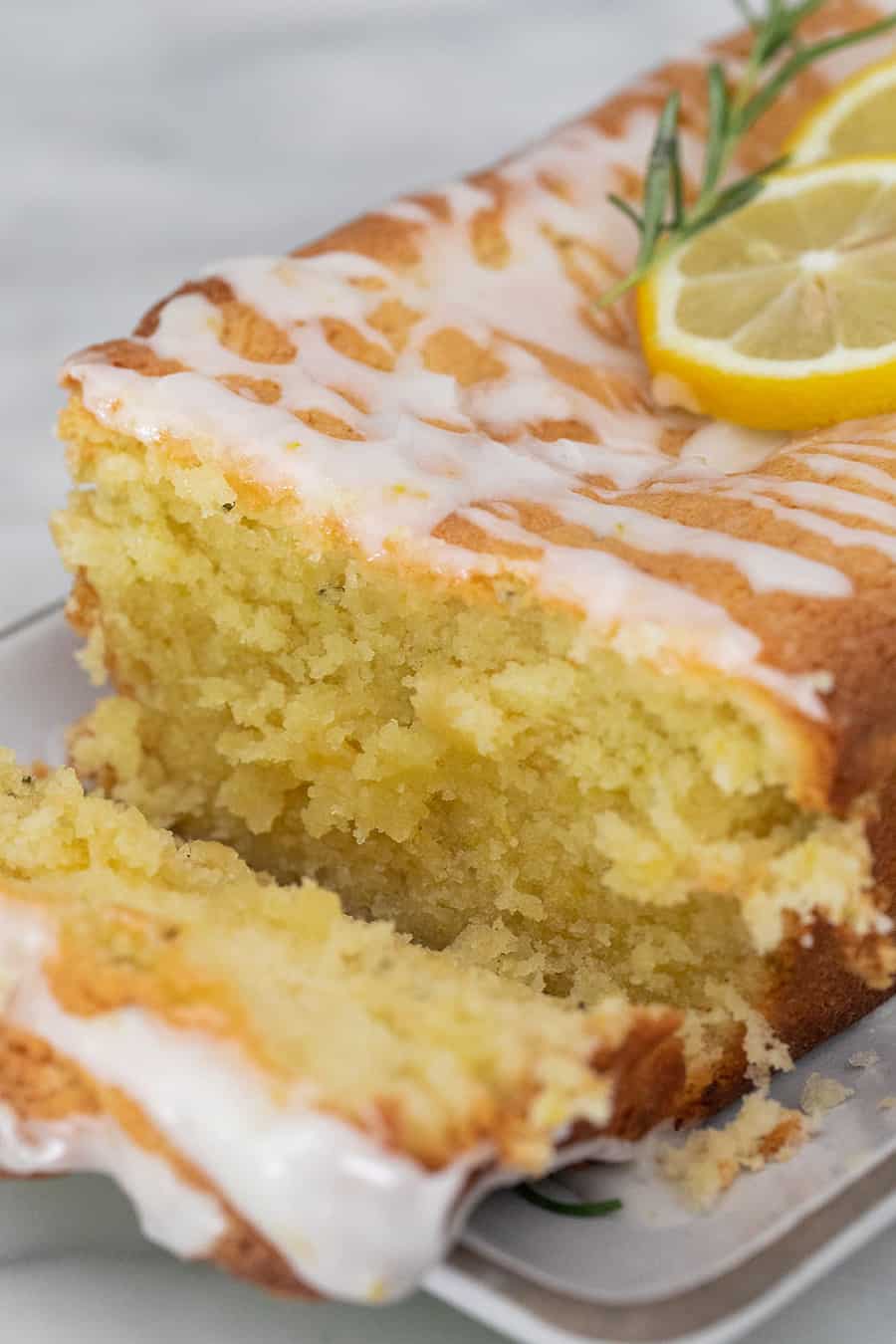 Ingredients
Fresh Rosemary
Lemon Juice + Lemon Zest
Butter
Vegetable Oil
Eggs
Sour Cream
Sugar
Baking Powder
Salt
Vanilla Extract
What is the purpose of baking powder?
If you're curious about the difference between baking powder and baking soda and what they do in a recipe, check out our baking soda vs. baking powder guide.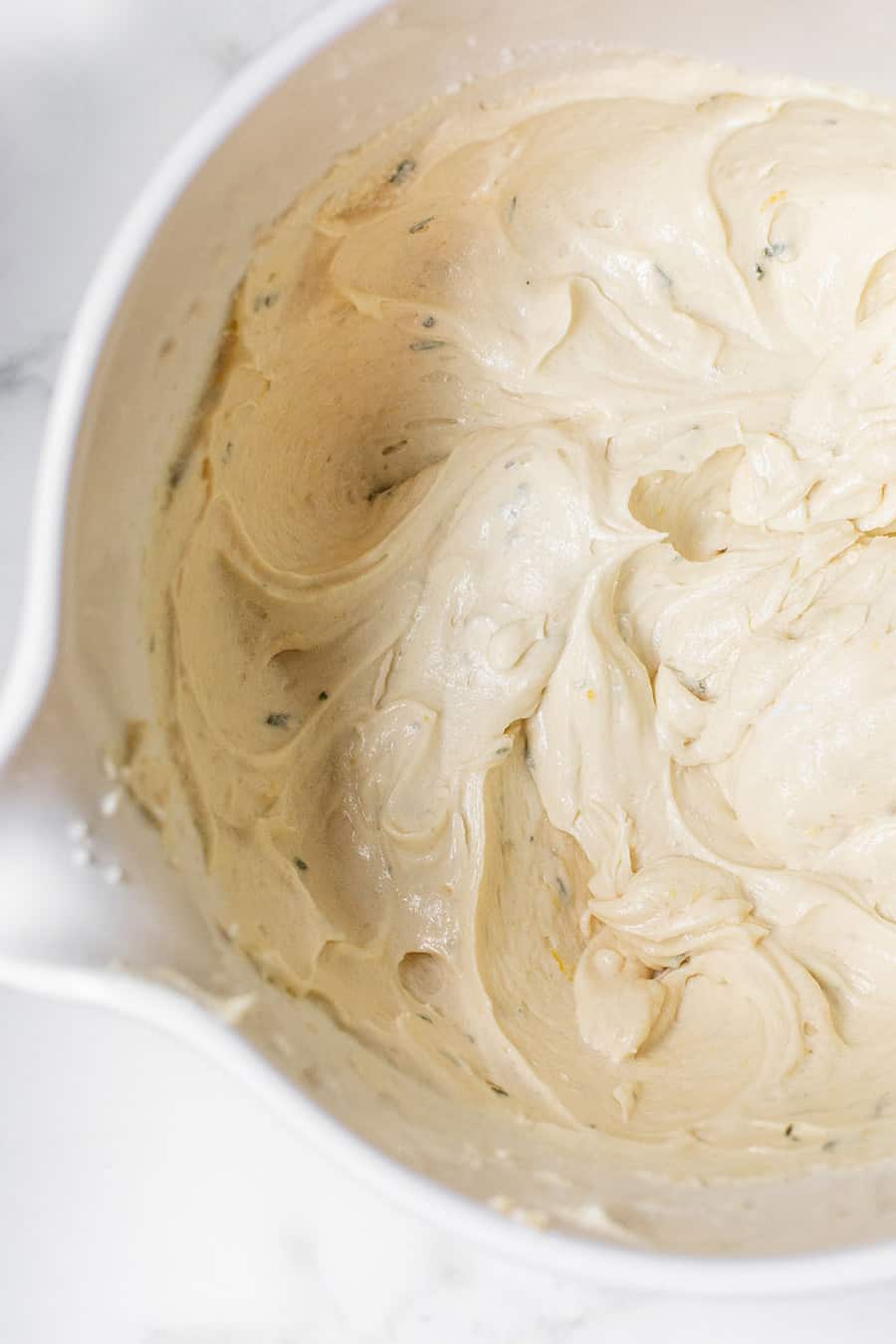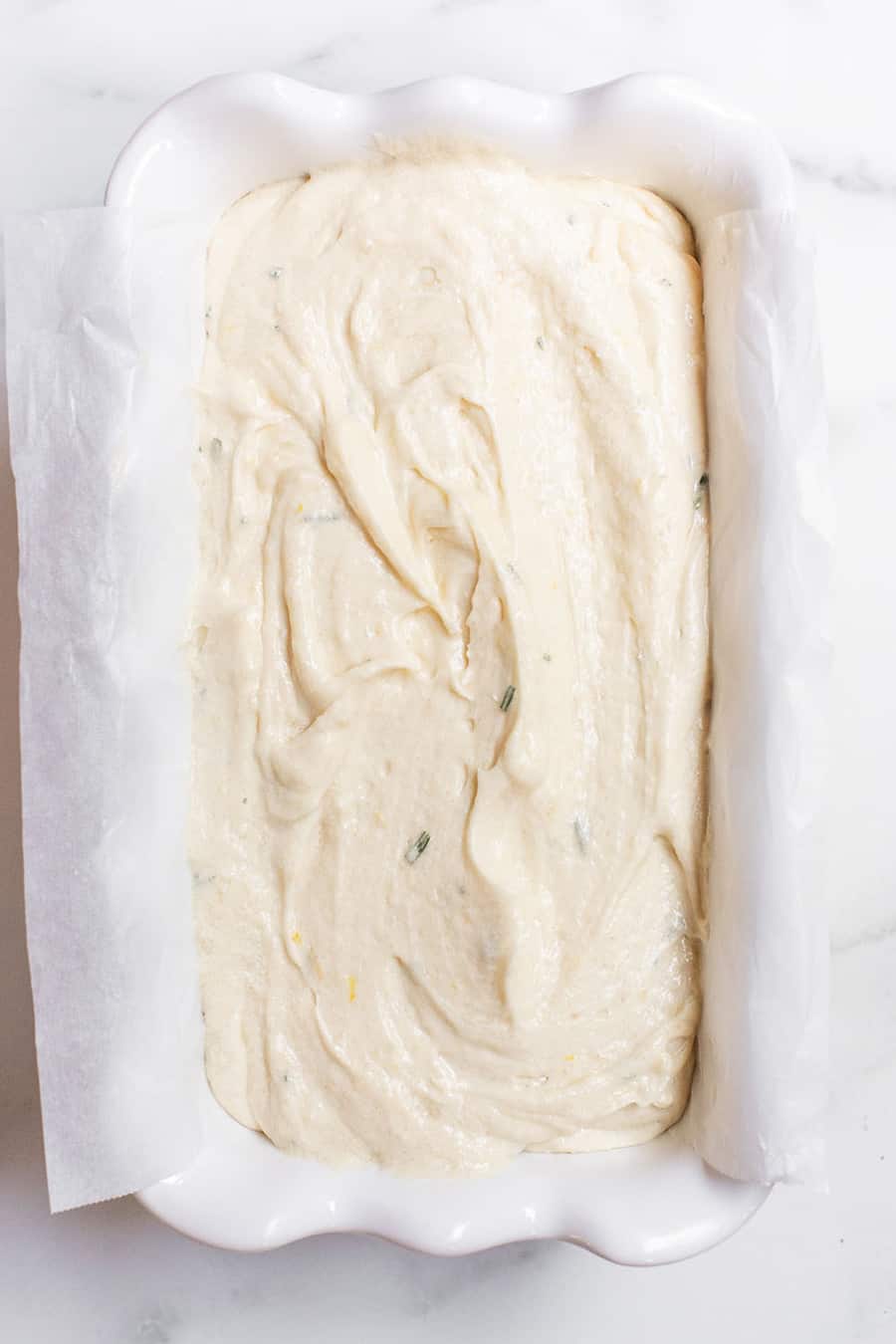 The top will be golden brown and the center will come out clean (moist crumbs is okay) with a toothpick.
Removing the Loaf Cake
When the loaf cake is done, serve it from the pan, with the glaze poured over the top OR remove the loaf cake from the pan, serve it on a small platter and pour the glaze over it.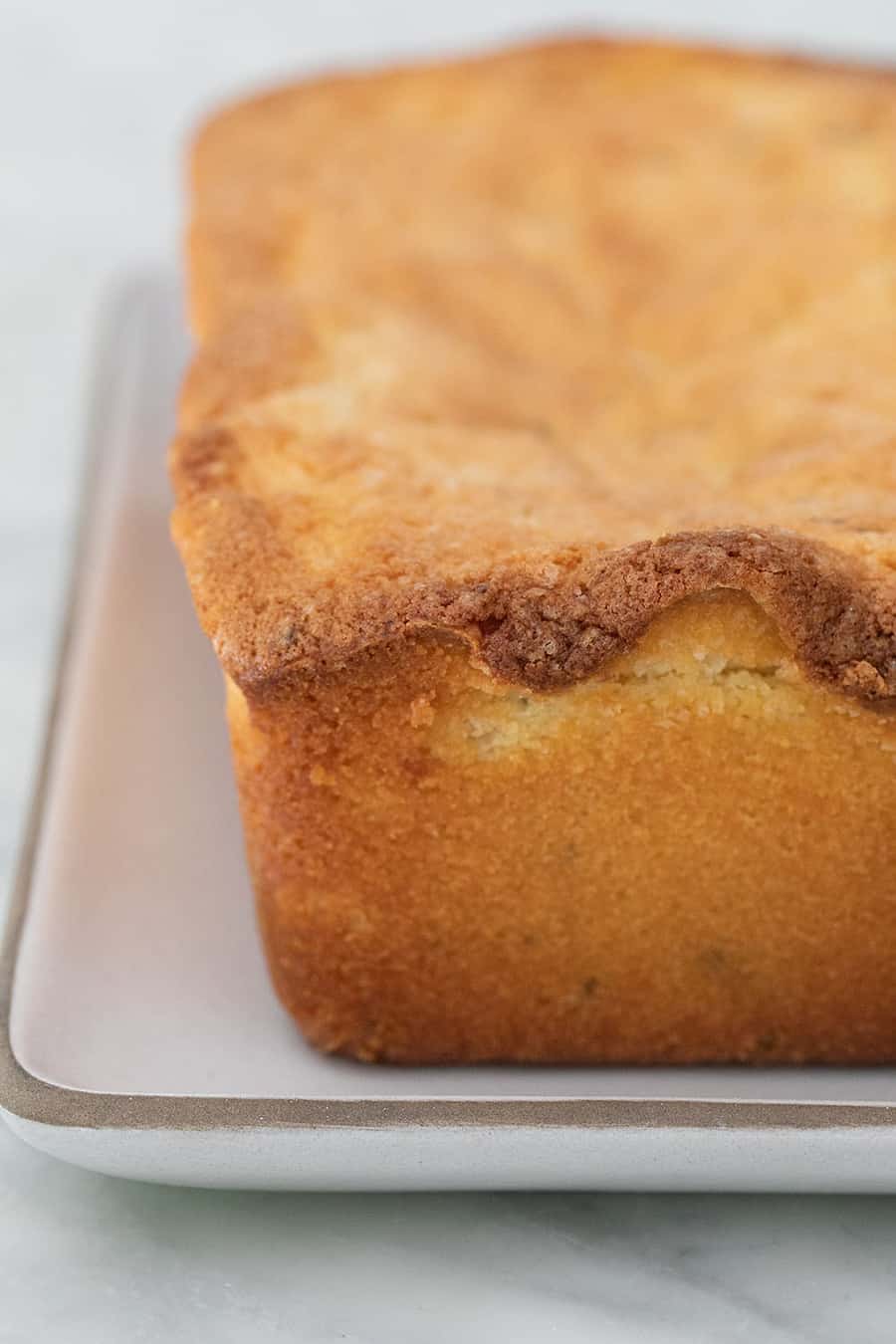 The easiest way to remove the loaf cake is by pulling up on the two sides of the parchment paper.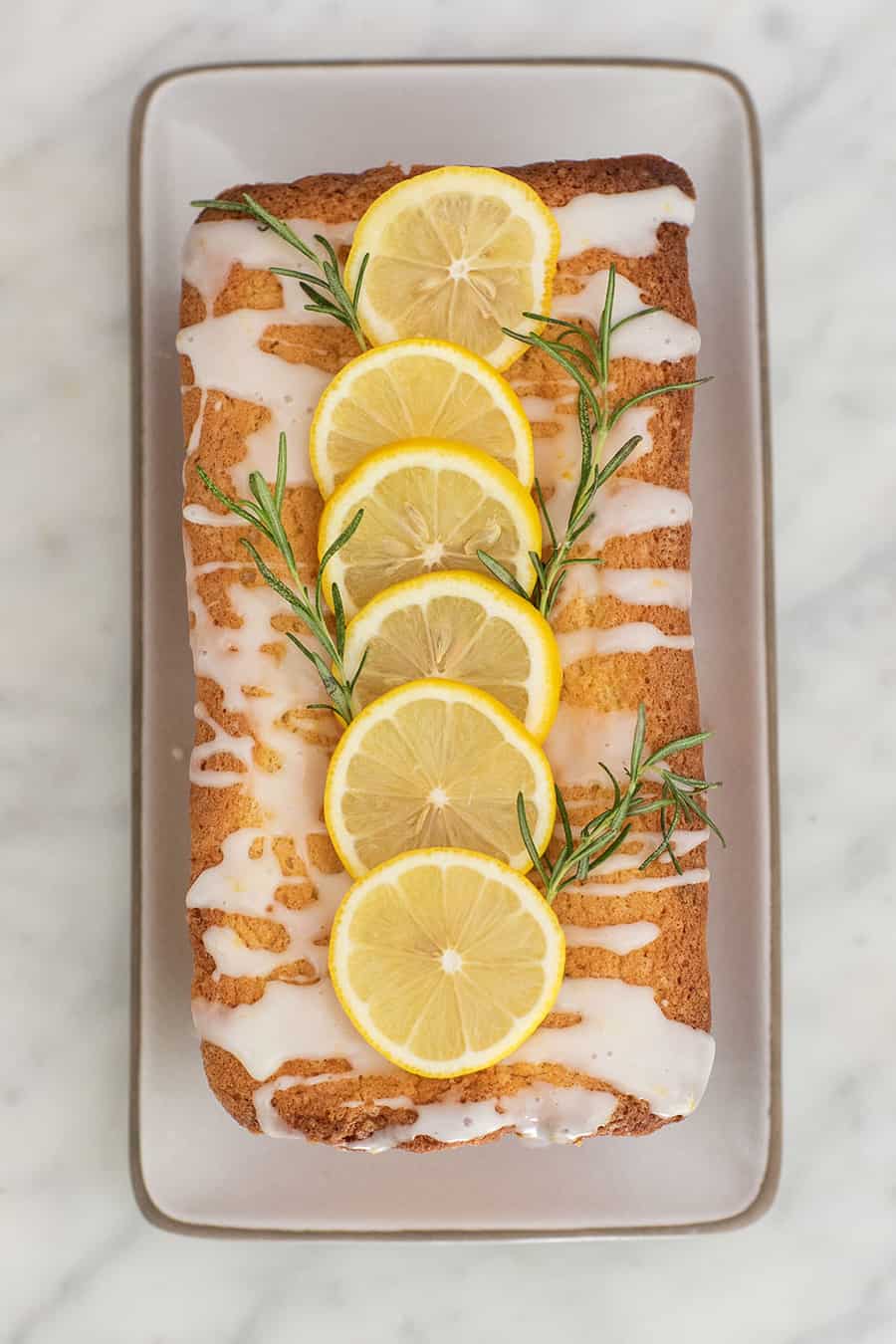 Delicious Lemon Glaze
The glaze is an essential part of this recipe! It's beyond easy to make and only 4 ingredients!
Powdered Sugar
Lemon Zest
Lemon Juice
Water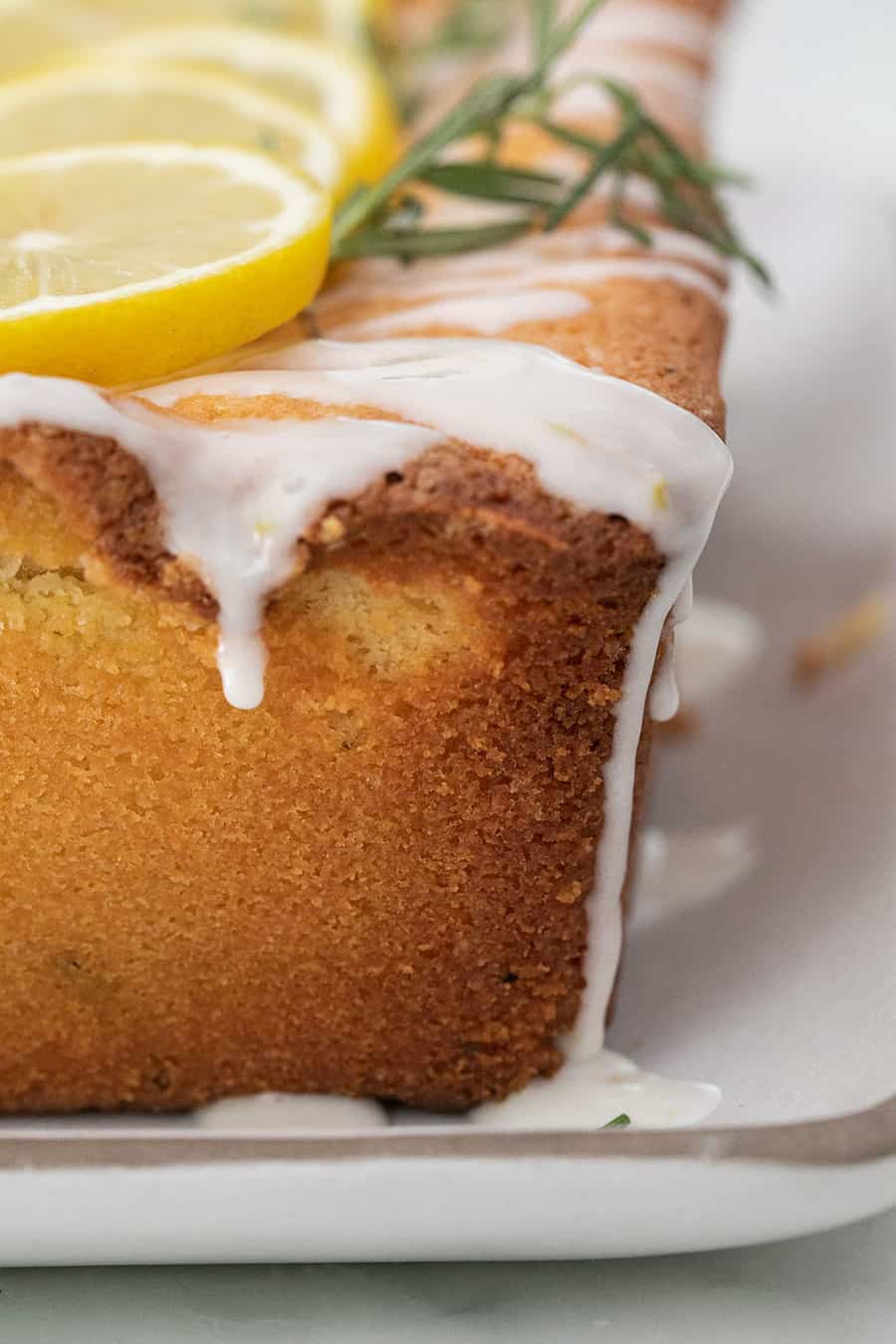 In a small bowl whisk together the ingredients with a fork until it becomes a thick glaze texture. If you need a little extra water, add it. Next, pour it over the lemon loaf cake and enjoy it!
Full recipe below.
How can you tell if a cake is done without a toothpick?
Insert the toothpick into the center of the cake and if the toothpick comes out clean the cake is done. If it comes out with batter, the cake needs more time to cook.
If you take the loaf out too early it will fall in the center. However, we personally do like to take it out about a minute before it is fully done cooking so it's not overcooked.
Additionally, you don't have to have a toothpick to test the center. A clean sharp knife will work as well.
Loaf Pan
A loaf pan is a rectangular pan that is used for baking bread and loaves. If you like to bake, it's a good idea to invest in one good loaf pan that you will have forever.
Our favorite is Emile Henry's ceramic pan. It's made from Burgundian clay, which absorbs, distributes, and retains heat evenly, so bread and casseroles bake and brown to perfection.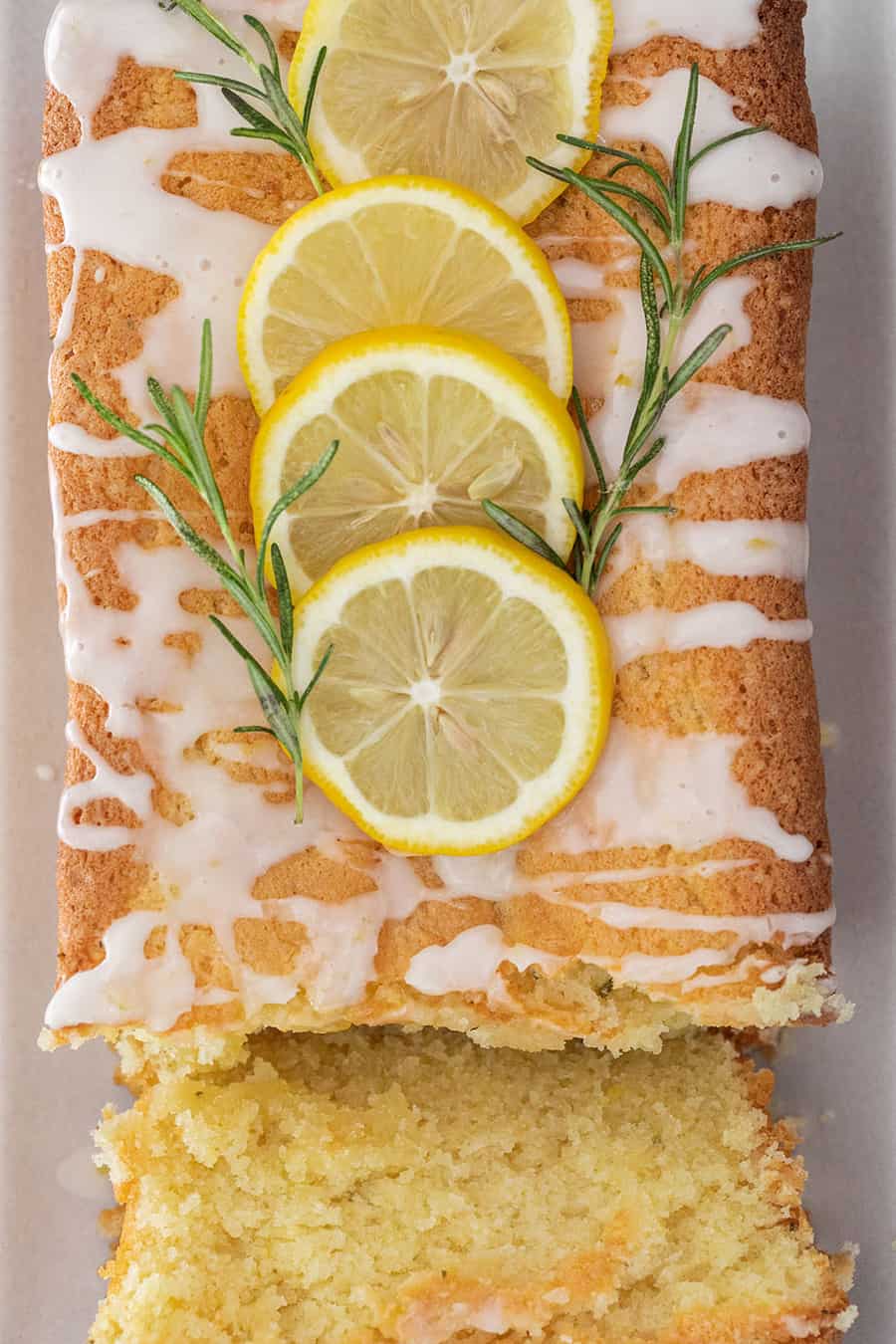 Frequently Asked Questions
What is a lemon loaf?
A lemon loaf is a moist, buttery lemon-flavored cake that is baked in a loaf pan.
Why is my lemon loaf dense?
There are several reasons a lemon loaf can come out dense. If the recipe calls for too much acid and not enough baking powder to balance it out it can become dense. It can also become dense if the flour is over mixed in the batter or if a recipe calls for too much flour and not enough liquid.
What is lemon cake made of?
Lemon loaf cake is made of all-purpose flour, unsalted butter, sugar, baking powder, eggs, lemon juice and lemon zest, vegetable oil, salt sour cream, and vanilla extract.

IS LOAF CAKE THE SAME AS POUND CAKE?
No, loaf cake and pound cake are not the same. A pound cake gets its name from the traditional way of making it. This requires a pound of each ingredient to make the batter.
Why Does My Loaf Cake Crack?
It's very common for a loaf cake to crack on top. When the batter bakes, the heat causes it to rise. When it starts rising over the top of the pan, then it spreads outward. This often causes the top to crack.
More Recipes You'll Love!
The Best Devil's Food Cake Recipe
Let us know if you make this rosemary lemon loaf cake by leaving a comment and rating below! We love to hear your thoughts!
You can also FOLLOW US on FACEBOOK, INSTAGRAM, and PINTEREST to see more delicious recipes, cocktails, desserts and parties!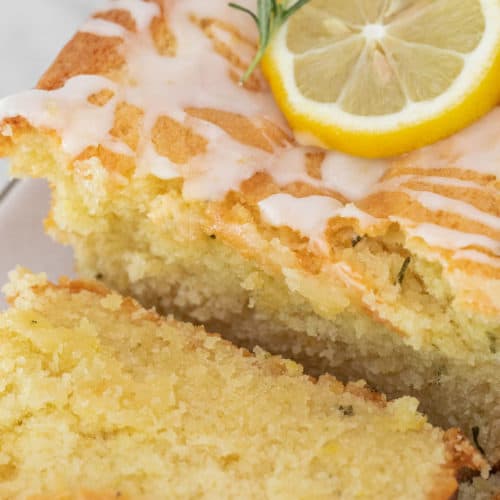 Rosemary Lemon Loaf Cake
This is truly the best lemon loaf cake! Made with fresh rosemary and lemons, this cake is super moist, buttery, and full of flavor.
Print
Pin
Rate
Ingredients
Rosemary Lemon Loaf Cake
3/4

cup

unsalted butter

,

organic

1 1/2

cups

sugar

1 1/2

cup

flour

1 1/2

tsp

baking powder

1

tsp

salt

3

eggs

,

organic

1/3

cup

lemon juice

,

fresh-squeezed

1/8

cup

vegetable oil

1/2

cup

sour cream

2

tbsp

lemon zest

1/2

tsp

vanilla extract

1

tbsp

rosemary

,

fresh, minced. Find this in the herb section of the grocery store.
Lemon Glaze
1/2

cup

powdered sugar

1

tbsp

sour cream

1

tsp

lemon zest

2

tbsp

water
Instructions
Rosemary Lemon Loaf Cake
Preheat the oven to 325 degrees Fahrenheit

Mix the butter (room temperature) and sugar on medium speed in an electric mixer. 

Add in the sour cream and eggs and beat. 

While that is beating add the flour, salt and baking powder in a medium bowl and lighting whisk.

Next, add the lemon juice, oil, rosemary, zest, and extract in a liquid measuring cup and alternate with the flour mixture.

Cut a piece of parchment paper the same length as the loaf pan and leave extra room to go over the sides. 

Butter the bottom and sides of the loaf pan and place in the parchment paper. 

Pour the batter in the loaf pan 1/2 of the way full.

Bake for 1 hour at 325 degrees.
Lemon Glaze
Add the ingredients into a small bowl and whisk with a fork until combined and the texture turns into a glaze.

Drizzle the glaze over the rosemary lemon loaf cake and garnish with lemons and fresh rosemary.
Notes
Make sure to use fresh rosemary and freshly squeezed lemon juice for this recipe.
Baking times will vary on true oven temperature and location. Check on the loaf cake after 50 minutes and continue checking until it's done. It will be golden brown, risen in the center and the sides. 
Do the toothpick trick to help tell if it's done or not. 
Nutrition
Calories:
4399
kcal
|
Carbohydrates:
461
g
|
Protein:
41
g
|
Fat:
276
g
|
Saturated Fat:
179
g
|
Cholesterol:
1039
mg
|
Sodium:
2647
mg
|
Potassium:
1441
mg
|
Fiber:
8
g
|
Sugar:
307
g
|
Vitamin A:
7205
IU
|
Vitamin C:
50
mg
|
Calcium:
666
mg
|
Iron:
13
mg
This post may contain affiliate links. Please read our disclosure and privacy policy.