Jagermeister is a German liqueur that is perfect for cocktails! We're sharing everything you need to know about it and the best cocktails to make with Jagermeister. You can also check out our Jagermeister drink recipe too!
Most people have heard of Jagermeister, but few know much about it. First introductions are often at fraternity houses with a hasty shot, but there is a lot more to it than being a college pastime.
Jagermeister, also known as Jager, is pronounced 'yay-ger-my-stir' and was first produced in 1934. Made up of 56 herbs and spices, it remains one of the most well-known liqueur brands in the world. Read on to learn everything you need to know about it.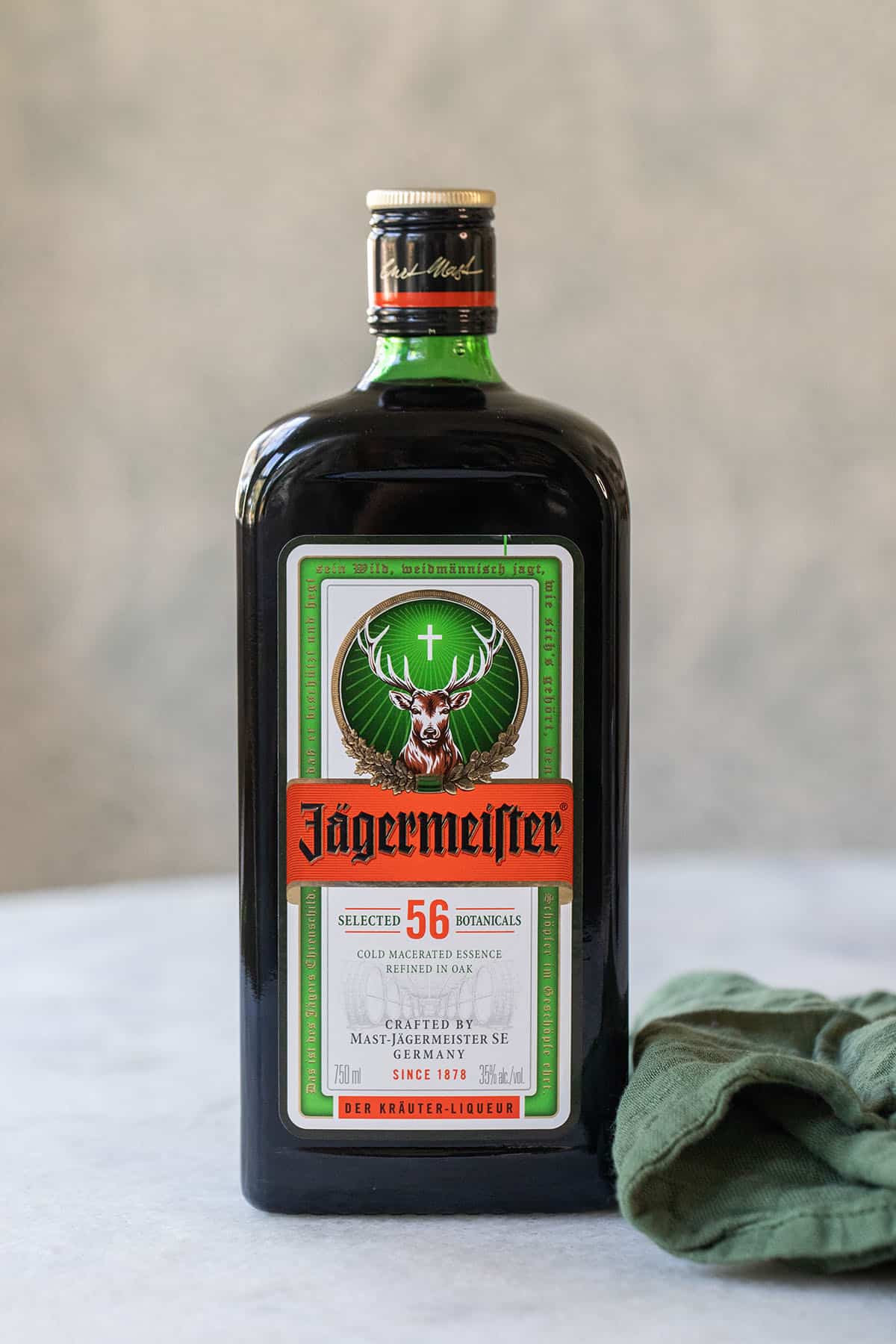 What Is Jagermeister?
Jagermeister is a German digestif that was initially inspired by German hunters, including the story of Saint Hubertus. The name translates to master hunter or master of the hunt. The black bottle has a red label with a deer on the front.
Digestifs are usually categorized by having lower ABV volume and having infusions of spices, herbs, and other additions. They are meant to aid digestion. It has an amazing 56 herbs and spices, with an alcohol volume of 35 percent.
What Does Jagermeister Taste Like?
The Jagermeister taste has strong anise and licorice notes. It has a syrup consistency and is often compared to Italian Amari and other Eastern European liqueurs. It is both sweet and bitter, making it a popular drink to consume in different ways and at different times.
What Is The Price Of Jagermeister?
The Jagermeister price depends on several factors, including size:
50ml: from $8.99
375ml: from $14.99
750ml: from $23.99
1 Litre: from $34.99
These are just average price points. However, there are also different Jagermesiter products, such as herbal spice liqueur and cold brew coffee. Where you decide to buy Jagermeister will also impact the pricing.
Is Jagermeister Good For Health?
There are some health benefits of Jagermeister, as it is said to be an anti-inflammatory, a cough suppressant, and stomach digestif, as one of its first purposes was medicinal. Some of its ingredients, such as cinnamon bark and star anise, have been shown to support good health. However, like any alcohol, you should consume it in moderation.
Is Jager A Whiskey?
Jager is not a whiskey; it is a digestif. There is no oak flavor in the product due to the production process. However, it takes over 365 days to make due to the different production steps.
Can You Drink Jager Straight?
It is possible to drink Jager straight, ideally chilled or over ice. The best way is to sip it slowly to enjoy the distinct flavors. It can be pungent when digested straight, so it depends on your taste preferences.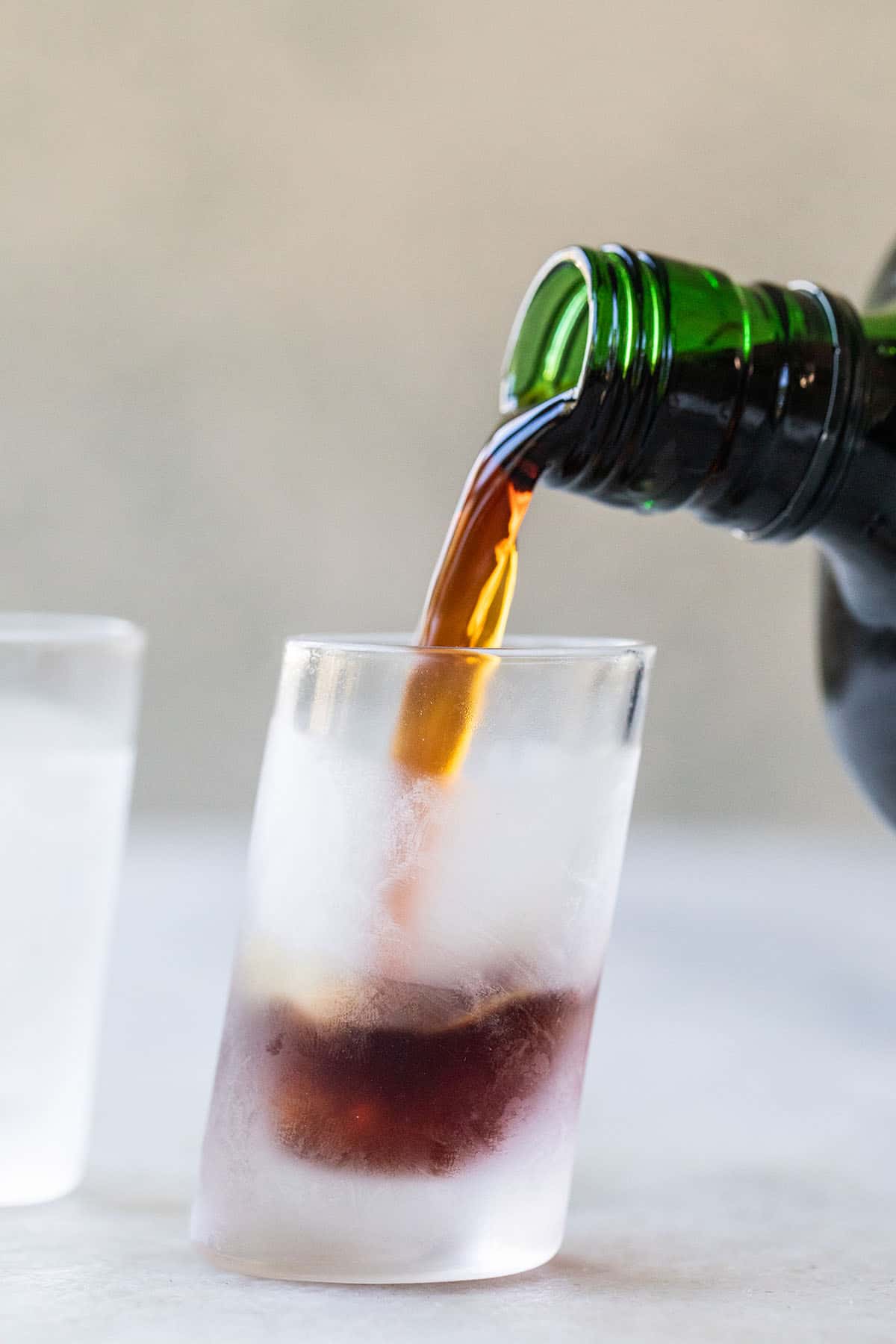 Jagermeister Shots
Jagermeister shots are an easy way to enjoy it without a mixer.
Pour 1 ounce into an ice-cold shot glass.
It's best served cold so an icy shot is perfect.
Best Jagermeister Cocktails
There are many different delicious Jagermeister cocktails to try, including:
California Surfer
The Inside Scoop
Oatmeal cookie
Precision Timepiece
German Vacation
These are the best Jagermeister cocktails to get started. You can mix it with various flavors, including coffee and even tropical mixes. It is a great liqueur to try unique cocktails.
Enjoy Jagermeister
Jagermeister deserves more than a shot on a night out. It has a unique taste and works well in different ways. When consumed in moderation it can be an enjoyable drink to incorporate into cocktail parties and dinners.
Read on for more delicious food and home inspiration. Or check out our shop for some inspiration.
More Cocktail Recipes You'll Love
Made in France Bénédictine Cocktail
How to Make Charming Ice Shots
See our recipe for Jagermeister shots below!
You can also FOLLOW US on FACEBOOK, INSTAGRAM, and PINTEREST to see more delicious recipes, cocktails, desserts, and parties!
This post may contain affiliate links. Please read our disclosure and privacy policy.
Jagermeister Shots
An icing cold shot of Jagermeister.
Print
Pin
Rate
Instructions
Place shot glasses in the freezer for at least 10 minutes or longer.

Pour in 1 ounce Jagermeister into the gold shot glass.
Nutrition
Calories:
65
kcal
|
Sodium:
1
mg
|
Potassium:
1
mg
|
Iron:
1
mg