Arranging roses can be a daunting task, so we asked floral expert Erin from White Fig Designs to share her tips! She's sharing two beautiful rose arrangements.
Roses are among the most versatile and adaptable of plants. Varying growth habits, shapes and sizes along with different leaf and flower colors provide many options for their use in many rose arrangements and bouquets. They will soften and brighten taller green flowers that in turn brighten their surroundings. They blend well with many flowers to provide season long color.
How To Make These Rose Arrangements – Step By Step
Arrangement 1 – European Hand Tie
Lay two dozen, prepped roses out to start.
Then with one rose as your center, add the second one on an angle next to it, crossing the stems.
You want the stem to be opposite of the other rose so the rose stems start to create a sprawling out look.
Continue doing this in a circle, laying the roses an an angle next to each other, with the stems sprawling out.
Once you have reached the desired size or used all of your roses, you can hand tie them with a twine at the base, or measure the stems against the vase you'll be using and cut off the extra stems.
You want the rose heads to be just above the top of the vase, so hold it near the vase and cut the extra stems.
You will get a tight rose look which is very beautiful! This arrangement doesn't need any greens, it's just beautiful on it's own.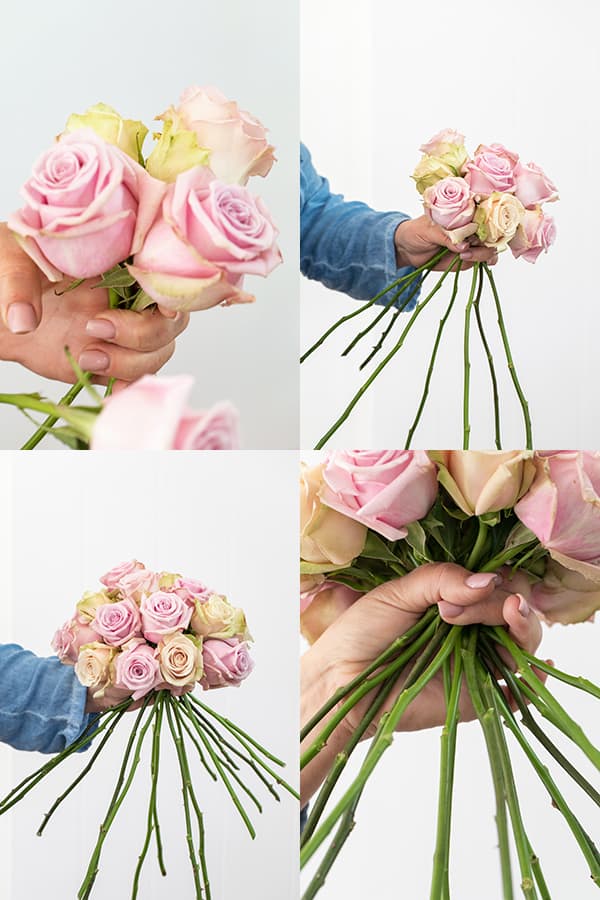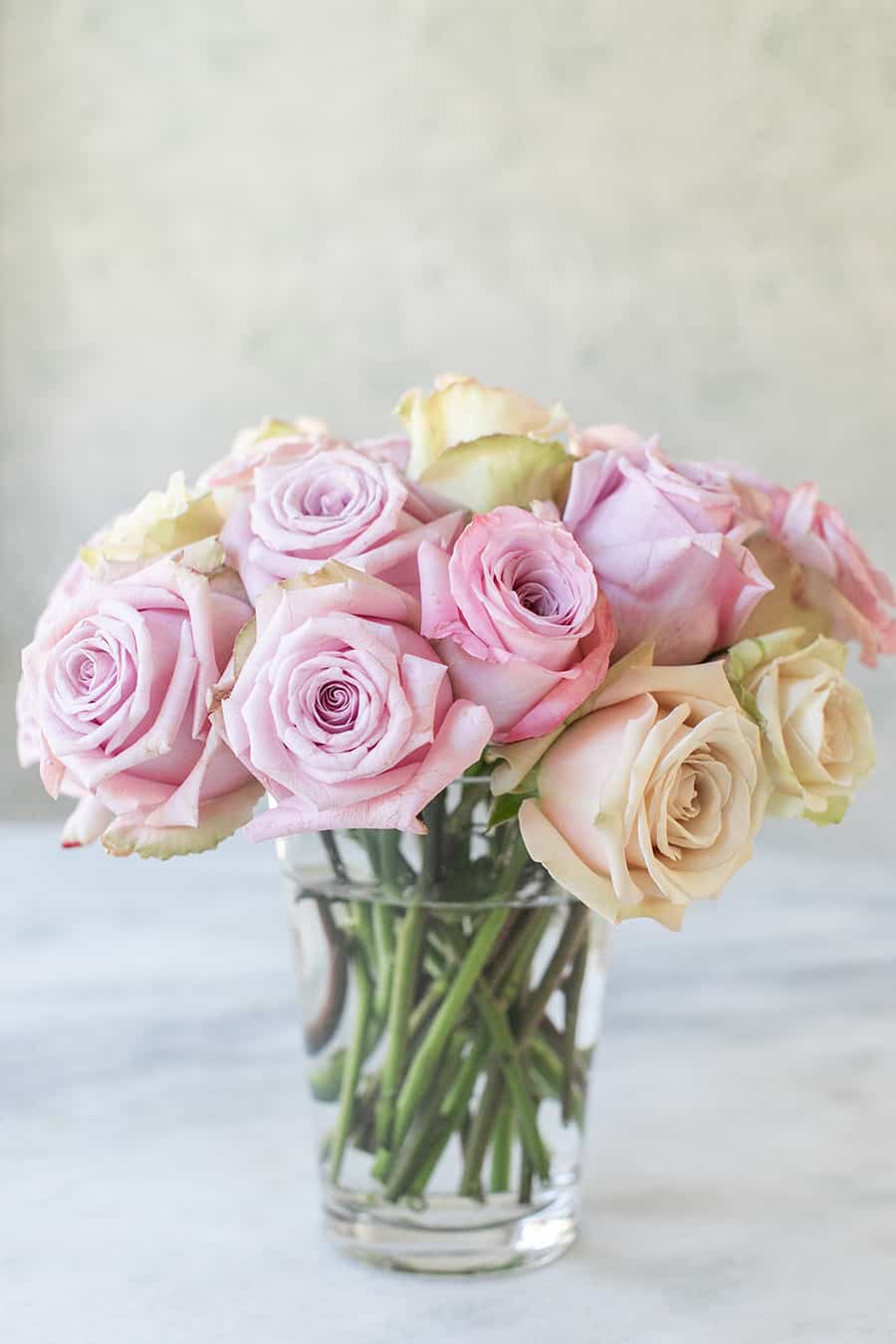 Arrangement 2 – The Grid
Start by using regular tape and tape a grid across the top of your vase.
The grid gives you freedom to place the roses where you want and gives the flower stability.
For this arrangement you'll want to add in some greenery, we used bay leaves.
You'll want to add in a few pieces of greenery facing one way and a few facing the other way.
Then start to add in the flowers. Measure the rose against the vase first, then make the 45 degree angle cut.
Start to place them around, then add more greenery until you're happy with the finished result!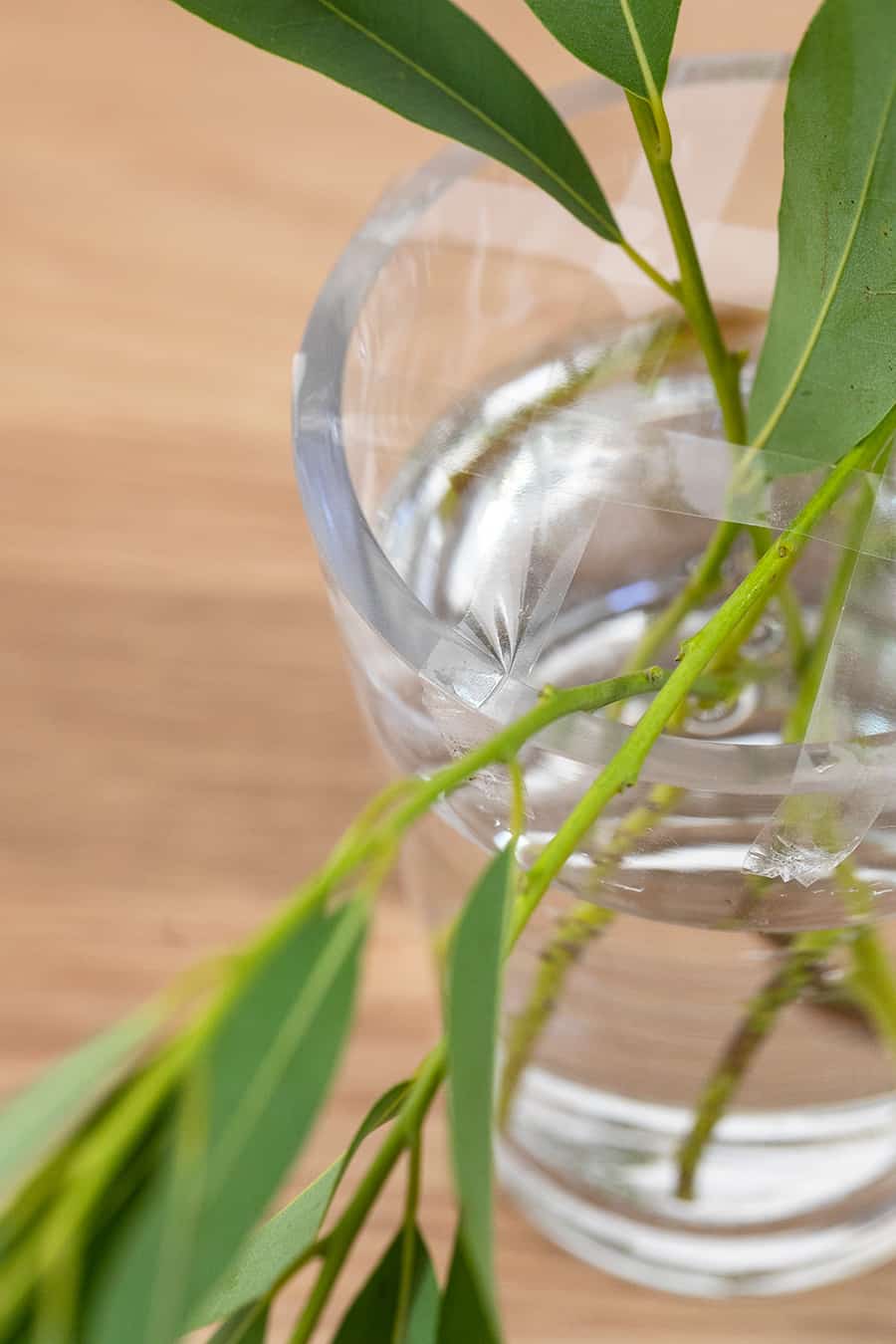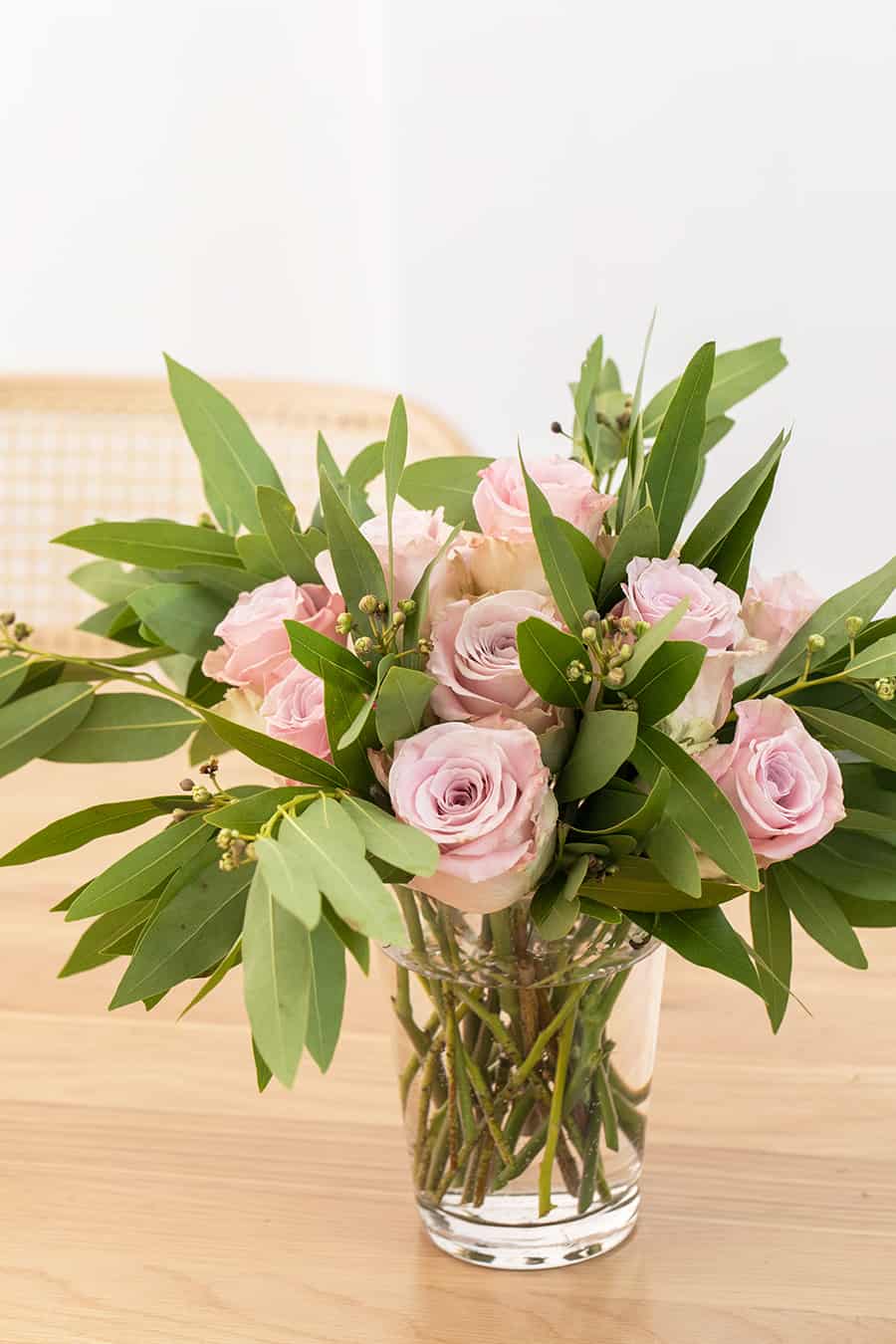 Prepping Your Rose Arrangements
Before you start arranging roses, you need to do a little prep work. Right when you get home from buying your roses, just give the bottoms a 45 degree angle trim, while they're still wrapped and set them in water. No need to de-wrap or de-leaf yet, you'll want the stem to soak up the water for about 30 minutes to an hour.
After they have soaked, you can remove them from the water and grocery store wrapping and start to remove their leaves and thorns. Make sure to cut the stem on an angle. This allows for a greater surface area and increases water intake.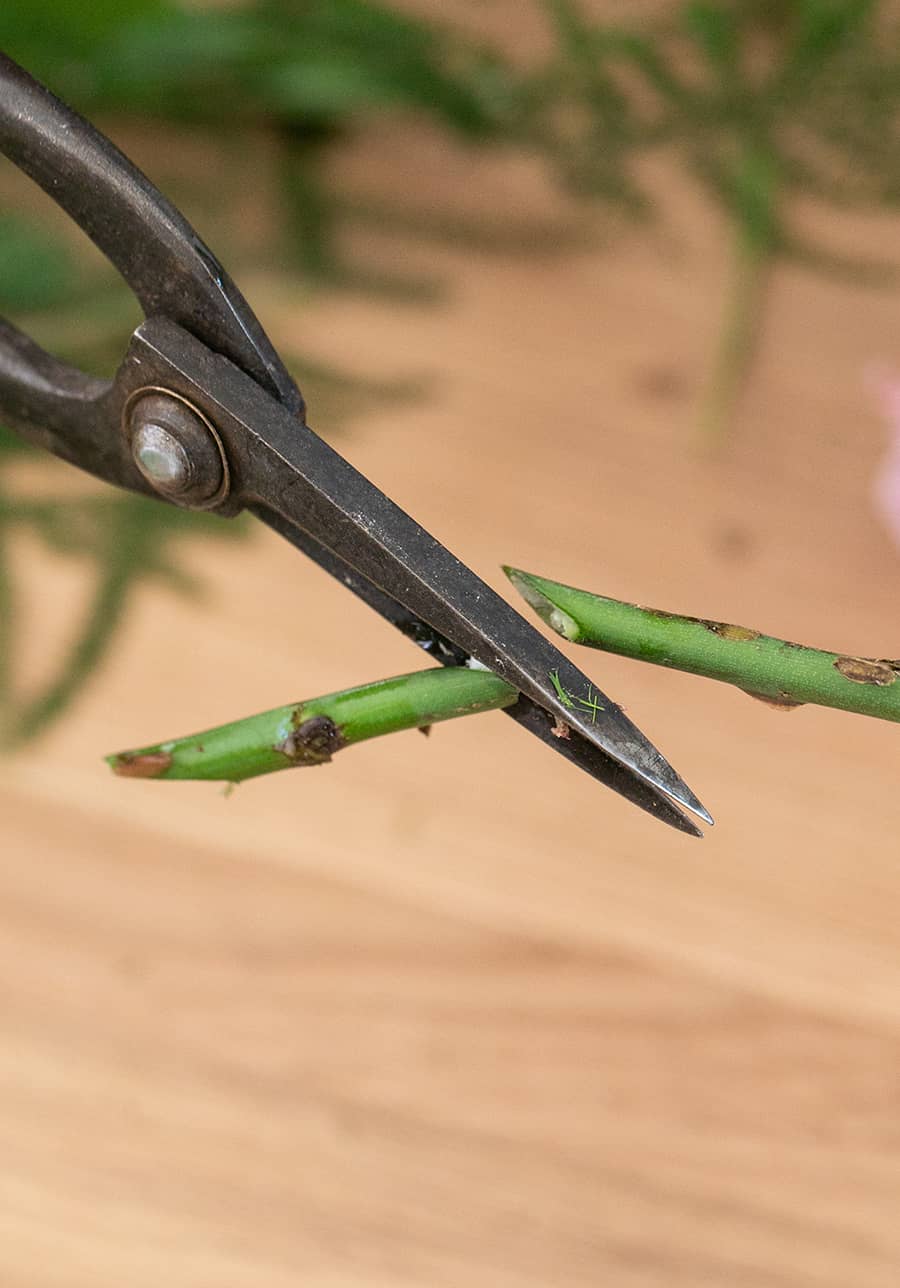 Opening your Roses for your Rose Arrangements
To open the roses, give them a little spin! Erin tips them upside down and twirls them, this allows the air to flow through and opens the blooms. Quick tip, do not touch the rose heads with your fingers. The oils and water from your hands will create moldy rose blooms and they won't last as long.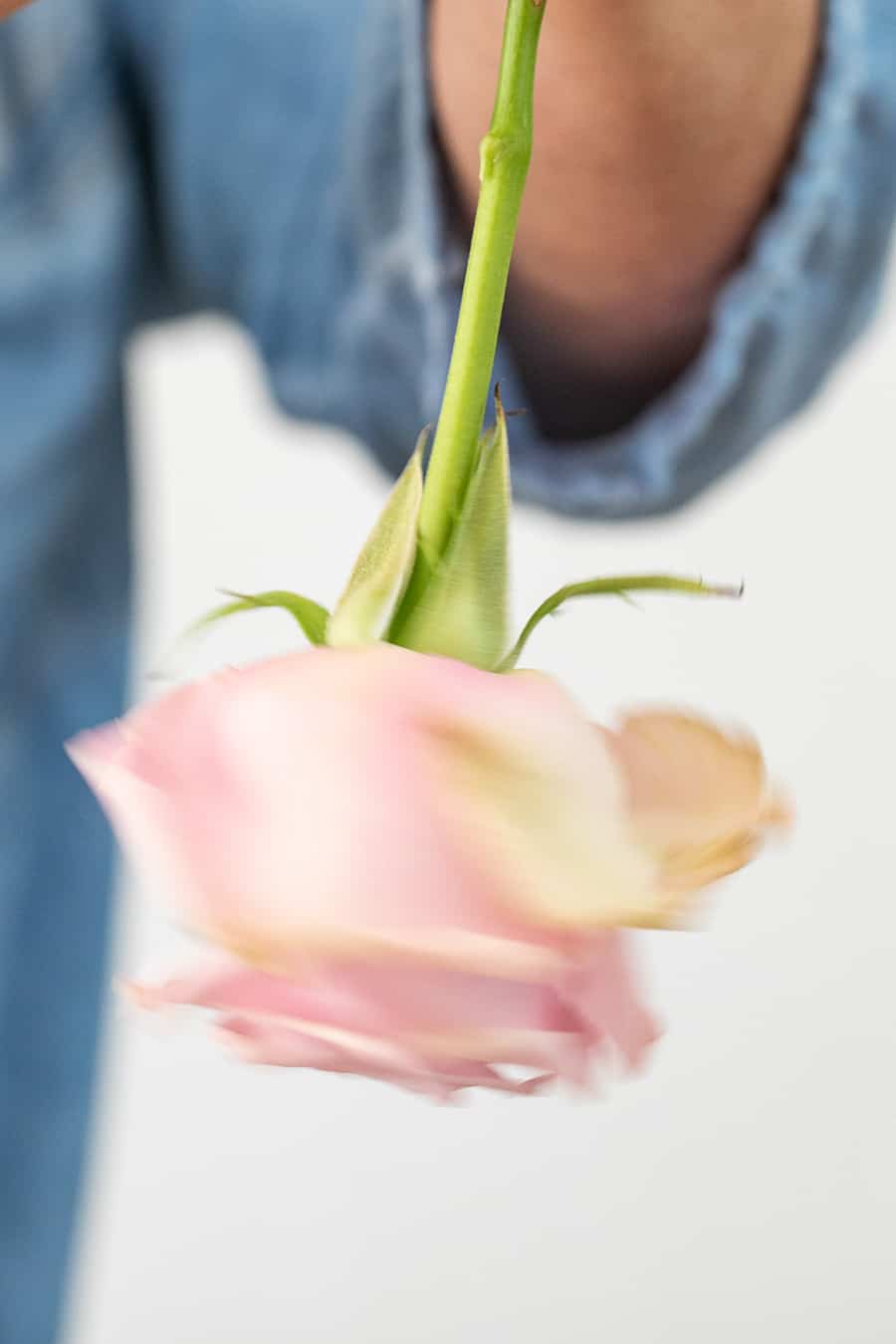 How tall should roses be in a vase?
This is truly personal preference, but we like when the rose head sits just above the top of the vase. You can hold them up against the vase to measure before you cut.
Top Tips For These Rose Arrangements
Trim the bottom of your rose with a 45 degree cut.
You can use a pairing knife or nail clippers to remove the thorns.
To open the roses, give them an upside down spin!
Hold rose up to the vase to measure before you cut, so they fit nicely in your vase.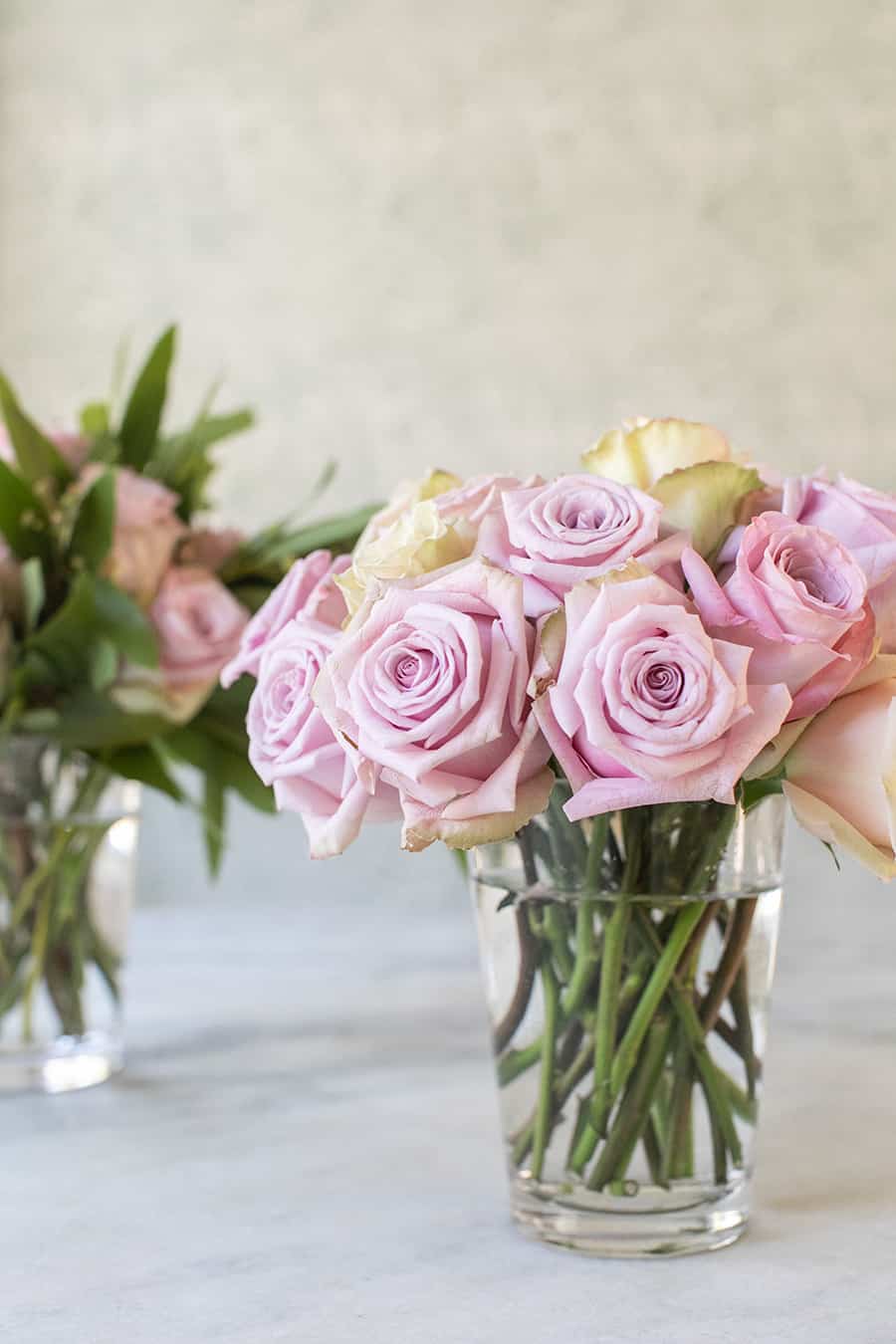 Check Out These Other Great Floral Tips and Ideas
10 Floral Arranging Tips from a Pro
7 Tips for Creating DIY Wedding Flowers on a Budget
Complete Guide on Growing and Cutting Hellebore
How to Add Eucalyptus in The Shower
Complete Guide for Taking Care of 15 Common House Plants
7 Ways to Create a Gorgeous Bouquet with $10 or Less by Oprah.com
If you have tried these Rose Arrangements or any other ideas on Sugar and Charm, then please rate it and let me know how it turned out in the comments below!
You can also FOLLOW ME on FACEBOOK, INSTAGRAM, and PINTEREST to see more delicious recipes, cocktails, desserts and party ideas!