Surprise your overnight guests with an easy and delicious waffle bar in the morning! Not only is it all make-ahead, but it's literally one of our favorite waffles recipes of all time and never fails.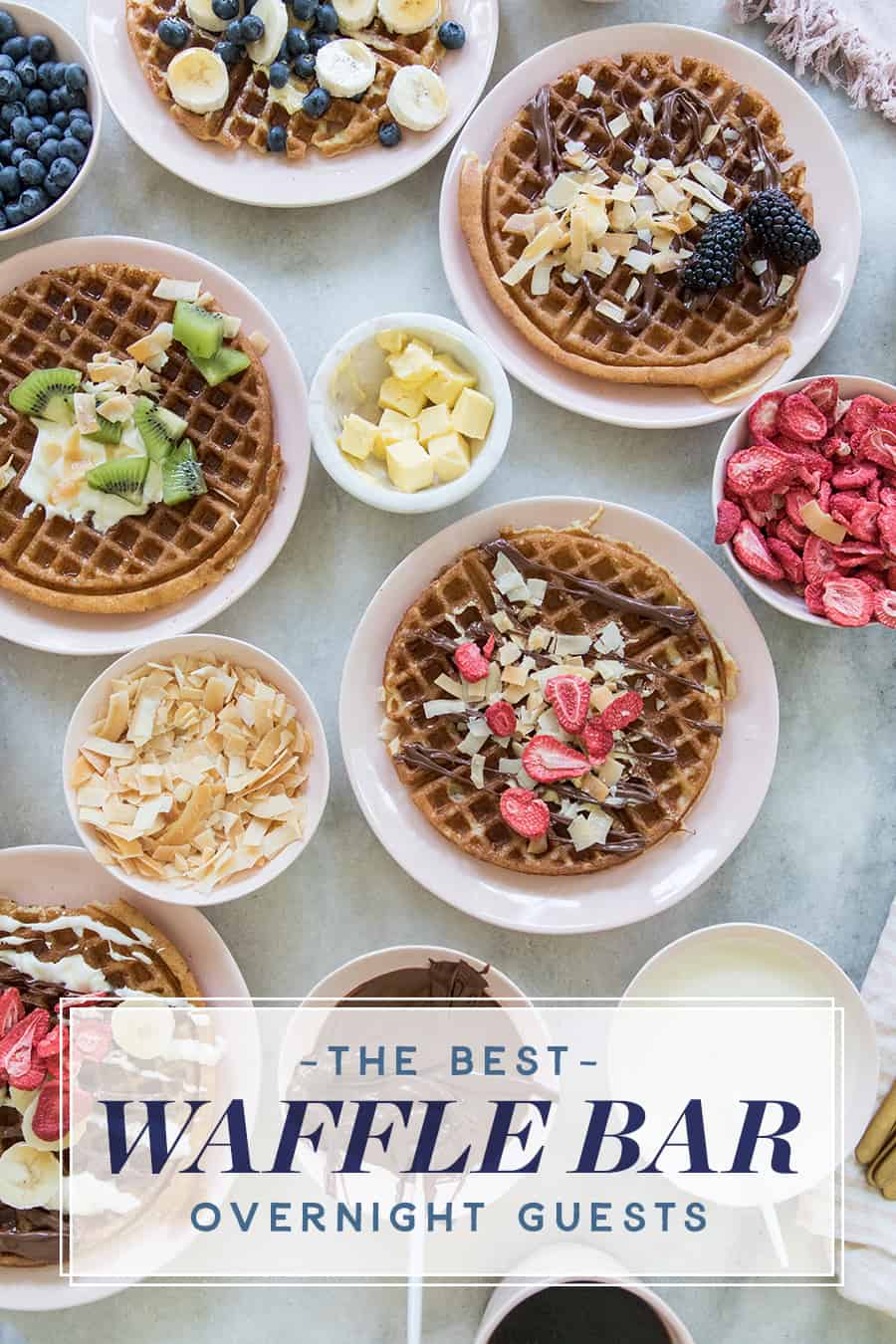 We put this charming waffle bar together to give you all the details on creating your own. You can watch me make them here!
The brown butter overnight waffles are ridiculously good and easy to make. You can find the recipe here. It's easy, fun and a great entertaining activity for your friends and family!
Overnight Waffle Recipe
Although this brown butter overnight waffle recipe itself is literally one of our favorites…. it really comes down to the toppings. That's what makes this an experience rather than just serving a waffle.
The best thing about these waffles is that you make the batter the night before. In the morning you only have to beat two eggs with baking powder and then fold it in. The batter rises overnight and creates the most delicious waffles ever!
Another tip, place out all your bowls for toppings and cups the night before too. Then you just have to fill them in the morning.
Waffle Bar Toppings
Let your guests choose their toppings and make up fun combos. Here are some great choices!
Freeze-dried strawberries
Toasted coconut
Nutella
Bananas
Kiwi
Creme fraiche
Blackberries
Crushed Bacon
Butter and syrup are a staple!
You can even have different flavors of syrup. Think outside the box when it comes to toppings and use items!
There is no better smell to wake up to in the morning than a pot of hot coffee brewing! Am I right?!
Have the coffee flowing and also fresh-squeezed orange juice and a bottle of crisp champagne for mimosas. You can also make these grapefruit mimosas to switch it up!
We served the coffee in the Chemex maker and I love these glasses for Mimosas.
More Coffee Recipes!
These recipes are made with brewed coffee, so you can easily create them without an espresso maker!
Hazelnut Nutella Coffee – Use some of the Nutella from the toppings bar to make this coffee!
French Vanilla Caramel Brewed Latte
Hot Chocolate Glazed Donut Coffee
Creating a Waffle Bar
Waffle Bar Supplies
Pink Plates / Pink Cups / Pink Bowls / Waffle Maker / Chemex Coffee Maker / Gold Flatware / Prong Bowl / Syrup Bottle / Mimosa Glasses
Place everything out on a kitchen island, bar or table. I love having it all out and ready before anyone starts to eat! It's all about the presentation!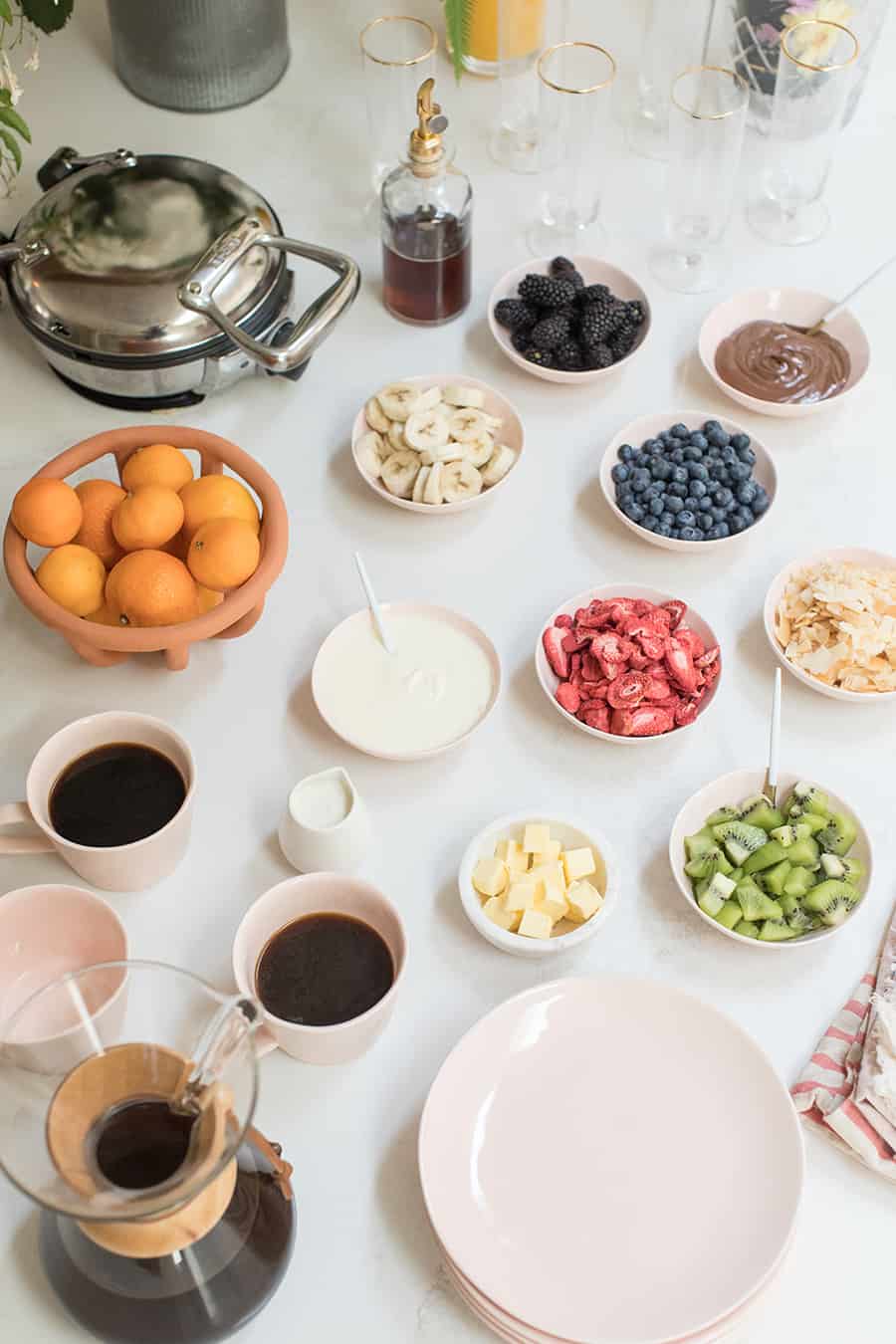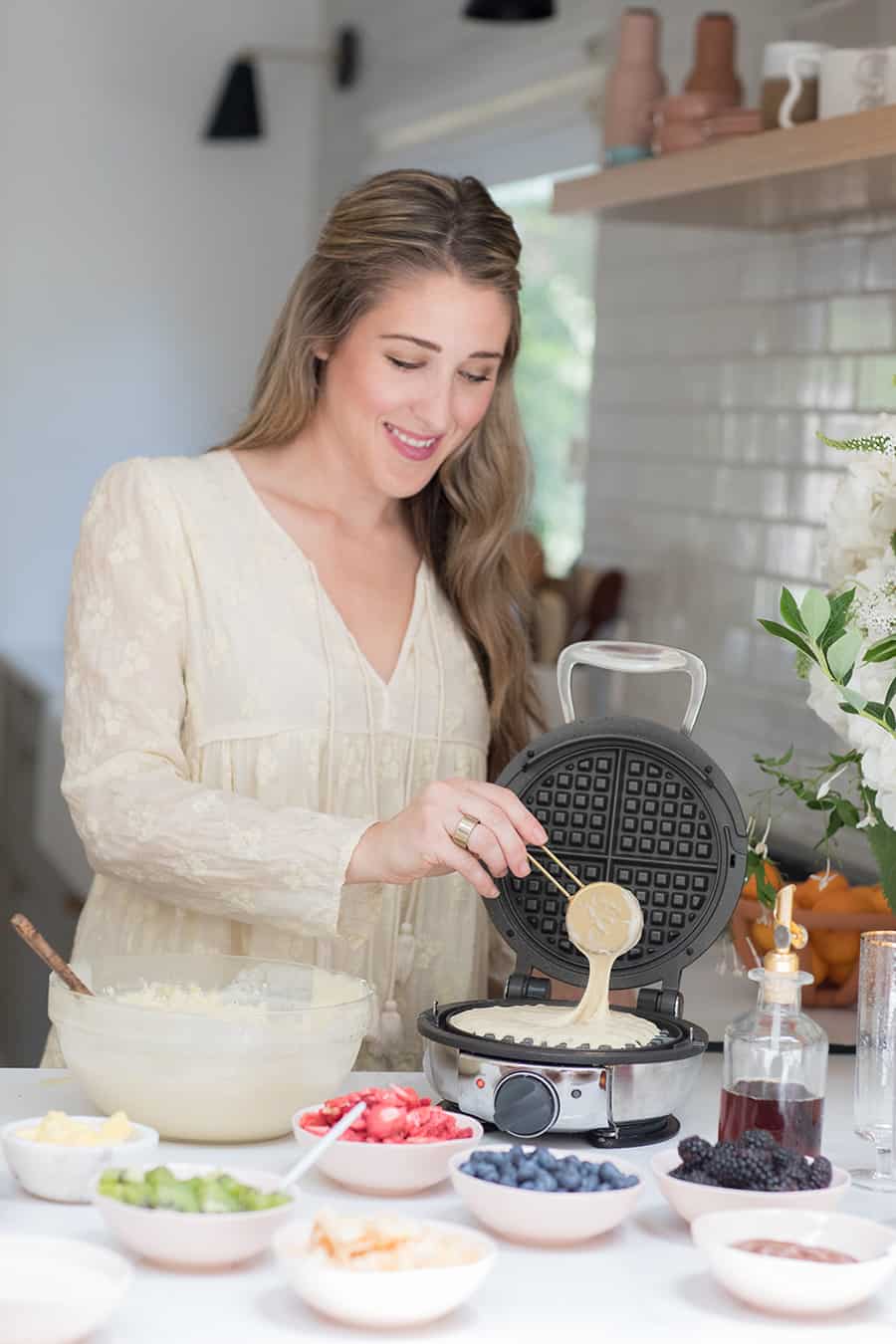 The Best Waffle Maker
I have been using the AllClad Stainless Steel Classic Round Waffle Maker for years! You can't go wrong with it and it has different cooking levels depending on how toasty you want your waffle.
A buzzer will go off when it's reached that level. I keep mine at a 5 to make them nice and crispy.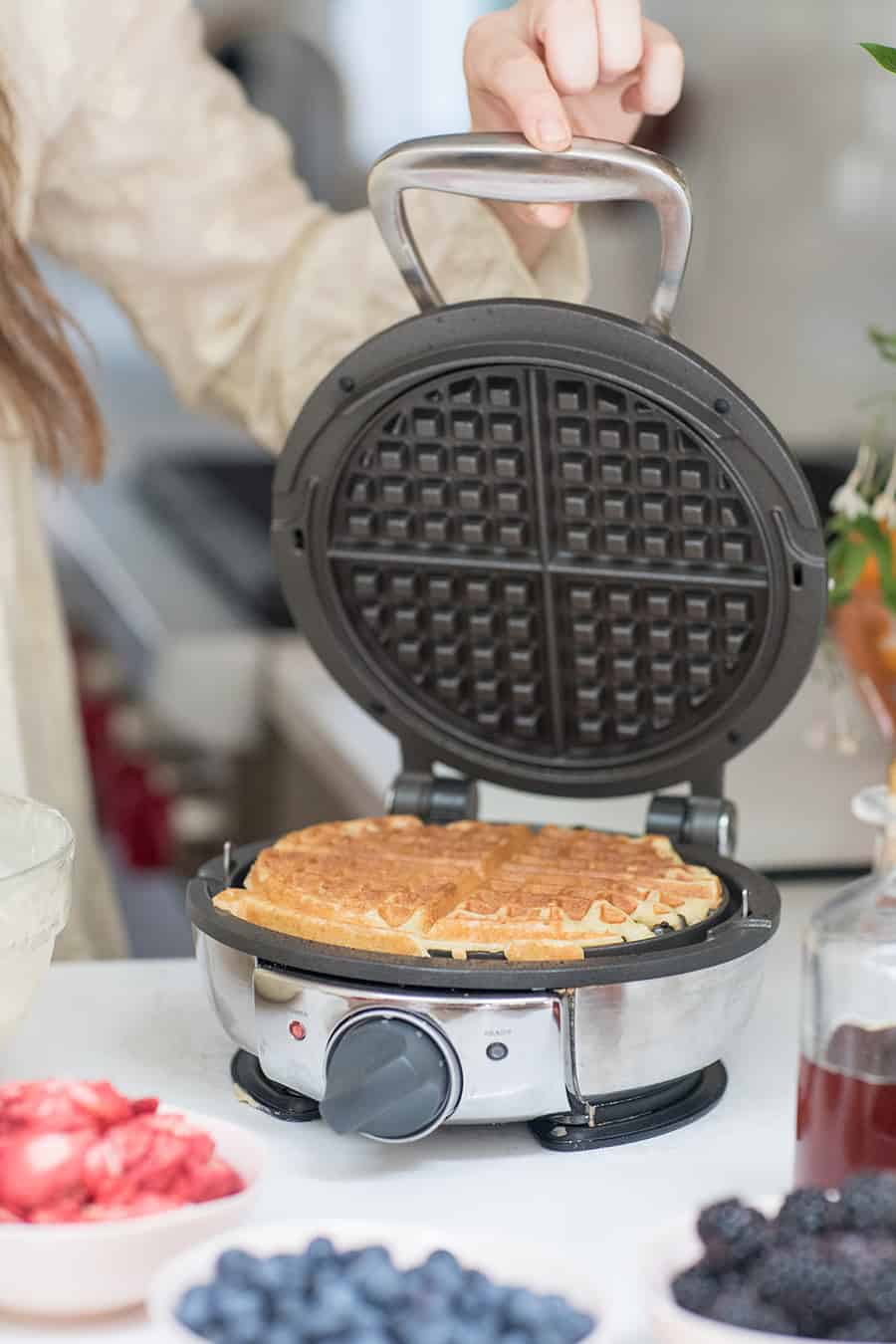 Tips for Making the Waffles
Each waffle takes about 2 minutes or so to make, so serve each guest individually and tell them not to wait to eat!
If you want to all sit together, make the waffles ahead of time, then keep them warm in the oven 250 degrees for about 10-15 minutes.
Leave the butter out an hour before so it will be room temp and spread easily. It's perfectly safe!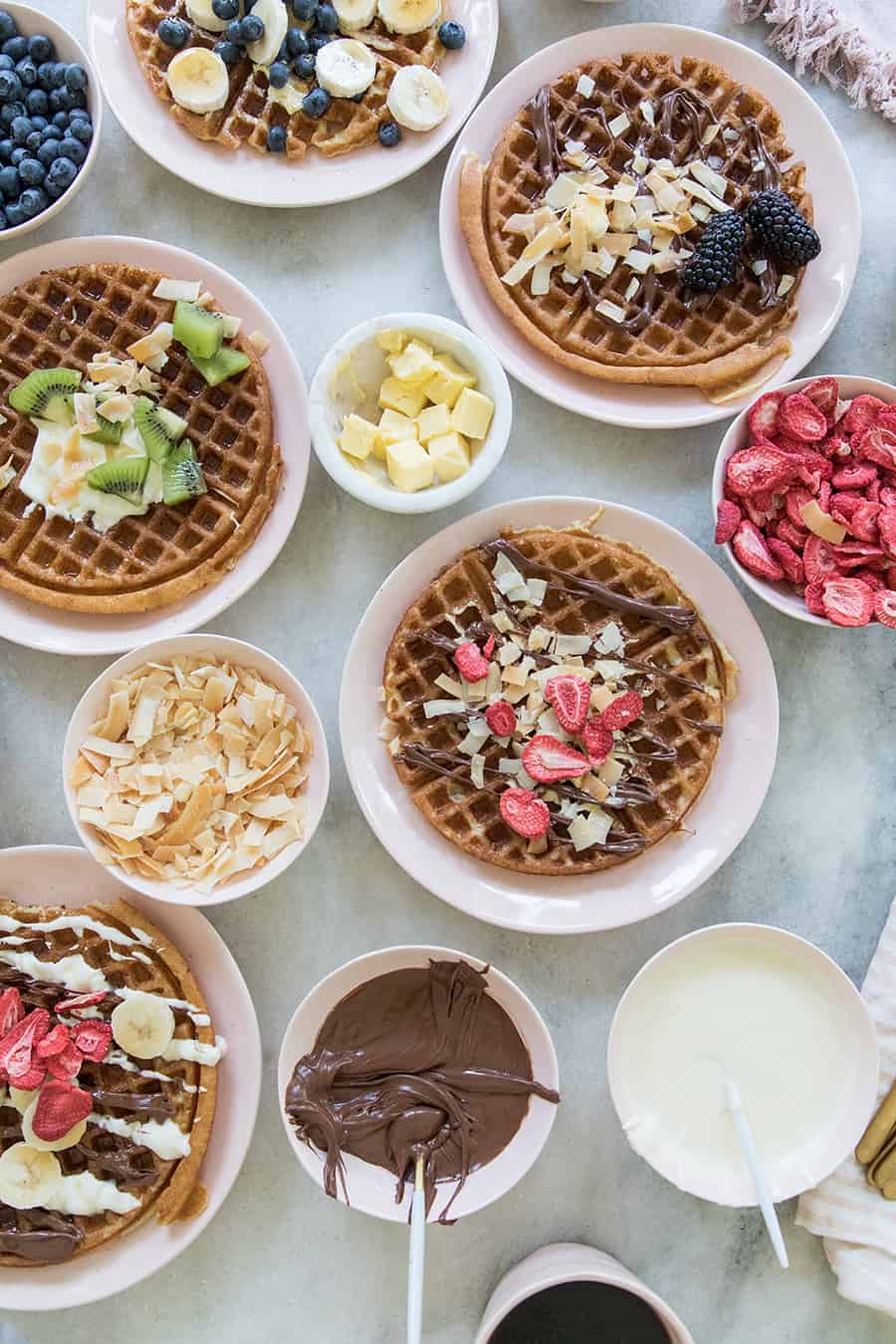 Load them up! Adding the toppings on was the best part! Strawberry, Nutella, and toasted coconut was to die for!!
Waffle Bar for Everyone!
Who doesn't like waffles?! This is such a charming entertaining idea and perfect for a weekend morning. We hope you enjoy it as much as we do!
More Brunch Ideas You'll Love!
Spring Brunch with Girlfriends for a Good Cause!
Easy Semi-Homemade Cinnamon Rolls
The Best Chorizo Quiche Recipe
A Simple Salad that Goes with Everything
Build Your Own Bloody Mary Bar at Home
Let us know if you make these waffles and set-up a waffle bar! We'd love to see your photos, so tag @sugarandcharm on social so we can see what you do!