Surprise your guests with an easy and delicious waffle bar for brunch. Guests can make their own waffles in a waffle iron, then top it with berries, whipped cream, and more. This is a wonderful make-ahead brunch idea that our family loves.
We're covering all of the details to create the most charming waffle bar. We're also sharing our favorite waffle recipe of all time! Keep reading for all of our waffle bar ideas.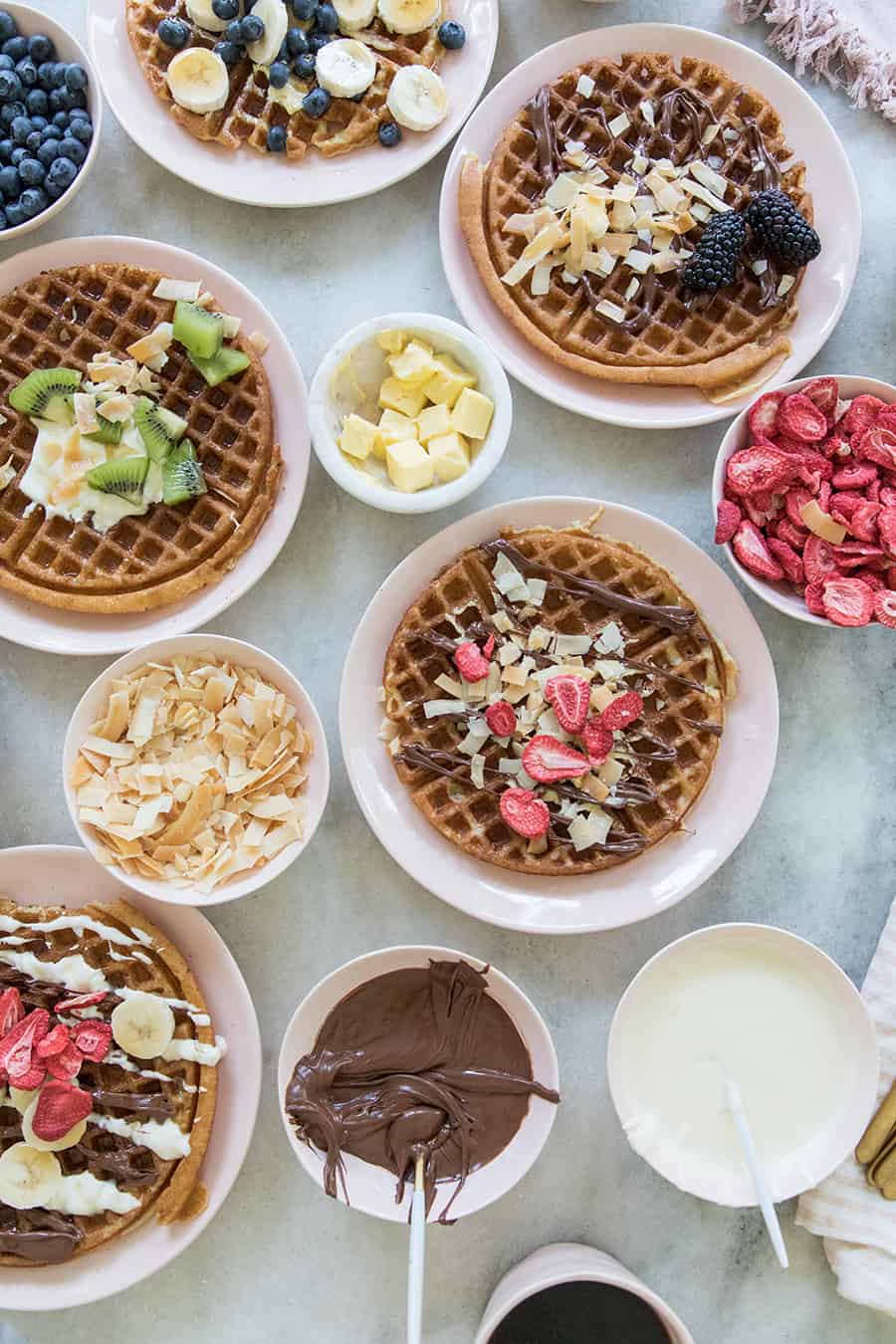 Waffles are one of our favorite brunch recipes. We love the process of making them in the morning for overnight guests and the way they make the house smell.
A waffle bar brings family and friends together in the kitchen for a fun cooking experience. Then we all sit down and enjoy our little creations.
It's one of our favorite entertaining ideas and we're sharing all of our tips for creating your own.
What is a waffle party?
A waffle party is an event that serves freshly baked waffles. You can turn a birthday party, shower, special brunch, or wedding reception into a waffle party!
What makes a good waffle party aside from a delicious recipe?
The toppings, of course! For this bar, you will arrange an assortment of possibilities out on a bar and allow your guests to create their own. It's a DIY waffle bar concept and guests will have a blast creating their own unique flavors.
Great Waffle Bar Ideas
The ideas for creating your own waffle bar are endless! You'll want to alter the toppings based on the season and the event. Seasonal toppings are great for capturing fresh flavors.
Our brown butter overnight waffles are ridiculously good and easy to make. It's easy, fun, and a great entertaining activity for your friends and family.
Have a waffle iron available so each guest can make their own hot waffles.
You'll need a lot of little bowls to put waffle bar toppings in.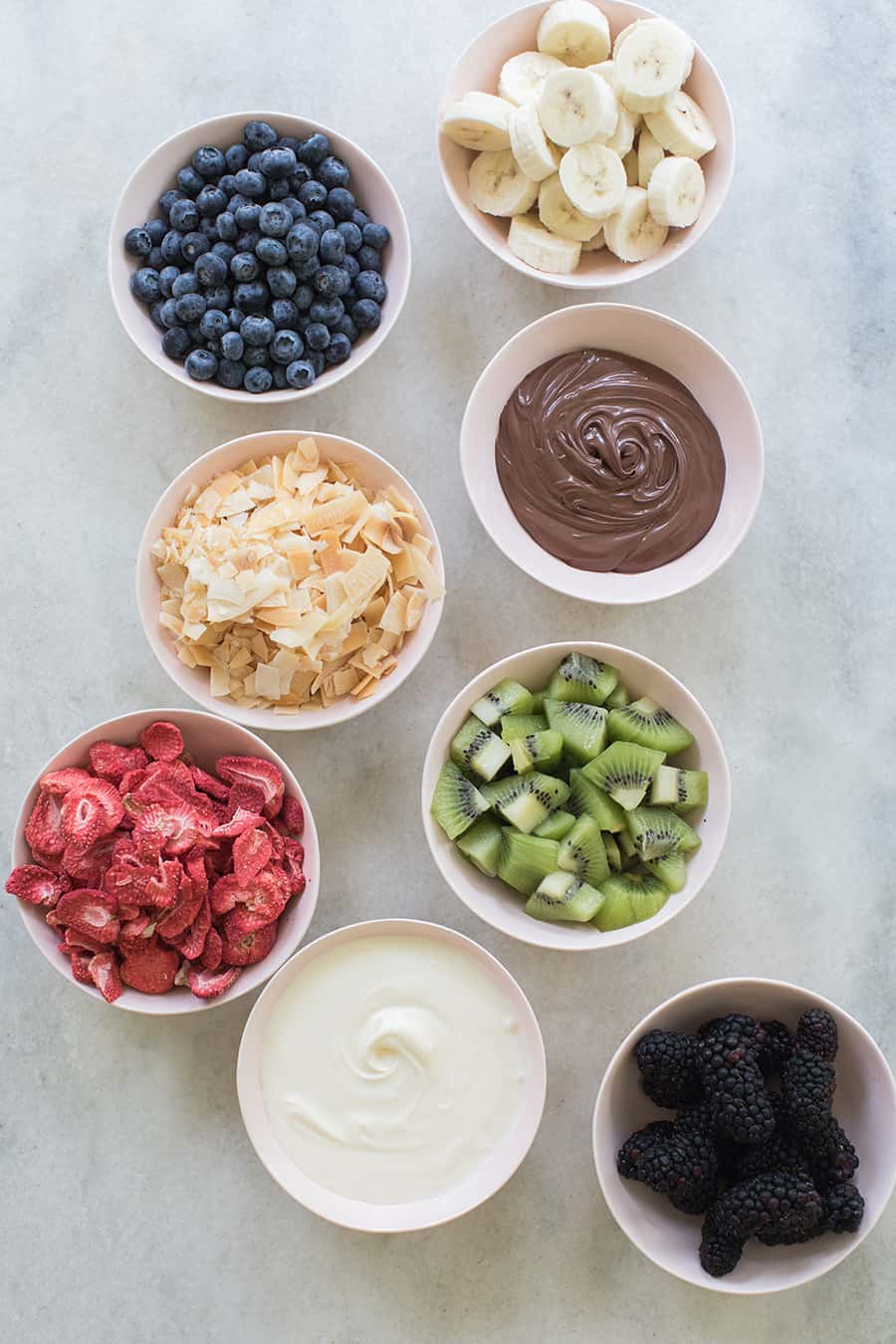 Overnight Waffle Recipe
Although our brown butter overnight waffle recipe itself is literally our favorite recipe…. it really comes down to the toppings. That's what makes this an experience rather than just serving one or two with butter.
The best thing about these waffles is that you make the batter the night before. You only have to beat two eggs with baking powder in the morning and then fold it in. The batter rises overnight and creates the most delicious waffles ever! They have crispy edges and a buttery flavor.
Tip – Place out all the bowls for toppings and cups the night before too. Then you just have to fill them in the morning.
Waffle Bar Toppings
Let your guests choose their toppings and make up fun combos. Here are some of our favorite waffle toppings:
Freeze-dried strawberries
Toasted Coconut
Nutella Drizzle
Sliced Bananas
Chopped Kiwi
Creme fraiche
Blackberries
Fresh Strawberries
Crushed Bacon
Peanut Butter
Chocolate Chips
Butter and syrup are a staple
You can even have different flavors of syrup. Think outside the box when it comes to toppings and uses items!
What Is on a Waffle Bar?
Toppings do more than flavor the food at a waffle party. The choices you offer your guests can turn into artistic mediums for them to create something all their own.
When choosing toppings, consider your theme. You may keep the options all congruent with it, or create a center section that speaks to the theme so that you do not limit your guests too much.
Dessert Toppings
Candy can turn your waffle into a childhood dream! For an adult party, offer a variety of popular candies from their childhood era so each guest gets a little taste of nostalgia.
Sprinkles come in all shapes, colors, and sizes, so make sure they match your theme for sure!
Opt for small, easy-to-chew candy.
Make sure you smash up things like candy bars and M&Ms to make them easy for your guests to enjoy. Skip hard candies and anything that gets such in the teeth.
Vanilla ice cream offers a cool contrast that your guests may love! Also offer different flavored syrups and of course, whipped cream!
Savory Toppings
Savory toppings will complete these sweet treats! Crumbled bacon and shredded roasted Brussel's sprouts will high-five the taste buds! If you go all savory, think stewed meats and gravy sauces!
Waffle Bar Drinks
You can't have a waffle bar without serving a fancy brunch cocktail! There is also no better smell to wake up to in the morning than a pot of hot coffee brewing… am I right?! Here are 15 coffee drinks to make at home.
Have the coffee flowing and also fresh-squeezed orange juice and a bottle of crisp champagne for mimosas. You can also make these grapefruit mimosas to switch it up!
Here are more brunch cocktails:
Most likely you'll be creating a waffle bar for brunch, which is also the perfect time to serve a refreshing brunch cocktail. Here are some suggestions:
Classic Mimosa, Prosecco Mimosa or Virgin Mimosa
We served the coffee in the Chemex maker.
More Coffee Recipes
These recipes are made with brewed coffee, so you can easily create them without an espresso maker.
Hazelnut Nutella Coffee – Use some of the Nutella from the toppings bar to make this coffee!
French Vanilla Caramel Brewed Latte
Hot Chocolate Glazed Donut Coffee
How do you set up a waffle bar party?
Here are four steps for creating a perfect waffle bar:
Find an area in your home, a kitchen counter, island, or long dining table to create the bar. Place everything out from coffee cups to plates and the toppings.
Make sure there is room to plug in the waffle maker. Have paper towels available as it can be messy making your own waffles.
Add fresh flowers for decor and any seasonal decorations to make it special.
Place out a fresh fruit platter and yogurt dip to pair with the waffles.
Waffle Bar Supplies
Here is a list of the supplies we used to create our waffle bar:
Pink Plates, Pink Cups and Bowls
Waffle Maker and Chemex Coffee Maker
Gold Flatware and Syrup Bottle
Place everything out on a kitchen island, bar, or table. I love having it all out and ready before anyone starts to eat! It's all about the presentation!
Helpful Tips for Making A Waffle Bar
Each waffle takes about 2 minutes or so to make, so serve each guest individually and tell them not to wait to eat!
If you want to all sit together, make the waffles ahead of time, then keep them warm in the oven at 250 degrees for about 10-15 minutes.
Leave the butter out an hour before so it will be room temp and spread easily. It's perfectly safe!
Load them up! Adding the toppings on was the best part! Strawberry, Nutella, and toasted coconut were to die for!!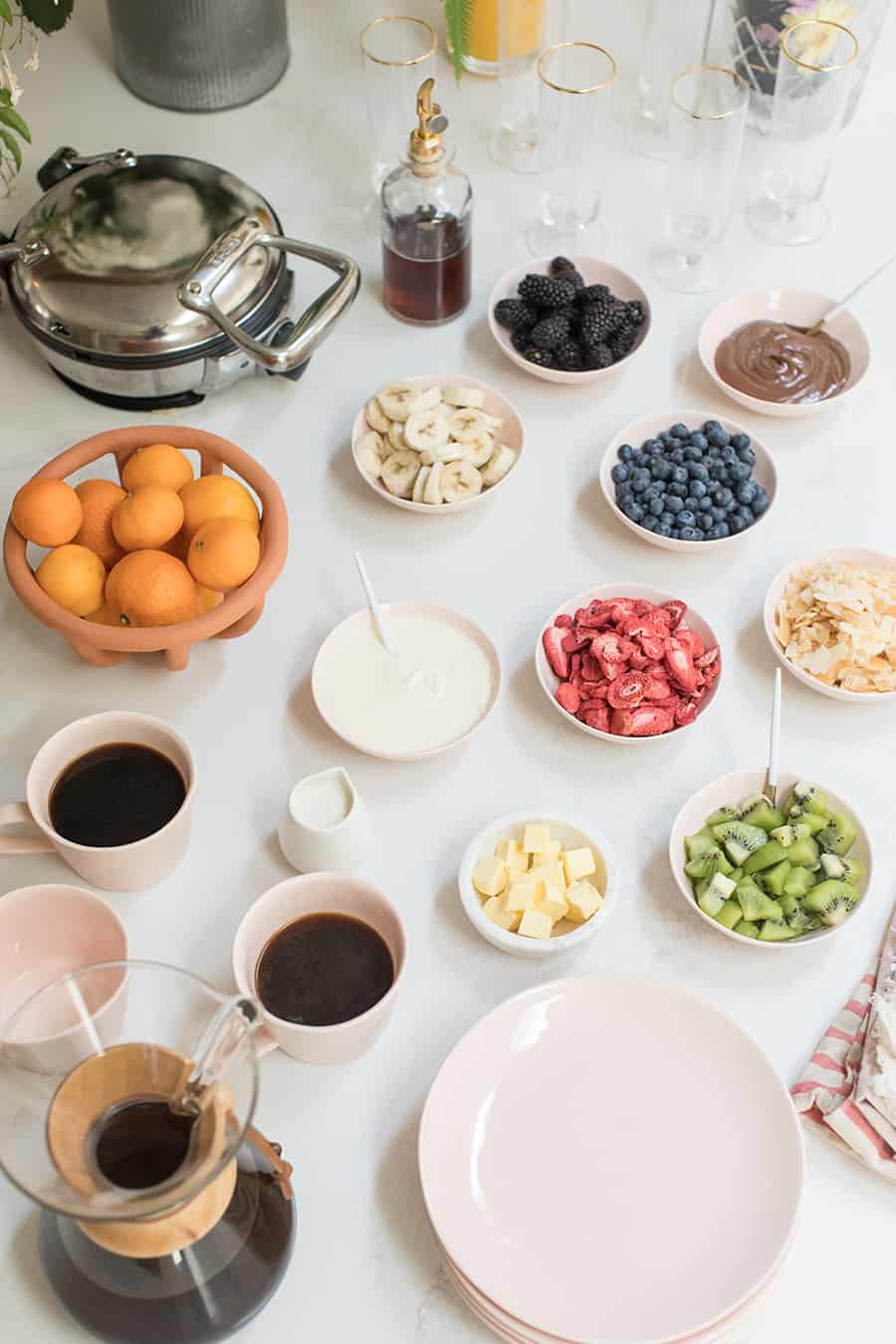 The Best Waffle Maker
I have been using the AllClad Stainless Steel Classic Round Waffle Maker for years! You can't go wrong with it and it has different cooking levels depending on how toasty you want your waffle.
A buzzer will go off when it's reached that level. I keep mine at a 5 to make them nice and crispy.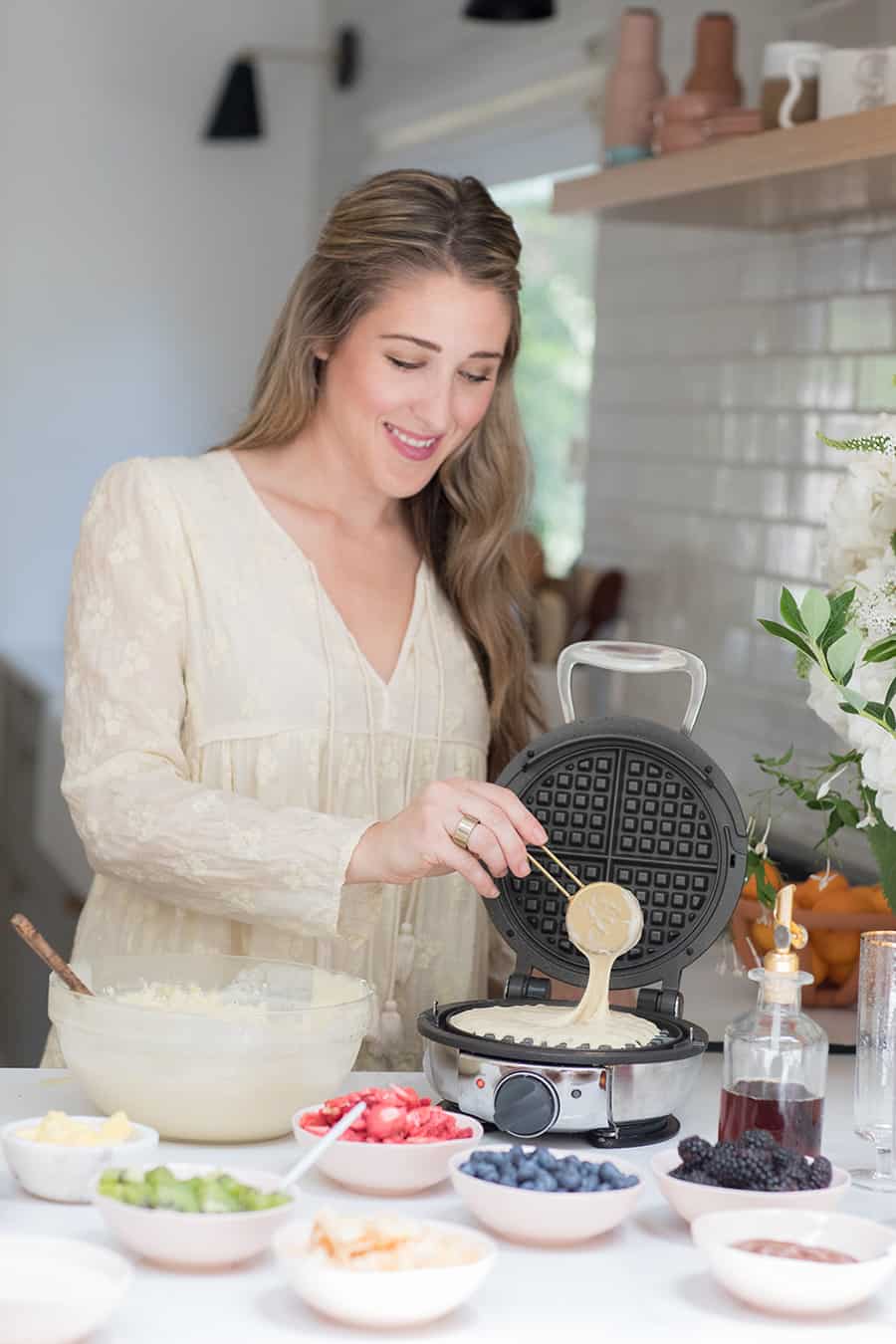 Best Waffle Combinations
Here are a few of our favorite toppings and topping combinations!
Strawberry, Nutella, and Coconut
Freeze Dried Strawberries, Bananas, and Cream Fraiche
Coconut and Nutella with Blackberries
When to Serve a Waffle Bar
A waffle bar is great to serve year-round! It's perfect for a weekend brunch or for a celebration. Here are some special occasions to serve a waffle bar:
Baby Shower or Bridal Shower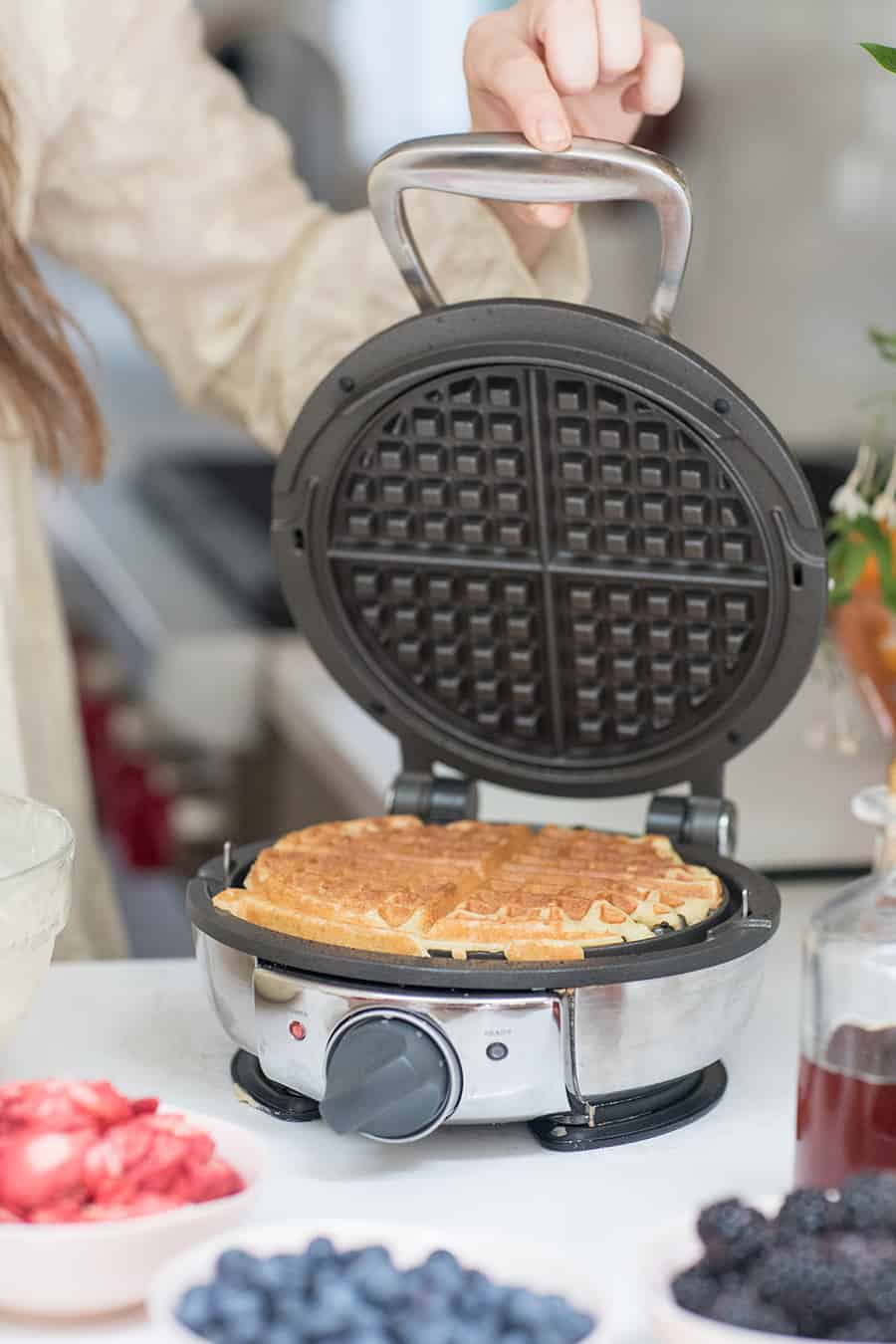 What to Serve with a Waffle Bar
Since waffles can be very carb-heavy, it's nice to serve them with some protein. Here are brunch food ideas that go well with waffles.
Scrambled Eggs – Keep these on the stove and guests can grab them as they make their waffles.
Frittata – Depending on how many people you're serving, our frittata recipe is one of the best and is a perfect pairing for a yummy waffle. You can also make the best chorizo quiche recipe to serve with them as well.
Bacon or Sausage – Easy to make in the oven and a great source of protein to pair with waffles.
Fried Chicken – If you love chicken and waffles then serve up a side of fried chicken with the waffles.
Frequently Asked Questions
What Is a Healthy Topping For Waffles?
Nuts add nutrient value, texture, and flavor to waffles. Ask all guests if they suffer from a nut allergy prior to placing them on the table with the other toppings. If you do offer nuts, chop them or buy them topped.
Fruits make a healthy and colorful addition as well. Fresh berries are easy to work with. 
If you choose other fruits, offer them already cut into bite-sized pieces. Don't forget the shredded coconut, which makes an amazing topper!
What Can You Put on Waffles Instead of Syrup?
While pure maple syrup does offer health benefits, it also contains a ton of sugar. Offering yogurt as an alternative allows guests to choose something less sweet.
A maple allergy may leave a guest wanting to crave their sweet tooth with something syrupy. In this case, offer honey or agave nectar!
You could also set up several stations with electric waffle irons. This will allow each guest to eat a warm and fresh waffle.
What Foods Go With Waffles?
When serving other food at your waffle bar, choose items that do not steal the spotlight. Also, consider your toppings so that your waffle bar ideas don't clash.
You are typically safe in offering proteins like cheesy scrambled eggs, bacon, and sausage. Kids will enjoy fresh-squeezed orange juice while adults may love mimosas!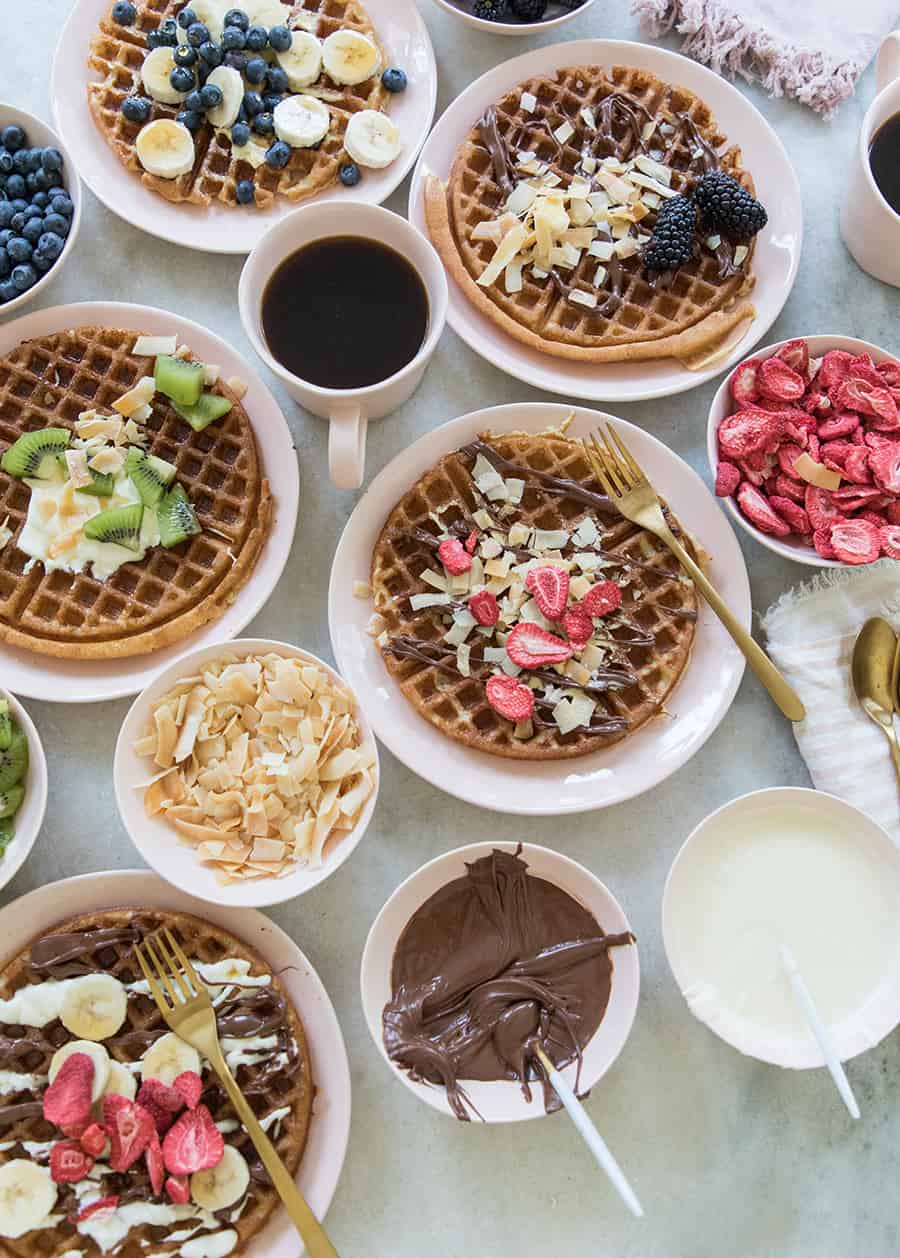 How Do You Keep Waffles Warm?
Nobody wants cold waffles! If you pre-make the waffles for your guests, cover them in paper toweling on single-layer baking sheets to keep them hot and fresh.
Use an oven to keep waffles warm and crispy. Place the cooling rack over a baking sheet. This will allow the air to circulate so they don't become soggy. The waffles will go on the cooling rack. Place them in a 225-degree oven to keep them warm.
More Brunch Recipes You'll Love!
If you want to add more dishes to your waffle bar, here are a few of our favorite brunch recipes:
The Best Blueberry Muffins and Banana Blueberry Muffins
Easy Monkey Bread Muffins and Classic Monkey Bread
Easy Semi-Homemade Cinnamon Rolls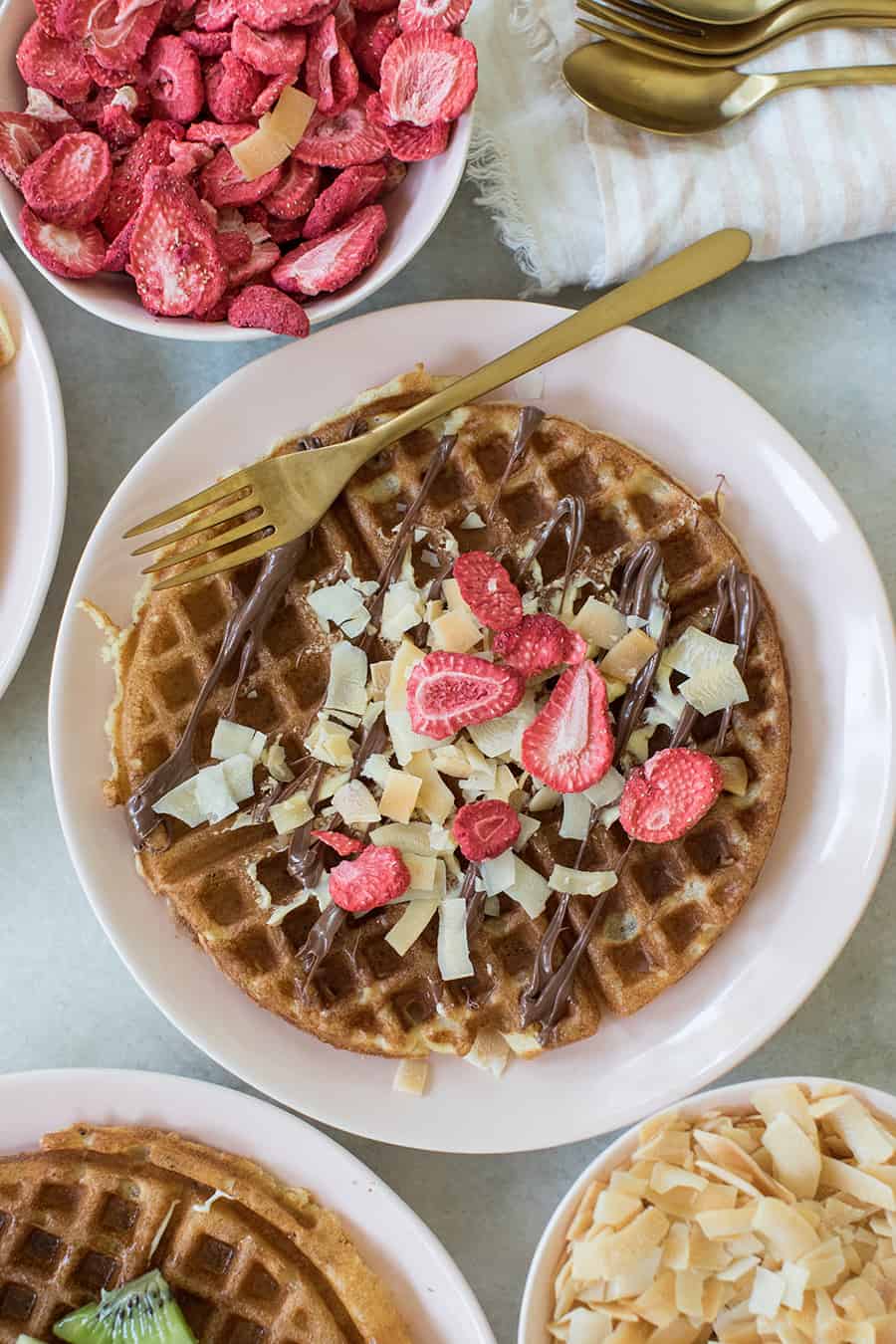 More Entertaining Bar Ideas
Build Your Own Bloody Mary Bar at Home
Festive Ice Cream Bar for Summer
Let us know your thoughts!
Who doesn't like waffles?! This is such a charming entertaining idea and perfect for a weekend morning. We hope you enjoy it as much as we do!
We hope you got some great waffle bar ideas for making your own! We'd love to see your photos, so tag @sugarandcharm on social so we can see what you do!
You can also FOLLOW US on FACEBOOK, INSTAGRAM, and PINTEREST to see more delicious recipes, cocktails, desserts, and parties!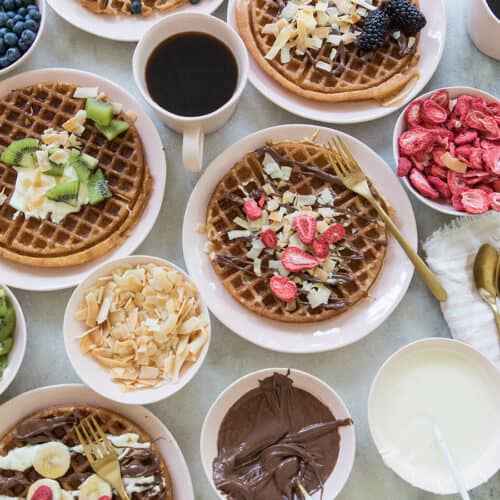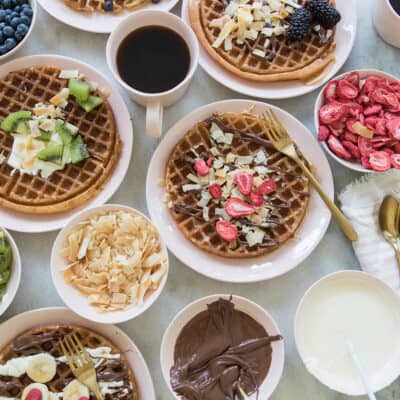 Waffle Bar
Toppings and sauces for creating a waffle bar for 10 poeple!
Print
Pin
Rate
Ingredients
10

waffles

1/2

cup

nutella

1/2

cup

whipped cream

1

cup

Crème fraîche

1

cup

syrup

1/2

cup

raspberries

2

bananas

,

sliced

1/2

cup

blueberries

1/2

cup

shredded coconut

1/2

freeze dried fruit
Instructions
Add all of the ingredients into small bowls.

Place everything out on a bar and let guests build their own waffles.
Nutrition
Calories:
378
kcal
|
Carbohydrates:
60
g
|
Protein:
4
g
|
Fat:
15
g
|
Saturated Fat:
10
g
|
Polyunsaturated Fat:
2
g
|
Monounsaturated Fat:
2
g
|
Trans Fat:
1
g
|
Cholesterol:
23
mg
|
Sodium:
263
mg
|
Potassium:
243
mg
|
Fiber:
3
g
|
Sugar:
42
g
|
Vitamin A:
718
IU
|
Vitamin C:
5
mg
|
Calcium:
134
mg
|
Iron:
3
mg