Learn how to create a Build Your Own Bloody Mary Bar at Home! Ideas and ingredients for creating a charming cocktail station to make delicious bloody marys.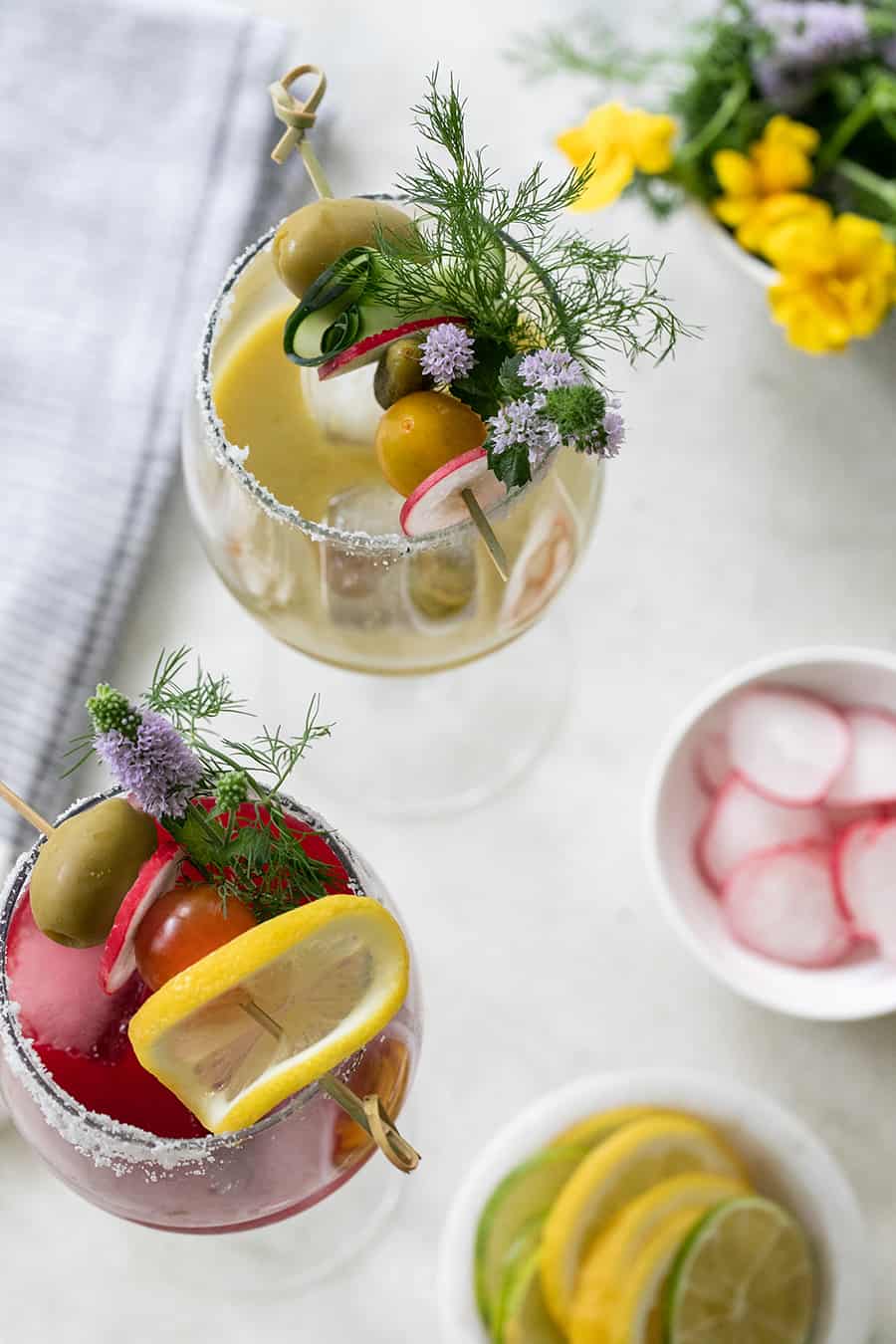 Creating a charming build-your-own Bloody Mary bar at home is a great idea for brunch, a Halloween party or any weekend when you're hosting friends! Everyone likes their Bloody Mary recipe served up differently.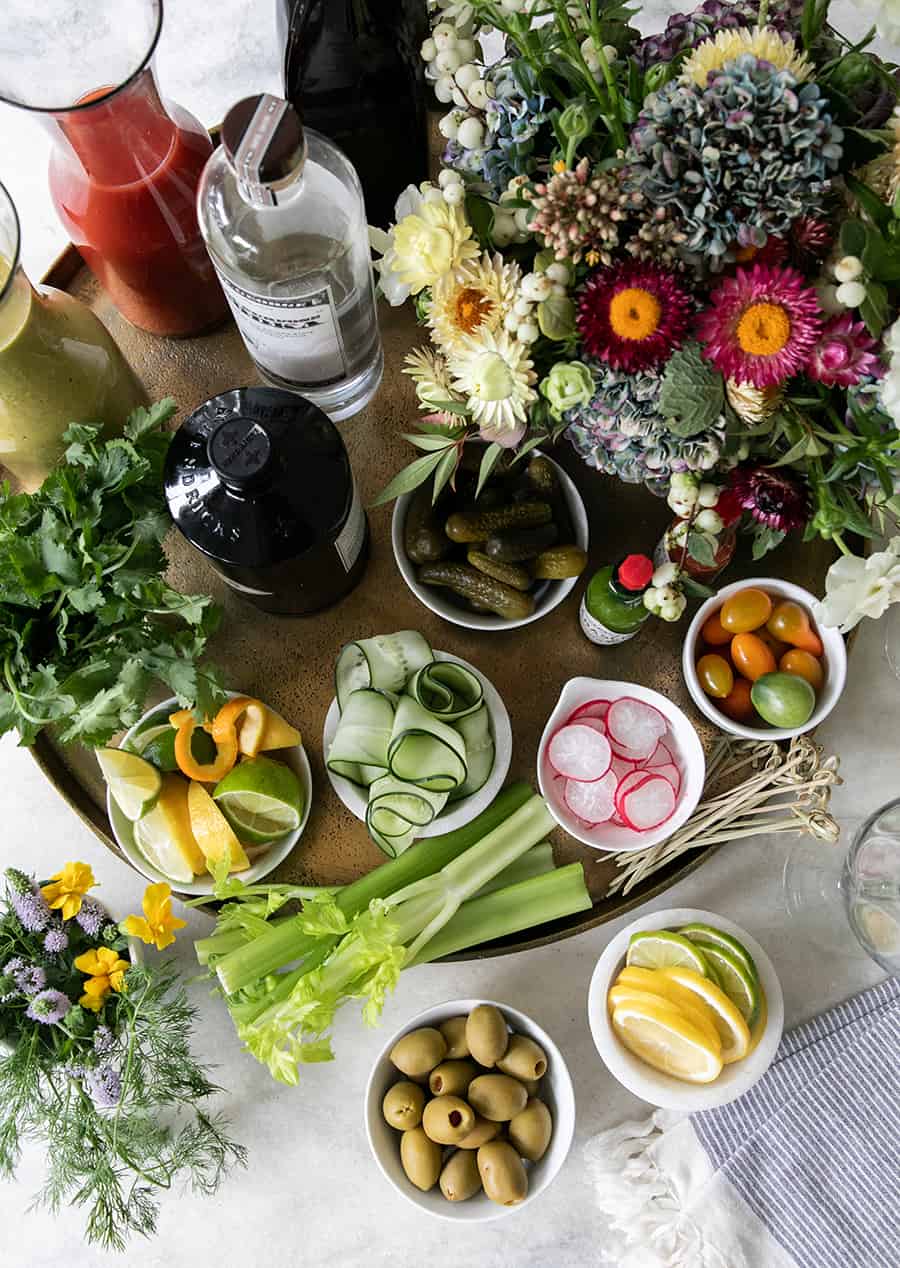 Personally, I prefer a lot of olives, too much Worcestershire sauce and green pepper sauce! It's so fun to make your own Bloody Mary and adjust ingredients as you go… maybe a little more lime juice, a few more drops of hot sauce and some celery and olives to garnish.
We've created a simple version of a Bloody Mary bar and a recipe for our favorite tomatillo Bloody Mary mix. Also, sharing a special ingredient that gives a Bloody Mary a beautiful, deep purple color!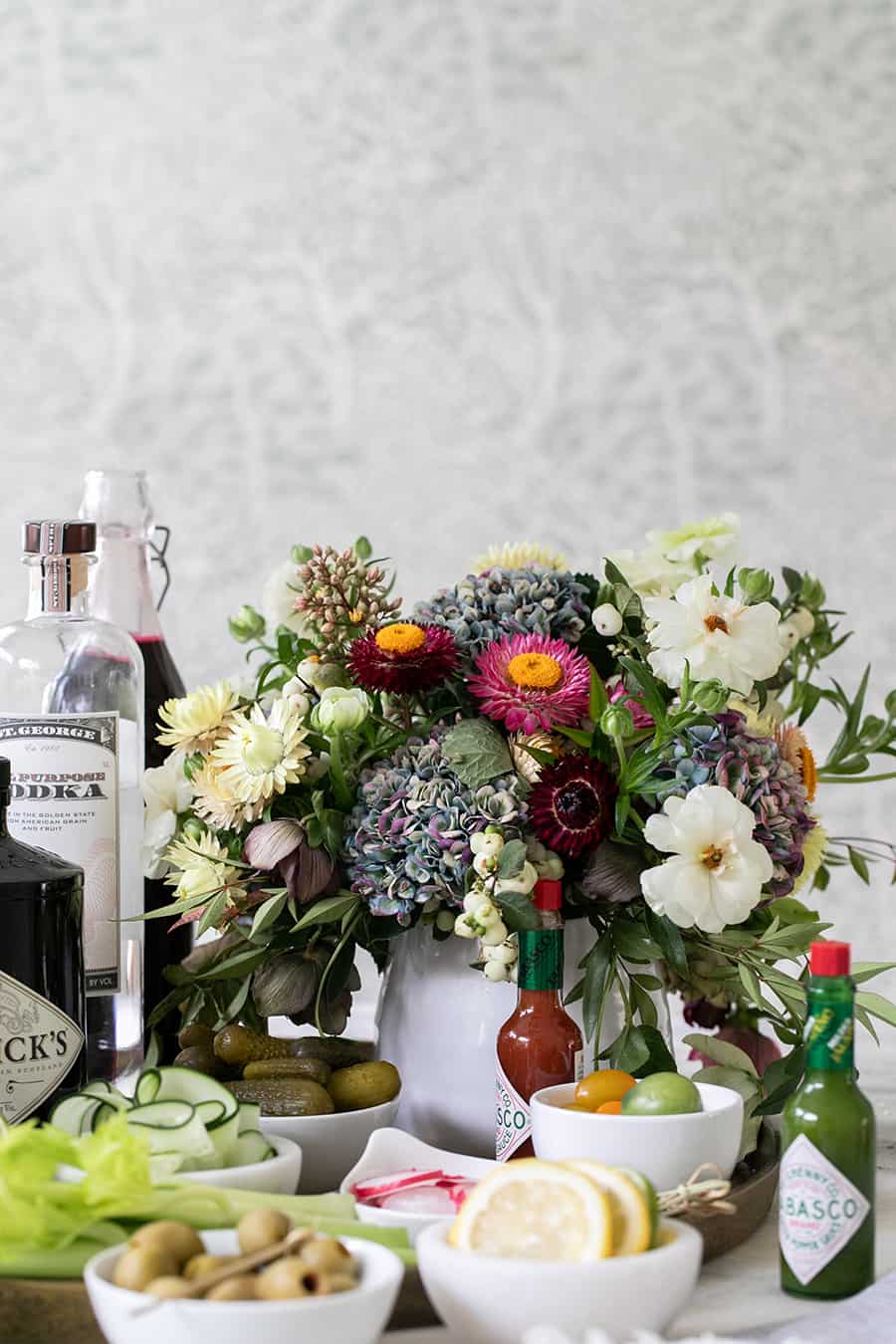 Bloody Mary Bar Ingredients
You can get very creative when thinking of different ingredients to add to a Bloody Mary bar. Here is a list of some essential ingredients to include and then you can be as creative as you'd like. From shrimp to bacon to mini-burgers, we've seen it all!
Gin and Vodka
Bloody Mary Mix
Tomatillo Bloody Mary Mix
Beet Juice – it tastes so good added to the Bloody Mary mix and creates a beautiful purple color! Place some in a glass jar on the table.
Lemon and lime wedges to squeeze into the glass and slices for garnishing.
Cucumber slices
Green olives
Cornichons
Orange rinds
Sliced Radish
Cherry tomatoes
Green pepper sauce
Red pepper sauce
Cilantro
Dill
Edible flowers
Salt and Pepper
Bacon and Shrimp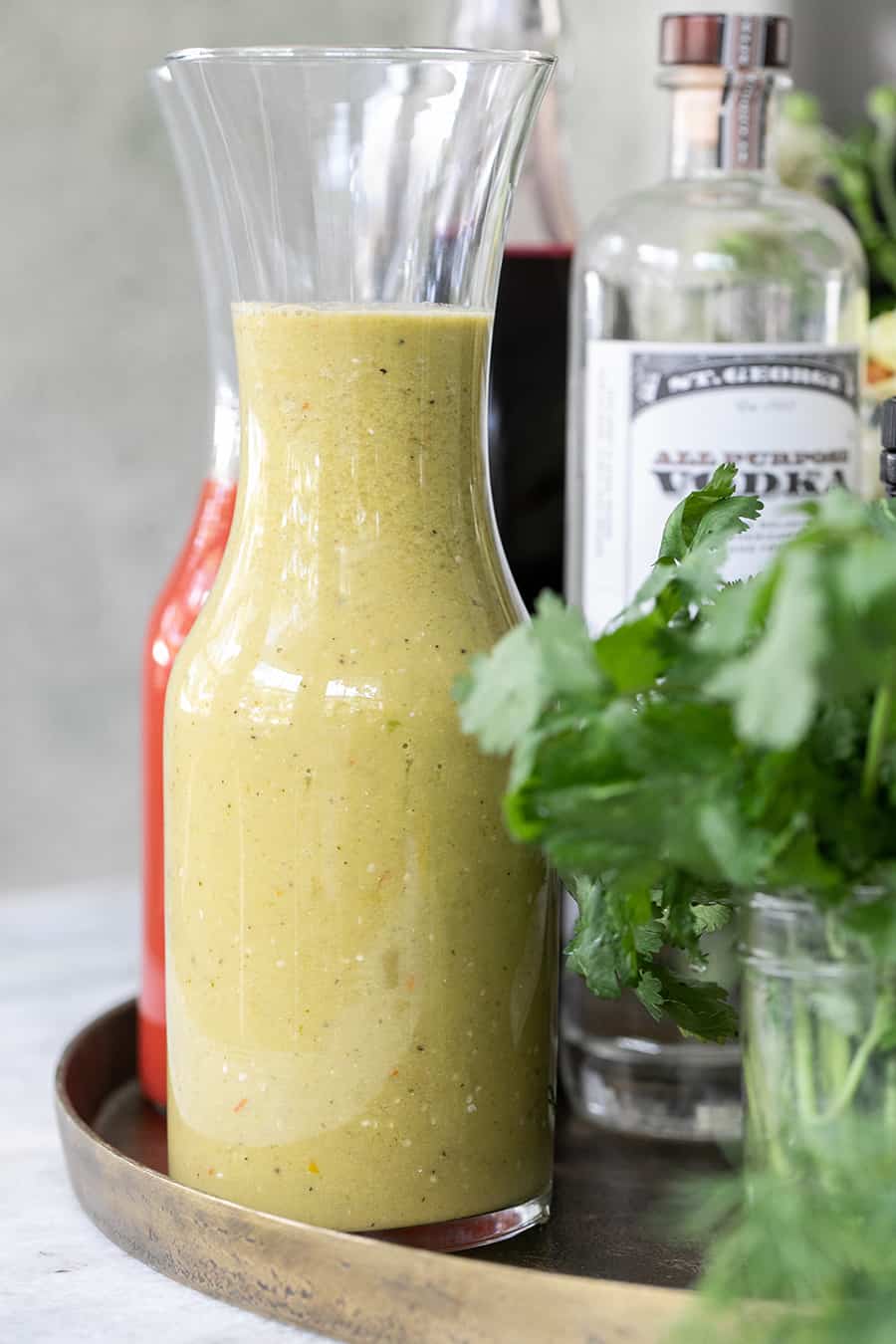 Tomatillo Bloody Mary
This is my favorite recipe for tomatillo Bloody Marys! They are SO good! Add a little salt and pepper to it and it's a savory cocktail, almost suitable as a meal!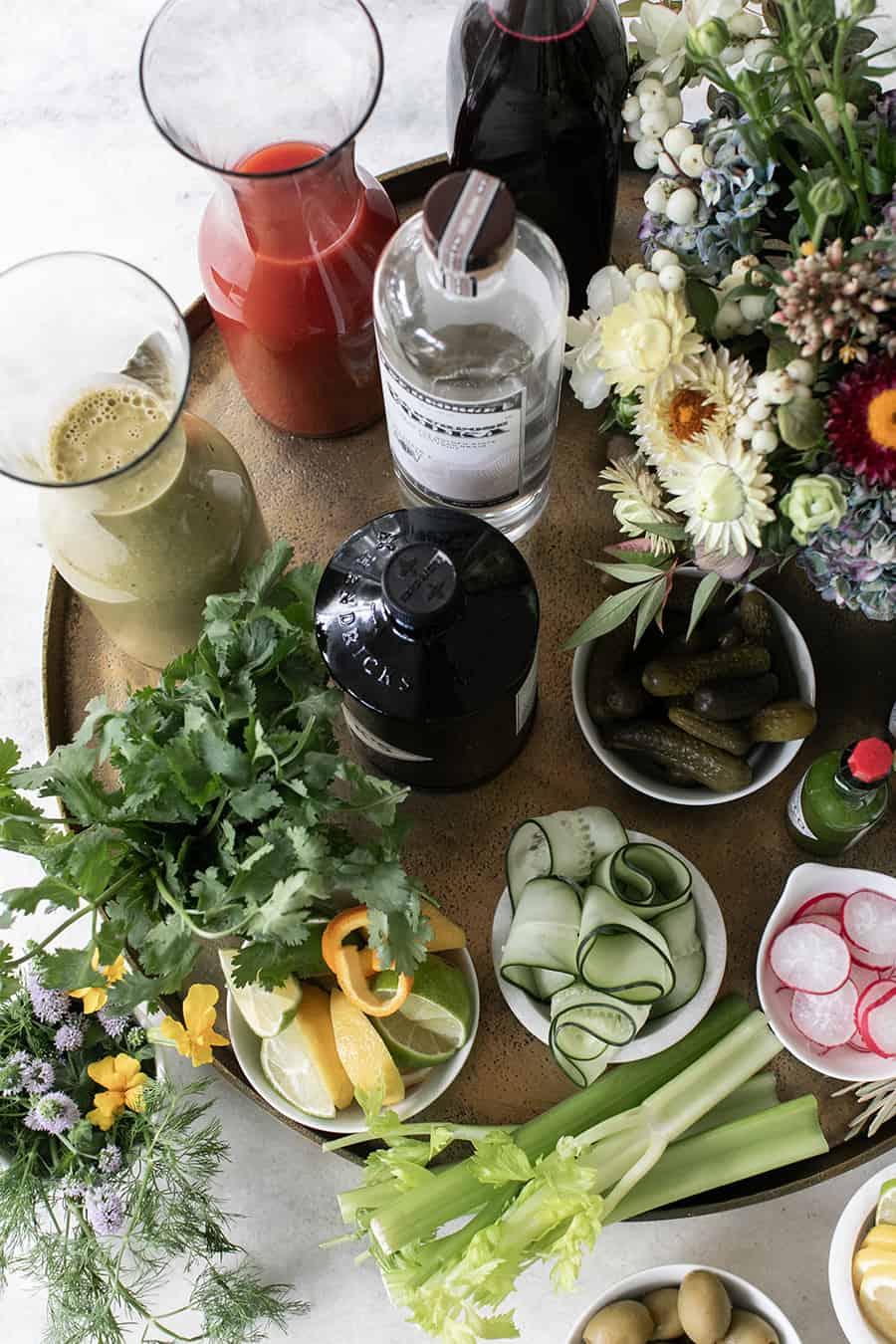 Bloody Mary Bar Items
To put the Bloody Mary bar together, you'll need a few key items. We've listed what we used for this Bloody Mary bar below.
Wine glasses – We love to serve Bloody Marys in wine glasses! They look so elegant and you can buy a party pack of 24 for a good price. I store them in our garage and use them quite often for parties.
Small bowls – These are used for all of the garnishes and ingredients for the bar. They're essential for entertaining.
Glass Jars – Tall glass jars to serve the Bloody Mary mixes in.
Bamboo cocktail picks – These are used for the garnishes.
Tray – We use a round tray a lot for entertaining. It's great for this Bloody Mary bar too. A bar cart would also work well.
Ice cube trays – Make these small cubes before and place them in each wine glass or in an ice bucket. These are the perfect size for wine glasses.
Cocktail jigger – You'll need a cocktail jigger so guests can measure how much they're adding to their glass.
Cocktail Spoon – Have a few cocktail spoons out so guests can stir their ingredients together.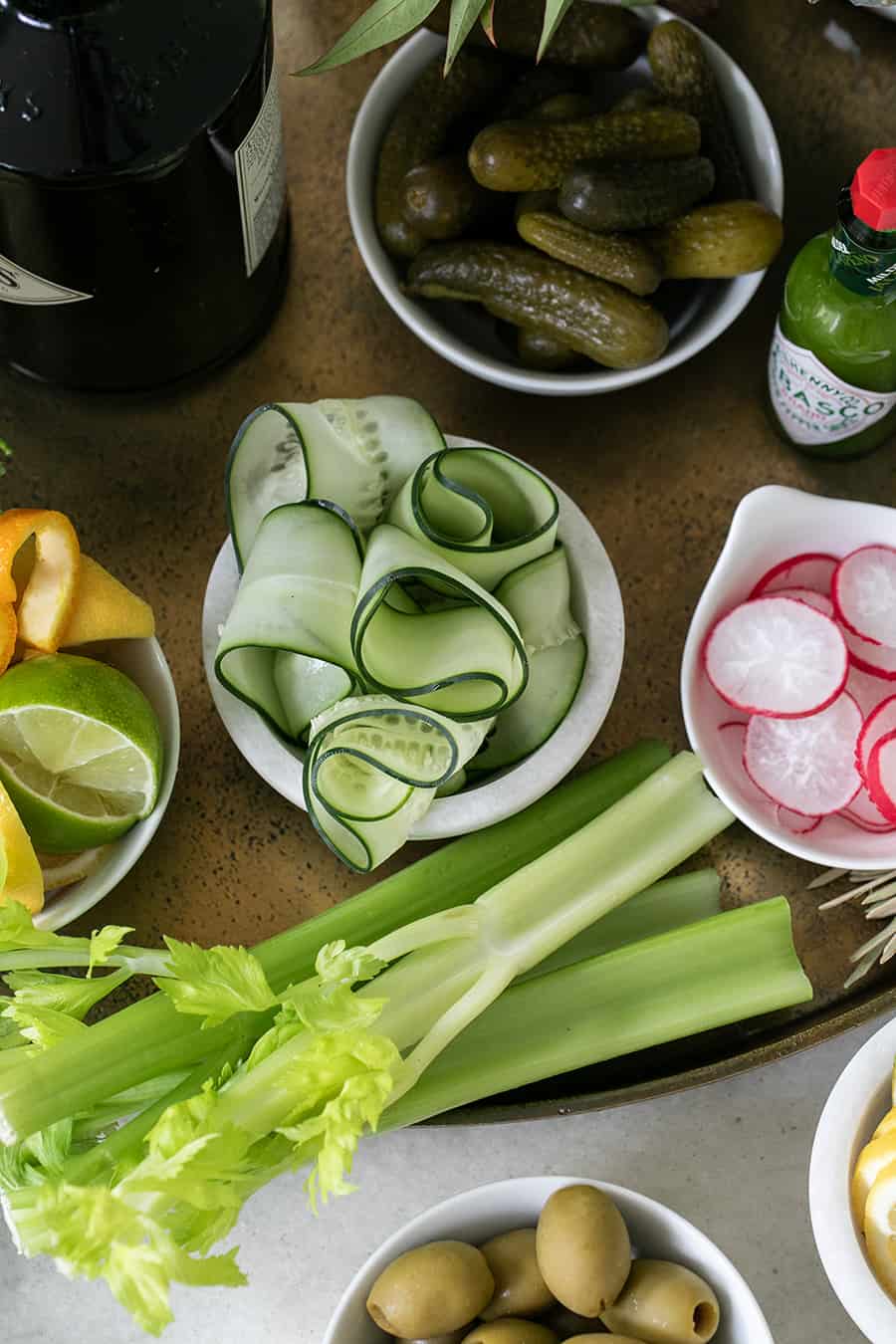 Infusing Salt with Herbs and Fruit
Here's a tip – add the fresh herbs in a bowl with a little water to keep them fresh! They won't wilt as quickly.
We used dill, cilantro and some edible flowers from my edible flower garden.
Make your own Bloody Mary salt by combing sea salt with fresh dill. Use your fingers to mash together and infuse.
You'll be so impressed with the freshness of the flavor and how much the salt takes in. It's amazing!! You can remove the large dill pieces after you infuse.
Add a few small ice cubes to the wine glass. It looks elegant!
Bloody Mary Mix
For a super simple base Bloody Mary mix, try 3 cups tomato juice, juice of 1 lemon, juice of 1 lime, 1 tablespoon Worcestershire sauce and stir.
Guests can add in their own extra ingredients when they build their Bloody Mary! Suggest adding in a 1/2 ounce beet juice to the glass because it tastes SO good and looks beautiful.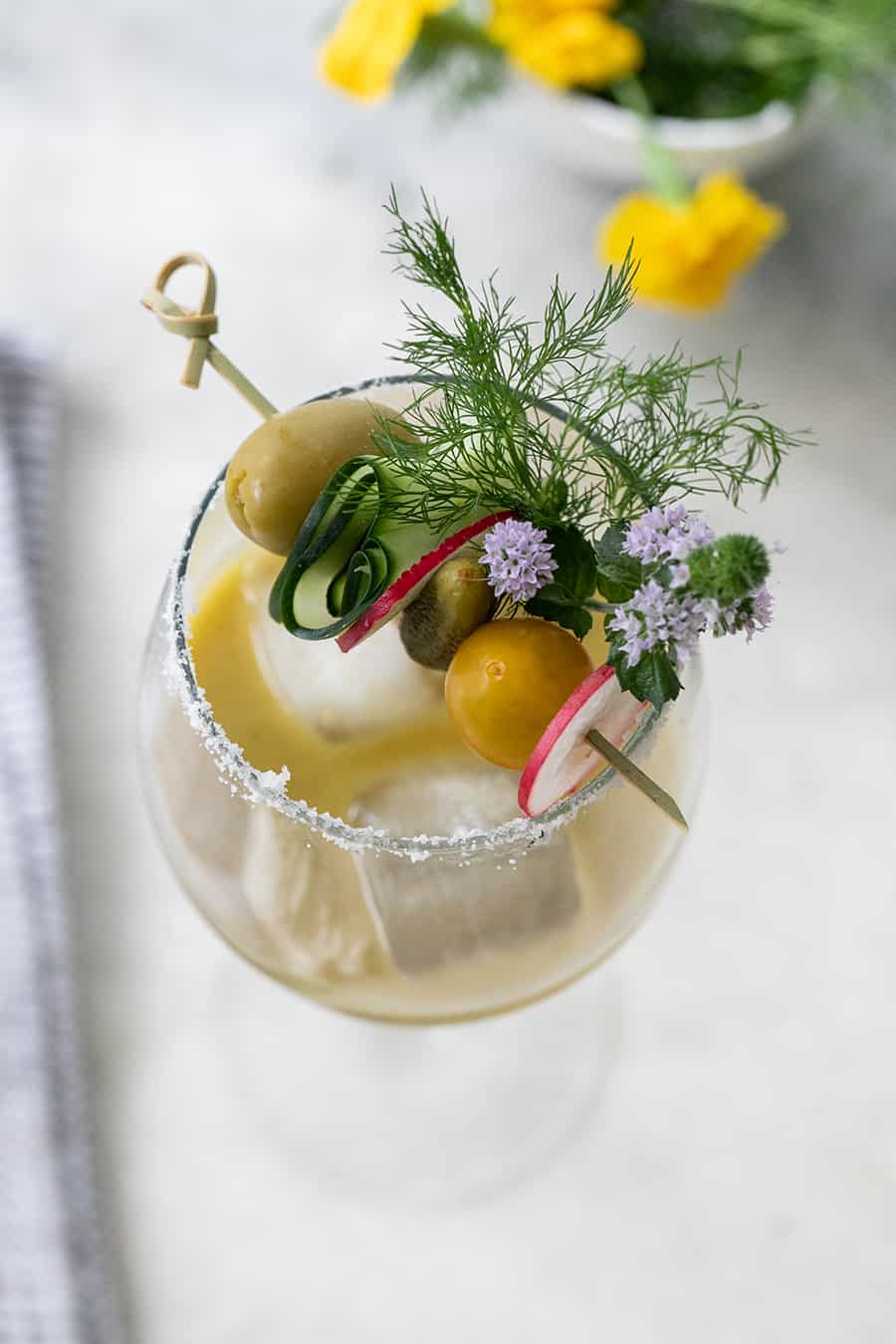 You can also buy a Bloody Mary mix and not make one homemade to keep things simple. Here are 5 best bloody Mary mixes from Bon Appetit.
We also really like McClure's too!
The best part about building your Bloody Mary is that you can control how much mix and how many ounces of gin or vodka you want to use! I like 4 ounces and then 1-ounce gin. It's more mix than spirit! I also add about 15 olives, so there you go!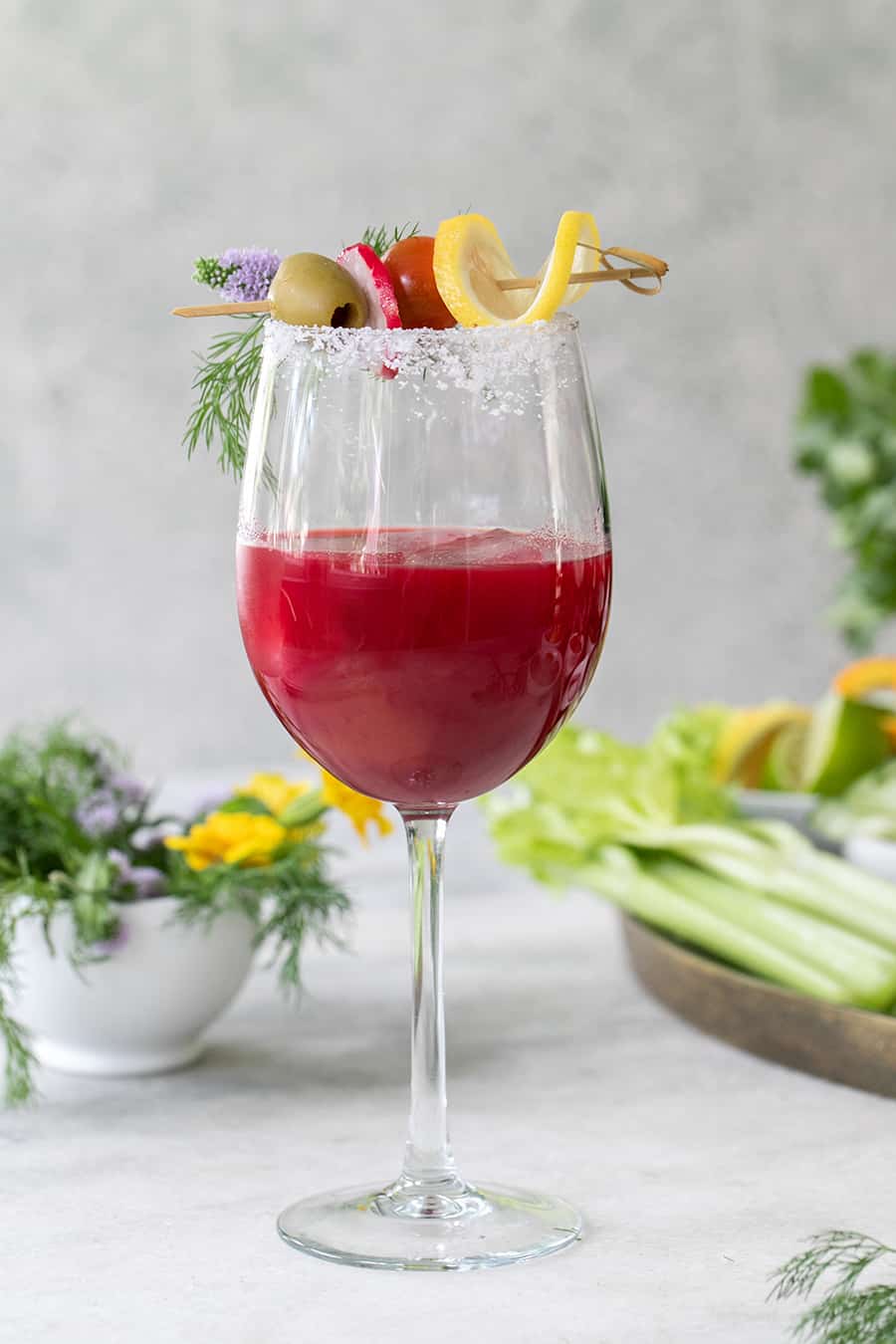 We hope this helps you all make the best build-your-own Bloody Mary bar for you and your guests! Cheers!