When it comes to Valentine's Day we're all about making simple Valentine's Day Crafts for gifting. The time and thought put into crafts show love and creativity and that's all we need in the month of February!
Here are 14 charming Valentine's Day crafts to make at home! Also, check out 14 Valentine's Day cocktails you can sip while crafting!
14 Valentine's Day Crafts
From DIY heart-shaped soap to embroidery bags of wine you are sure to find a few Valentine's Day craft ideas that you can make at home. Host a girls' get-together or crafting party and get crafting!
Not only is it a great way to make homemade Valentine's gifts for friends and coworkers, but a fun and festive evening with your closest friends. We can all use a little friend time, right?
Valentine's Terrariums
With love in the "air," we made these charming Valentine's Day terrariums using pink and gold sand and air plants! They are perfect gifts and a fun craft!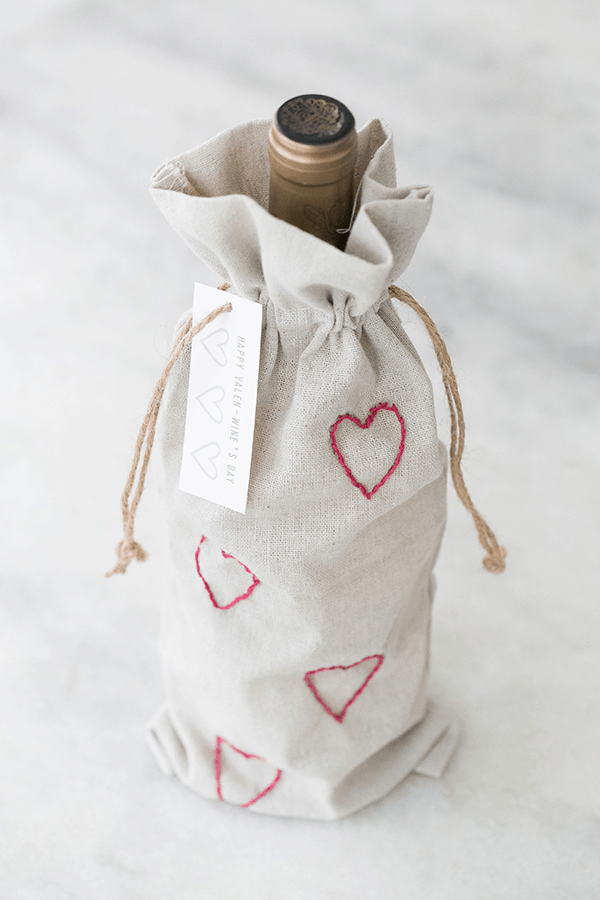 DIY Valentine's Day Embroidery Wine Bags
DIY Valentine's Day Embroidery Wine Bags are fun and easy to make. Fill it with a bottle of rosé and give to loved ones! You can also download and print the charming tags to add to the bag.
DIY Lavender Lip Balm and Printable Label
Give the gift of smooth, kissable lips with this easy recipe for lavender lip balm. Also, print our free labels to go along with them making it one charming gift for friends and coworkers! 
DIY Soap Hearts
These are inspired by candy conversation hearts and using just a few ingredients, heart-shaped cookie cutters you can make for your loved ones. See the tutorial on Martha Stewart!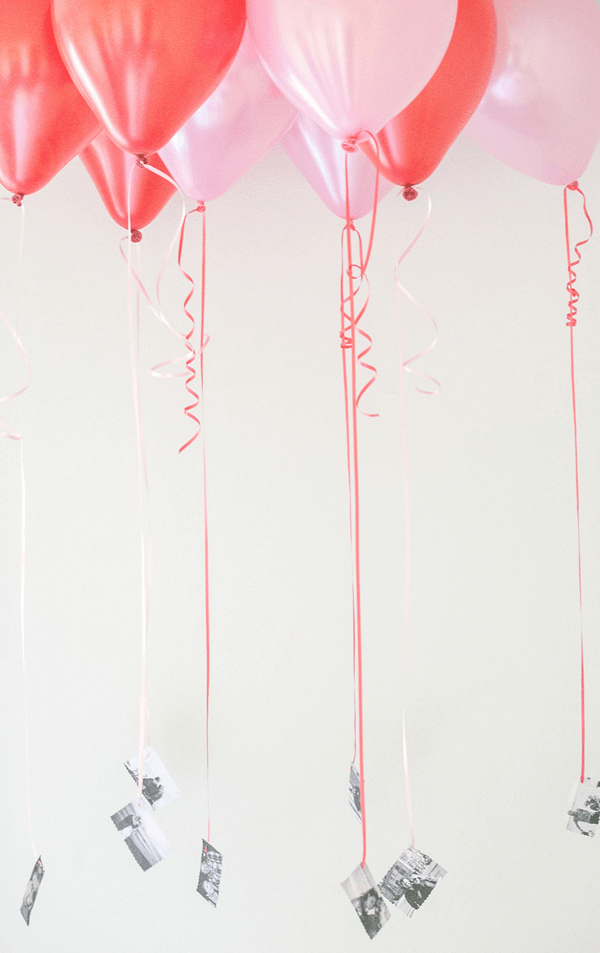 Valentine's Day Blast from the Past Balloon Path!
A sweet and easy craft to show your love. Take a walk down memory lane with this charming blast from the past balloon path!
I'm Donuts Over You Printable
We're going donuts over these Donut printables! Print our charming labels and give the gift of donuts to your friends and coworkers this Valentine's Day!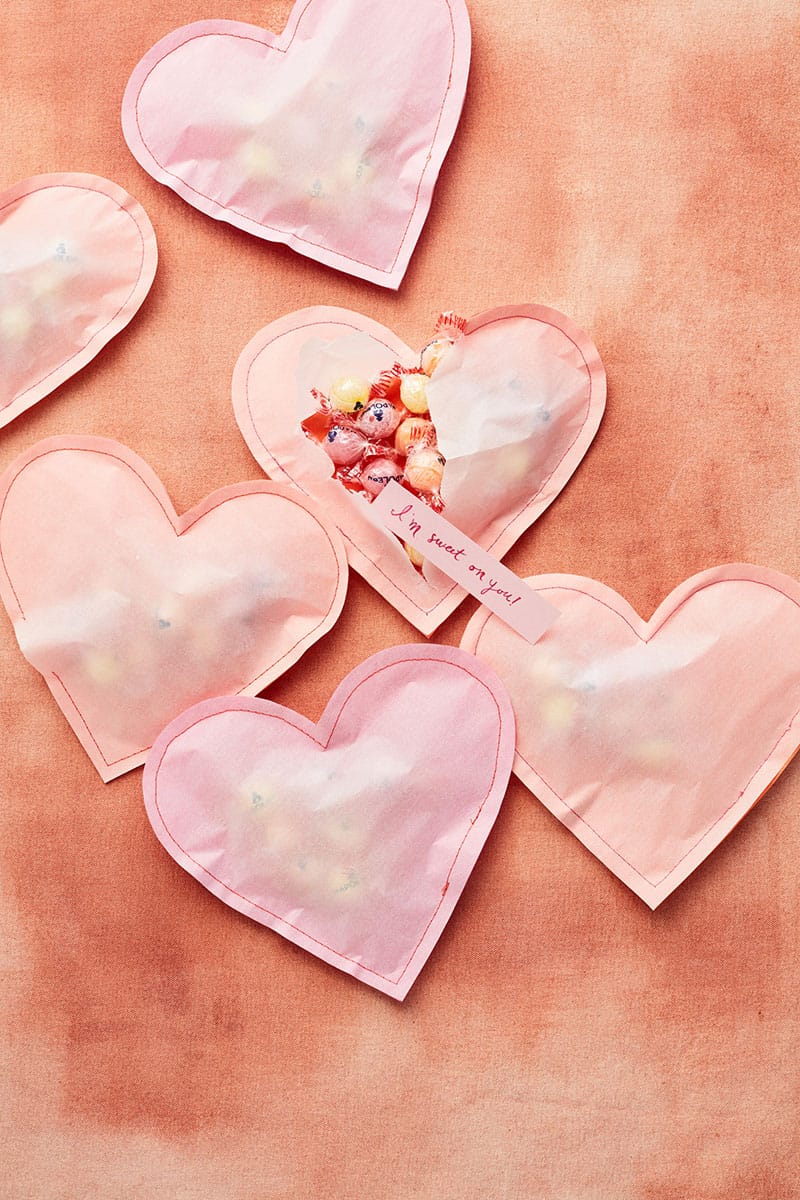 Stuffed Paper Hearts
Paper hearts made with orange tissue paper and white parchment paper and filled with candy. These are great for kids too! Find the tutorial on Martha Stewart!
Brushstroke Sugar Cookies
Although this requires some baking, these are also a very fun baking craft that you can make for Valentine's Day! These beautiful, frosted sugar cookies make such a charming gift!
Valentine's Day Bath Bombs
A warm soak with a lush-quality bath bomb is the perfect way to spend a February evening. Camille Styles gives a tutorial for bath bombs and a "You're the Bomb" printables to go with them! See the tutorial here.
DIY Plaster Mini Planters
We can't get over how charming these DIY mini plaster planters are! These are great coworker gifts to spread a little love throughout the office. See the tutorial on Paper & Stitch!
Valentine's Day Printable Vouchers
Here's another charming printable Valentine's Day craft! Six funny and sweet printable vouchers to give to your loved one!
DIY Coconut Rose Body Scrub
Give the gift of extra smooth skin! This DIY coconut and rose body scrub has 3 simple ingredients and makes a really fun craft and gift! See the tutorial and recipe on Lulu's site!
DIY No-Sew Valentine's Day Bags
These bags are not only charming but super easy to make. Fill them with your favorite candy or chocolates to gift something sweet. Also great for a kid's classroom too. Jessi Gilbert shares the easy tutorial on Minted!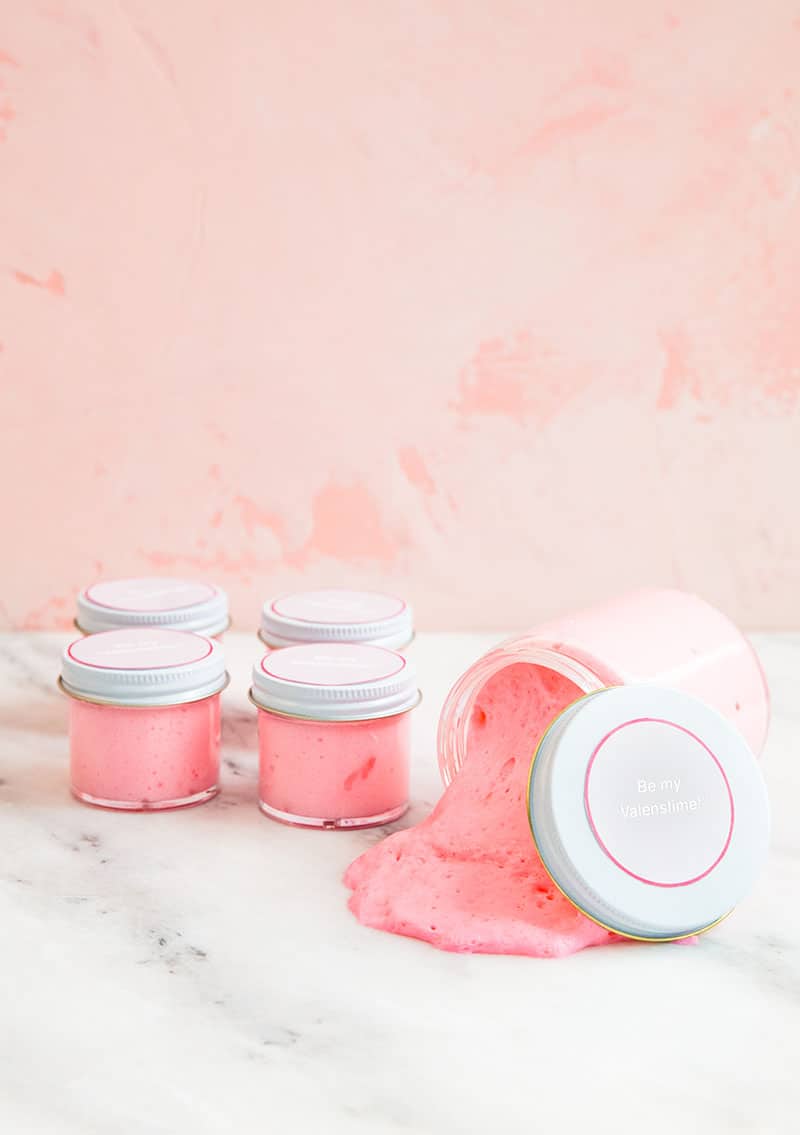 Valentine's Day Slime for Kids
Time to get slimy! Kids will love this DIY project to gift to their class. It gives an alternative option to candy too. We adore the idea of pink slime and these labels from Martha Stewart. See more here!
Frequently Asked Questions
What can I make for Valentine's Day gifts?
Making a gift to give to friends, loved ones and coworkers is the best idea! We shared 14 wonderful gifts above. Here are a few more ideas to make:
DIY Massage Oil
Essential Oil Blend (think roses and lavender)
DIY Heart-Shaped Pillows
Framed Photo
DIY Heart Friendship Bracelets – We love these from Honestly WTF.
Fresh Flower Arrangement
How can I decorate for Valentines Day?
Decorations can be simple or elaborate. Using flowers, streamers, confetti or even heart-shaped wreaths are all great decorating ideas.
Check out our Valentine's Day Get Together for more decorating ideas!
What is the best Valentine's gift for a friend?
A homemade gift or an experience are both great gifts for friends. Something sentimental and heartfelt is perfect for Valentine's Day.
More Valentine's Day Ideas You'll Love
Valentine's Day Charcutier Platter
Mini Heart Shaped Sugar Cookies
If you make any of these homemade crafts let us know in the comments below! We'd love to know which craft you like the most and your experience making it!
You can also tag us on social @sugarandcharm to share your photos with us!