With Valentine's Day less than a week away, it's time to start thinking of special things to do for your loved ones. If you need a charming idea we're sharing six funny and sweet Valentine's Day printable vouchers to give to your Valentine.
Zan and I don't give gifts for Vday anymore, instead we think of something sweet to make or to do for one another. That's where these vouchers come into play…
I've decided to dedicate my time and he'll be getting these charming vouchers! Honestly, this is probably the best gift I can give him as there are cookies, errands, a massage and drinks in his future, what a lucky guy, haha!!
Each voucher has stipulations and a space where you can fill in the expiration date, so they must be used in time or they'll be void! ; )
Valentine's Day Printable Vouchers
These are simple to do! First, click here to download the vouchers.
You can print them at home or run by an office supply store. Print the vouchers on card stock for about $1.50. They'll look more professional on cardstock.
Cut each of Valentine's Day printables out. Write in the expiration date, sign it if you want and seal them up in a card. Easy, fun and they make a wonderful gift!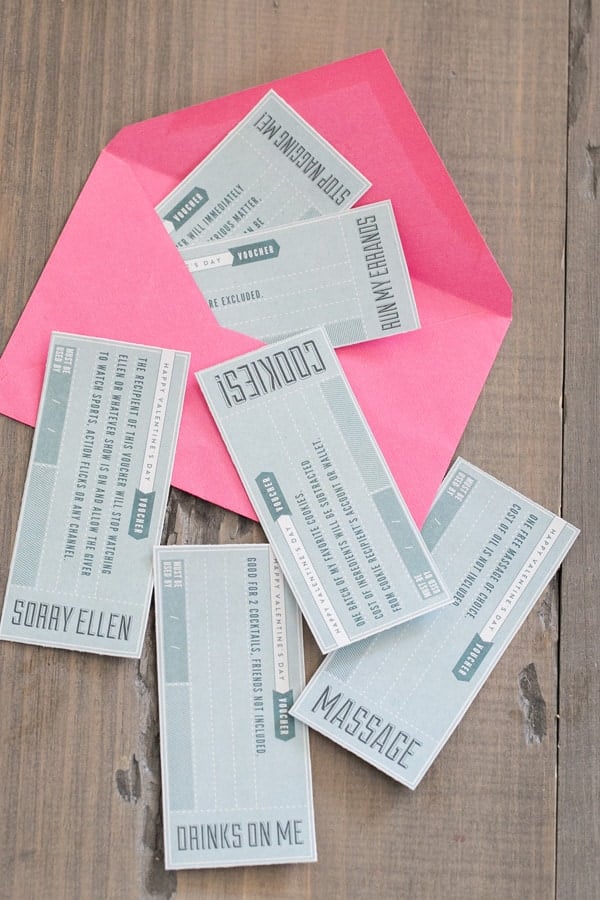 More Valentine's Day Ideas!
DIY Mini Cake Stands – These are so charming and a fun Valentine's Day Craft and Gift!
DIY Essential Oil Candles are a great Valentine's Day craft idea!
Lavender Lip Balm DIY! With a printable Valentine's Day label! They're adorable and great for kids to make too.
I'm Donuts Over You printables!
DIY Valentine's Day Terrariums are really fun to make and a great Valentine's Day craft.
Check out these Charming Valentine's Day Printables too!