With love in the "air," we made these charming Valentine's Day terrariums using pink and gold sand and air plants! They are perfect Valentine's day gifts and a great Valentine's Day craft!
Did you know there are pink air plants?! When I found out, I had to make something with them and of course, Valentine's Day was on my mind!
The best part about this DIY is that, once you gather the supplies, these don't take much time at all to make!
Hang a few terrariums outside for a punch of color in the garden or inside for some V-Day charm. They make sweet gifts that last a while too! Happy Valentine's Day!
How to Make Valentine's Day
Supplies
Directions
Layer the sand in the terrarium, then add rocks and your air plants!!
Tie a pretty string or fishing wire to hang it.
Also, attach a little Valentine's tag if you want too!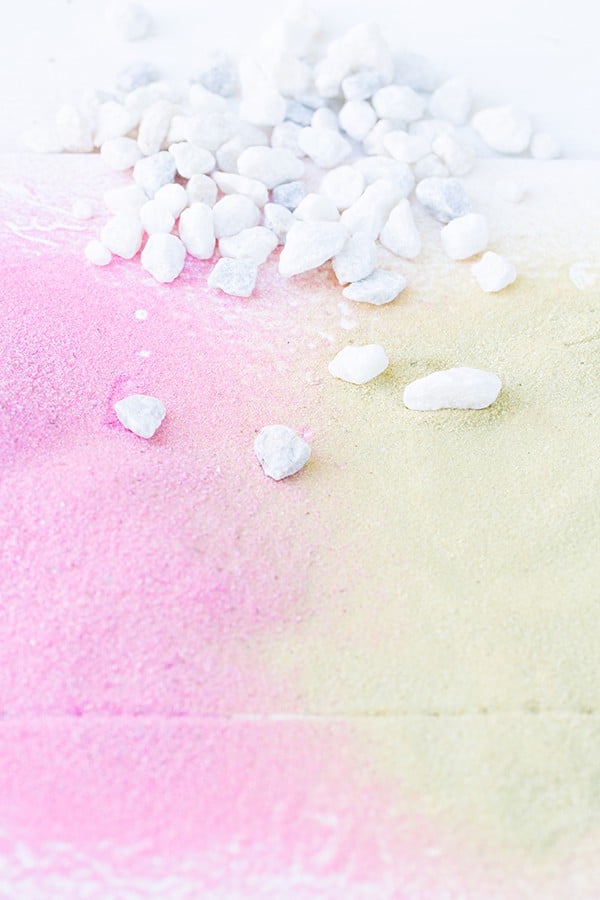 More Terrarium Ideas:
You can also make terrariums that sit on the counter or a desk. Here are some fun options:
Triangle and Square Terrariums
MORE VALENTINE'S DAY CRAFTS!
Sharing a few more of our favorite Valentine's Day crafts! These are all fun projects and gifts you can make and give on Valentine's Day.
DIY Mini Cake Stands – These are so charming and a fun Valentine's Day Craft and Gift!
DIY Essential Oil Candles are a great Valentine's Day craft idea!
Lavender Lip Balm DIY! With a printable Valentine's Day label! They're adorable and great for kids to make too.
I'm Donuts Over You printables!
Valentine's Day Embroidery Wine Bags
Check out these Charming Valentine's Day Printables too!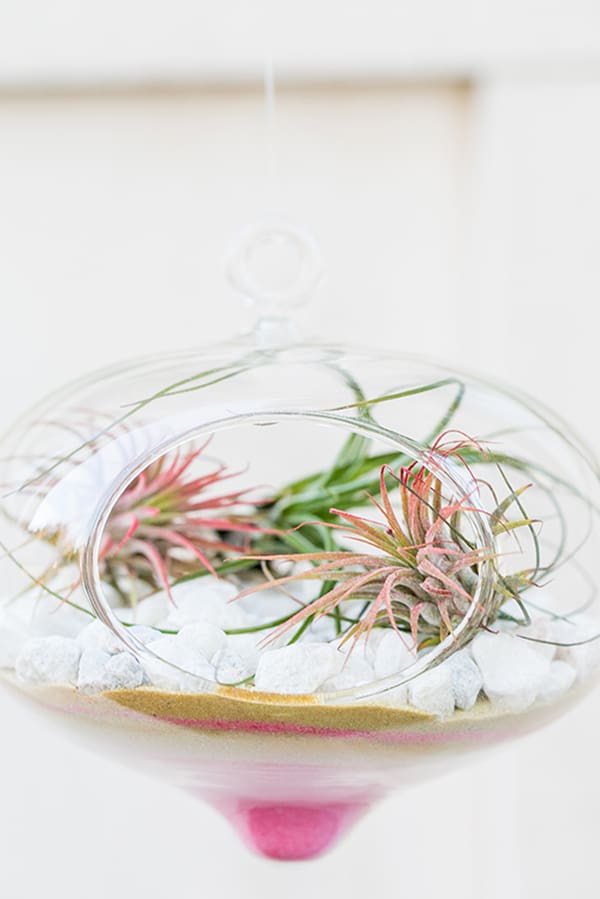 Frequently Asked Questions
What is in a terrarium?
A Terrarium is made with moss, rocks, sand and air plants and other succulents.
How do you make a terrarium?
It's very easy to make a terrarium. You make them by placing sand, rocks or moss in the bottom of a glass terrarium. Then add succulents and air plants!
What plants can you put in a terrarium?
Let us know if you make these Valentine's Day Terrariums! We would love to see your photos, so please tag @sugarandcharm on social!